Looking for trendy oversized button down shirt outfits to copy this year? Check this post for the best outfit ideas, styling tips, and trending products to level up your look!
I found that many bloggers have the same style this summer: an oversize button down shirt can be fashionable and sun-proof!
First, wear it with a bikini. What could be sexier than a hot body hidden under an oversized shirt!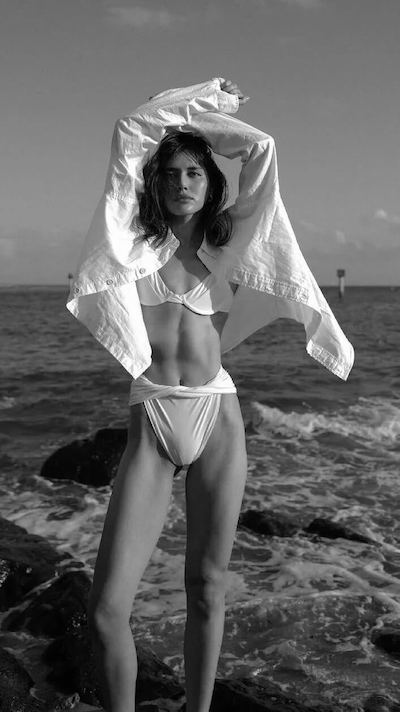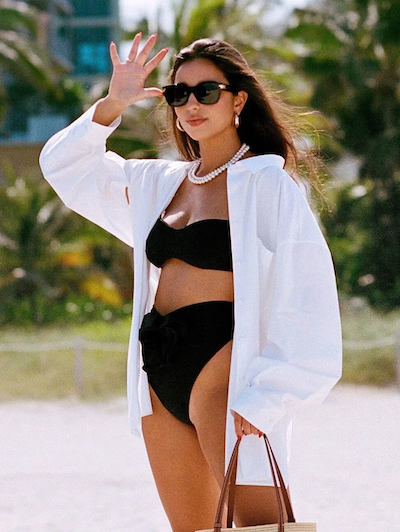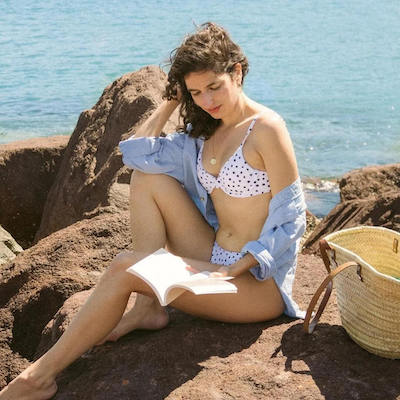 Then a daily wear style, effortless chic: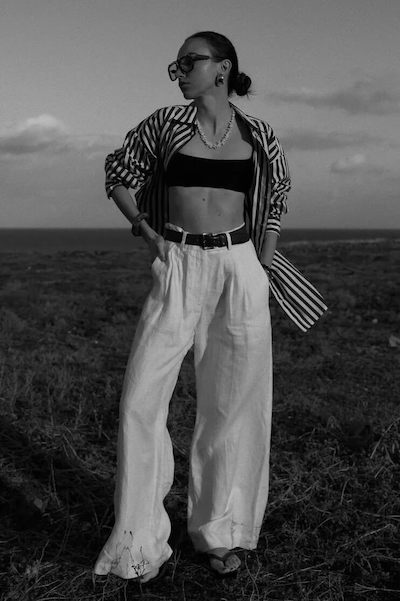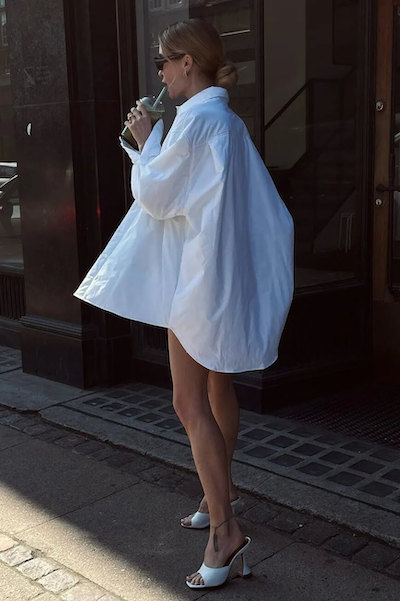 And a ready for work style: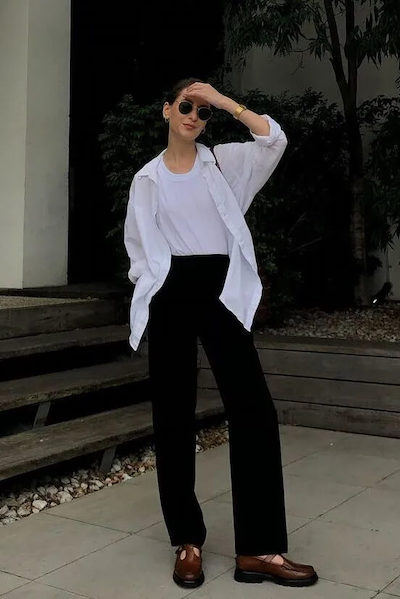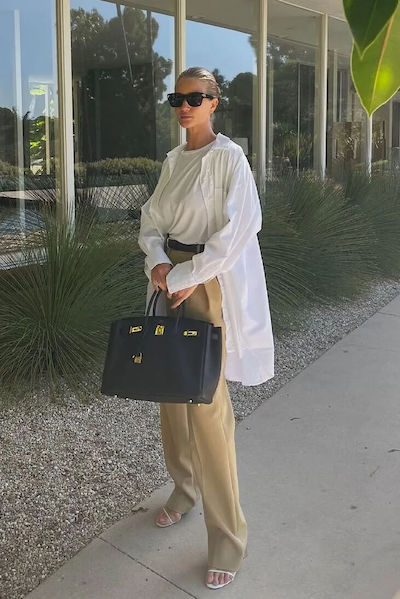 In this way, this oversized button-down shirt seems to be useful for different occasions? As a practical and good-looking trending item, of course, we have to talk about it today!
This post may contain affiliate links, which means I'll receive a commission if you purchase through my link, at no extra cost to you. Please read the full disclosure here.
This post is all about oversized button down shirt outfits.
Related Post:
Best Oversized Button Down Shirt Outfits: How To Style A Button Down Shirt
1. Minimalist Style
No matter how the times change, the fashion circle will always have a place of minimalism. In recent years, the mainstream Lemaire, The Row, old CELINE, Low Classic…all belong to this category.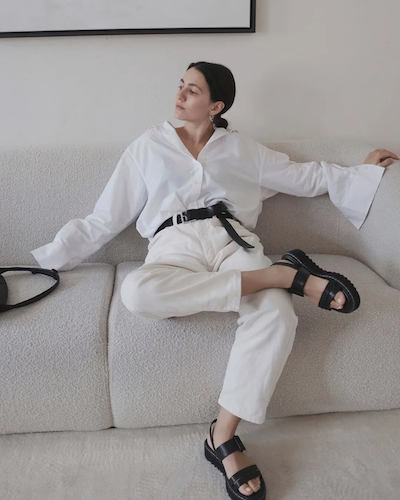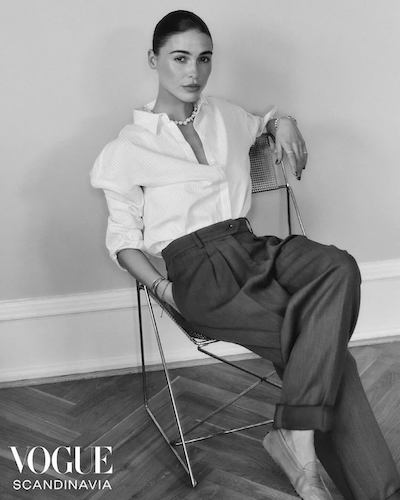 Style Formula: Loose pants + not delicate shoes
The capable straight lines of the oversize shirt happen to blend this style perfectly. When matching, the upper body can be worn alone or stacked with a vest or T-shirt, and the lower body is preferably loose and wide-leg pants to wear that chic feeling.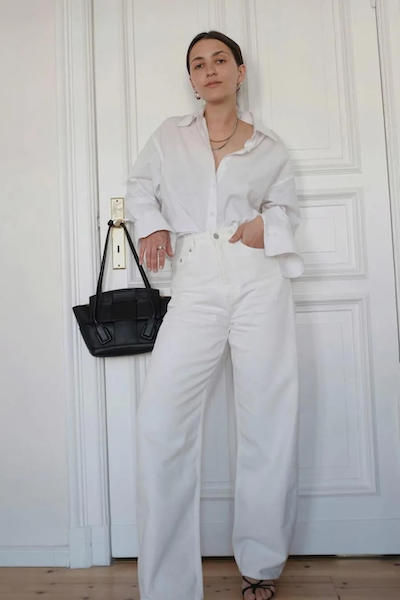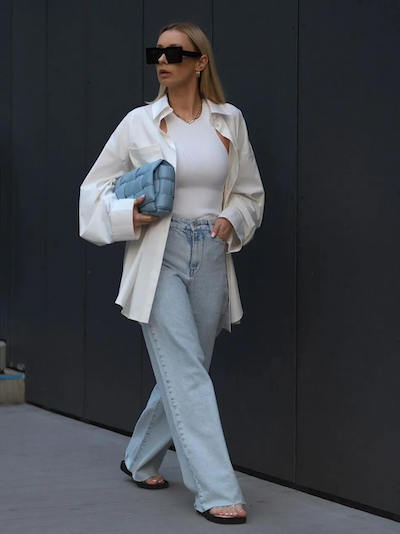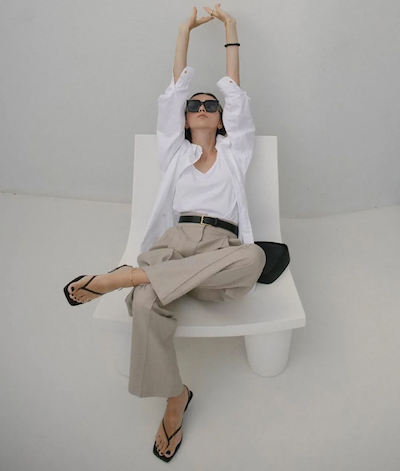 Don't choose too delicate shoes.
It can be neutral loafers, fisherman shoes, or a combination of exquisite and casual, such as heel sandals…These are more suitable for this style than a pair of rhinestone pointed high heels.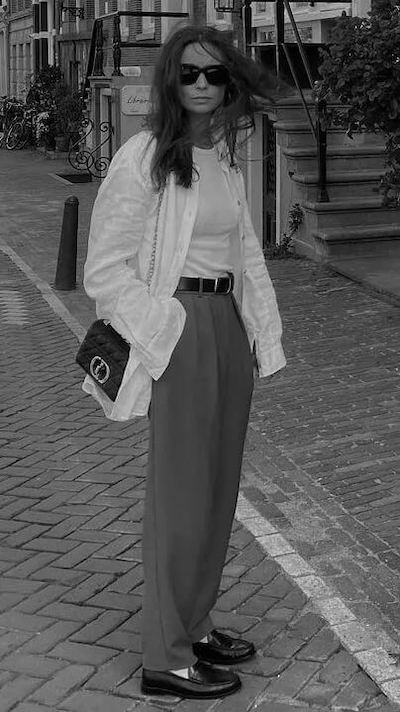 2. Petite Girl
Unlike the outright oversized silhouette, this style may be more suitable for you if you don't have a tall figure.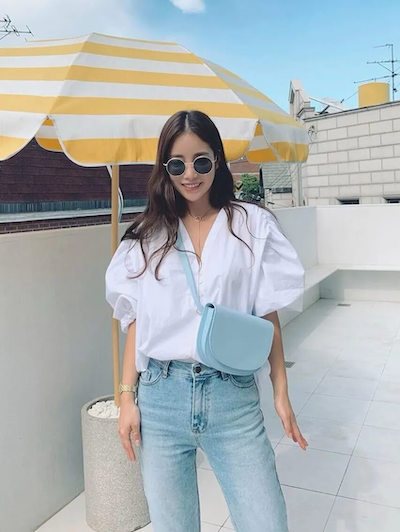 Style Formula: + Fitted pants
This formula is not easy to make mistakes. If you are not so confident with your legs, replace the pencil pants with small straight and tapered pants.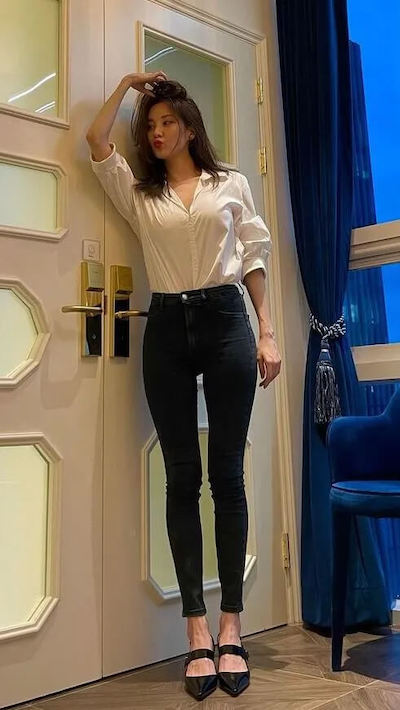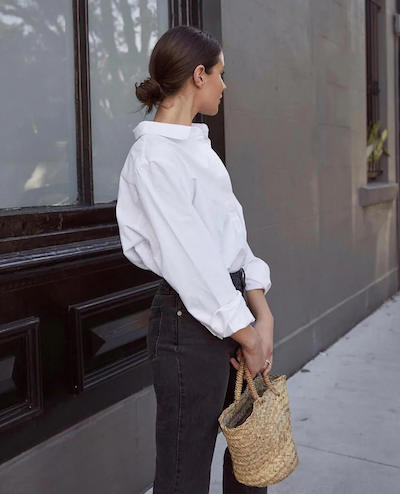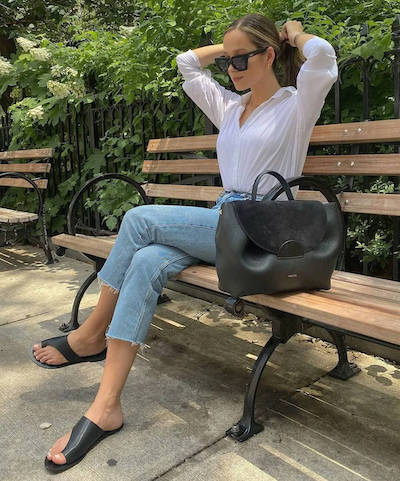 If you want to be more casual? It's like the French blogger Camille Charriere and the Norwegian blogger Darja Barannik pull out their shirts and wear them. Or plug half of the hem. These tips will all help show better body proportions.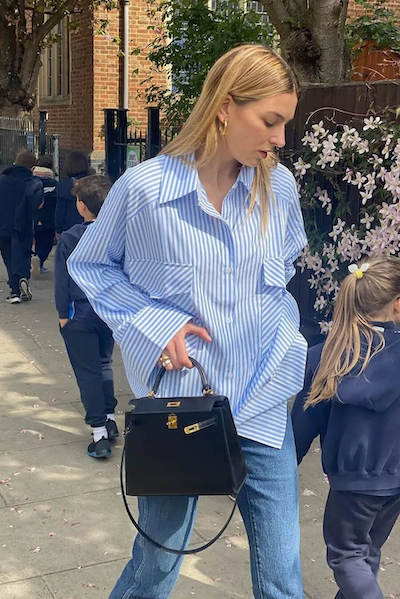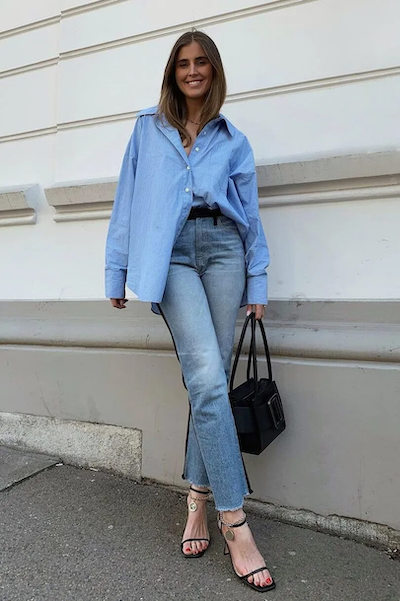 If you are unwilling to be too wear too simple pants, what should you do? Now, you can try a unique design.
You can wear super long pants with a split design like Australian blogger Pepa Mack and the step-on pants worn by London blogger Rikke Krefting. These looks are all stylish.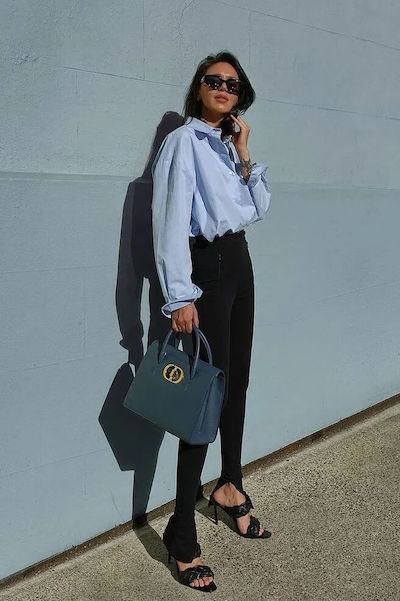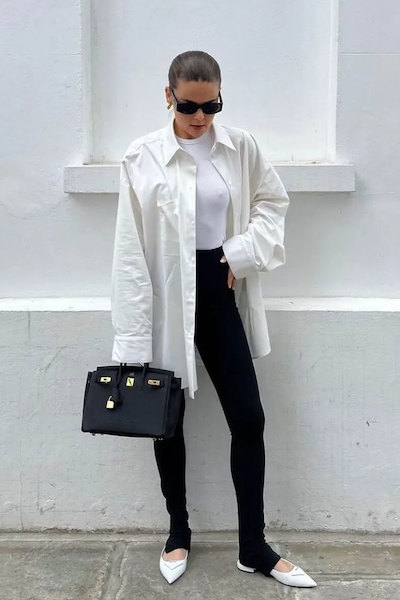 3. Sexy Girls
Amazingly, the oversized button down shirts are perfect for a sexy style.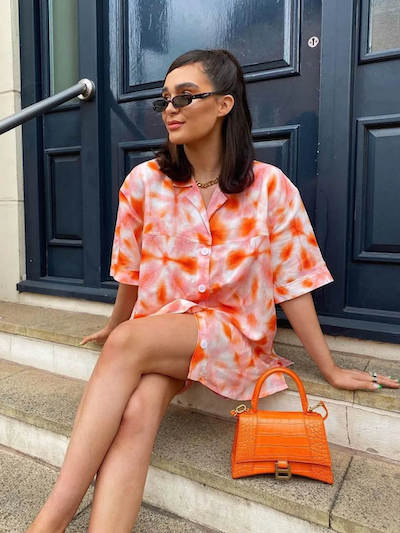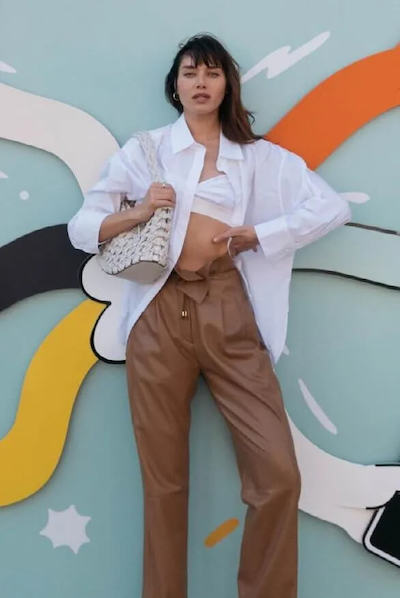 Style Formula: Shorts + High Heels, Or, Crop top + Sneakers
Moreover, you can try bright colors!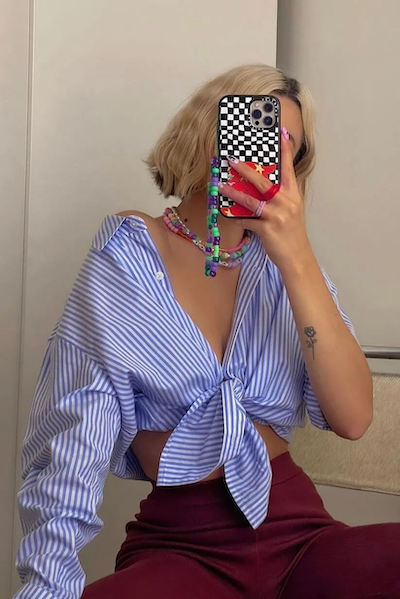 How to style them?
Shorts + High Heels
German blogger Leonie Hanne and Danish stylist Emili Sindlev took a fancy to the same fluorescent green shirt from the Frankie Shop. They all showed their beautiful legs and wore high heels.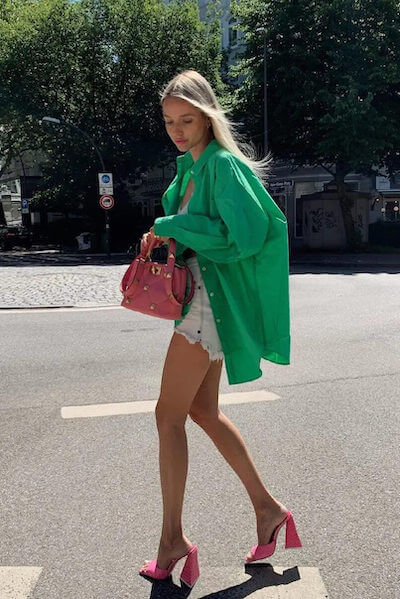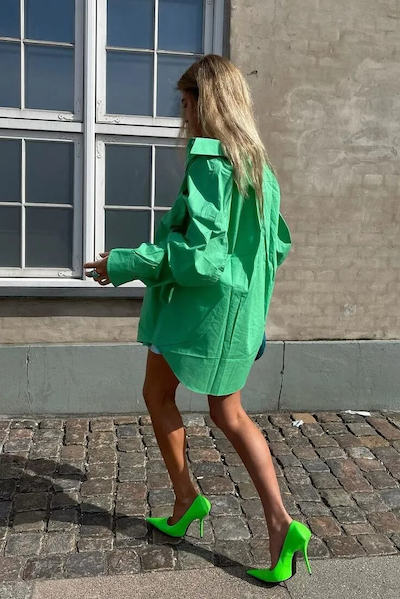 Crop Top + Sneakers
It is recommended to match various sporty items, such as sports bras, baseball caps, sneakers, etc.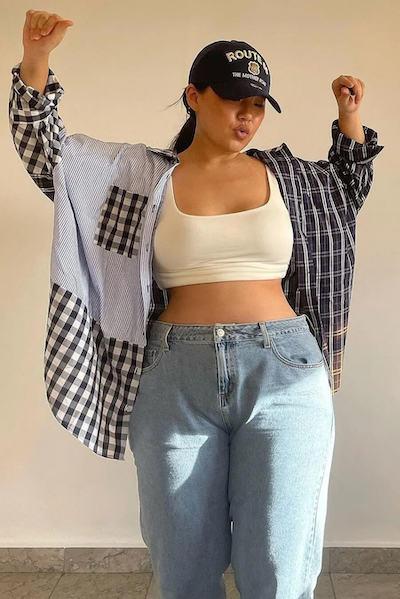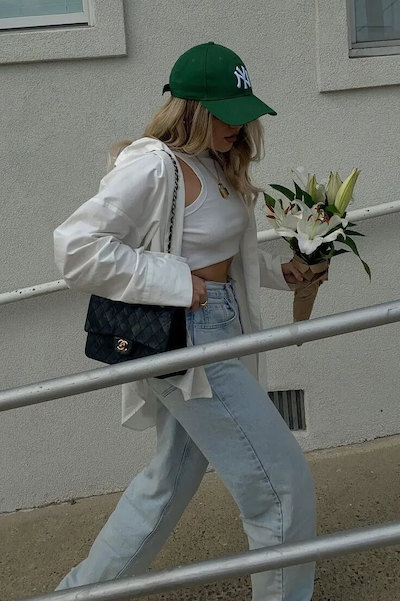 4. Elegant Style
It is a perfect style for a date or work outfit.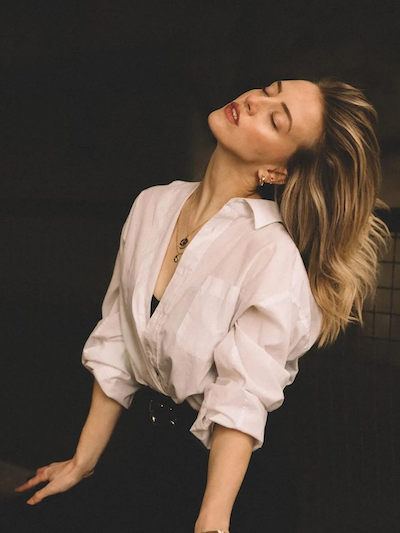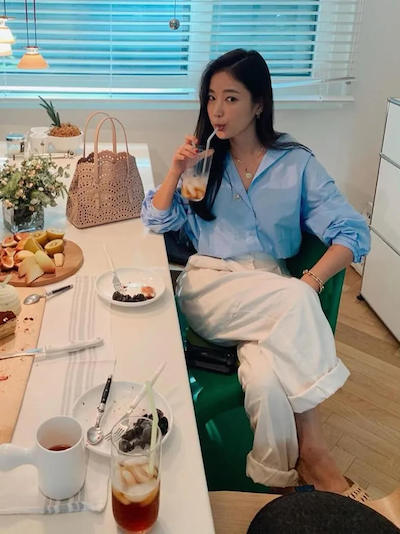 Style Formula: + Simple Jeans + Midi Skirt
Many girls who are used to wearing feminine items find that oversize button down shirts are too neutral and challenging to control. You can wear them beautifully!
There are still two tips:
One is to wear a pair of simple jeans like a French girl famous for her elegance. Clean, elegant, feminine.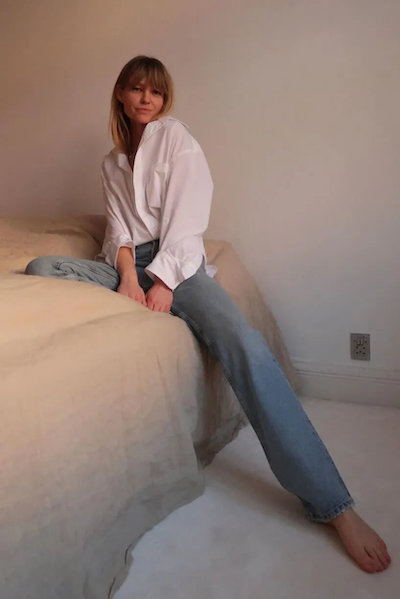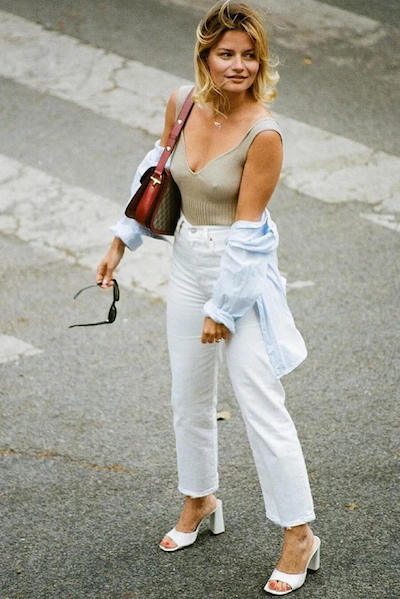 The second is to pair the shirt with a midi skirt. This look is chic and easy to copy.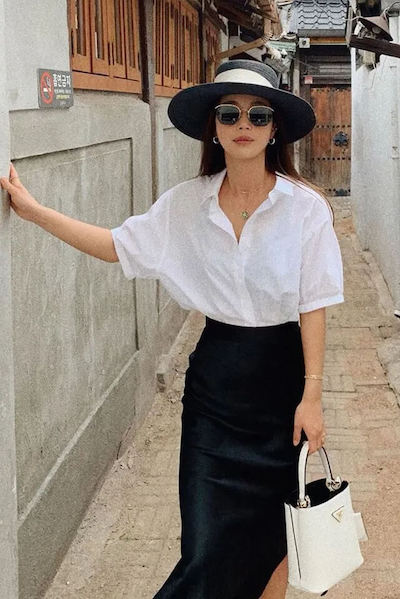 You can also wear the oversized shirt as a coat if you leave it open.
Stylist Linda Tol wore a knitted dress, while Jiyoung Kim, the editor and new media director of South Korea's "Vogue," wore a silk suspender skirt. Both were elegant.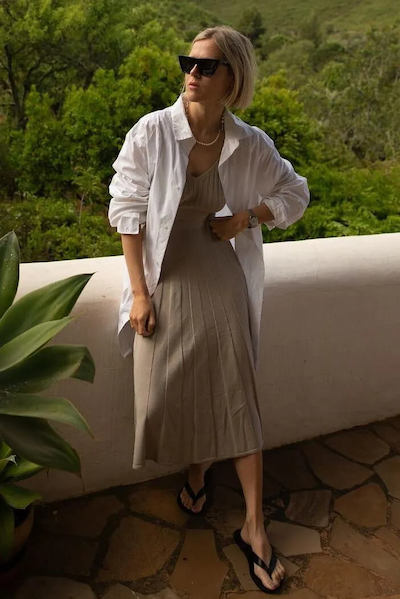 Best Oversized Button Down Shirt Outfits: Which Shirts To Buy?
1. Color Shirts
The most popular oversized button down shirts this year are undoubtedly colored shirts—for example, the shirts from The Frankie Shop.
Green is the most fragrant, bright color, so beautiful for the spring and summer.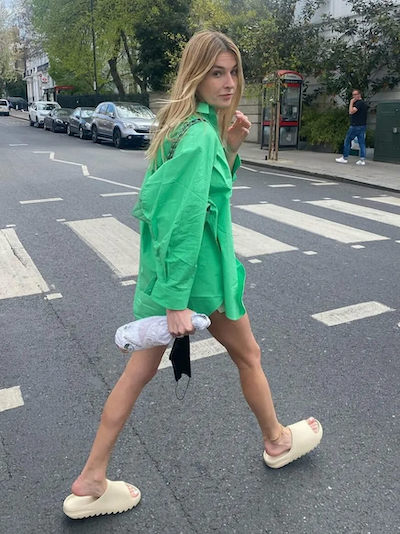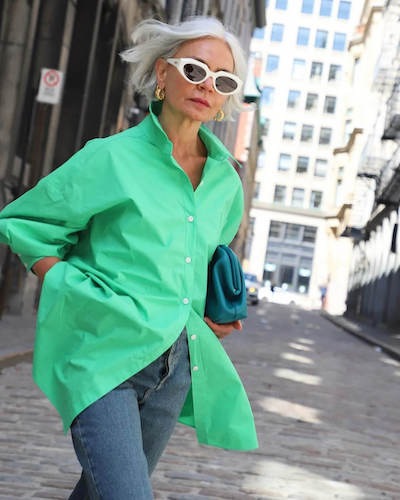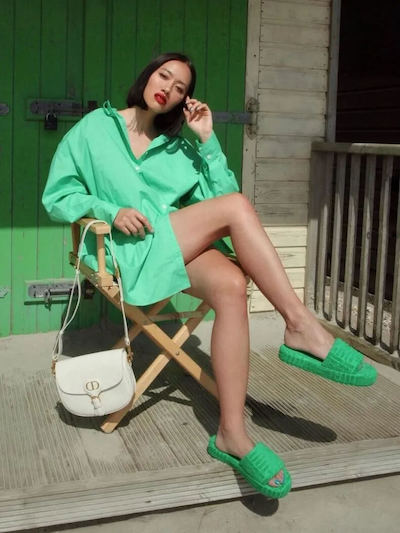 All styles of girls can try the green shirts.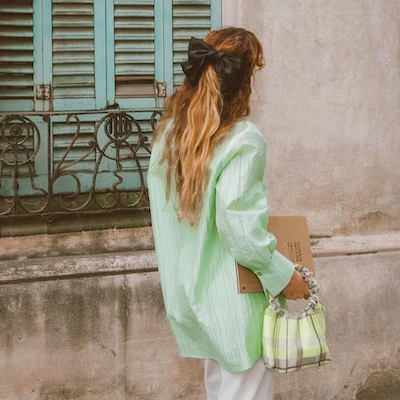 More than green, most of the brands' shirts are bold in color this year.
For example, the three rose reds below are from Zara, Prada, and Woera. They are all stunning!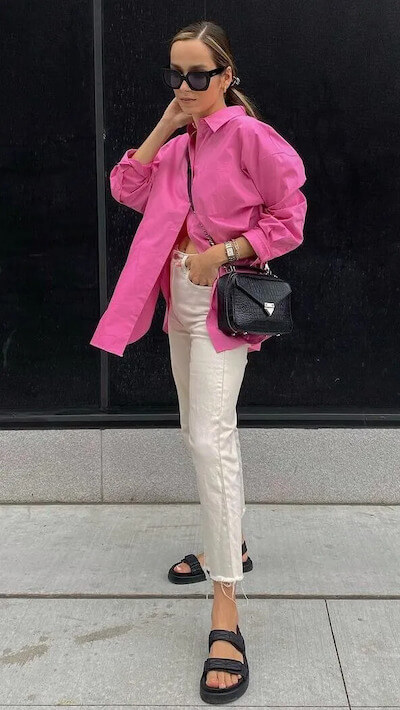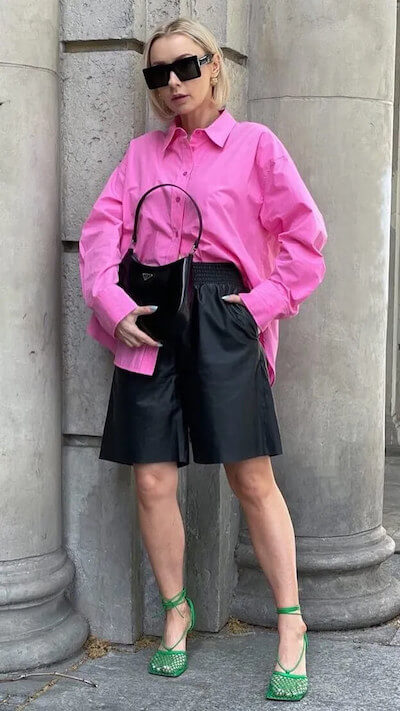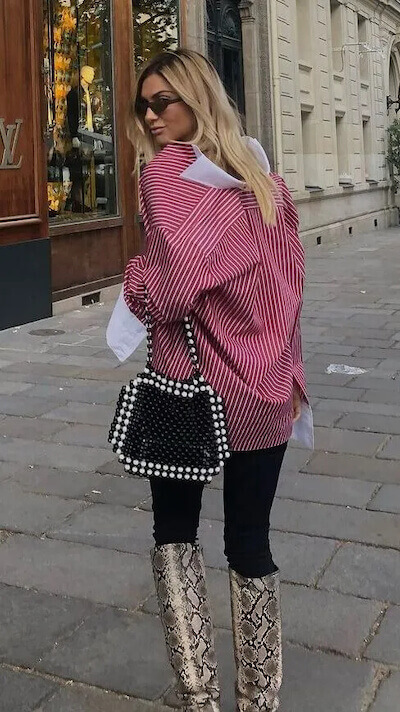 British blogger Alicia Roddy's recent two shirts look very eye-catching. The two shirts are from ASOS and NA-KD.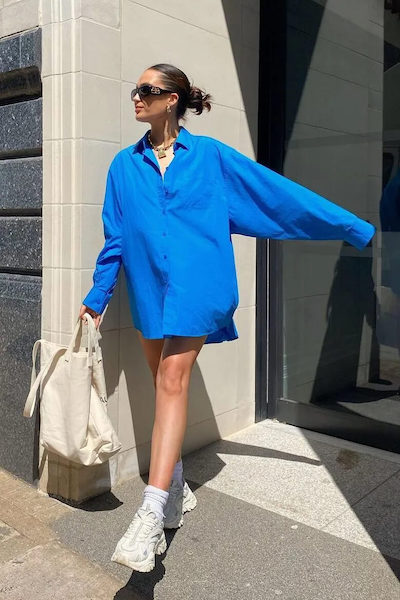 In addition to solid color shirts, you can also contrast colors like Danish stylist Emili Sindlev and American blogger Jelena Marija, both cute.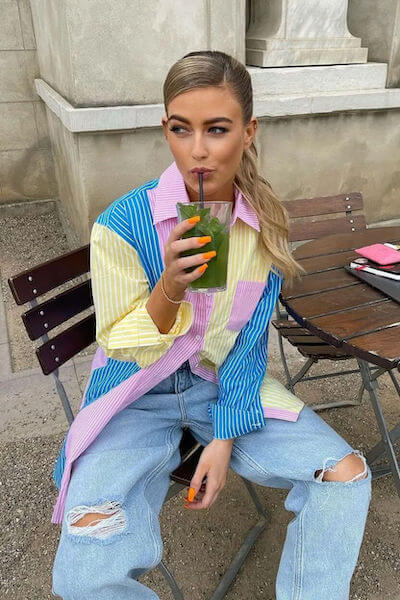 I think bold girls can still challenge sets altogether. This is also a trending style this year.
Danish blogger Pernille Teisbaek recently wore two sets, both from the Frankie Shop.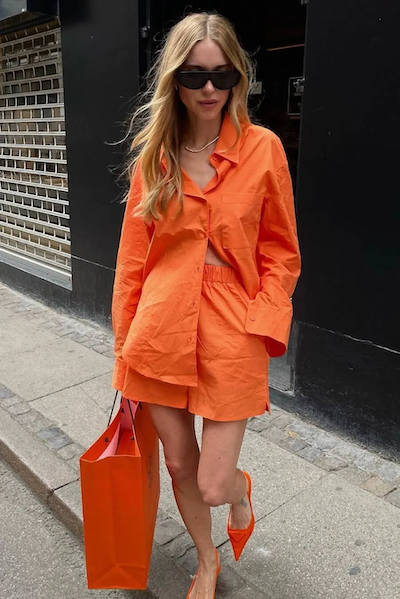 Alyssa Coscarelli and Alicia Roddy also wore printed sets from LHD and River Island, respectively. They look excellent for vacations!
2. White Oversized Button Down Shirt
To say the most classic oversize shirt, it has to be white. No matter how the fashion trend changes, this one will never go out of style.
And it is perfect for any style and any occasion.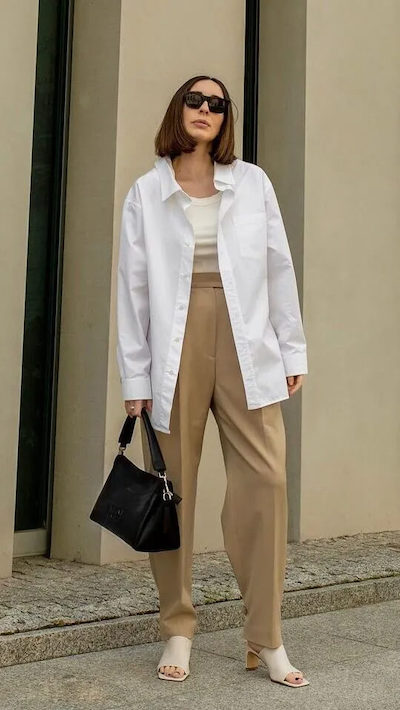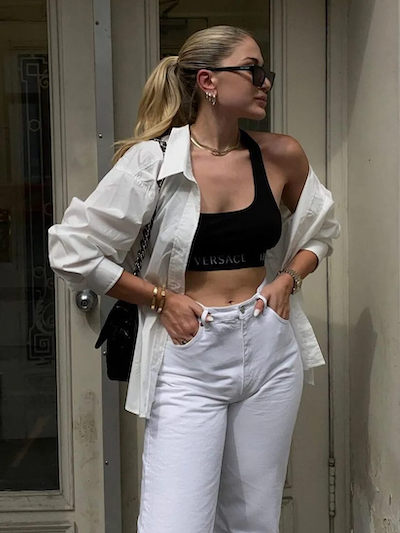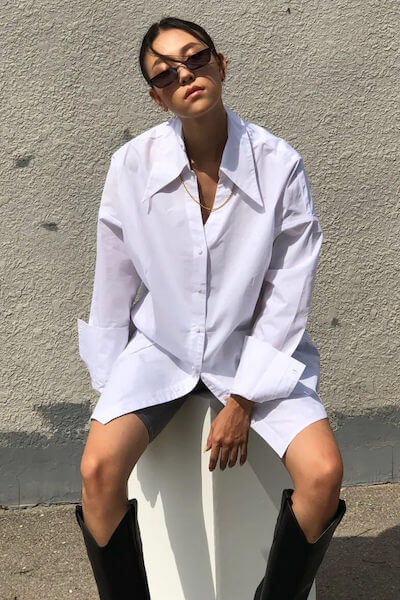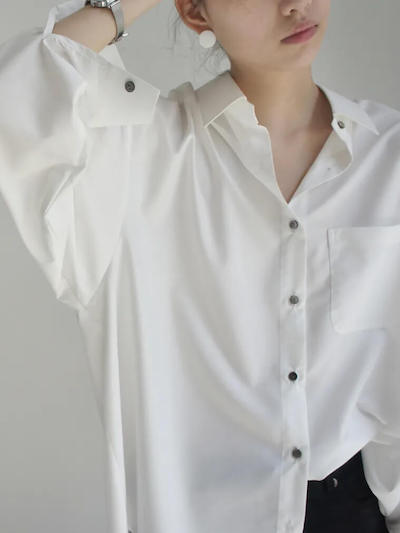 There are still many brands producing classic white shirts. For example, Warehouse and eytys designed big drop shoulders and palace lamb sleeves.
There are still a few brands but work hard on the cuffs—for example, the Athens brand WOERA and the two Australian brands Michael Lo Sordo and WORN.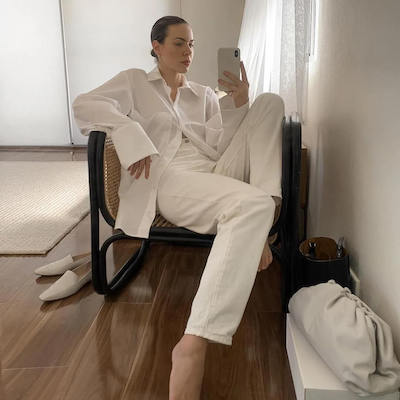 source
However, I found that two brands are worn the most.
One is the Russian brand BAZILIKA. Their shirts this year have a huge silhouette, but they are so popular. Many fashion bloggers chose them.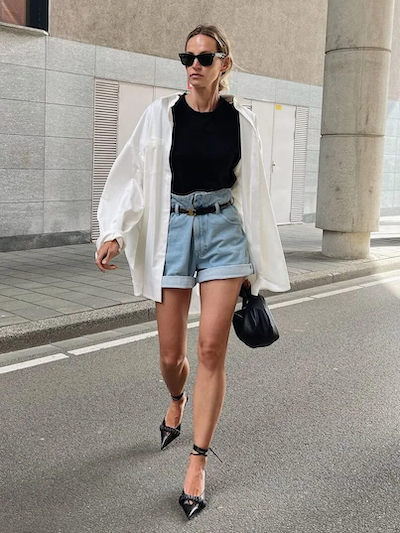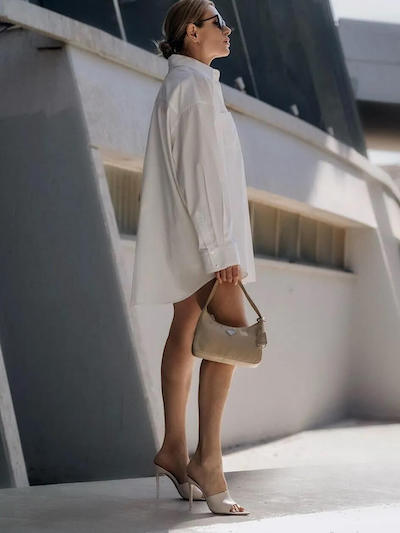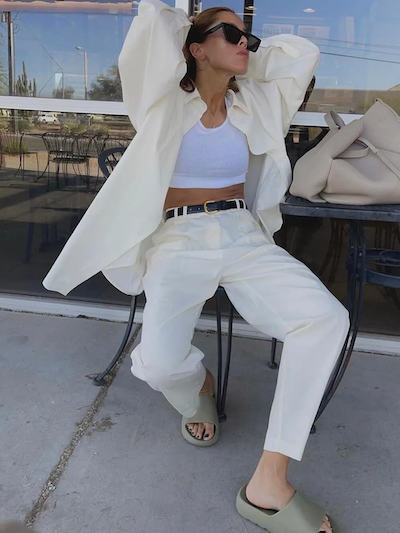 The price of this official website is $215, and there is also a black, cool one. It looks good when pairing with dresses or shorts.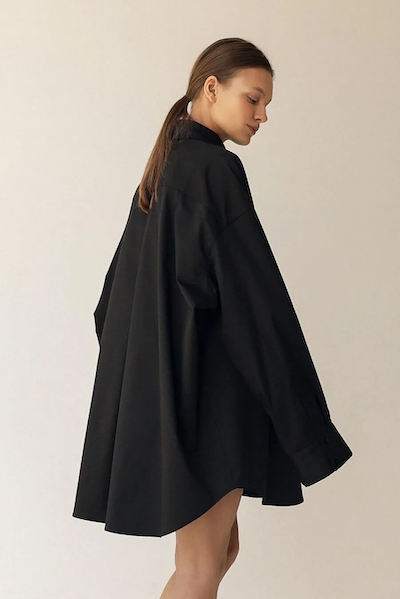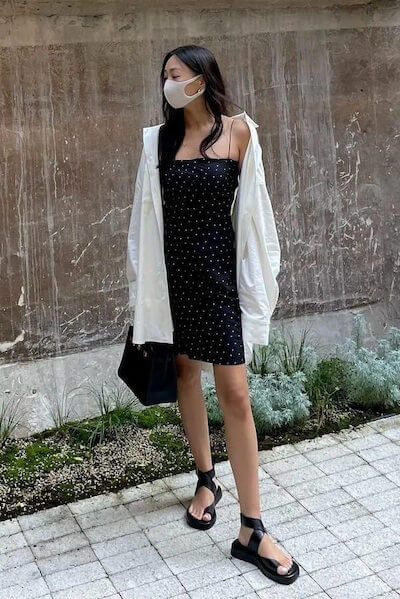 The other is Filippa K, a Swedish brand, who is famous for making white shirts.
Dutch fashion consultant Stephanie Broek used their white shirts to pair white skirts and khaki pants. Both styles are good-looking and easy to copy.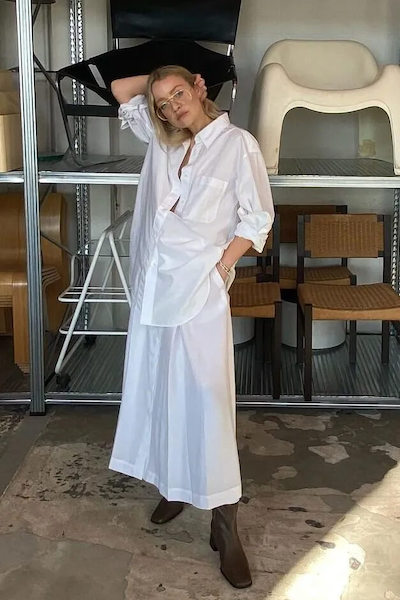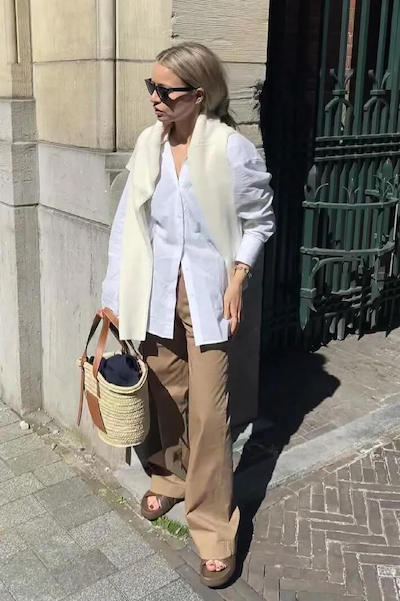 Filippa K has three silhouette white shirts, the new Anouk, Mandy, and Sammy in the core series. The price is the same; all are $220. The first two look very similar, but the fabric composition is a bit different.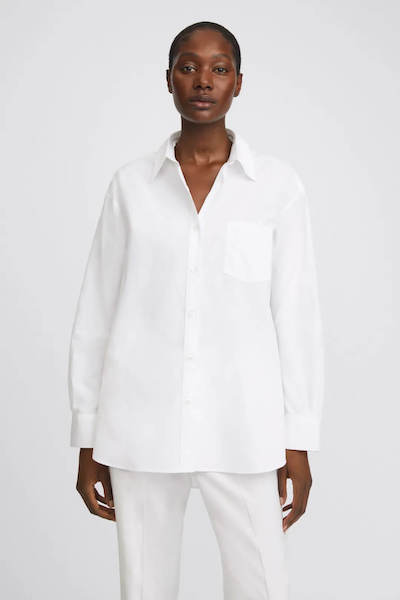 And I even recommend Sammy. This one features a pocket on the chest and a three-dimensional effect on the sleeves. But the overall version is not as big as BAZILIKA, suitable for more people.
Those bloggers we are familiar with also chose this one the most.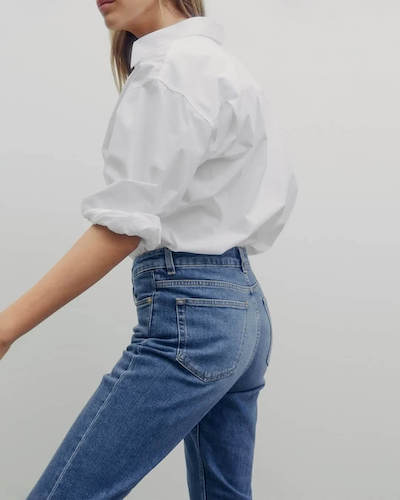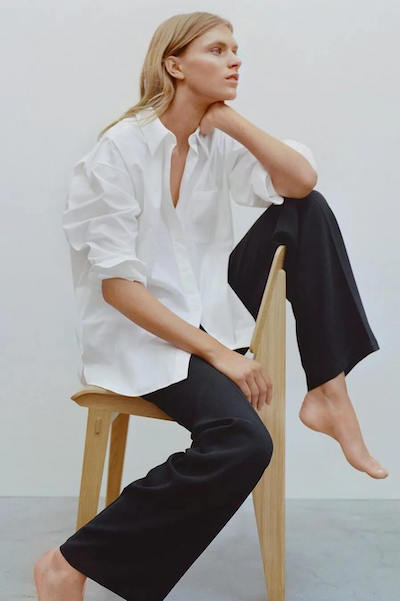 3. Khaki Or Blue Oversized Button Down Shirts
The bright-colored shirts may be hard to style, and the white shirts are slightly ordinary. Is there a moderate option?
There is! It is recommended to try khaki and light blue.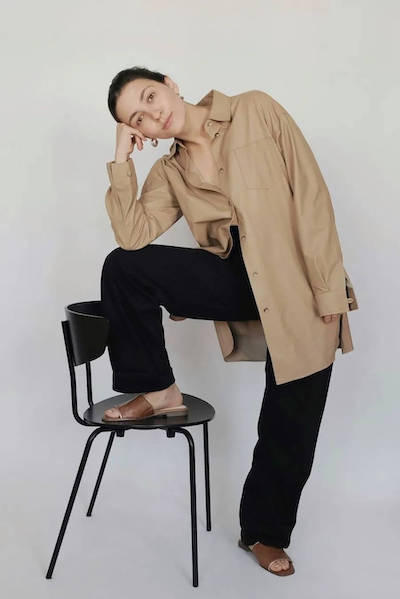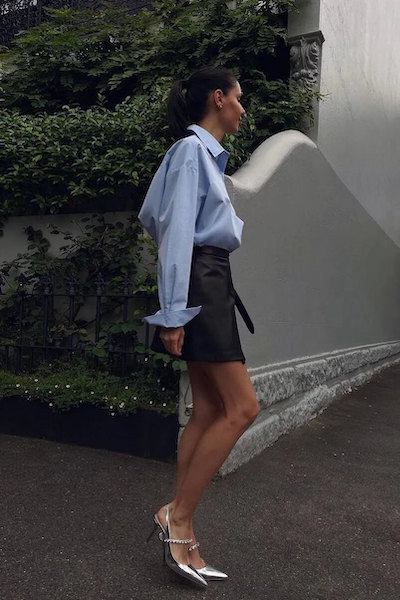 Let me talk about khaki first.
Khaki blazers and khaki pants are common, but shirts are relatively rare. But in fact, khaki shirts are beautiful and can be casual and professional.
If you are worried that a large area of khaki may be too dark for you, wear a white T inside.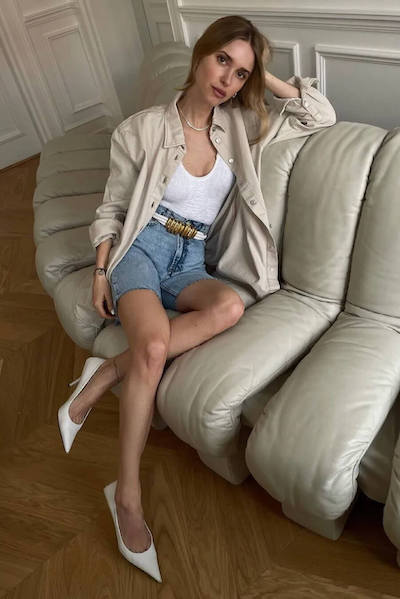 I especially like the look of Rosie Huntington-Whiteley and Stephanie Broek with khaki shirts and wide-leg pants. So chic! Khaki goes well with black or white. Their shirts are from the Frankie Shop and Filippa K, respectively.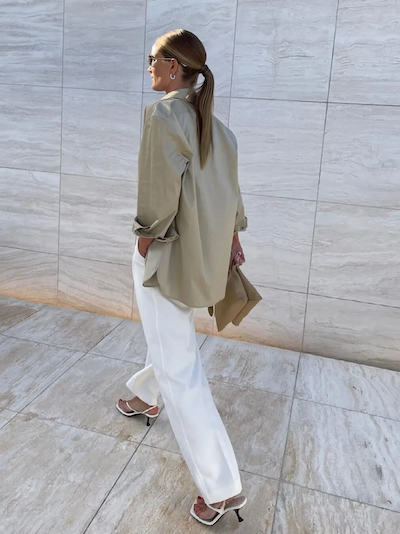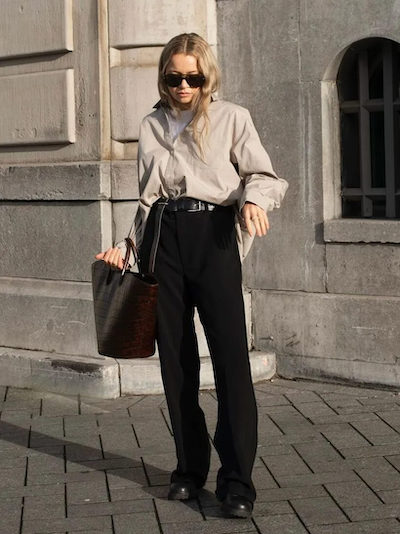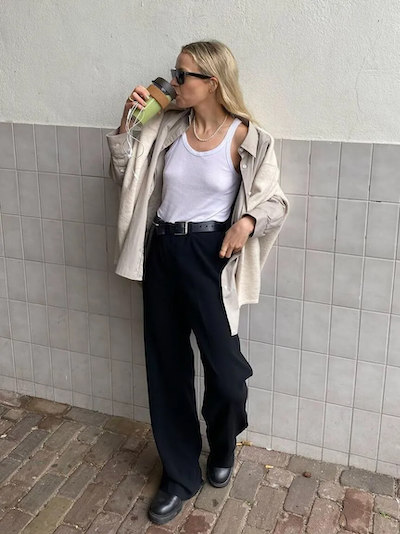 The Athens brand WOERA, specializing in shirts, also has many good-looking oversized shirts this year, including a short-sleeved khaki shirt that many people wear. The two pockets are so stylish. The price is 255 Euros.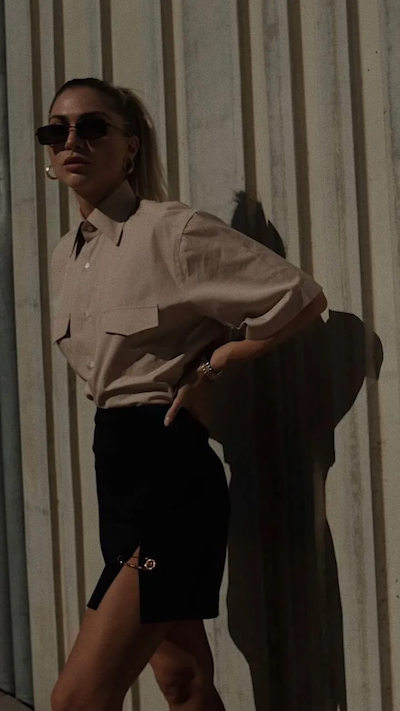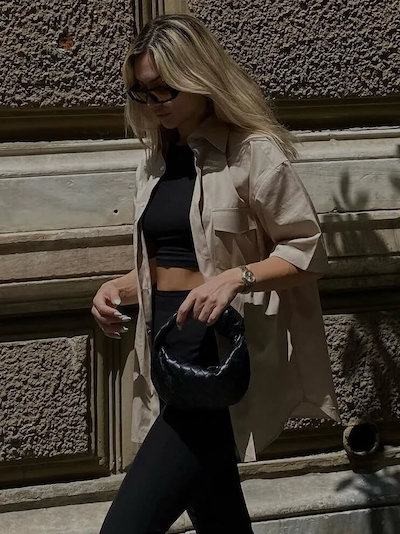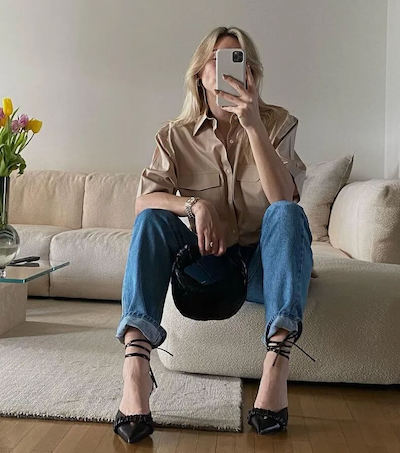 Let's talk about the blue shirt now.
Blue shirts are not new, and classic blue shirts are not easy to wear.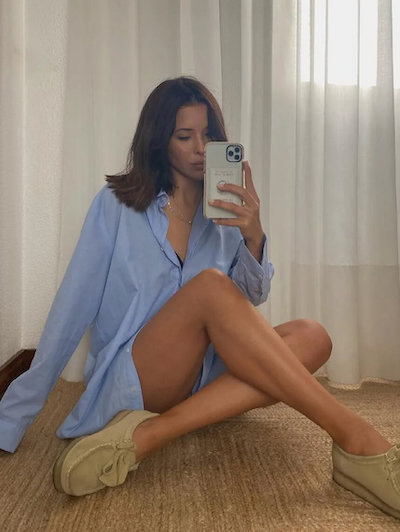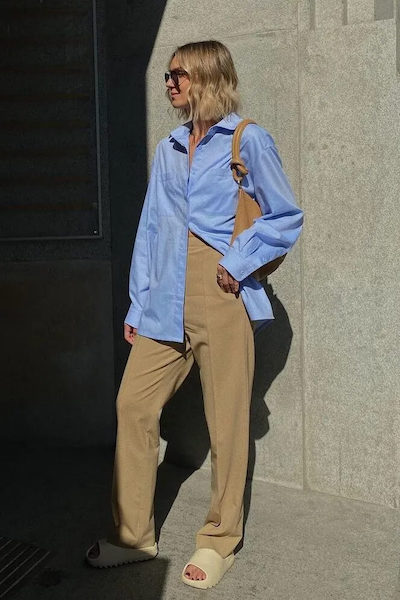 I would recommend lighter blue ones, which are easier to style.
For example, the baby blue worn by Dutch blogger Anouk Yve looks very refreshing and easy to copy. The shirt comes from the Copenhagen brand Mads Nørgaard.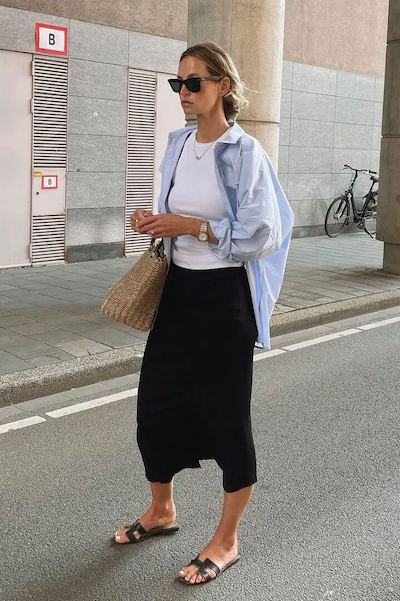 Or more simply, let's change to stripes! The blue and white striped shirt is too classic and much better to wear than the pure blue shirt.
Interior designer Sarah Blythe comes from Another Tomorrow and The Frankie Shop, respectively. They look good with trousers, knit pants, and vests.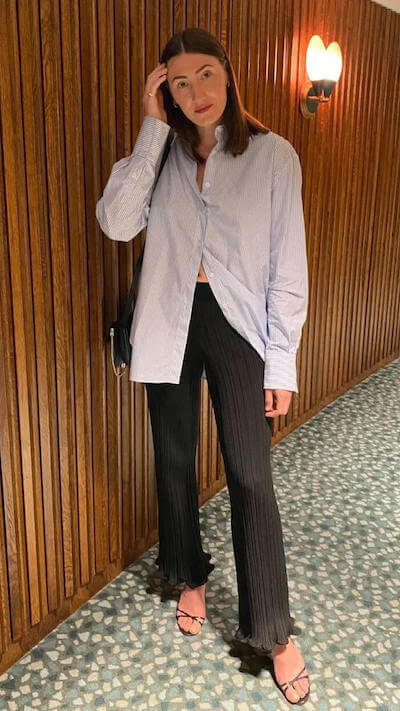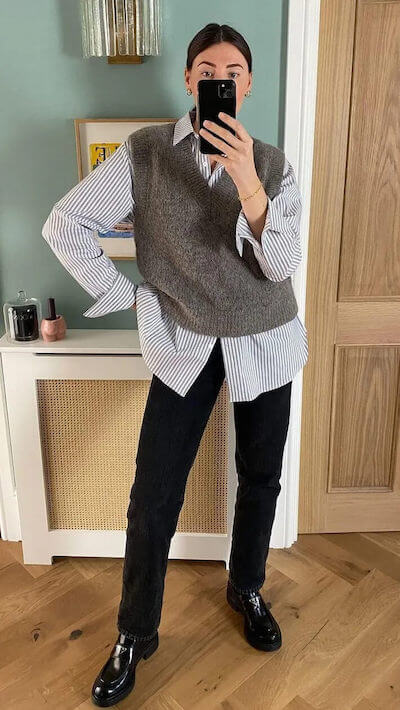 Generally speaking, the oversized button down shirt is worth trying and is easy to style!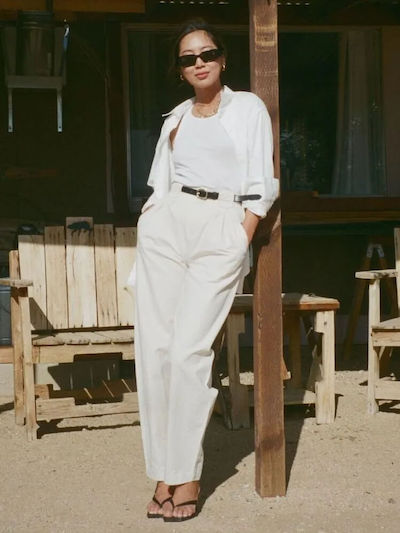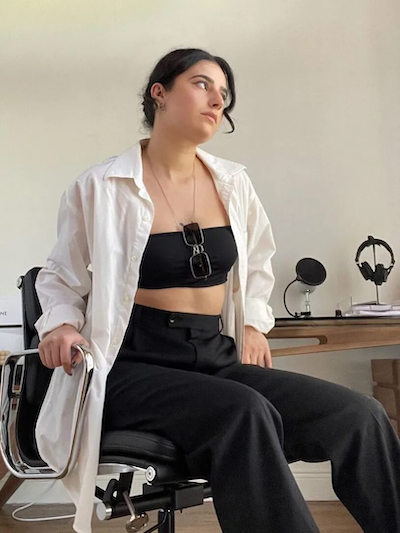 Related Post:
This post was all about oversized button down shirt outfits.