Wondering what to wear in Hawaii? Check this post for the best outfit ideas for any occasion in Hawaii and the ultimate Hawaii packing list for females and males.
Welcome to Hawaii – the land of sunshine and sandy beaches!
As you prepare for your tropical vacation, you'll want to make sure that you are dressed appropriately for the warm weather.
While some may think that you can just throw on a bathing suit and be done with it, there is actually more to it than that for your trip to Hawaii.
In this article, we will discuss what types of clothing are best for any activity in Hawaii – from lounging around the pool to exploring the islands.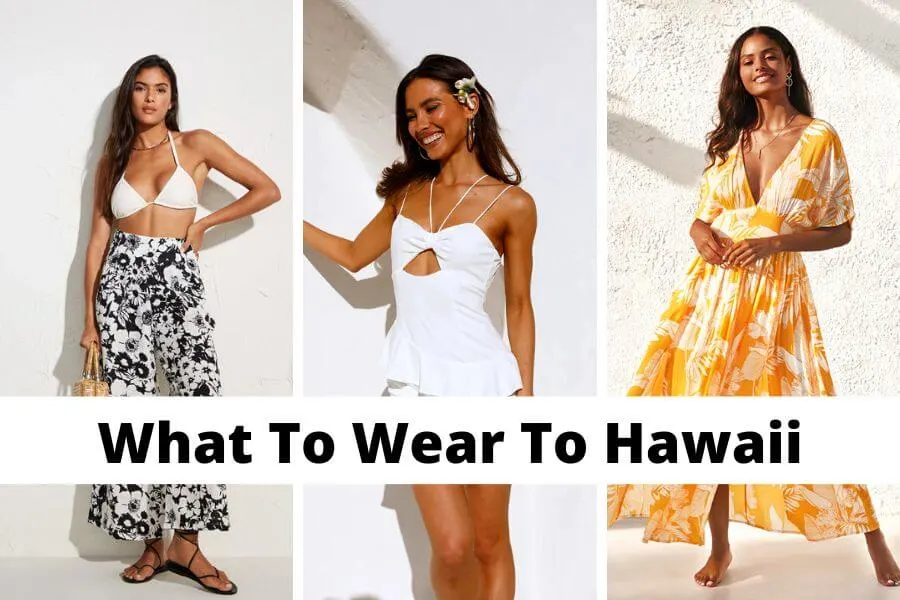 This post is all about what to wear to Hawaii.
What To Wear To Hawaii For Different Seasons
What To Wear In Hawaii In The Spring
Spring is the perfect time to visit Hawaii because of its warm and comfortable climate.
The temperature ranges from 70-80 degrees Fahrenheit, making it ideal for outdoor activities like hiking, surfing or swimming.
When packing for your trip, make sure to pack light and breathable clothing such as cotton T-shirts, tank tops, shorts and dresses.
For adventurous travelers who plan on exploring Hawaii's natural wonders like waterfalls or forests, it is recommended to wear comfortable shirts or blouses with long sleeves to protect against insect bites or scratches.
Don't forget to pack a pair of sturdy sneakers or hiking boots too!
Lastly, no Hawaiian vacation is complete without beachwear essentials such as swimsuits, flip flops and cover-ups.
Whether you're lounging on the beach or taking a dip in the crystal clear waters of Maui, be sure to have all your swimwear necessities packed!
What To Wear In Hawaii In The Summer
When it comes to what to wear in Hawaii in the summer, comfort and practicality should be at the forefront of your mind.
The temperature is hot and humid, so lightweight clothes that allow your skin to breathe are essential.
Opt for loose-fitting tops made from breathable fabrics like cotton or linen paired with shorts, skirts, or light trousers.
Summer in Hawaii also means beach vacation time.
Make sure you pack a variety of swimsuits that are functional yet stylish.
Bikinis with high-waisted bottoms or one-piece swimsuits with cutouts are on-trend this season and perfect for a day lounging by the water.
Finally, don't forget about footwear when planning what to wear in Hawaii.
Sandals or flip flops are ideal for walking around the beaches and exploring coastal areas.
Consider bringing sneakers if you plan on hiking any trails or adventuring off-road as well!
What To Wear For Your Trip To Hawaii In The Fall
Fall in Hawaii is a great time to visit. The temperatures are still warm, but not as hot and humid as in the summer months.
When packing for your trip, it's important to keep in mind that Hawaii has a casual dress code.
You'll want to opt for light, breathable fabrics like cotton or linen.
For women, sundresses, shorts and tank tops are always a safe bet.
You can also pack a light sweater or cardigan for cooler evenings.
A pair of sandals or flip-flops will be your go-to footwear during your stay.
Men should pack lightweight shorts and t-shirts, along with a few button-up shirts for dinner outings.
A pair of comfortable sneakers or sandals will be perfect for exploring the island.
Remember to always bring sunscreen and sunglasses – the sun is strong all year round in Hawaii!
With these essentials packed in your suitcase, you'll be ready to enjoy all that this beautiful destination has to offer during the fall season.
What To Wear On Hawaii Trip In The Winter
When it comes to visiting Hawaii in the winter, you may think that all you need is a swimsuit and some sunscreen.
However, the weather can be unpredictable and chilly at times, so it's important to pack some warm clothes as well.
A light jacket or sweater will come in handy during the evenings or if you plan on hiking in higher elevations.
For daytime outfits, opt for lightweight and breathable fabrics such as cotton or linen.
Shorts, sundresses, and tank tops are still appropriate choices, but make sure to wear a pair of comfortable walking shoes for exploring the islands.
Don't forget to pack a hat and sunglasses to protect yourself from the strong UV rays.
If you plan on attending any formal events while in Hawaii, consider packing a dressier outfit such as a maxi dress or resort wear separates.
Accessorize with statement jewelry pieces that capture the essence of Hawaiian culture.
By following these tips, you'll be able to enjoy your winter vacation in Hawaii comfortably and fashionably!
Now scroll down to check style tips on what to wear in Hawaii for different occasions.
Cute Outfits For Hawaii Vacation Beach Days
When it comes to dressing for a Hawaii vacation, beach days are an essential part of the itinerary.
Whether you're planning on lounging on the sand or taking a dip in the crystal-clear waters, your outfit should be comfortable and stylish.
One popular option is a flowy sundress paired with sandals or flip flops.
Opt for bright colors or fun patterns that reflect the tropical vibe of Hawaii.
Another great option for beach days is a swimsuit and cover-up combo.
Choose a one-piece or bikini that flatters your figure and pairs well with a flowy cover-up.
These can range from sarongs to caftans to lightweight kimono-style jackets – just make sure it's easy to slip on and off over your swimwear.
Don't forget to accessorize with sunglasses, hats, and beach bags!
If dresses aren't your thing, consider shorts or skirts paired with tank tops or crop tops.
Linen shorts are a popular choice as they're breathable and comfortable in the heat while still looking chic.
Skirts can be dressed up or down depending on the occasion – opt for high-waisted options paired with cropped tops for an edgier look or mid-length skirts with tucked-in tank tops for something more classic.
Trendy Hawaii Resort Wear Ideas
When packing for your Hawaiian vacation, it's important to have a variety of stylish resort wear options.
One trendy option is the classic sarong or pareo.
These versatile pieces can be tied in countless ways to create different looks and provide coverage when needed.
Pair your sarong with a cute bikini top or tankini for a beach-ready outfit.
Another must-have item for your Hawaiian wardrobe is the maxi dress.
Opt for flowy, lightweight materials like cotton or linen to keep cool in the warm weather.
Floral prints and bright colors are popular choices and will help you stand out while exploring the island.
Lastly, don't forget about accessories!
A straw hat not only protects you from the sun but also adds a touch of elegance to any outfit.
Statement earrings or necklaces can add some extra flair without taking up too much space in your luggage.
With these trendy Hawaii resort wear ideas, you'll be ready to enjoy paradise in style!
Cute Hawaii Luau Outfit Ideas: What To Wear To A Luau Party
A luau party is a great opportunity to showcase your fashion sense while immersing yourself in Hawaiian culture.
The perfect Hawaii luau outfit should be comfortable, stylish, and appropriate for the occasion.
Some of the most popular outfit ideas for a Hawaii luau include floral maxi dresses, flowy skirts, and shorts paired with tropical-printed tops.
For women, accessorizing plays an important role in completing the perfect luau look.
You can add some fun elements to your outfit by wearing flower crowns or hair clips made from hibiscus flowers.
Don't forget to bring along a pair of comfortable sandals or flip flops that match your outfit.
Men can also sport Hawaiian shirts or button-downs in bright colors and bold prints paired with khaki shorts or pants for a casual yet polished look.
A pair of loafers or boat shoes will complete the ensemble.
Ultimately, when choosing what to wear to a Hawaii luau party, comfort is key while staying true to the festive spirit of the event!
Best Hawaii Outfit Ideas For A Formal Event
If you're attending a formal event in Hawaii, it's important to dress appropriately while still embracing the island's laid-back style.
For women, a long flowy dress in a bold color or print is always a great option.
You can accessorize with gold jewelry and sandals for a tropical touch.
If you prefer pants over dresses, try pairing high-waisted wide-leg pants with a crop top or blouse.
Men can opt for linen or cotton suits in light colors like beige or white to keep cool in the warm Hawaiian weather.
Pairing the suit with loafers or boat shoes will give it an island feel.
Alternatively, men can wear tailored slacks and a button-up shirt along with loafers for an equally stylish look.
It's important to remember that comfort is key when dressing up for events in Hawaii.
Choose breathable fabrics and lightweight materials to ensure you stay comfortable throughout the night while still looking chic and put together.
What To Wear To Water Activities In Hawaii
There are plenty of popular water sports in Hawaii, like snorkeling, surfing, etc.
Although snorkeling is a project that can be done in almost every tropical place by the sea, Hawaii is arguably the world's most recognized snorkeling place.
All four main islands offer a variety of snorkeling spots, and all levels are available, so you can either go out on a boat with a small local group and spend a full day in some of the fish-flooded areas, or you can wake up and run to the bay near hotel (or even downstairs) and say Good Morning to sea turtles.
These snorkeling spots not only have a lot of fish and a high safety factor, but also usually have wide waters, so you can swim freely in a wide range, and always find new species of fish as you swim through a shallow beach or turn a wall of coral reef, which is a little bit of adventure.
Swimsuit
If you are participating in snorkeling, you don't need to wear those long-sleeved, long-pants wetsuits, which are for deep diving.
For general snorkeling, you just need to wear a swimsuit.
Long Sleeve Top
You can buy a long-sleeve sunscreen shirt for water activities.
The texture should be swimsuit material to protect you from the sun for water activities.
This one from Amazon is great.
If you don't spend a lot of time in the water, a long-sleeve top like the one below is also a great option.
You can wear your swimsuit inside and put on a sunscreen shirt or a long light shawl outside.
Sometimes you won't have a place to change, so I suggest you bring a towel (usually available at the hotel) and dry off after you get on the boat or ashore before putting on your long sleeve shirt.
Snorkeling Equipment
If you arrange more snorkeling activities, you can bring your own set of snorkeling masks and air tube, which is more hygienic and clean.
Life Jacket
I brought a life jacket with me the last time I went to Hawaii.
If you don't go snorkeling by yourself, or if you have good skills, it's not really necessary to bring one.
There are some tours that come with life jackets.
You can buy life jackets on Amazon or at your local outdoor store. Remember to test for air leaks.
What Do You Wear On A Whale Watch In Hawaii
If you want to whale watch in Maui, then there is definitely something for you.
Lahaina on Maui Island is not only beautiful but also a great place, even one of the best places in the world for whale watching.
The whales make a long trip from Alaska every winter, so the winter months of December to March are the best time to go there.
Sunglasses
There can be a sunny glare on the water's surface.
Bringing sunglasses is a good idea to make your whale-watching experience more comfortable.
Shirt And Water Proof Top
Add a waterproof top to your shirt.
Sometimes there can be rain or ocean spray.
Shorts Or Long Pants
Avoid skirts, dresses, or linen wide-leg pants.
The wind will be strong on the sea.
Comfortable Shoes
Some whale-watching tours are barefoot charters.
So you can check with them to see if you need to wear closed-toe shoes.
Hat
Wearing a hat can provide more shade during the tour.
What To Wear To A Short Hiking On Hawaiian Islands
High Quality Hiking Boots
Most hikes in Hawaii are harder than those in the continental United States, so you should be in good health and, as always, wear appropriate shoes before attempting these hikes.
Cool, loose-fitting pants or shorts
But be aware that you may get scratched by tree branches.
So if needed, please wear leggings.
Sports Bra
Put 1-2 sports bras in your luggage for hiking and more strenuous activities.
They help support your breasts well when having physical activities and they are way more comfortable than swimsuits.
Lightweight shirt
To keep you cool.
Lightweight, rainproof jacket
especially if you plan to go into tropical forests or valleys.
Lightweight Bag
A crossbody bag for a short hike and a nice backpack for a longer hike.
Other Things You Need To Prepare For Your Hiking:
Plenty of drinking water, a quick snack and sunscreen (depending on the distance and intensity of the hike. Prepare some from a local grocery store or convenience store before the hiking)
Insect repellent
Cell phone
For longer and more difficult hikes, you may also need: hiking backpack, work gloves, sweater, first aid kit, more water and food, flashlight, compass, maps.
If you are watching the sunrise at the Haleakala National Park, please make sure to bring a thick jacket! It is the coldest time at the top of the mountain at 5 or 6 am. I was wearing all my thick clothes, but I still felt cold, so a thick jacket is very important! You may also need a hat to keep your head warm.
What To Wear To A Horseback Riding In Hawaii
My favorite outfit for horseback riding in Hawaii is comfortable long pants and a cute top.
You can also bring a long sleeve shirt for sunscreen.
For cooler weather, you can add gloves or a jacket.
And wear comfortable riding boots or cowboy boots.
They are the best shoes for horseback riding.
Common hiking boots, a pair of tennis shoes, or sneakers are not safe for horseback riding.
It is important that your footwear has at least a 1-inch (2.5 cm) heel, a closed and protected toe as well as a sole with some grip.
What To Wear In Maui
When it comes to packing for a Maui vacation, you'll want to keep things light and breezy.
Opt for clothing made from lightweight materials like cotton or linen.
Shorts, sundresses, and sandals are all great options for exploring the island's beaches and attractions.
Swimwear is also a must-have item for your Maui trip.
Whether you prefer bikinis or one-piece swimsuits, make sure to pack at least two so that you always have a dry option available.
Don't forget to bring a cover-up as well – something that can easily transition from the beach to lunch at a nearby cafe.
Lastly, it's important to remember that Hawaii has a tropical climate with occasional rain showers throughout the year.
Be sure to pack a lightweight rain jacket or poncho just in case, as well as comfortable walking shoes for any hiking adventures you may embark on during your stay.
Aloha Attire: What It Is & Outfit Ideas
Aloha attire is a dress code that originated in Hawaii and is now commonly seen at events throughout the state.
The style is characterized by bright, colorful patterns and comfortable, casual fabrics.
Men typically wear Hawaiian shirts or aloha shirts paired with khaki shorts or pants, while women can choose from a variety of options including muumuus, sundresses, and skirts.
For those looking to incorporate aloha attire into their wardrobe for your travel to Hawaii, there are a few key things to keep in mind.
Bright colors and bold prints are essential for achieving the look, as well as lightweight fabrics that will keep you cool in the island heat.
Some popular outfit ideas include pairing an aloha shirt with white linen pants or wearing a maxi dress with sandals and statement jewelry.
Whether you're attending a luau or simply want to embrace the laid-back vibes of Hawaii, incorporating some elements of aloha attire into your wardrobe is sure to make your vacation even more memorable.
What To Pack For Hawaii: Ultimate Hawaii Packing List
Below I am sharing our favorite packing list for a Hawaii trip.
Basics:
Travel Documents:
Water Bottle
Travel Pillow
Ear Plugs
Credit Cards & Debit Cards
Currencies
Phone & Tablet & Headphones
Chargers
Waterproof Phone Case
Waterproof Dry Bags
Band-Aids: Outdoor activities like snorkeling, surfing, climbing and so on will inevitably cause small bumps and bruises. Bring a box of band-aids will definitely be useful. Some places in Hawaii don't have many pharmacies. Band-aids themselves do not take up much space. So it is still recommended to bring band-aids.
Essential Clothes To Wear In Hawaii
Underwear & Bras
Bathing Suit / Bikinis
Cover-up
Long Sleeves Shirts
Cute Tops
Shorts/ Skirts/ Pants
Dresses
Lightweight Jacket
Light Rain Jacket
Pajamas/ Bathrobe
Sweater / Hoodie & Long Pants ( for cold days)
Accessories & Shoes For Hawaii
Straw Hat/ Bucket Hat
Straw Tote / Beach Bag
Crossbody Bag / Backpack
Flip Flops/ Cute Sandals/ Slippers / Water Shoes
Belt
Statement Jewelry & Fine Jewelry For Formal Events
Small Umbrella
Sunnies
Toiletries
Shampoo & Conditioner
Other Hair Products
Soap
Toothbrush & Toothpaste
Mouthwash
Dental Floss
Deodorant
Moisturizer & Lip Balm
Makeup & Makeup Remover
Comb
Hand Sanitizer
Hair Dryer
Razor
Tweezer
Mirror
Nail File
Nail Polish & Remover
Feminine Hygiene Products
Eyeglasses/ Contact Lenses
Contact Lenses Cleaning Products
Reef-Safe Sunscreen & After Sun Lotion
Suntan Lotion
Optional Things To Pack For Hawaii
Medications
Vitamins
Contraception
Long-Sleeve Sunscreen Shirt for water activities, hiking, etc.
Snorkeling Equipment
Life jacket for snorkeling
Long-Sleeve Rash Guard for deep diving or frequent snorkeling. The sea temperature is still very cool in the morning and many times in the afternoon. A rash guard is the best option to protect yourself from the sun and keep warm.
Sports bras for hiking and strenuous activities
Hiking boots
Leggings for hiking or surfing
Thick jacket for sunrise watching
Gloves for cold weather horseback riding
Riding boots / Cowboy boots for horseback riding
Waterproof digital camera / Underwater camera
What Not To Bring To Hawaii
Insect repellents: Many insect repellents are designed as sprays and therefore are not allowed to be brought on board. You don't need to bring them to Hawaii at all. You can easily buy them in Hawaii.
Dressed-up clothes: The vibe in Hawaii is all about relaxation and ease. Therefore, unless you receive a special request or are attending a wedding , you don't need a particularly elegant or flashy outfit.
High Heels: Likewise, you will hardly find an occasion to wear high heels in Hawaii.
Beach towels: you don't need to bring your beach towels to Hawaii. Most of the hotels provide beach towels, so you can take them with you and just make sure you return them.
What To Wear In Hawaii For Guys
If you are also preparing a packing list for guys, here are what I suggest:
Hawaiian Shirts Or Short-Sleeve Button Down Shirts. Ideally you should choose cotton or linen ones to keep you breathable and cool.
Khaki Shorts Or Linen Shorts
Slacks: For your evening look and formal events.
Pin Hawaii Packing List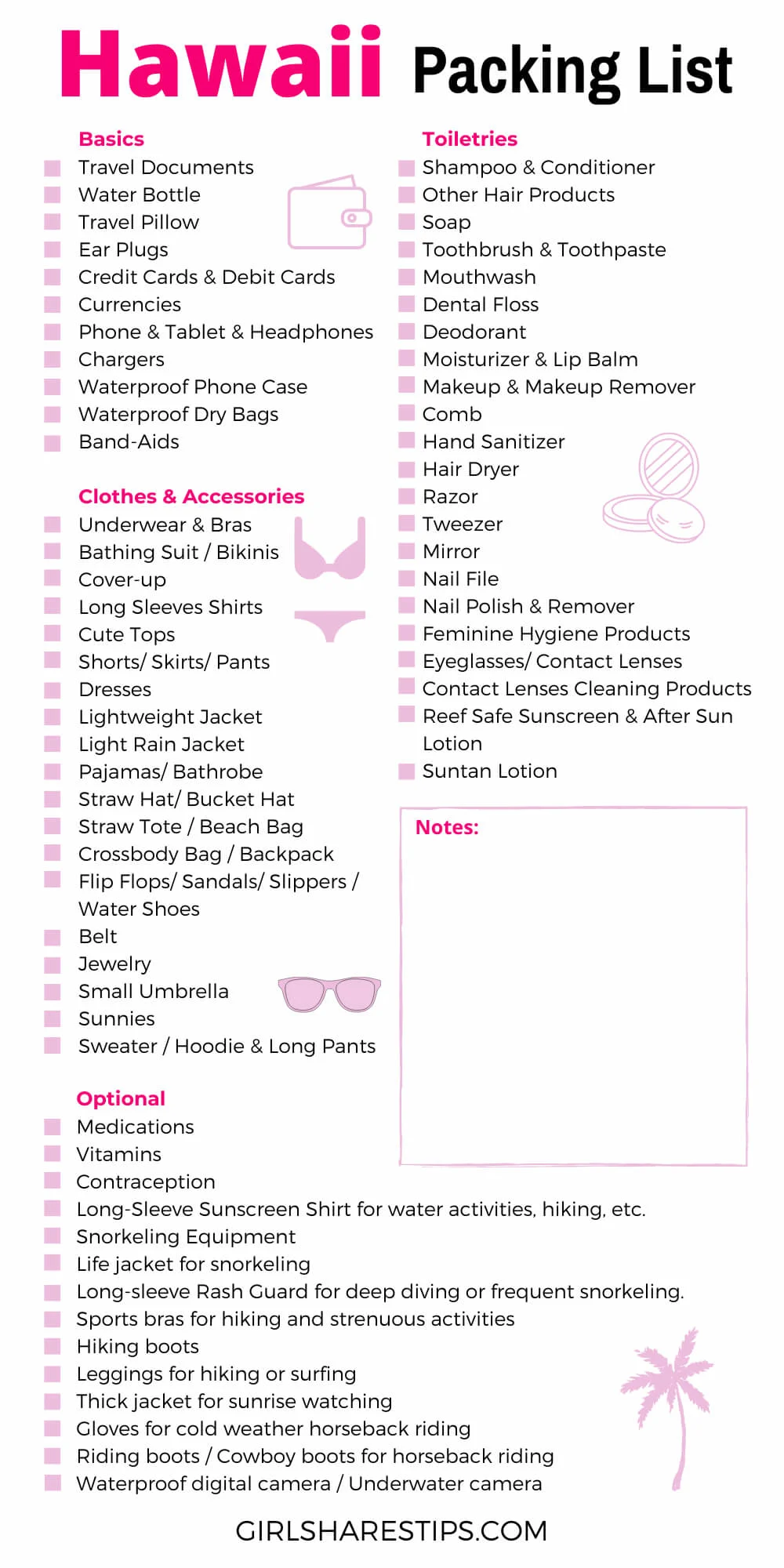 This post is all about what to wear to Hawaii.
Other Beach And Travel Outfit Ideas: