Wondering what to wear to a western wedding? Check this post for the dress code, fashion guide, and western wedding guest outfit ideas to copy directly.
Attending a western wedding as a guest is an exciting occasion.
You want to look your best without upstaging the bride and groom.
Knowing what to wear to a western wedding can be tricky– it's important that you choose an outfit that suits the style of the event, while also being suitable for the venue and weather conditions.
If you are looking for the best western wedding guest fashion guide, you've come to the right place.
In today's article, I am sharing with you the best western wedding attire ideas for the guests, and the best outfit ideas for you to copy and shop for directly.
So scroll down to check these guest outfit ideas for a western wedding, and don't hesitate to pin them to your Pinterest board, and share them on social media sites.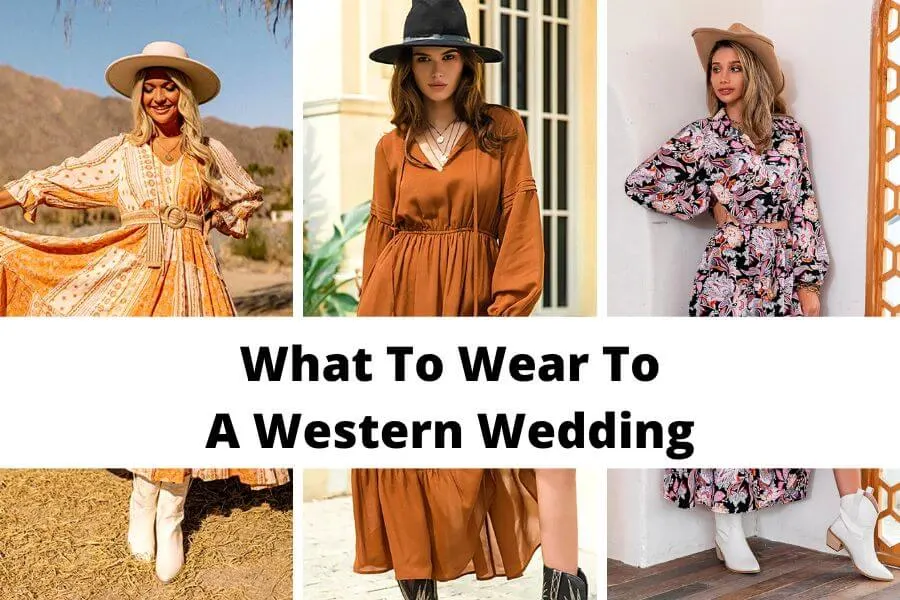 This post may contain affiliate links, which means I'll receive a commission if you purchase through my link, at no extra cost to you. Please read the full disclosure here.
This post is all about what to wear to a western wedding.
What do I wear to a western-themed wedding?
If you've been invited to a Western-themed wedding, finding the perfect outfit can be intimidating.
To make sure you look your best, consider these tips for dressing for a western themed wedding.
Start by considering the dress code as it will determine if your outfit should be formal or more casual.
For men, jeans and cowboy boots are an appropriate option for a casual country-style wedding; add a sharp shirt and blazer for a dressed up look.
Women can wear anything from flowy maxi dresses to lace dresses with cowgirl boots; adding layers of fringe and turquoise jewelry will enhance the western theme of your ensemble.
When putting together your outfit, keep in mind that you don't need to go overboard with cowboy hats and bolo ties but subtle touches like denim accents or statement footwear can tie in the theme seamlessly.
What should a woman wear to a western wedding?
When deciding on the perfect outfit for a western wedding, there are some key factors to consider.
First, take into account your personal style and comfort level.
If you prefer something more modest and elegant, opt for a long dress or skirt paired with an embellished blouse and cowboy boots.
For something more daring yet still tasteful, try an embroidered shift dress with statement jewelry.
A jumpsuit is also a great option if you want something modern but classic at the same time.
What should a man wear to a western wedding as a guest?
If you're attending a western wedding as a guest, there are certain clothing options that you should consider in order to make the right impression.
Firstly, try and avoid wearing all white or black.
A navy blue or grey suit is always appropriate and will give off an air of sophistication without looking too over-the-top.
When it comes to shoes, go for something classic like cowboy boots, loafers or Oxfords rather than sneakers or sandals – nothing flashy here!
Can you wear jeans to a western wedding?
Generally speaking, jeans should generally not be worn to formal weddings as they tend to be too casual for such an occasion.
However, depending on how formal or informal the wedding is, wearing jeans could still be appropriate.
If the wedding is more of a casual affair with rustic elements like hay bales and cowboy boots then opting for dark washed denim can fit in perfectly with this type of setting.
What to wear to a casual western wedding?
A casual western wedding is the perfect opportunity for guests to show off their fashion sense while still respecting the couple's special day.
Knowing what to wear can be tricky but by following these simple tips, you'll look and feel your best on the big day.
Start by choosing a light-colored, breathable fabric such as cotton or linen that won't weigh you down in the heat of the summer months.
Avoid bright colors and opt for more neutral shades such as pastels or muted earth tones.
For women, sundresses are an appropriate option – try wearing one with subtle detailing such as embroidery or lace trimming for added interest.
Men should stick to chinos or tailored shorts paired with a collared shirt and loafers.
What to wear to a formal western wedding?
Dressing for a formal western wedding can be intimidating, but with the right style guide, you'll find yourself looking your best!
When it comes to what to wear, consider the formality of the event and pick something that reflects your personal style.
Formal weddings might call for a suit or cocktail dress, depending on if you're male or female.
For men, an elegant navy blue suit with a crisp white shirt and tie is always classy.
Women should opt for flowing chiffon fabrics in light colors like blush pink or eggshell blue combined with simple jewelry and accessories.
Adding a hint of sparkle through metallic details or statement earrings will give your look just enough glamour without going overboard.
Finally, shoes should be comfortable but still fit in with the occasion – low-heeled pumps are usually the best choice here.
What to wear to an outdoor western wedding?
When it comes to attending an outdoor western wedding, choosing the right outfit can be tricky.
To ensure you look your best without taking away from the intended theme, there are a few key style tips to keep in mind.
First, dress for the season and location of the event.
If it's summertime and hot outside, choose lightweight fabrics like cotton or linen for your ensemble.
For a winter wedding, opt for warmer materials such as wool or tweed.
No matter what time of year it is, be sure to wear something that matches the overall rustic feel of a western-style wedding—think cowboy boots and hats!
Also consider adding layers with denim jackets or flannel shirts for extra style points.
What to wear to a western summer wedding?
When the invitation to a summer wedding arrives, it's time to start planning the perfect ensemble.
Fortunately, there are some key tips and tricks for putting together an outfit that will have you looking your best.
Start by choosing fabric that will keep you cool during warm weather.
Lightweight cotton and linen materials work well in warmer climates and provide a rustic look when paired with other country-inspired elements like fringe, denim or Western-style boots.
Denim is always great for outdoor weddings but try pairing a crisp button-down shirt with darkwash jeans or shorts to avoid being too casual.
What to wear to a western winter wedding?
When attending a western winter wedding, it is important to be aware of both the weather and the dress code.
For men, a three-piece wool suit with a vest will keep you warm and stylish in cold temperatures.
A cotton dress shirt paired with a tie or bowtie will complete your formal look. Dark colors such as navy blue, or grey are great options for winter weddings.
If you're feeling adventurous try out lighter hues like tans and browns.
For women attending a western winter wedding, there are also several beautiful options to choose from.
Choose an elegant long-sleeved evening gown or cocktail dress in dark colors like burgundy or midnight blue for an extra dose of sophistication and warmth during the cold months.
What Types of Dresses To Wear With Cowboy Boots To A Wedding?
Here are some ideas of what types of dresses to wear with cowboy boots to a wedding:
One great option is a maxi dress or a high-low dress.
This type of dress is both comfortable and stylish.
The length will cover the boots, which makes it look more formal than a shorter style dress would be.
You can also find maxi dresses in many colors, patterns and styles so you'll have plenty of options when choosing one for your wedding outfit.
A sundress is an excellent choice for a western wedding.
Whether the dress is patterned, solid, or floral it can be paired with cowboy boots to create a unique and stylish look.
The combination of the femininity of a sundress and the toughness of cowboy boots gives off a wild-west vibe that will make you stand out at any wedding.
A midi length dress that falls just above or below the knee is also ideal when wearing cowboy boots.
You should also look for dresses with interesting details like ruffles or lace, which will give your look extra character.
Remember to pick a dress that doesn't drag on the ground so you don't trip up when dancing!
Western wedding outfit ideas For Guests:
Want more inspration? Check the below our picks from online fashion stores to copy and shop directly.
Western Wedding Guest Dresses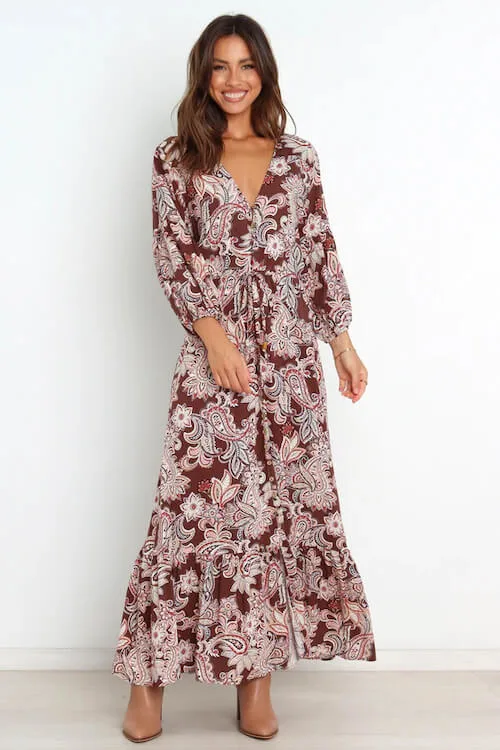 Floral Long Dress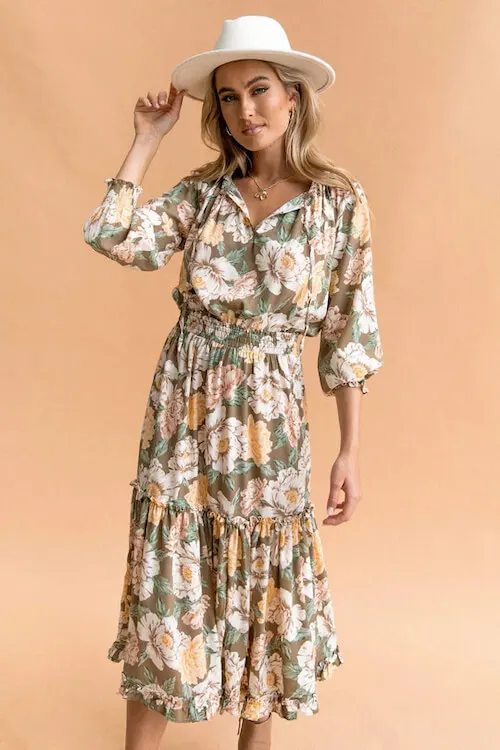 Floral Print V Neck Dress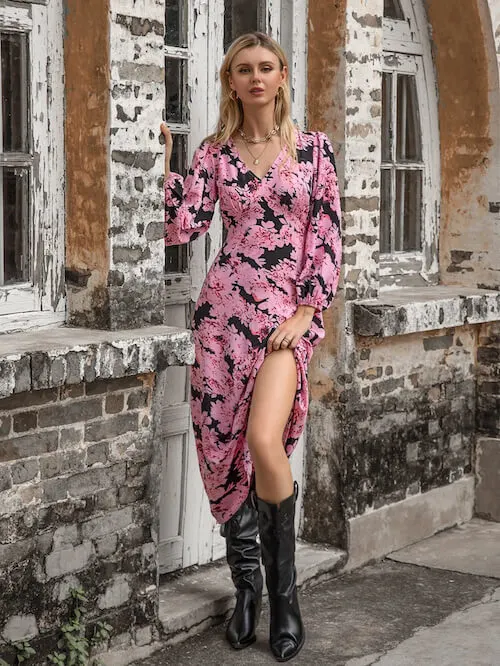 Floral Print Blouse & Skirt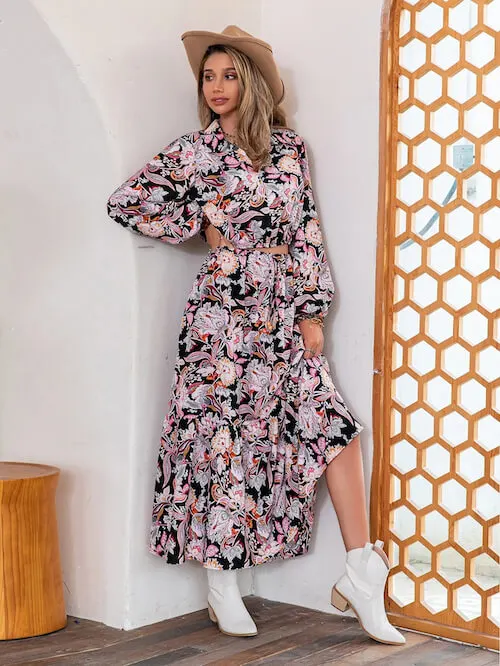 Sweater + Floral Skirt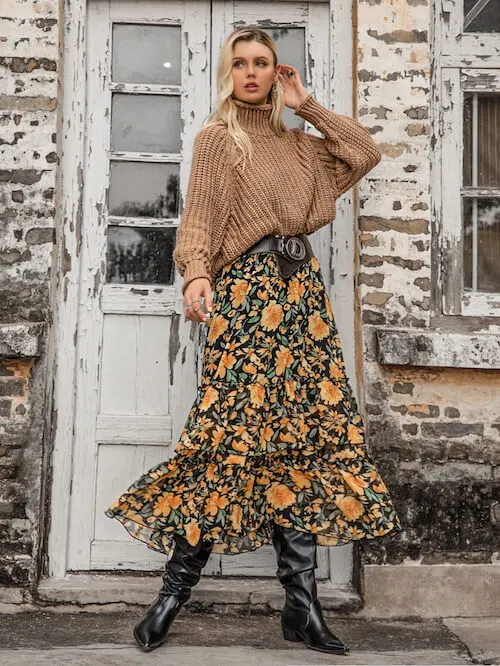 Cute Cowgirl Outfit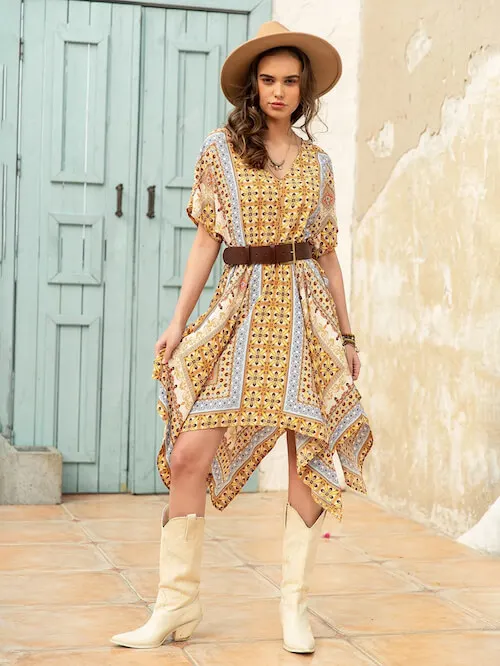 Suede Coat + Mini Dress + Western Boots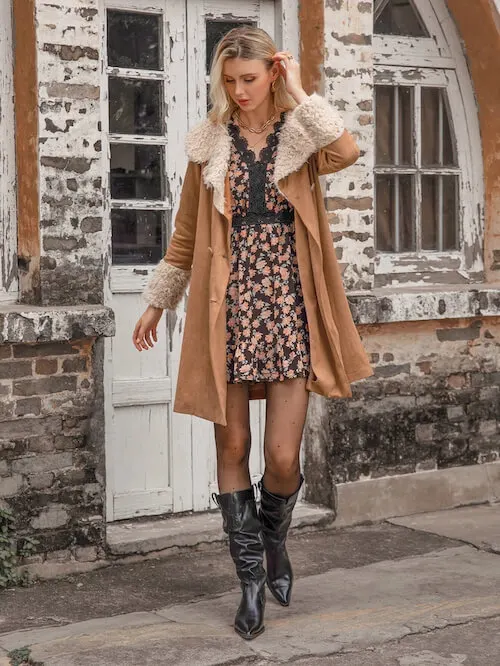 Floral Print Sleeve + A Pair of Cowboy Boots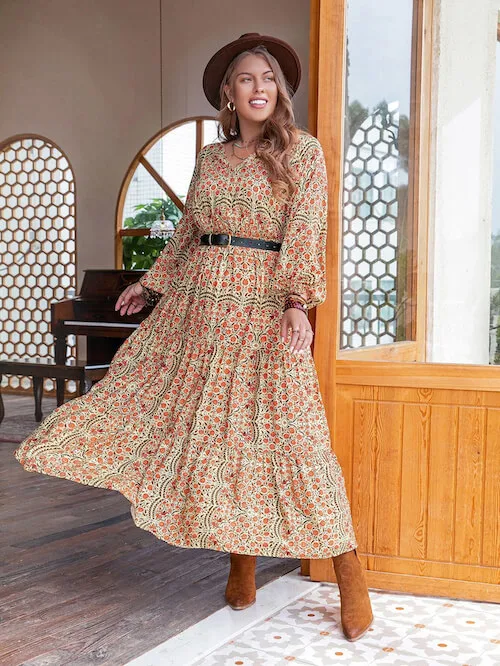 Paisley Flowy Maxi Dress + Black Cowboy Boots + Black Cowboy Hat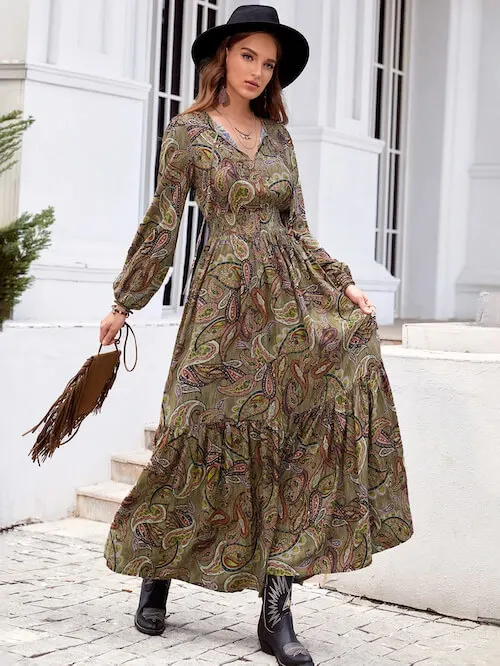 Brown Long Dress + Cowboy Hat + Cowboy Boots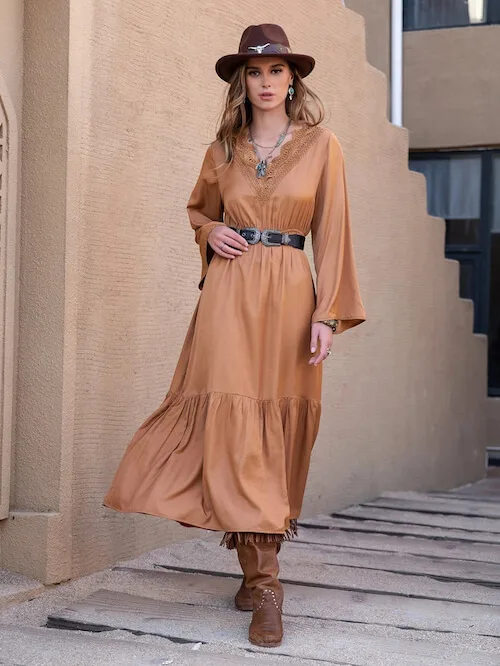 Printed Wrap Maxi Dress + Suede Boots
Semi Formal Attire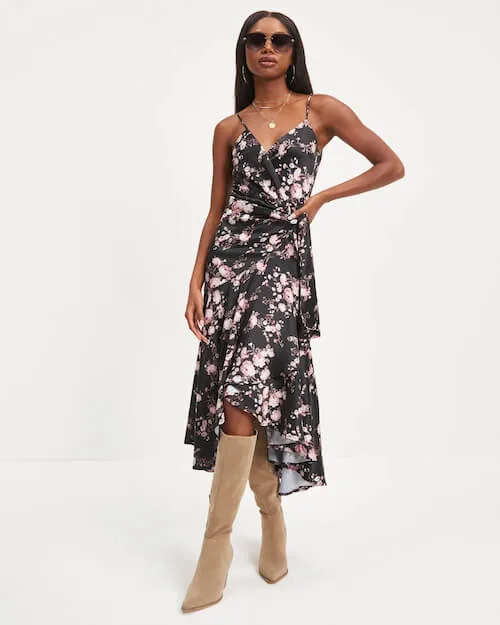 Outdoor Wedding Guest Outfit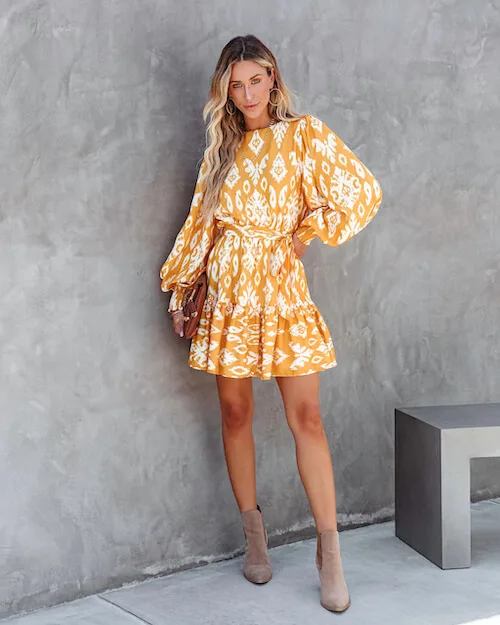 Dressy Casual Dress Outfit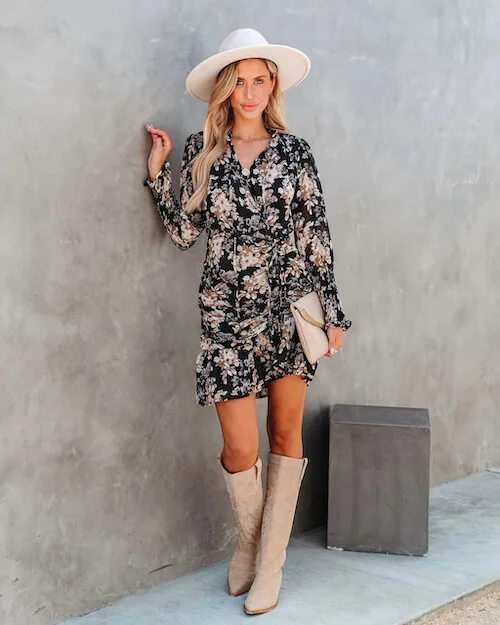 Floral Mini Dress + Tan Cowboy Boots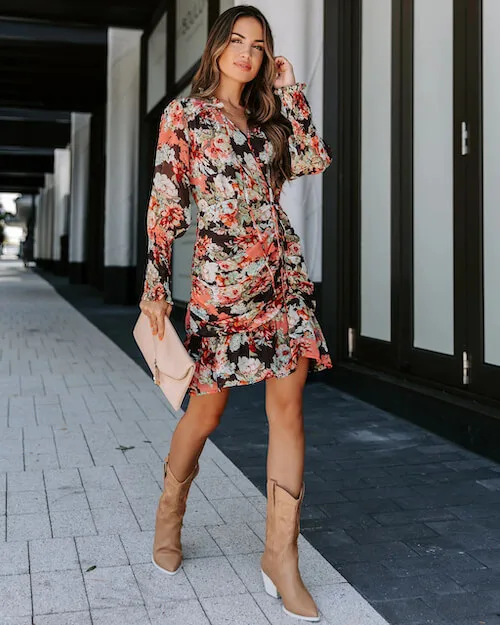 Elevated Western Wedding Attire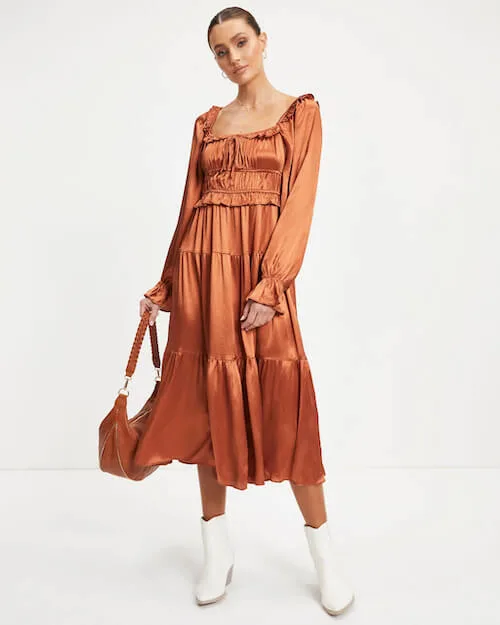 Chic Western Wedding Dresses for Guests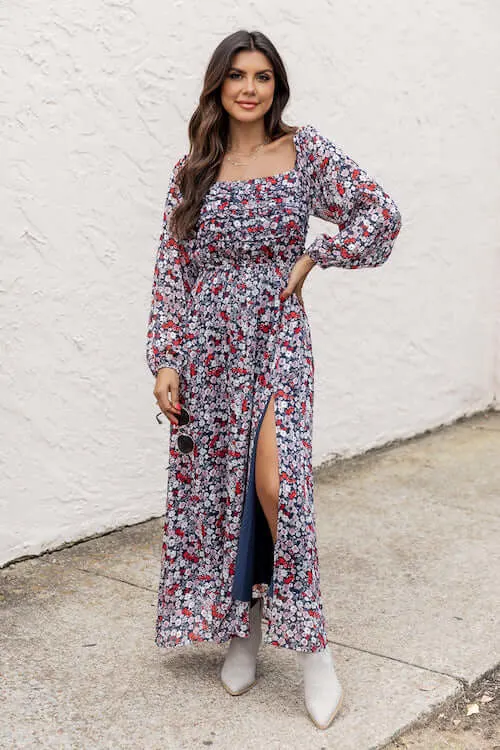 Pretty Cowboy Wedding Dress
Printed Blouse + Skirt + Cowgirl Boots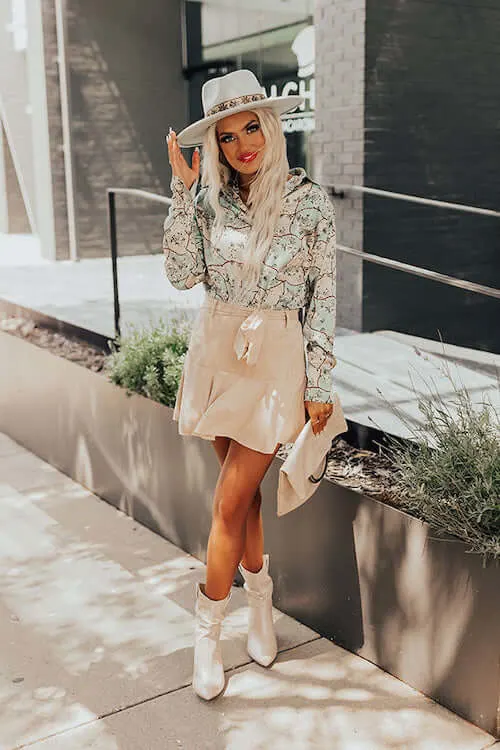 Midi Cami Dress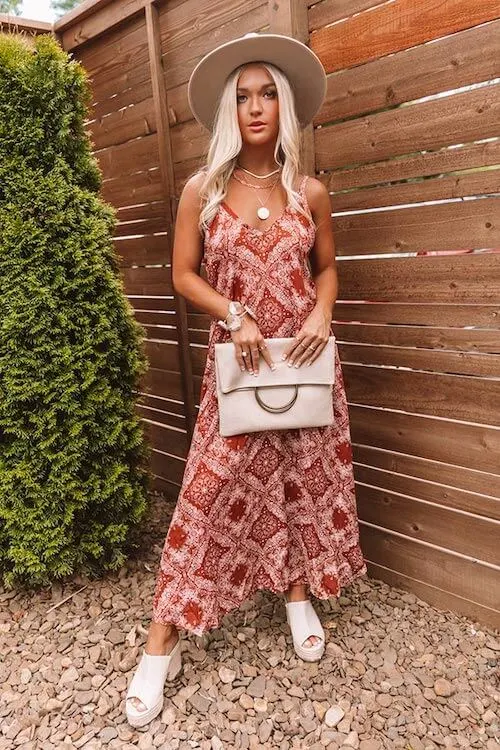 Green Country Dress + White Belt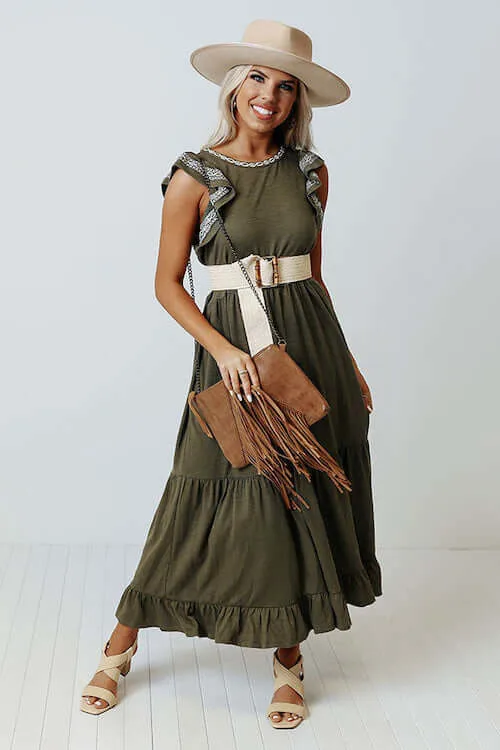 Floral Western Wedding Party Dress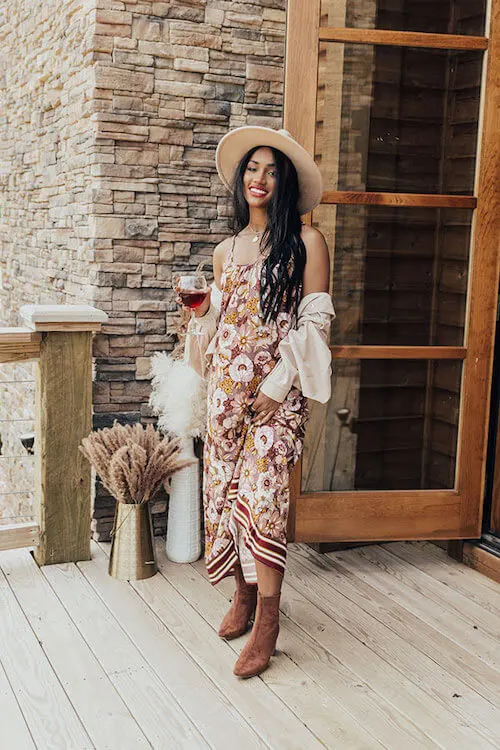 Plaid Western Dresses + Black High Boots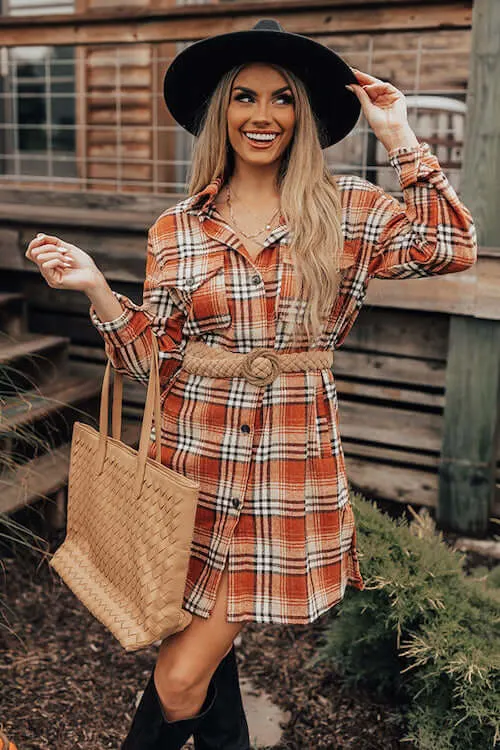 Tiered Midi Dress + White Western Boots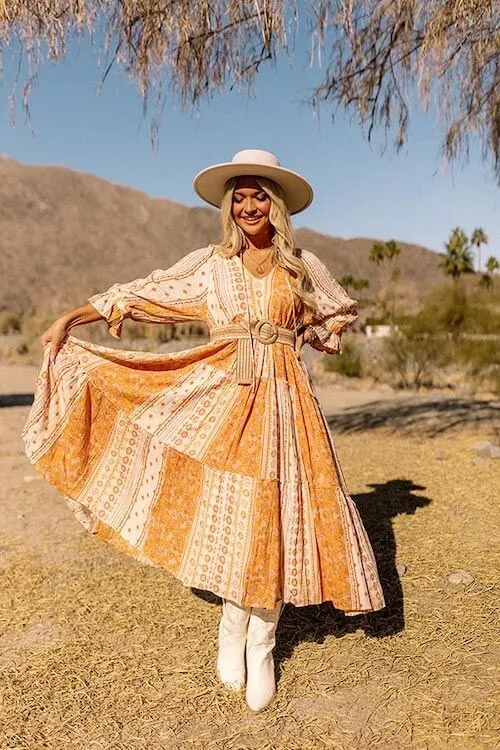 Floral Midi In Green
Black Maxi Dress for Plus Sizes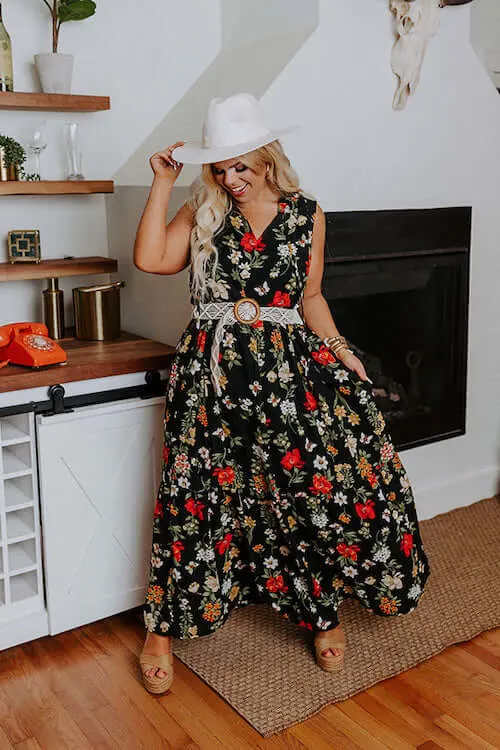 Wrap Maxi Formal Dress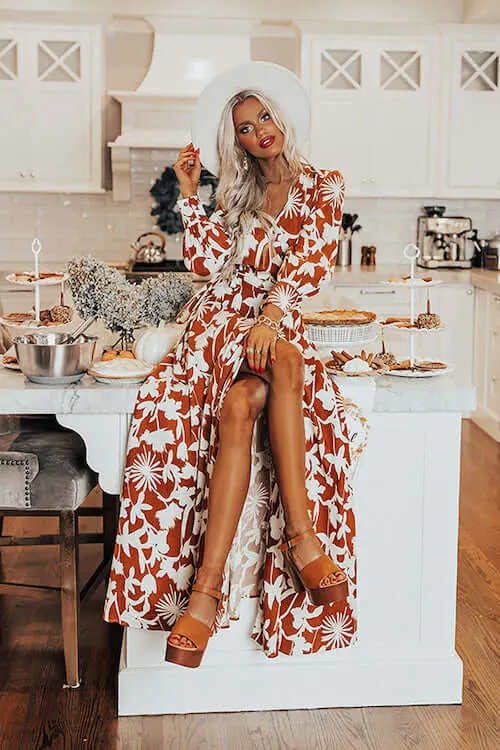 Paisley Print Dress + Cowgirl Hat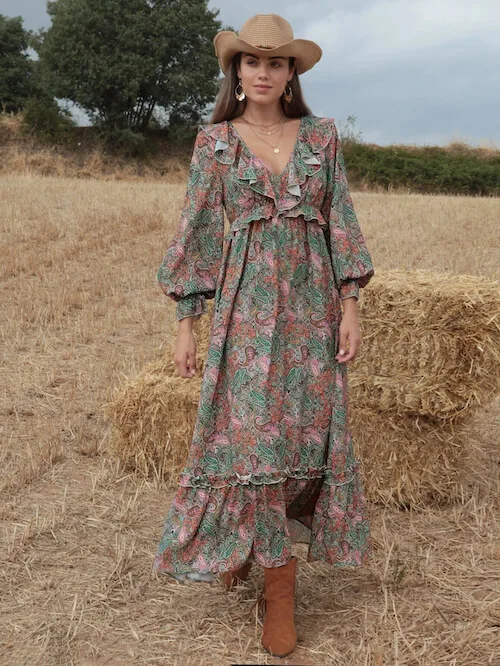 Patchwork & Floral Print Dress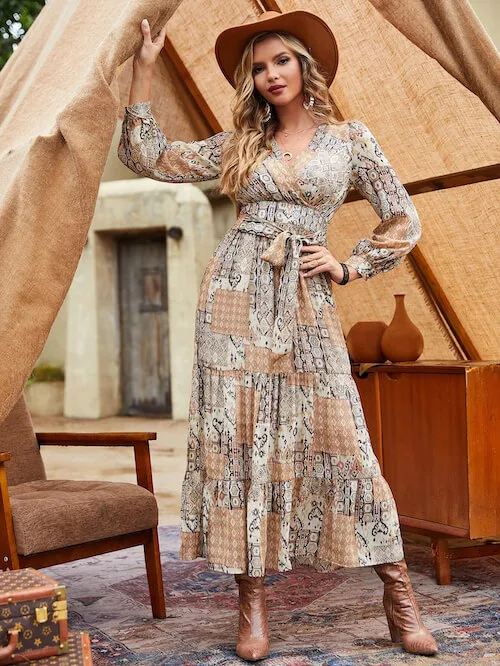 Lantern Sleeve Dress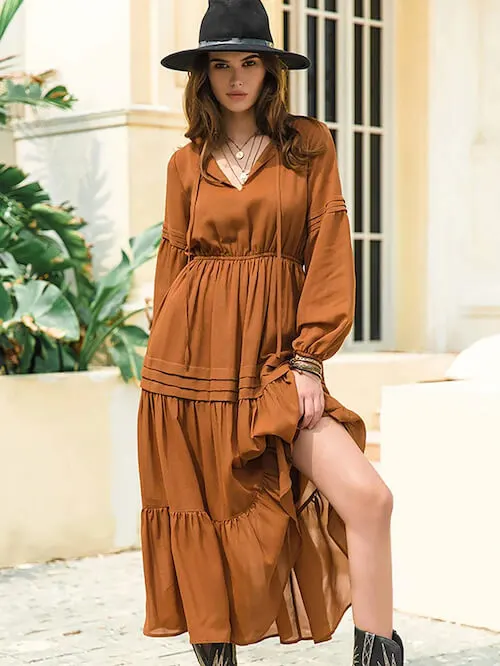 What to wear to a country wedding?
When it comes to attending a country wedding, what you wear is just as important as where you go.
To help you out, here are some key tips on what outfit will make the perfect impression at any rural celebration.
To dress appropriately for a country wedding, choose an outfit that is both stylish and comfortable.
Opt for light fabrics like cotton or linen so that your look is airy and breathable in warmer weather conditions.
Accessories such as hats and fascinators should also be chosen with care; when selecting these items remember that they should complement your overall look rather than overpowering it.
Also, consider wearing shoes with a stable heel; this will provide more support when walking across uneven ground outdoors.
What to wear to a barn wedding?
When attending a barn wedding, you'll want to look your best while still being comfortable.
Consider the kind of atmosphere that will be at the location and pick an outfit accordingly.
A great way to dress for this type of event is to go for something classic and timeless with a rustic twist.
For ladies, try teaming your pants with a pair of heeled ankle boots and a cotton blouse or a pretty floral wrap dress.
Accessorize with delicate jewelry, like a subtle necklace or stack of bracelets, along with your favorite handbag.
Men should opt for tailored trousers or chinos paired with a crisp shirt and some loafers, topped off with an optional blazer for extra style points.
Finish off any look with an appropriate coat to keep warm when the night draws in!
What to wear to a country cowboy wedding?
If you've been invited to a country cowboy wedding, you may be wondering what the appropriate attire is.
To create the perfect look for this special occasion, there are a few things to keep in mind.
Firstly, it's important to remember that weddings should always be dressed up rather than down; even if the venue and theme of the event is more casual.
Secondly, think about adding some western flair with accessories – such as an embellished belt buckle or cowboy boots – while still staying within your own personal style.
For women attending a country cowboy wedding, jeans and a nice top with complimentary jewelry is an excellent option.
Choose fabrics like lace or chiffon for a feminine look and don't forget to throw on a cute pair of booties or low heels for added height.
Conclusion: Western Wedding Guest Outfit Ideas
In conclusion, there are some key considerations when it comes to dressing for a western wedding.
For men, traditional suits and tuxedos are always a safe option, or if you want to add a bit of personality, then accessorize with a bolo tie or cowboy boots.
For women, the options are endless – from elegant evening gowns to more casual maxi dresses with cowboy boots for an added touch of style.
This post was all about what to wear to a western wedding.
About The Author
Tracy is an experienced personal stylist, shopping expert, and fashion & lifestyle blogger. She has been featured on Time Magazine, Bustle, Best Life, Glam, The Zoe Report, Mic, and GOBankingRates, for her insights on fashion, beauty, home decor, and lifestyle. Read More
Related Posts: