Looking for the best western chic outfits? Check this post for the best western wear trend guide, fashion tips, and the best western chic outfit ideas to copy directly.
Western chic outfits have been popular for years and continue to remain an iconic fashion trend.
Whether you're attending a summer music festival, heading to the rodeo, or just want to add some western style to your wardrobe, western chic outfits are the perfect way to make a statement.
With denim trousers and skirts, cowboy boots, and eye-catching western inspired prints, this fashion trend has exploded in recent years.
If you're looking to add a touch of western-inspired flair to your wardrobe, then you've come to the right place.
This fashion guide will help you to create an effortlessly stylish and chic look that is inspired by the wild, untamed spirit of the West. With a few key pieces, you can easily reflect this trend in your everyday wardrobe.
So scroll down to check these western chic outfit ideas for female, and don't hesitate to pin them to your Pinterest board, and share them on social media sites.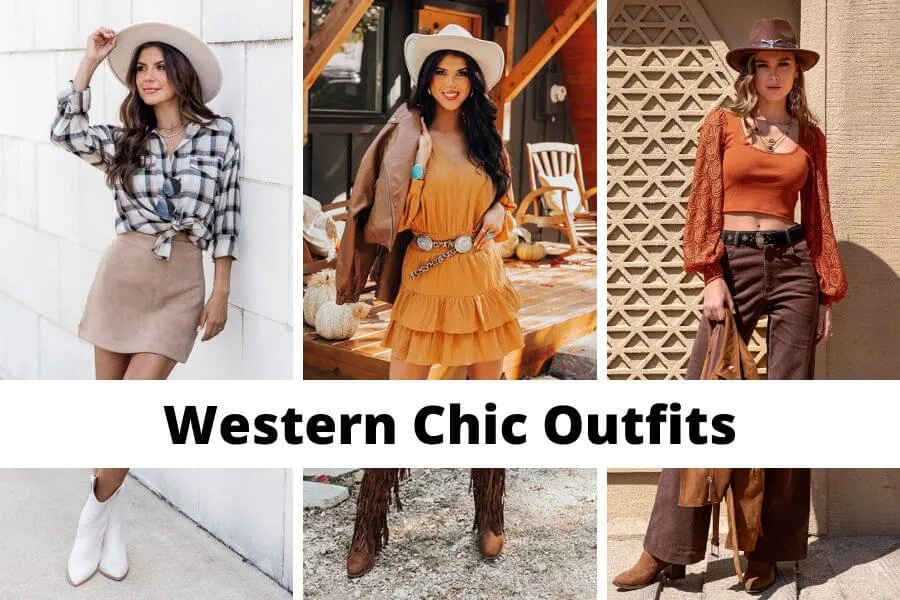 This post may contain affiliate links, which means I'll receive a commission if you purchase through my link, at no extra cost to you. Please read the full disclosure here.
This post is all about western chic outfits.
Is western in style?
In the fast-paced world of fashion, trends come and go in a matter of weeks.
Each season brings something new to the table and what was once 'in' is suddenly out with the old.
But one style that has stayed popular for decades is western style.
From cowboy boots and jeans to fringe jackets and belt buckles, western wear has been a wardrobe staple for generations.
With an influx of modern takes on this classic look, it's clear that western style is here to stay—at least for now.
Designers like Gucci and Saint Laurent have added their own unique spin on traditional western garments, creating a high-end take on timeless pieces.
Many celebrities have also adopted the western fashion trends; think Gigi Hadid sporting cowboy boots or Rihanna wearing a fringed leather jacket at Coachella.
What is western chic attire?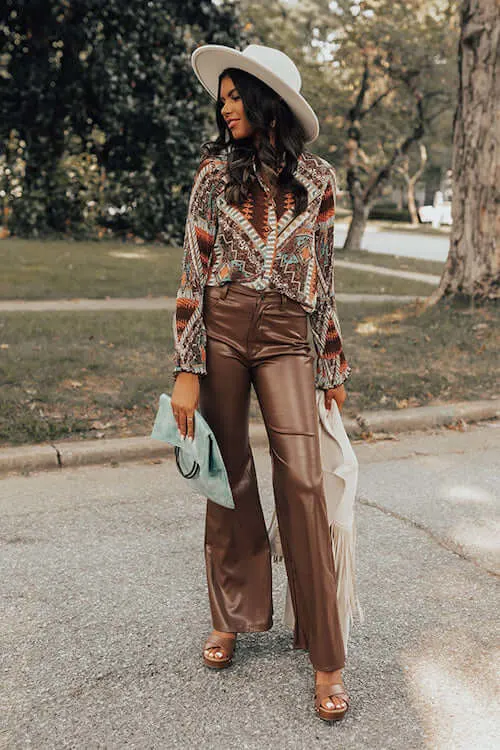 Western Chic attire is a style of clothing that is inspired by the fashion of the American West.
This look includes cowboy boots, denim jeans, and button-down shirts that are often combined with unique accessories such as bolo ties, bandanas, and fringe jackets.
This style has been popularized in recent years by celebrities and fashion designers who have embraced western chic as an alternative to traditional red carpet gowns.
The key elements of western chic are comfort and functionality.
Flowing dresses paired with cowboy boots create an effortless silhouette that still looks polished.
Denim overalls over a simple blouse can also achieve this effect while still allowing for movement throughout the day.
Accessories such as hats and neckerchiefs can add a touch of color to any outfit while still maintaining the essence of western chic.
What is western culture clothes?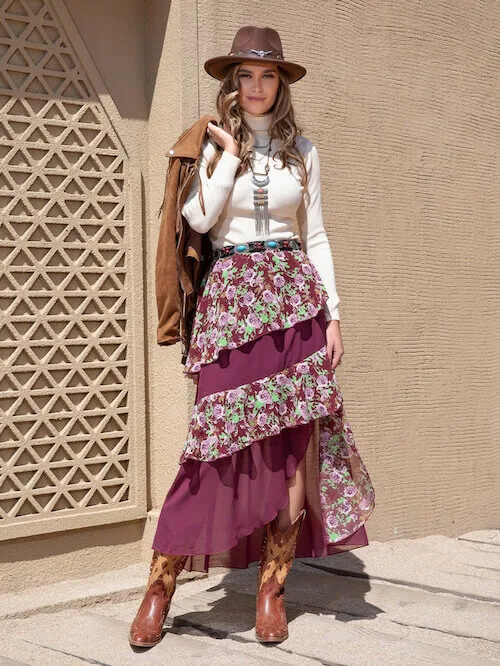 Western culture clothes are a popular style of clothing worn in countries that have embraced the values and ideals of the Western world.
Western culture clothing reflects these countries' influences from different cultures within their own borders as well as from international fashion trends.
Popular items typically include jeans, t-shirts, sweaters and jackets for men; dresses, skirts and blouses for women; and suits for formal occasions.
Western culture has evolved over time to incorporate both traditional looks as well as more modern pieces such as graphic tees or skinny jeans.
Many people choose to mix classic pieces with modern items to create a unique look tailored to their own personal style.
This can be seen in many street styles around the world which combine traditional elements like plaid shirts or tweed jackets with urban staples like sneakers or beanies.
What is Southwestern chic attire?
Southwestern chic attire is a modern fashion trend that combines the classic style of the American Southwest with contemporary clothing pieces.
This look can range from subtle to extreme, depending on how much of a statement you want to make.
It typically involves combining traditional Southwestern prints and textures, such as denim and leather, with bright colors, like turquoise blue and coral pink.
A few key elements of this style include cowboy boots, bandanas, fringed jackets and skirts, flannel shirts and floral maxi dresses.
To get the look right it's important to consider proportion – stick to one or two statement pieces instead of going overboard.
What is Western fashion style?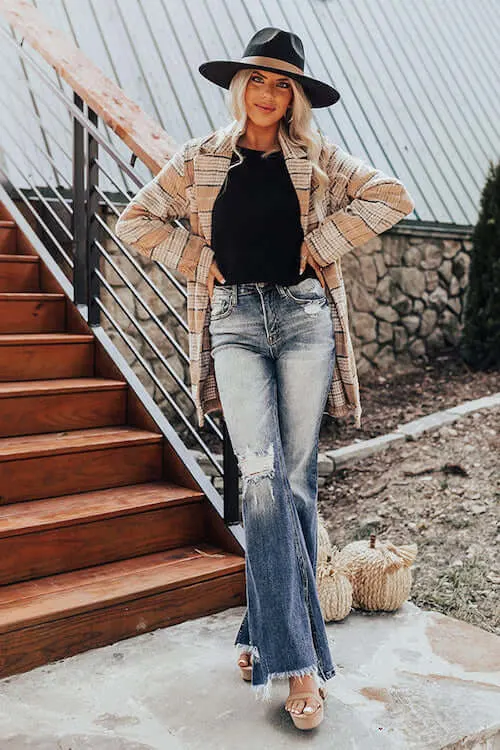 Western fashion has been a popular style for many years, and it continues to be one of the most sought-after styles around.
Western fashion is characterized by classic Americana elements such as blue jeans, cowboy boots, plaid shirts, denim jackets and cowboy hats.
It also incorporates more modern features such as graphic tees, ripped jeans and distressed clothing items.
The great thing about western fashion is that it can be tailored to suit your own individual taste – whether you want to go all out with the full western look or just incorporate some subtle elements into your wardrobe.
Whatever you choose, western fashion offers an array of stylish pieces that will help you express yourself in an eye-catching way.
How do I get a Western look?
Whether you're looking for a modern cowgirl or an off-duty rodeo cowboy, there are some key elements to getting the Western look right.
With the right pieces and styling tips, it's easy to get the Western style you desire.
The most important part of any Western look is selecting quality items. Look for denim jeans with fade marks, cargo pants in earthy tones, and basic tees in neutral colors like white and gray.
Add accessories like wide-brimmed hats, leather belts, buckles and boots to give your outfit an extra special touch.
Layer up with cardigans or flannel shirts for added warmth; both these options can be found in classic cuts too.
How do I dress more western?
Here are some tips on how to dress western for any occasion.
First off, the classic denim jeans and button down shirt is always a great choice – just make sure to keep it simple with solid colors rather than prints and patterns.
Paired with some statement cowboy boots or pointed toe ankle boots, this ensemble looks stylish but still gives off that rugged western vibe.
If you're looking to add some extra flair, try accessorizing with a wide-brimmed hat or belt buckle engraved with your initials.
Jacket wise, choose something classic like a denim jacket or leather biker jacket for an edgy look.
Western Chic Outfits
With elements like distressed denim, fringe, plaids and statement hats, there's no doubt that this trend of western chic style is taking over wardrobes around the world.
The key to pulling off western chic outfits lies in understanding the different components of the look.
So scroll down to check our favorite western chic outfits and western clothing pieces to shop for directly.
Denim Shirt Dress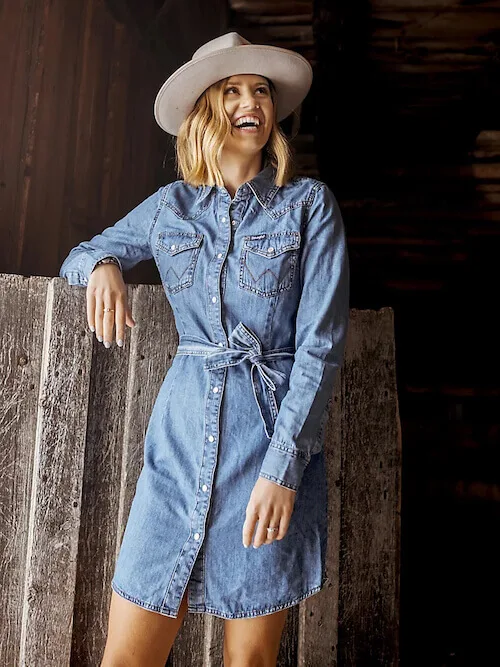 Cowgirl Outfit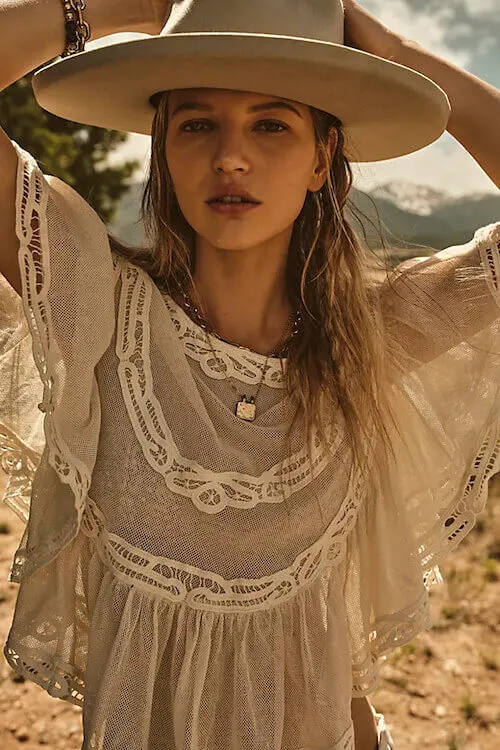 Crop Top + Buckle Belt + Brown Pants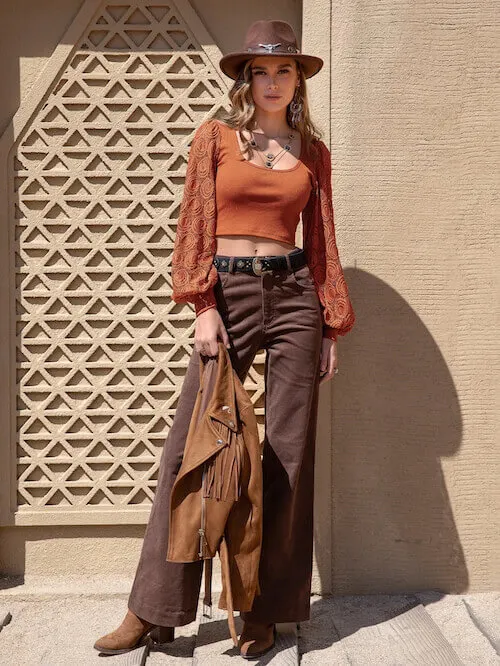 Fuzzy Trim Vest + Cowboy Hat + White Dress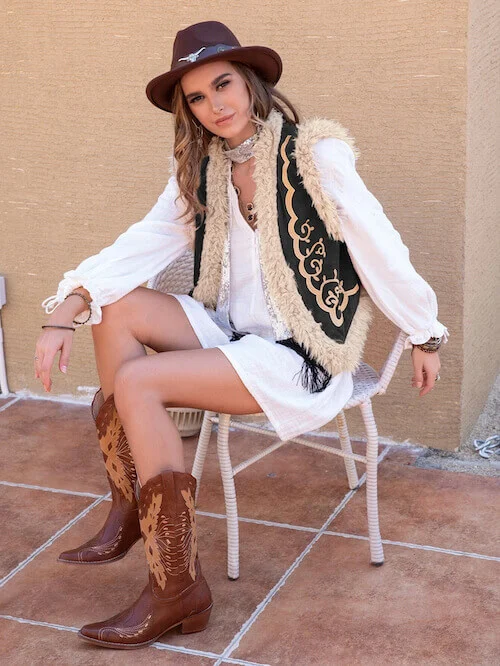 Short Dress + Black Cowboy Boots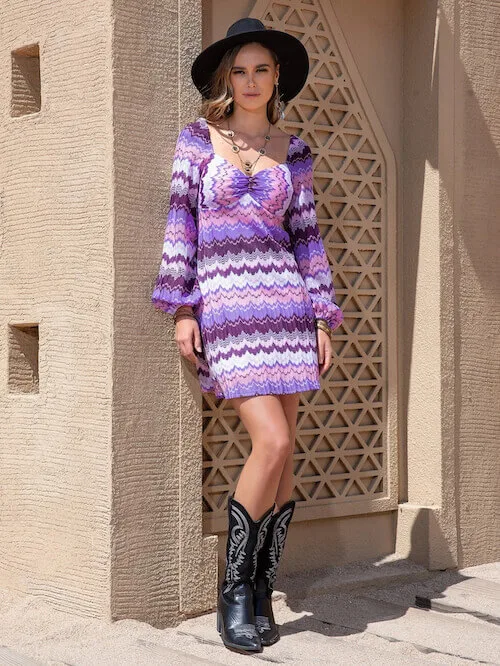 Black Long Sleeve Blouse + Long Pants + Western Hat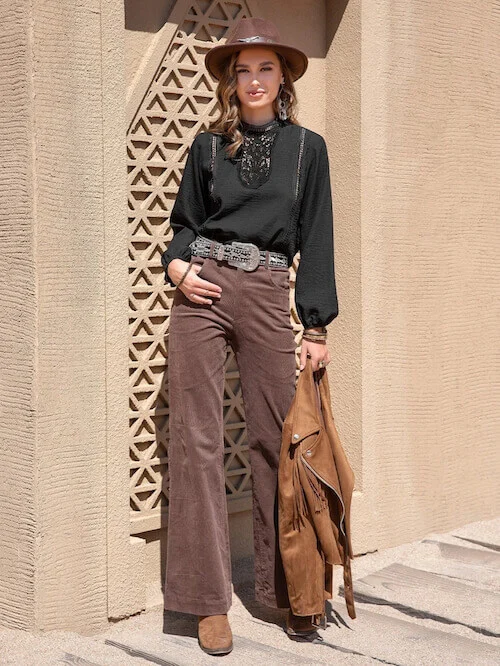 Midi Dress + Western Boots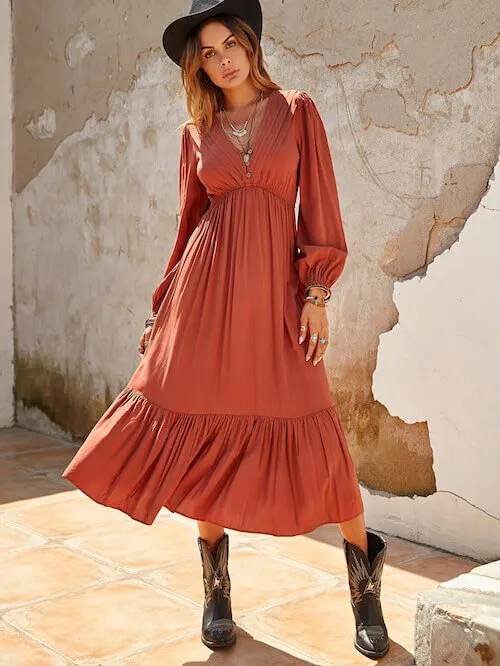 Printed Blouse + Jeans + Leather Boots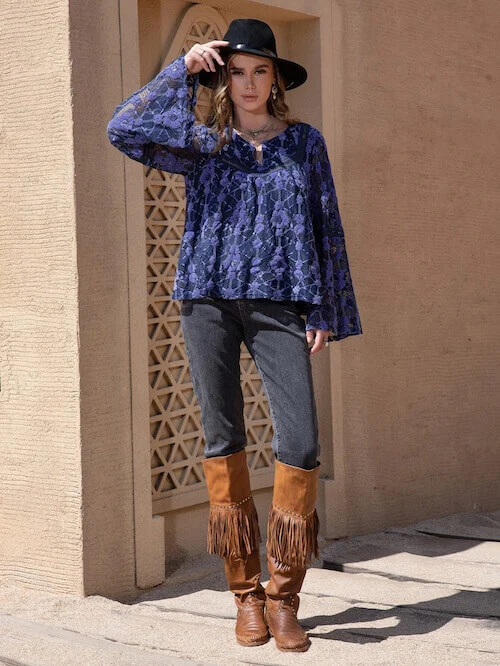 Black Boho Dress + Cowboy Boots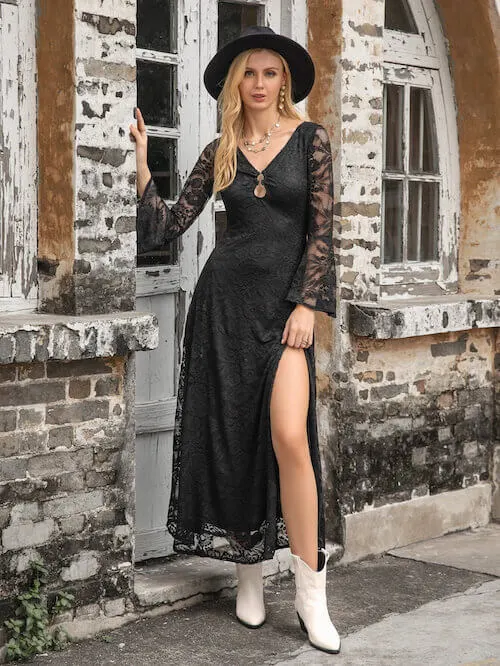 Plaid Shirt + Mini Skirt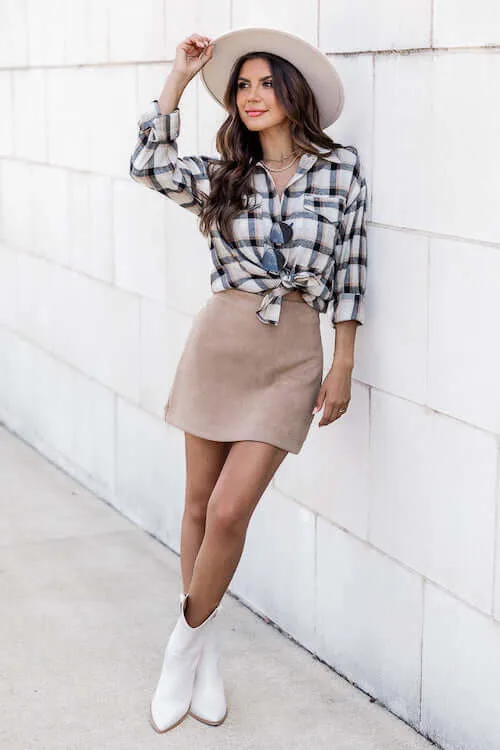 Western Wear Outfit For Ladies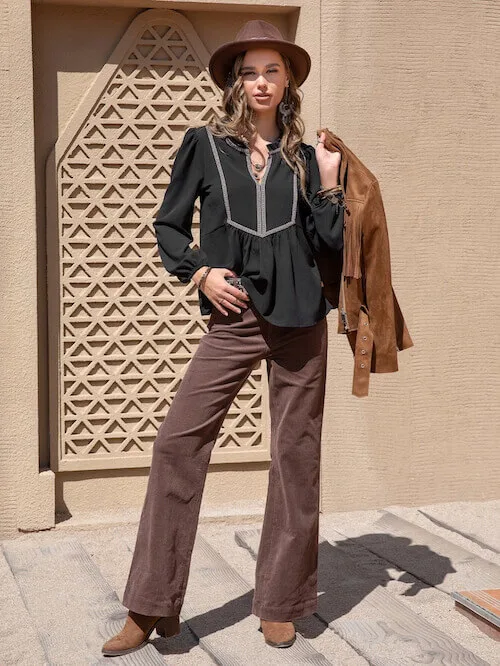 Brown Fringed Jacket + Velvet Pants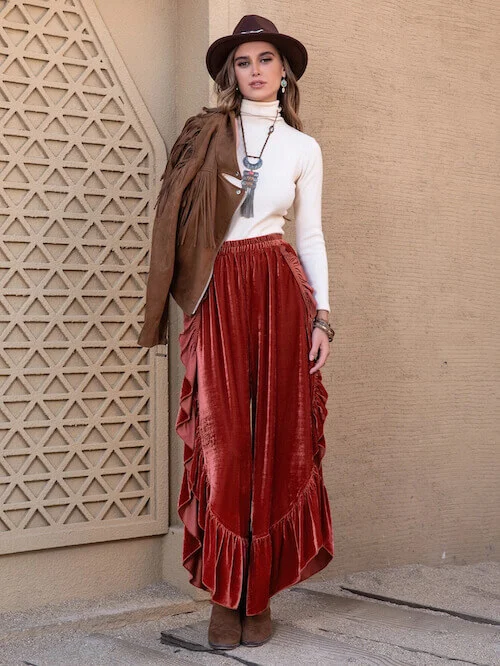 Faux Shearling Coat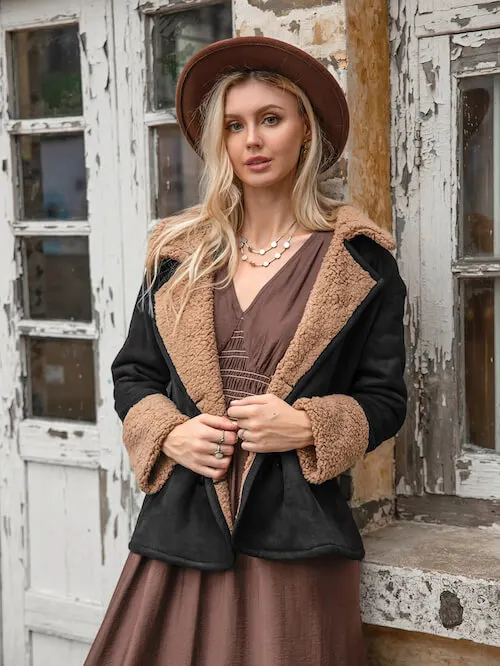 Black Leather Jacket + Hem Layer Skirt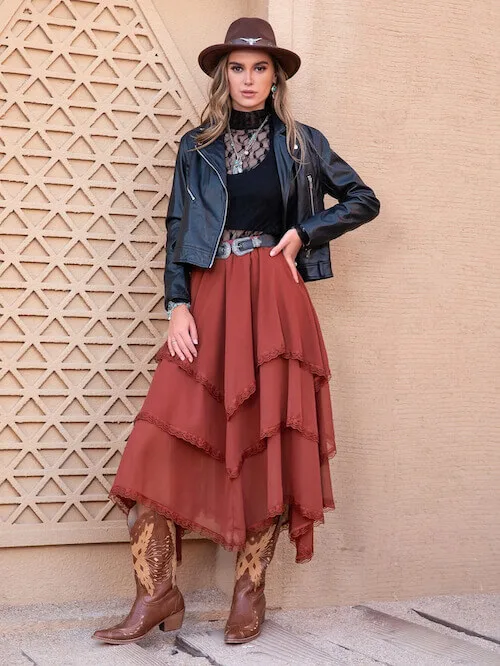 Button Down Shirt + Flare Pants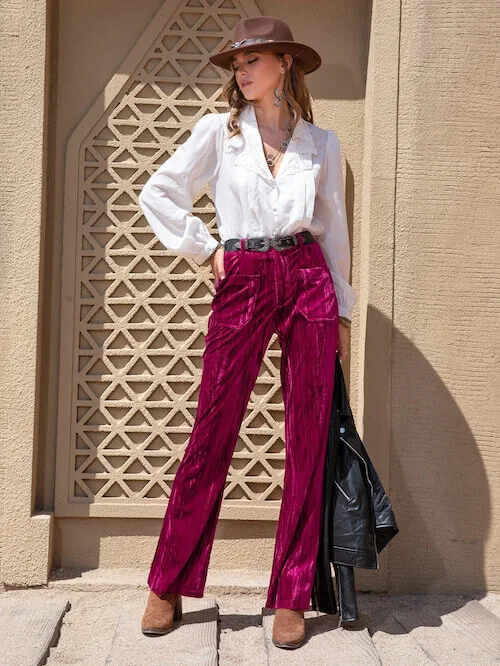 Plaid Poncho + Black Boots
Fringe Denim Jacket
White Top + Floral Midi Skirt + Leather Belt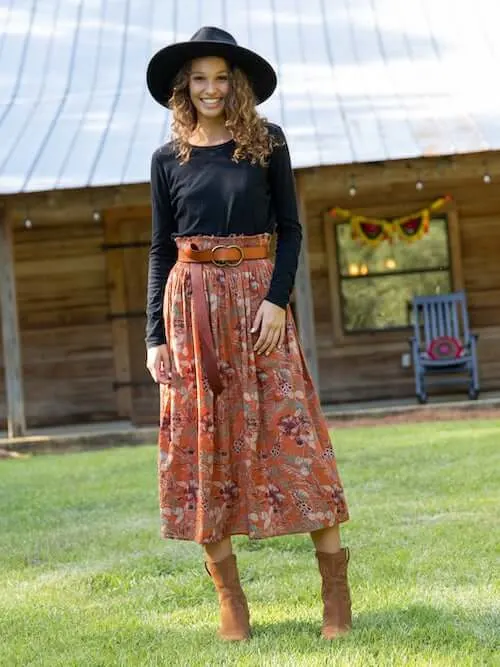 Cowboy Chic Attire For Women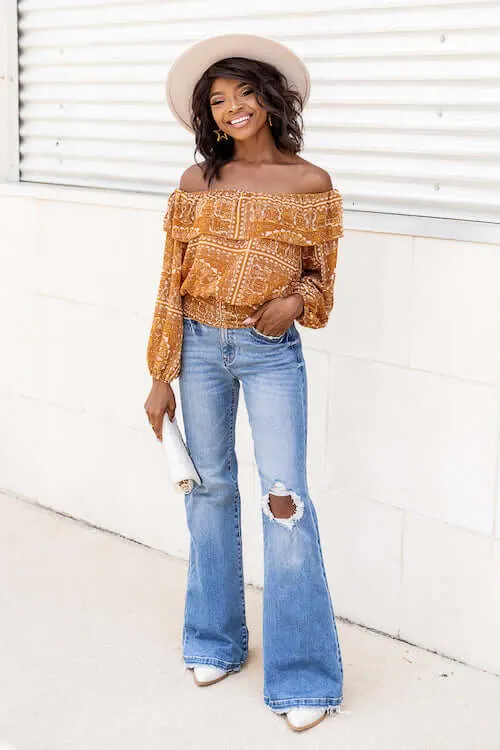 Chic Western Outfit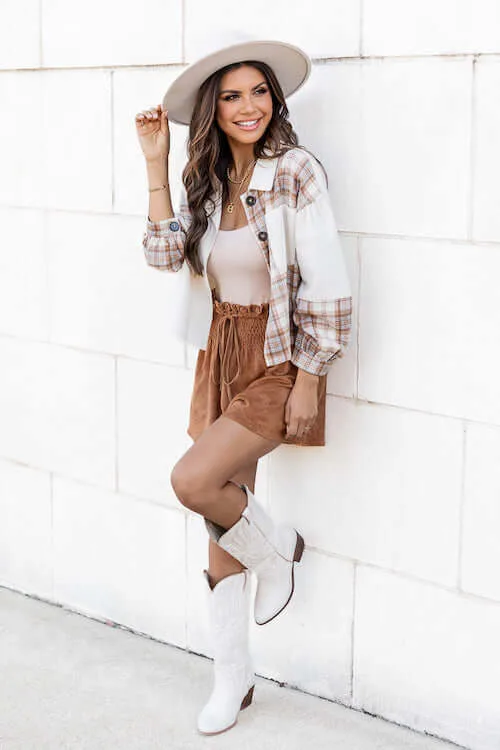 Western Style Outfit Ideas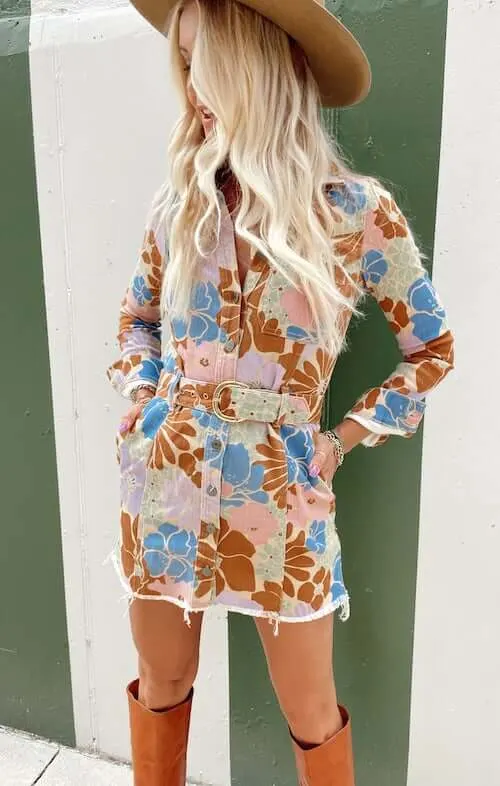 Western Aesthetic Outfit Ideas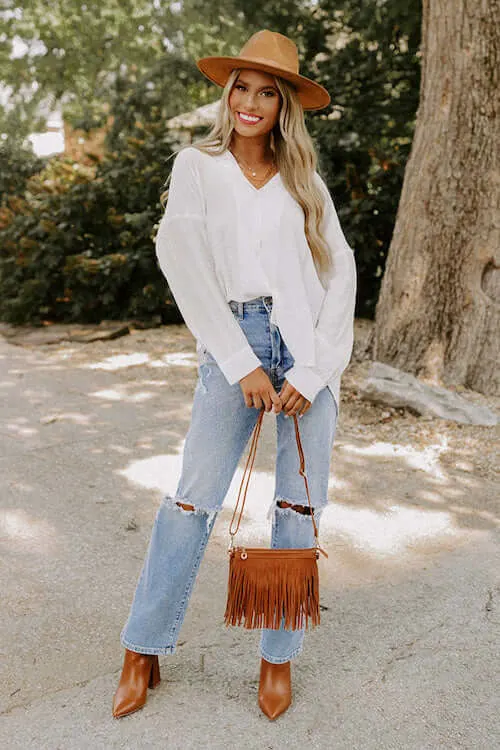 Rust Lace Button Up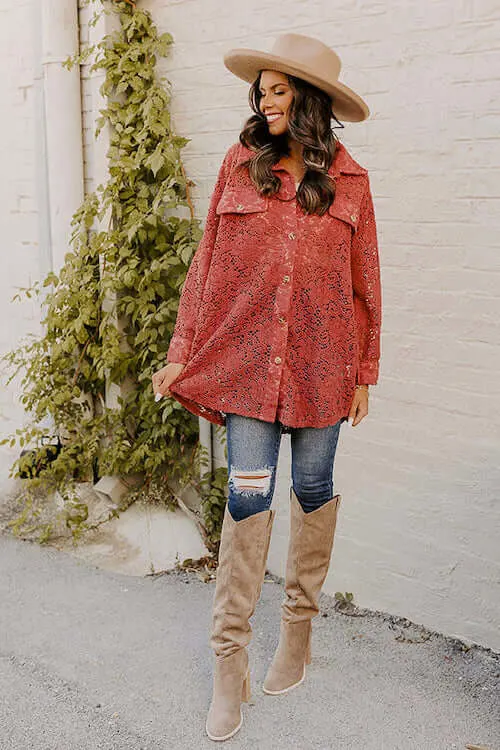 Western Dresses + Black Hat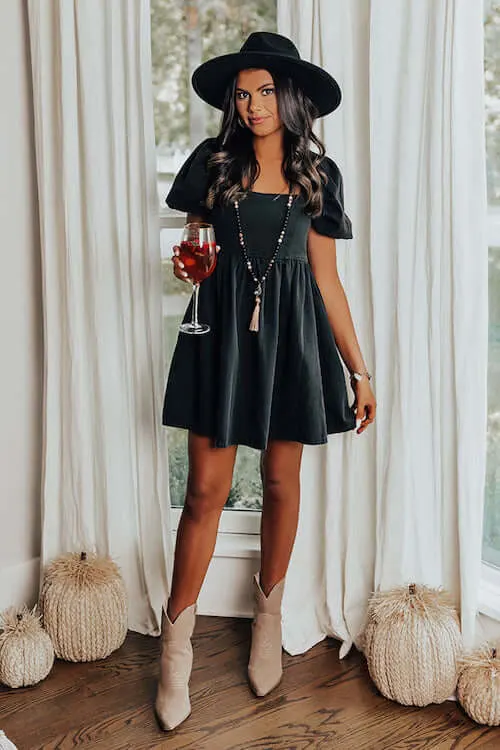 Denim Jumpsuit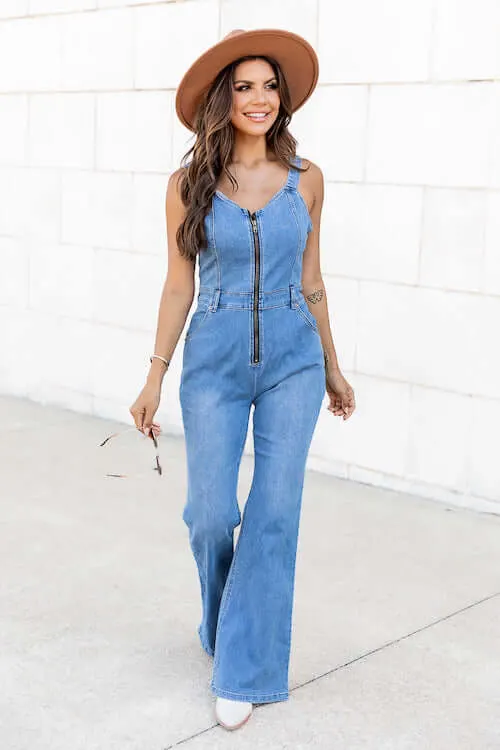 Mini Dress + Western Belt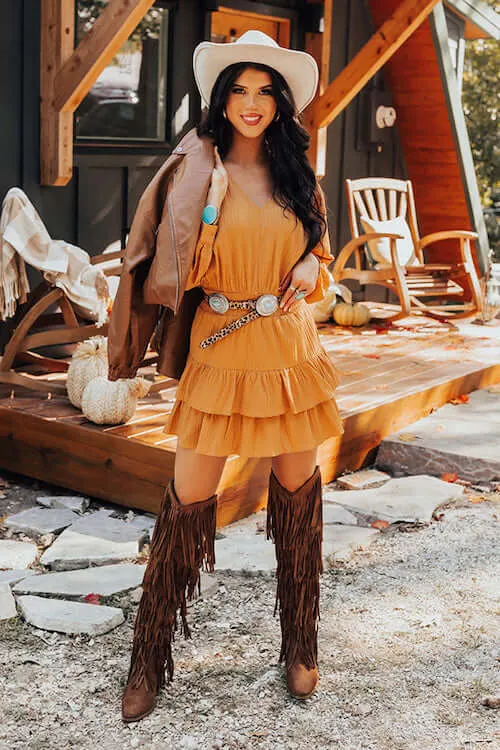 Plaid Dress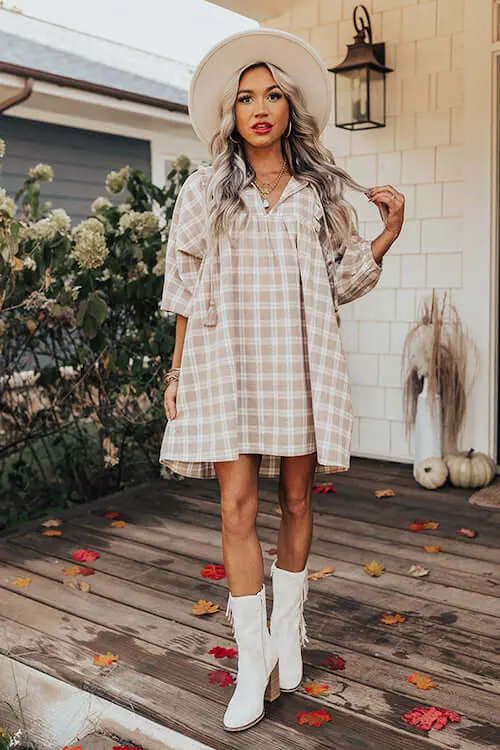 Prairie Dress + High Boots
Fringe Jacket + Blue Flare Jeans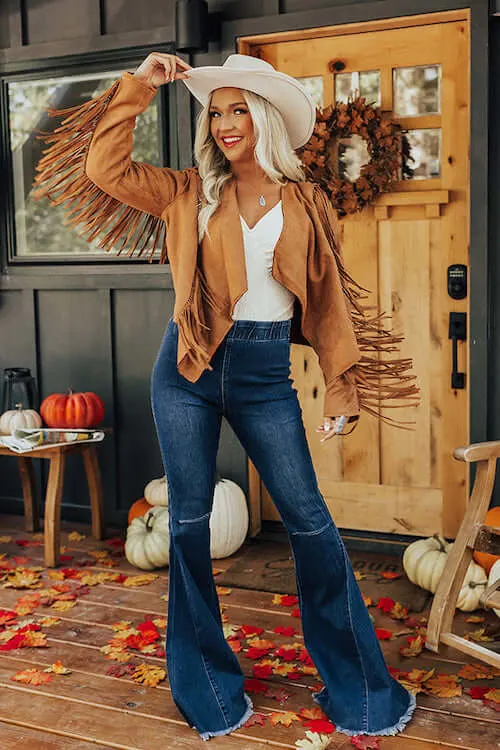 What do you wear to a Western theme party?
When attending a Western themed party, it is important to choose an outfit that reflects the theme.
Whether you are a cowboy or cowgirl, there are many options for dressing up and showing your wild west spirit.
For ladies, flowy dresses that hit mid-calf in earthy tones like browns and tans will give off a rustic vibe.
You can pair them with boots, belt buckles, bandanas and hats to complete the look.
Gentlemen should don their best plaid shirts worn tucked into jeans with cowboy boots or sneakers on their feet.
A bolo tie is also an easy way to add some Western flare to any outfit.
To finish off your look accessorize with a leather belt and hat for maximum authenticity!
No matter what you choose make sure you have fun with it and get creative – anything goes at this type of event!
Western Chic Wedding Attire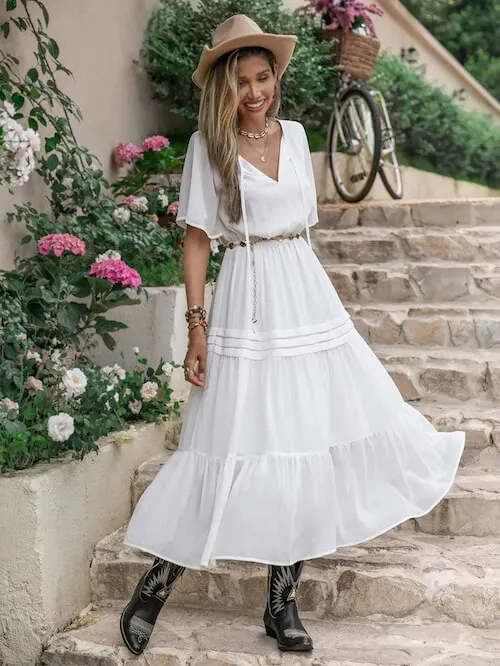 For the modern bride looking to add a touch of Western flair to her wedding day look, there's no better way to do so than with Western chic wedding attire.
Whether you're tying the knot in Texas or just want to honor your Western heritage, there are plenty of ways to incorporate this style into your special day.
When it comes to choosing a dress for the big day, look for silhouettes like A-line, tulle ball gowns, and fit-and-flare dresses embellished with fringe, beads, and other unique details.
To complete the ensemble, opt for cowboy boots or intricate lace up sandals in shades of white or ivory.
For a more subtle approach that still reflects your unique style try incorporating more subtle touches like a bandana print veil or floral crown featuring wildflowers native to the area.
Conclusion: How to style a country western chic outfit?
In conclusion,styling a western chic outfit is really not as hard as it seems.
The key to nailing the look lies in selecting timeless pieces and accessorizing with items that add a touch of modern flavor.
To achieve this look, start by selecting your favorite pair of jeans or denim skirt and top it off with a classic button-down shirt or simple T-shirt.
Adding a great belt, boots, and accessories such as hats, belts, and jewelry can help you complete the look.
This post was all about western chic outfits.
About The Author
Tracy is an experienced personal stylist, shopping expert, and fashion & lifestyle blogger. She has been featured on Time Magazine, Bustle, Best Life, Glam, The Zoe Report, Mic, and GOBankingRates, for her insights on fashion, beauty, home decor, and lifestyle. Read More
Related Posts: