Looking for romantic date ideas in NYC for your next date? Check this post for the 50+ best things to do for your date and date spots that you will absolutely love!
Whenever I think of New York, I always feel very romantic.
Whether it is a young couple who has just dated or an old couple who has been together for a long time, whether you are New Yorkers or you are just arriving here for a visit, in this extremely romantic New York City, there will never be a lack of opportunities to create romance and keep the relationship fresh.
If you are in front of your computer or mobile phone and still clueless about celebrating your next date ideas or feel that your partner is not romantic enough, here are the best romantic date ideas in NYC for you. Whether you are looking for an intimate setting for your anniversary celebration, or a place to cozy up with your beloved partner in the cold weather, or a perfect first date spot to win your second date, this great city is always a perfect place to explore and enjoy so many romantic things.
So scroll down to check these great date ideas we rounded up for you.
This post may contain affiliate links, which means I'll receive a commission if you purchase through my link, at no extra cost to you. Please read the full disclosure here.
This post is all about romantic date ideas NYC.
1. Enjoy The Quiet Afternoon in Central Park With Outdoor Band Performances And A Boat
There is live music everywhere in New York. Every corner, subway station, and even the largest Central Park, there are bands and singers of various styles performing on the streets. Most of these performances are excellent. For example, I used to be in Union Square. When I heard a black girl singing, I swear this is the best subway singer performance I have ever seen in my lifetime.
However, watching the band performance in Central Park is the most comfortable, find a bench to sit down, you two can enjoy your lunch while listening to the band performance.
In addition, did you know that you can row a boat in Central Park? This is one of the best things to do in Central Park. Make an appointment on your date for a romantic boating date.
Boating is only open from April to November.
The boating station is located on E75 Street, (tickets are sold next to The Loeb Boathouse). Each boat can only be shared by up to 4 people. The price is 15 USD for 1 hour, and 3 USD for every additional 15 minutes. Cash only; life jackets are also provided on site if necessary.
There are also gondola boats here. Someone will help you row, but the price is 45 dollars per half hour.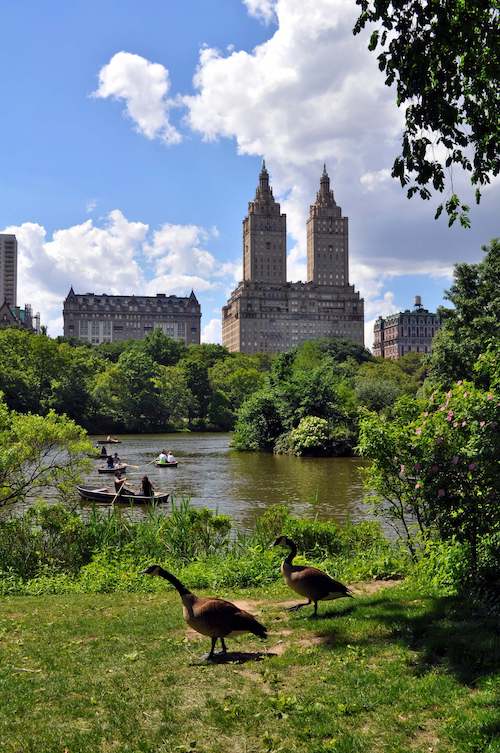 Photo by Andy Orin on Unsplash
2. Enjoy The View From Empire State Building
If you are looking for an unforgettable and excellent viewing location, no place can match the view from the top of the Empire State Building.
The views of the Empire State Building during the day and night are different. During the day, you can have a bird's eye view of New York City under the blue sky and white clouds, and you can see the Brooklyn Bridge in the distance.
It is a popular location for filming movies, such as "Sleepless in Seattle"and "KingKong"
At dusk, you can watch from the sun to the sunset, as well as the beautiful scenery of New York City.
The Empire State Building has changing colored lights throughout the year. The lights on Christmas, New Year, and Independence Day are different, adding a romantic touch to your date.
Photo by Jonas Brief on Unsplash
Get Tickets To Empire State Building
3. Watch Comedy Shows
This is a fun date idea. Take your date to an improv show, a stand-up routine or any other shows in your neighborhood's comedy clubs. This is super fun! Making your date laugh is definitely one of the best ways to add sparks between you two!
4. Visit the High Line Park
The High Line Park starts at 34th Street and extends to the Gansevoort St. Whitney Museum. There are different exits on the way and you can enter and exit at any time. The entrances on both sides have their own advantages. If you plan to have long walks, it doesn't matter. But if you don't have much time but only halfway through, then Gansevoort St. half is recommended, because the art is concentrated on the south side, and the 34th street side is connected to The Vessel. After you visit Hudson Yards, you can go directly to the park.
It is very suitable for overlooking the streets of New York. You can not only look at the Hudson River, but also the Statue of Liberty, Rockefeller Center and so on.
Although the High Line is open 365 days a year, it can really be frozen by the cold wind from the Hudson River in winter, so it is recommended to go when it is warmer. In spring, all flowers bloom. In summer, you can sit by the water and enjoy the coolness. In autumn, you can see the different colors of plants. In short, this is a place you can visit frequently, second only to Central Park in my heart.
Photo by Harry Gillen on Unsplash
5. Have An Unforgettable Date Along The Hudson River
The Hudson Valley was once part of the industrial history of the Northeast but is now known for a series of charming riverside towns and the magnificent scenery surrounding the town.
The Hudson River Valley is located along the Hudson River, stretching from Westchester to Albany, and has several ancient towns with a strong modern atmosphere. From the world-renowned modern art to the most avant-garde agricultural and food purchasing practices, the area is full of epitome of modern culture, but it still retains a lot of traditional elements.
There are countless quaint shops waiting for you to browse, a large number of first-class art worthy of appreciation, and all kinds of exquisite food for tasting. In addition to the spectacular natural landscape and endless ways to experience it, you can also enjoy a magical journey on the Hudson River in New York State. You will definitely have a great time!
6. Visit Metropolitan Museum of Art
From ancient Roman artifacts to modern art in the museum's collection, the Metropolitan Museum of Art provides you with an opportunity to showcase your elegant side.
If you want to get away from all the art, you can go to the terrace bar, which overlooks the lobby, or from May until late autumn, you can go to the rooftop bar to have a drink with your partner.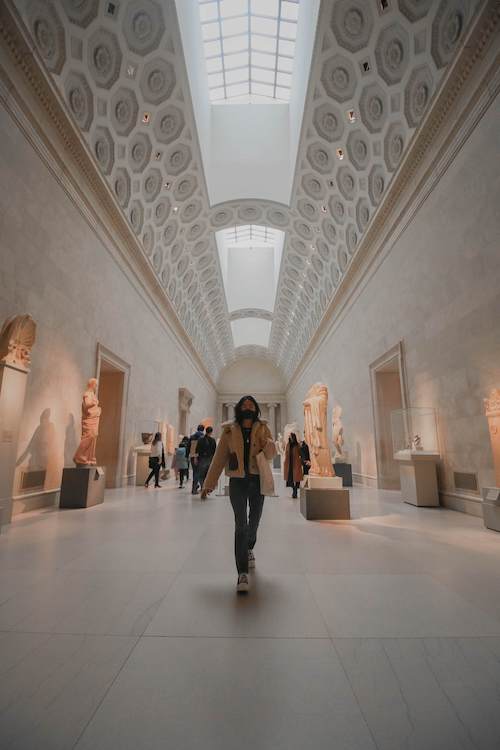 Photo by Daniela Araya on Unsplash
7. Have A Nice Time At Times Square
Times Square is not only about Big Apple. If you talk about romantic date night spots in New York, especially on New Year's Eve and Valentine's Day, you must check out Times Square in New York.
In Times Square, every Valentine's Day a year, there will be a live art installation on the square, soothing everyone's hearts day and night. This artistic tradition began in 2009 and has been held for more than ten years. Every Valentine's Day, the "heart" in Times Square will light up on time.
8. Shop On The 5th Avenue
What could be more sexy than a five-star stroll like Carrie and Mr. Big on Fifth Avenue in the morning? Fifth Avenue gathers many famous brand shops and is a high-end shopping district. During Christmas, Bloomingdale's, Macy's, Saks and Barneys have amazing Christmas exhibitions at night.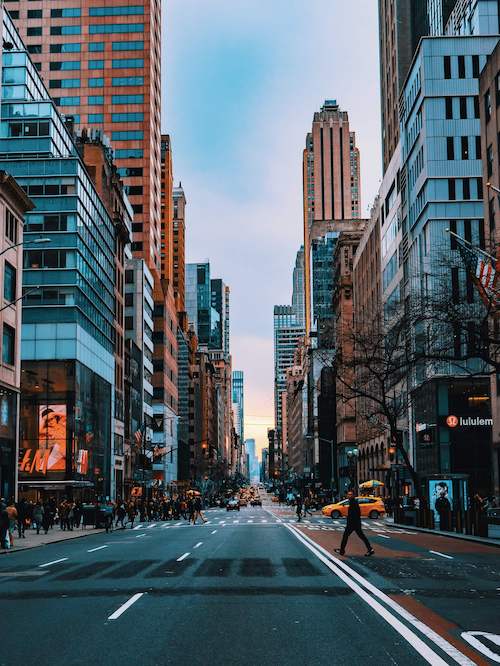 Photo by Rémi Thorel on Unsplash
9. Explore Art On The Upper West Side
This is the habitat of art. The Lincoln Center on the Upper West Side is the largest art venue in the world. People who live in the Upper West Side spend the day on the Wall Street Stock Exchange in a frenzy of stocks, but at night they enjoy the sounds of nature in the Metropolitan Opera. Finding your own artistic sanctuary in the infinite prosperity is a unique way of life for the people of the Upper West.
10. Visit The Botanical Gardens
Looking for romantic first date ideas ? Visit the Botanical Gardens!
Brooklyn Botanic Garden: When the cherry blossoms are in full bloom in April, no place is more romantic than the Brooklyn Botanic Garden. Regardless of the weather, the indoor environment of the Brooklyn Botanic Garden can give visitors a pleasant opportunity to relax even in the coldest weather.
New York Botanic Garden: a recommended place throughout the year. You can come here to enjoy flowers in spring and summer, and there will be a festive train exhibition at Christmas. There were many other art exhibitions before, such as Yayoi Kusama's exhibition, which was very attractive, and you will have good time.
11. Watch A Broadway Show
In Broadway, you can always find perfect love stories and other classic comedy shows for your date night. Plan a fantastic date for your intimate moment on Valentine's Day, a birthday celebration, or an anniversary celebration, or any other romantic special occasion.
12. Have A Romantic Date In Bryant Park
Bryant Park is located at the back of the New York City Library and is a super romantic date spot. There is a grassy open-air cinema in the summer and a holiday market in the winter. In addition to boutiques from all over the world, the Winter Market also has the only public ice skating rink in New York with free admission.
Bryant Park Ice Rink provides skating teaching, ice skating skates and helmet rental, as well as cupboard storage and other paid services.
And I also strongly recommend their Curling Café, which is literately cute!
13. Have A Delicious Dinner On Upper East Side
Upper East Side always has romantic restaurants for your date. For example, Daniel. As an orthodox two-Michelin star French cuisine, Daniel has always been loved by celebrities in the Upper East Side of New York. The retro palace style is permeated with the inherent romantic temperament of the French.
14. Meet at Hayden Planetarium
The planetarium should be the kind of place that feels romantic when you think about it. Come here with your beloved partner and feel the vastness of the universe together. You will definitely cherish the person you have now.
Looking for a romantic way to stay with your beloved partner? Then the Valentine's Day theme event hosted by Hayden Planetarium is bound to satisfy your wishes. Hayden Planetarium often holds similar events on holidays or Valentine's Day, so you can pay more attention to it. That night, this mysterious planetarium will be full of romance. The on-site open bar serves a variety of cocktails, champagne, chocolates, and assorted snacks to satisfy you. You can enjoy the beauty of music together and listen to the romantic myths of the universe from astronomers.
15. Enjoy A Romantic Evening At Lincoln Center
This is an ideal place for a date. Although you may not be able to listen to the serenade at the Everly Fisher Hall, you can take your partner to stroll through Lincoln Center and watch the fountain.
When night falls, it will be illuminated by lights and showing you an amazing view which is completely different from what it shows during the day.
16. A Casual Date In Greenwich Village
I like Greenwich Village. Every time I come to New York, I have to stay here for a few days. Greenwich Village is not very big, and the relationship between the neighbors is harmonious, and the clerk at the Mexican bakery downstairs can even call your name.
Here, the two of you can enjoy a relaxed date without rushing time. You can sit by the street and have a bite to eat, drink a little wine, look at the passers-by, look at these modern and old streets and shops. The street scenes, churches and old buildings on both sides of the road, and some small things are all very charming.
There are also many galleries, various specialty shops, and some street artists who paint on the street, and some street stalls display small objects one by one for people to buy.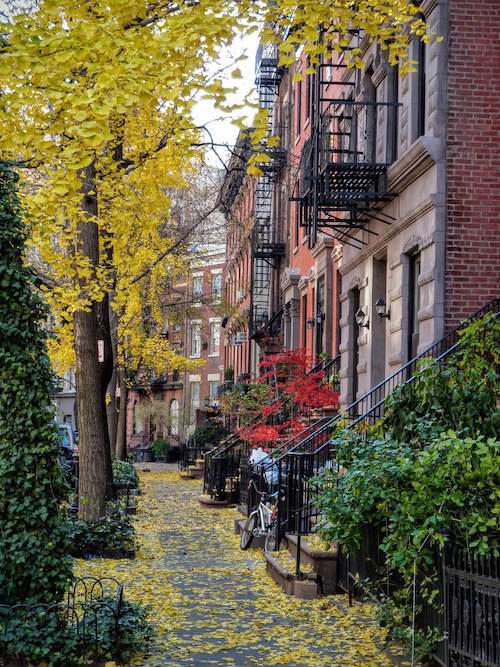 Photo by Belinda Fewings on Unsplash
17. Participate In A Wine Tasting Event
Wine tasting date is super fun and popular in New York. You can easily find and book an event for you two and enjoy a unique date night.
18. Shop At Lower Manhattan
If you want to choose the most popular landmark in the lower city, then it is Hudson Yards. Its official opening marks another new historic moment in New York City. As the top priority of the first phase of Hudson Yards, Vessel is a permanent art center located in the center of a public square, designed by British artist Thomas Heatherwick.
And we especially recommend the giant retail center on the side of Vessel, where there are top shopping and dining venues, such as the first Neiman Marcus department store in New York City.
Looking at Vessel through the glass curtain wall above Neiman Marcus, you will feel like you are in a scene in a science fiction movie. There are also the first stores of leading brands of different grades from luxury goods to fast fashion, and many local digital brands.
The biggest highlight is the 16 distinctive dining outlets with different styles and prices, as well as famous chefs such as Thomas Keller, David Chang and José Andrés.
Photo by Manuel Velasquez on Unsplash
19. Enjoy The View From One World Observatory
One World Observatory is at the top of One World Trade Center. One World Trade Center is the new World Trade Center and was built on the World Trade Site. It is 541 meters high and has 102 floors. It is currently the tallest building in the Western Hemisphere and also an ideal spot for a romantic date. You can go up to the top floor and have a panoramic view of New York, the world's largest cosmopolitan city, and hold hands to have intimate conversations.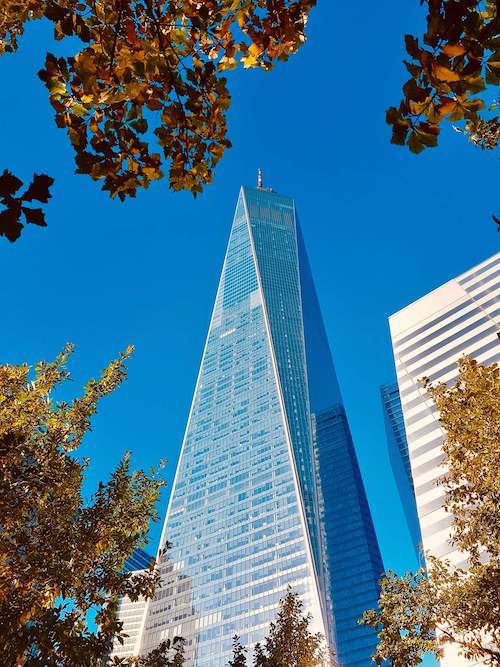 Photo by Jack Parsons on Unsplash
20. Visit Grand Central Station
One of our favorite date spots in NYC! Visit the most beautiful landmark building in NYC with your sweetheart. You will have an unforgettable night at one of the restaurants, cocktail bars, or lovely shops.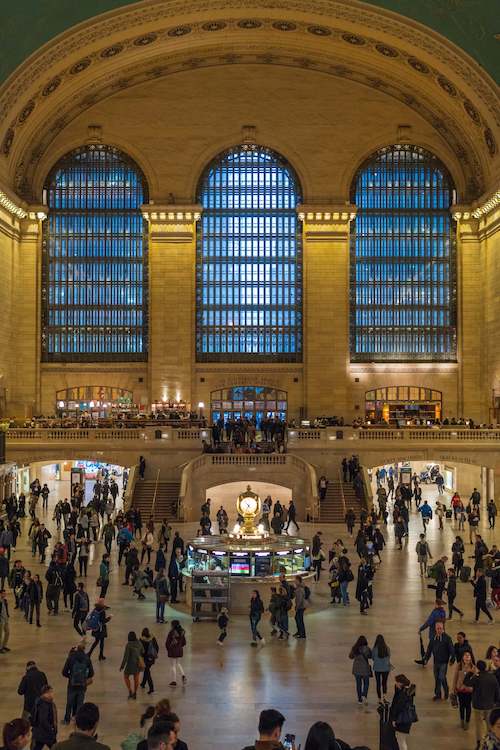 Photo by Hugh Stevenson on Unsplash
21. Have A Date At The River Cafe And Enjoy The East River View
Few restaurants in New York can match The River Cafe's excellent location in Brooklyn. It is located under the Brooklyn Bridge and has a perfect view across The East River. Here, you can have a panoramic view of the skyline of downtown Manhattan, and it is one of the most romantic places in NYC.
The consumption here is not cheap, but it is also worthwhile to watch the beautiful view of Manhattan while eating the food. If you want to give your partner a luxurious surprise on an anniversary, this is a perfect choice.
It is especially suitable for couples to dine when the sun goes down. You can enjoy the beautiful sunset while watching the lights of the buildings lighting up New York City.
For Dessert, which is indispensable in girls' lives, the store is heavily prepared. If you are here for the first time to date, you can never go wrong with Chocolate Brooklyn Bridge. The shape is great, the plate is exquisite and fresh. Although the taste is chocolate cake, it is still very romantic.
22. Visit Rockefeller Center
The night view of Rockefeller Center is one of the must-see spots when you come to New York! The most beautiful night view of New York can be seen on the viewing platform, second only to the Empire State Building. And visiting Rockefeller Center is also a great way to spend time with your partner.
The Top of Rock at Rockefeller Center has three floors and has fewer people than the Empire State Building. It is a great place to see the Empire State Building, Manhattan skyline, and Central Park. Tickets at sunset are easy to sell out, remember to book in advance.
Every year from the end of November to the beginning of December, the largest Christmas tree in New York City is lit up in Rockefeller Center Plaza to greet the arrival of Christmas. And it is our favorite time of year to have a date there. The Christmas tree lighting event is a small carnival. Tourists from all over the world will gather in the square. Starting that afternoon, famous singers and actors will perform on the outdoor stage for free.
The Rockefeller Center Ice Skating Rink is open in autumn and winter, where visitors can skate and dance on the ice with music, fountains and golden sculptures of Prometheus. Rockefeller Ice Rink has a history of eighty years and is a place that every New Yorker must visit in their first winter in New York.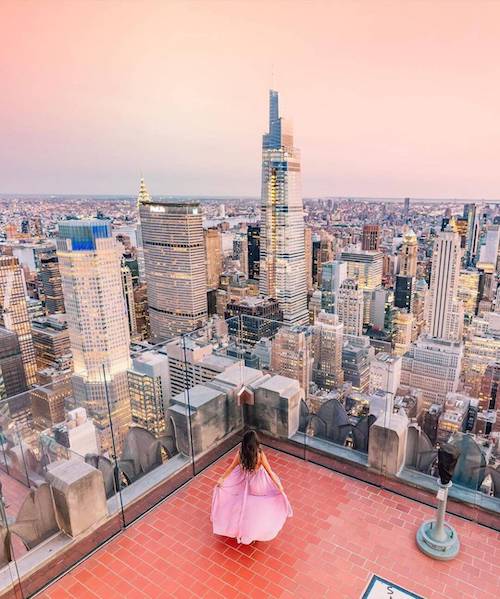 23. Have A Unique Date In American Museum of Natural History
If you are interested in nature, this is a perfect date idea and you will have a quality time there. The American Museum of Natural History is the entire world's largest museum of natural history, located in Manhattan. The scope of display mainly includes 5 aspects of astronomy, mineralogy, human history, ancient animals and modern animals.
There are a large number of replica models of fossils, dinosaurs, birds, Indians and Eskimos. The collections of gems, mollusks and marine life specimens are particularly valuable. This visit must be fun and unforgettable.
Photo by Tobias Stonjeck on Unsplash
24. Spend The Weekend At Coney Island
Coney Island Beach is the most popular in New York, and it is lively every summer. There are the most famous Nathan's hot dog shop, Luna Park amusement park, the iconic Cyclone Roller Coaster, and the New York Aquarium nearby. There are so many entertainment options that will definitely fascinate you!
If you just want a leisurely and quiet date, you can also enjoy it there. You can buy a bottle of beer, change into beach clothes, and lie on the beach to enjoy the sun. You don't have to do anything during the time there, just enjoy the sun, waves and beach with your date.
In winter, you can also go skating at Abe stark rink. But its opening hours are also particularly limited: only open from October to March.
Photo by Nelson Ndongala on Unsplash
25. Have A Customized Carriage Ride In Central Park
Do you have A Carriage Ride In Central Park on your bucket list? Horse-drawn carriage is a unique and historical way to experience the beauty of Central Park, and is the best part. During the ride, you can visit well-known attractions like Belvedere Castle, Strawberry Fields, Bethesda Fountain and the Mall.
And now you can also have customized rides for weddings, proposals, birthdays, anniversaries, and other special occasions.
Photo Source: Tripadvisor
26. Visit The Bronx Zoo At Night
Bronx Zoo not only has a dazzling array of animals, but also Holiday Lights events during holidays, which is very suitable for date night.
During the evenings, you will find the park comes to life with holiday cheer. You will see amazing light displays, custom-designed animal lanterns and animated light shows. The outdoor celebration is complete with festive entertainment, seasonal treats and classic holiday music.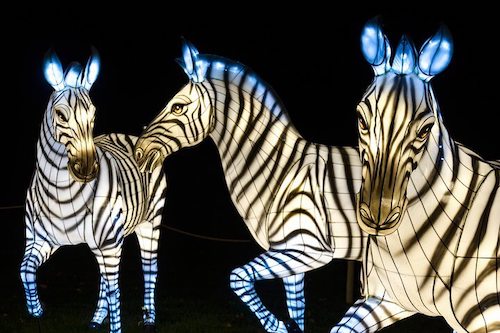 Photo Source: Tripadvisor
27. Trace The History In Ellis Island
You can have a unique and interesting date by tracing the history of United States. immigration in Ellis Island. Plan your visit to the three floors of objects, photographs and interactive displays housed on the famous island next door to Lady Liberty herself. The excellent exhibitions showing the histories of the people from so many countries to the U.S. will provide you with an evocative tribute for those who have dreams for a better life.
28. Go To Governors Island to Escape The Hustle And Bustle
Boarding from Battery Park to escape the concrete jungle, the round trip ticket is $3/piece. There are no cars on the island, but there are bicycles, tandem or family bikes for rent. This is a good place for leisure.
29. Enjoy The Culture, Food And Comedy Clubs In East village
Looking for unique date ideas? Check East Village! Manhattan's East Village is a prosperous area of food and art. In the 1960s, it was the place where counter-cultural thoughts emerged. Many thinkers, artists, students, etc. have moved here. The culture here is of its own kind. It exudes a freewheeling and uninhibited atmosphere.
You can come on a journey to discover interesting food, or study NYC rock, punk and glam history. The food here is not as regular as Midtown or Uptown. There are simple Japanese-style izakayas, Chinese Sichuan restaurants, Korean barbecue restaurants, Middle Eastern hookahs, and small restaurants run by young people.
Meanwhile, it's not a bad idea to make your date full of laughter, and EastVille Comedy Club can help you. Many good comedies are staged there, such as hi, Janeane Garofalo!. In addition, if you happen to come across a comedy that you don't want to watch that night, you can have a drink at the KGB bar upstairs.
30. Shop Handmade Foods In Union Square
If you two want to go for a walk on a sunny weekend and want to buy some organic vegetables and fruits grown by the local farmers; homemade bread, milk, honey and other foods, then you have to walk around Union Square.
Union Square is very lively, and sometimes some rare and second-hand goods can be found at the stalls. There are high-rise apartments, chain stores, casual restaurants and cafes around the streets. The special feature of Union Square is that it sells local agricultural products and handmade foods and attracts a large number of people.
31. Enjoy The Movies At Skyline Drive In
In Brooklyn, there is Skyline, which is known as the most beautiful car cinema in New York:
Here you can enjoy a cinema-like audio-visual experience with other car movie-goers. It has the feeling of a movie theater without contact with outsiders. It is safe and guaranteed.
What's more, watching a movie on the Skyline can also enjoy the perfect skyline of New York.
Skyline Drive-in Cinema is open for seven days. The first movie is usually shown from 6 pm. There will be about 1-3 movies in one night, and different movies are shown every day.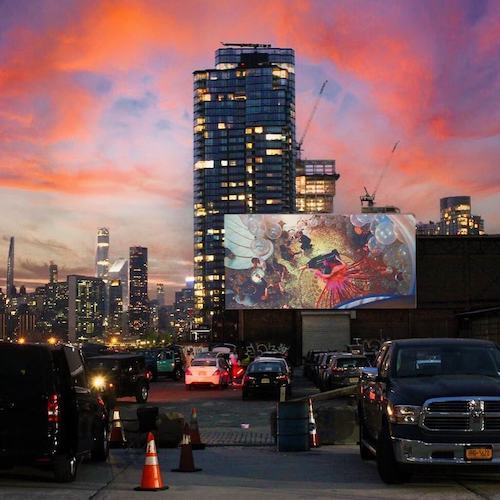 32. Have A Casual Date In Brooklyn Bridge Park
Brooklyn Bridge Park occupies an excellent location, and the outdoor movie activity Movies with a View here also makes it one of the most popular movie venues.
In the night, people under the bridge can see the towering buildings on the island. Taking advantage of the evening breeze, facing the skyline of Manhattan, watching a good movie with your partner, it must be super romantic.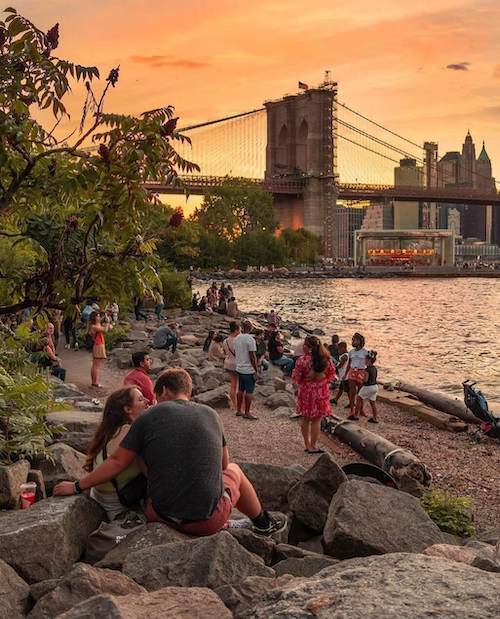 33. Visit Staten Island
You will have an amazing date in Staten Island.
Take a ride from Manhattan on the Staten Island Ferry and get some of the best views of New York City for free. Then you can check the Himalayan monastery-style Jacques Marchais Museum of Tibetan Art, or visit Historic Richmond Town for recreation of colonial New York.
34. Explore Prospect Park
New York's Prospect Park, built in 1867, is located in the heart of Brooklyn. The planning and design of the entire park was completed by Omster, who is the same garden designer in Central Park in New York.
Many outdoor activities are held here every year, including summer movies. Also, Grand Army Plaza holds a lively New Year's Eve celebration at the end of each year, accompanied by a spectacular fireworks display.
The beauty of Prospect Park is not only the cherry blossom season in spring but also the red leaf season in autumn. The LeFrak Center on the east side also has a variety of activities, such as roller-skating, boating, cycling, etc., and an ice skating rink is open in winter.
35. Check Out Long Island City
If you go to the Brooklyn Bridge to see Manhattan, there are always many people, so why not come here next time?
When the sunset hits the tall buildings in Manhattan, you really have to fall in love with New York City.
36. Watch The New York City Ballet Performance
It is one of the most prestigious ballet companies, watching one of its performances will level up your date night.
37. Watch A Morning Movie In AMC Empire 25 and watch Times Square In The Morning By The Way
AMC Empire 25 is in the heart of Times Square. The morning movies are half price, about $8. Morning movies generally start at 10:00 am, and you can walk past it at any time if you live nearby.
If you don't live nearby, you can start at 9 o'clock and take the subway to Times Square Station, find a cafe for breakfast, and stroll around Times Square.
This is the quietest and least crowded time in Times Square. The people who have been in the bar all night have gone home to sleep. Most of the shops have just opened their doors for business, and there are not many tourists. Times Square in the morning sun is the most beautiful in a day.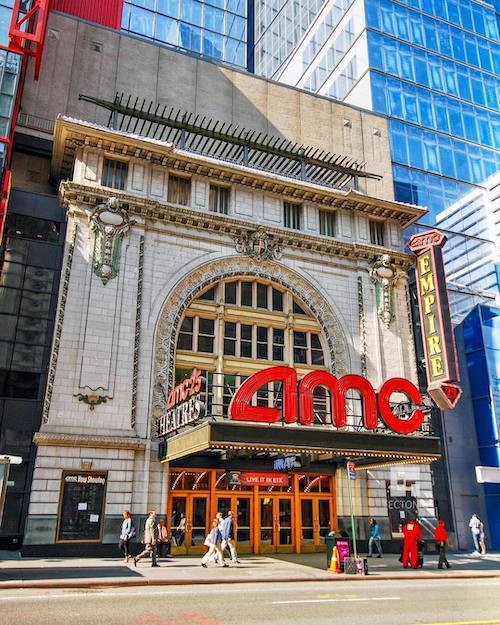 38. Dinner At Joomak Banjun
Joomak Banjun is a restaurant that combines Chinese and Korean flavors. If your date is Asian or you want to try new flavors, this restaurant is worth a try.
All glass tableware and decorations are designed by the restaurant itself, and the environment is very beautiful and neat.
The design of the dishes is very bold, such as Black Truffle Kung Pao Chicken, aren't you curious about what it will taste like? The restaurant offers two menus to choose from, ugly duckling and a four course menu.
39. Have A Romantic Dinner At One if By Land, Two if By Sea
One If By Land Two If By Sea is a restaurant that is very poetic since its name, and it is also recognized as the best place for proposal in New York.
Because of the long history of the building, from the inside to the outside, there is a kind of dignity after long years of time. The traditional red brick wall, the dim light from the candle chandeliers in the dining room, and the shining of the fire all deepen the romantic atmosphere.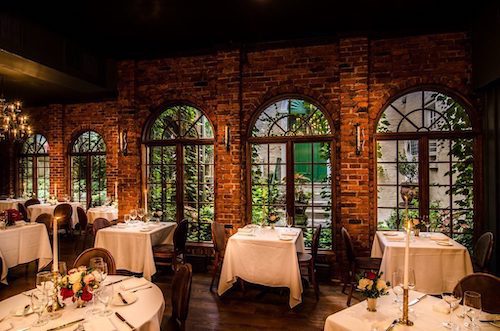 40. Enjoy The Food With Roses at Salinas
This Spanish restaurant is really a sea of flowers, every table has delicate roses from Ecuador. The ceiling is made of leaves, and eating here gives the illusion of being in a garden.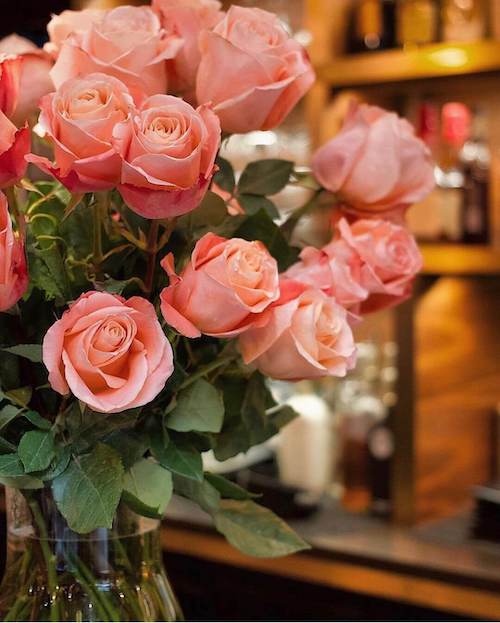 41. Explore The Snug Harbor Cultural Center
This little-known art center is located across the bay from Staten Island and was once the home of retired sailors. Today, this 83-acre land has several contemporary art galleries and extensive gardens. You can also stroll in the famous Chinese courtyard, where there are koi ponds, flowing waterfalls and eight magnificent pavilions.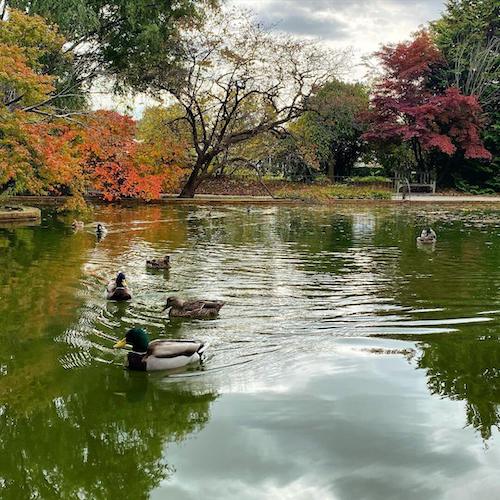 42. Soar Over The City In A Helicopter
Helicopter trips can be expensive, but they will definitely surprise your date. Take off after dark and enjoy the awesome aerial view of the city lights.
Before landing, you will fly over the Empire State Building, One World Trade Center, the Statue of Liberty and the Brooklyn Bridge. It is really fantastic.
43. Glow In The Dark At A Body Painting Workshop
At DenArt, a body painting studio in Brooklyn, your body becomes the canvas of this studio. Use paintbrushes and ultraviolet body paint to create luminous patterns on your partner's face, hands, arms, legs and other places. DenArt allows you to be topless, there is no need to undress.
44. Visit Harlem Safe House Jazz Parlor
On the first Thursday of every month, you can go to Harlem to enjoy live jazz music, perfect dance floor, a glass of wine, and appetizers in a historic brownstone building.
The party changes from one home to another, and different musicians participate each time, so each event is very special. You will feel that you are really an elegant lady and a gentleman.
45. Try Rooftop Films
Watching a movie on the roof is a romantic thing, not to mention the night view of New York.
46. A Date In Domino Park
Domino Park has 5 acres of green space with a playground, as well as various buildings against each other, and is a perfect spot for a casual date.
Come here in the evening with a loved one. With the greenery nearby, and the skyline of New York intertwined with the setting sun in the distance, this beauty is worth sharing with your beloved partner.
47. Have A Cozy Date At Gallow Green
What should you do with the one you love? Sometimes doing nothing, just hanging out together is a wonderful time. One of the best places to enjoy all this is Gallow Green. Gallow Green is a Rooftop retro bar. The large garden is paved with wooden slats on the floor, and some pink flowers are scattered on the surrounding railings.
Staying with a boy/girlfriend, drinking coffee and staring at the distant view in a daze, the time wasted with you is the best time.
48. Enjoy Food At Williamsburg Smorgasburg
What do you want to eat every day, he asks you, if you go back and quarrel at the end, is such an infinite loop a headache? One better way is to come to the Smorgasburg food market on the weekend and eat a little bit of everything!
49. Have Fun At Jane's Carousel
Girls may say that sitting on the carousel is very old fashioned, but it would be very happy to go around like this with the person you like.
Take advantage of the moment when she/he looks back and smiles while sitting on the carousel!
After that, you can go to the nearby Almondine Bakery to buy a few macarons, and a piece of chocolate brie cake on the bank of the river opposite the carousel, enjoy the scenery while watching the scenery.
50. Enjoy Oysters, Cocktails & Small Plates At Maison Premiere
Fresh oysters are paired with sweet cocktails, this perfect match and candlelight bring a bit of mysterious sexiness. This kind of just right slight drunkenness makes the atmosphere difficult not to relax and enjoy.
There is also an outdoor terrace outside where you can feel the romance surrounded by New York City.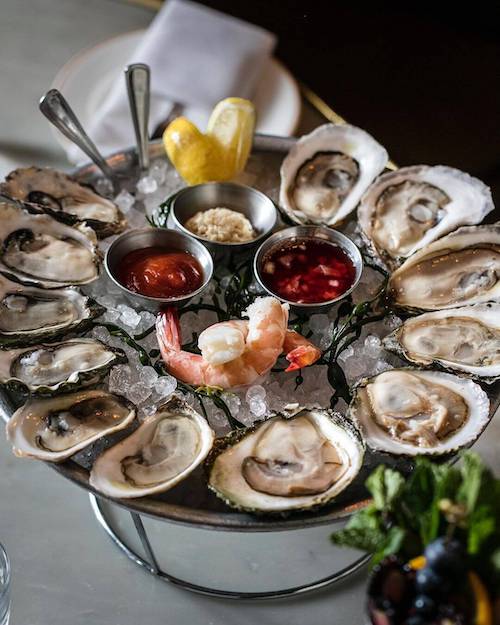 51. Rooftop At Pier 17
If you are looking for a social distancing dining experience with a view, don't miss the Rooftop at Pier 17. There you can have delicious food in your own cabin and enjoy fully the grand view of the Brooklyn Bridge!
52. Enjoy New York Botanical Garden Holiday Train Show
From November to January of the following year, NYBG will hold a holiday train show. More than 175 tiny models of famous buildings in New York will be exhibited, and various small trains will shuttle through it. Each model is very exquisite and admirable.
This post was all about romantic date ideas NYC.
Related Posts: