Looking for romantic Valentines Day photoshoot ideas? Check this post for the best boudoir photography ideas as a cute Valentines Day gift and more.
Valentine's Day is a day for celebrating the love we share, and Valentine's day is the perfect time to get creative with a romantic photoshoot.
Whether it's for yourself, or as a gift for your significant other, getting some sultry shots can be an empowering and fun experience.
Whether you want to set up something special at home or surprise your partner with a romantic photo session, there are plenty of ways to make this Valentine's Day extra special.
If you are looking for romantic ideas to take perfect Valentine's Day photos this year, you've come to the right place.
In today's article, I am sharing with you the best tips on how to take perfect romantic Valentine's Day photos and our favorite Valentines Boudoir photo ideas for you to copy directly.
So scroll on to check these photography tips and Valentine's Day romantic photos ideas, and don't hesitate to pin them to your Pinterest board, and share them on social media sites.
This post may contain affiliate links, which means I'll receive a commission if you purchase through my link, at no extra cost to you. Please read the full disclosure here.
This post is all about romantic Valentines Day photoshoot ideas.
How To Take Cute Valentine's Day Photos
Location: Setting the Scene
Location is key when planning a romantic Valentines Day photoshoot.
Whether you're looking to take the photos yourself or hire a professional, finding the right setting will set the mood and provide beautiful backdrops for your images.
From luxury hotel rooms to outdoor locales with natural light, here are some chic boudoir photo ideas as a Valentines Day gift.
For an intimate feel, opt for a luxe hotel room that offers sumptuous decor and a range of interior options for different looks.
Glamorous bedding, velvet armchairs and dim lighting provide dreamy romantic settings perfect for capturing your sensual side together with your partner.
Or if you prefer to get outdoors, look for locations that offer natural light such as gardens or woodlands – ideal settings to create beautiful imagery you'll cherish forever.
Outfit: Choosing What to Wear
Valentine's Day is the perfect time for a cute photoshoot, and finding the right outfit is essential.
When selecting an outfit for your special day with your significant other, you should consider their preferences as well as what will look best in photos.
For a sultry Valentine's Day photoshoot, opt for something that will emphasize your curves and features like high-waisted trousers or a fitted dress.
If you want to keep it simple yet timeless, go for an LBD or black jeans paired with a bold red blouse.
Don't forget accessories such as necklaces and earrings to finish off the look!
Alternatively, if you want something more risque then choose lingerie or bodysuits with thigh-high boots – perfect for adding an extra bit of sexiness to your Valentine's Day photoshoot!
Lighting: Making it Flattering
When it comes to getting that perfect shot, lighting is key.
Here are some tips for creating a stunning backdrop with lighting techniques:
Start off by using natural light if you can.
Soft sunlight streaming through your windows can create a dreamy atmosphere for a romantic photo shoot.
To make sure the light falls evenly, soften it by putting up sheer curtains or blinds in front of any large windows.
If natural light isn't available, pick up some LED bulbs and create your own studio set-up indoors.
Props: Adding Fun Touches
Using props can help elevate the photos and create a more artistic look.
For an extra romantic touch, use balloons with love messages written on them or heart-shaped mylar balloons.
The eyes of your partner will sparkle when they see those adorable decorations!
A nice blanket or throw can make the perfect background if you want something simple yet still beautiful.
You can also consider dressing up in lingerie or wearing costumes that match the theme of Valentine's Day like Cupid's bow and arrow or angel wings.
You can also consider bringing props from your relationship such as items from memorable trips or outfits that you have worn together, such as matching Christmas sweaters or sports jerseys.
Incorporating these types of items will create meaningful images that capture all the wonderful memories of your relationship together.
Poses: Striking the Right Pose
Start by standing in front of the camera with one foot slightly in front of the other and bend your knees ever so slightly.
This pose will give you a flattering silhouette while still showing off your figure and curves.
Next, lay on the floor with one arm behind your head and lean up against it while arching your back slightly; this pose has an alluring yet innocent quality which will look great in photos!
How To Take Romantic And Cute Valentines Day Photos For Couples?
Valentine's Day is the perfect time for couples to celebrate their love.
Taking romantic and cute photos of each other can be a fun and meaningful way to remember your special day.
Whether you prefer classic poses or more creative shots, these tips will help you take beautiful Valentine's Day photos that capture the romance and passion between you and your partner.
Start by finding a location with natural beauty or an interesting backdrop – this will add an extra layer of romance to your photos.
Choose outfits that make you feel confident, such as matching lingerie sets or structured pieces like blazers and trousers.
For lighting, opt for soft daylight or use a combination of lamps and candles to create a warm atmosphere in the room.
Be creative with angles – try something unusual like shooting from above or below to get unique perspectives on your poses.
Finally, don't forget props!
Cute Photography Ideas for Valentine's Day
Want more inspiration? Scroll on to check more our favorite ideas.
You can also present them with the photos in creative ways like creating a digital slideshow or having the photos framed and gifted in cute lingerie boxes.
Unforgettable Valentines Day Photoshoot Ideas
IG@jdphotographyky
Cute Valentines Day Photoshoot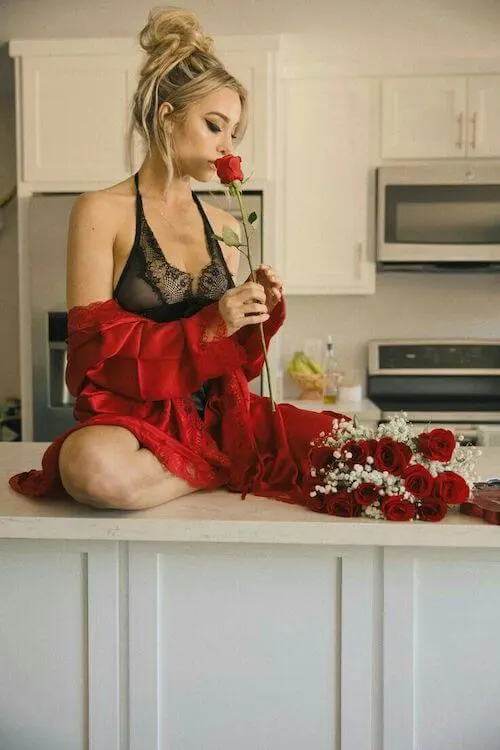 via Pinterest
Chic Lingerie Photo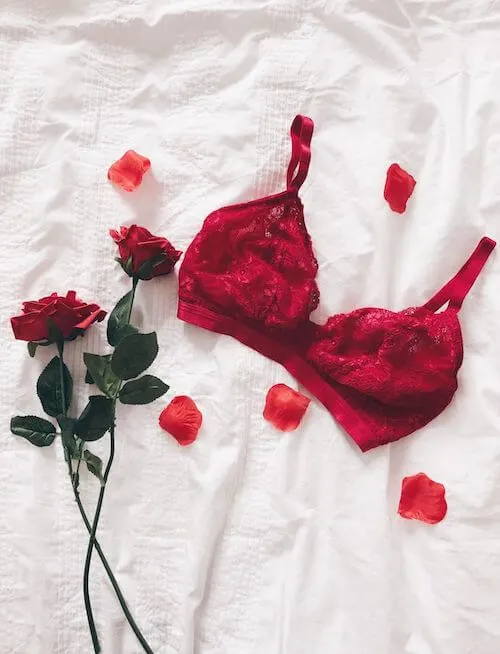 via Pinterest
Beautiful Red Heels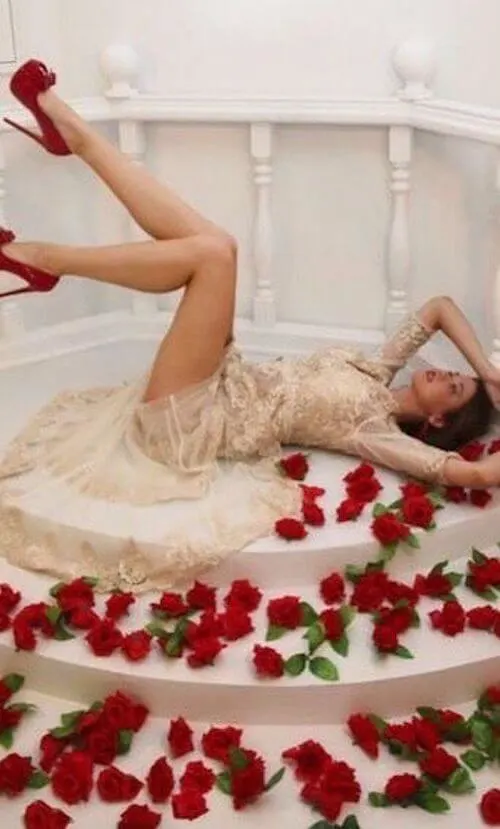 via tumblr
Photoshoot With White Roses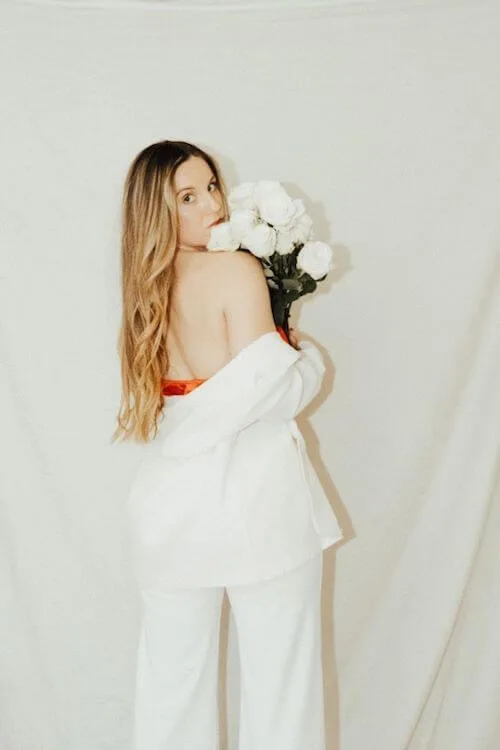 IG@mayazahn
Valentines Day Balloons
via Pinterest
Romantic Roses
via tumblr
Red Roses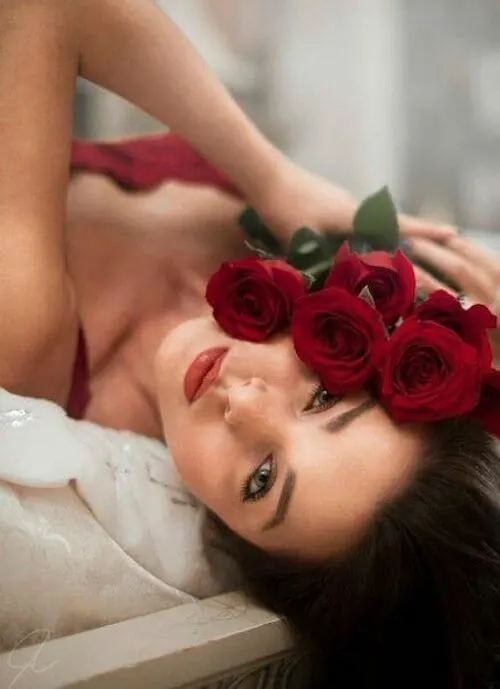 via tumblr
Easy Valentine's Day-Themed Props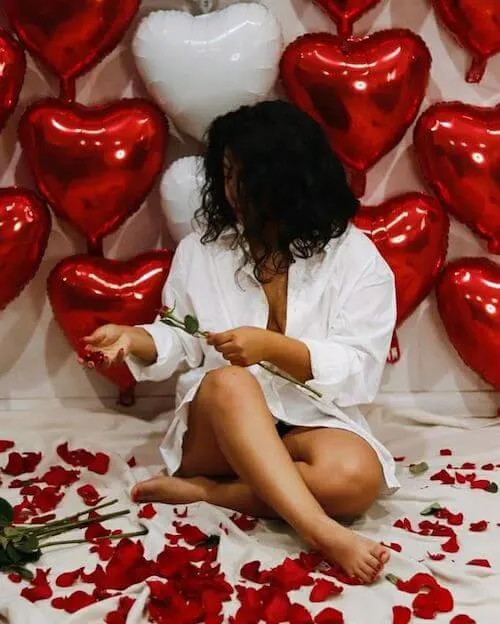 via tumblr
Pink And Red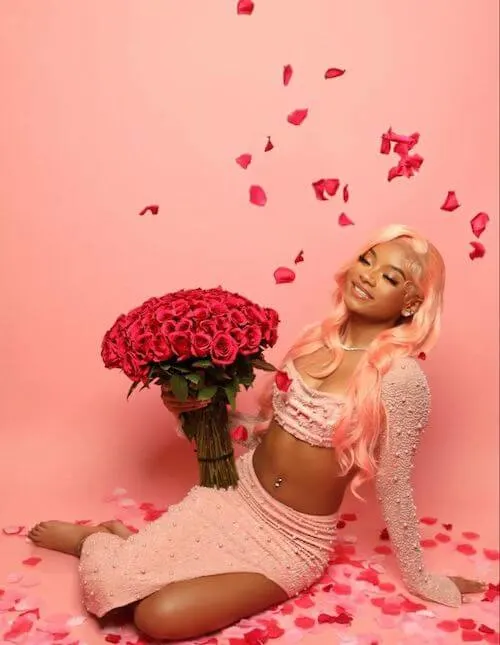 via weheartit
Beautiful Red Dress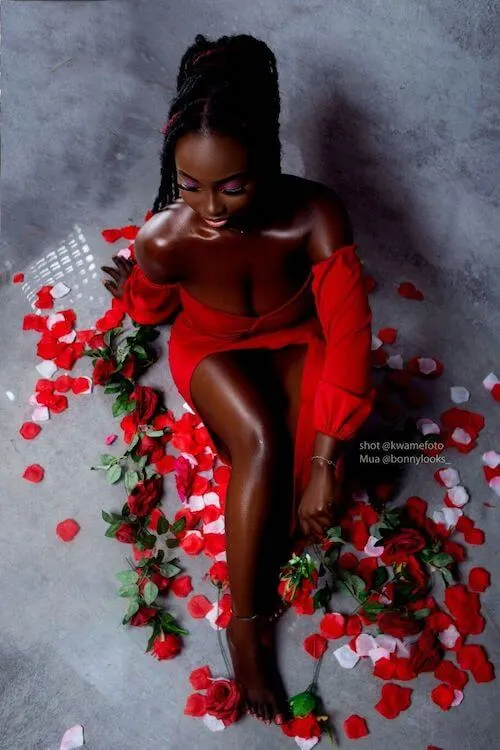 via Pinterest
Classy Valentines Day Photo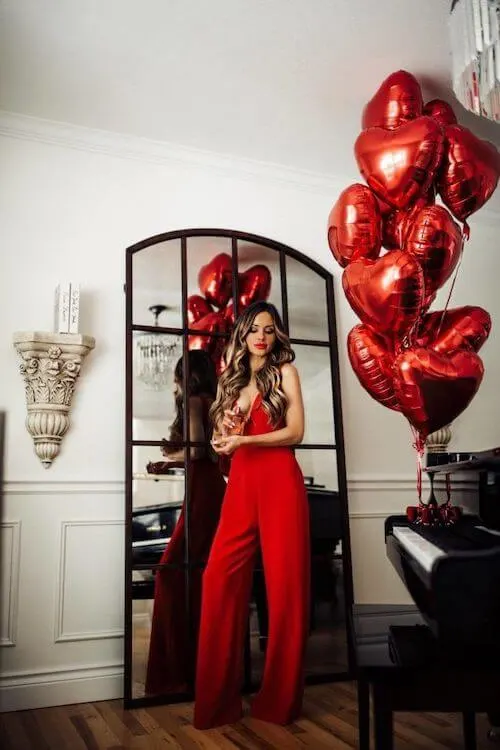 IG@miamiamine
Cute Photoshoot Pose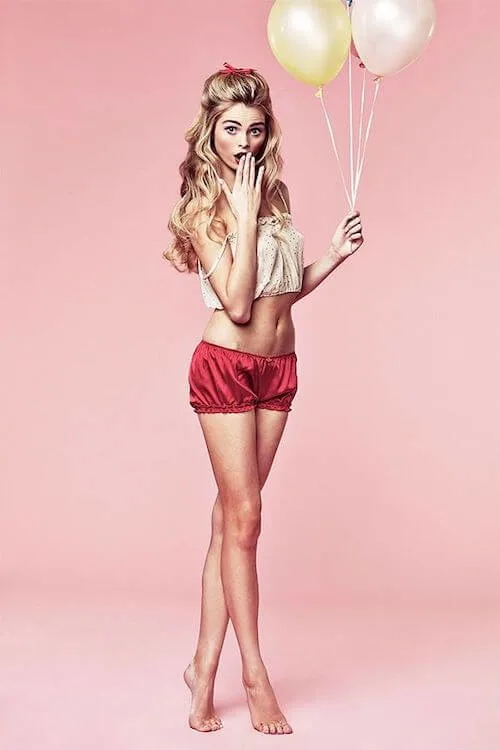 via Pinterest
Dreamy Blush Pink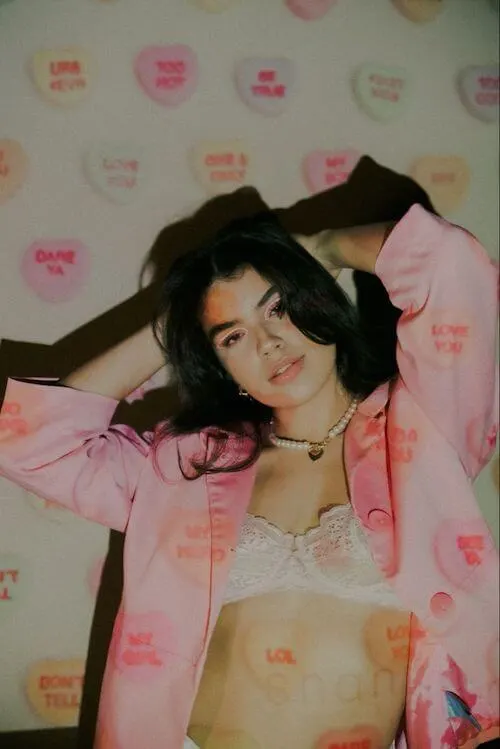 via Pinterest
Celebrate Valentine's Day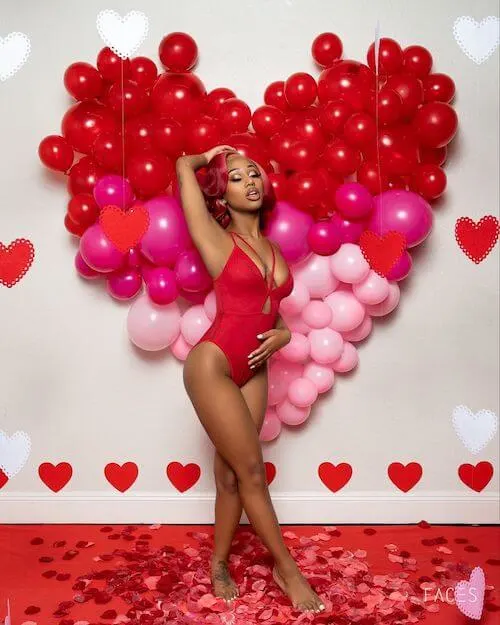 via Pinterest
Elegant Photoshoot Pose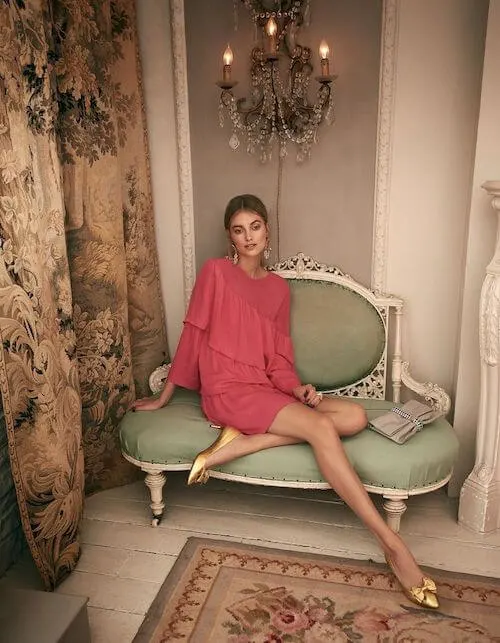 via Pinterest
romantic Valentine's Day Gift Photo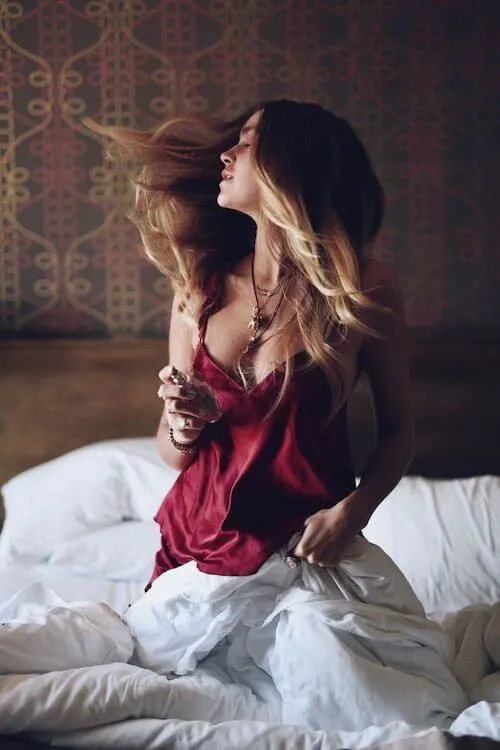 via weheartit
Black And White Photo Ideas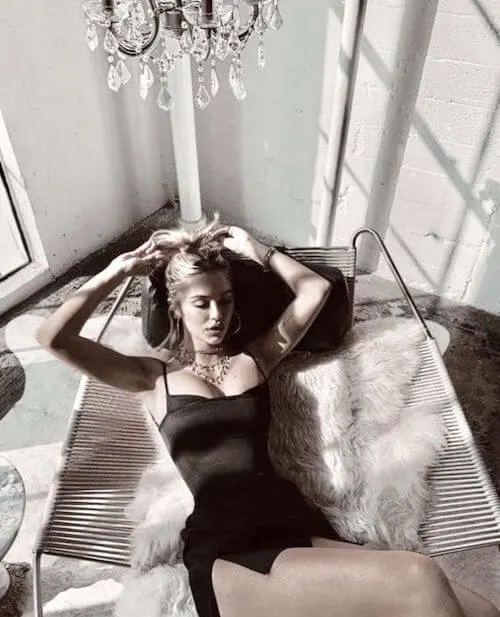 via Pinterest
Pink Slip Dress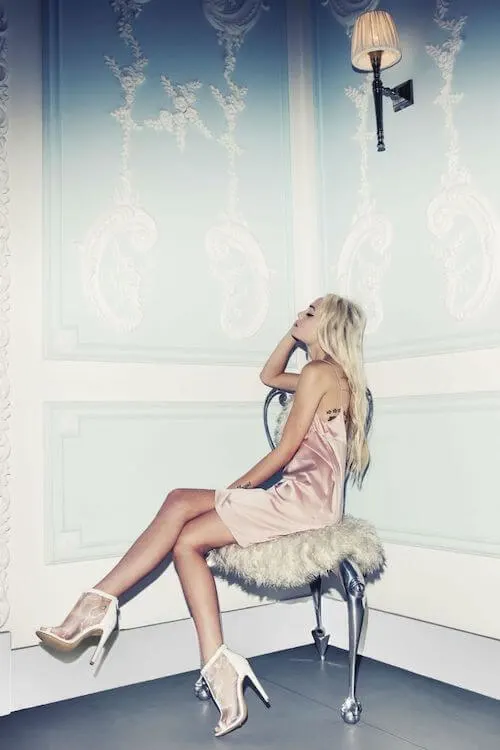 via Pinterest
Heart-Shaped Balloons Valentines Day Photoshoot
via weheartit
Romantic Valentine's Day Photo Ideas For Couples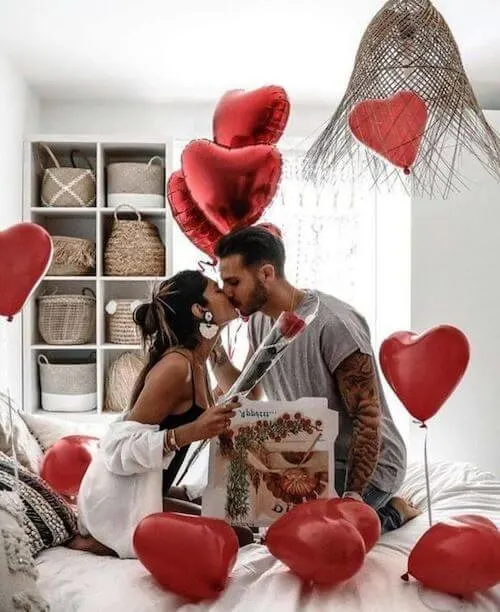 via tumblr
Romantic Couple Shoot On Valentines Day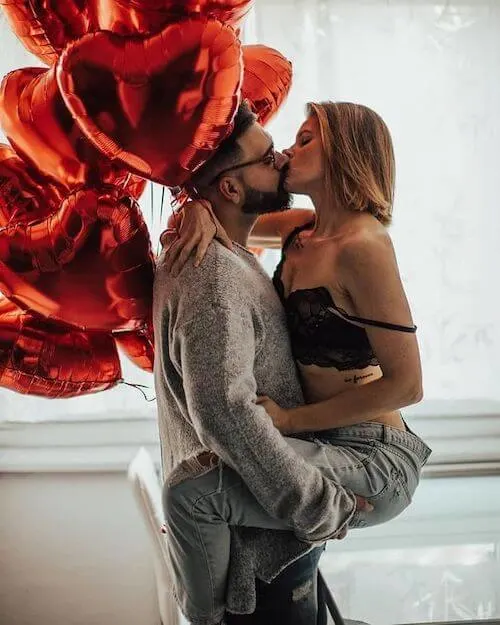 via tumblr
Romantic Bathroom Photoshoot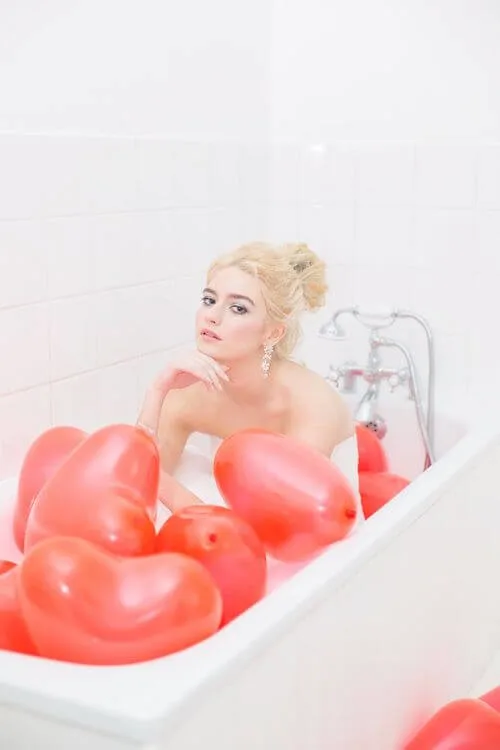 via Pinterest
Perfect Valentines Day Gift Idea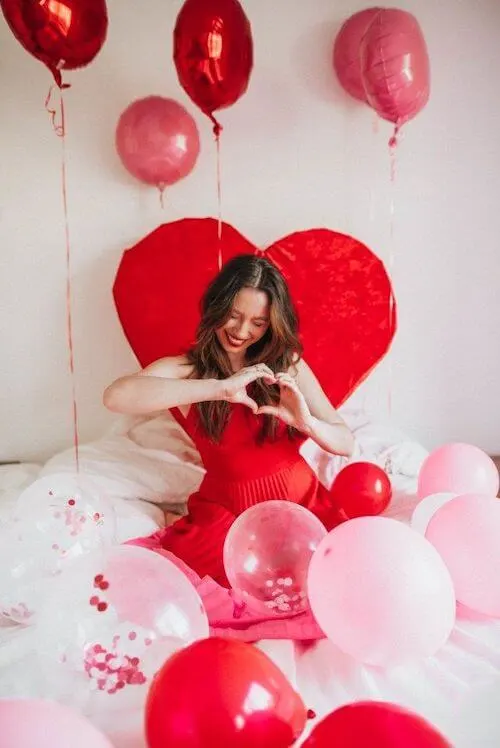 IG@madcrayy
Simple Cute Portrait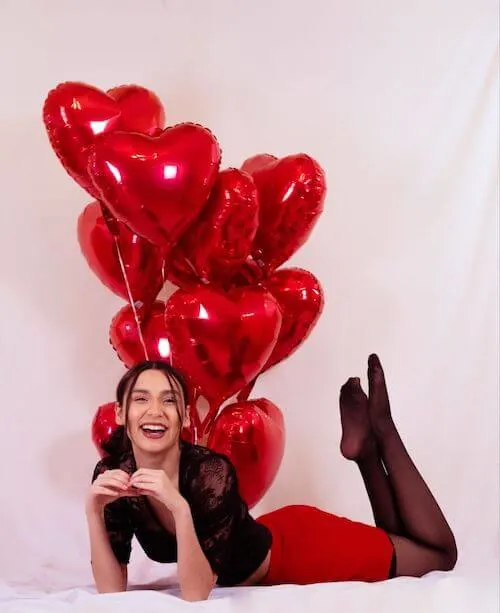 via Pinterest
Perfect Bedroom Photo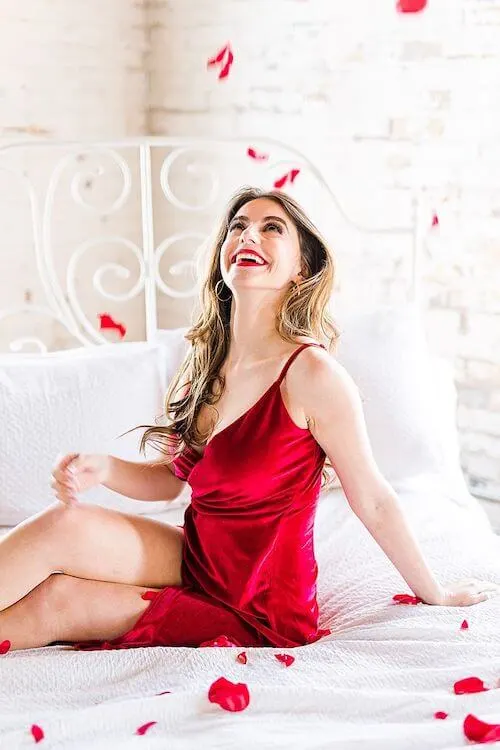 IG@rachgraff
Stunning Red Dress & Roses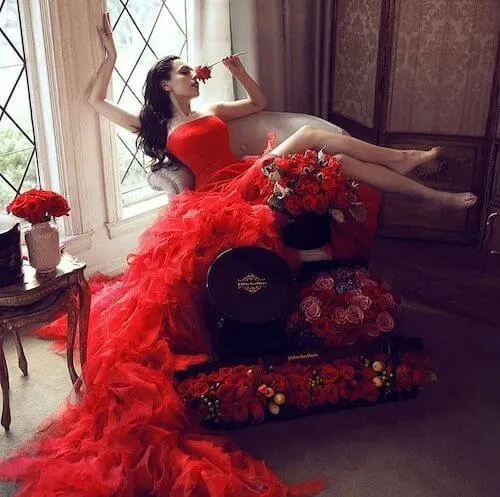 via weheartit
Stylish Valentines Day Photo Shoot Ideas
via weheartit
Valentine Gifts and Props
IG@shelbyaynphotos
Conclusion: Take romantic Valentines Day Photos
In conclusion, romantic Valentine's Day photoshoot can be a fun, exciting way to celebrate the holiday with your partner.
They don't have to be complicated or expensive; all it takes is a little creativity and some effort.
With the right props, lighting, and poses, you can use these photos to create a beautiful portfolio of memories that you'll treasure forever.
Plus, they're an ideal way to show your love and appreciation for each other in an intimate yet safe environment!
This post was all about romantic Valentines Day photoshoot ideas.
About The Author
Tracy is an experienced personal stylist, shopping expert, and fashion & lifestyle blogger. She has been featured on Time Magazine, Bustle, Best Life, Glam, The Zoe Report, Mic, and GOBankingRates, for her insights on fashion, beauty, home decor, and lifestyle. Read More
Related Posts: