Wondering how to dress business casual for women in winter? Check this post for stylish winter business casual attire ideas to copy directly.
In the wintertime, it can be difficult to maintain a business casual look for female employees.
As temperatures drop and days grow shorter, the challenge of staying fashionable in the office becomes increasingly difficult.
With the right clothing pieces, however, winter does not have to mean sacrificing style for comfort.
In today's article, I am sharing the best tips and tricks on how to dress in business casual during the colder months while still looking stylish and professional.
So scroll down to check these winter work outfit ideas for ladies, and don't hesitate to pin them to your Pinterest board, and share them on social media sites.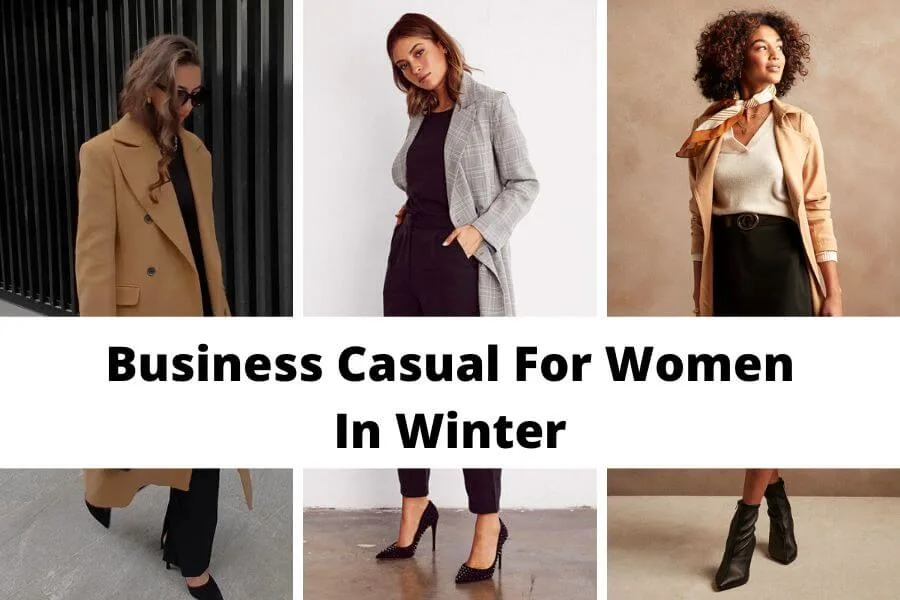 This post may contain affiliate links, which means I'll receive a commission if you purchase through my link, at no extra cost to you. Please read the full disclosure here.
This post is all about business casual women winter ideas.
What is business casual for women in winter?
Business casual is a dress code that can be tricky to master, especially in the winter season.
Women have many options when it comes to dressing business casual for the winter months, but there are a few guidelines they should follow.
First and foremost, clothing should remain professional while also being comfortable and warm enough for the cold weather.
Choosing clothing items such as tailored trousers or jeans with a dressy top, sweater or blazer is recommended.
Layering pieces like cardigans, turtlenecks and vests are great options that add warmth without taking away from the overall look of an outfit.
Additionally, women can choose from a variety of footwear options such as oxfords, loafers or ankle boots when completing their business casual look for winter.
Other accessories such as scarves and gloves can polish off an outfit while still remaining appropriate for work settings.
What should I wear for winter business casual?
To make sure you look professional and feel comfortable throughout the winter months, here are some helpful tips on winter business casual attire.
Start with classic staples like trousers or jeans paired with a simple top such as a crisp button-down shirt or blouse.
To keep warm while still looking polished, layer your outfit by adding a cardigan, sweater vest or structured blazer for extra warmth without sacrificing style.
Also, consider fabric choices like wool and cashmere that look dressy and provide ample insulation from the cold weather.
What women wear in office in winter
Winter is the perfect time to express yourself through fashion.
During the colder months, women can take advantage of layering pieces and creating a look that combines warmth and style.
A classic coat is essential for any professional wardrobe during the winter.
A good option is a timeless wool pea coat or blazer that will help keep you warm while also making you look polished and put-together.
To complete your outfit, invest in quality leather boots with low heels that are comfortable enough for walking around all day but still stylish enough to be worn with business attire.
Women's business casual clothing ideas In winter
Women's business casual clothing can be a tricky thing to get right in the winter.
With the cold weather, it can be easy to just want to pull on a bulky sweater or sweatpants and call it a day.
But there are plenty of stylish and comfortable options that still look professional enough for work.
Focus on layering their winter wardrobe with warm fabrics like wool, cashmere, and twill that will keep them looking smart at the office.
Start with base layers such as turtlenecks, leggings, or slim fit trousers in neutral colors like black or navy blue.
Add pieces like blazers, cardigans, and structured coats over top for added warmth without compromising style.
Want more inspiration? Scroll on to check below trendy winter office wear ideas for women.
Winter Business Casual Outfit Ideas For Women
Are you struggling to dress appropriately for business casual events this winter?
Have no fear, as there are endless options for stylish and professional outfits.
From knee-length dresses to blazers and wool trousers, below are the best winter business casual outfit ideas for women.
Black Turtleneck + Black Blazer + Jeans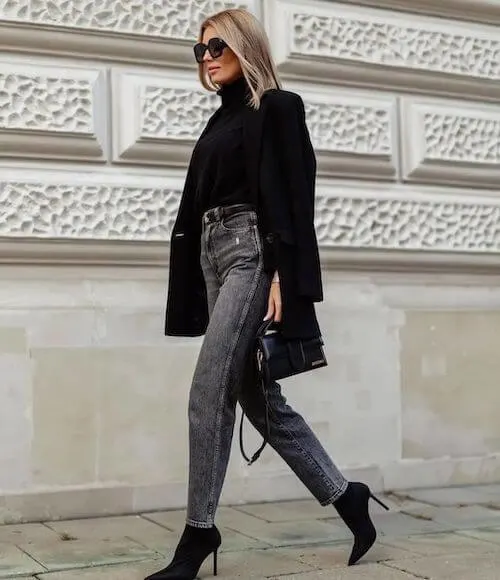 @mrs.edithh
Black Top + Leather Leggings + Long Coat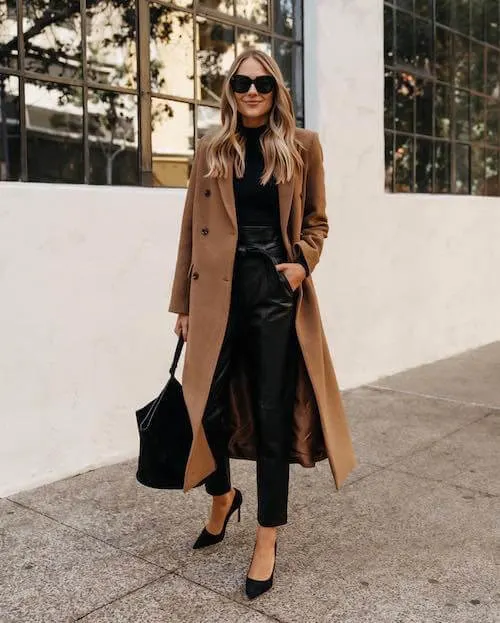 @fashion_jackson
Blazer + Belt + Denim Jeans + Pumps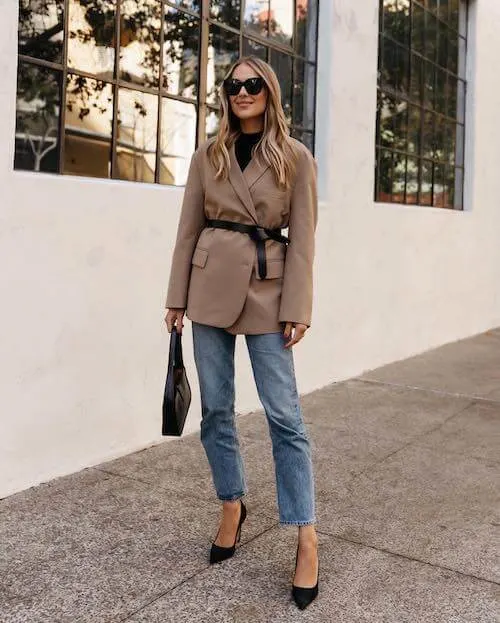 @fashion_jackson
Gray Blazer + Black Jeans + Ankle Boots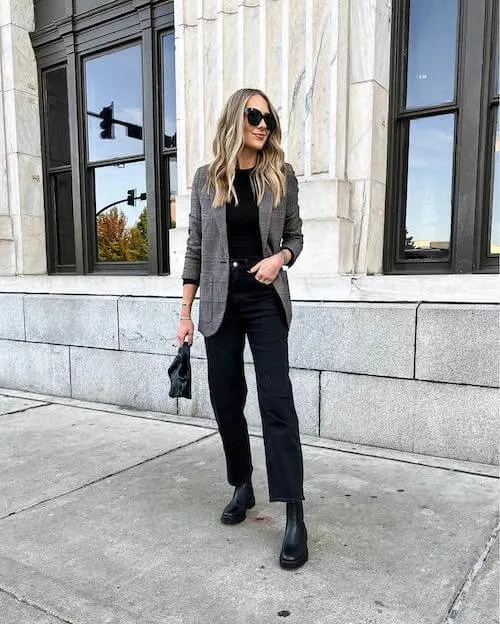 @fashion_jackson
Tall Boots + Dresses + Trench Coat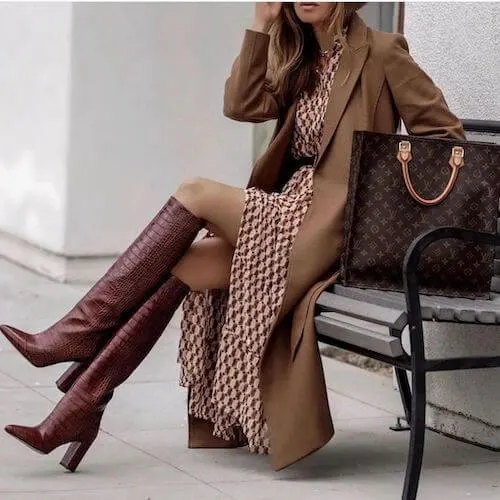 @lolariostyle
Camel Blazer + Leather Leggings + High Heels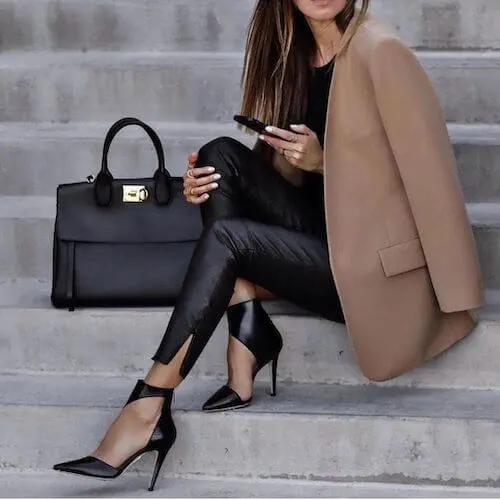 @lolariostyle
Black Blazer + Black Dress Pants + Belt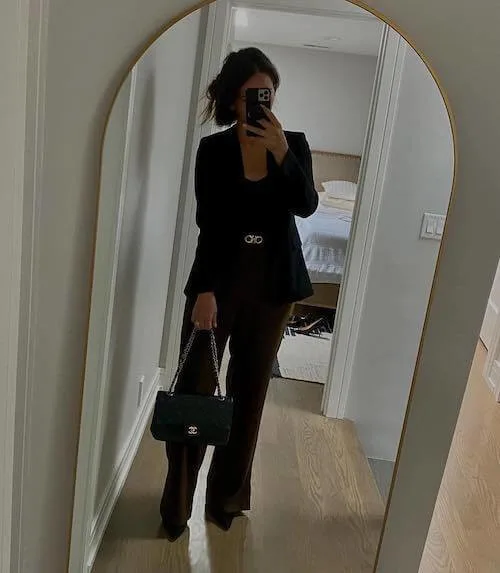 @silkyseta
Black Top + White Pants + Camel Long Winter Coat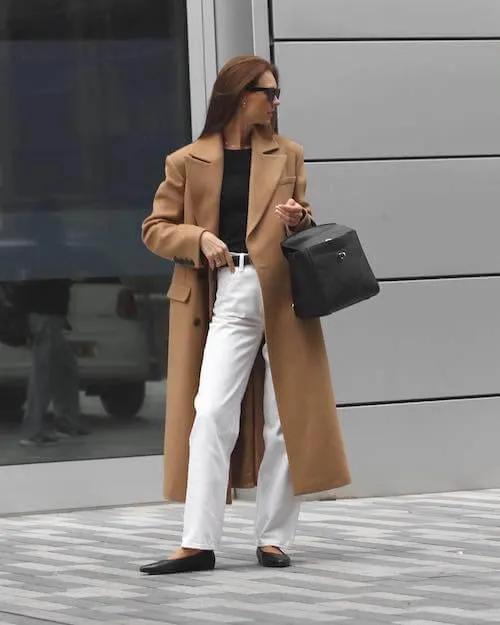 @karen_millen
Pencil Skirt + Long Coat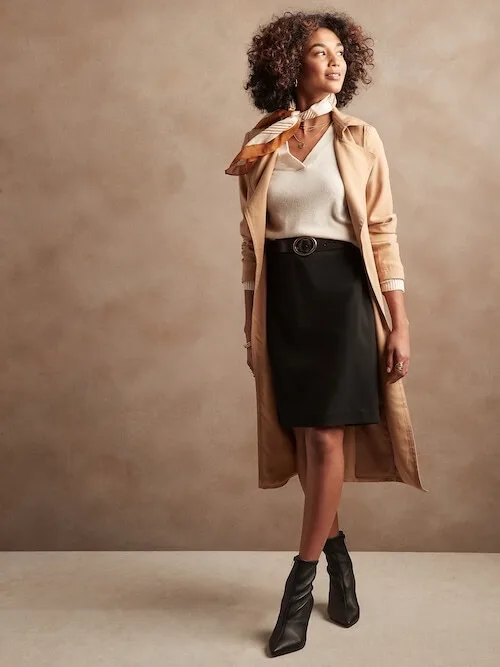 Blazer Suit + Button Down + Leather Coat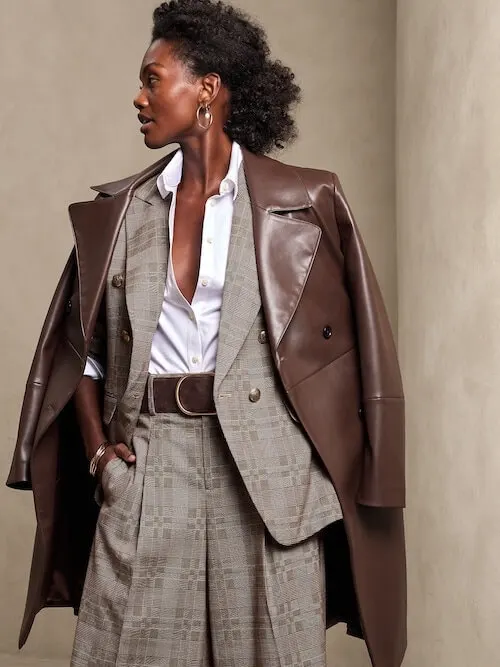 Camel Knit Top + Mini Skirt + Blazer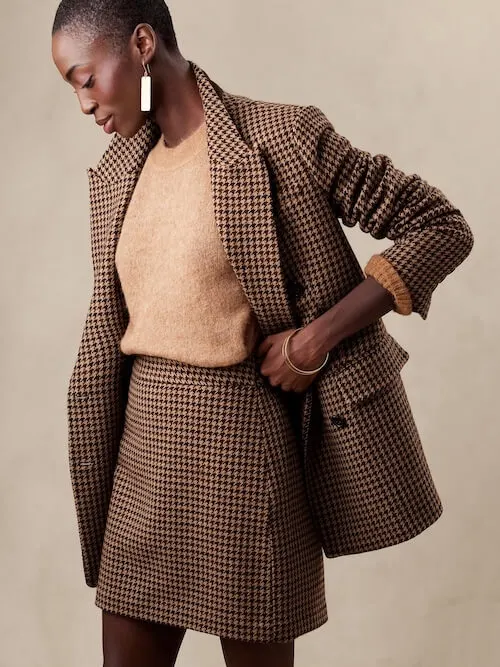 Smart Trousers + Black Blazer + Loafers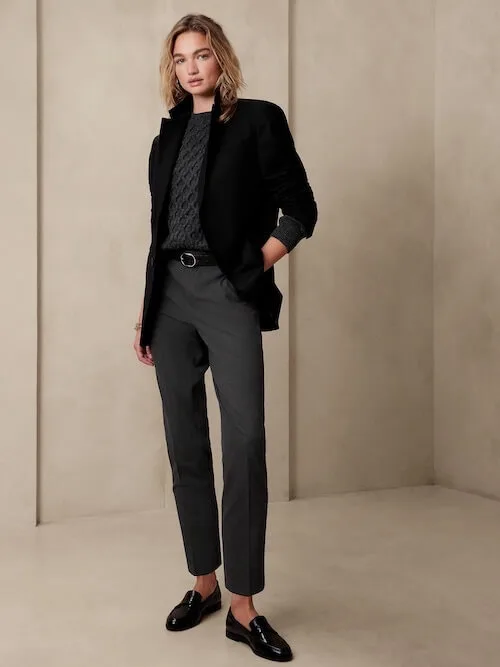 Turtleneck Sweater + Smart Pants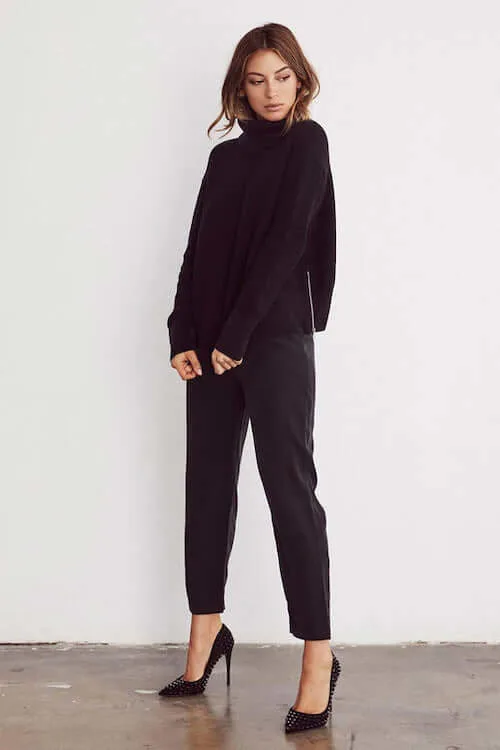 Gray Blazer + Black Top + Business Casual Pants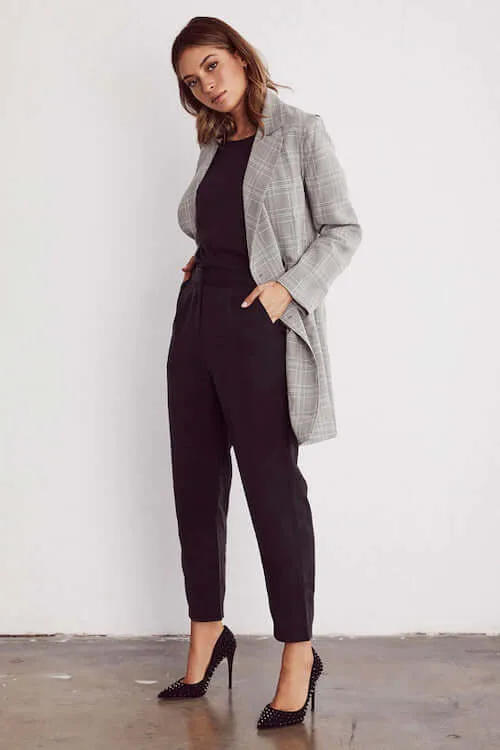 Midi Skirt + Tights + High Boots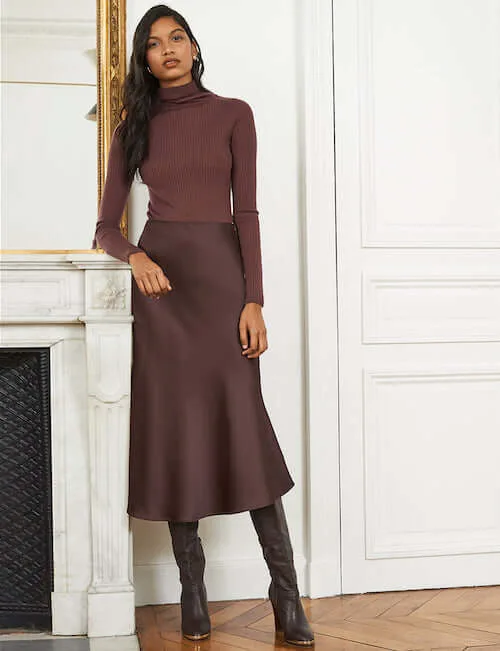 Casual Shirt + White Pants + Winter Blazer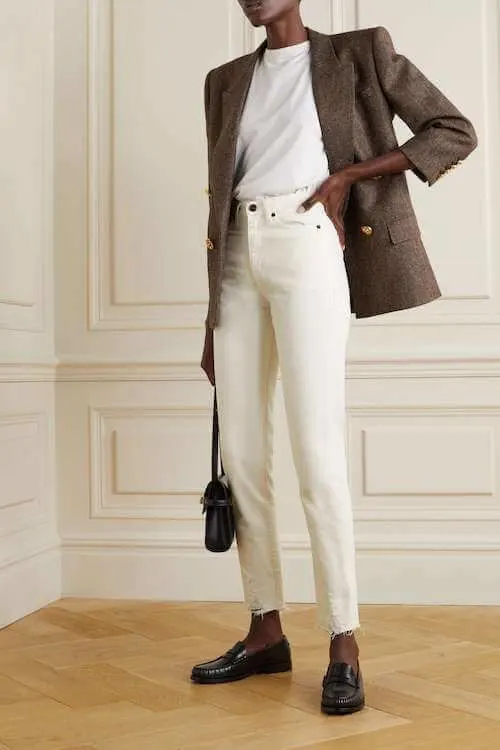 White Shirt + Winter Short Jacket + Midi Skirt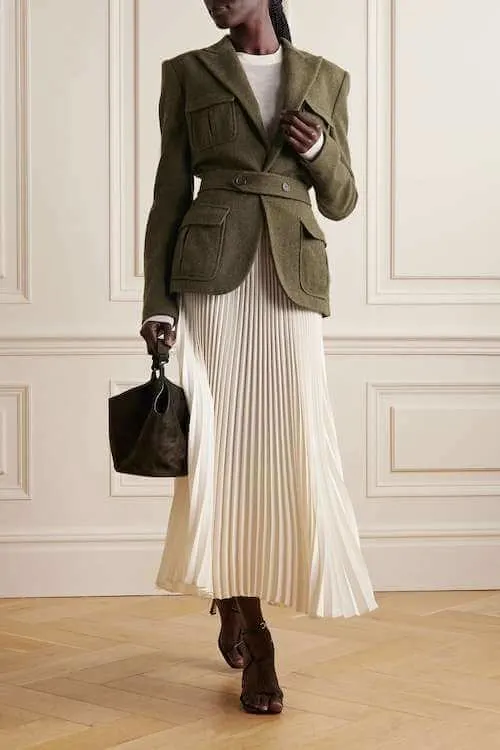 White Top + White Coat + Black Pants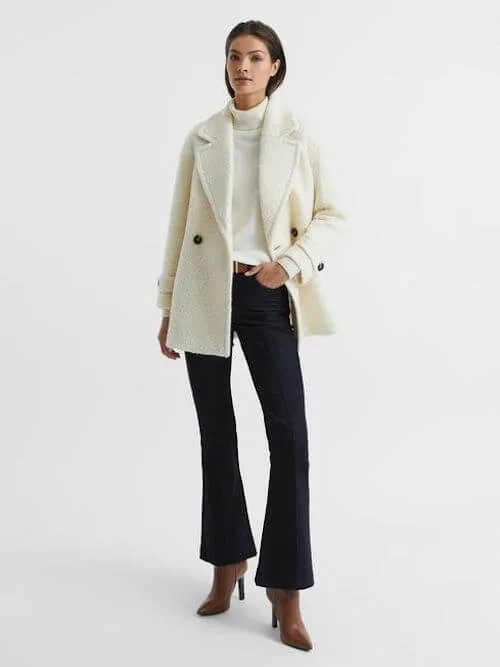 Chic Knit Top + Midi Skirt + Ankle Boots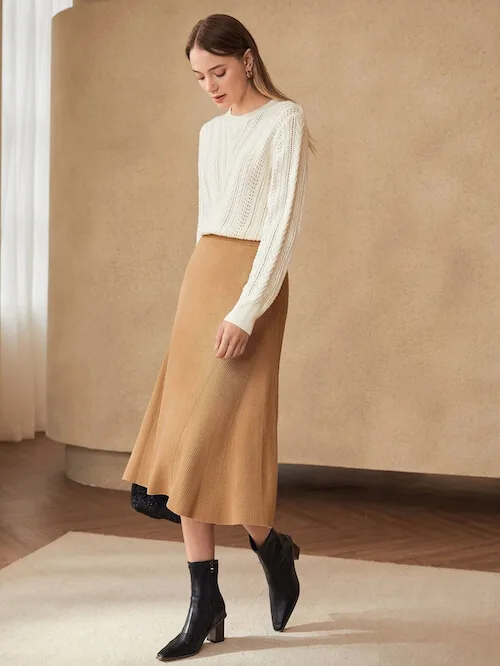 Midi Knit Dress + Ankle Boots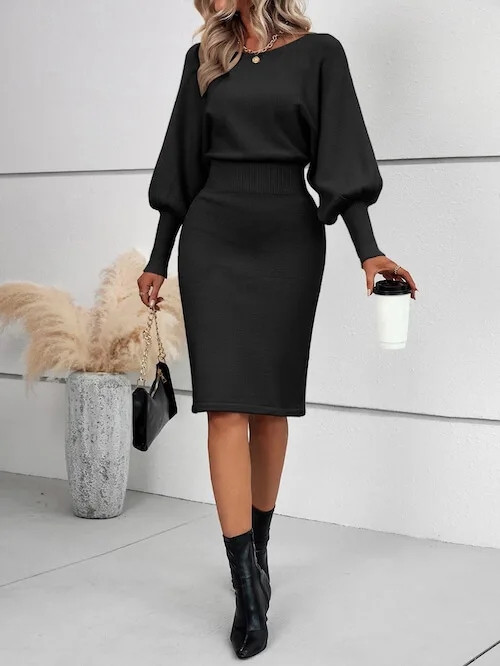 Blazer + Knit Top + White Blouse + Knee-High Boots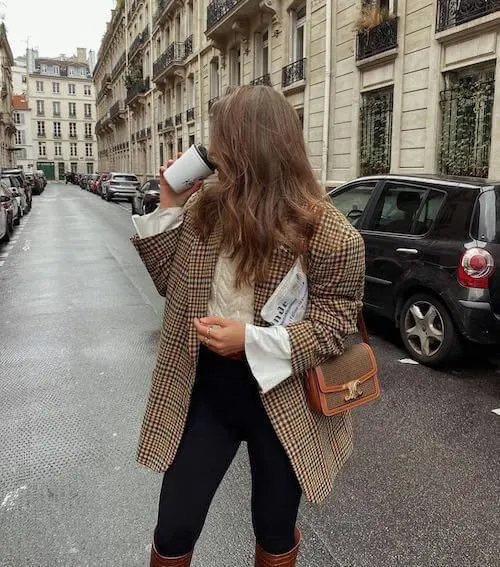 @livia_auer
Cardigan + Blazer + Black Jeans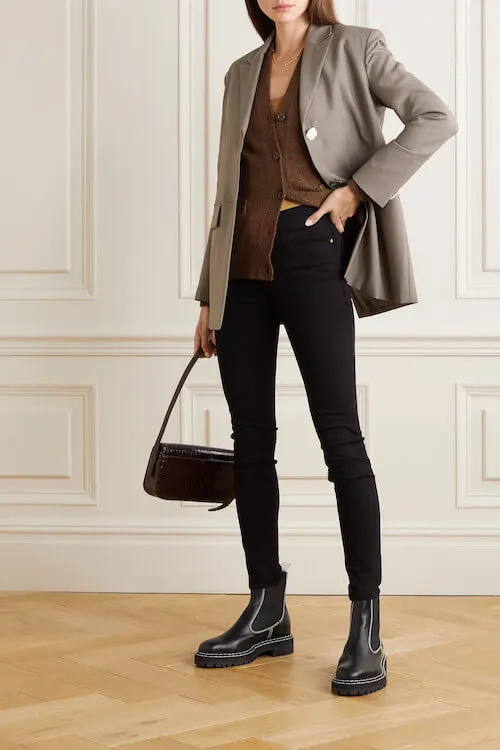 Neutral Winter Business Casual Outfits For Women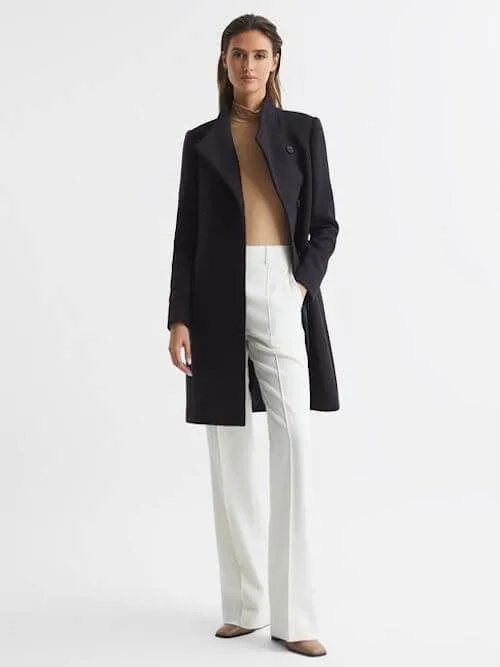 Minimalist Winter Business Casual Style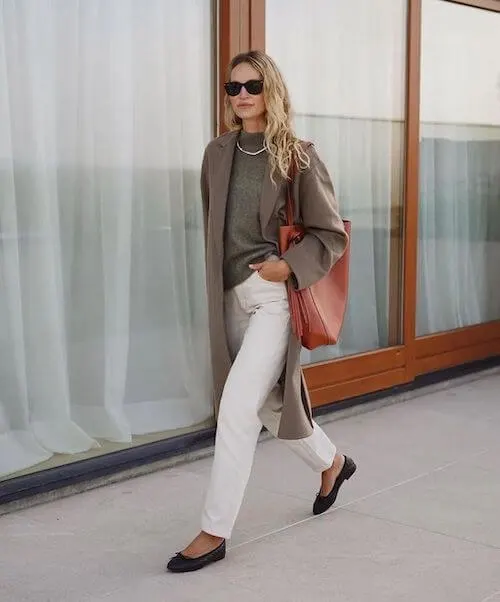 @anoukyve
Chic All Black Look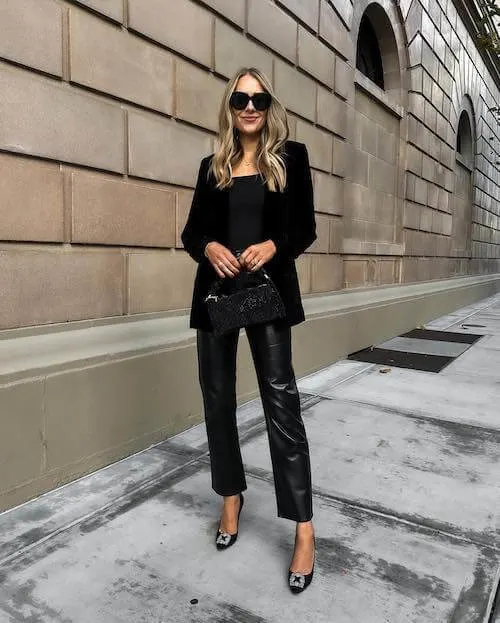 @fashion_jackson
Elevated All White Outfit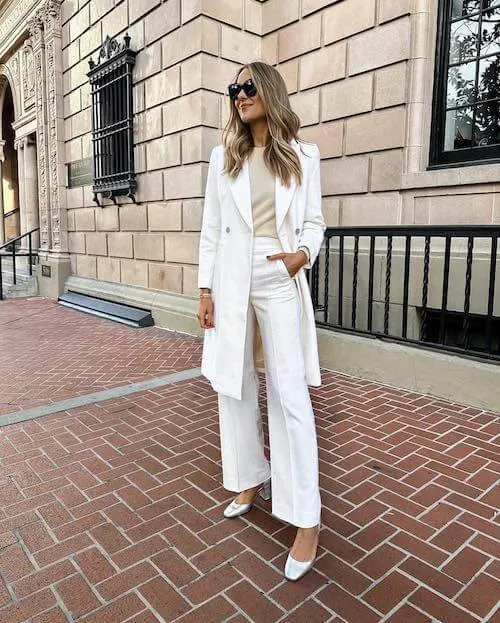 @fashion_jackson
Stylish Winter Business Casual Attire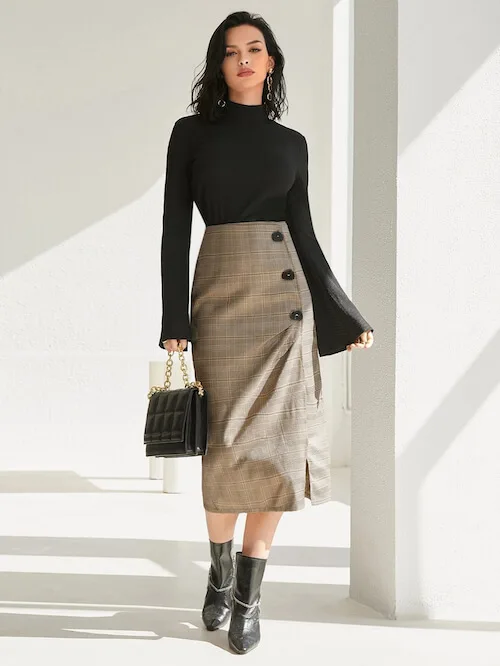 Chic Winter Work Outfits For Women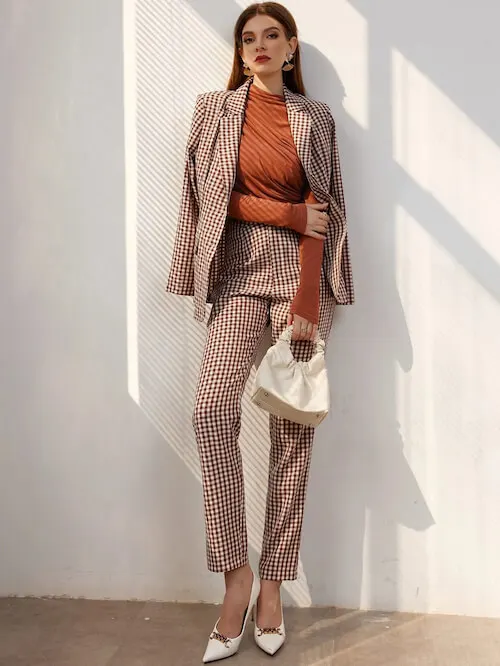 Easy Winter Work Attire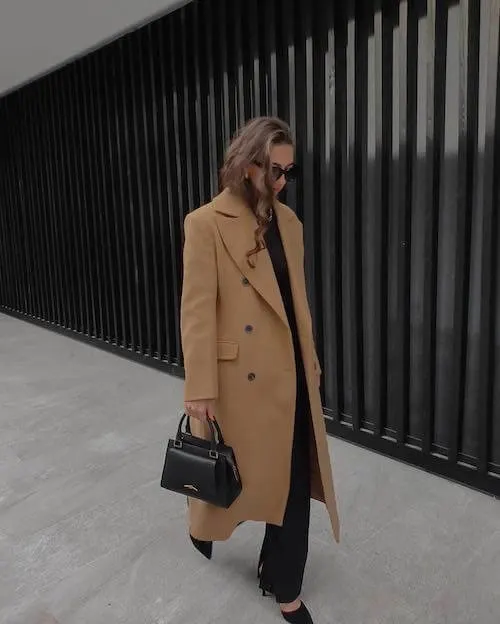 @karen_millen
Simple Winter Work Looks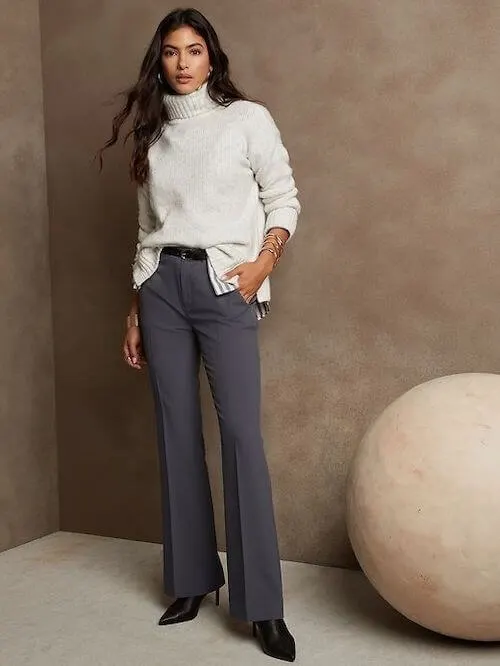 Winter Business Casual Shoes
Winter business casual shoes for women are an important part of any professional wardrobe.
The right pair can make all the difference in a woman's look during cold weather months.
From classic ankle boots to stylish pumps, there is something for everyone when it comes to winter business casual footwear.
A great way to start building a winter business casual shoe collection is with some classic ankle boots.
They are versatile and can be worn with trousers, skirts or dresses in darker colors like black or navy.
For colder days, opt for a boot that has fur lining inside or one that is made from waterproof materials like suede to keep feet warm and dry while looking stylish.
Pumps are another staple when it comes to winter workwear, especially if you have a more formal office setting.
Want a more casual style? A pair of loafers are a great choice.
Can jeans be business casual for a woman?
The answer is yes!
Jeans can definitely be considered part of a business casual look for women.
However, not all jeans are created equal when it comes to professional attire.
To make sure your jeans are office-appropriate, opt for dark washes and straight or boot cut styles instead of distressed denim or low-rise designs.
Additionally, you should pair your jeans with more tailored pieces like blazers and closed toe shoes to ensure you maintain a polished appearance overall.
Is a cardigan business casual?
Cardigans are a great way to dress up any wardrobe.
But when it comes to business casual attire, is a cardigan acceptable?
The answer is yes!
A cardigan can work well as part of a business casual outfit in certain settings.
When wearing a cardigan, look for ones made from materials such as wool or cashmere that are more formal and appropriate for a workplace setting.
Don't forget the details like buttons and pockets, which can add sophistication to your look and make it more appropriate for the office.
When selecting the right color, opt for neutrals like navy blue or grey that will go with virtually anything else in your wardrobe.
Are leggings okay for business casual?
The answer is yes – but with a few caveats.
In order to be appropriate in a professional environment, leggings should be paired with more conservative upper pieces such as collared shirts or sweaters that cover the midriff and come down to your hips or lower.
Avoid sheer fabric, overly tight fits, and any other potentially distracting elements when choosing leggings for business casual attire.
Furthermore, it's important not to forget footwear.
Closed-toe ballet flats, pumps or minimalist boots can help keep your look polished and complete the outfit appropriately for work settings.
What not to wear for business casual in winter
When it comes to winter business casual attire, there are a few things that you should always avoid.
After all, the wrong outfit can make you look unprofessional and out of touch with current trends.
Here are the top five items to never wear for winter business casual:
First, stay away from anything too heavy or bulky.
Even if the temperature is chilly outside, a thick coat or puffer jacket is not appropriate for the office.
Instead, opt for lightweight layers like blazers and sweaters that will keep you warm but also look professional.
Second, dressy fabrics like velvet and sequins may be in style during the holiday season but don't bring them into your wardrobe at work.
Stick to classic materials like wool and tweed when choosing pants and skirts as they look more polished than trendy fabrics.
Third, don't forget about footwear!
Never choose sneakers, bulky boots, and platform shoes that are trendy for street style but not appropriate for an office environment.
Final Thoughts on Business Casual Women Winter Fashion
In conclusion, women have a variety of options when it comes to dressing business casual in winter.
From tailored pantsuits to beautiful blouses and sweaters, women can create stylish looks that are both comfortable and professional.
Layering pieces is an effective way to add warmth and texture while maintaining an appropriate silhouette.
Lastly, accessorizing with simple and chic jewelry gives a sophisticated look that's perfect for any woman heading into the office this winter season.
This post was all about business casual women winter ideas.
About The Author
Tracy is an experienced personal stylist, shopping expert, and fashion & lifestyle blogger. She has been featured on Bustle, Best Life, Glam, The Zoe Report, Mic, and GoBankingRates, for her insights on fashion, beauty, home decor, and lifestyle. Read More
Related Posts: