Wondering how to dress business casual for women in winter? Check this post for stylish winter business casual attire ideas to copy directly. From cozy winter work outfits for cold weather, to colorful casual Friday work outfit ideas with boots, we've got you covered!
As the winter months roll in, the challenge of staying both warm and stylish at work can feel like a daunting task for many women.
However, fear not!
Embracing business casual attire during the colder season opens up a world of cozy and chic outfit possibilities that are perfect for the office environment.
From layering essentials to incorporating seasonal trends, this article is your ultimate guide to mastering winter workwear with flair.
So get ready to elevate your professional wardrobe with 60+ fabulous outfit ideas that will have you looking and feeling fabulous all season long.
This post is all about business casual for women in winter.
Understanding the Dress Code: Winter Workwear for Business Casual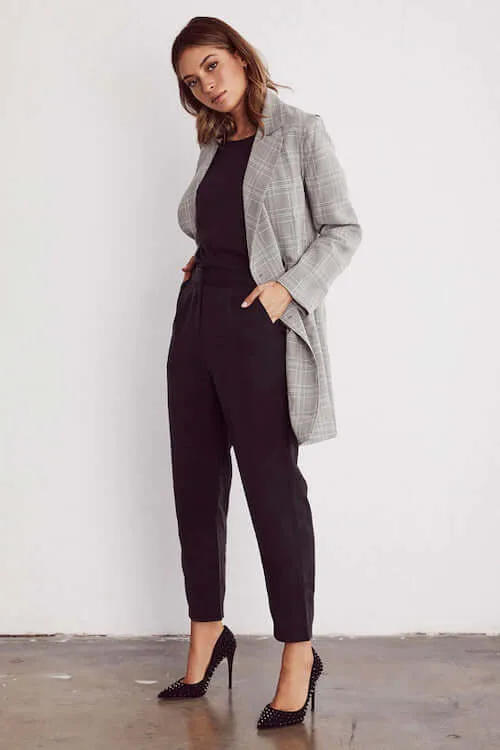 When it comes to navigating the business casual dress code in winter, you have a plethora of stylish and cozy options to choose from.
A classic outfit could consist of tailored trousers in warm fabrics like wool or tweed, paired with a turtleneck sweater or a silk blouse layered under a blazer.
To add an extra touch of sophistication and warmth, accessorize with a statement scarf and stylish leather boots.
For those seeking a more versatile look, consider incorporating midi skirts or dresses into your winter work wardrobe.
Pairing them with thick tights or leggings alongside ankle boots can create an effortlessly chic ensemble while keeping you warm during the colder months.
Additionally, don't shy away from experimenting with textures and colors—incorporating rich hues like burgundy, navy, and emerald into your attire can lend an air of elegance to your business casual ensembles while providing that much-needed warmth.
How to Create a Chic Winter Business Casual Look
Tips for Layering Sweaters and Blazers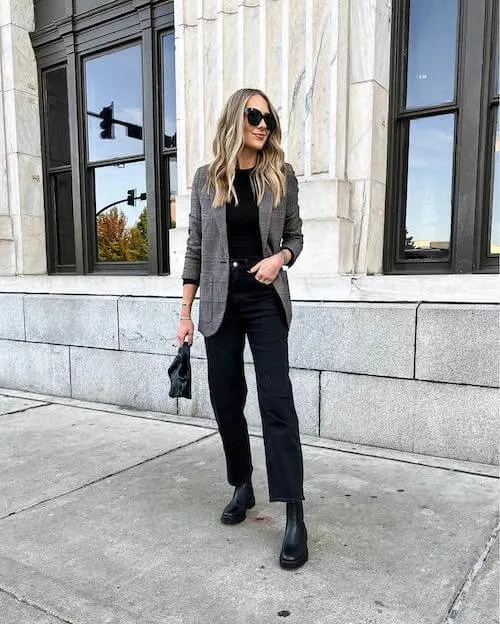 @fashion_jackson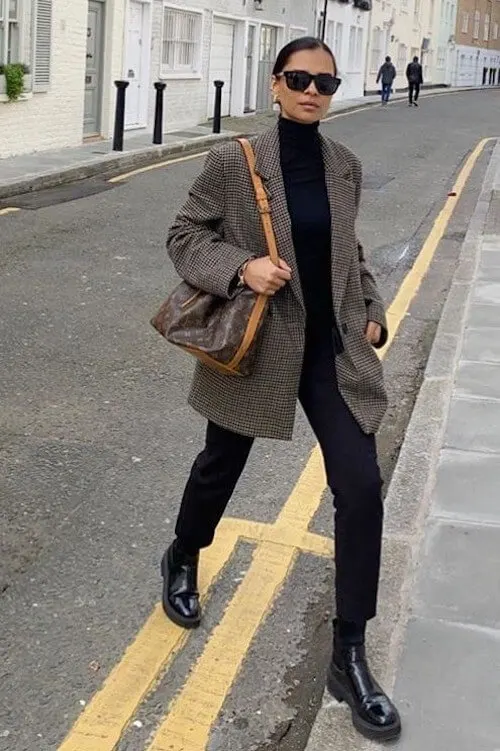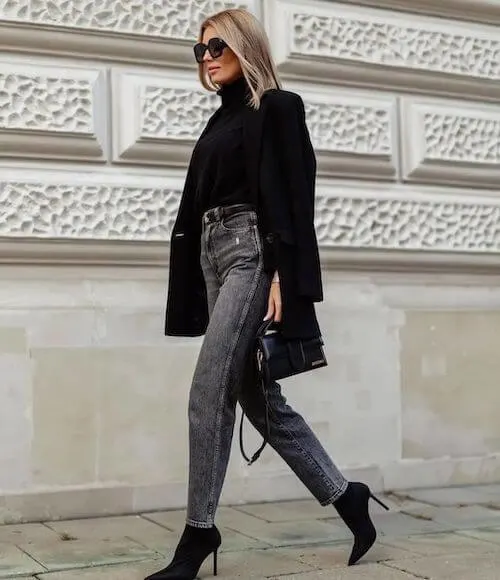 @mrs.edithh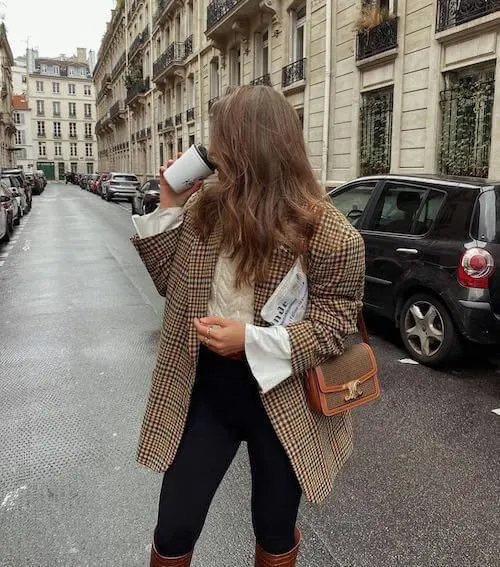 @livia_auer
Layering sweaters and blazers is not only practical for the winter months but also a great way to add depth and interest to your work outfit.
When layering, consider mixing different textures and fabrics to create a visually appealing look.
For example, pair a fine knit sweater with a structured blazer for a sophisticated contrast, or opt for a chunky oversized sweater underneath a fitted blazer for a cozy yet polished ensemble.
Another tip is to play with color combinations when layering sweaters and blazers.
Experiment with monochromatic looks or try complementary hues to elevate your style.
Additionally, don't be afraid to mix patterns within your layers – just ensure that they complement each other without overwhelming the overall outfit.
Stylish Cardigan Pairings for Winter Business Casual
Pairing a classic black or navy cardigan with tailored trousers and a crisp button-up blouse can create a polished yet cozy look that exudes professionalism.
Additionally, experiment with layering by adding a colorful silk scarf or statement necklace to bring vibrancy and personality to your outfit without compromising on elegance.
Embracing the power of mixing textures is another great way to add visual interest to your winter workwear.
Consider pairing a chunky knit cardigan with sleek leather pants or a structured pencil skirt for an effortlessly chic contrast.
This unexpected combination not only adds depth to your outfit but also provides warmth without sacrificing style.
Incorporating Tights and Tall Boots for Extra Warmth
Incorporating tights and tall boots can be a game-changer when it comes to keeping warm during the winter months.
Not only do they add an extra layer of insulation, but they also bring a touch of chic style to any outfit.
Whether you prefer classic black tights paired with knee-high leather boots or have fun with patterned tights and suede over-the-knee boots, this combination is sure to make a statement while keeping you cozy.
Essential Winter Business Casual Outfit Ideas for the Office
Capsule Wardrobe for Winter Work Outfits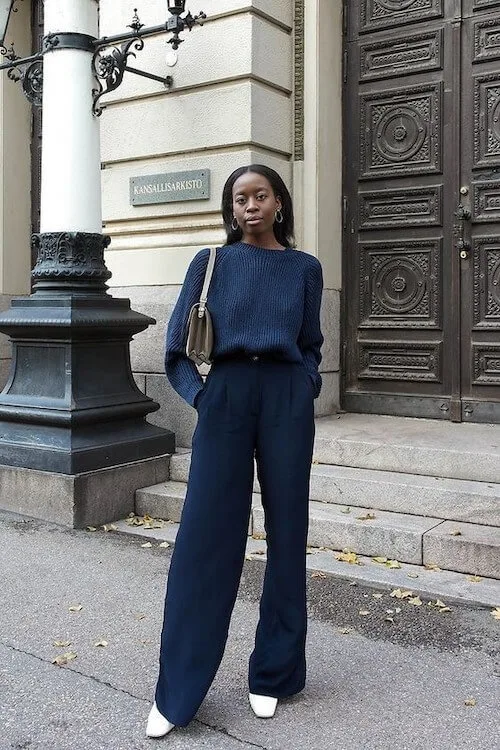 In the midst of winter, creating a versatile capsule wardrobe for work outfits can streamline your daily dressing routine while ensuring you look chic and professional.
Start by investing in classic pieces like tailored blazers, turtleneck sweaters, and high-quality trousers in neutral colors such as navy, charcoal, and camel. These timeless staples can easily be mixed and matched to create a multitude of polished looks that exude sophistication.
Layering is key during the cold winter months, so don't underestimate the power of adding a sleek puffer vest or an elegant cashmere scarf to elevate your outfit while keeping you warm.
You can also experiment with different textures and fabrics to add visual interest to your capsule wardrobe. Think about incorporating luxurious

wool skirts

, faux leather leggings, or

silk blouses

to bring depth and dimension to your winter work ensembles.
By carefully curating a collection of essential pieces that reflect your personal style, you'll be ready to conquer the professional world with confidence and flair throughout the colder season.
Staying Cozy and Stylish: Winter Work Outfit Ideas
Turtleneck and Dress Pants for a Professional Winter Look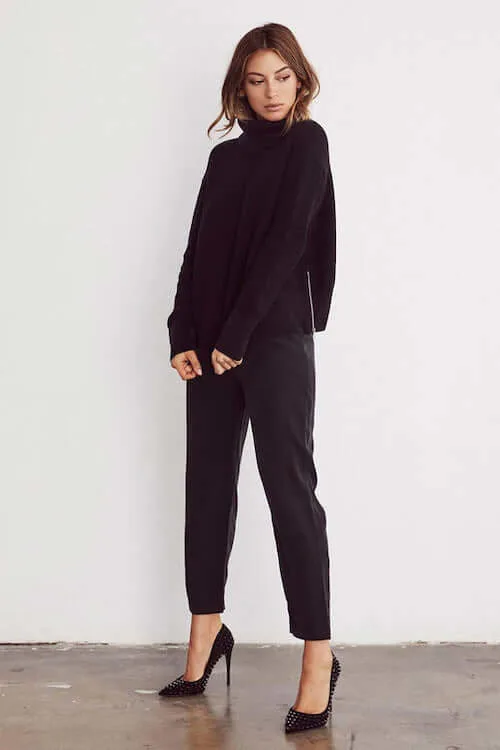 The combination of a classic turtleneck and tailored dress pants is a timeless yet fashion-forward choice for a professional winter look.
The clean lines and minimalistic aesthetic of the turtleneck perfectly complement the structure of the dress pants, creating a polished ensemble that exudes sophistication.
Opting for darker hues like charcoal, navy, or black can add an extra touch of elegance to this outfit, making it perfect for formal office settings or important business meetings.
Furthermore, incorporating rich textures like wool or cashmere in the turtleneck adds depth and warmth to the overall look, while maintaining professionalism.
Pairing this outfit with sleek loafers or ankle boots can further elevate the ensemble and create an effortlessly chic appearance suitable for any workplace environment.
Accessorizing with Knit Dresses and Winter Workwear
When it comes to winter workwear, incorporating knit dresses into your rotation offers endless possibilities for stylish yet practical ensembles.
Opt for form-fitting knits that allow you to layer without adding bulk, creating sleek silhouettes that exude confidence and professionalism.
Accessorize with minimalist jewelry such as dainty earrings or a structured watch to maintain an elegant balance between comfort and sophistication in your winter work attire.
Blouse or Button-Down Shirt and Trouser Combinations for Winter Work Outfits
When putting together winter work outfits, the combination of a blouse or button-down shirt with trousers can create a sophisticated and professional look.
For a sleek and polished outfit, pair a crisp white button-down shirt with tailored black trousers.
Add a pop of color with a statement necklace or bright scarf to elevate the ensemble and bring some cheer to the winter days.
Another chic option is to opt for a silk blouse in rich jewel tones like emerald or sapphire, paired with charcoal grey wool trousers.
This combination exudes elegance while keeping you warm and stylish during the colder months.
Experimenting with different textures can also add depth to your winter work outfits.
Consider pairing a soft cashmere sweater and a blouse combo with wide-leg trousers for an effortlessly cozy yet fashionable look.
Look for neutral shades like camel or oatmeal for versatility that can easily transition from desk to dinner.
Trendy Tweed Jacket Trend For Winter Business Causal Attire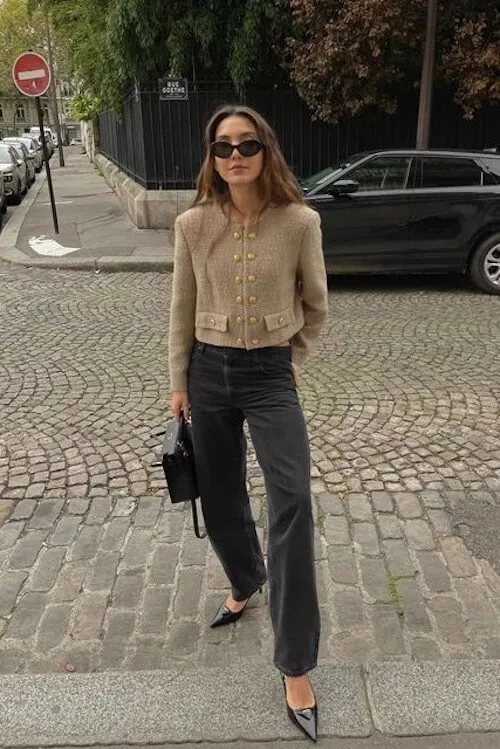 @wendyswan
The trendy tweed jacket has become a must-have item for professionals seeking a balance between style and comfort in winter business casual attire.
The traditional yet versatile fabric adds a touch of sophistication to any outfit, making it an ideal choice for the workplace.
Its textured and cozy feel not only provides warmth during the colder months but also exudes confidence and professionalism.
One of the most appealing aspects of the tweed jacket trend is its ability to effortlessly elevate any ensemble, whether paired with tailored trousers or denim for a more relaxed look.
With various colors and patterns available, there's plenty of room for personal expression while adhering to office dress codes.
The timeless appeal of the tweed jacket makes it a worthy investment piece that can seamlessly transition from day to evening wear, ensuring you stay refined and stylish throughout your busy workday and beyond.
Winter Work Outfit Ideas with Midi Skirts and Ankle Boots
Incorporating midi skirts and ankle boots into your winter wardrobe can elevate your work attire to a whole new level.
Midi skirts provide a sophisticated and professional look while ankle boots add a touch of edginess to the ensemble.
Pairing these two pieces together creates a fashionable yet practical outfit that is perfect for the colder months.
To keep warm during the winter, consider opting for midi skirts in heavier fabrics such as wool or tweed.
These materials not only offer insulation but also exude an air of elegance suitable for professional settings.
How To Wear Jeans In Winter For Business Casual Attire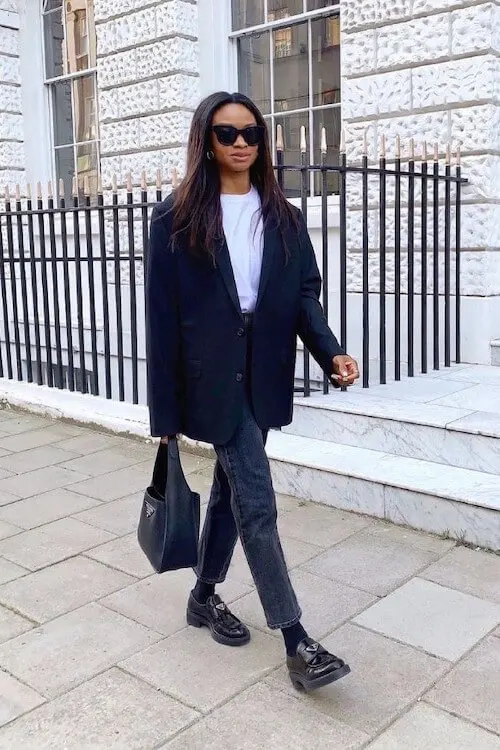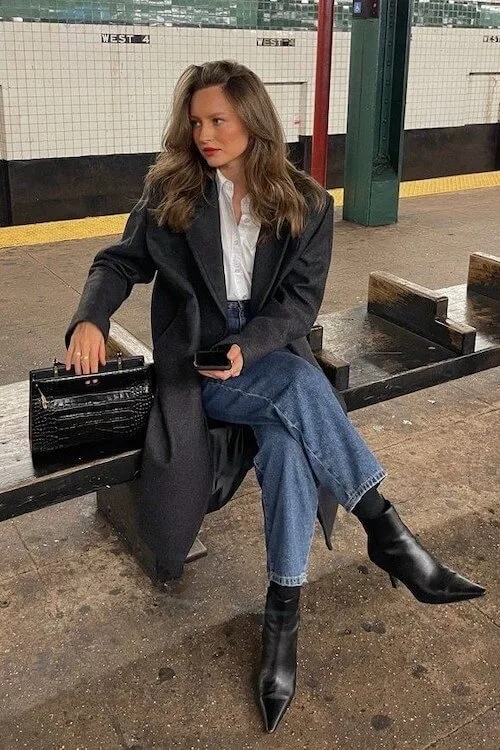 When it comes to incorporating jeans into a business casual winter outfit, it's all about finding the balance between style and professionalism.
Opt for dark wash or black jeans as these colors exude a more polished look suitable for the workplace.
For casual Friday, a great pair of white jeans is an excellent stylish choice.
Pair them with a tailored blazer and a classic button-up shirt to elevate the overall ensemble.
Adding sophisticated accessories such as ankle boots, a leather belt, and minimalistic jewelry can enhance the professional appeal while keeping you warm during chilly days.
For an extra layer of warmth without sacrificing style, consider throwing on a chic turtleneck sweater or a cashmere cardigan over your shirt.
This not only adds texture and dimension to your outfit but also provides insulation against the cold.
When choosing denim for business casual attire in winter, remember that fit is crucial – opt for well-tailored jeans that are neither too snug nor overly relaxed.
Monochromatic Winter Work Outfits For Women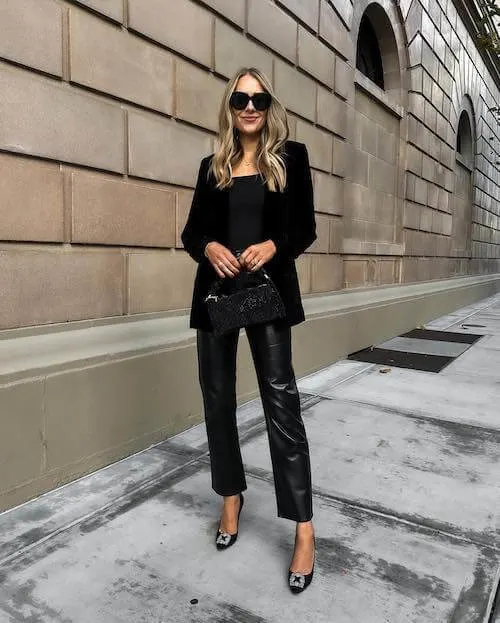 @fashion_jackson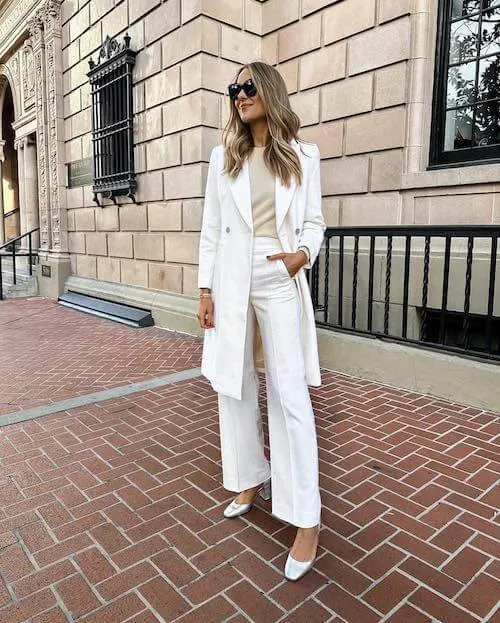 @fashion_jackson
Step out in style this winter with chic and sophisticated monochromatic work outfits that are both cozy and stylish.
Embracing the simplicity of a single color palette can create a powerful and polished look, perfect for the office or any professional setting.
Whether it's a timeless all-black ensemble or a soft, creamy white outfit, monochromatic looks exude elegance and confidence while keeping you warm during the chilly winter months.
Opt for luxurious fabrics like cashmere, wool, or velvet in your chosen monochromatic hue to create depth and texture in your outfit.
Mix and match different shades within the same color family to add visual interest without straying from your monochrome theme.
Fun Print or Colorful Winter Business Casual Outfits for Women
Winter doesn't have to mean dull and dreary business outfits.
Inject some fun and color into your work wardrobe with vibrant winter business casual outfits for women.
Muted tones are so last season – embrace bold colors like cobalt blue, magenta, or emerald green to make a statement at the office.
Pair a tailored blazer in a striking hue with classic black trousers for a professional yet eye-catching look that exudes confidence and style.
Who says you can't wear pastels in winter?
Soft pink or lavender sweaters paired with a neutral pencil skirt or tailored pants can bring a touch of charm to your business casual attire.
Don't shy away from patterns either – opt for playful polka dots, colorful stripes, or even floral prints to add an element of fun to your winter work ensemble.
Accessorize with colorful scarves, statement earrings, or bold handbags to complete the look and showcase your personality through your outfit choices.
Transitioning Your Wardrobe from Fall to Winter Business Casual
Trench Coat Styling for a Polished Winter Business Casual Look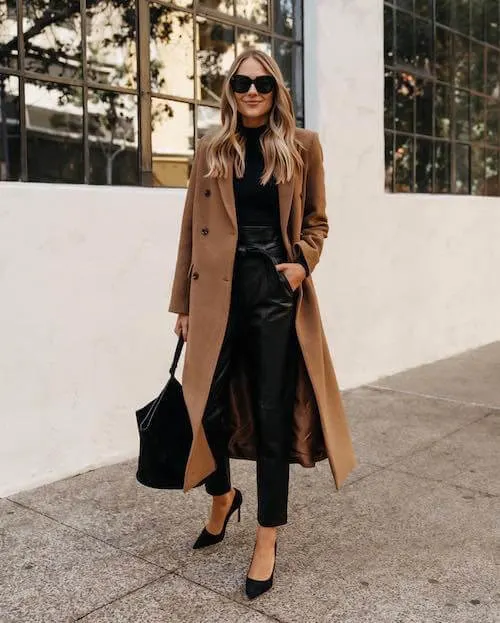 @fashion_jackson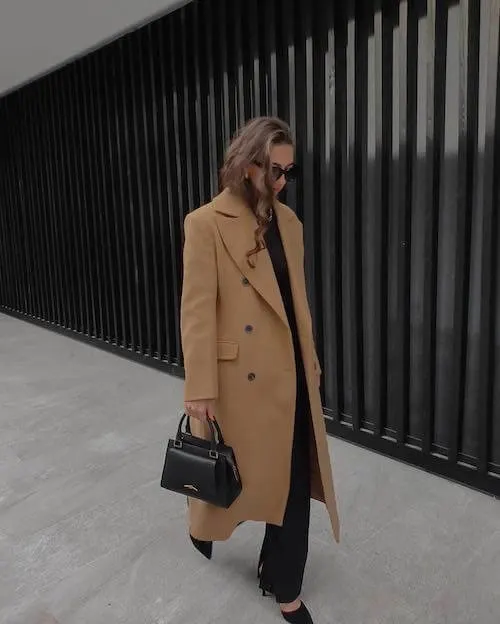 @karen_millen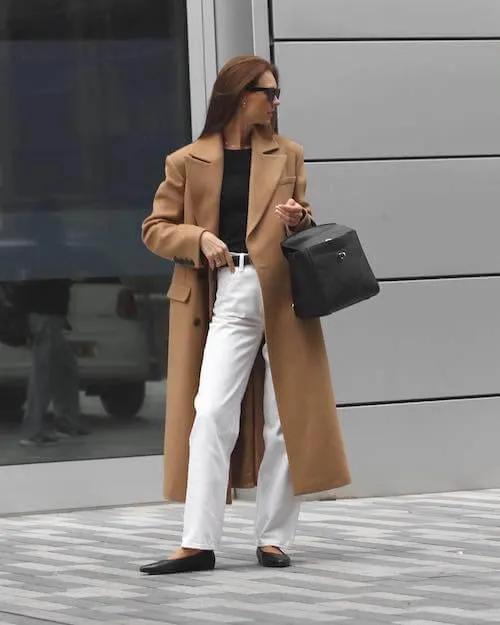 @karen_millen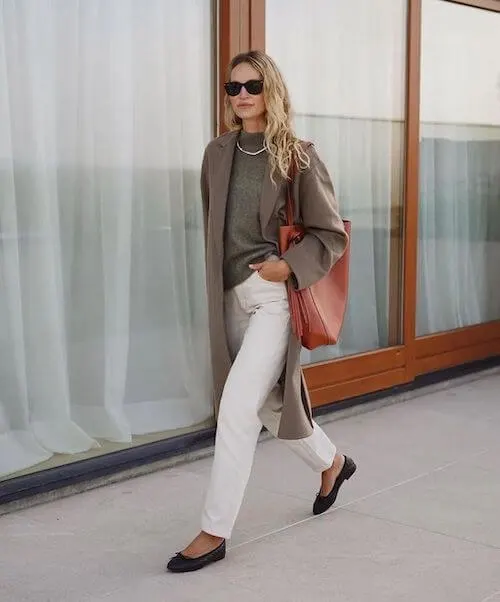 @anoukyve
When it comes to achieving a polished winter business casual look, the trench coat is an indispensable wardrobe staple.
Its timeless sophistication and versatility make it the perfect outerwear piece for elevating your work outfits during the colder months.
To create a chic ensemble, layer your trench coat over tailored trousers and a classic turtleneck sweater.
Opt for neutral tones like camel or black to exude professionalism while staying cozy and stylish.
For an added touch of sophistication, accessorize with a statement belt to cinch the waist of your trench coat, emphasizing your silhouette.
Consider pairing this ensemble with ankle boots or loafers to complete the refined yet practical aesthetic.
Pencil Skirt and Wool Coat Pairings
The classic combination of a pencil skirt and wool coat creates an effortlessly chic look that is perfect for the winter work wardrobe.
The structured silhouette of the pencil skirt pairs beautifully with the tailored elegance of a wool coat, creating an ensemble that exudes sophistication and professionalism.
Opt for a knee-length pencil skirt in a neutral shade such as black, navy, or charcoal grey, and pair it with a longline wool coat in a complementary color to achieve a polished and put-together aesthetic.
When styling this pairing, consider incorporating layers for added warmth without sacrificing style.
Try layering a sleek turtleneck sweater underneath the coat for an extra dose of coziness while also adding depth to your outfit.
Complete the look with opaque tights and ankle boots to keep your lower half warm without compromising on style.
Maxi Dress or Midi Dress with Long Coat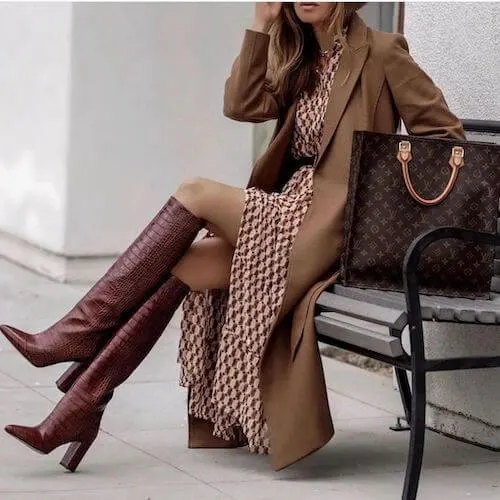 @lolariostyle
When it comes to creating a stylish but cozy winter work outfit, the combination of a maxi dress or midi dress with a long coat is a sure winner.
The maxi dress exudes elegance and sophistication, making it perfect for formal work settings, while the midi dress offers versatility and pairs well with different coat styles.
When paired with a long coat, both dresses offer warmth and comfort without compromising on style.
Whether you choose a flowy maxi or a chic midi dress paired with your favorite long coat, this ensemble gives you endless styling possibilities for the winter season in an elegant yet cozy way.
Creating Versatile Winter Business Casual Looks with Scarves and Jewelry
When it comes to creating versatile winter business casual looks, scarves, and jewelry can be the perfect finishing touches to elevate your outfit.
A simple shift from a chunky knit scarf to a cashmere-like or silk-printed one can transform your look from cozy and relaxed to polished and sophisticated.
Pairing it with a statement necklace or elegant earrings can add that extra touch of glamour without compromising professionalism.
Belts and Handbags as Statement Pieces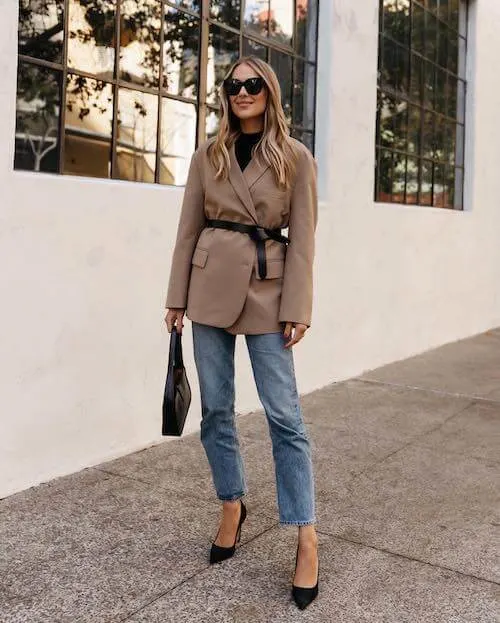 @fashion_jackson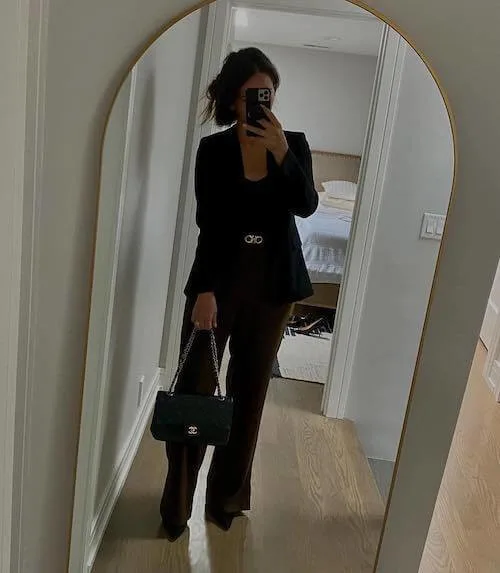 @silkyseta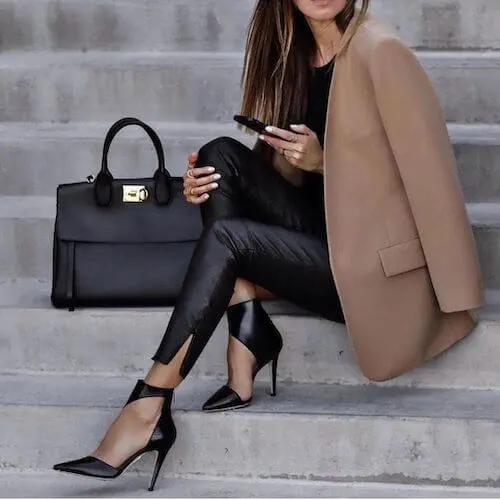 @lolariostyle
Belts and handbags are often overlooked when it comes to creating a stylish work outfit, but they can truly make a statement.
A bold, wide belt can instantly cinch in the waist and add a touch of sophistication to an otherwise simple dress or blouse-and-skirt combo.
This winter, try incorporating a statement belt with interesting detailing such as metallic buckles or textured fabrics to elevate your work outfit.
Similarly, a structured handbag in a rich hue or eye-catching pattern can serve as the focal point of your ensemble, adding both practicality and style to your look.
Casual Friday Work Outfits For Winter With Sneakers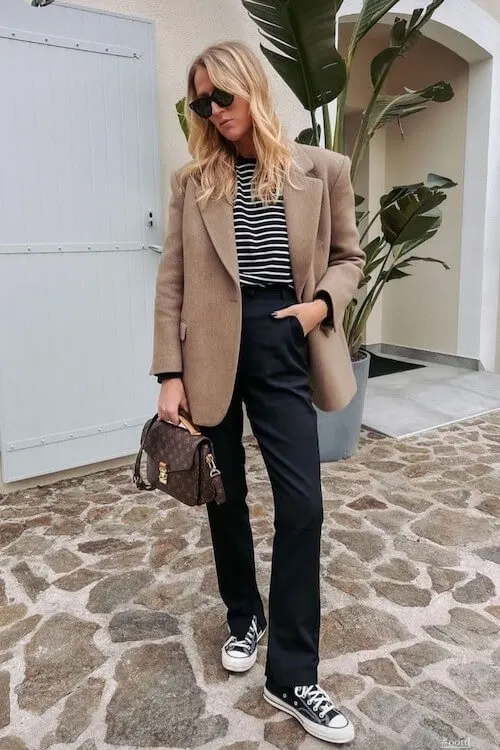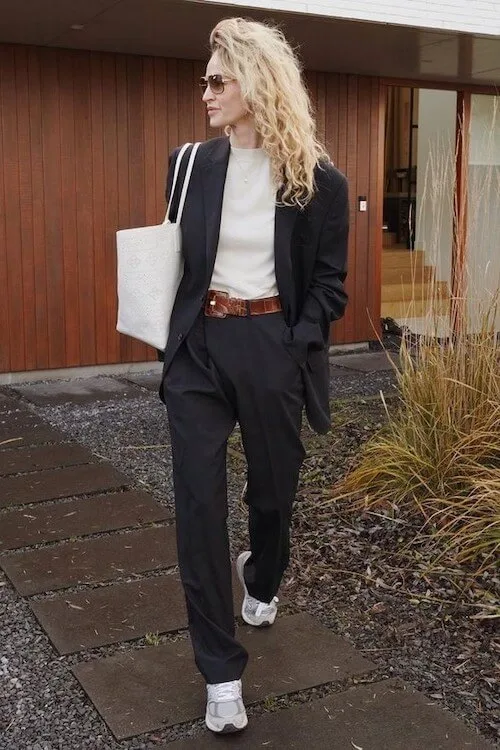 Casual Fridays at the office are a welcomed break from the typical corporate attire, allowing for a more relaxed and comfortable wardrobe.
And what better way to embrace this laid-back vibe than with winter work outfits paired with trendy sneakers?
The versatility of sneakers provides endless possibilities for creating polished and stylish looks while staying cozy during the chilly months.
Opt for sleek leather or suede sneakers in neutral tones like black, white, or brown to elevate your casual Friday ensemble.
For a chic and modern outfit, pair your favorite tailored trousers with a cozy turtleneck sweater and a longline blazer.
Complete the look with classic white sneakers for an effortlessly cool touch that seamlessly transitions from desk to happy hour.
Embracing the athleisure trend, teaming up a stylish midi skirt with a chunky knit sweater and high-top sneakers adds an unexpected twist to your winter work outfit.
The balance between comfort and sophistication makes this combination perfect for navigating both professional meetings and casual Friday activities.
Winter Business Casual Shoes
Winter business casual shoes for women are an important part of any professional wardrobe.
The right pair can make all the difference in a woman's look during cold weather months.
From classic ankle boots to stylish pumps, there is something for everyone when it comes to winter business casual footwear.
A great way to start building a winter business casual shoe collection is with some classic ankle boots. They are versatile and can be worn with trousers, skirts, or dresses in darker colors like black or navy.
For colder days, opt for a boot that has fur lining inside or one that is made from waterproof materials like suede to keep feet warm and dry while looking stylish.
Pumps are another staple when it comes to winter workwear, especially if you have a more formal office setting.
Want a more casual style? A pair of loafers are a great choice.
Can jeans be business casual for a woman?
The answer is yes!
Jeans can definitely be considered part of a business casual look for women.
However, not all jeans are created equal when it comes to professional attire.
To make sure your jeans are office-appropriate, opt for dark washes and straight or boot cut styles instead of distressed denim or low-rise designs.
Additionally, you should pair your jeans with more tailored pieces like blazers and closed-toe shoes to ensure you maintain a polished appearance overall.
Is a cardigan business casual?
Cardigans are a great way to dress up any wardrobe.
But when it comes to business casual attire, is a cardigan acceptable?
The answer is yes!
A cardigan can work well as part of a business casual outfit in certain settings.
When wearing a cardigan, look for ones made from materials such as wool or cashmere that are more formal and appropriate for a workplace setting.
Don't forget the details like buttons and pockets, which can add sophistication to your look and make it more appropriate for the office.
When selecting the right color, opt for neutrals like navy blue or grey that will go with virtually anything else in your wardrobe.
Are leggings okay for business casual?
The answer is yes – but with a few caveats.
In order to be appropriate in a professional environment, leggings should be paired with more conservative upper pieces such as collared shirts or sweaters that cover the midriff and come down to your hips or lower.
Avoid sheer fabric, overly tight fits, and any other potentially distracting elements when choosing leggings for business casual attire.
Furthermore, it's important not to forget footwear.
Closed-toe ballet flats, pumps or minimalist boots can help keep your look polished and complete the outfit appropriately for work settings.
What NOT to wear for business casual in winter
When it comes to winter business casual attire, there are a few things that you should always avoid.
After all, the wrong outfit can make you look unprofessional and out of touch with current trends.
Here are the top five items to never wear for winter business casual:
First, stay away from anything too heavy or bulky.
Even if the temperature is chilly outside, a thick coat or puffer jacket is not appropriate for the office.
Instead, opt for lightweight layers like blazers and sweaters that will keep you warm but also look professional.
Second, dressy fabrics like velvet and sequins may be in style during the holiday season but don't bring them into your wardrobe at work.
Stick to classic materials like wool and tweed when choosing pants and skirts as they look more polished than trendy fabrics.
Third, don't forget about footwear!
Never choose chunky sneakers, bulky boots, and platform shoes that are trendy for street style but not appropriate for an office environment.
Conclusion: What To Wear To Work In Winter Cold Weather
In conclusion, dressing in business casual attire during the winter doesn't have to be a challenge.
With the right combination of cozy and stylish pieces, women can easily navigate their work wardrobe while staying warm and professional.
So, why not elevate your winter work wardrobe with these stylish suggestions and make a statement at the office?
Embrace the season in style and show off your unique fashion sense with these cozy yet professional winter work outfits!
This post was all about business casual for women in winter.
Related Posts: