Looking for the trendiest business casual work outfits for spring for inspiration? Check this post for 75+ amazing casual work outfits that you can copy easily right now!
What are business casual work outfits trends this spring?
We will find that many continue the home and casual styles that were common last year. Long wide-leg pants, loose suits, and oversized shirts are all trendy elements in business casual outfits for women this year.
Secondly, from the color perspective, though we still find the common black, white, and neutral colors in office wear, and the light blue that represents spring, some bold spring colors are also very suitable for office wear for ladies, such as green. Green doesn't look so obtrusive, and it looks very professional and fashionable.
Also, we found the most fashionable items for office outfits this spring from our favorite retailers, so that you can elevate your work outfit wardrobe immediately and your work time will not be dull at all.
Scroll down to check the 75+ best business casual work outfits we rounded up for you, and don't hesitate to pin the ideas you like and share them on social media.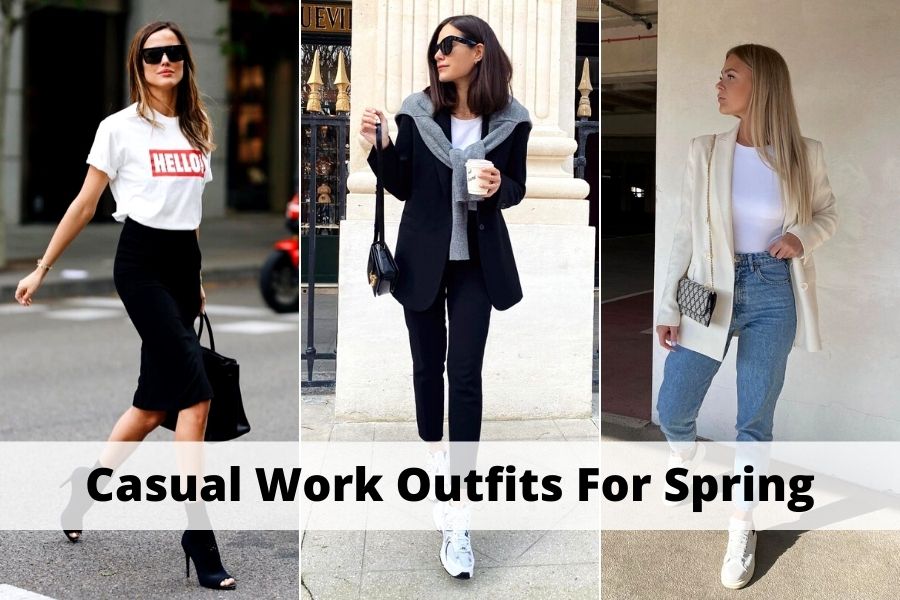 This post may contain affiliate links, which means I'll receive a commission if you purchase through my link, at no extra cost to you. Please read the full disclosure here.
This post is all about casual work outfits spring.
BEST CASUAL WORK OUTFITS FOR SPRING
@melisekrem
The denim dress is paired with a white shirt and pointy boots, making it very suitable for work.
One detail of this look is to wear white socks to match the white color of the shirt and add more details to the whole outfit.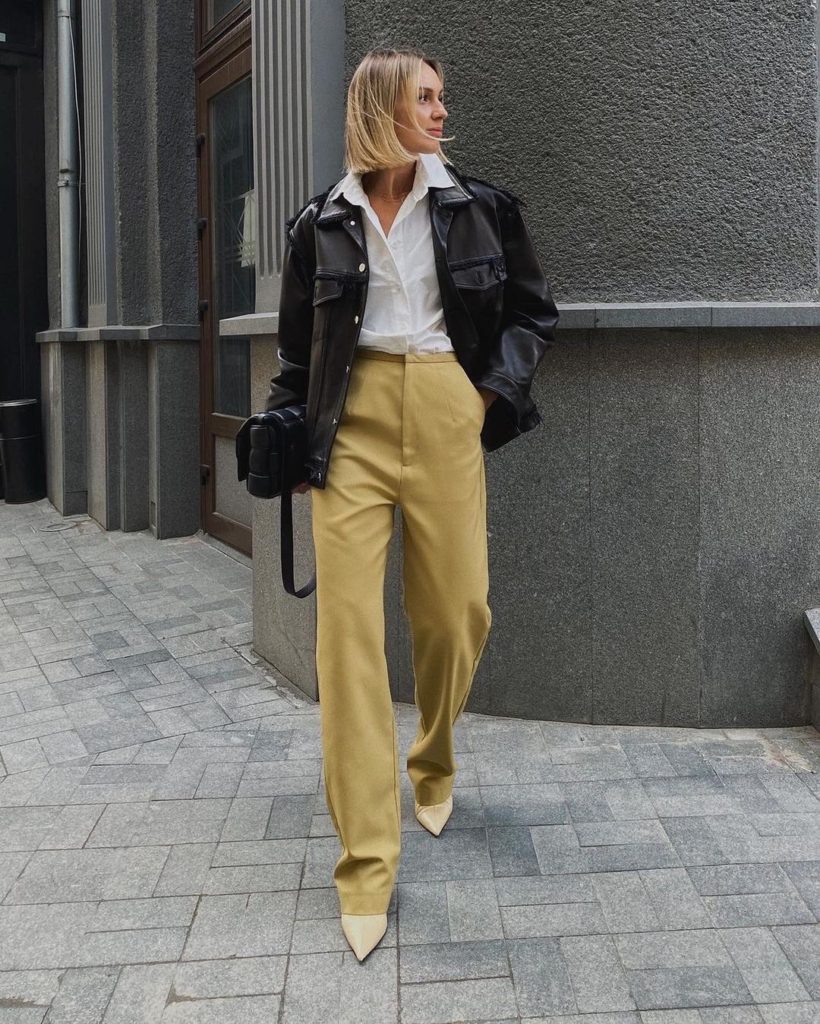 @nikahuk
The thin leather jacket is perfect for spring. Also, the yellow-green wide-leg pants and shoes in this look are gorgeous.
@livia_auer
The oversized white shirt is a staple in your spring wardrobe. We also like the leather pants!
If you still feel a little cold in the early spring, you might as well put on a loose sweater vest. Besides, to make the whole look not too dull, don't forget to wear white loafers and a white shoulder bag.
@livia_auer
The black puff sleeve top is really professional and cute. If the whole look is black and not suitable for the spring atmosphere, you might as well learn from this outfit and break the dullness of black with the sunny and wild colors of the accessories.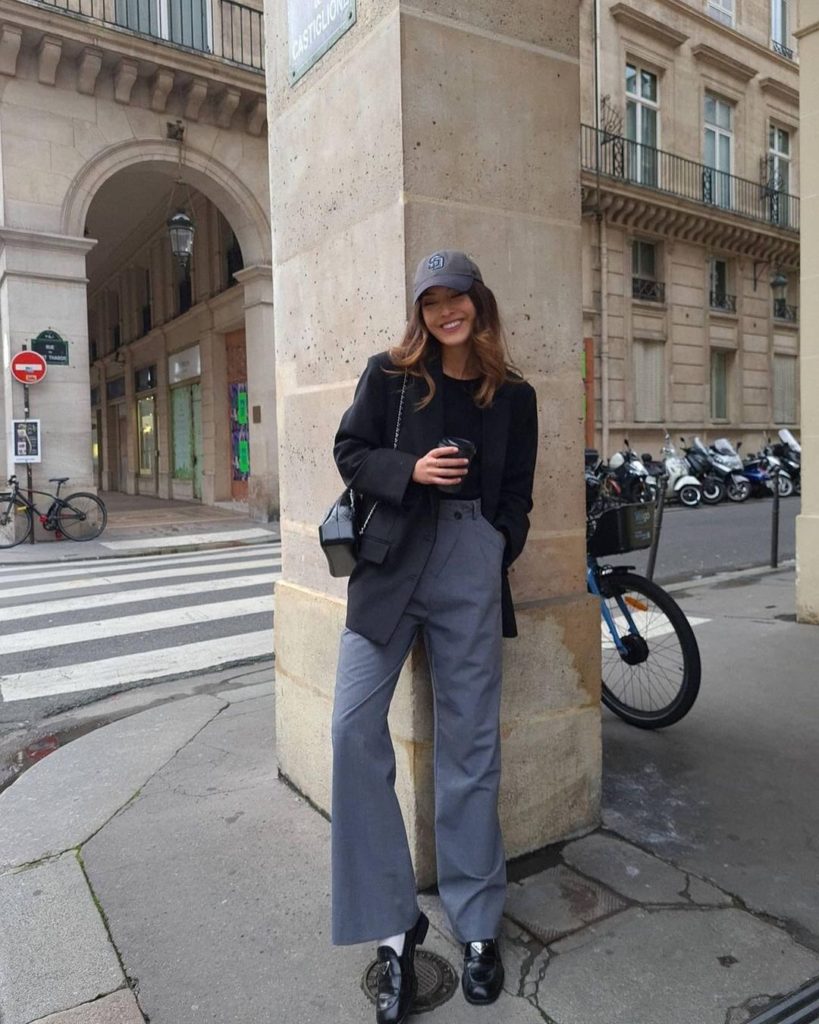 @wendyswan
This outfit is really very smart! The contrast of black and gray is used to enhance the layering of the overall look. At the same time, white socks are used to increase the overall fun. Look how popular white socks are this year!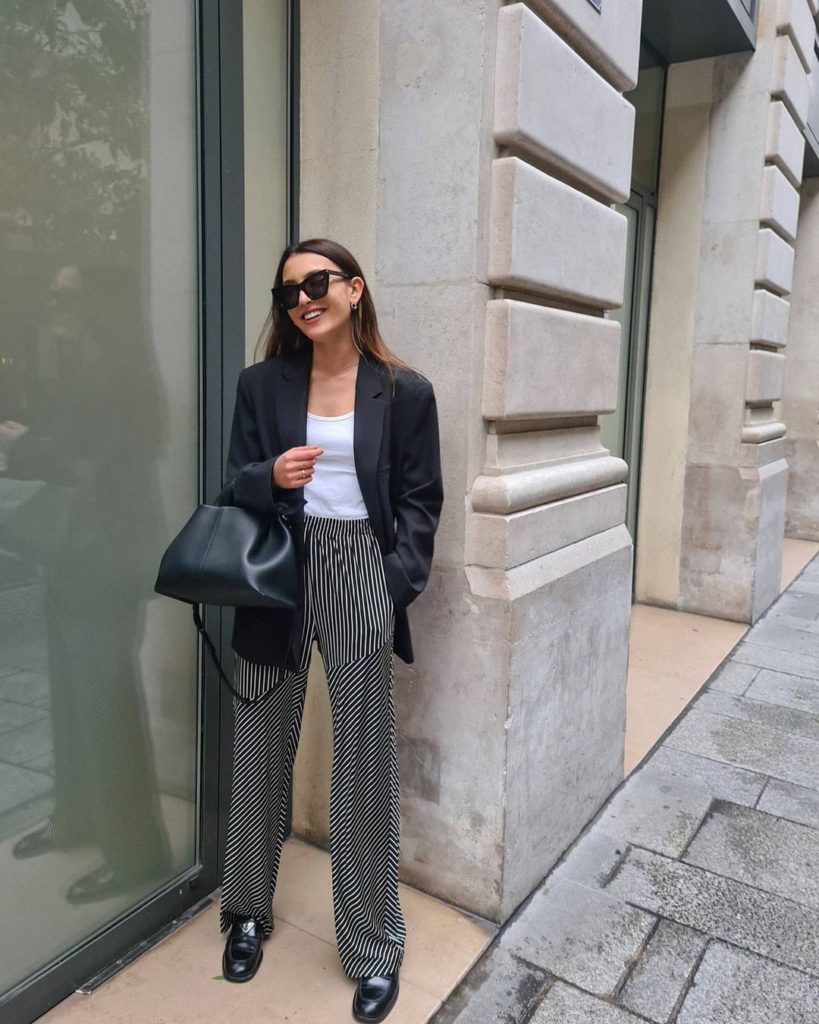 @wendyswan
Another outfit that can be copied very easily. A black blazer is a staple in almost every professional woman's wardrobe.
The highlight of this outfit is wearing wide-leg pants with black and white vertical stripes.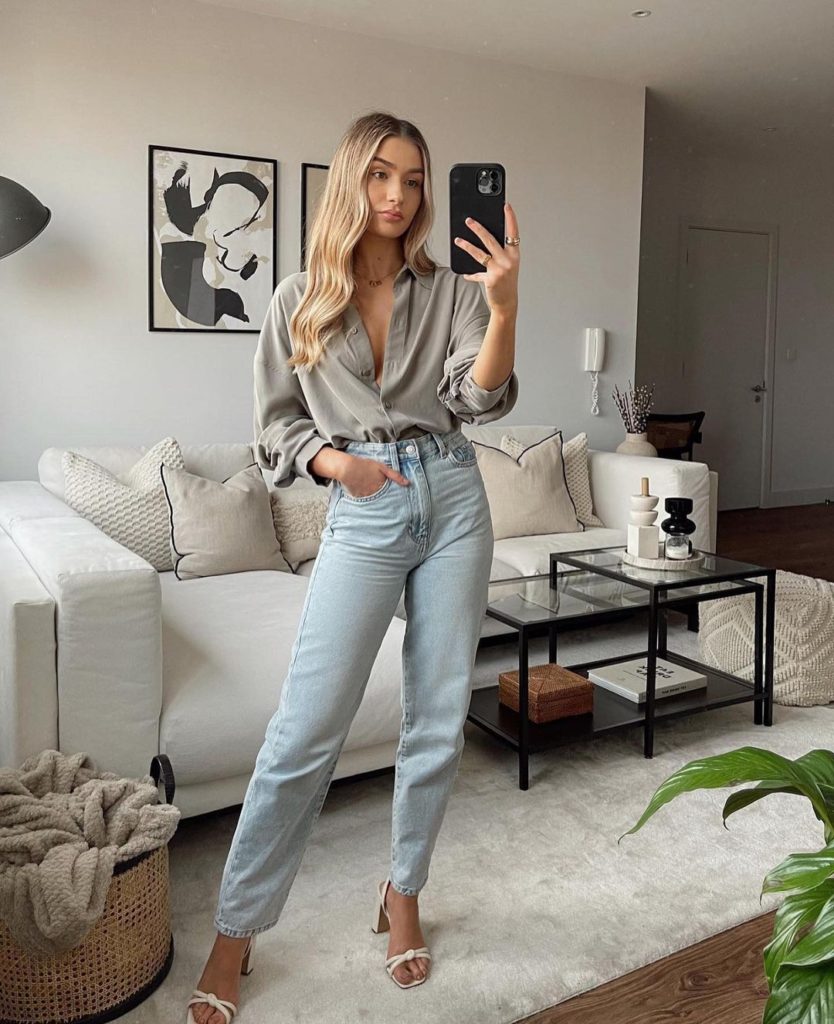 @lilyisabellaclark
Girls who like jeans may wish to learn such an outfit. Light blue high-waisted jeans paired with a loose-fitting shirt in a neutral color look full of vitality. Meanwhile, a pair of exquisite high-heeled sandals makes you look younger.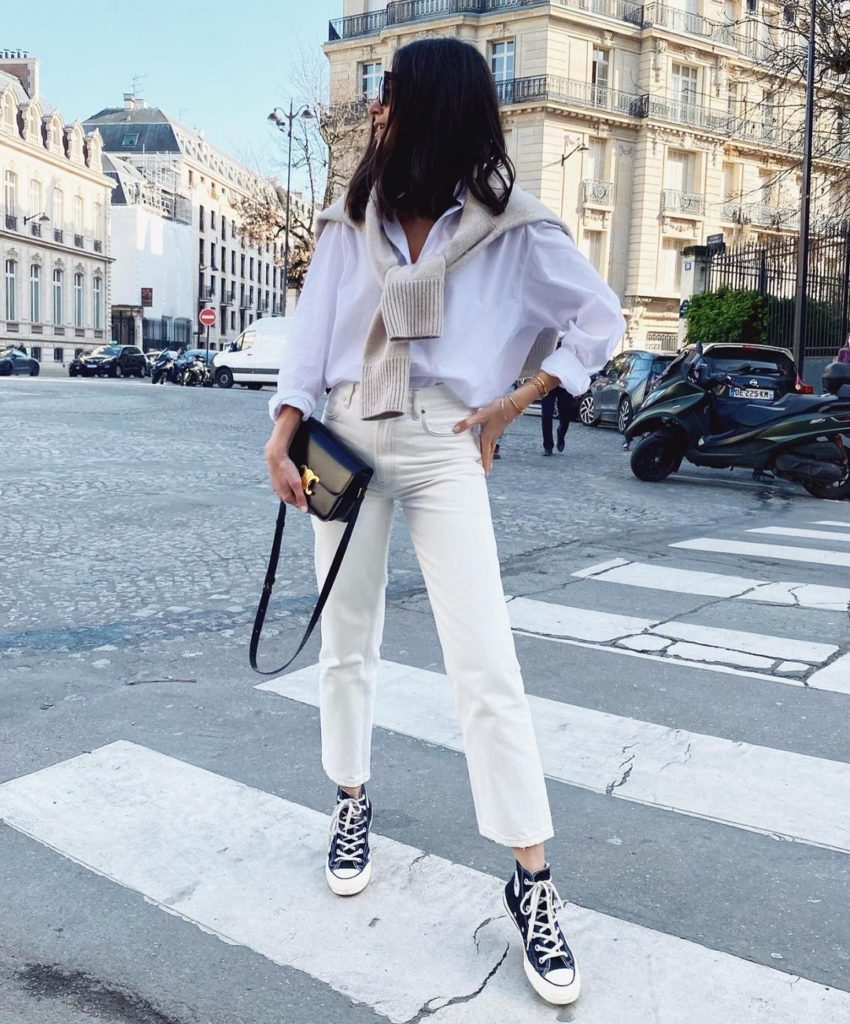 @lglora
The shoes we recommend in spring are dark canvas shoes. White oversized shirts and white pants make the look full of professionalism, and a pair of dark canvas shoes make the overall look full of youthful vitality.
Don't forget this styling tip of wrapping the sweater around your shoulders.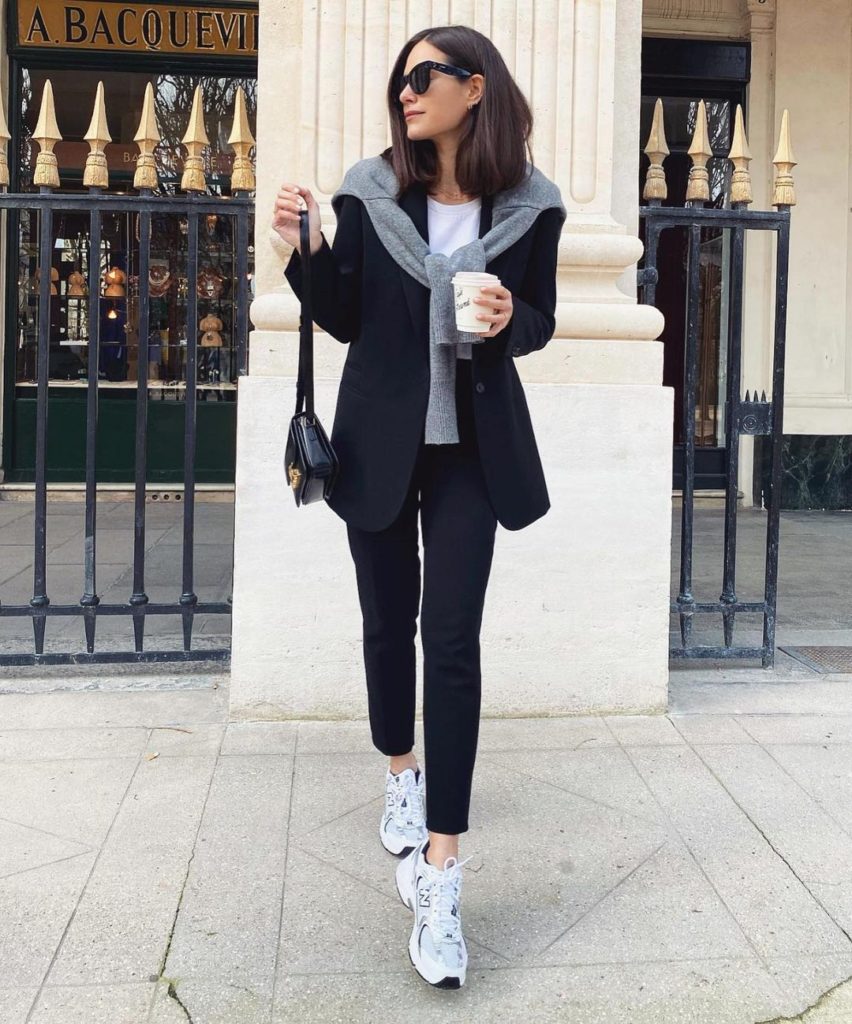 @lglora
The same tip. When a black suit is too old-fashioned, pairing it with a pair of white sneakers can make you look much younger.
The white sneaker echoes the white inside of the black suit in color, making the whole look very chic.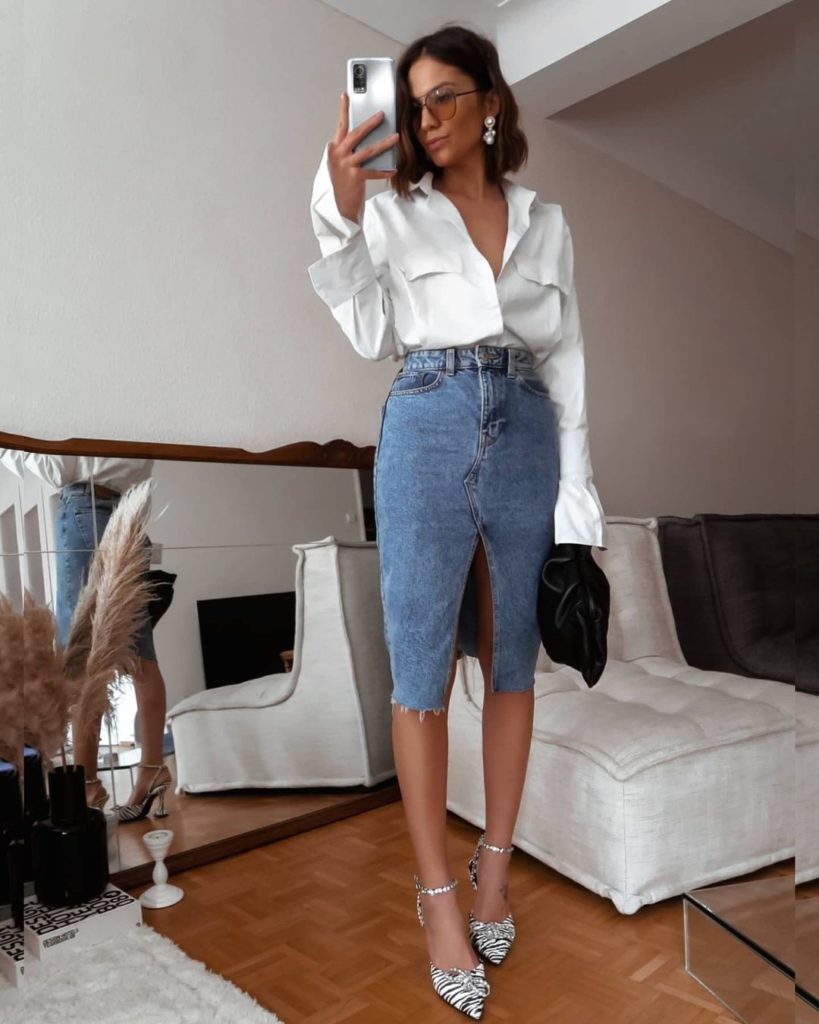 @maja_miletic
Professional women often wear pencil skirts. So in spring, why not try a jean pencil skirt? With the zebra pattern on the shoes, you are the most fashionable girl in the office!
When you get off work, put on exaggerated earrings and an exquisite and fashionable handbag. You can go directly to the party and date night without any problems.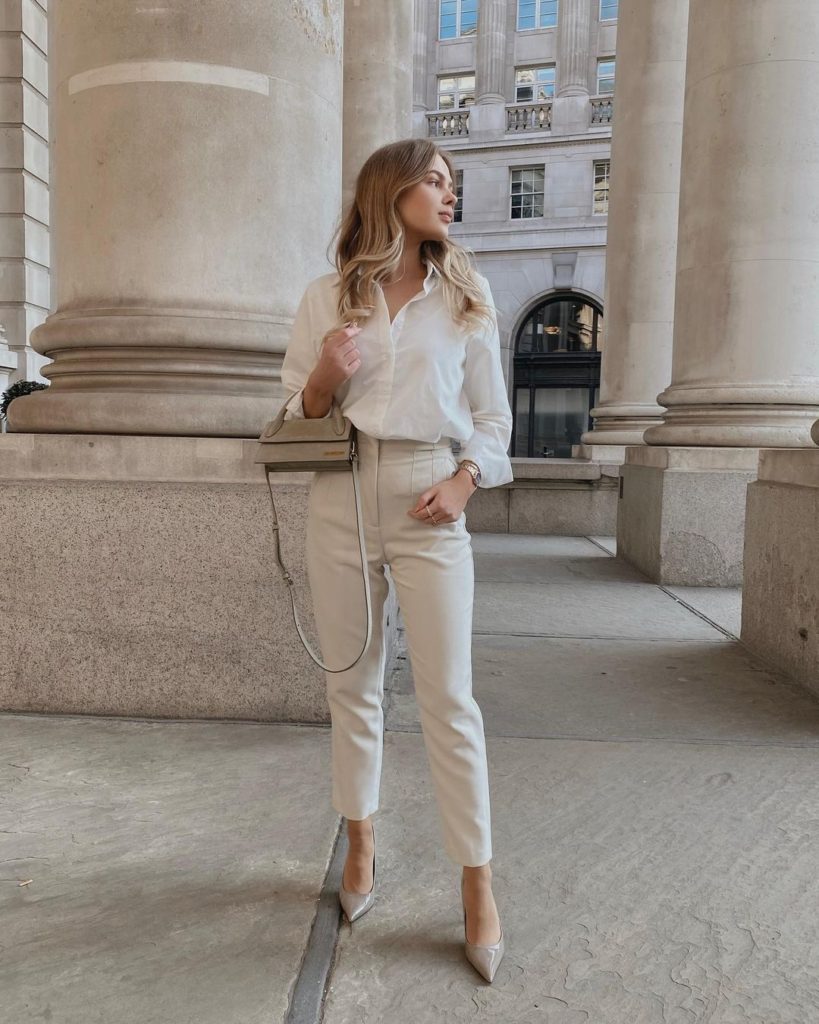 @mildagud
This outfit is a very classic outfit for spring. White and beige make the overall look full of warmness and youthfulness.
One thing to note, when the outfit is white or beige, please be sure to use a simple chic bag so that it does not look too casual and more suitable for work.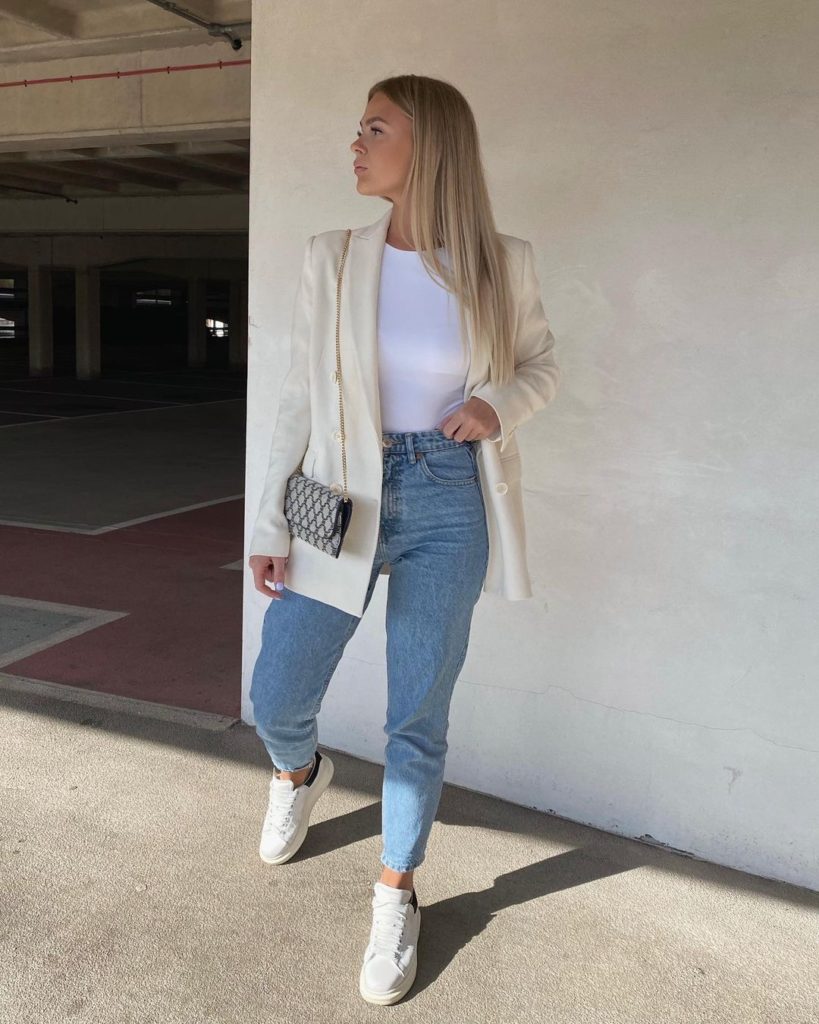 @mildagud
This outfit is very suitable for Friday. The white shirt and white suits elevate the overall look. Using the same color is always a good way to look more expensive.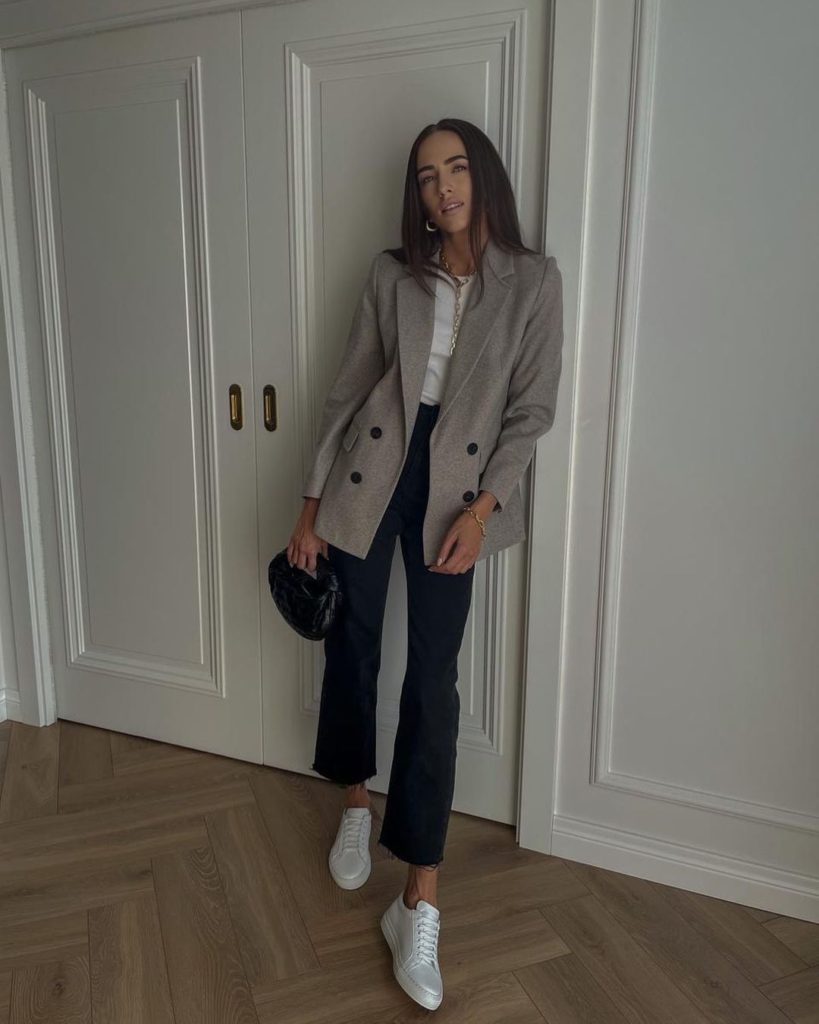 @irinstylin
Light grey suits are trendy. She wore a pair of crop flare denim, which suddenly made the overall outfit more fashionable!
@twinnmints_
Padded Shoulder Top is a trendy top now!
When you have a piece that seems more casual in your overall dress, remember to keep the outfit's colors simple so that you can reduce the overly casual feeling brought by that piece and make the overall outfit look more professional and suitable for work.
.
@ariviere
This outfit is also an example of successfully diluting the sense of leisure brought by Tshirt through other pieces' collocation.
Black pencil skirts, black high heels, and black socks enhance professionalism and maturity.
Besides, if you really want to wear a T-shirt to work, choosing a T-shirt with a simple but not fancy pattern like the one above will be more suitable, and it will be easier to match.
Trendy Spring Business Casual Outfits For Women
Looking for more inspiration? Check below trendy business casual outfits for spring to copy directly!
Oversized Blazer + Wide Leg Pants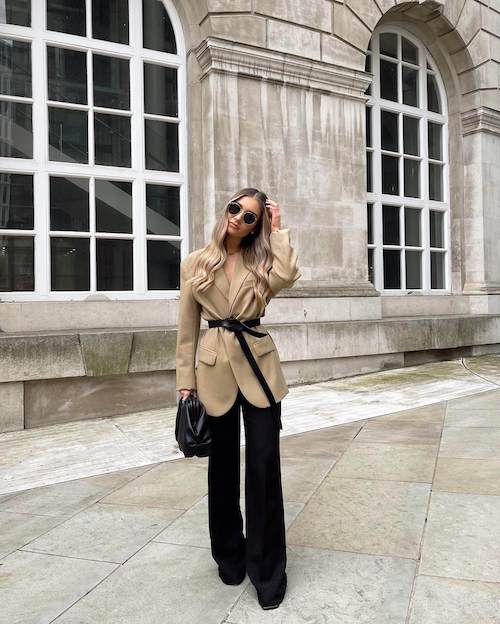 @lilyisabellaclark
Black Tshirt + Mini Skirt + High Heels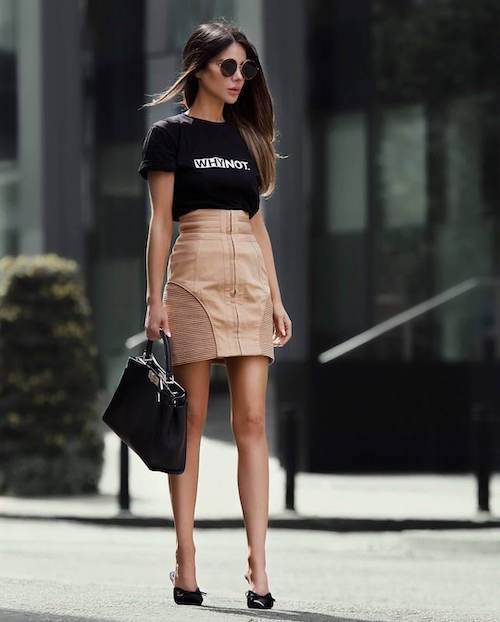 @modeison
White Tshirt + Black Blazer + Black Midi Skirt + White Sneakers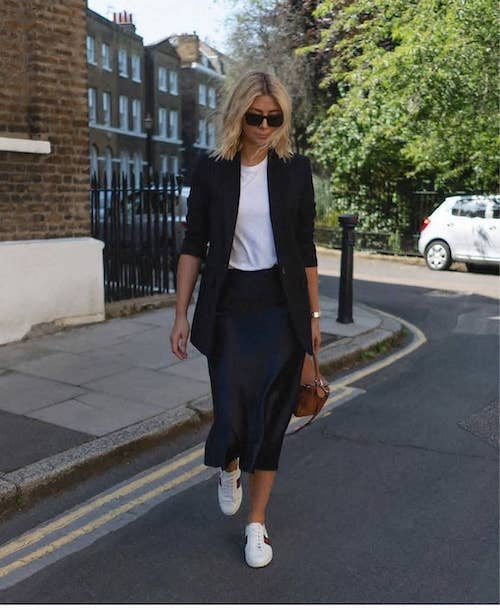 \
@emmahill
White Tshirt + Trench Coat + Black Pants + Flats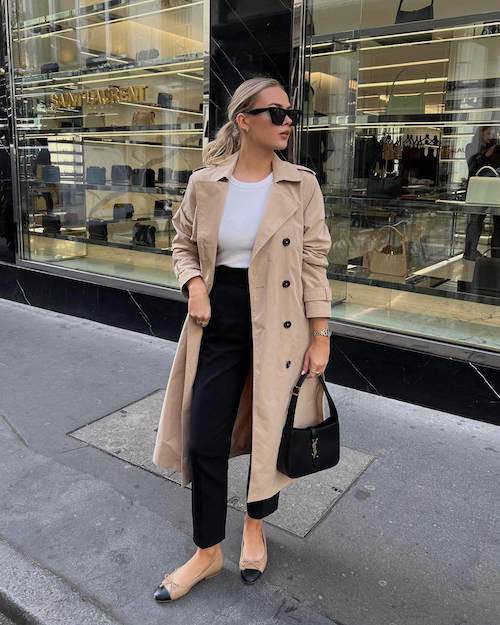 @mildagud
Blazer + Light Wash Skinny Jeans + High Heels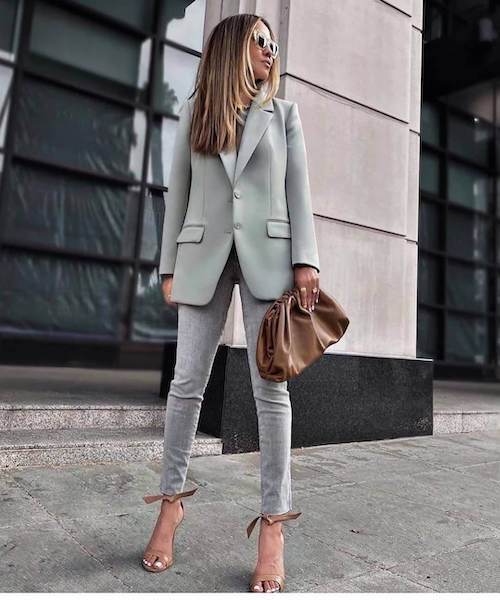 @lolariostyle
Black Blazer + Black Leggings + Green Accessories

@lolariostyle
White T + Blazer + Blue Skinny Jeans

@pilicleh
Letter T + Black Blazer + Jeans

@susanapinh
Pink Blazer + White Tshirt + Crop Jeans + White Loafers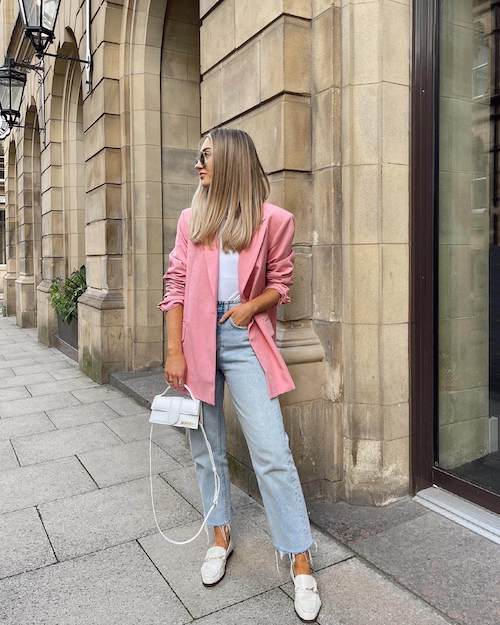 @lilyisabellaclark
Oversized Blazer + White Shirt + Skinny Jeans + Ankle Boots

@josephineslooks
Black Button Up Shirt + Blue Jeans + Black Loafers
@cocobeautea
Beige Blazer + Striped Button Down + Blue Jeans + High Heels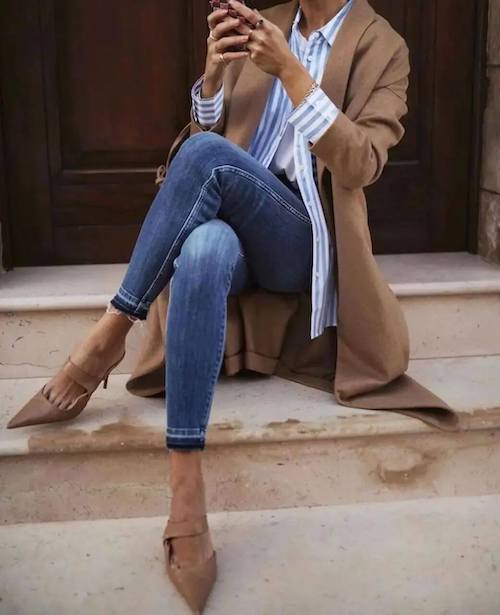 @andicsinger
Retro Style Blazer + Blue Jeans + White Ankle Boots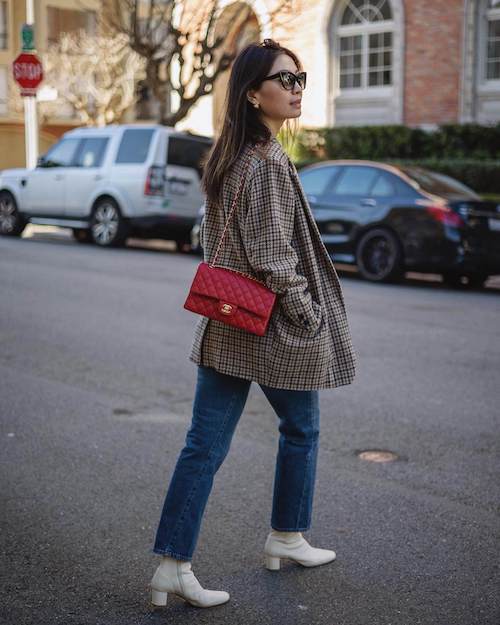 @misschangeychang
Light Color Blazer + Blue Jeans + Sandals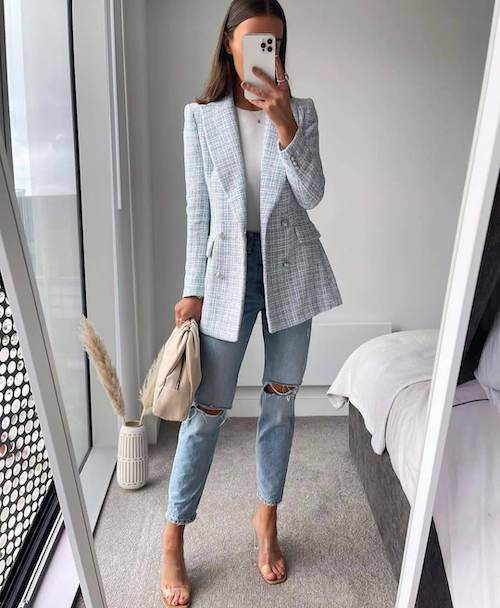 @whatemwore
Black Top + Black Blazer + Blue Jeans + Black Boots
@tinaglut
Grey Suit Set + Sneakers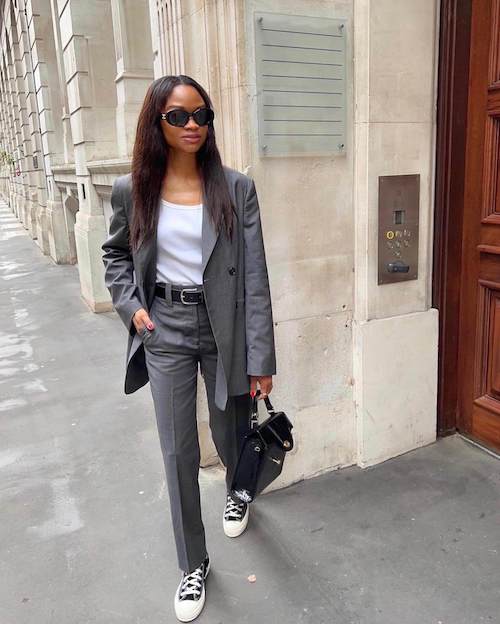 @symphonyofsilk
Black Blazer + White Pants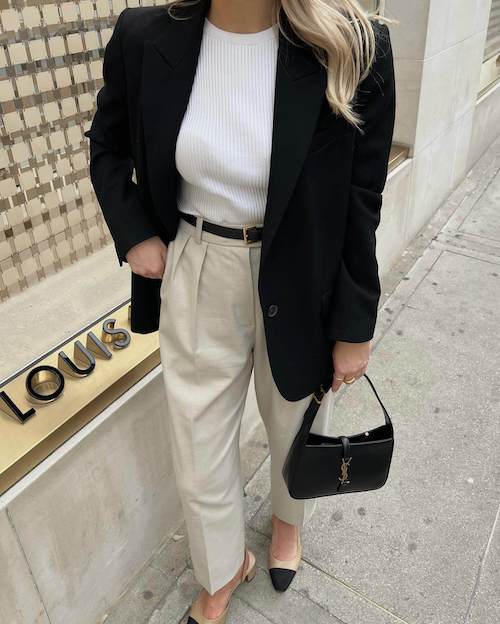 @mildagud
Black Blazer + Floral Mini Dress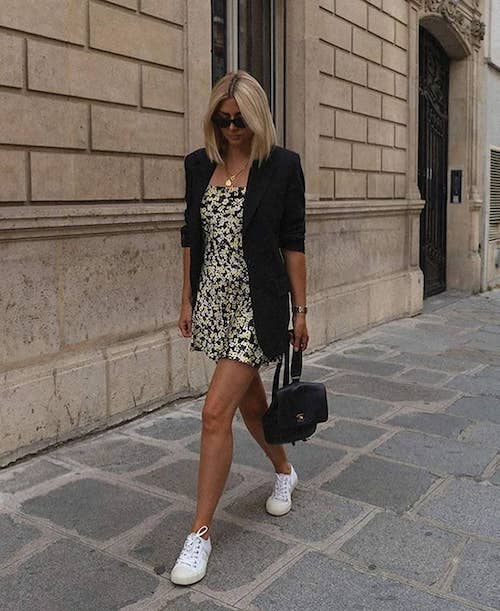 @emmahill
Navy Blazer + Striped Top + Jeans + Loafers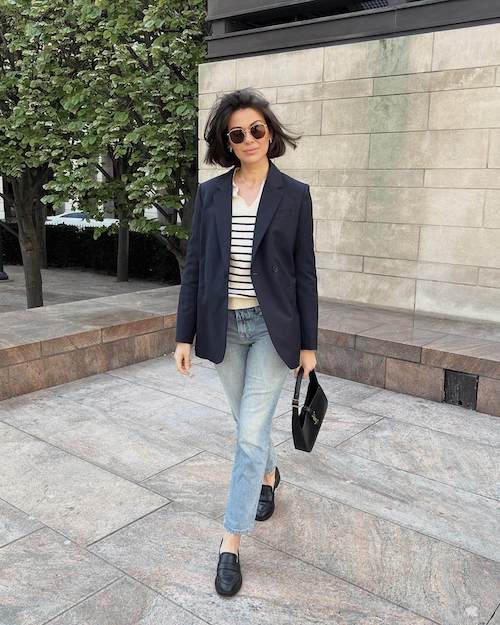 @julialundinblog
Black Fit Shirt + Blue Jeans + Blue High Heels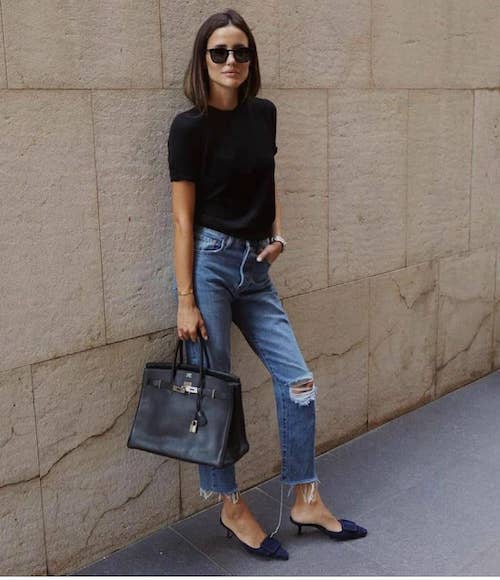 @ariviere
Denim Button Down Shirt + White Pants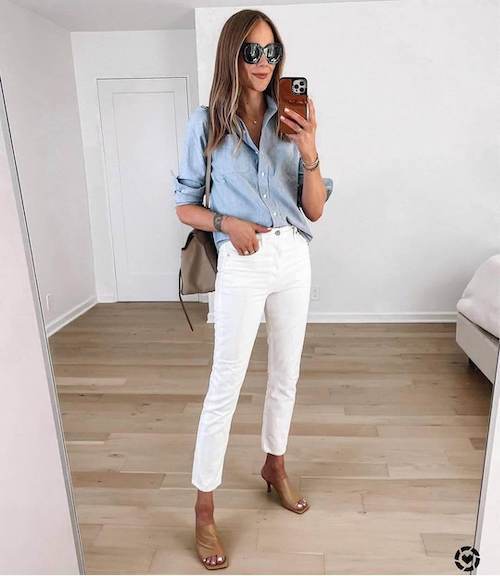 @fashion_jackson
Best Spring Work Outfits Ideas: What To Wear To Work In Spring
Want to level up your office looks this year? Check below cute pinks to add to your collection this season!
Shoulder Pad Single Button Blazer
Relaxed Trench Coat
Printed Shirt
Short-sleeved t-shirt with shoulder pads
Favorite Date White Floral Print Midi Skirt
Everly Black Cuffed Trousers
Pleated Maxi Skirt
Green Pants
Beige High-Waisted Cuffed Trouser Pants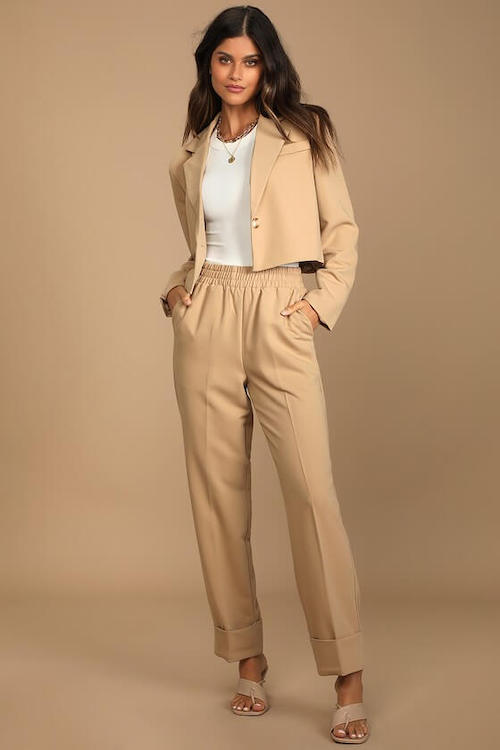 Brown Plaid Mini Skirt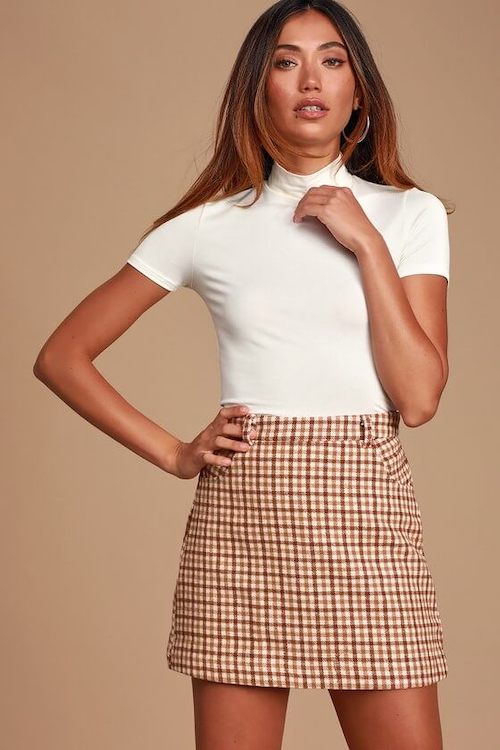 Golden Yellow Belted Wide-Leg Pants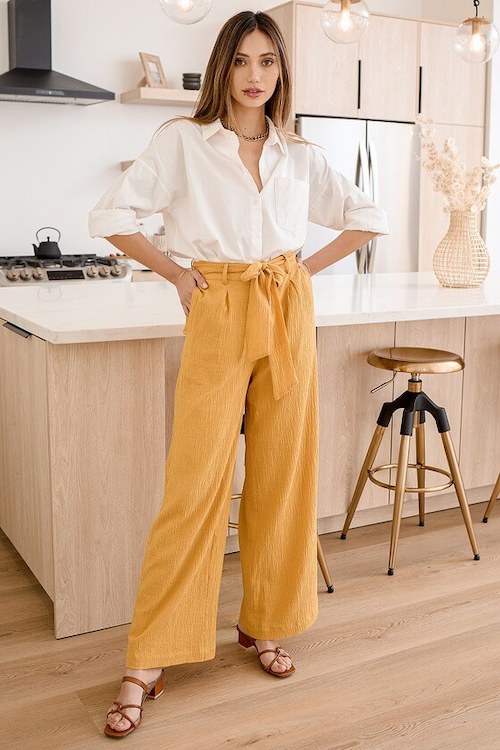 Shoulder Pad Tank Top With Tailored Pants Without Belt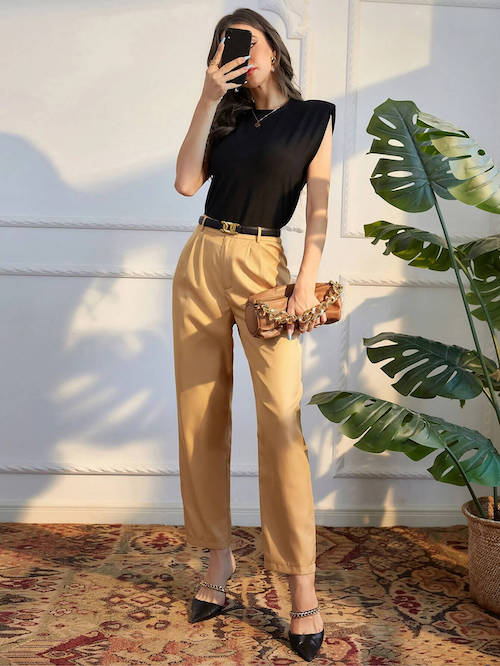 CAPRIS CONTRAST BINDING TAILORED PANTS
Luxe Touch Tank
Oversized Jacket
Over Sized Blazer Set
Crochet Bamboo-Cotton Blend Knit Polo
Belted Short Sleeve Jumpsuit
Seersucker Wrap Blouse
Linen Wrap Mini Dress
Yellow Blazer Mini Dress
White Double Button Flap Detail Blazer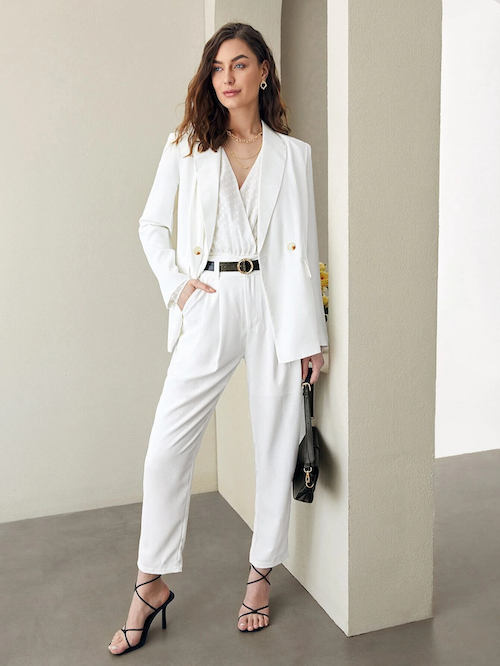 100% SILK FLORAL FITTED DRESS
Purple Notched Collar Buttoned Front Striped Blazer
PRESS CREASE TAILORED PANTS
Shoulder Pad Single Button Blazer
ASYMMETRICAL PLEATED SKIRT
LYOCELL PLISSE BLOUSE
Green Single Button Flap Detail Blazer
100% linen jumpsuit
V-Neck Balloon Sleeve Bodysuit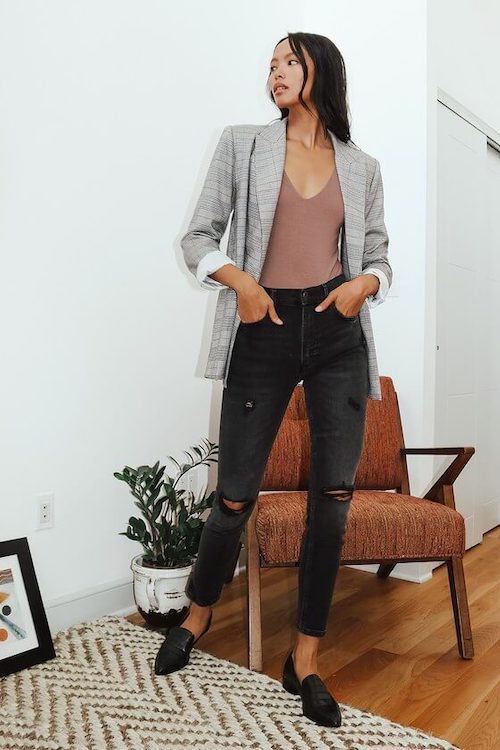 Leather Mini Skirt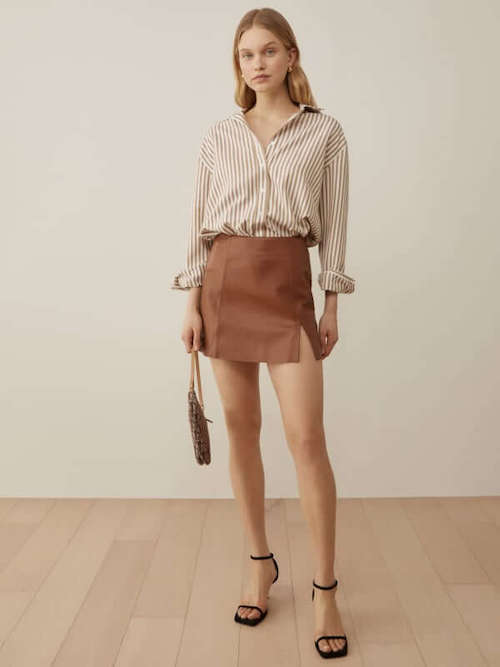 Blazer + Mini Skirt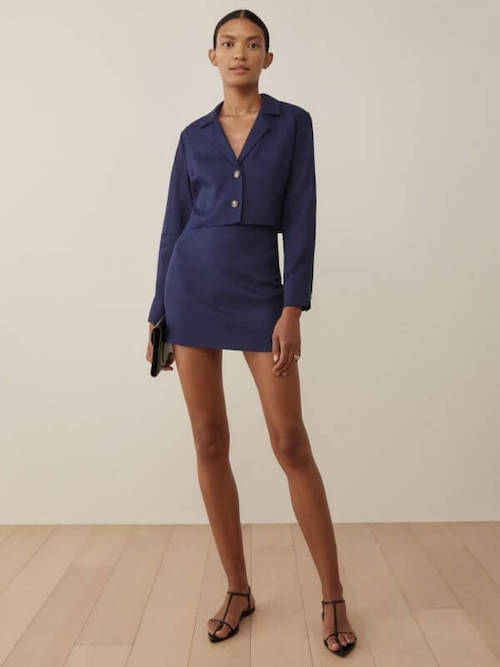 Long Sleeve Knit Top + Skirt + Knee High Boots
Cream Textured Skirt in Cream
Green Tie-Waist Split Hem Pencil Midi Skirt
White Straight Leg Pants
Light Blue Wide Leg Pants
CUTE PICKS FOR CASUAL WORK OUTFITS FROM AMAZON
Love Amazon? Check what we've found this year for your business casual work looks!
This post was all about casual work outfits spring.
Related Posts: