Looking for business casual work outfits for spring? Check this post for the best style tips on what to wear to work in spring, how to style chic workwear, and the best casual spring work outfit ideas to copy.
Spring is the perfect time to revamp your work wardrobe, especially when it comes to business casual.
Business casual outfits provide the perfect balance between office-appropriate and relaxed chic.
Women can easily create stylish and fashionable work looks that are ideal for any office environment.
From classic trousers paired with a blouse to dresses and skirts, there are endless options for creating on-trend business casual outfits this spring season.
This post may contain affiliate links, which means I'll receive a commission if you purchase through my link, at no extra cost to you. Please read the full disclosure here.
This post is all about business casual work outfits for spring.
What Clothing Is Considered Business Casual for Women?
Business casual for women is a professional style of clothing designed to appear more relaxed than traditional workplace attire, while still maintaining an appropriate level of professionalism.
It's important to get the balance right when creating a business casual outfit; dress too casually and you could give off the wrong impression, but dress too formally and you may look out of place.
For ladies, business casual typically consists of tailored trousers or skirts paired with collared shirts or blouses.
Other suitable items include sweaters, cardigans and knit vests. Jackets are also acceptable but should be more lightweight than those worn in formal office settings.
Accessorizing with scarves, jewelry or other items can help add some personality to an outfit without compromising on professionalism.
Shoes should be comfortable as well as stylish; low-heeled pumps and ballet flats are both popular choices.
What Clothing Is Not Considered Business Casual?
@nikahuk
Business casual attire for women is a great way to dress at the office without looking overly formal.
However, there are certain items of clothing which should be avoided if you're aiming for that polished yet relaxed look.
Generally speaking, women's business casual clothing should be professional and conservative. Items such as tank tops, shorts, baggy jeans, and flip-flops are not considered appropriate business attire.
Additionally, low necklines and sleeveless shirts should also be avoided as they can come across as too revealing in a professional setting.
It is also important to avoid wearing any type of overly flashy or bright piece of clothing that could draw unwanted attention away from your accomplishments in the workplace.
Finally, it is important to note that overly casual sundresses are also generally frowned upon when attempting to maintain a business casual look during summertime months when temperatures rise.
What do you wear to work in the spring?
@mildagud
Spring is a time of renewal and warmer weather, but it also means navigating a new dress code for work.
Women's wardrobes are often the most impacted by the changing seasons since they have more options.
Scroll on to check out our favorite tips to stay fashionable and professional in the workplace during spring.
How do you dress business casual in the spring?

@josephineslooks
When dressing business casual for the spring season as a woman, it's important to keep your wardrobe light and airy with fabrics like cotton and linen.
Avoid heavy textures such as wool or tweeds which may be more appropriate during the colder months.
Opt instead for blouse and skirts or smart trousers paired with a blazer or cardigan in lighter colors such as creams, pinks, blues or greens.
Accessorize your look with minimal jewelry that won't overpower your outfit and opt for closed-toe shoes such as loafers or low pumps.
Must Haves For Your Spring Work Wardrobe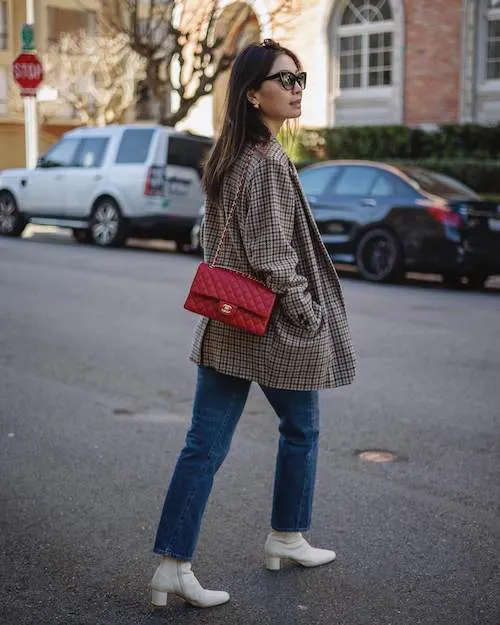 @misschangeychang
As the days get longer and the weather gets warmer, it's time to break out your spring wardrobe.
Whether you're returning to an office or continuing to work from home, having a few pieces that are both comfortable and stylish is key for making sure you look professional and feel confident.
Here are some must-haves for your spring work wardrobe that will take you from morning meetings to after-work drinks with ease.
Blazer
Striped Blouse
Sleeveless Blouse
Neutral Button-Down
Neutral Midi Skirt
Simple Casual Dress
White Slacks
Black Pants
Black or White Loafers
Black or White Simple Pumps
Minimalist White Sneakers
Chic Business Casual Work Outfits For Spring

@pilicleh
In the corporate world, looking chic and professional is essential.
With the spring season in full swing, it's time to start shopping for new business casual looks for the office.
From lightweight blazers and knee-length skirts to striped dresses and trousers sets, there are plenty of options available to stay cool while looking polished.
For those who prefer timeless classics, look no further than tailored black trousers with a crisp white shirt or go bold with bright colors such as pink or yellow.
For footwear choices, low heels are always appropriate or opt for lace-up flats if you're seeking comfort as well as style.
Complete your outfit with delicate jewelry or statement earrings depending on the occasion or dress code policy at your workplace.
Black Blazer + Beige Pants + Ballet Flats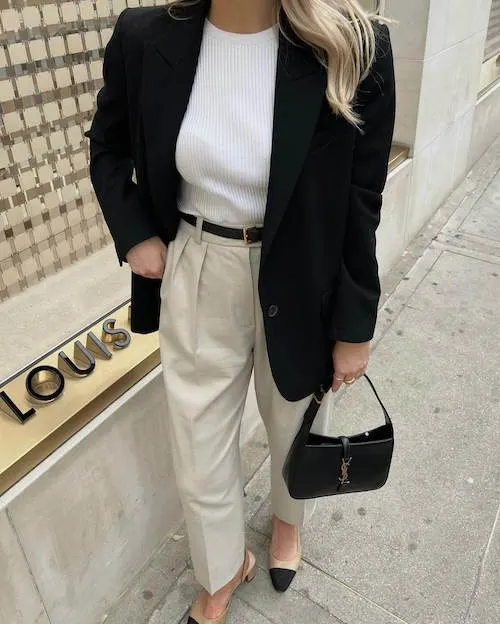 @mildagud
For the modern woman who wants to make a powerful professional statement, a black blazer, beige pants and ballet flats is an ideal combination.
This classic look conveys authority and confidence without sacrificing comfort for hours on your feet in the office.
The versatility of this outfit is key to its success – you can easily add a pop of color with accessories or jewelry and remain boardroom appropriate.
You can also adjust the look for different weather or climate by changing out the ballet flats for ankle boots or knee-high boots when it gets colder outside.
The tailored blazer gives structure to your outfit while the beige trousers keep it light, airy, and comfortable.
With this ensemble, you'll gain respect from colleagues without compromising your own style.
Tan Blazer + Striped Blouse + Simple Jeans + Pumps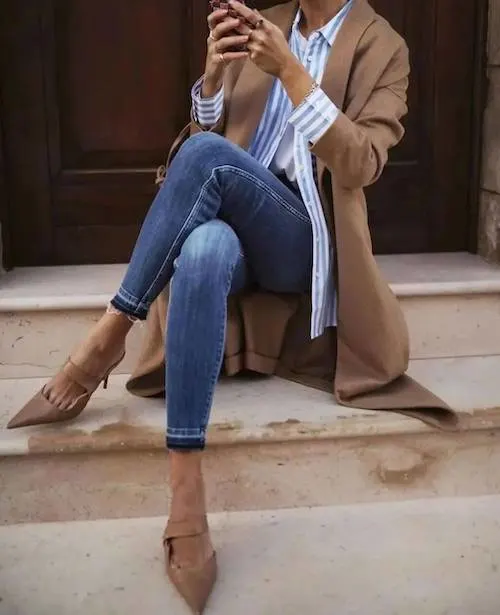 @andicsinger
For women who want to look polished and professional at the office, a tan blazer paired with a striped blouse, simple jeans and pumps is an easy-to-style ensemble.
This classic look is both comfortable and flattering, perfect for any day in the office.
The tailored fit of the blazer adds structure to an otherwise relaxed ensemble while the striped blouse adds subtle style.
To complete the look, add in dark wash jeans that are fitted but not too tight and round it off with sleek black pumps.
This put-together outfit can easily transition from day to night, making it a great choice for long days at work or after-hours events.
Whether you're running errands or attending meetings, this timeless combination will keep you looking chic all day long!
Neutral Color Blazer + Jeans + Loafers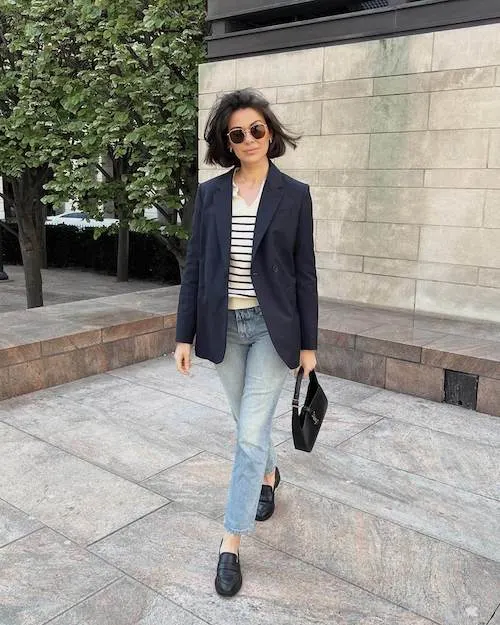 @julialundinblog
This classic wardrobe combination can easily transition from office-appropriate attire to after-work drinks with friends or date nights with your partner.
The key to making this look work is to choose well-fitting clothing items in quality materials that will last season after season.
A structured blazer in navy, black or white paired with medium wash denim jeans and leather loafers will ensure you look pulled together while still feeling comfortable.
To complete this timeless and effortless ensemble add simple jewelry such as stud earrings or a delicate necklace for just a touch of femininity.
Casual Dress + Black Outerwear + White Sneakers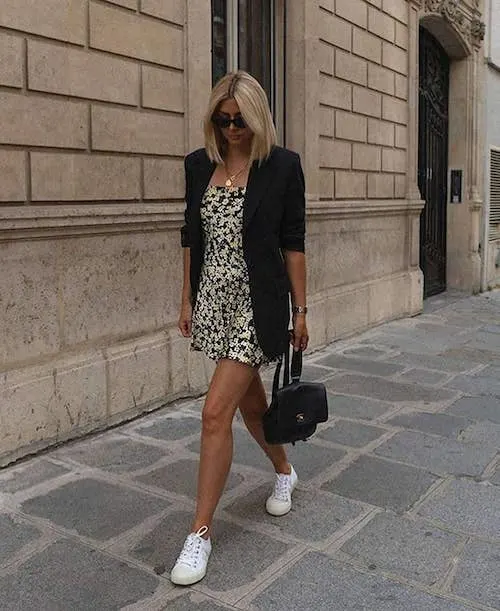 @emmahill
Women who want to look stylish and professional in the workplace can easily achieve this with a classic combination of black outerwear, white sneakers, and casual dress.
This timeless look is effortless yet still allows you to make a statement and stand out from the crowd.
The beauty of this outfit is that it's versatile, so whether you're heading into a meeting or running errands around town, you'll always look polished and put together.
With black being such an easy shade to pair with any other color, it offers plenty of options when it comes to styling your wardrobe staples.
A sleek leather jacket or classic trench coat provides a smart contrast against lighter-colored clothes like white jeans or pastel blouses for a modern twist on office attire.
Black Button-Down + Jeans + Loafers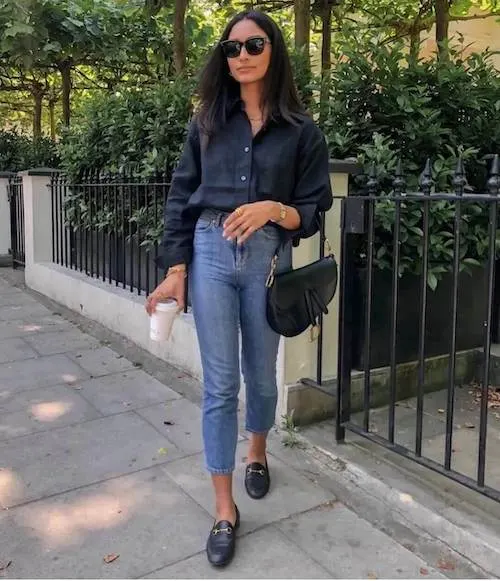 @cocobeautea
For professional women, black button-down jeans loafers are the perfect balance between style and comfort.
These versatile shoes offer a feminine edge to any look while still remaining comfortable enough for everyday wear.
Whether you're heading to the office or out on the town, these shoes will keep your feet feeling great all day long.
Plus, they come in a range of colors and styles so you can find one that perfectly matches your wardrobe.
When deciding on what type of black button-down jeans loafers to buy, consider both comfort and practicality.
Look for shoes with padded insoles and arch support for extra cushioning when standing all day long.
Opt for leather over canvas models as they tend to be more durable and have better breathability than their synthetic counterparts.
Black Blazer + White Shirt + Pencil Skirt + Sneakers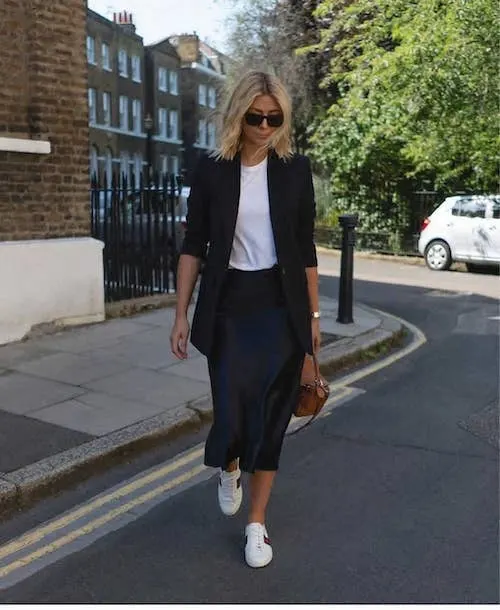 @emmahill
The Black Blazer, White Shirt, Pencil Skirt and Sneakers look has been a popular choice for many professional women.
This sophisticated yet stylish look is perfect for the modern day office
It allows you to look polished while maintaining a sense of comfort and ease in your work wardrobe.
This classic combination is easy to put together and can be dressed up or down depending on the occasion or event.
The timeless black blazer keeps your outfit looking crisp while the white shirt adds an element of sophistication.
The pencil skirt gives shape to the ensemble while still allowing you to move comfortably throughout your day.
Finish off this classic look with some comfortable sneakers for a relaxed feel that will have you ready to tackle any task with confidence!
Trench Coat + White Tee + Black Pants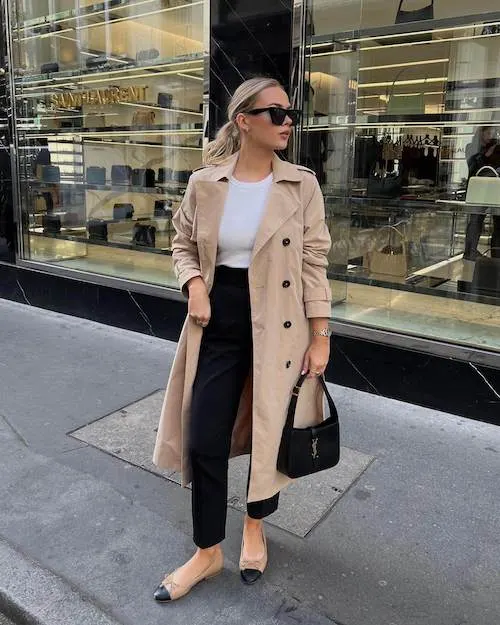 @mildagud
For working women, the trifecta of a trench coat, white tee and black pant is a smart way to look professional and stylish in the workplace.
This combination can be dressed up or down for any occasion, depending on what you're wearing underneath.
Whether it's a plain white t-shirt or something more vibrant like an embellished blouse, this timeless look will always look chic no matter where you are.
The trench coat adds an extra layer of sophistication that can take any outfit from desk to dinner in no time at all.
With its classic cut and simple design, this combo works with almost any type of shoe; from ankle boots to heeled sandals – there is something out there for everyone.
Not only will you feel confident walking into your office with this ensemble but you would also look extremely put-together too!
Blazer + Wide-Leg Pants
@wendyswan
Women in the workplace have more fashion options than ever before.
A trend that is becoming popular for the office is wearing blazer and wide-leg pants.
This look can be dressed up or down depending on your specific style, giving you versatility in one look.
The combination of a structured blazer and elegant wide-leg pants gives off a sophisticated yet modern vibe for business casual attire.
The best part about this look is that it's comfortable enough to wear all day at work, while still looking professional and stylish.
You can pair them with pointed-toe flat sandals or comfortable loafers, giving you plenty of options to accessorize with belts, jewelry, scarves, or whatever else you choose!
With an array of colors available to choose from such as navy blue, ivory white and camel brown, there's something for everyone's personality and tastes.
Button Down + Midi Skirt
@maja_miletic
For the working woman, the combo of a button-down and a midi skirt is a great option for a stylish yet professional look.
You can easily take a casual staple piece and give it an upgrade with this classic style of a midi skirt.
The fitted waistline helps to create an hourglass shape while providing comfort at the same time.
For those long work days, you'll be sure to stand out from the rest in one of these sleek skirts.
Not only will you feel confident knowing that your look is fashionable and appropriate for any office setting, but the versatile options available make it easy to choose one tailored to your individual style.
Featuring lightweight material, unique patterns, and colors, as well as various lengths – each piece has its own edge that can be effortlessly mixed and matched with other clothing items in your wardrobe.
Sleeveless Shirt + Khaki Trousers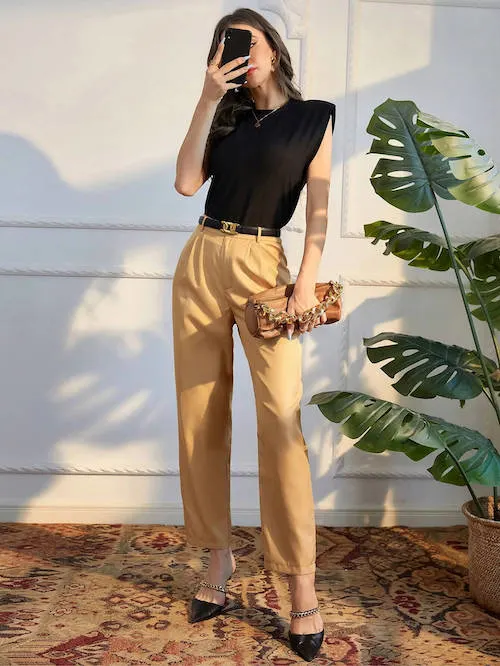 Women often struggle to find a professional yet fashionable look for their work wardrobe.
A sleeveless shirt and khaki trousers combo is one of the best options for women who want to look polished in their office atmosphere.
This simple, yet stylish ensemble can be dressed up or down depending on the occasion, making it an ideal choice for any busy working woman.
The combination of a sleeveless shirt and khaki trousers gives off an air of sophistication that's perfect for work-related environments.
With this in mind, it's important to select pieces with high quality fabric and fit – opting for comfortable materials that won't restrict movement throughout the day – as well as timeless cuts so you don't have to worry about trends becoming outdated quickly.
Fitted Denim Jeans + Crop Cardigan
The fitted denim jeans provide a versatile base that can be paired with almost any type of top or blouse to wear to the office.
The cropped cut of the cardigan helps to give the outfit a more streamlined look, and it helps to keep you warm during those chilly office days.
Best Spring Work Outfit Ideas For Women
Want more inspiration? Check out below our favorite outfit ideas to level up your style.
Perfect Spring Workwear
@wendyswan
@lilyisabellaclark
@lglora
@lglora
@mildagud
@irinstylin
Work Appropriate Casual Look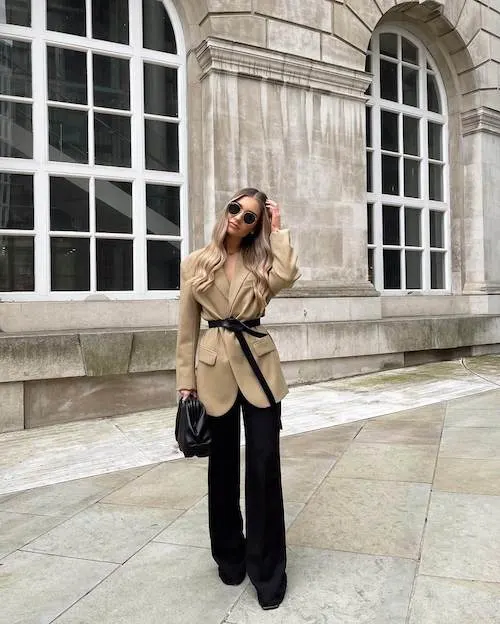 @lilyisabellaclark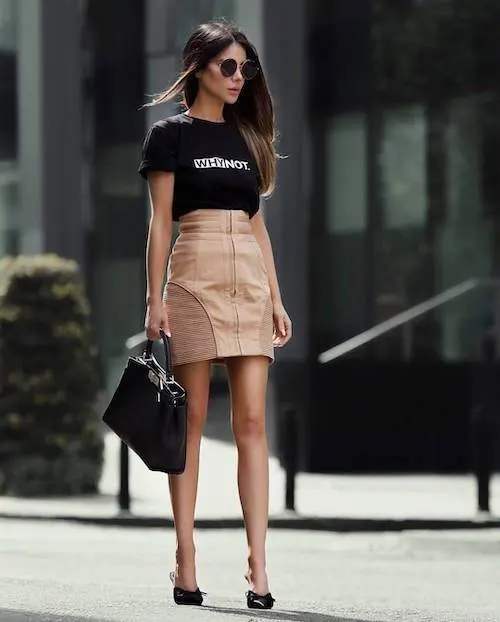 @modeison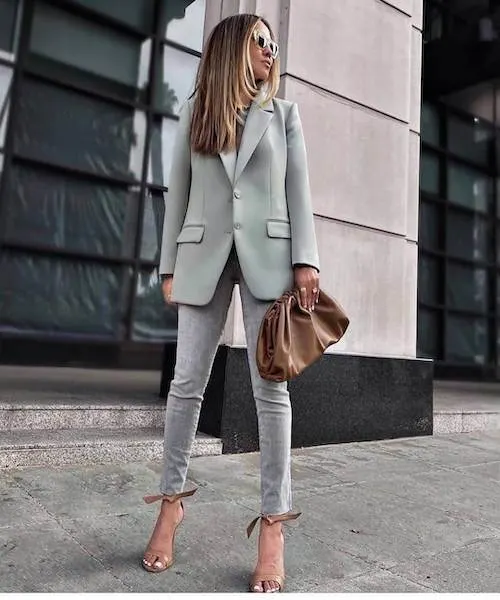 @lolariostyle

@susanapinh
Classic Work Wear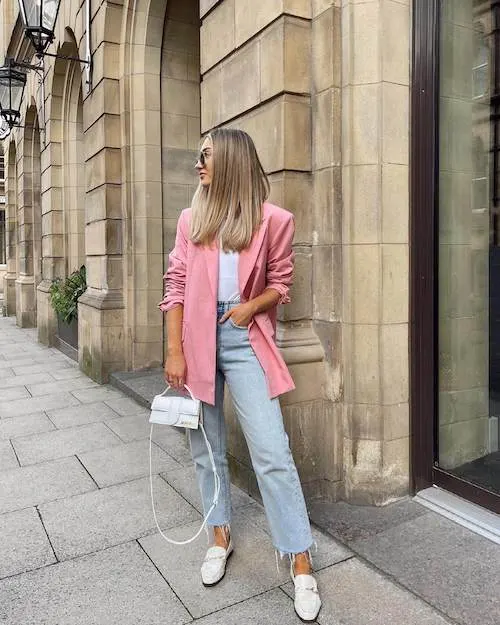 @lilyisabellaclark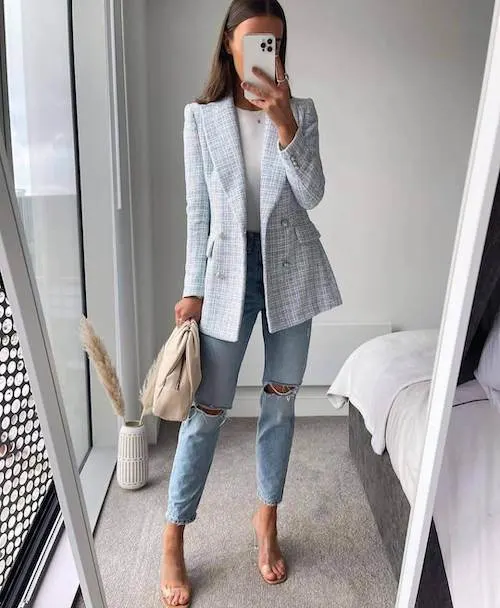 @whatemwore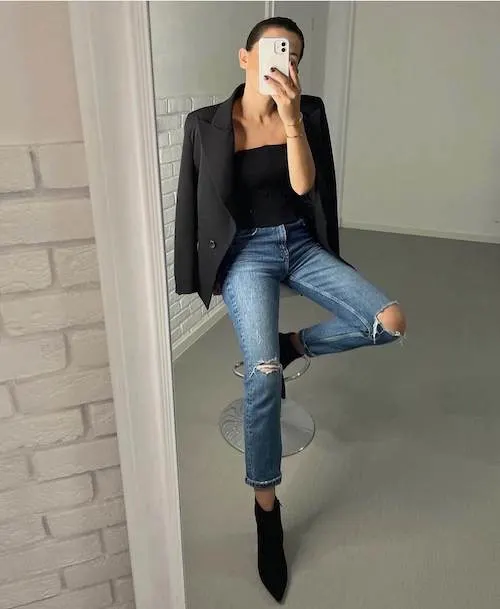 @tinaglut
Spring Office Outfits For Women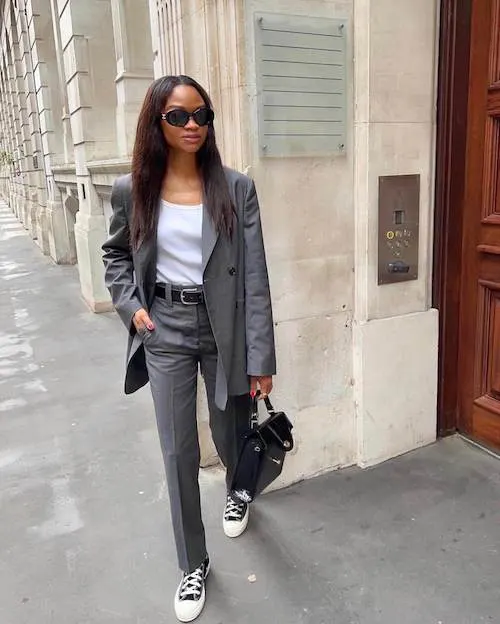 @symphonyofsilk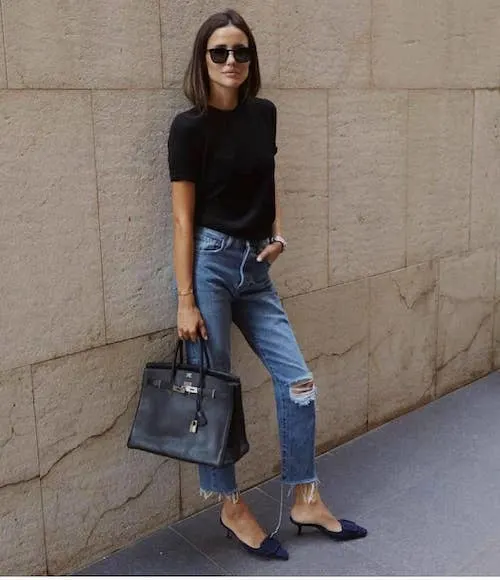 @ariviere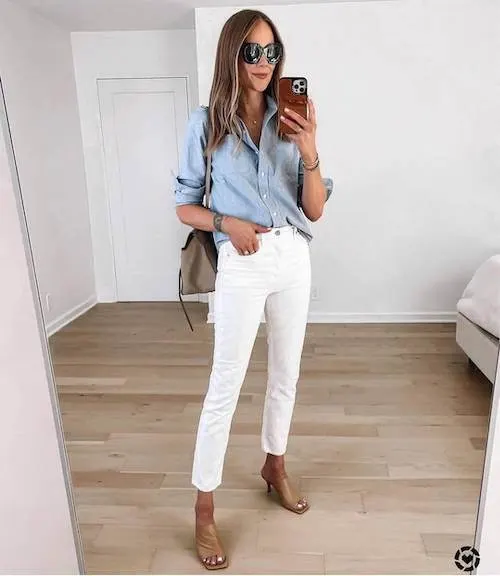 @fashion_jackson
All White Office Wear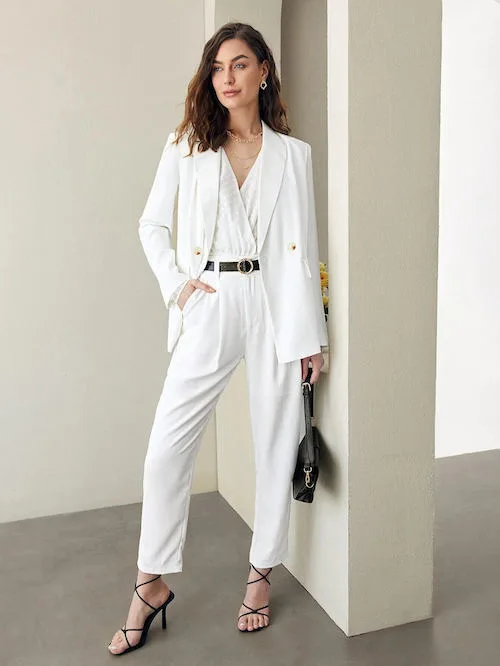 Business Casual Look For Warm Weather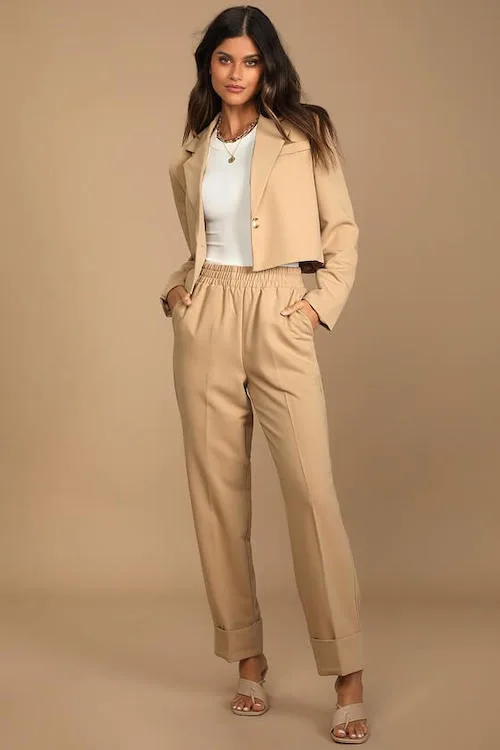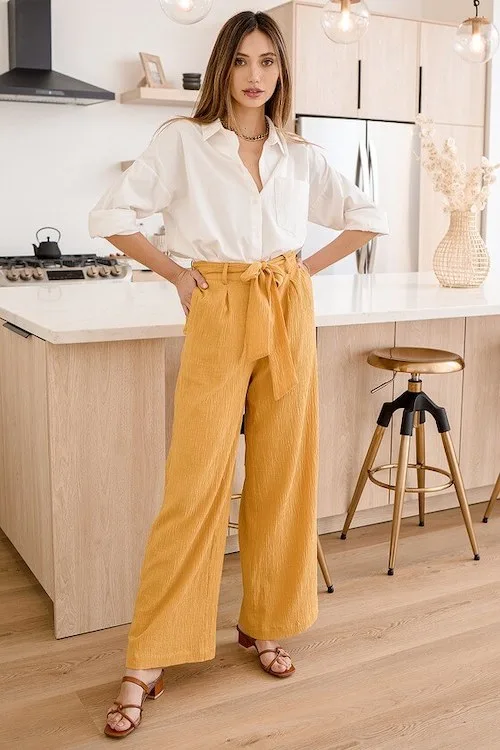 Cute Spring Outfit For Office
More Spring Business Casual Outfit Ideas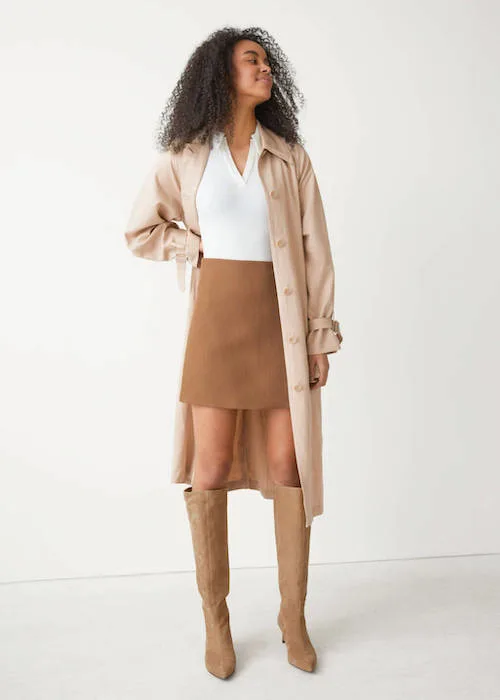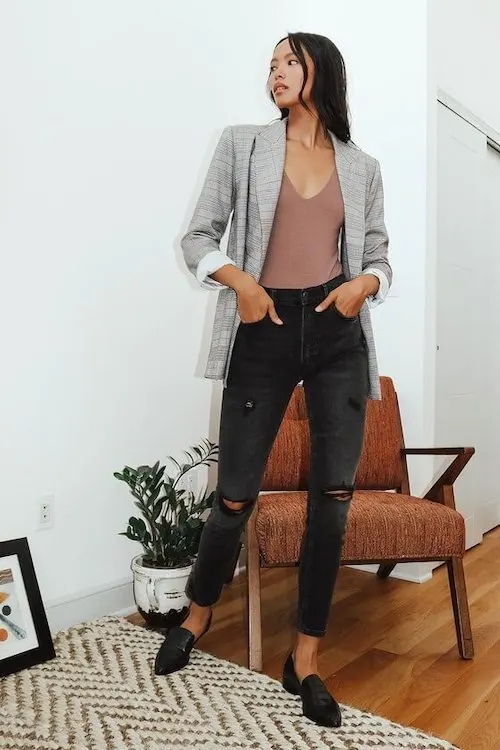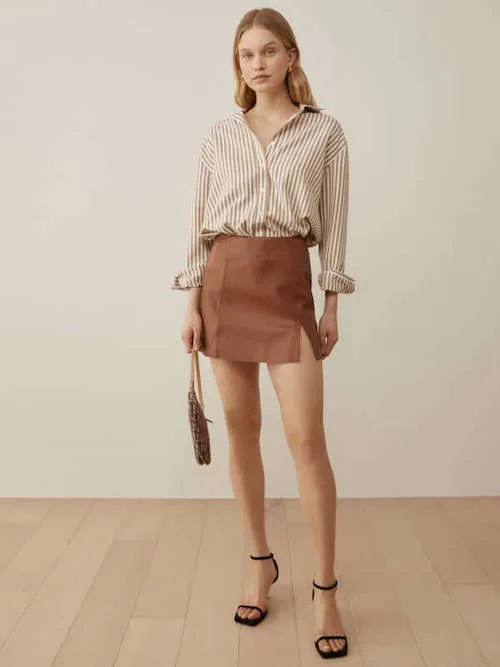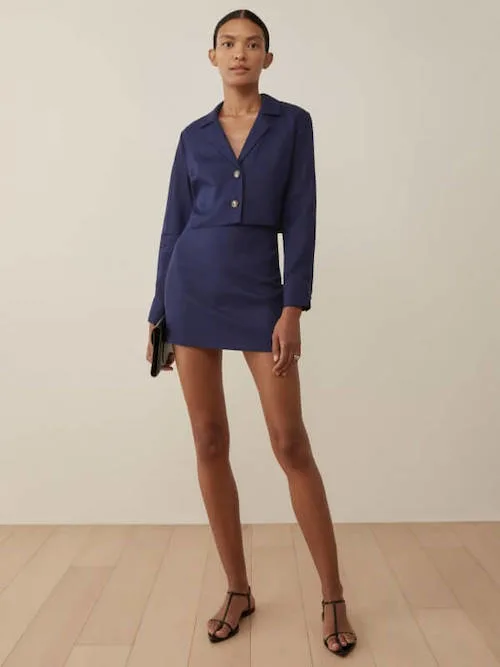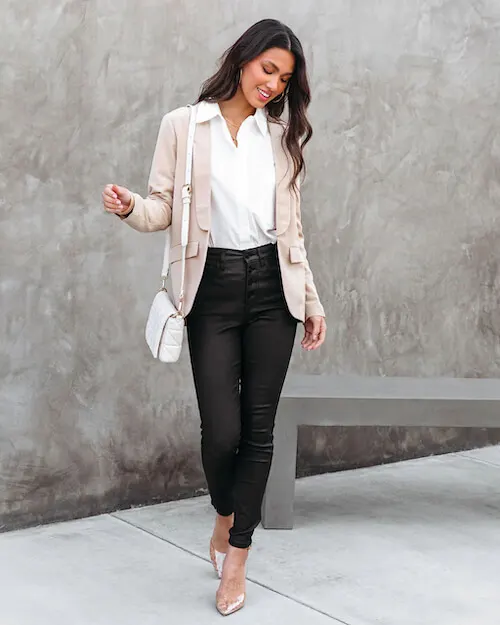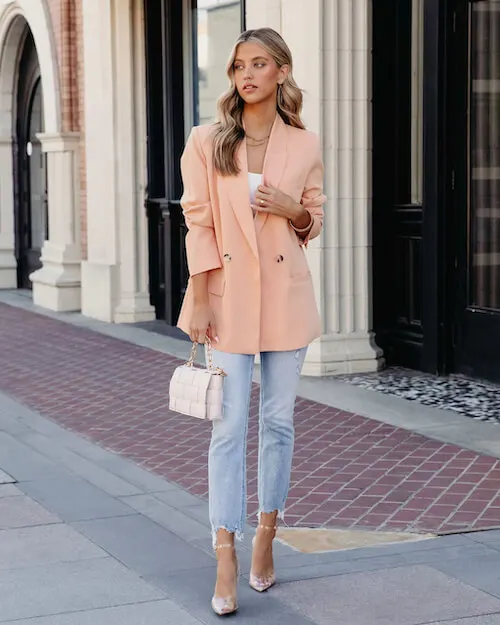 What To Wear For Work In Spring Season
In conclusion, when deciding what to wear to work in the spring for women, it's important to consider what is appropriate for your workplace and express your own personal style.
Consider lighter colors, breezy fabrics and fresh accessories that will help you transition from winter into spring.
It's also important to make sure you feel comfortable so you can focus on being productive during the day.
With some careful thought and planning, you can choose an outfit that is both fashionable and professional.
This post was all about business casual work outfits for spring.
About The Author
Tracy is an experienced personal stylist, shopping expert, and fashion & lifestyle blogger. She has been featured on Time Magazine, Bustle, Best Life, Glam, The Zoe Report, Mic, and GOBankingRates, for her insights on fashion, beauty, home decor, and lifestyle. Read More
Related Posts: