Are black jeans business casual for a woman? Check this post for expert tips on office dress code, and how to wear black jeans for a business casual outfit for women to copy directly.
When it comes to business casual attire for women, there is often debate about whether or not black jeans are an appropriate piece of clothing.
With the ever-changing workplace environment, employers may have different definitions and expectations when it comes to what is considered acceptable office attire.
So, in today's article, I am exploring the concept of wearing black jeans as part of a woman's business casual wardrobe and aim to provide some clarity on the topic.
Scroll down to check these fashion tips and outfit ideas with black jeans, and don't hesitate to pin them to your Pinterest board, and share them on social media sites.
This post may contain affiliate links, which means I'll receive a commission if you purchase through my link, at no extra cost to you. Please read the full disclosure here.
This post is all about are black jeans business casual for a woman.
What is considered business casual for a female? Dress Code Explained
Business casual is a popular dress code for the modern-day workplace.
As a female, it can be tricky to know what exactly is considered business casual and what should be avoided.
Luckily, there are some key pieces that can help you create the perfect professional look.
When dressing for business casual, focus on classic pieces such as collared shirts or blouses, tailored pants or skirts, dark hued jeans and closed-toe shoes.
Avoid overly tight clothing, ripped denim, and anything too revealing like strapless tops or miniskirts.
Add accessories such as statement necklaces and scarves for a polished touch but keep jewelry minimal so as to not distract from your outfit.
To complete your look, pair all of these items with an appropriate blazer or cardigan depending on the weather.
Remember that business casual attire should always be comfortable but also remain professional.
What is NOT appropriate for business casual?
There are certain items of clothing that should not be worn in business casual settings as they can come off as unprofessional and sloppy.
Baggy jeans are one article of clothing that should not be worn if you're adhering to business casual standards.
Too casual jeans could give off the wrong impression and appear too casually dressed for an office environment, no matter how nice they may look.
Additionally, flip-flops or other open-toed sandals or too casual shoes can be easily misinterpreted by colleagues as too relaxed for a professional setting.
Can jeans be business casual for a woman?
Yes, jeans can be business casual for a woman.
Jeans are now accepted as a viable option in many professional settings, as long as they are kept neat and fit properly.
Women should look for dark washes that don't contain any rips or tears and fit well around the waist and legs without being too tight or too loose.
Paired with the right top, accessories and shoes, jeans can be a great business casual choice for women.
Are black jeans business appropriate?
Are black jeans business appropriate? This question has been debated in the fashion world since the early 2000s.
Many professionals have argued that black jeans are considered too casual to wear in the workplace, while others claim they can be appropriate in some settings.
It's important to understand the potential risks and rewards of wearing black jeans to work so you can make the best decision for your career.
Women's business attire often depends on where they work and what their job entails.
Some companies may not allow any type of denim, while others may accept a well-fitted pair of dark wash jeans with a blouse or sweater for more casual days.
Black jeans tend to look dressier than light or distressed denim, making them suitable for certain situations as long as other fashion rules are followed.
Are black jeans business casual for a woman?
Are black jeans business casual for a woman?
As the modern workplace continues to incorporate casual attire, the answer is yes!
Black jeans are a great way to look professional and polished while maintaining a relaxed vibe.
Not only do they provide comfort throughout your work day, but they also offer an effortless style that can be dressed up or down depending on the occasion.
Whether you're in a more traditional office setting or a casual startup, black jeans are one of the most versatile items you can have in your wardrobe.
They pair easily with dressier blouses and heels for an elevated look or try loose-fitting tops and flats for something more laid-back.
Cropped styles give off a sleek yet understated vibe—perfect for those warm summer days.
For cooler weather, opt for bootcut silhouettes that tuck nicely into boots without looking sloppy.
What Type of Black Jeans Are Business Casual?
When it comes to finding the right balance between professional and casual attire, black jeans can be a great option.
Whether you're looking for something appropriate to wear in the office or for a night out on the town, there are certain types of black jeans that can get the job done.
To ensure you look your best here is all you need to know about selecting black jeans that are perfect for business casual occasions.
To begin with, opt for styles that have little to no visible distressing—avoiding ripped or distressed looks entirely.
Additionally, having a tailored fit will help create an overall more polished look which is key when trying to look professional while wearing jeans.
While traditional denim may be too heavy and stiff in certain settings, lightweight twill fabrics offer stretchability and breathability making them much more comfortable than other alternatives.
How do you make black jeans look professional?
When dressing for a more formal setting, consider pairing your black jeans with a structured blazer or tailored coat to help create an elevated look.
To further refine the outfit, add accessories such as brogues or loafers and dress shirts with crisp collars.
You may also want to opt for darker colors and muted patterns like a classic navy blue or charcoal gray.
For those who prefer something more casual, choose items that have an effortless feel but still give off vibes of sophistication.
A simple white tee paired with a cardigan sweater is ideal for creating this look while remaining polished and stylish at the same time.
How To Wear Black Jeans Business Casual
Start by finding the right fit for your body type.
Look for jeans with just enough stretch that they hug your curves while still allowing you to move comfortably.
An ankle-length cut is always a great choice as it allows you to show off your shoes.
To keep them looking professional pair them with dressier tops such as blouses or dress shirts in neutral tones like white, ivory, or navy blue.
A structured blazer or cardigan adds sophistication without sacrificing comfort when wearing black jeans business casual.
So, whether you're looking for a casual Friday look or just want something comfortable and stylish, below are the best ways to wear black jeans to work.
We also include trendy fashion combinations that you can shop for directly from our favorite online fashion stores.
Now scroll down to check the best business casual outfits for women with black jeans to copy directly.
Choose An Appropriate Style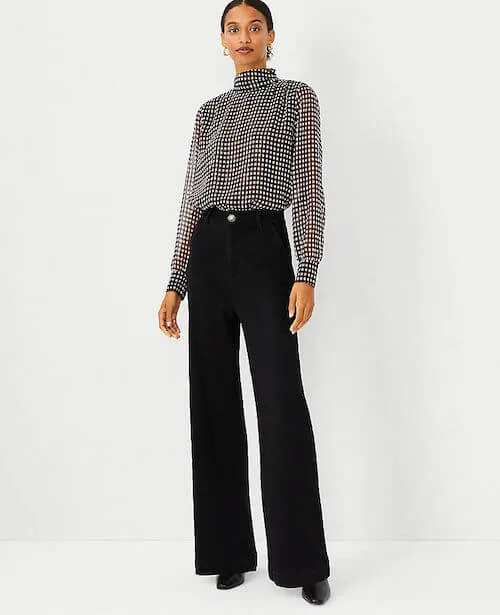 Select A Comfortable Fit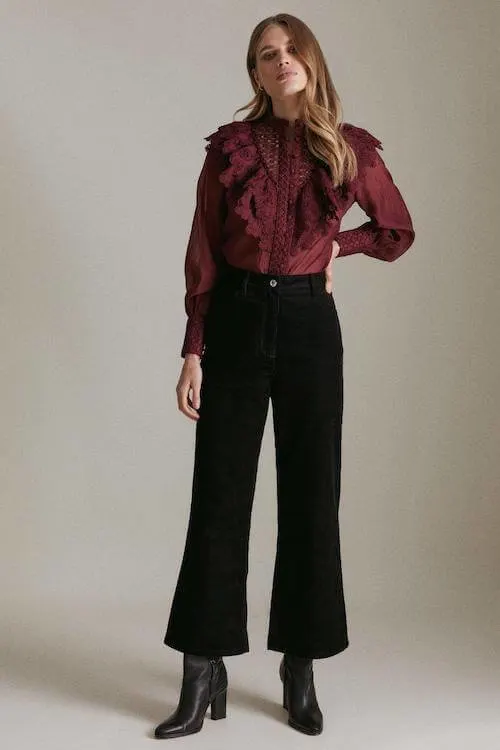 Pairing Work Appropriate Jeans With The Right Essentials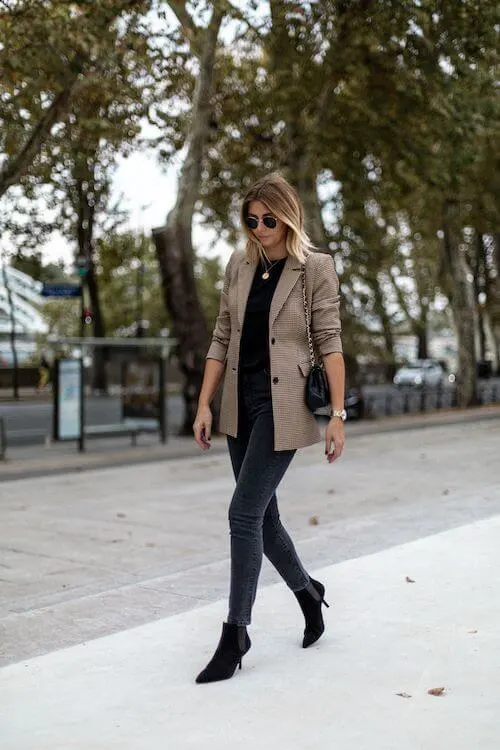 via Pinterest
Dressy Blouse With Black Jeans and Boots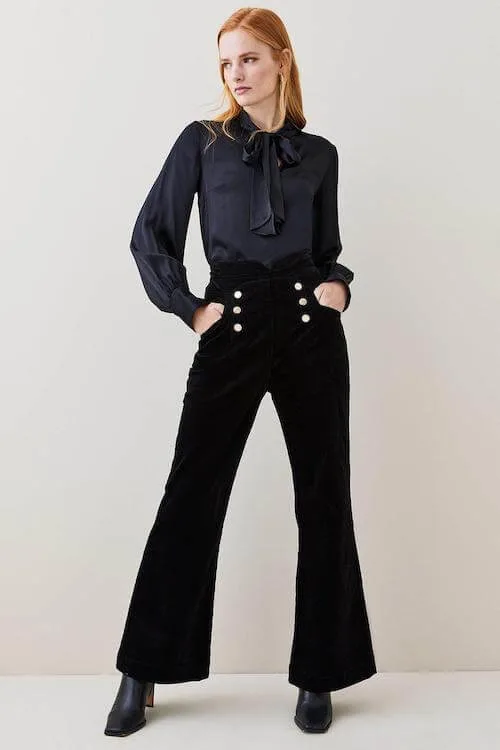 Button Down Shirt with Office Jeans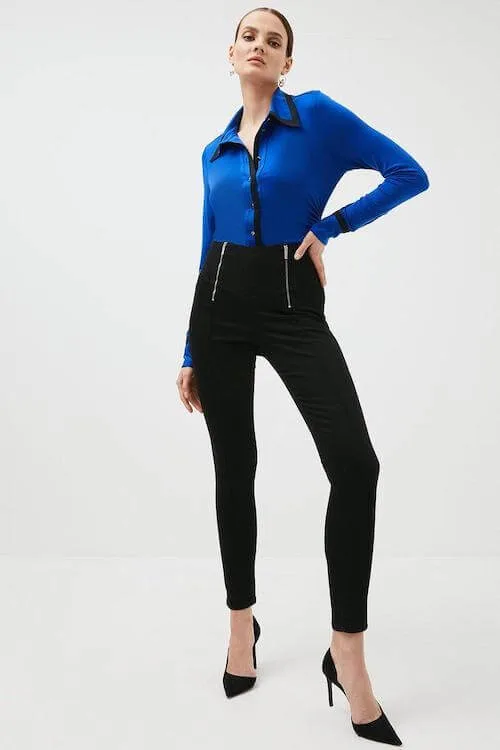 Blouse + Black Jeans + Black Booties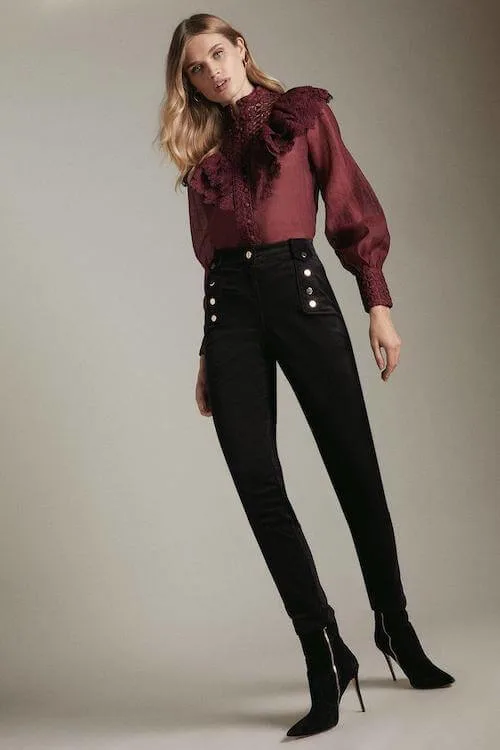 Cardigan With Black Jeans + Black Pumps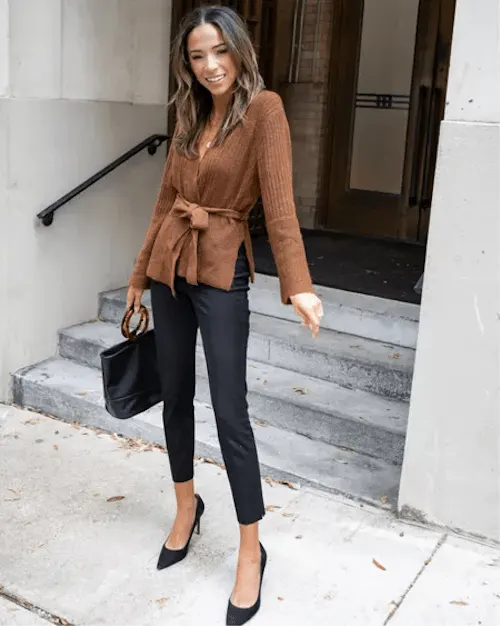 via Pinterest
Turtle Neck Tops with Office Jean Pants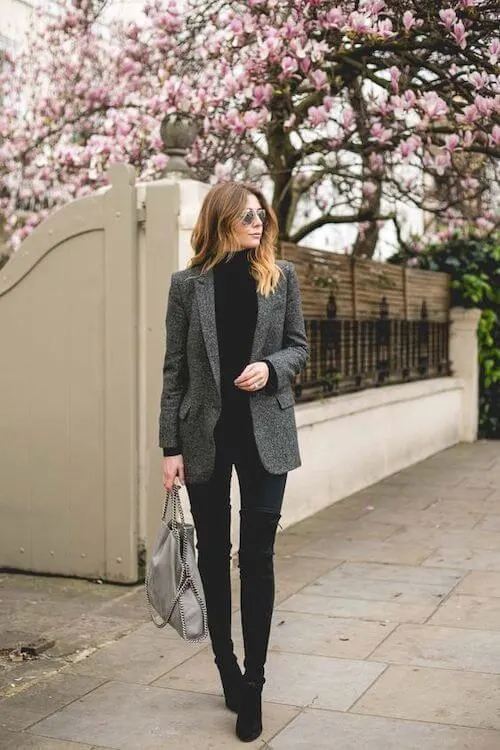 via Pinterest
With A Blazer + T-Shirt + Slingbacks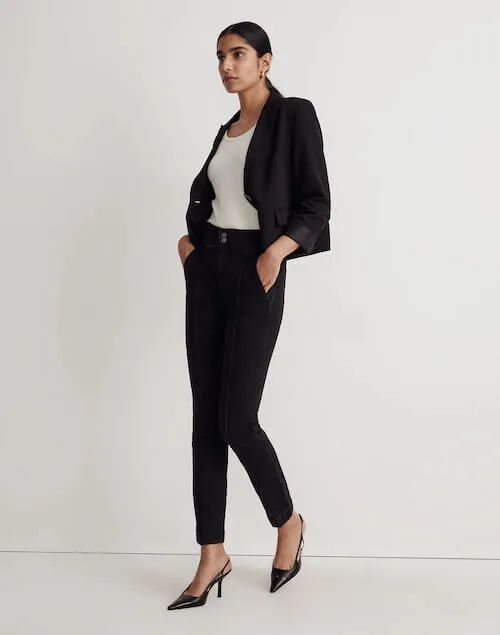 Fitted Cardigan + Trench Coat + Loafers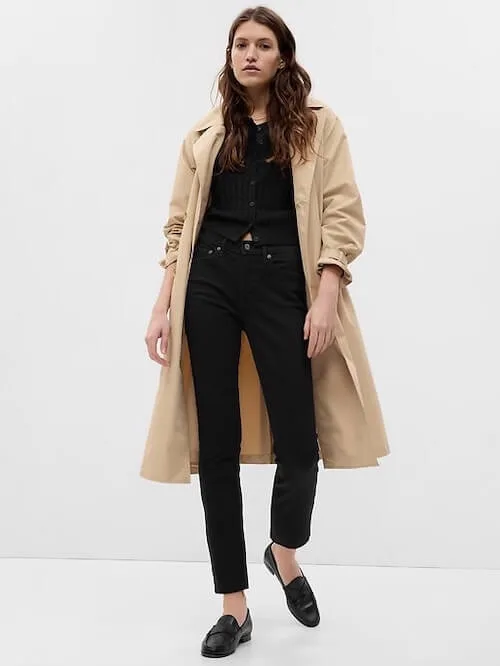 White Button Down + Striped Sweater + Trench Coat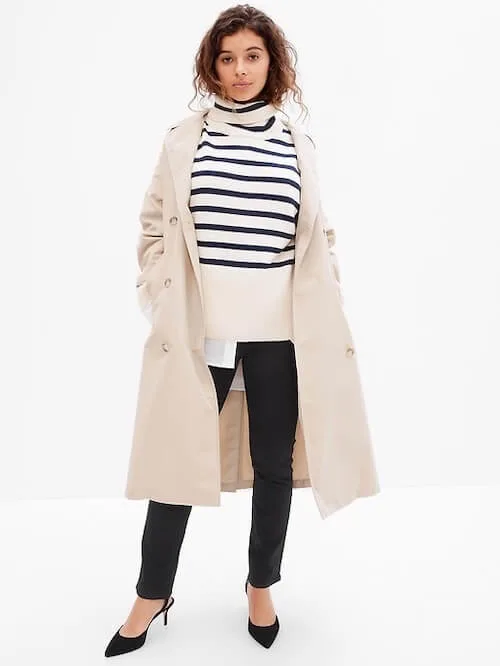 Chic Sweater + Black Heels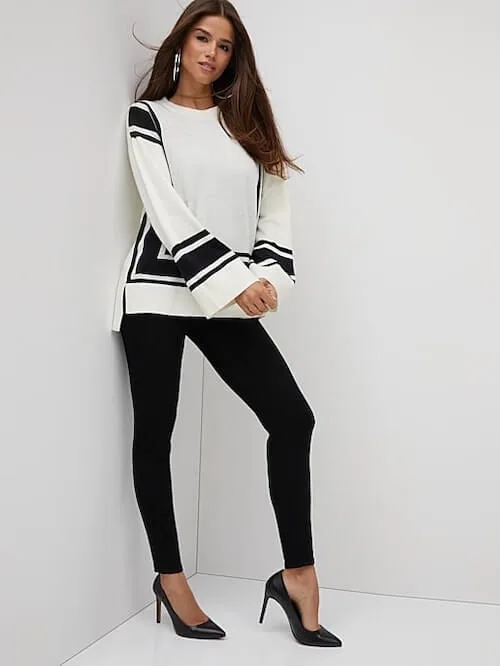 V-Neck Blouse + Pointed Toe Shoes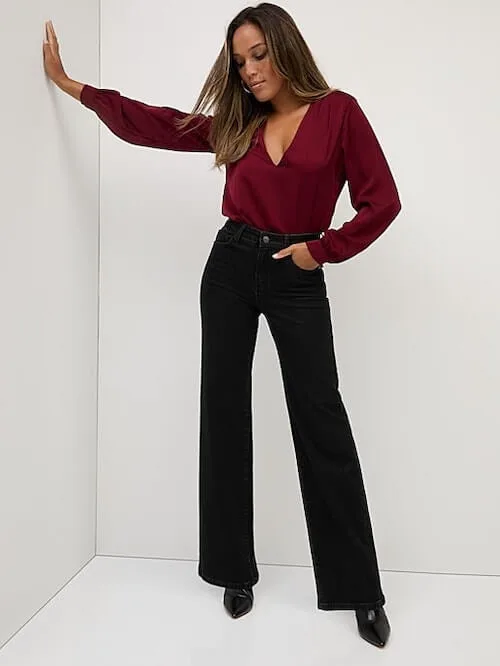 Printed Blouse with Work Jeans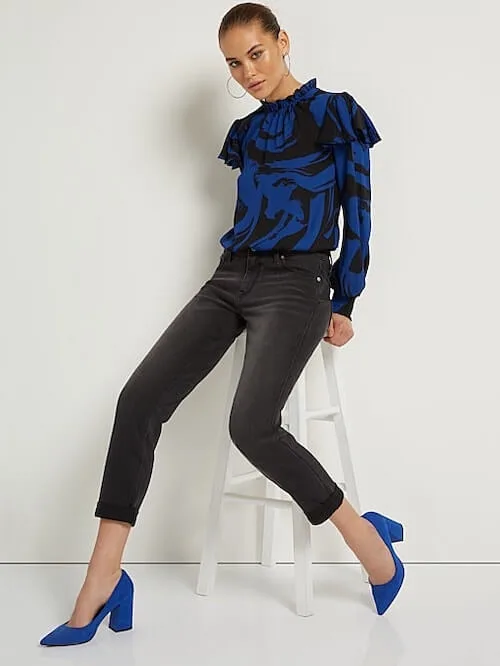 Black Skinny Jeans With A Sweater
Black Skinny Jeans + Black Blazer + Bright Color Shoes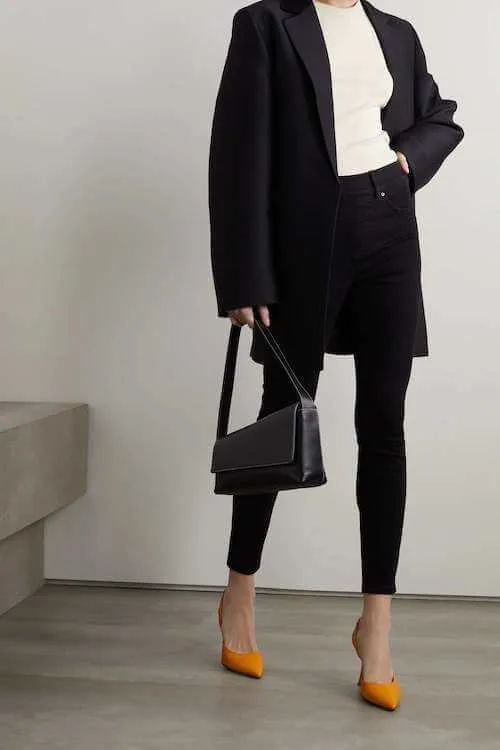 Silky Blouse + Black Jeans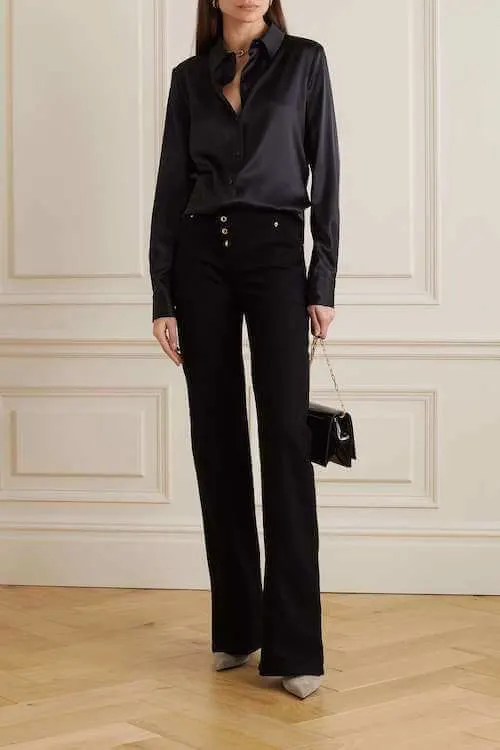 All Black Outfit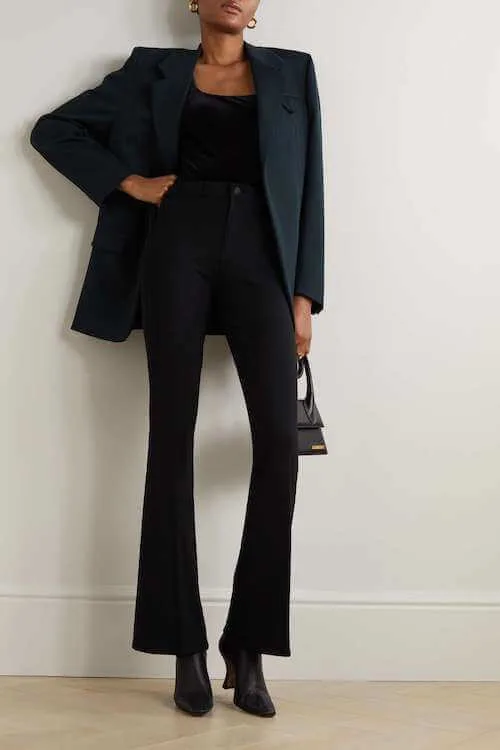 Integrate Jeans With The Business Casual Look
via Pinterest
Casual Jeans Work Look for Summers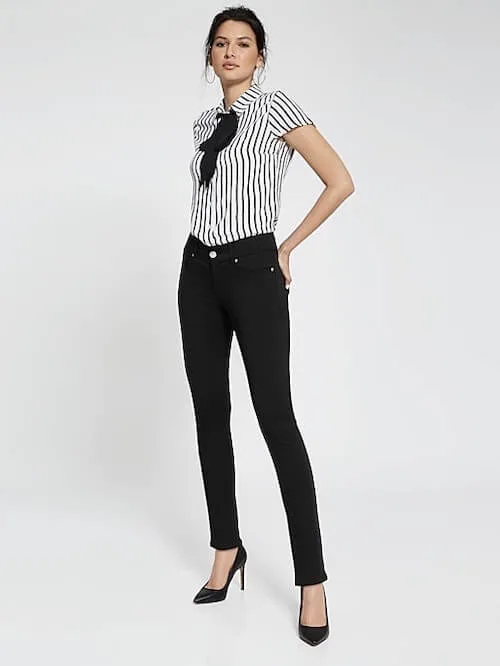 Fall Look with Office Denim Bottoms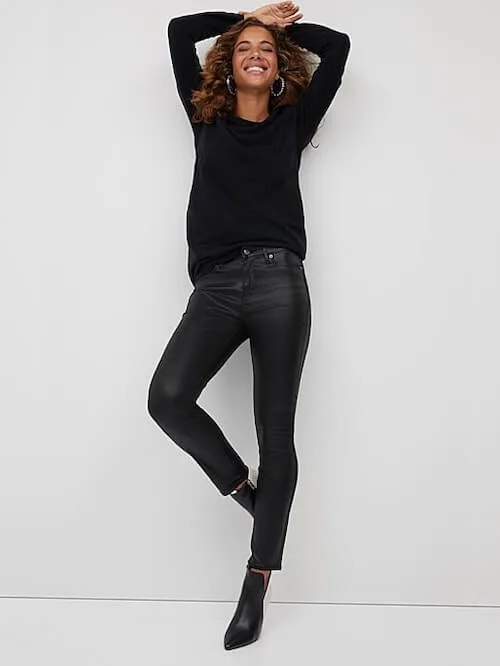 Winter Work Look With Jeans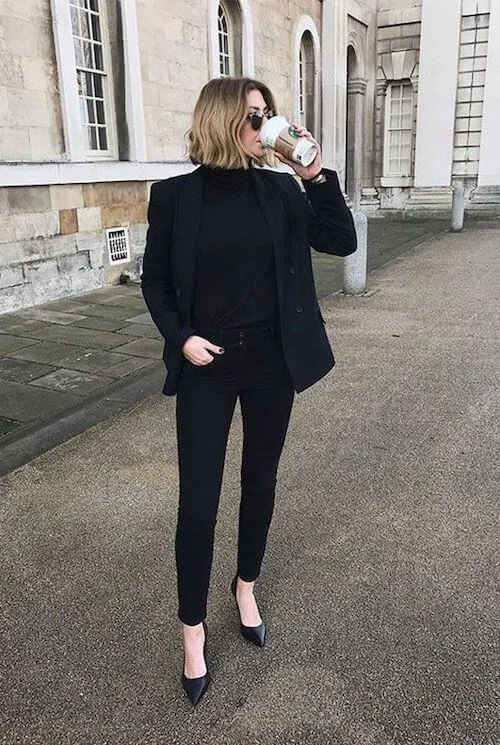 via Pinterest
Office Jeans Outfit for Plus-Size Women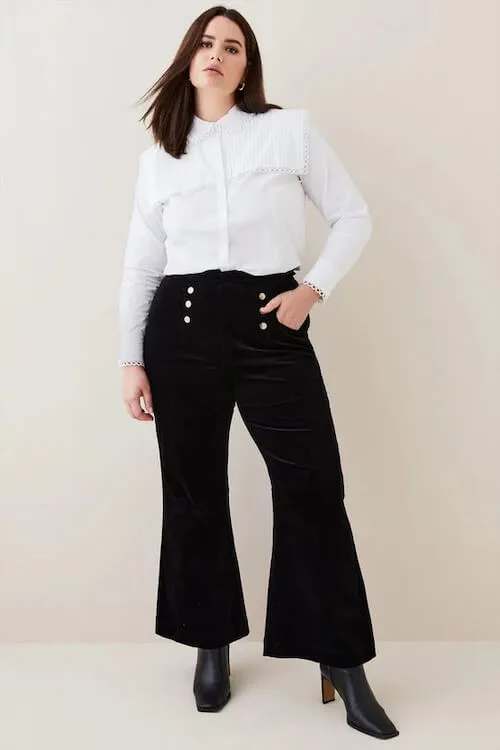 Glamorous Office Look With Casual Jeans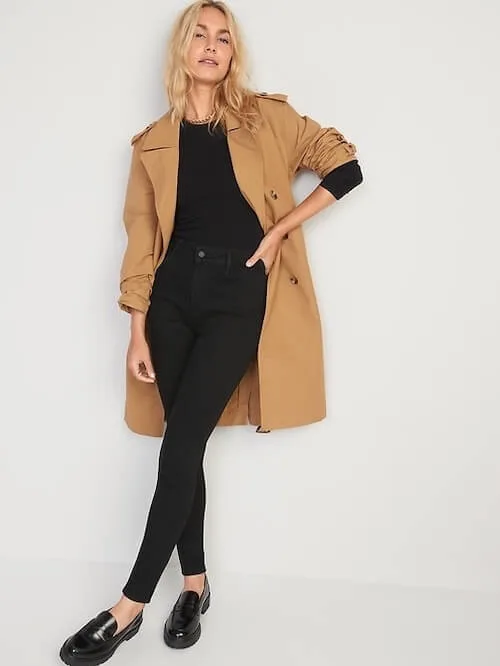 Chic Business Casual Outfits With Jeans For Women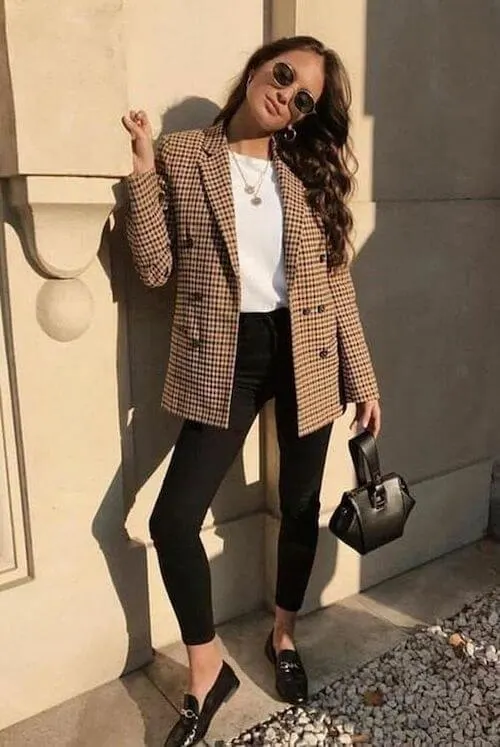 via Pinterest
Best Ways To Wear Black Jeans To Work
Start with a sharp blazer that contrasts with the denim hue of your jeans.
Choose dark jewel tones such as navy blue or forest green for a polished outfit.
For something more modern, pair your black jeans with an oversized shirt tucked in at the waist and accessorize with statement jewelry like chunky earrings or a bold necklace.
Are Black Jeans Acceptable for the Office?
The answer varies depending on company culture and dress code policy, but generally speaking, black jeans are a great choice for a casual office look.
They are versatile enough to dress up or down and can be paired with almost any type of shirt or blouse.
To keep it looking professional, make sure your top is fitted and opt for minimal accessories that don't distract from the outfit as a whole.
Additionally, stick to darker shades of denim like black or navy and avoid ripped jeans that may look too casual for the workplace environment.
Are black jeans smart casual?
Black jeans are a versatile wardrobe staple and can be dressed up or down depending on the occasion.
Whether they're acceptable for smart casual occasions depends on the context, as well as what you pair them with.
When it comes to wearing black jeans in a smart casual setting, there are some key factors to keep in mind.
Firstly, choose a pair of high quality jeans that fit you perfectly – not too tight or too baggy.
Secondly, make sure your top half is polished and sophisticated; think tailored shirts, blazers or knitwear pieces.
Thirdly, finish off the outfit with dressy shoes such as loafers or Oxfords – avoid trainers at all costs!
What Kind of Other Pants Are Business Casual for Women Besides Jeans?
While jeans are often seen as the staple go-to option for business casual, there are several other pants options that can be considered suitable in the workplace.
One alternative to jeans is relaxed fit dress pants or slacks.
This type of pant is typically made from lightweight fabrics and has a slightly looser fit than traditional suiting trousers or office pants.
For those days when you want to add an extra bit of style to your ensemble, you could opt for cropped tailored trousers or culottes – both offer a smart, sophisticated look while allowing you some flexibility with regard to comfort and movement throughout the day.
This post was all about are black jeans business casual for a woman.
About The Author
Tracy is an experienced personal stylist, shopping expert, and fashion & lifestyle blogger. She has been featured on Time Magazine, Bustle, Best Life, Glam, The Zoe Report, Mic, and GOBankingRates, for her insights on fashion, beauty, home decor, and lifestyle. Read More
Related Posts: