Looking for the best Christmas photography ideas for couples? Check this post for the cutest Christmas couple's photoshoot ideas, poses, outfits, and Christmas card photo ideas to copy directly.
The romantic Christmas holiday is a perfect time for taking photos of couples.
And it is a perfect couple goal for your Christmas couple bucket list.
Whether you're taking photos for your Christmas cards to family members, Christmas engagement photos, or adding more fond memories to your love story, taking Christmas couple photos is a great way to keep your love alive.
Traditional Christmas colors, romantic and stylish white Christmas, colorful Christmas lights, and if you're lucky, the beautiful snowflakes during Christmas, can provide you with excellent shooting props and shooting scenes.
If you are looking for the cutest Christmas photoshoot ideas for couples, you've come to the right place.
In today's article, I am sharing with you the best photo ideas for couples in the Christmas season, including poses, props, outfit ideas, at home and outdoor Christmas picture ideas, for you to copy to create your perfect photos this Christmas.
So scroll down to check these romantic Christmas couple photoshoot ideas, and don't hesitate to pin them to your Pinterest board, and share them on social media sites.
Merry Christmas!
This post may contain affiliate links, which means I'll receive a commission if you purchase through my link, at no extra cost to you. Please read the full disclosure here.
This post is all about Christmas photography ideas for couples.
How To Take Perfect Christmas Photos For Couples
Make Appointment With The Photographer Earlier
If you want to take Christmas couple photos, you can choose to hire a professional photographer to help you take pictures. You can also take pictures yourself.
If you hire a professional photographer, then you need to make an appointment with the photographer several weeks in advance.
The better the photographer, the busier the schedule.
If you don't start making photographer appointments until closer to Christmas, you're usually going to be disappointed.
Fully Communicate With Your Photographer
After you choose a photographer, you also need to fully communicate your expectations for the photos with the photographer.
In particular, you need to communicate your ideas for locations, outfits, props, poses, etc. with the photographer.
Don't be embarrassed to communicate with the photographer.
Adequate communication can help you get the best results.
Keep Yourselves Warm and Comfortable
Also, if you are shooting outdoors on a cold day, be sure to bring enough warm clothing.
I also especially recommend that you bring a warm blanket.
It can be a very cute shooting prop.
You can also spread a blanket on the floor and sit on it when you get tired during the shoot.
This will make you very comfortable.
Also, whether shooting outdoors or indoors, have plenty of snacks and hot drinks ready to help you stay energized during long shoots.
Now scroll on to check our favorite couple photoshoot tips and creative ideas for your next photoshoot.
Christmas Photography Ideas for Couples
Festive Mood Photoshoot By The Car
On a romantic snowy day, go outdoors and you will find that your car is also a great photo prop.
This natural communication like the photo below allows you to take great Christmas photos with ease.
When shooting on a snowy day, don't forget to wear brightly colored clothing, especially dark red, dark green, and white.
They pair beautifully with white snow.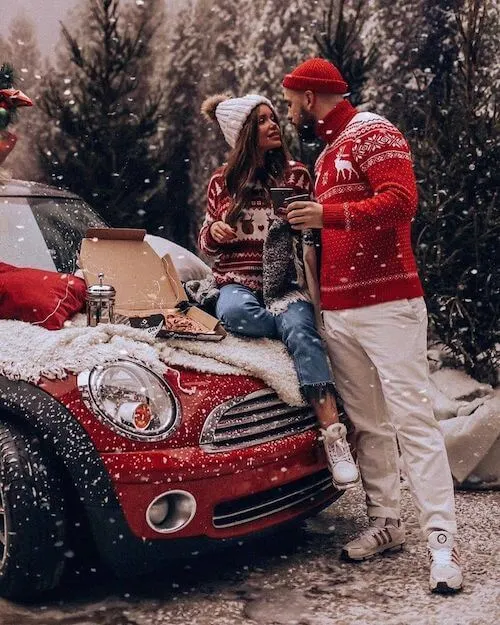 via Pinterest
In The Natural Setting
You can also have a romantic winter picnic.
Put on warm clothes, drink hot drinks and have a good time together.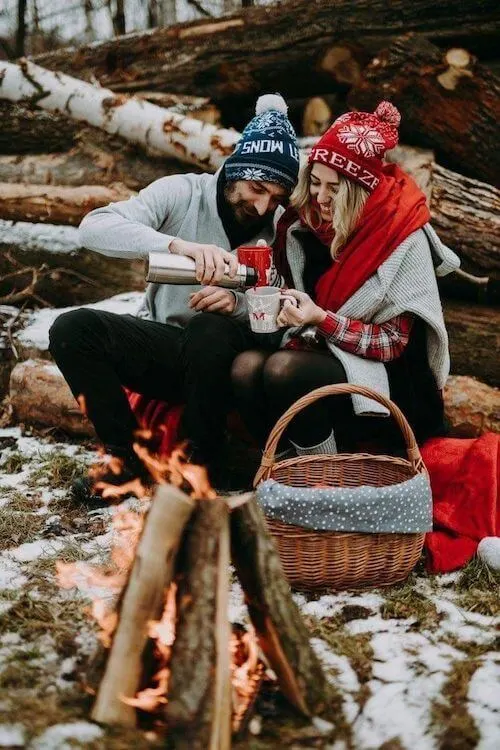 Christmas Outdoor Couple Photoshoot Ideas
Build yourself a wonderful Christmas couple photo shoot.
You can take your favorite sofa outdoors.
A thick, warm blanket can help keep you warm in the cold weather, and it can add vivid color detail to your photos.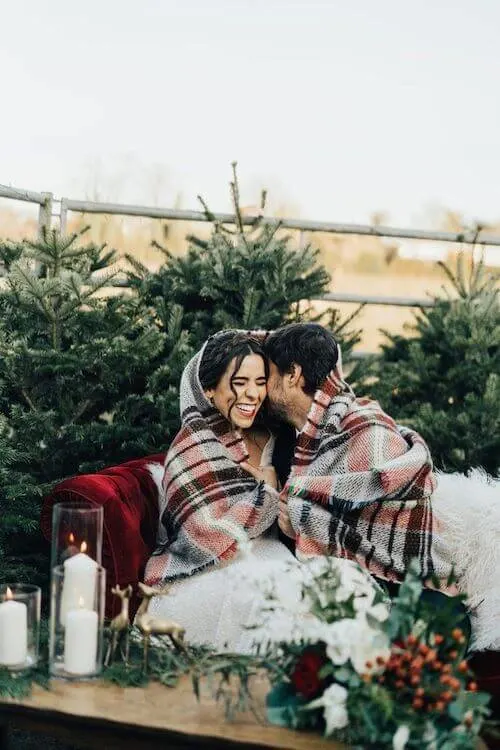 IG@rebeccacarpenterphotography
Romantic White Christmas
Spread a thick white blanket under the Christmas tree and enjoy Christmas time just for the two of you.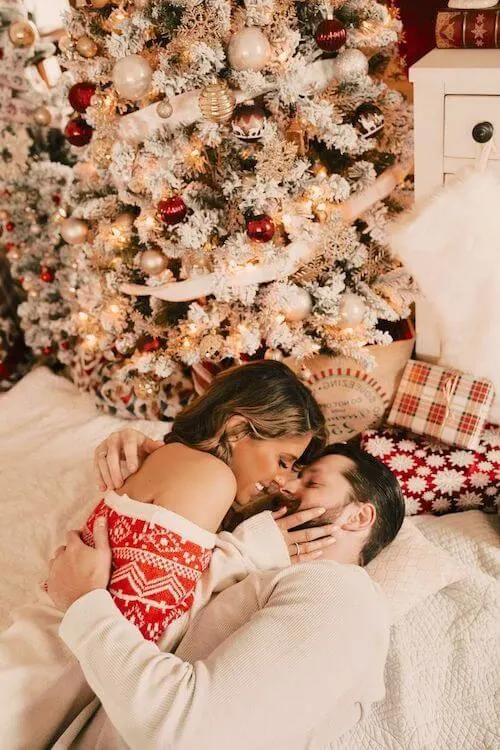 Christmas Couple's Photoshoot Ideas for Black People
White and green set the main tones of the Christmas decorations in the background of the photo.
Add a little red to make it more festive.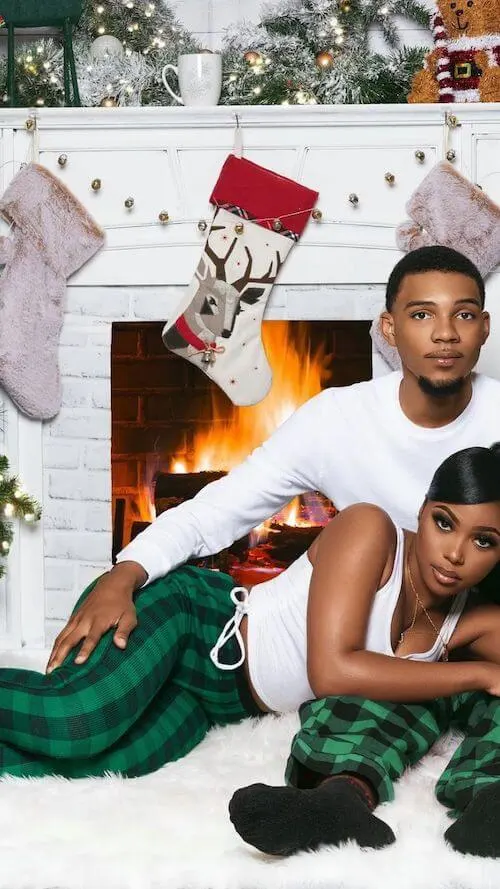 via Pinterest
Chic Jeans Christmas Couple Photoshoot Ideas
I absolutely love this Christmas photo below.
For Christmas couple photos, you can also choose simple outfits with jeans.
Such outfits are especially suitable for backgrounds with simple color schemes.
IG@miamiamine
Enjoy The Christmas Eve And Pure Love
The beautiful lights in Christmas create the most romantic Christmas Eve for you.
Spend a quality time together.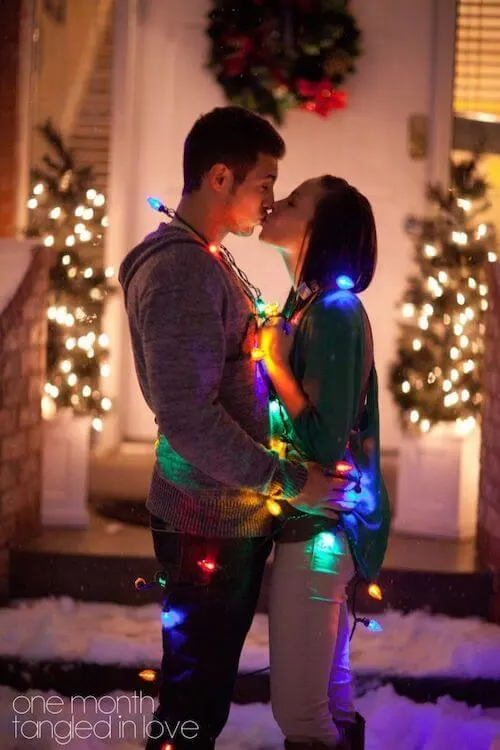 Sleigh Ride Engagement
If you're going for a Christmas engagement photo shoot, I recommend a set of sleigh engagement photos. They are very cute.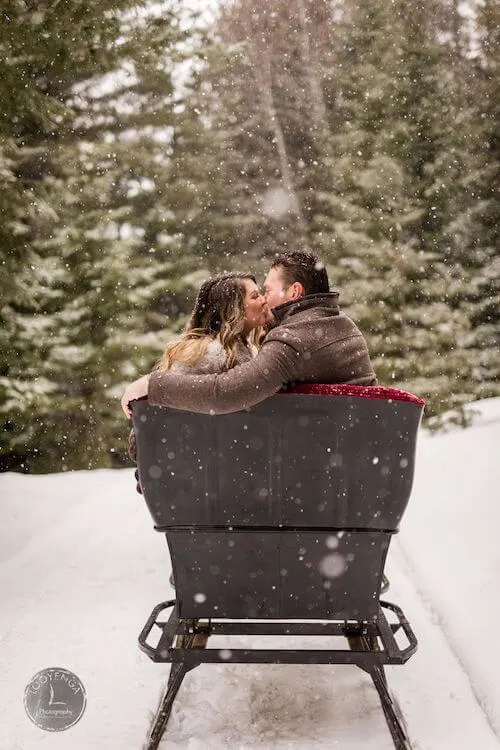 IG@looyengaphoto
Creative Christmas Couple Photoshoot Ideas
Use your camera to capture the moments you two seriously decorate your home together.
via Pinterest
Christmas Couple Photoshoot Ideas With Dog
Don't forget to bring your pets to take your Christmas photos together.
This is a very cute Christmas family photo idea.
You can also wear matching outfits with your pets.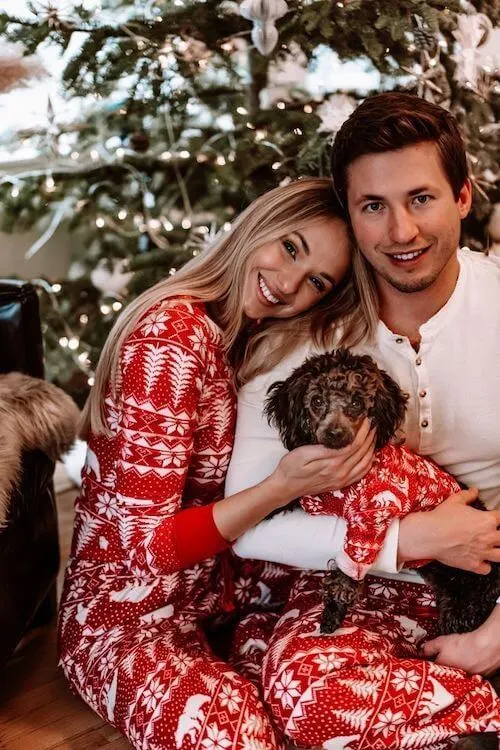 A Cute Family And Pine Trees
You can also take your pets outdoors for Christmas photos.
Christmas Good Mood
Carefully decorate the biggest window in your home during Christmas and it will be the backdrop for your best Christmas photos.
IG@bylaurencermak
Cozy Flannel Dresses
Warm flannel dresses are one of my all-time favorite Christmas outfit ideas.
They are perfect for almost any occasion during Christmas, such as Christmas dinners, Christmas parties, and of course holiday cards photo shoots.
Christmas Wreath and Christmas Tree Farm
The Christmas tree farm is a perfect place for couple photos.
Choose a Christmas tree and Christmas decorations together.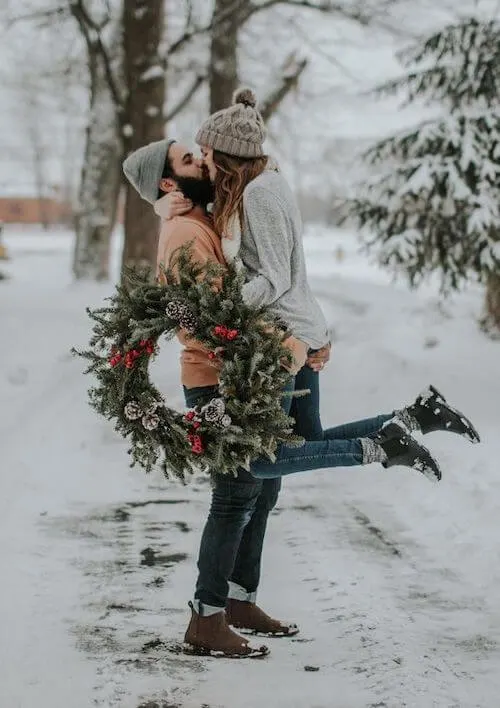 First Snowflakes of The Season Start
When the snow is falling, go outdoors and take your romantic and beautiful holiday photos.
You'll have a great time.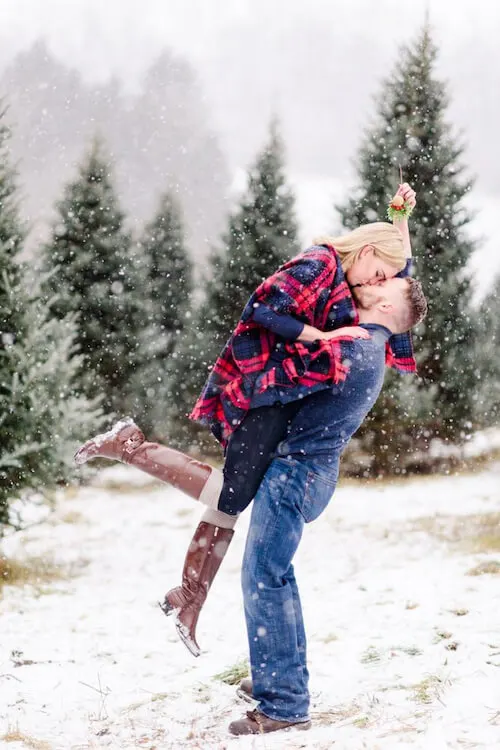 Romantic Christmas Morning
On Christmas morning, stand by the window, kiss, send each other well wishes, and enjoy the time you two are intimate.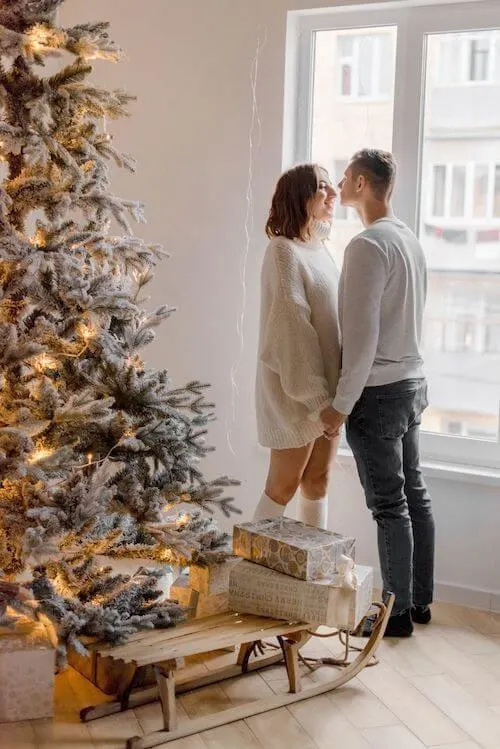 Cute Santa Hats
Wear cute Santa hats together for the best Christmas couple matching outfits!
Cute Christmas Socks
You can also put on cute Christmas socks together and have a holiday shoot of the socks.
This couple Christmas picture idea is very creative.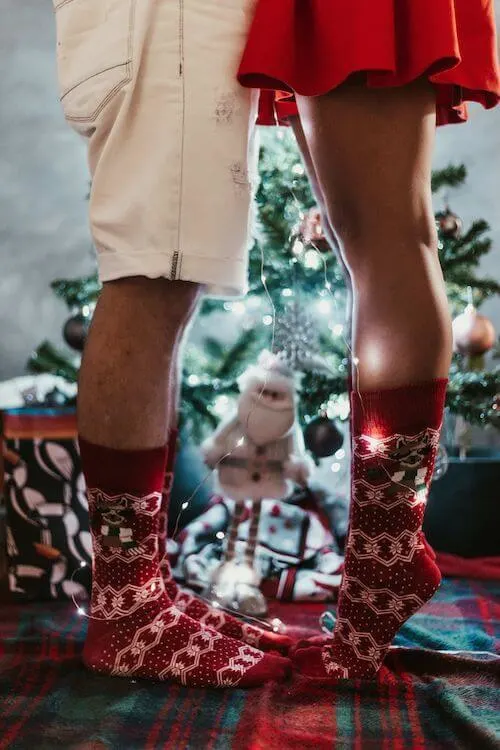 Festive Christmas Photo Ideas
It's such a beautiful picture of snuggling together like this.
If you're concerned about your expressions being unnatural, you can either have the camera shoot from the top down, or shoot with your eyes half-closed.
Cute Christmas Card Photos
The photo below, whether it's the color scheme, the outfit for the photoshoot, or the pose for the photoshoot, is amazing!
A light-colored background can give you more options for outfits and poses.
So if you're worried that you're not very good at color matching, choose a light-colored background for your Christmas photo shoot.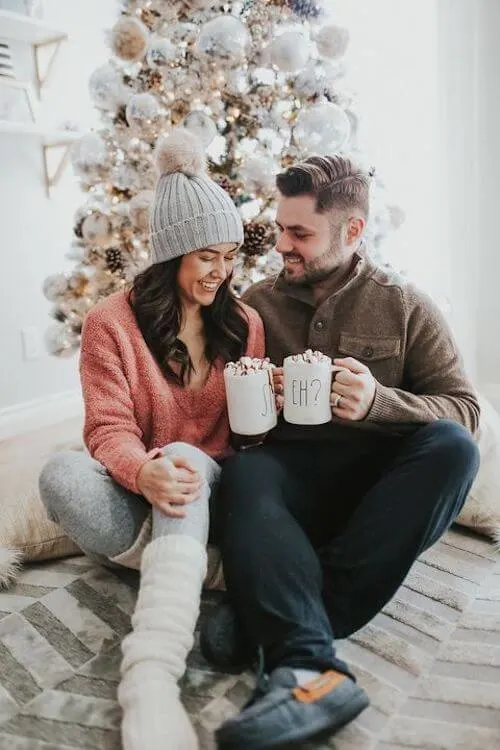 IG@overmystyledbody
Simple Christmas Photoshoot Ideas for Couples
The idea for the photo below is simple and easy to learn.
The secret is to use the right props.
Hot drinks are great props during winter festivals and can make your outdoor shoots feel more comfortable.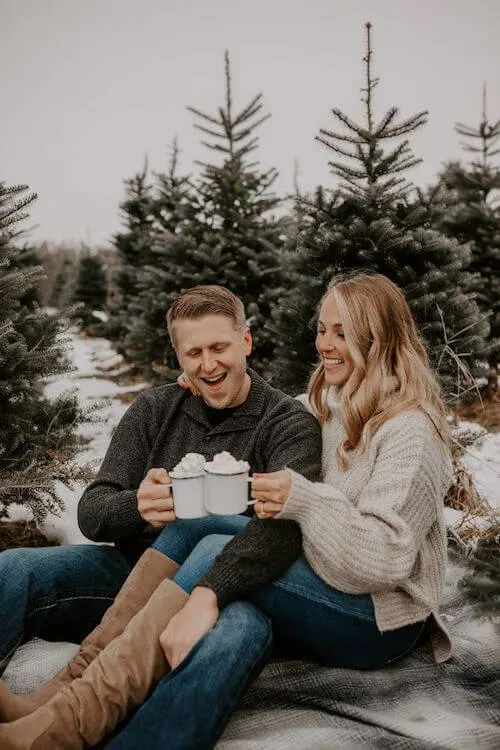 Decorate The Christmas Tree Together
Decorate your Christmas tree together.
Light up the beautiful Christmas lights and make this romantic evening a wonderful memory.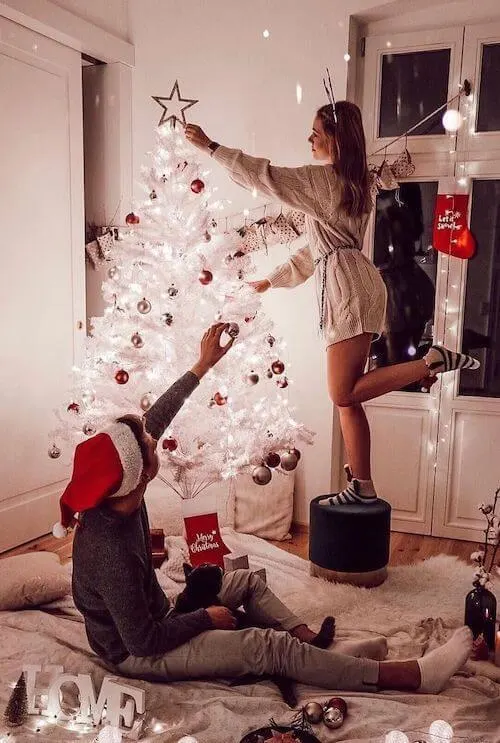 Couple Christmas Photoshoot Ideas With Christmas Lights
You can also use lights as part of your outfits to make your nights sparkle.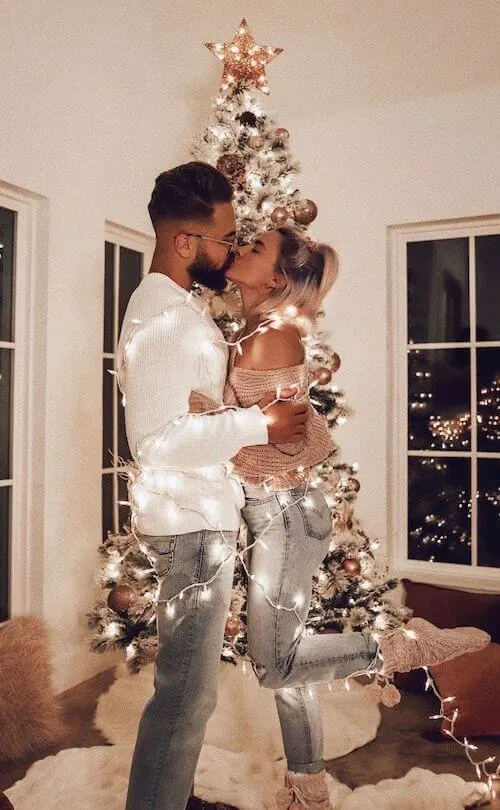 Kiss In Front of The Christmas Tree
Kiss in front of a beautiful Christmas tree. This must be an item on your Christmas to-do list.
I also really like the matching outfit idea in the photo below, which is a great example.
The combo of a simple white top with blue jeans looks young and stylish.
Sweet Christmas Photo Ideas for Couples
This pose below is very simple, but very sweet.
If you don't know how to pose for a photo shoot, you can hold a Christmas gift box like the girl below, which looks natural and cute.
Candid Shots of Flour
It's a great idea to photograph your everyday life as you prepare for Christmas.
Don't pay too much attention to the camera.
You can pretend that you don't know the camera exists and show the natural romantic relationship between you.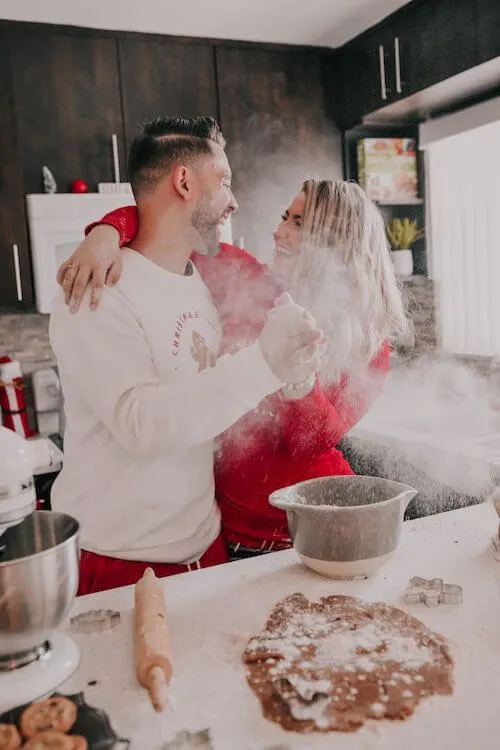 Christmas Couple Photoshoot Ideas at Home
Sometimes, shooting your back is a very simple but very creative photo idea!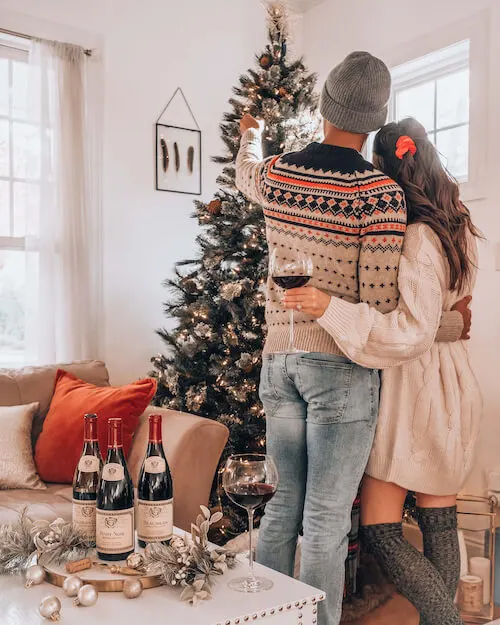 Matching Red
If your Christmas decorations aren't as colorful, you can have your outfits add more festive colors to your photos.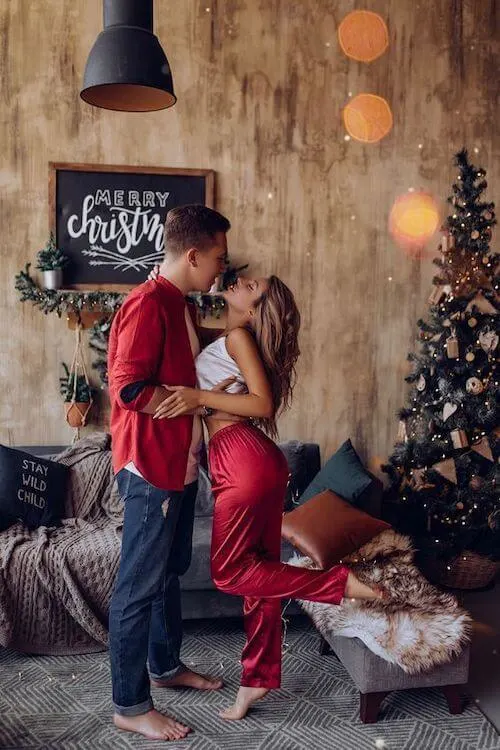 Twitter@yq0123
Beautiful Red Dress For Christmas Couple Pictures
A red dress is a classic yet timeless outfit idea.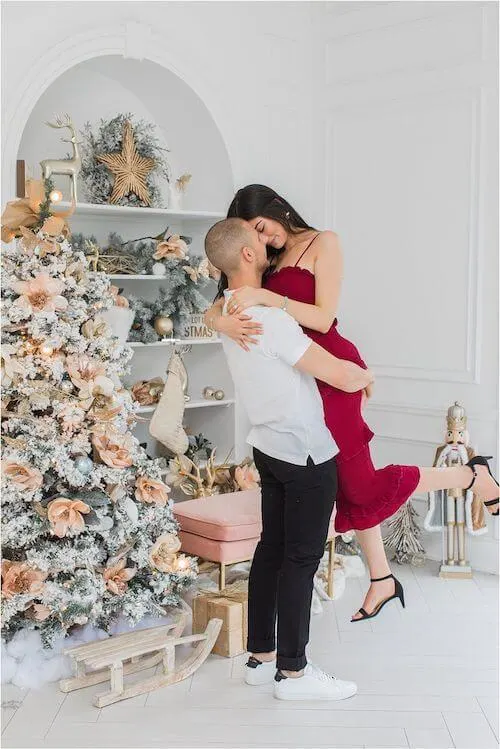 IG@photographybyazra
Blush Outfit and White Stockings
How to make your home clothes look more cute?
You can add a pair of white stockings.
You can also add cute hair accessories to your hairstyle.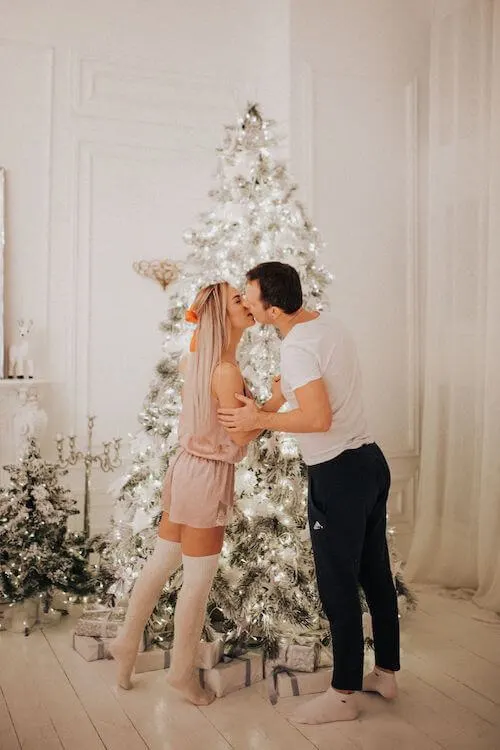 via Pinterest
Add Some Fake Snow
Add fake snowflakes to your shooting scenes to make you feel like you're in a fairytale snow world.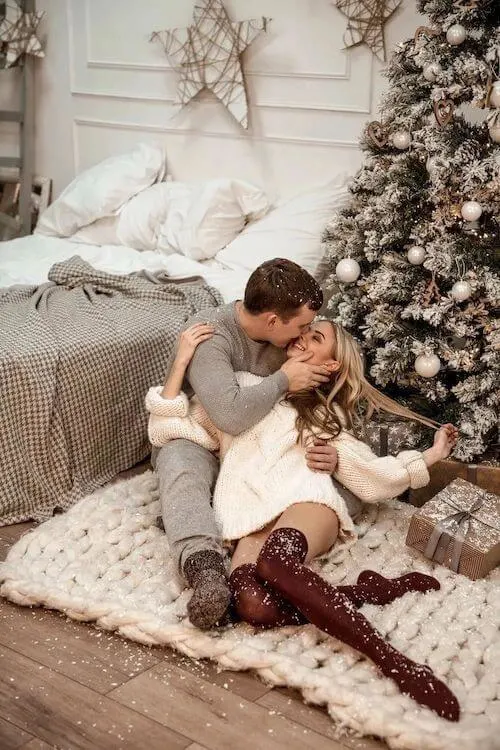 All White Outfits
All white Christmas couple matching outfits look very romantic.
I also especially like the white bow on the woman's head in the photo below, which looks so pretty.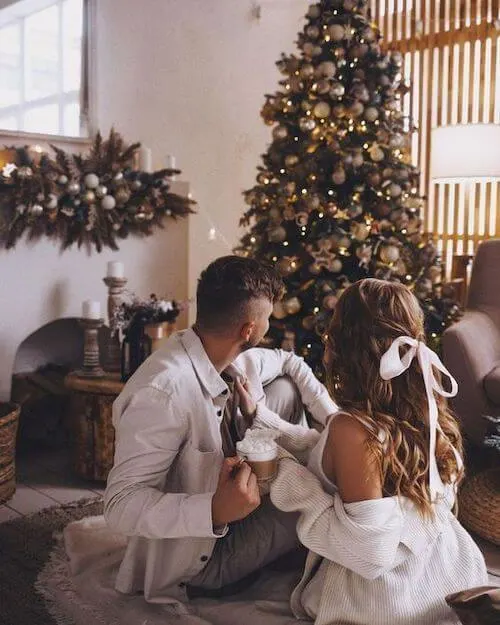 via Pinterest
Cheers In Front of The Camera
Share your anticipation for the new year.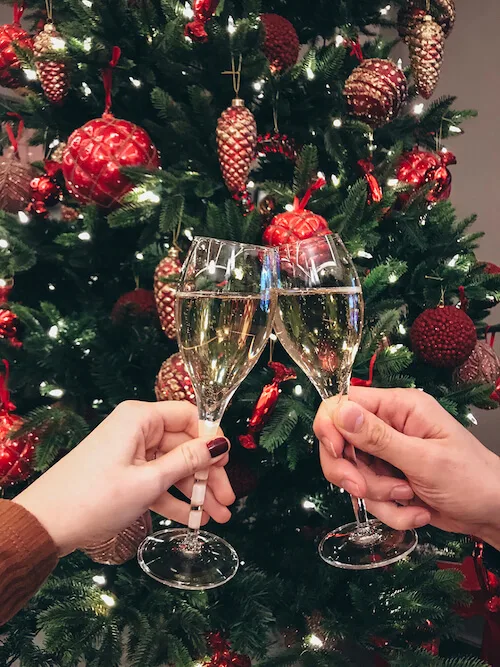 Kisses and Fairy Lights
You can use the Christmas lights as a good lighting and a fun picture frame, to surround the the two of you.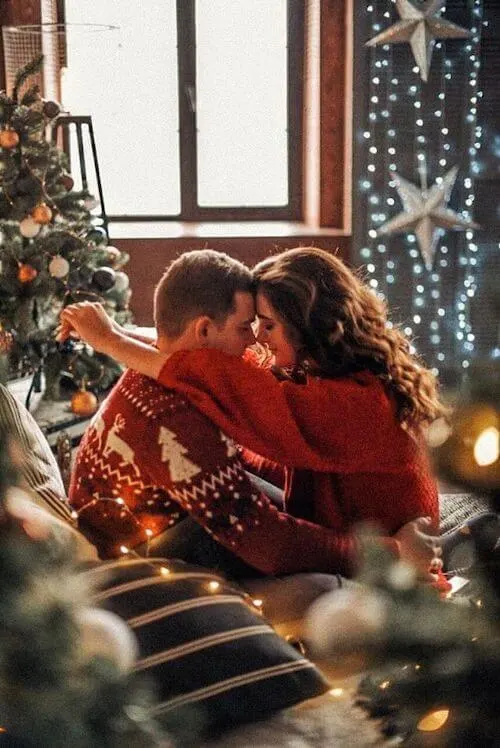 via Pinterest
Kiss At The Door
In front of the house, with the fluttering snowflakes, enjoy your eye contact and kisses.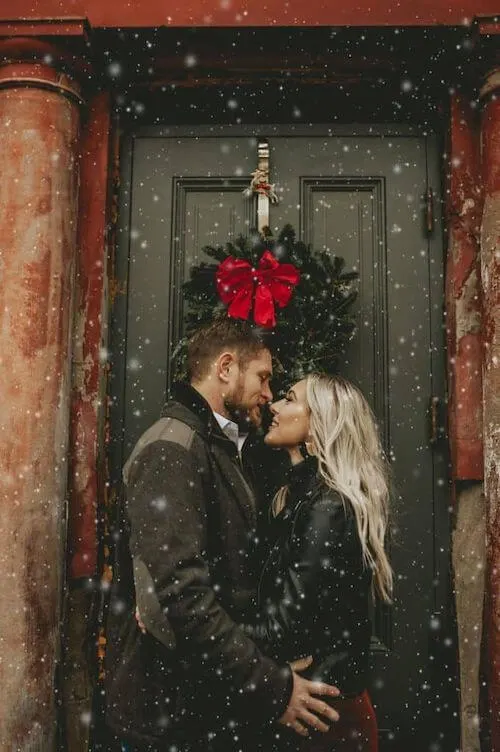 via Pinterest
Cute Earmuffs
Some accessories unique to the festive season can make the visual details on the photo more lovely.
I especially recommend plaid scarves and earmuffs like this one.
They help keep the body heat and are stylish.
Christmas Photo On The Street
The festive streets are filled with beautiful and lovely Christmas decorations.
Enjoy this beautiful festival on the street and these Christmas decorations can be a great part of your photos.
When you're taking photos on the street, you don't have to pose for a photoshoot.
Natural interaction between you two can make your photos seem to tell a captivating love story, which will be more attractive than ordinary photos.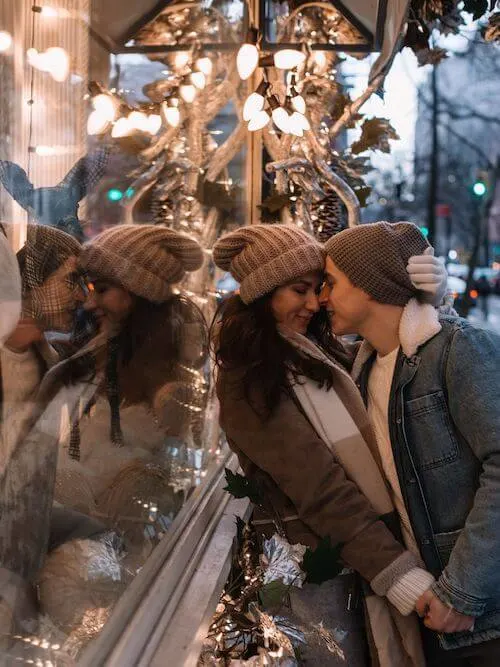 Perfect Backdrop In The Winter Holiday Season
Or, you can stand in the corner of the picture and let the Christmas decorations in the city become the main part of the picture.
Such an idea is very creative and has a very professional artistry.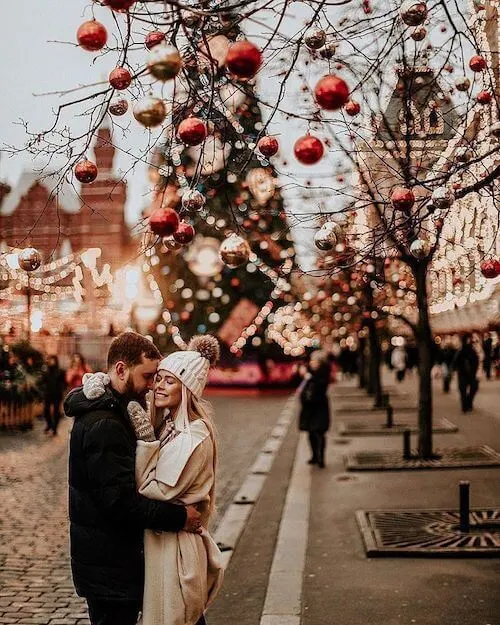 Matching Christmas Pajamas & Christmas Movies
Are you ready to watch a classic Christmas movie on Christmas Eve?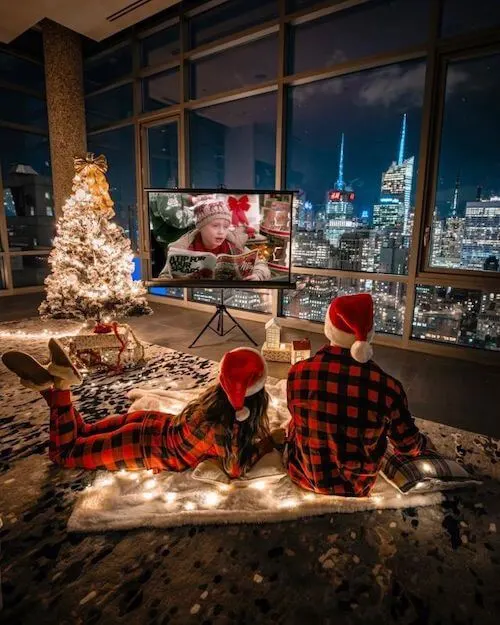 Matching Pajamas and Hot Chocolate
Boldly zoom in and let your expressions and outfits take over the frame.
This looks very festive.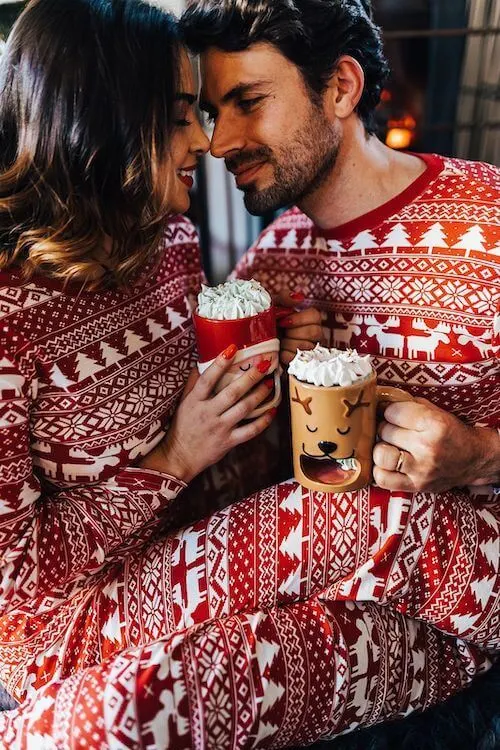 Amazing Sparklers
Sparklers are also one of the photo props that are perfect for all kinds of festivals and celebrations.
Remember to turn off some of the light sources and let your sparklers to flicker.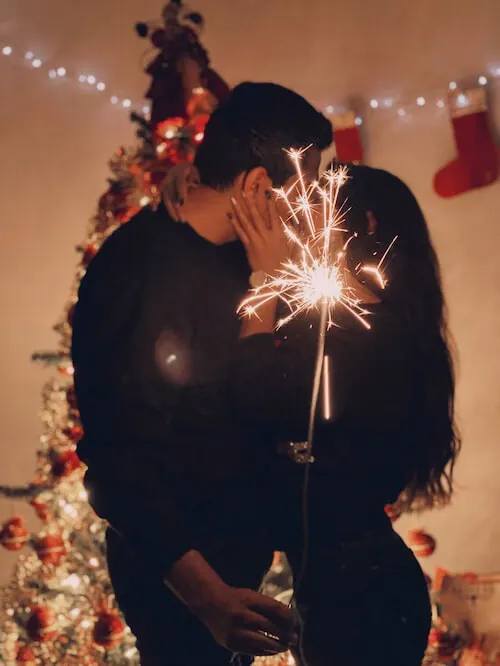 Romantic Outdoor Photoshoot Ideas
Outside, you can let your creativity flow and create the best space for both of you to enjoy Christmas.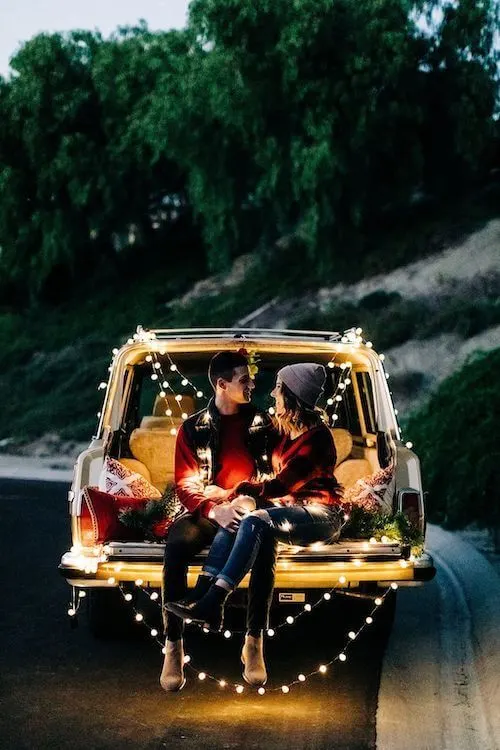 Prepare Christmas Dinner
Your kitchen is also a great place for taking cute Christmas photos.
The process of preparing Christmas dinner must be very fun and romantic.
Don't forget this great opportunity to capture these unforgettable special moment with your cameras.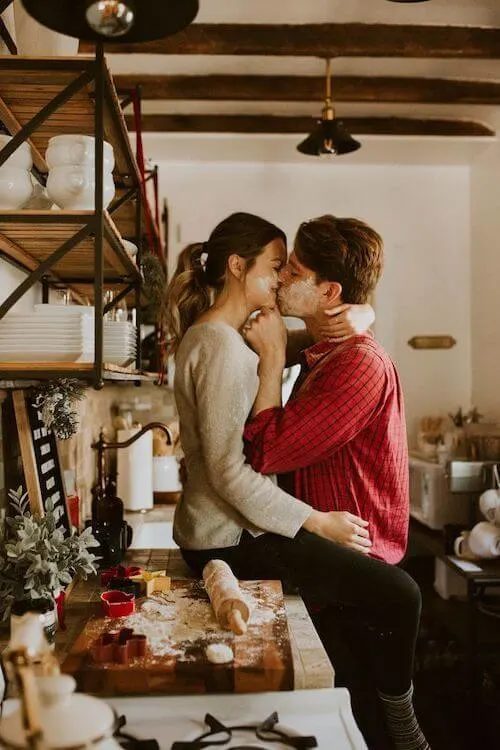 Twinkling Christmas Lights
Twinkling Christmas lights are really our favorite props.
They are very easy to use and creates the best dreamy and romantic effect.
How can you not use them when taking photos of Christmas couples!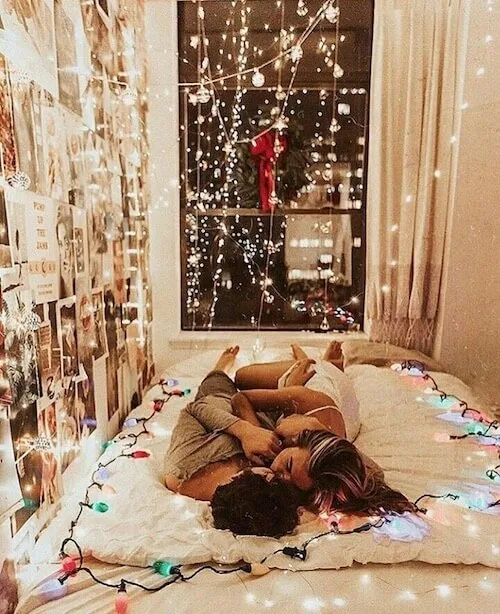 via Weheartit
Exchange Christmas Gifts
I especially like to use the camera to capture the moments of laughter.
via Weheartit
Sleigh Ride Photo
If you can have a sleigh date, include this fun activity in your Christmas date plan.
Candy Canes
Candy canes are sure to make great Christmas photo shoots.
Also, it can be the best frame for your Christmas couple photos.
Below is a fun idea!
via Weheartit
Kiss Behind Christmas Gift
Change the angle of shooting, and you can get creative photos.
The photo pose below is very easy-to-copy, don't you want to try it?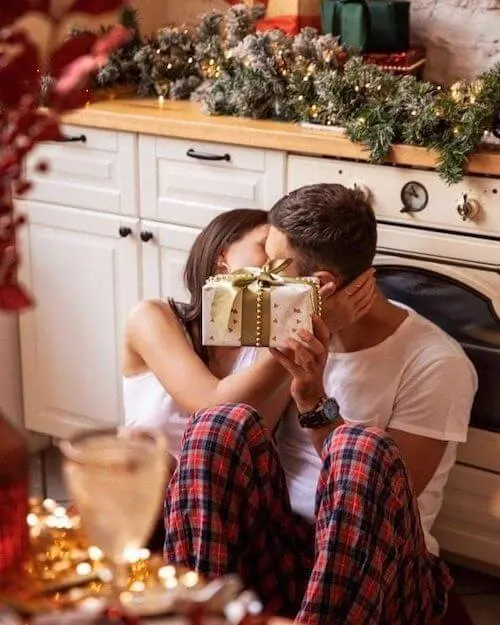 Funny Christmas Card Photo Ideas for Couples
If you're looking for funny Christmas photo ideas, here's one that I highly recommend this year.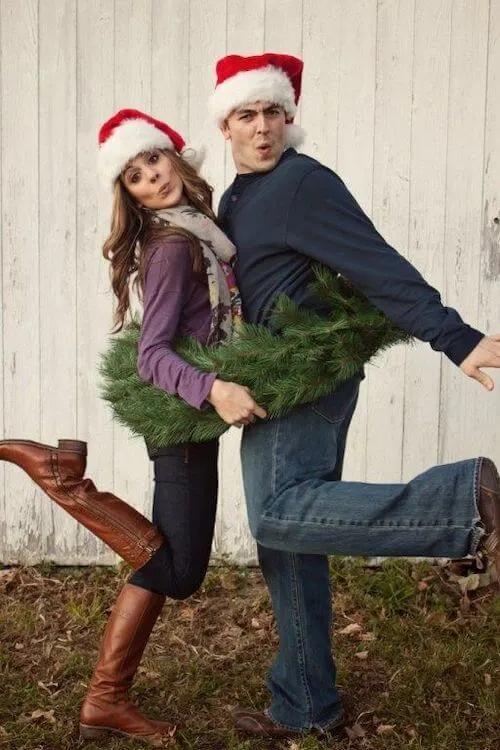 Funny Couple Christmas Photo Ideas
A funny Christmas photo like the one below is also festive.
Feel free to place your favorite Christmas decorations around the both of you to add more fun to your photos.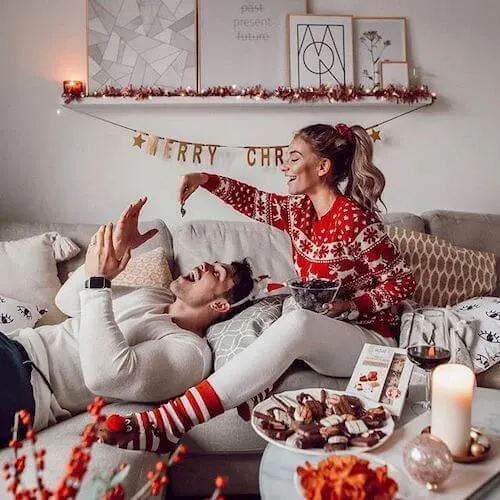 via Weheartit
Stunning Christmas Card Photo Ideas for Couples
If you're looking for a more formal Christmas card photo, the easiest way to do it is to wear a more formal holiday outfit.
The best outfit option for women is a dress in traditional Christmas colors.
Whether it's a red dress, a green dress, or a white dress, it's a great choice.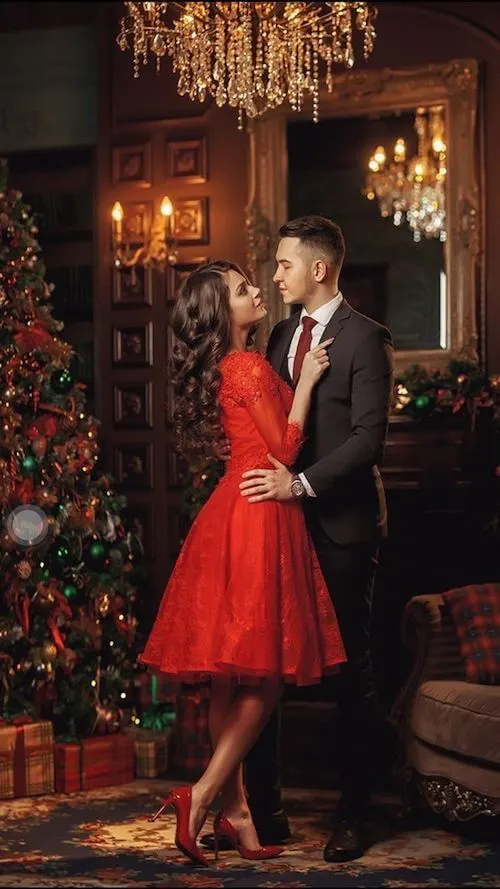 Traditional Christmas Decorations
Want to add more traditional Christmas style to your Christmas couple photos?
Turn traditional Christmas decorations into the perfect photo spot.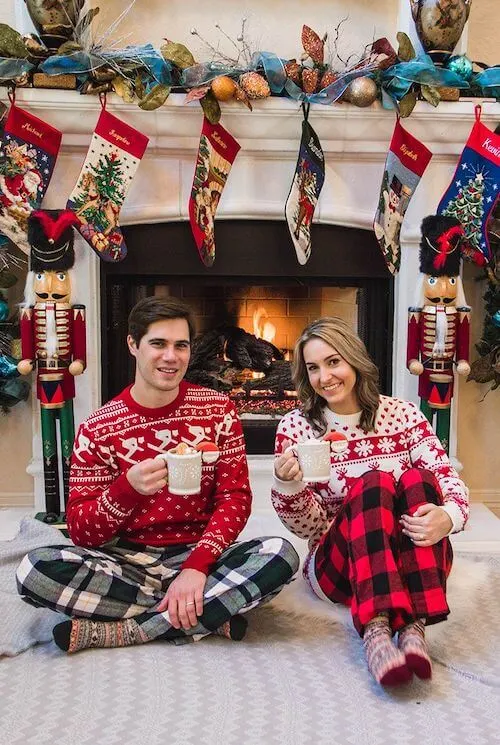 What To Wear To Christmas Couple Photoshoot?
Outfits in traditional Christmas colors and patterns
Includes traditional Christmas red, green and white outfits. You can also choose warm plaid clothing.
Ugly Christmas sweaters are also a great option. But if you want to wear them classy, ​​you need to wear them with a tight mini skirt or skinny jeans. These fitness ideas can make you look more fashionable.
Stylish winter accessories
For outdoor shoots, you can wear a stylish warm coat, leather jacket, puffer jacket. You can make your look more cute and stylish with cute winter accessories.
A selection of accessories that I especially recommend include long scarves, knitted hats, ear muffs, gloves.
You don't necessarily have to wear matching outfits
The most important thing for a perfect couple photo is that the colors of the outfits coordinate with each other.
So, you don't necessarily have to wear the exact same color or the exact same color outfit for your Christmas couple photo shoot.
You can wear matching color shades. That's also a good option.
And, if you choose a good color palette, it can also make your Christmas photos look unique and stylish.
Add a festive vibe to neutrals
Of course it's also great if you like neutral colors.
Clothing and holiday decorations in neutral colors often look elegant and stylish.
But for festive photos, you can add more festive details to your neutral style.
For example you can add a little bright red.
You can also add dreamy metallics like gold or silver, which are great addition for the holiday period.
This post was all about Christmas photography ideas for couples.
About The Author
Tracy is an experienced personal stylist, shopping expert, and fashion & lifestyle blogger. She has been featured on Time Magazine, Bustle, Best Life, Glam, The Zoe Report, Mic, and GOBankingRates, for her insights on fashion, beauty, home decor, and lifestyle. Read More
Related Posts: