Wondering what shoes to wear for an interview? Check this post for expert tips on how to choose the right shoes for your next job interview for men and women, what shoes not to wear to an interview, and the best styling tips for your next interview outfit.
Having to decide what shoes to wear for an interview can be a daunting task.
It's important to make the right choice, as your footwear says a lot about you and can help create a great first impression.
Depending on the type of job you are interviewing for, you may want to choose something professional yet stylish.
It's also essential that the shoes are comfortable and fit properly as you'll be spending quite a bit of time in them!
In this article, we'll be discussing what shoes to wear for an interview, how to choose them, and what to avoid.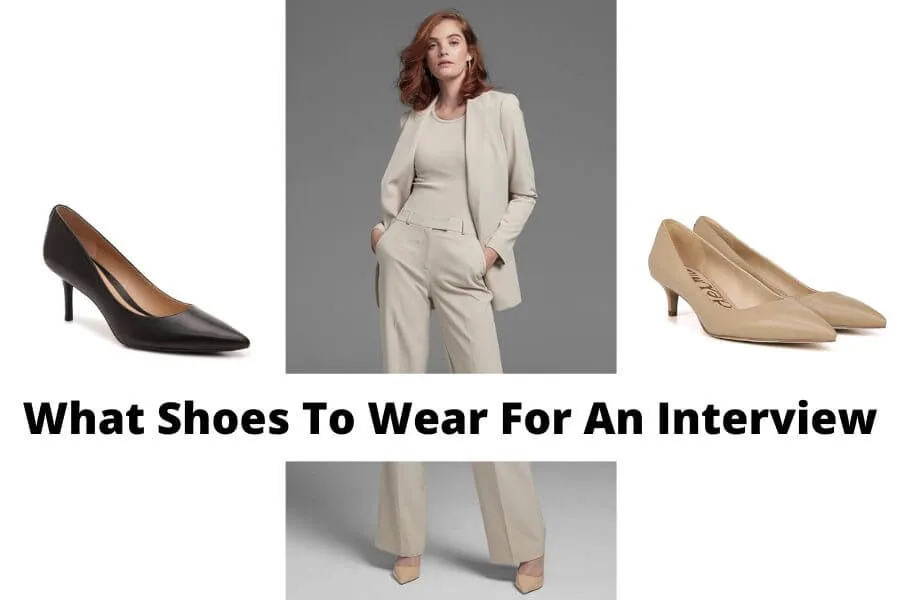 This post may contain affiliate links, which means I'll receive a commission if you purchase through my link, at no extra cost to you. Please read the full disclosure here.
This post is all about what shoes to wear for an interview.
Why is Your Choice of Shoes Important for a Job Interview?
The Impact of First Impressions
First impressions are crucial in a job interview, and what you wear on your feet plays a significant part in this.
Potential employers will take note of your overall appearance, including your shoes, when evaluating your professional demeanor and evaluating your fit for their company.
Showcasing Attention to Detail
Your choice of shoes goes beyond simply completing your outfit.
It shows the interviewer that you pay attention to detail and take the interview process seriously, highlighting your professionalism and can-do attitude.
Reflecting Professionalism
Wearing inappropriate shoes to an interview can reflect poorly on your professionalism and can even detract from your qualifications.
By wearing appropriate shoes, you're demonstrating your professionalism and aligning with the expectations of your potential employer.
What Types of Shoes are Appropriate for a Job Interview?
Benefits of Wearing Dress Shoes
Dress shoes are a classic option for job interviews as they offer a professional and polished look.
For men, oxfords and loafers are both excellent options.
Women can wear classic pumps, flats, or loafers. Choose shoes that are comfortable and match your interview attire.
Considerations for Women's Footwear
Women should choose shoes with a closed toe and a low heel.
Pumps or dressy flats are a great option, but make sure they are comfortable and match your outfit.
Avoid anything flashy or that will detract attention from you as a candidate.
Can You Wear Sandals or Open-Toed Shoes?
Sandals or open-toed shoes are not recommended for job interviews, even if the dress code is business casual.
While open-toed shoes can be a stylish choice, they don't provide the professional image that is appropriate for an interview.
What Shoes to Avoid Wearing to a Job Interview?
Sneakers or Athletic Shoes
Sneakers or athletic shoes are too casual and informal for an interview, regardless of the dress code.
These types of shoes are best left for leisure and off-duty activities.
Extremely High Heels or Stilettos
While high heels can be fashionable and professional, extremely high heels or stilettos may not be suitable for an interview.
These types of shoes can be distracting and may not be comfortable to wear throughout the interview process.
Personal Style Shoes
While showcasing your personal style is important, job interviews are not the time to experiment with bold or flashy footwear.
Stick to classic and simple shoes that align with the company's dress code and culture.
Can I Wear Strappy Sandals To An Interview?
Strappy sandals can be very versatile and stylish, but they are not always the best option when it comes to interviews.
In general, closed-toe shoes with a low or medium heel are considered more professional and appropriate for interviews.
However, this depends on the type of company you're interviewing with and their dress code.
If you're applying for a creative role in a relaxed office environment, strappy sandals may be more acceptable than if you were applying for a corporate job.
It's important to research the company culture beforehand so that you can make an informed decision about your footwear choice.
In conclusion, while strappy sandals may seem like a great option for summer interviews or warm weather days, it's best to err on the side of caution by choosing closed-toe shoes with lower heels instead.
However, if you do decide to wear strappy sandals make sure they are clean, well-maintained, and fit within the company culture before stepping out for your interview.
The Best Shoes To Wear To An Interview
What shoes should women wear to a job interview?
Choosing the right pair of shoes for a job interview is crucial because it can make or break your first impression.
Women should keep in mind that shoes play an important role in their overall appearance and outfit, so it's essential to choose wisely.
Opt for closed-toe shoes as they look more formal and professional than open-toe ones, especially during interviews.
For women who are not used to wearing high heels, opt for low or mid-height heels instead.
Comfortable yet stylish shoes like loafers or ballet flats can also be worn, but make sure they match your outfit and give you a polished look.
Avoid sandals or flip-flops unless you're interviewing for a position at the beach.
Most importantly, always ensure that your shoes are clean and well-maintained before stepping out for an interview.
A little bit of polishing goes a long way when it comes to making a good first impression on potential employers.
Remember that dressing appropriately shows respect towards the interviewer and the company you're interviewing with.
Interview Shoes For Women
Check out our favorite interview shoes for women below:

What shoes should men wear to job interviews?
When it comes to job interviews, men should pay attention to every detail of their outfit, including their shoes.
The right pair of shoes can help convey professionalism and make a great first impression on the interviewer.
A good rule of thumb is to choose dress shoes that are clean, polished, and in good condition.
Avoid wearing sneakers or any type of casual footwear as they give off the wrong impression.
One classic option for men's interview shoes is black leather lace-up oxfords.
They are versatile enough to wear with different types of suits and convey a sense of formality and respectability.
Another choice that can work well is brown leather loafers which offer a bit more personality while still looking professional.
However, regardless of what you choose, always ensure your shoes match your belt color for a polished appearance.
Shoes For Interviews For Men
Check out our favorite interview shoes for men below:

How to Choose the Right Shoes for a Job Interview?
Research the Company and Dress Code
Before choosing what shoes to wear for an interview, research the company culture and dress code.
This research can give insight into the appropriate attire for the interview and help determine the style and color of shoes to wear.
Match Your Shoes to Your Outfit
Your shoes should match your interview outfit. Black and brown are classic colors to choose from, but make sure to match your shoes with your attire.
Choose shoes that complement your outfit and accentuate your professionalism.
Comfort is Key
Comfort is key when it comes to selecting shoes for a job interview.
You will be on your feet for several hours, and the last thing you need is to be distracted by uncomfortable shoes.
Opt for cushioned insoles, and make sure your shoes fit correctly.
How to Choose Shoes For Business Casual Office Dress Code Interview?
Choosing the right shoes for a business casual office dress code interview is crucial.
You must ensure that your footwear complements your attire and leaves an everlasting impression on the interviewer.
The first thing to remember is that you should opt for closed-toe shoes rather than open-toe sandals or flip-flops.
Avoid wearing sneakers, running shoes, or any other athletic footwear as they don't give off a professional look.
When selecting shoes for a business casual office dress code interview, aim for comfortable yet stylish pairs.
Classic pumps with low heels are always a safe option as they offer both comfort and elegance.
Loafers or ballet flats are another great option that offers comfort without compromising on style.
If you want to add some personality to your outfit, you can choose a pair of ankle boots with low heels in neutral colors such as black or brown.
More Tips For Interview Attires
Can I Wear A Dress for An Interview?
A dress can certainly be worn for an interview but it depends on various factors such as the industry, company culture and position you have applied for.
If you are interviewing for a more formal or corporate job role such as in finance or law, it's ideal to wear a suit with closed-toe pumps rather than sporting a dress paired with sandals.
In contrast, creative industries like advertising or fashion may allow more flexibility in terms of attire where wearing a nice dress with heels can be appropriate.
When selecting shoes for your interview outfit, keep in mind that they should complement your overall look and make you feel confident.
Opting for classic styles like pumps or loafers in neutral colors would be safe choices that won't distract from your qualifications and professionalism during the interview process.
Can I Wear Jeans For An Interview?
The answer to this question really depends on the company culture and industry.
In general, it's best to err on the side of caution and avoid wearing jeans unless you know for sure that they are acceptable.
If you do decide to wear jeans for an interview, make sure they are clean, free of holes or tears, and fit well.
Pair them with a dress shirt or blouse and dress shoes rather than sneakers or sandals.
Remember that your appearance plays a big role in how you are perceived by potential employers, so choose your outfit carefully.
When it comes to shoes for an interview to pair with your jeans, opt for something classic and polished like loafers or pumps.
Avoid anything too trendy or casual like flip-flops or sneakers. Your shoes should be clean and in good condition as well.
By paying attention to these details, you'll show that you take the interview seriously and are prepared to put your best foot forward – literally!
When Should You Wear Formal Business Attire to Your Interview?
When it comes to selecting the perfect pair of shoes for your interview, consider the formality of the occasion and what type of job you're applying for.
For formal business interviews, opt for closed-toe dress shoes in neutral colors such as black or brown.
This shows that you take the opportunity seriously and understand the importance of presenting yourself professionally.
Avoid any shoes that are too flashy or trendy as they can be distracting and take away from your qualifications.
In more casual business settings, such as a startup company or creative industry, you may have more leeway with shoe choices.
However, it's still important to choose something polished and put-together.
Consider loafers or sleek boots instead of sneakers or sandals to show that you can balance comfort with professionalism.
Final Thoughts on Shoe Choices for a Job Interview
It is Better to be Overdressed than Underdressed
When it comes to selecting interview attire, it is better to be overdressed than underdressed.
It's better to be remembered for being overdressed than underdressed, as it demonstrates your professionalism and respect for the interview process.
Shoes are Only One Part of Your Overall Appearance
Remember that shoes are only one part of your overall appearance for your interview.
You need to present yourself professionally, from head to toe, and have confidence in your abilities.
Dress for Success and Boost Your Confidence
By wearing the appropriate shoes for your interview, you will have one less thing to worry about, allowing you to focus on presenting yourself and your qualifications in the best possible light.
Dress for success, and go into your interview with confidence.
This post was all about what shoes to wear for an interview.
About The Author
Tracy is an experienced personal stylist, shopping expert, and fashion & lifestyle blogger. She has been featured on Time Magazine, Bustle, Best Life, Glam, The Zoe Report, Mic, and GOBankingRates, for her insights on fashion, beauty, home decor, and lifestyle. Read More
Related Posts: