Looking for the best couple photoshoot outfit ideas? Check this post for the expert style tips and the 45+ best outfits for your upcoming photo shoot.
Whether it's for engagement photos, couple photoshoot during the holidays, or a casual couple photoshoot, a couple photoshoot is a great way and a great opportunity to spice up your relationship.
If you are looking for the best engagement outfit guide and the best couple photo outfits, you've come to the right place.
In today's blog post, I've got the best couple photoshoot outfit inspiration ideas for you! From casual to formal, we have the best styles for everyone.
So scroll down to check these ideas and don't hesitate to share them on social media sites.
This post may contain affiliate links, which means I'll receive a commission if you purchase through my link, at no extra cost to you. Please read the full disclosure here.
This post is all about couple photoshoot outfit ideas.
Top Tips For Choosing Couple Photoshoot Outfits
Consider the season, location, time of day
This the first thing you need to do. Whether or not it is a location you are familiar with, work with your professional photographer in advance to find out more information about the location.
For example, if it is difficult to walk and you need to prepare spare shoes that are more convenient for walking.
Or, if there are any colors in the venue that stand out and you specifically want to show in your photos, then you should not form a conflict with the venue environment when choosing your outfit.
Additionally, golden hour is usually considered a better time to shoot by a lot of couples, but your clothes colors may look differently during the golden hours, so spend quality time thinking carefully.
Try different outfits before the photoshoot
Before the shoot, try more different outfits, and also try to match these outfits with your makeup trial and hair.
In particular, you should seek more advice from your professional hair stylist, makeup artist, photographer, and ask them if the outfit you want to choose matches with your hair and makeup.
And don't forget to try your accessories, including gold jewelry pieces, hats, bags, scarves, or any other accessories you want to show your personal style.
Avoid same designs
The most common mistake is that many couples choose to wear exactly the same designs.
However, this idea is too simple, and it is difficult to have a sense of fashion, and, it is somewhat childish.
It does not have to be exactly the same! But you can wear the same color scheme
The use of the similar color with the clothing is easy to follow, but is one best way to raise the sense of fashion.
For example, denim blue. You two can use different shades of denim color to match, the effect will be more distinctive.
Add small details
Further, instead of wearing the same color, instead of wearing contrasting colors, you can take great couple photos naturally by just adding some small details.
For example, the woman's skirt color is paired with the man's pants. Or two people wearing similar colors inside their outerwear. But for other places choose different colors or styles.
Choose easy and comfortable clothing and shoes
You will most likely be changing locations for your photo shoot, so wear clothes that you are comfortable with will allow you to relax and look your best.
Consider the love story the photo tells
For example, if you choose a venue that is full of memories of your date, then choosing an outfit that is very meaningful to both of you may make the photo not only beautiful, but also very storytelling.
Choose women's clothing first
This is one best tip I always highly recommend in selecting family outfits and couple outfits.
Let's be honest, women have a wider range of clothing options. So, the good news is that you can choose your favorite outfits first. In particular, choose clothing with romantic details and flowy designs so as to fully present the sweet and romantic atmosphere of the couple photo.
Then, according to the color of your clothing and the shooting environment, choose male clothing to make up for the color or echo, so it looks great.
So scroll down to the ideas we picked for more inspiration.
Spring Engagement Photo Outfit Ideas
If you are planning a photoshoot with your partner, dress up a little bit! You can still feel comfortable while looking cute at the same time.
The easiest way is to add cute accessories to level up your look immediately. A lovely hat, pretty strappy sandals, or a pair of booties are all great choices to bring more fashion interests and personal style to your photos!
Simple White Shirts And Jeans
A simple shirt is actually a great option to match your partner's outfit and make the photo chic at the same time. Add a cute hat for richer outfit details.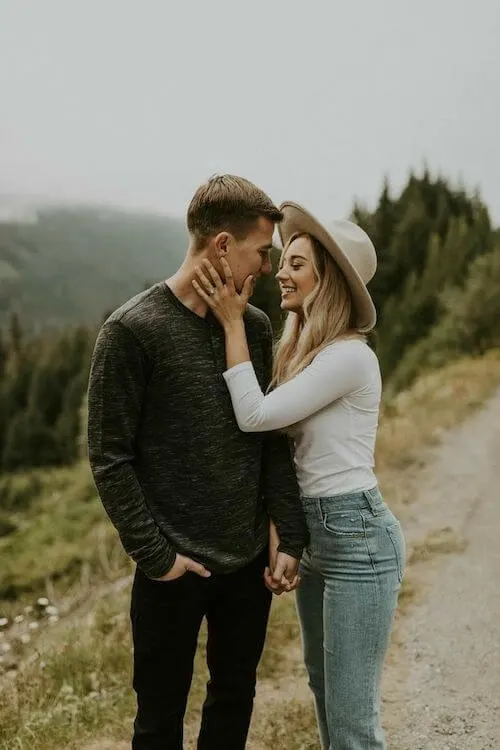 Denim Couple
This is a cute outfit ideas for couples with the right matching balance and perfect changes. I love the ideas wearing same color shirts and denim jackets, but different color booties to make the look fun.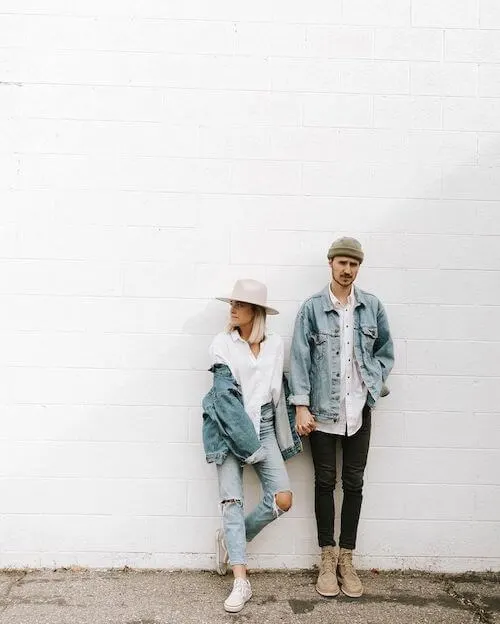 Floral Maxi Dress And Blue Jeans
Floral maxi dresses are perfect for a spring engagement shoot. Choose your favorite one to make you stunning with the pretty spring background.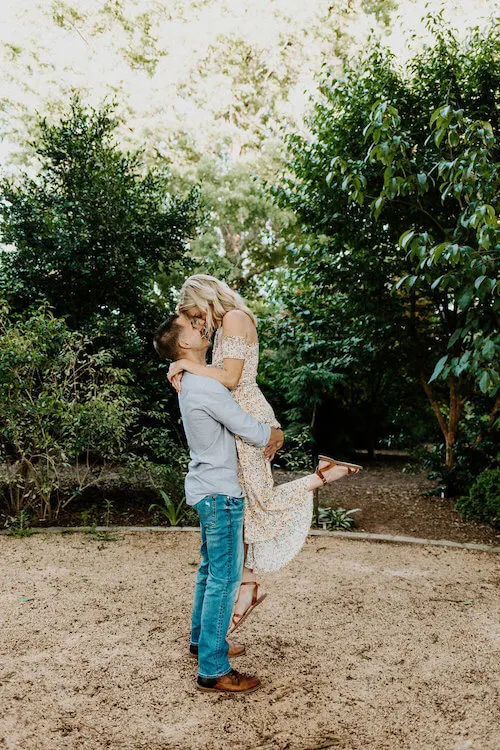 Feminine Top And Shirt
Leaving all the details to the woman's outfit will make the photo outfit choice so much easier. Yes, choose your outfit first!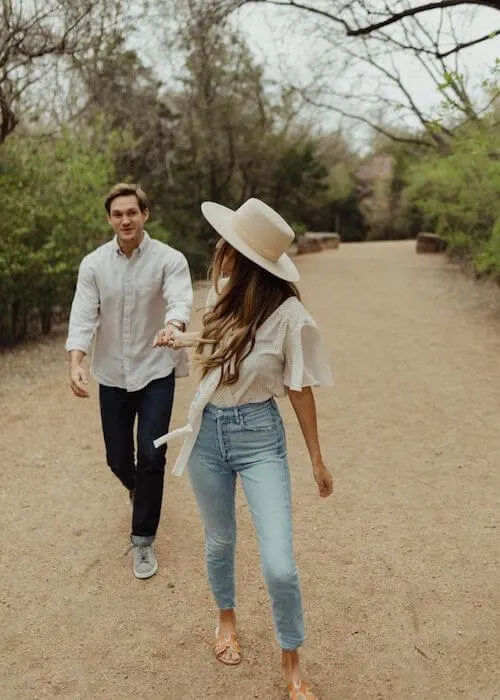 Plaid And Overalls
A cute and comfortable outfit for a sweet couple photo shoot.
Couple Engagement Outfits For Summer Session
Off-Shoulder Top + Floral Skirt
The combo of an off shoulder top and a floral skirt is one perfect outfit for females in spring summer sessions.
Wear comfortable shoes for your photo sessions to make it so much easier to be yourself in front of the camera.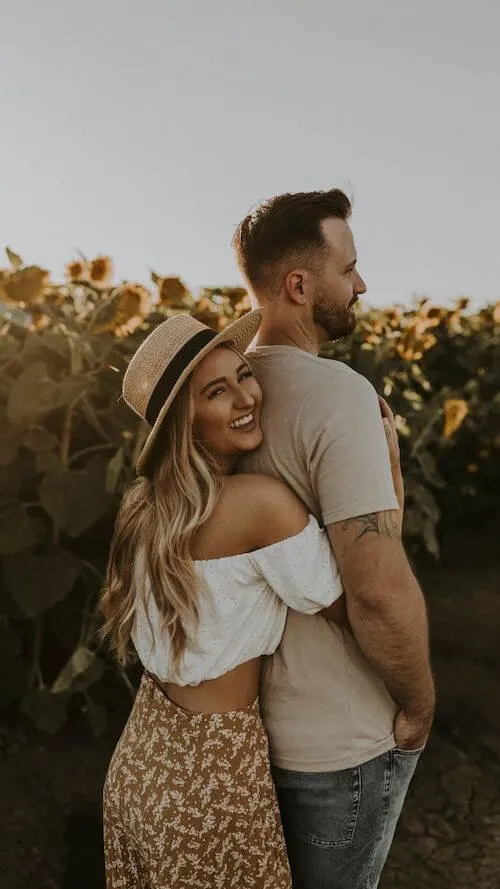 Tees And Denim
A easy to copy outfit idea, right? The key is adding accessories including a hat and a watch to make you both in style.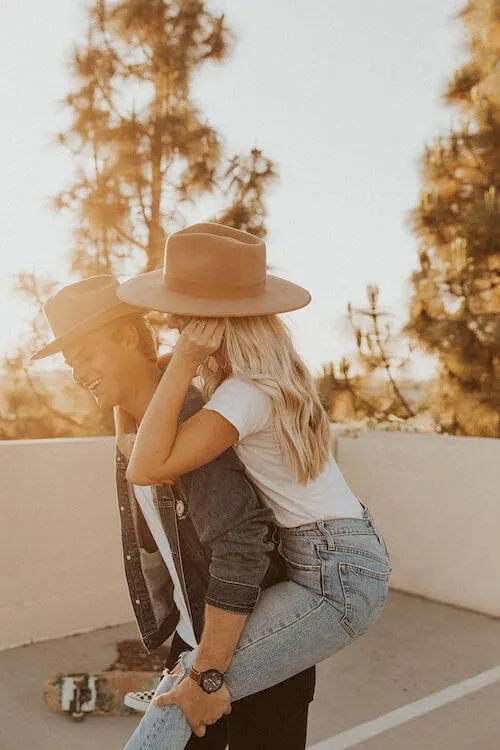 via Pinterest
A Casual Dress And Shades Of Neutral Colors
Neutral colors will never be wrong and will be instyle for a long time. Wearing a casual dress with lovely details to bring your style to the next level.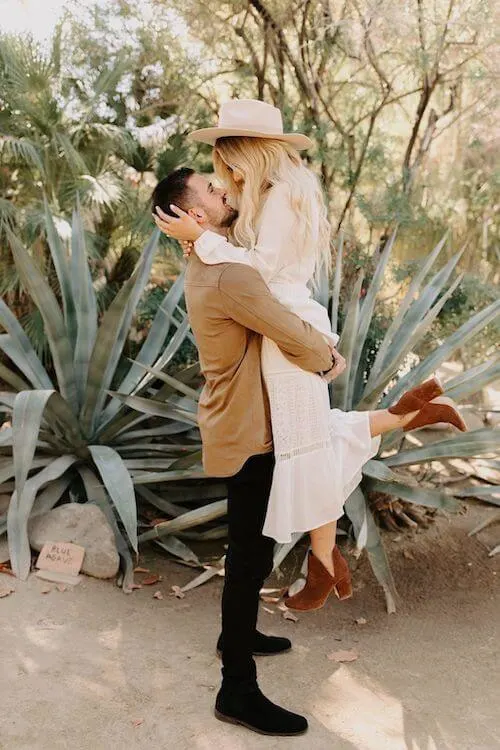 Feminine Blouse And Jeans
A feminine blouse and a pair of skinny jeans is a great combo suitable for almost any body shape.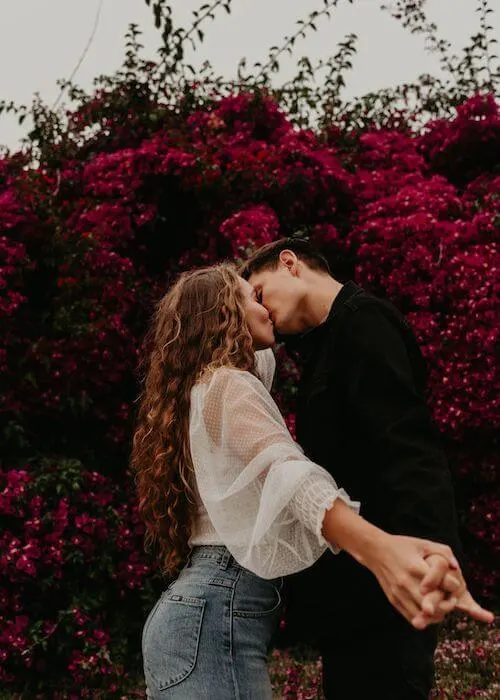 Stunning Formal Outfits
Love formal style? Try it! Instead popular white dresses, try bold and stylish designs for your engagement photo session. A stunning maxi dress with pretty prints is a great way to impress your significant other again!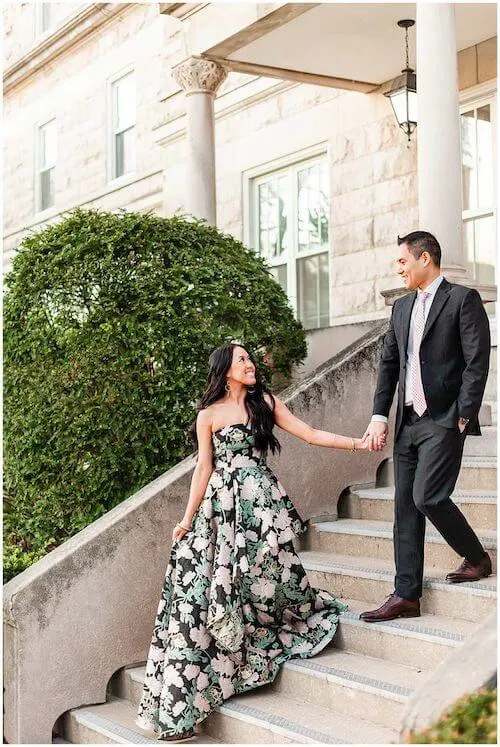 Blue As The Main Color
If your shooting area doesn't have a clean background, keep your outfit colors to a minimum.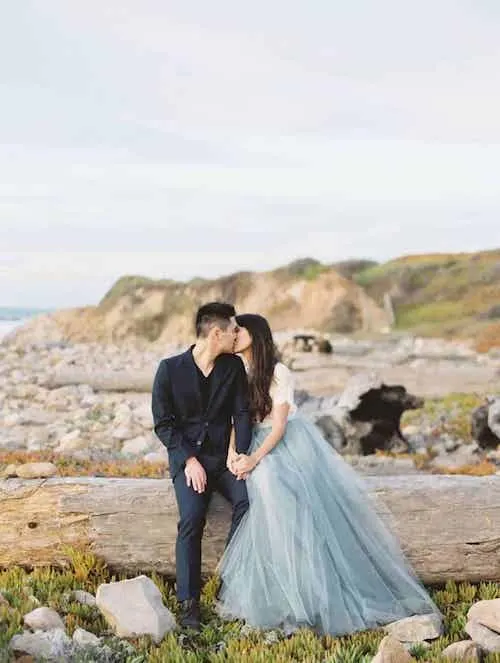 Shades Of Blue
Shade of blue is a right outfit idea for couple sessions. They look perfect for anytime during your shooting day.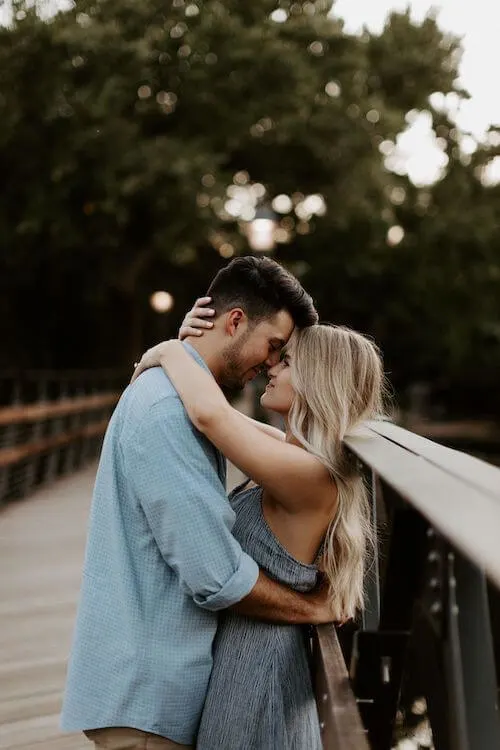 Red, White And Denim Blue
In the late summer, I suggest add more darker colors like red to your couple outfits. They look stunning in the field.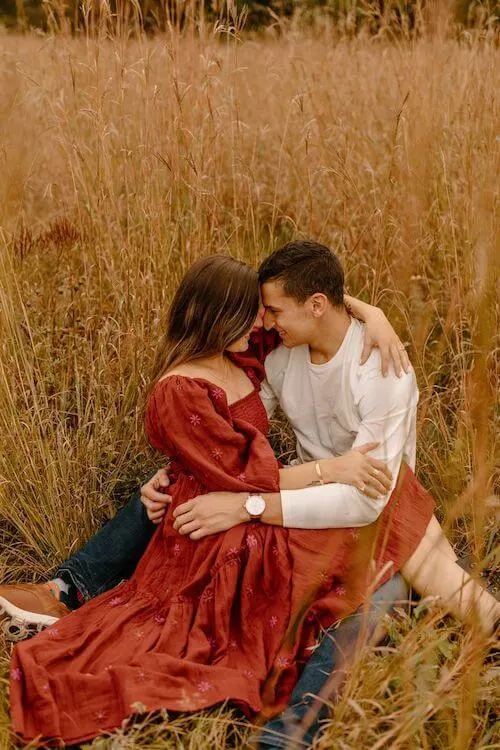 Floral Dress And Button Down Shirt
Choose your best dress for your photos.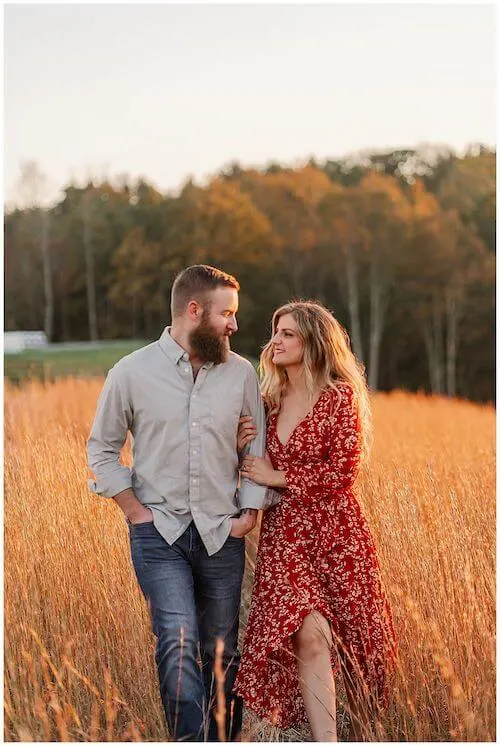 Couple Style Tips For Beach Photoshoot
Burnt Orange And Muted Blue
For a beach couple session, let the woman wearing bolder colors and prints will make the whole outfit choices so much easier. And you both look stylish.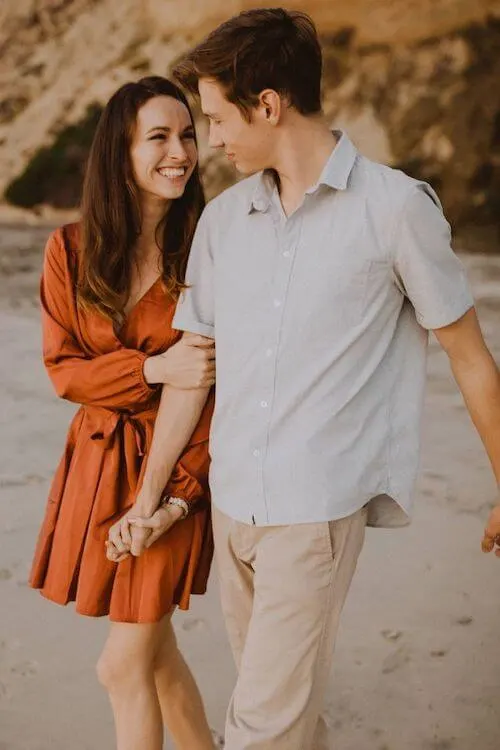 Red Dress And Muted Olive Green
This is a lovely color scheme. You can change the red dress to a yellow one and it still looks amazing.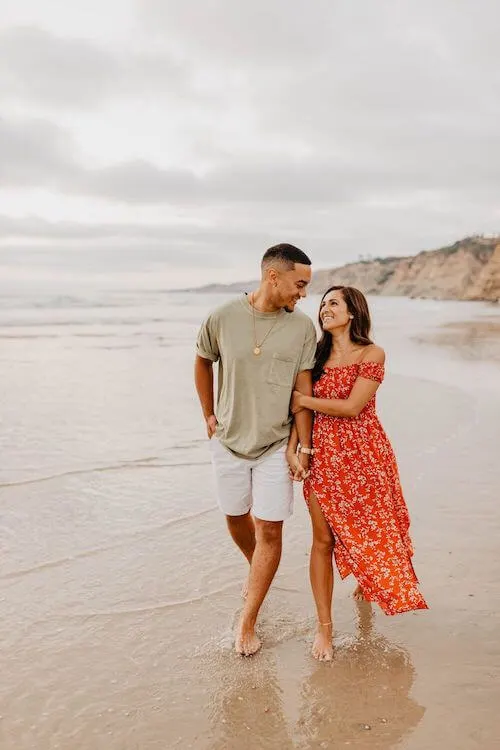 White, Beige And Denim Blue
This is a color scheme that will never be wrong. Want to make it better? Add a hat for the woman or man.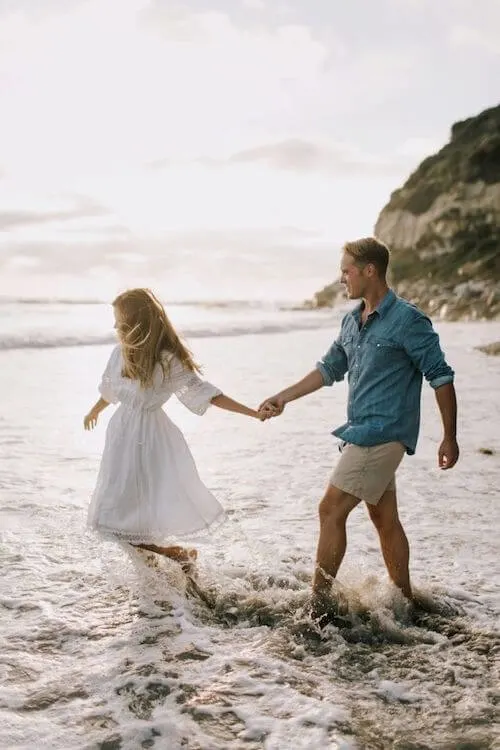 White Solid Color And Stripes
One of the best engagement photo outfits at beach. We love all the vacation vibes of the outfits, and how great color palette is.
Exposing some areas of skin will make you more stylish.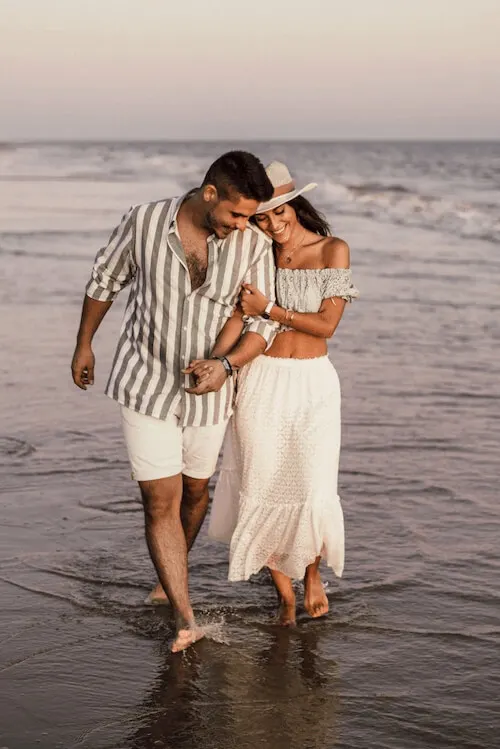 Fall Couple Session Photoshoot Outfit Ideas
Fall is a perfect time for couple photoshooting.
Stick To Solid Colors
When it comes to fall couple session, a strong solid color scheme will never be wrong.
The outfit idea below is creative, in which it makes the woman wear dark colors and makes the man wear a light color outfit.
But it isn't dull at all. Why? Because the female cleverly wears a cute hat! So again, trying some cute accessories to make your outfits different.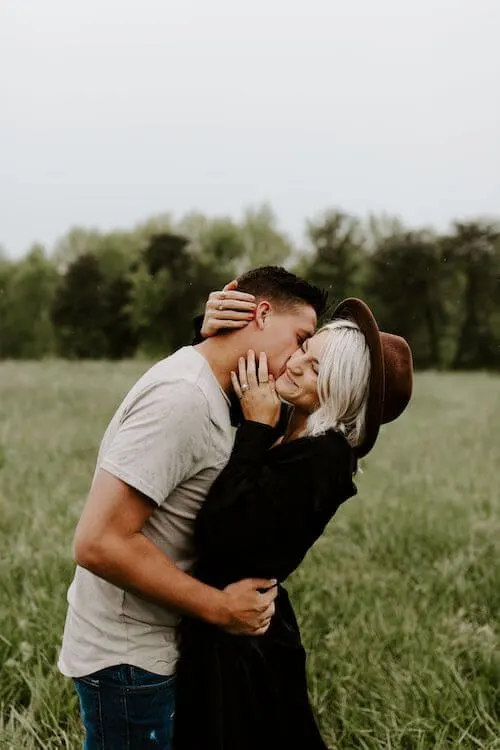 A Pop Of Color
Again, the hat worn by the woman make their outfits match so well in a chic way!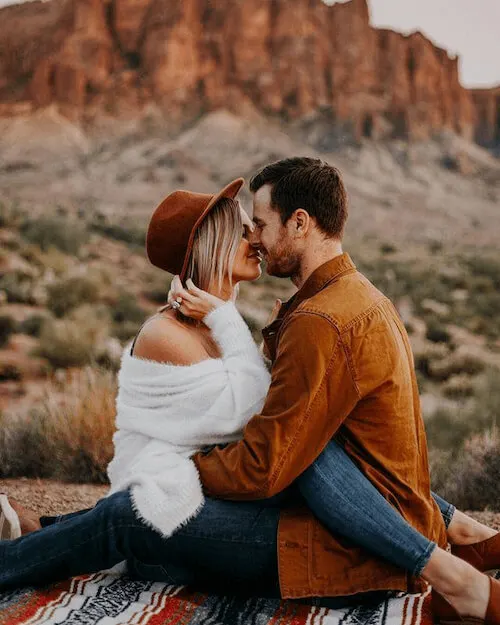 Lovely Maxi Skirt For A Personal Style
Dresses are always fantastic, but another good option for women is a cute top and a skirt. Choose the skirt with the same color prints of the other pieces you are wearing.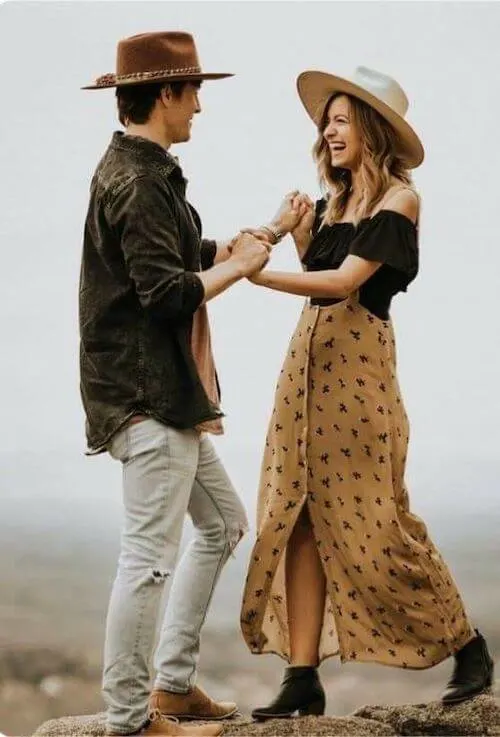 Neutral Color Scheme
This is a perfect couple photoshoot outfit idea with neutral color scheme.
I have been asked a lot, "Why is it that my neutral-colored clothing just looks boring or uninspiring when I take pictures?"
The reason why neutral colored outfits don't look good when photographed is that you may not be adding the right amount of detail and layering to your outfits.
The easiest way to do this is to have a difference in intensity in the same person's outfits, even if they are all neutrals. For example, the lady in this photo, her boots are slightly darker than her hat and skirt, which makes her outfit look more lovely.
Another great example is that her outfit has an appropriate degree of skin exposure, the whole picture looks breathable, and the character looks much younger and lighter. This is also a great way to make your outfits in neutral colors look more fashionable immediately.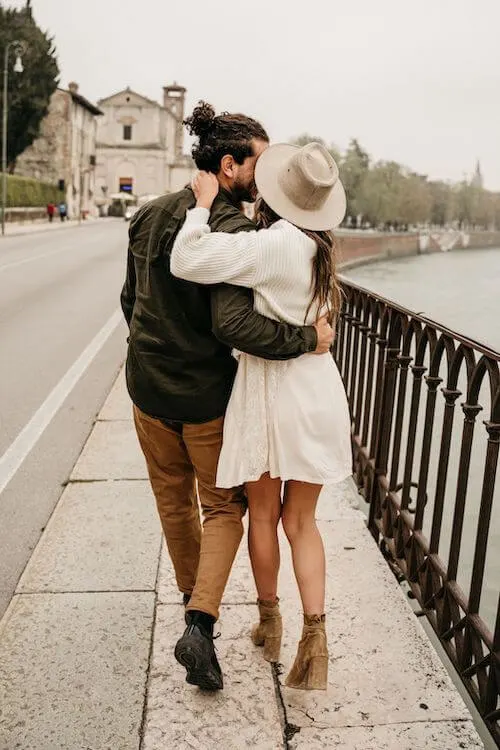 Beautiful Plaids And Burnt Orange
This is a great photo full of fall colors. The white top perfectly adds a pop of color to the whole look.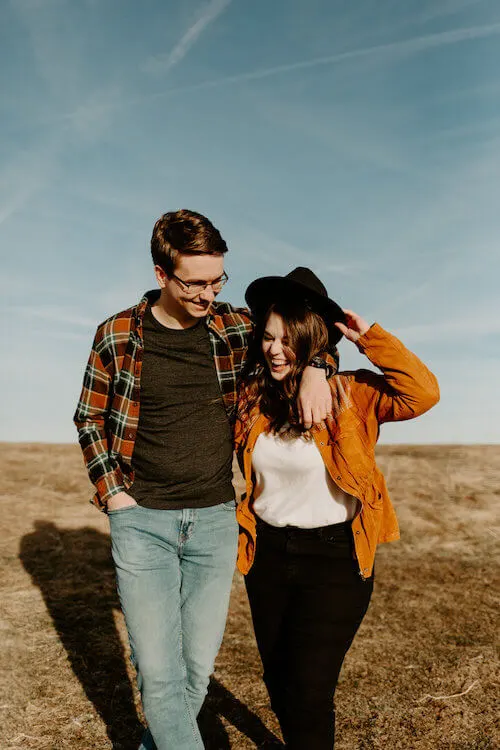 All Black Outfits
Can you try all black style? Yes. But please choose a lighter color scene for your photos.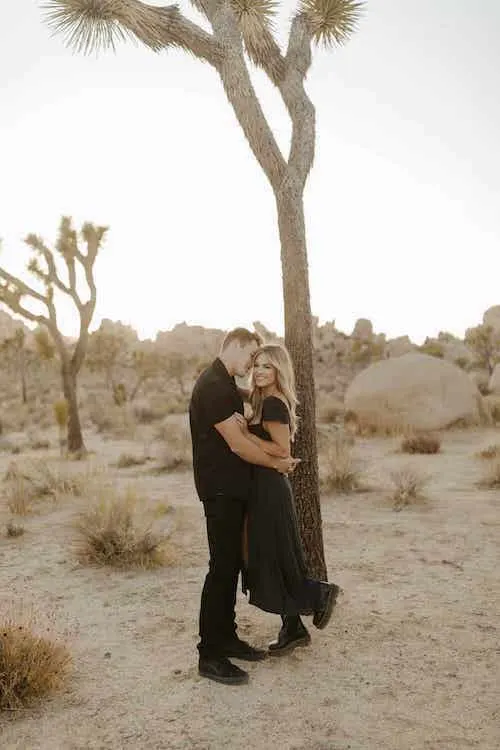 Pumpkin Color Dress And All Denim
This is a beautiful outfit idea but so easy to copy.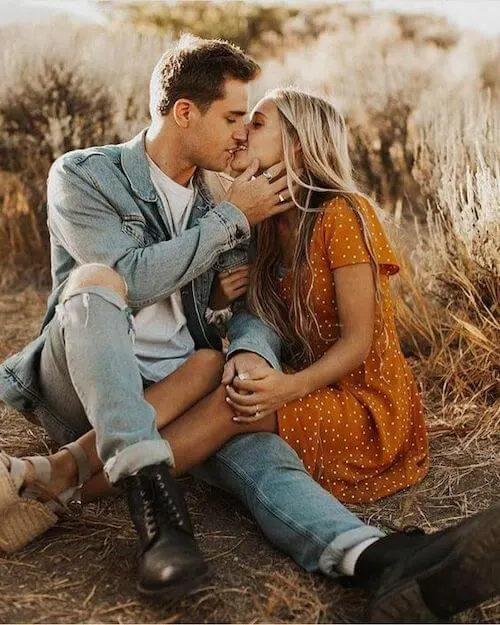 For A Retro Style
If you are looking for a retro country style couple outfit, here is a great choice.
The belt worn by the woman perfectly matches the man's jacket. What a brilliant idea!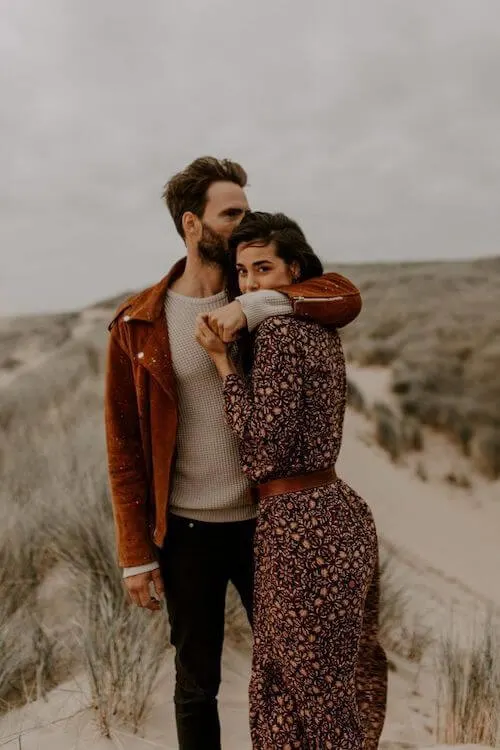 Chic Black And White Look
I love the black and white look. And I suggest a great red stick to make you look better.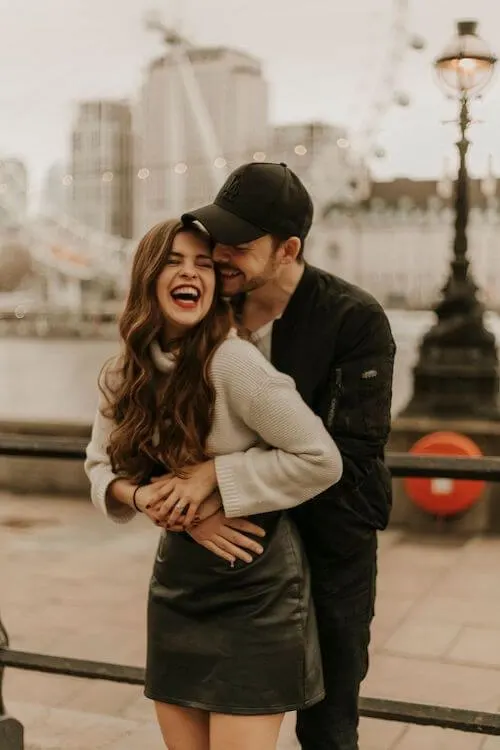 via Pinterest
Denim And Denim
The mountain is a great place to take your engagement photos. And the denim couple idea level up your upcoming engagement session style!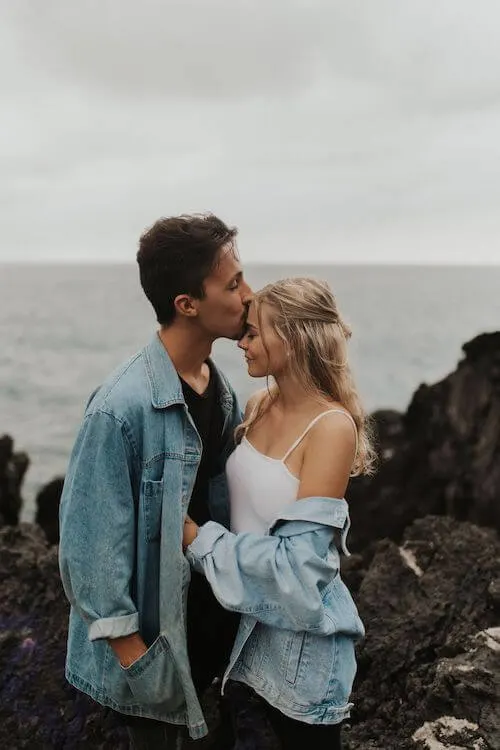 Winter Engagement Session Couple Outfit Ideas
The Plaid Shawl
A warm shawl is a great idea for cold winter photos! Not only does it help keep you warm, but it also makes it easy to turn your original outfit into a completely different outfit.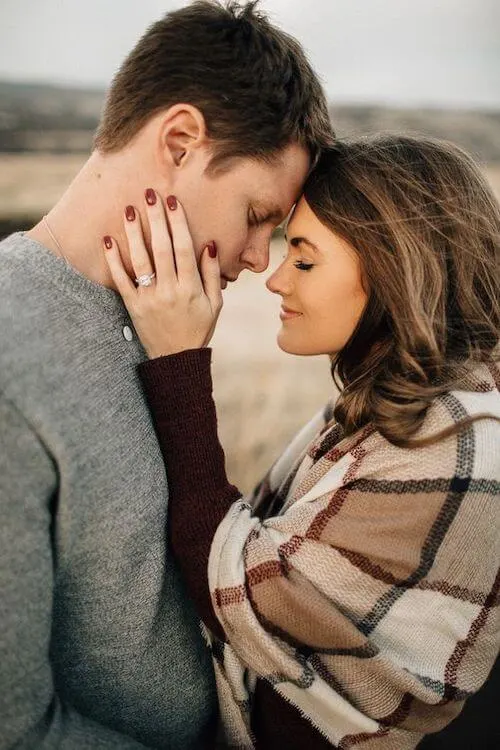 Sweater And Shearling Fur
In winter, you will usually wear more pieces, so you need to pay attention to the layering of both of your outfits.
Remember to choose the same or similar color outfits in at least one of them, so that you can avoid a cluttered feeling in your photos.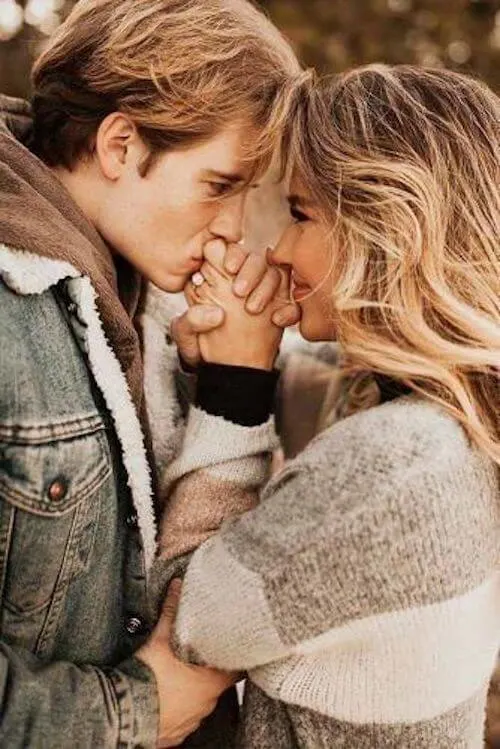 The Lovely Bright Red
Want to break the cold and dull feeling of winter photos? Add a bit of bright and warm colors.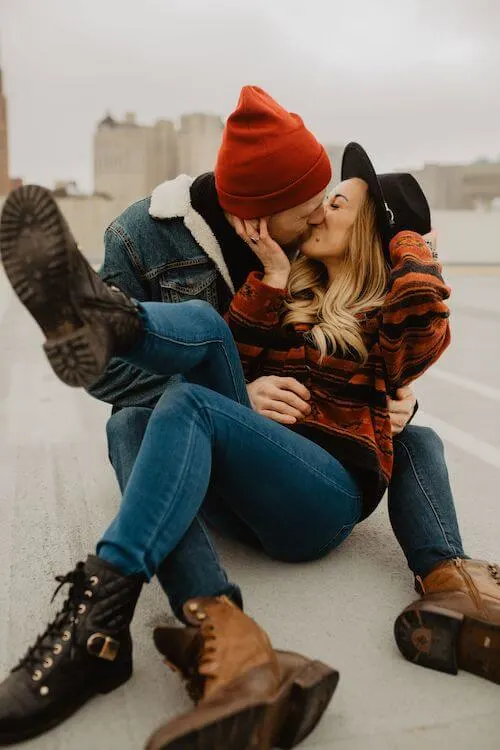 Small Areas Matching Pops Of Color
The clothes worn inside use similar warm colors to not only make both of your outfits look perfect, but also to make the picture much cozier.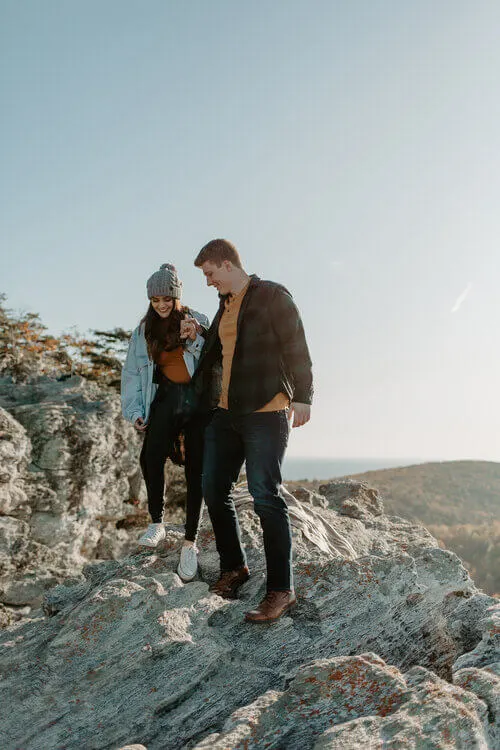 Tan And Light Wash Denim
A simple high quality sweater is one easiest way to provide you with a chic look.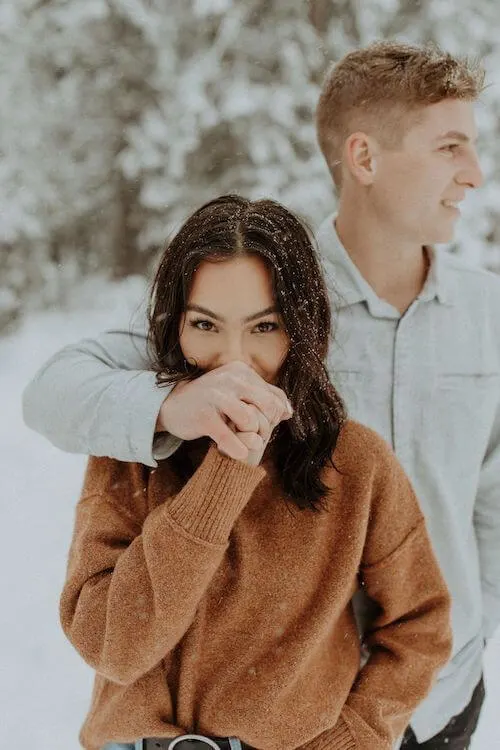 Couple Outfits For Indoor At Home Session
The couple indoor session is more and more popular now. We suggest wearing your most comfortable outfits for a casual look in your sweet home.
If you are looking for more inspiration ideas, check the below tips.
The All White Overall Look
This is a very fresh and sweet look, so pay attention to the use of different materials of pieces, which can enrich the image of the hierarchy, showing very fashionable taste.
via Pinterest
Cardigan And Denim Shorts
If you are taking pictures at home, be sure to dress casually and show off your sexiness and have a good time.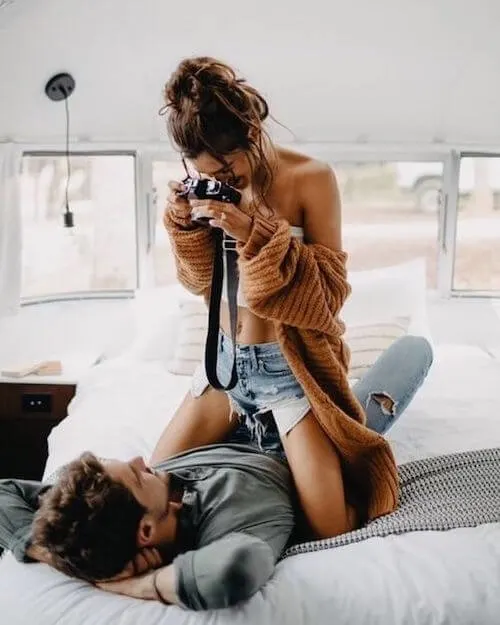 Sexy Black Top
Ripped jeans are not only suitable for outdoor but also perfect for indoor photos. Use them with your sexy cropped tops to show off your stunning figure. It is a good choice for any body type.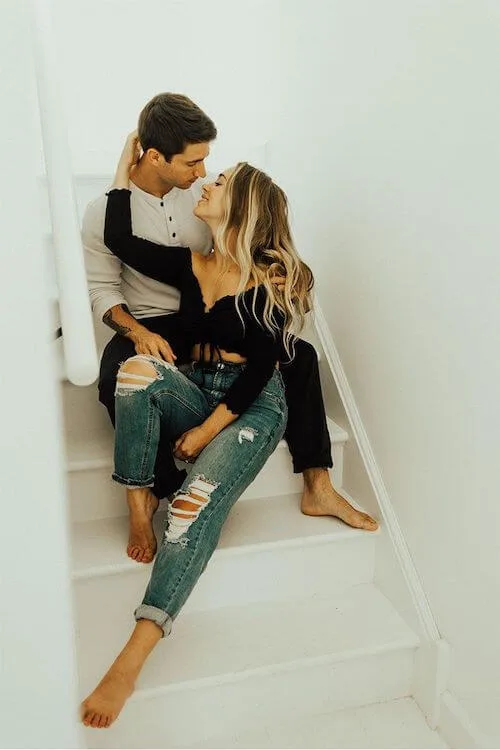 Washed Blue Jeans
This is a fun way to take amazing couple photos with a unique style!
Wear denim material and white color match to show the fresh fashion sense. Remember to keep the background clean and simple to add to the freshness of the image.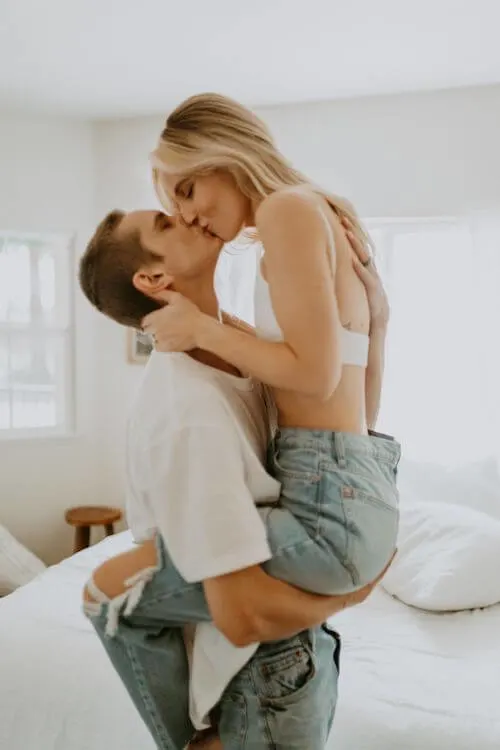 via Pinterest
Classy Formal Look
If your home decor style is more elegant and retro, then this style of outfits will be more suitable for you to have a classic feel.
This look very well balances the formal style and the relaxed feeling at home, the secret is that man do not wear ties, in addition the woman choose a pair of white shoes with a slight sense of ease, also adding fashion sense to the photo.
Compared to the common high heels or strappy sandals, this pair of shoes feature simple color blocks and proper skin exposure, adding a sense of breathing to the style.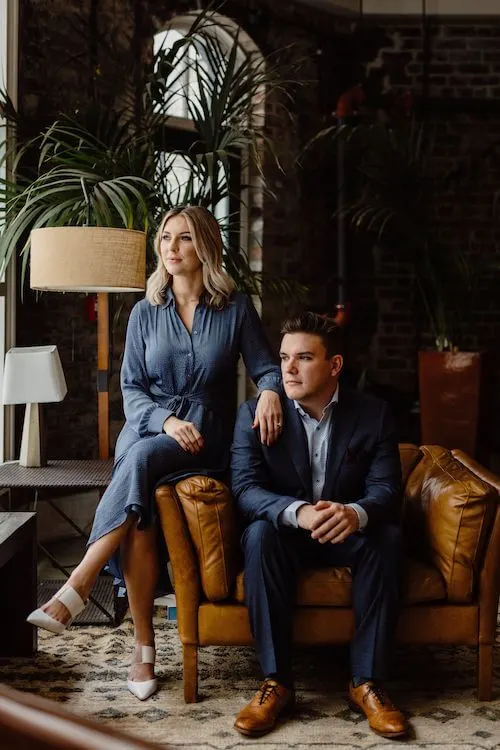 via Pinterest
The Outfits That You Are Comfortable In
If the light in the room is right, it is a good way to try your most comfortable costumes at home. This will enable you to get the most lovely poses and photos in the most relaxed state and without thinking about it.
Light-colored, muted color clothing is most suitable.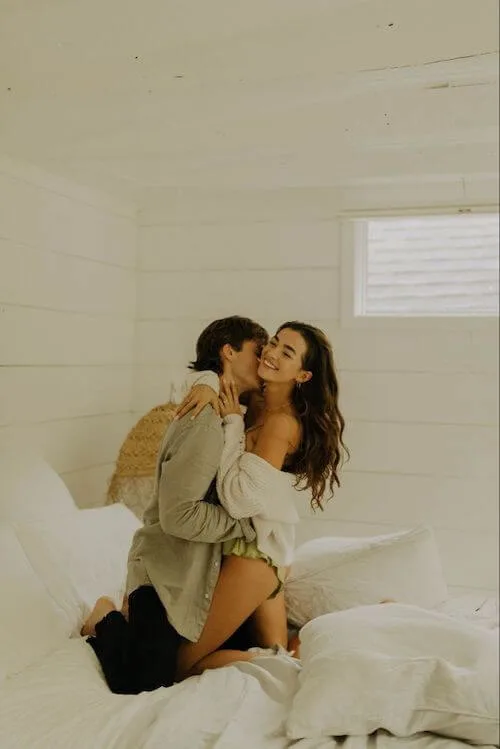 Matching White Jeans
This is a very good photo. First of all, the two people's tops and the wall decorations very cleverly echo each other, adding to the warmth of the picture.
In addition, the white pants are not only MATCHING, but also make outfits look expensive.
The important thing to note here is that if you choose white pants, it is best to choose a thicker and less wrinkled material, such as white jeans, which will make your outfits look more chic and not sloppy.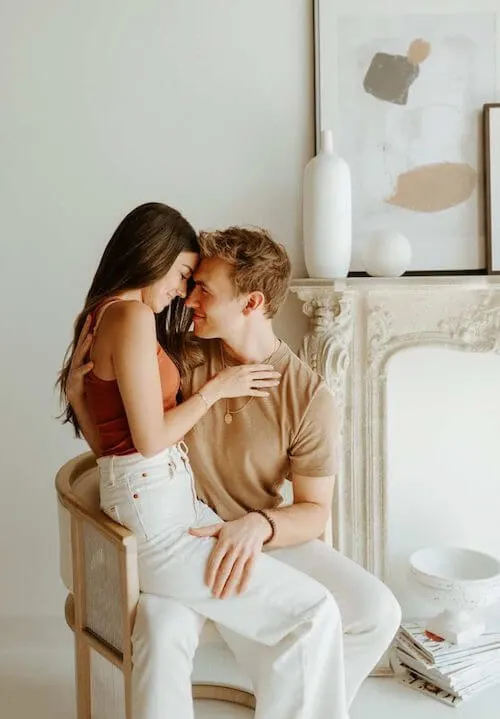 Unique Couple Shoots Outfit Ideas
In addition to the gorgeous scenery of the beach, fields, or at home, shooting in the city is also very popular.
Taking your photos with your loved one on the spots of your first date, first kiss, or other favorite spots will be a wonderful memory.
So how do you choose the best Outfits to take these photos? A few of our favorite ideas are given below.
The Suit Couple
These two white and beige suits are the most suitable for the background elegant environment.
White and beige, with similar and slightly different looks and shades, show a wonderful sense of detail.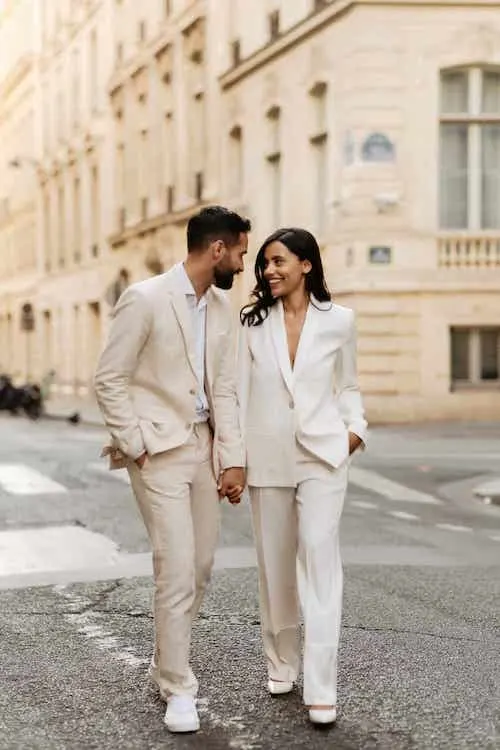 Cute Red Tee And Denim Jacket
When choosing clothing, you can also study the environment in which you will be shooting what colors and patterns you want to highlight, and then you can choose the same color or pattern of clothing to match.
For example, in the photo below, the red in the environment is bright and pleasant, and the man is wearing a similar colored top to blend in perfectly with the environment.
And red and blue is the most suitable with the color, so letting the woman wearing denim blue will form the most perfect photo!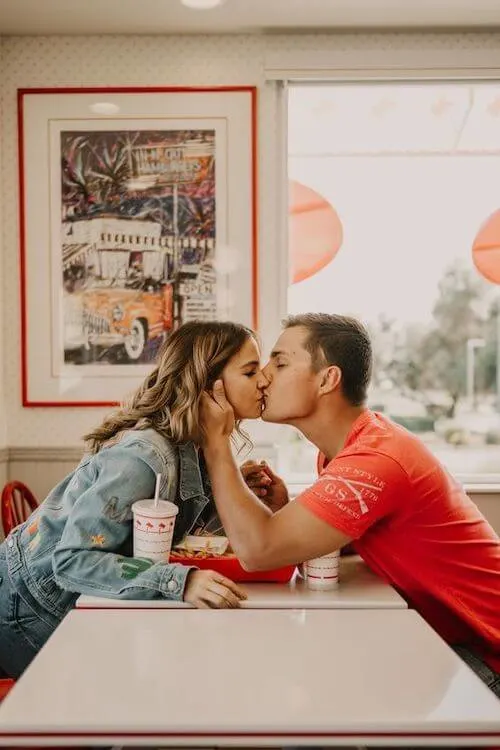 Elegant Dress And All Black
If your shooting environment is clean in color, but may not have any high-end decorations, then how to make the photos look premium?
A practical tip is for you to choose clothing styles that are simple in cut and at the same time with solid colors.
For example, the lady below is wearing a dress with a very classic style. The skirt's perfect waistline design makes the woman look elegant and charming. The men's outfit is casual, but because it's an all black look, it looks expensive and chic.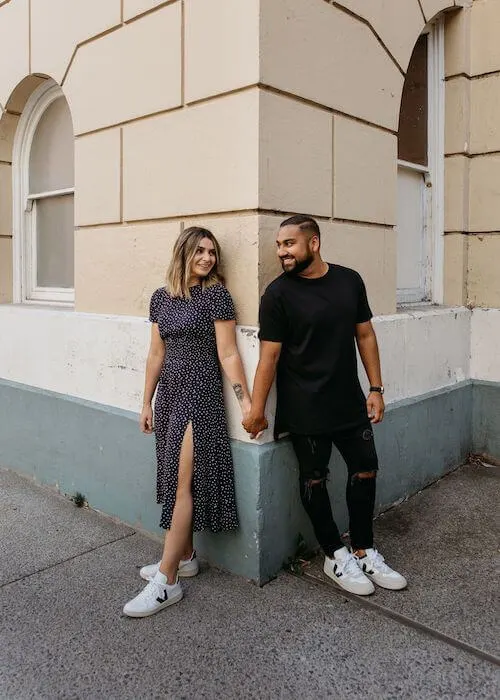 Black Crop Top And Hat
The black clothing pieces are really easy to look expensive. But in order to make the picture look not dull, remember to have a certain degree of skin exposure, especially for women.
Also use accessories such as hats to add a sense of fashion.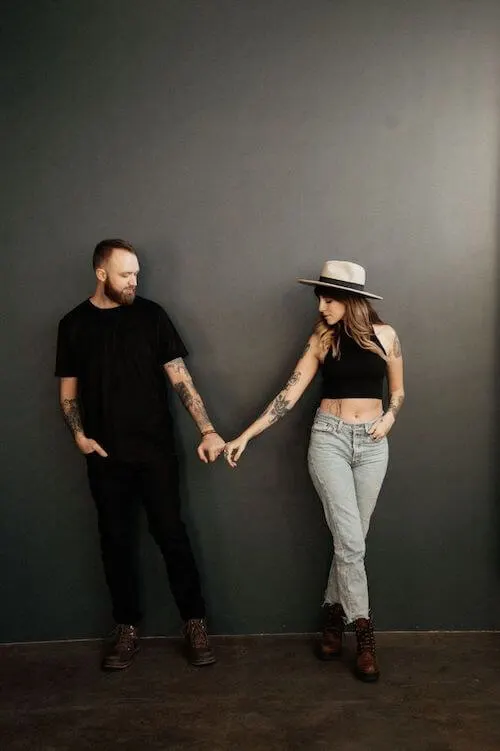 Feminine Top And White Jeans
It's really so rewarding to have your photos taken in a place you love and filled with sweet memories. Be bold and try your favorite outfits.
I highly recommend you try crop tops to make your legs look longer!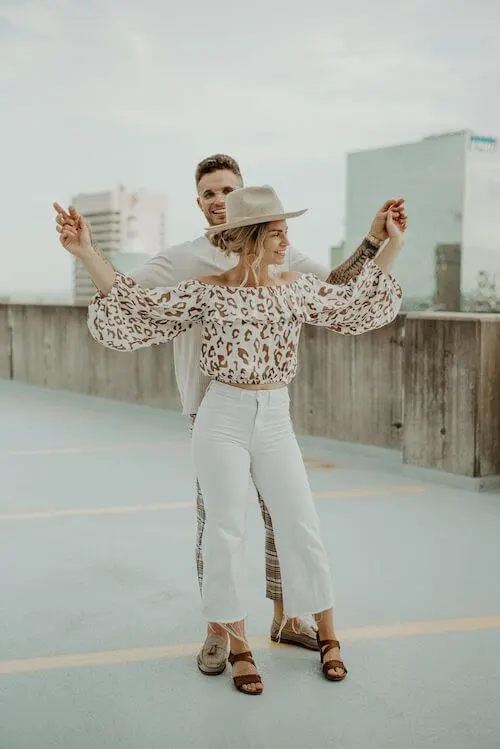 via Pinterest
Where to buy couple photoshoot outfits?
I love Lulus' tons of in-style dresses for women. And you can always find the trendy items with affordable prices and good quality there.
Perfect place to shop stylish outfits for you and your man.
My go-to place to shop for feminine dresses, casual tops or pants.
A great place to fine affordable and uniquely designed women's dresses and skirts for special occasions.
Affordable place for cute pieces.
Cute romantic dresses.
A perfect place to shop for gorgeous feminine country looks.
One of our favorite places to buy pretty floral dresses!
Click To Shop Our Favorite Pieces For Women:

This post was all about couple photoshoot outfit ideas.
About The Author
Tracy is an experienced personal stylist, shopping expert, and fashion & lifestyle blogger. She has been featured on Time Magazine, Bustle, Best Life, Glam, The Zoe Report, Mic, and GOBankingRates, for her insights on fashion, beauty, home decor, and lifestyle. Read More
Related Posts: