Looking for the best tips on how to wear a brown leather jacket for women? Check this post for the best style tips and the 40+ best brown leather jacket outfits for women to copy and shop for directly.
In the cold fall and winter season, a leather jacket is both warm and stylish. Among all the leather jackets of different colors, although a black leather jacket is the most common, a brown jacket, whether a brown real leather jacket or a brown faux leather jacket, is also a style staple.
In particular, with the popularity of western styles in the fashion world, adding a brown leather jacket to your collection is a great idea to elevate your look with more glamorous possibilities.
If you are looking for the best brown leather jackets and the best style tips on how to wear a brown leather jacket for women, you've come to the right place.
In today's article, I am sharing with you the design trends of brown leather jackets, different types of brown leather jackets, and the best brown leather jacket outfit ideas for you to copy and shop for directly from our favorite fashion online stores.
So scroll down to check the latest trends of brown leather jackets, the best style tips, and different ways to style a brown leather jacket for women, and don't hesitate to pin your favorite outfits to your Pinterest board, and share them on social media sites.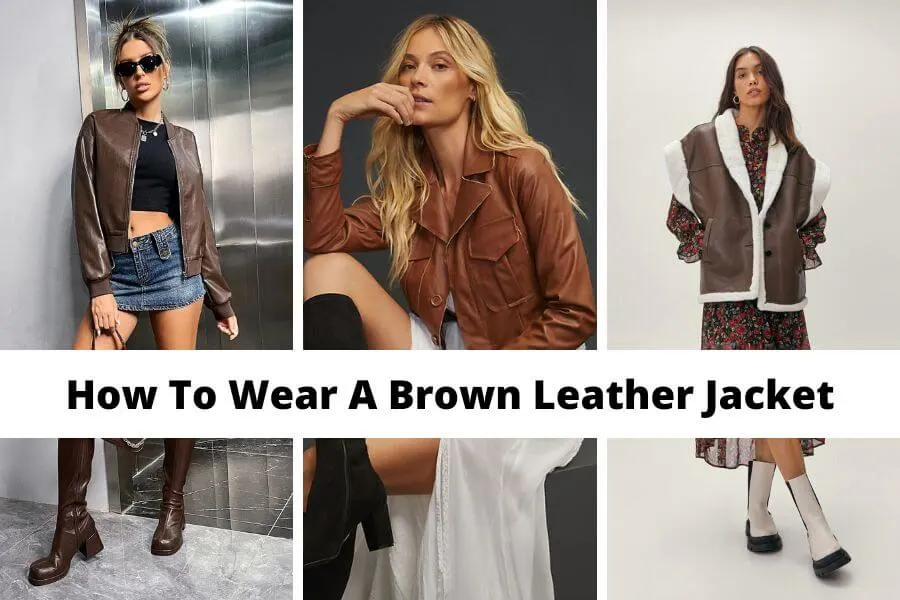 This post may contain affiliate links, which means I'll receive a commission if you purchase through my link, at no extra cost to you. Please read the full disclosure here.
This post is all about how to wear a brown leather jacket female.
Are Brown Leather Jackets In Style?
Brown leather jackets are very popular this year, and there are many more great designs.
This year, the trend of leather jackets is more and more casual, and more and more emphasis is on neutral style and wearing comfort.
The design of too narrow waist and narrow sleeves from the past have been out of fashion, and the design of dropped shoulders, oversized and straight silhouettes is more fashionable.
In the decorations, there are not only richer and richer details such as fringes, embroidery, and other decorations, but also more and more simple and excellent shapes that rely entirely on the outline of the jackets and the excellent materials.
Different Types Of Brown Leather Jackets
Like black leather jackets, brown leather jackets have different styles. Below are the most popular ones.
Brown Biker Jackets / Brown Motorcycle Jackets
The diagonal zipper biker jacket may be the most classic leather jacket style.
In addition to professional leather clothing brands, many big fashion brands also launch brown leather jackets of this classic style every year.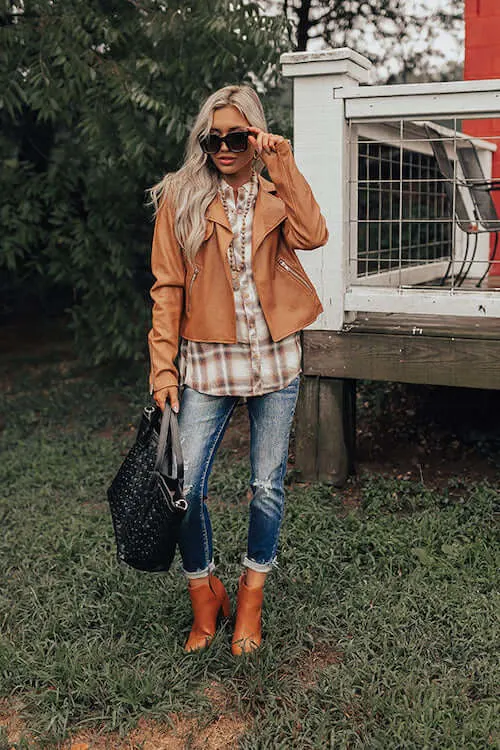 Brown Bomber Jackets
The leather bomber jacket is the most suitable one for a variety of fashion styles among all leather jacket styles, so it can be worn on many occasions.
Brown Flight Jacket
It is also a kind of jacket used by the Air Force originally. Its feature is that the collar is usually covered with fur, so it is the warmest style of the leather jacket.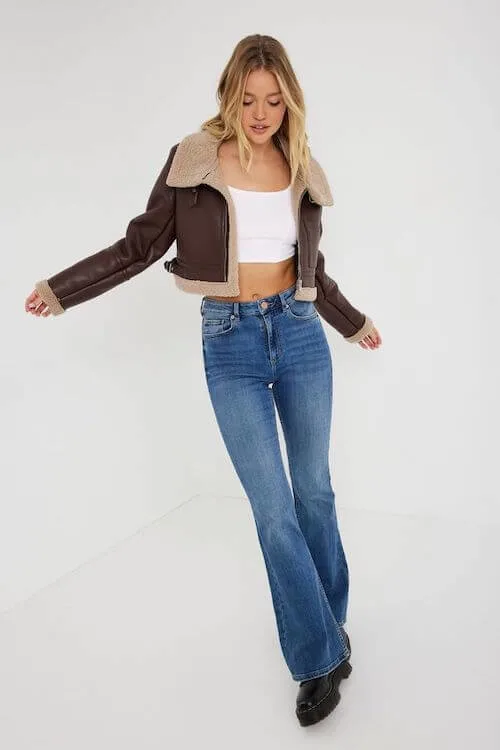 Brown Racer Jackets
The feature of this racer jacket is that the neckline is designed with a standing collar, and most of the neckline has a button or a tie to adjust the length.
Brown Leather Blazer
Leather blazers have become more and more popular in recent years. Compared to other leather jackets, they are more formal.
If you want to add a little bit of personal touch to your look, an oversized leather blazer the right choice. It is an effortless chic clothing piece for a stylish street-style outfit.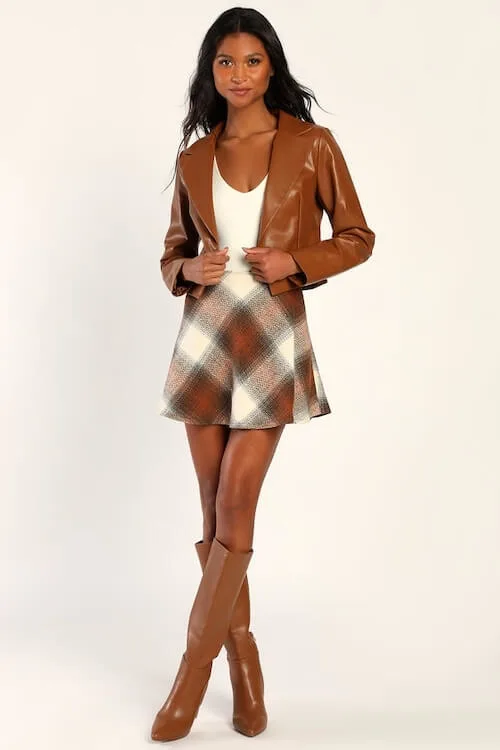 Brown Suede Jackets
The popularity of the cowgirl style has made this soft leather jacket style all the rage.
You can opt for a low-key suede casual jacket, or a western-style fringed suede jacket to add more interesting details to your cute outfit.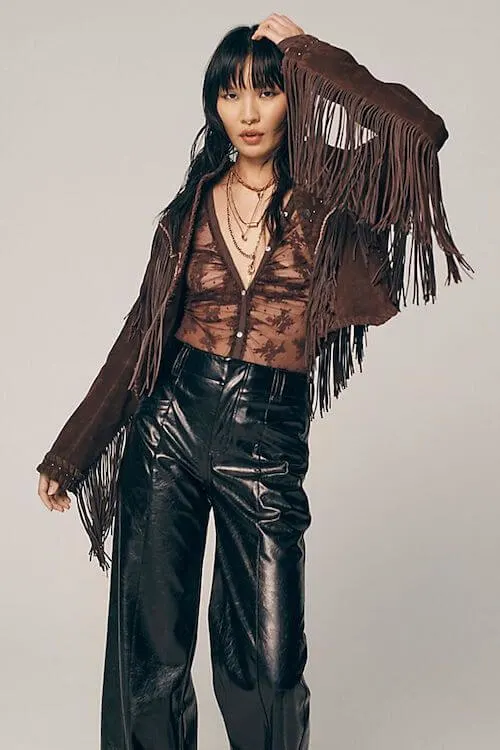 Brown Leather Coat
A cool brown leather trench coat will make you look very tall and charming.
All you need is a pair of simple leather boots to complete the whole great look.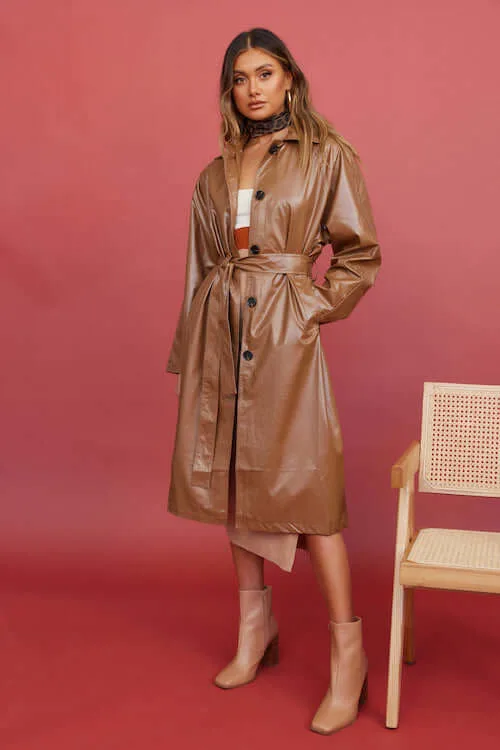 How To Wear A Brown Leather Jacket For Female: Best Brown Leather Jacket Outfits
A lovely brown leather jacket adds a touch of nature's warmth to the rest of our wardrobe.
In terms of color, you can choose dark colors and mix them with brown for a cozy and comfortable style.
You can also opt for softer and lighter colors, especially brightening the brown with white, beige, etc. to add a fresh touch to your overall look.
In terms of style, you can choose tomboy style wide-leg pants, chunky boots, combat boots, button-down shirts, etc. to make you look very handsome and stylish.
You can also mix and match your favorite brown leather jacket with feminine items, such as printed long dresses, crocheted pieces, lace designs, etc. so that the unisex wild style and feminine softness collide to make the most fashionable look.
Ahead, scroll on to check our favorite fashion formulas on how to style different looks with a brown leather jacket.
Button Down Shirt + Tie + Tennis Skirt For A Cute Preppy Style
Tube Top + Jean Shorts For A Sexy Casual Style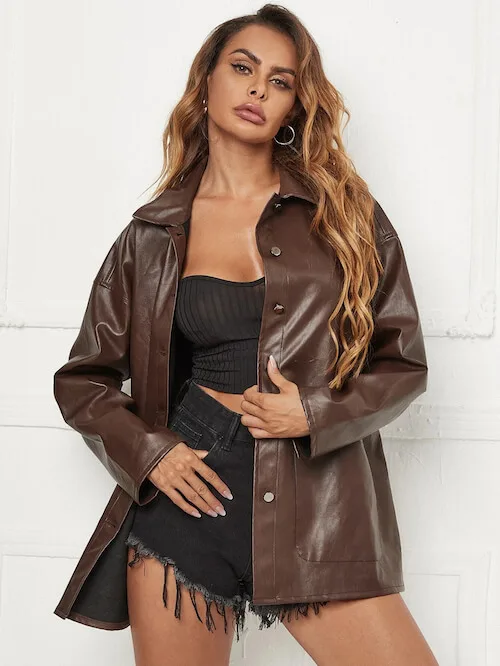 Black Mini Bodycon Skirt + Black Leather Boots For A Classic Look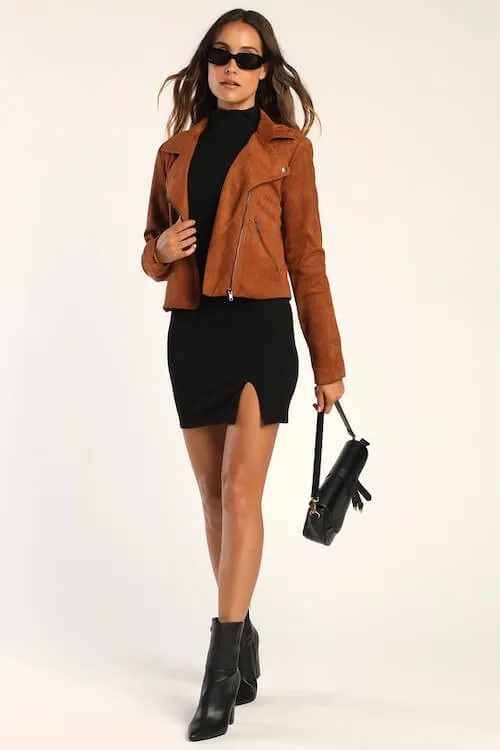 Scoop Necks Top + Ripped Jeans + White Boots
White T-Shirt + Blue Skinny Jeans + Hat + White Ankle Boots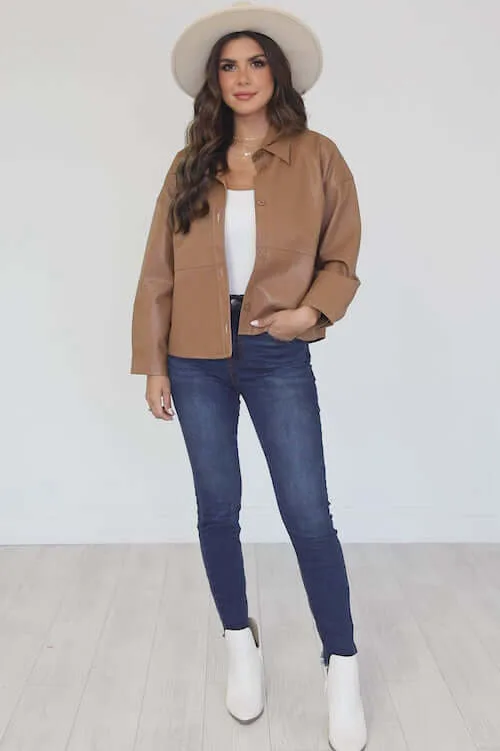 Cream Shirt Dress + Brown Boots For A Chic Personal Style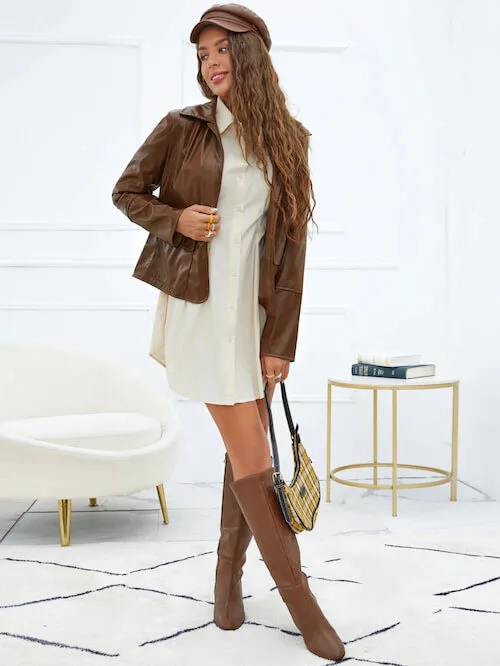 Tan Knit Mini Dress + Black Combat Boots For A Stylish Casual Wear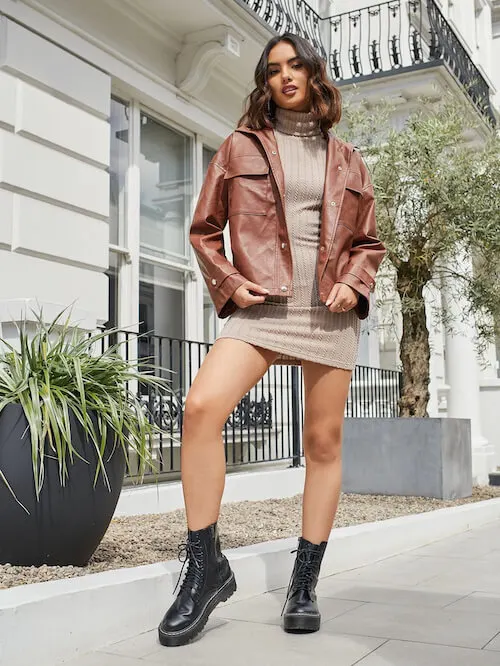 White Crop Top + Black Leggings + White Combat Boots For An Elevated Leather Jacket Style
Gray Shirt + Gray Sweatpants + Combat Boots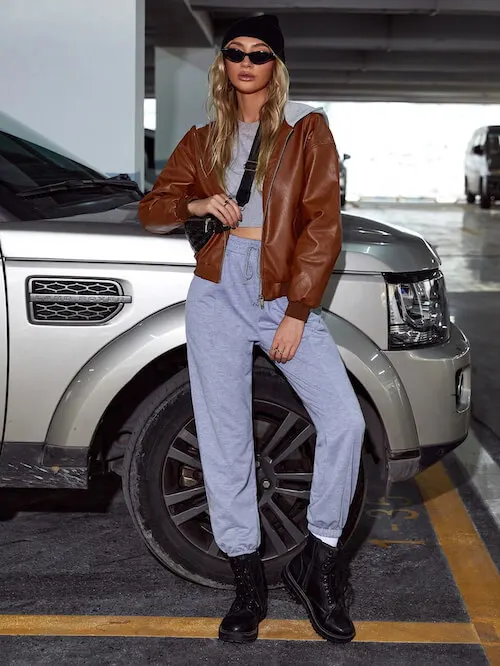 Green Top + Wide Leg Tailored Pants + Canvas Shoes For A Indie Winter Look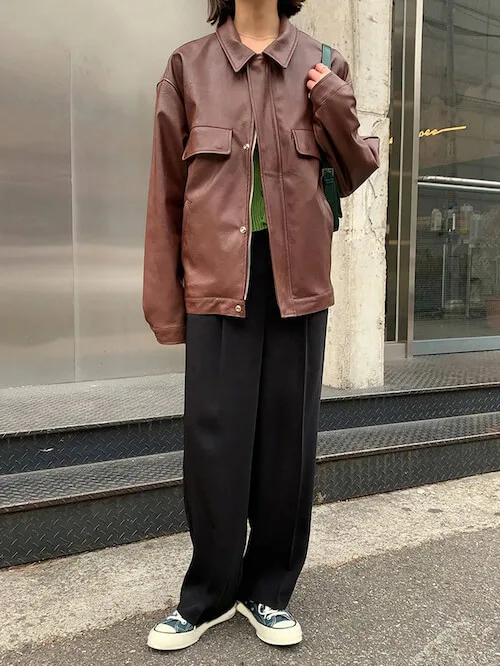 Tube Top + Camo Pants For Unique Look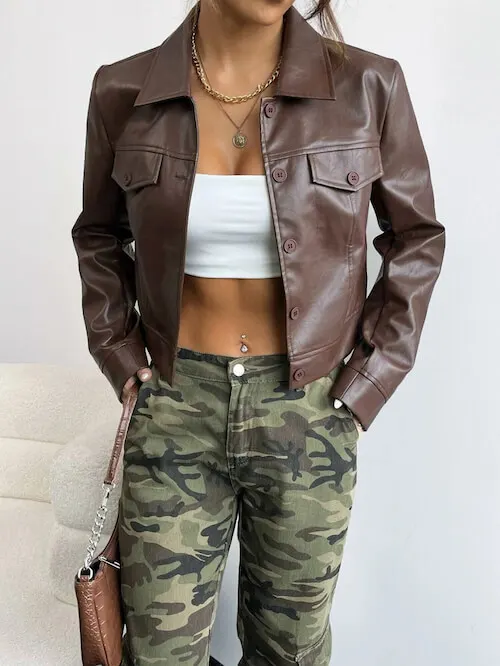 Tan Botton Up Shirt + Khaki Pants + Chunky Shoes For An Effortless Style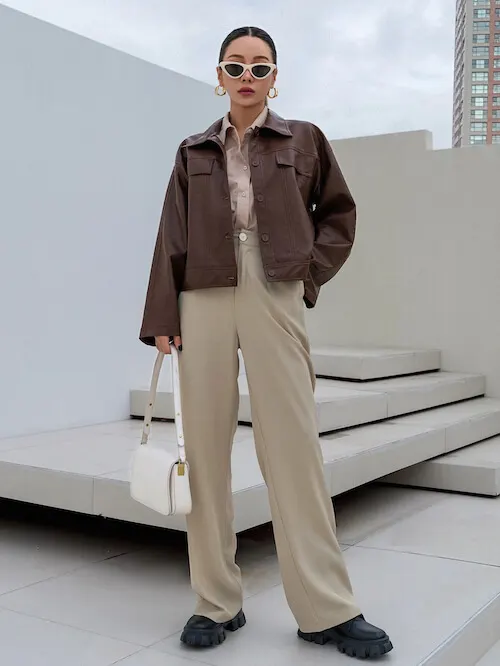 Beige Knit Top + Dark Wash Jeans To Embrace Oversized Simple Design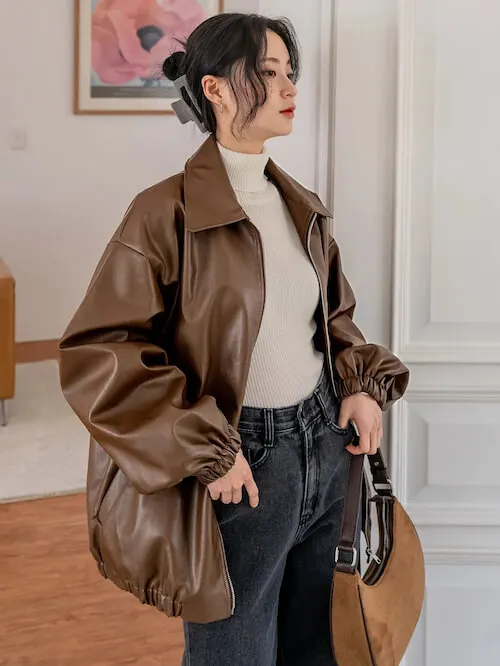 Blue Shirt + Black Pants / Black Skinny Jeans / Black Trousers + Canvas Shoes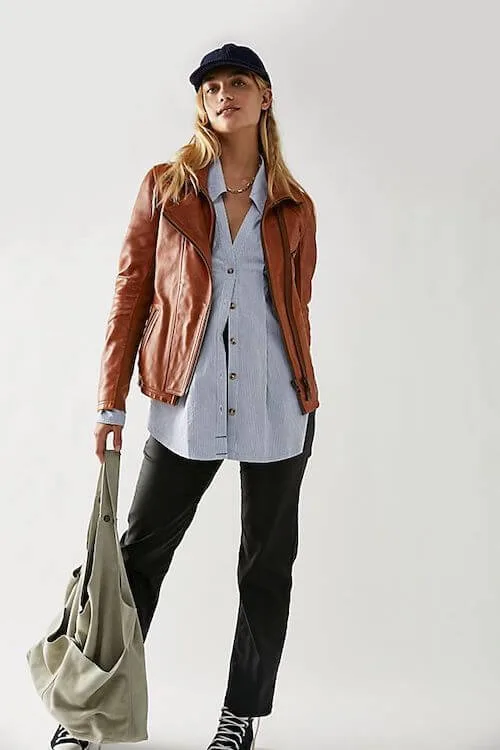 White Top + White Pants + Animal Print Boots To Show A Modern Cowgirl Look
White Short Cardigan + Mini Skort For A Hot Perfect Look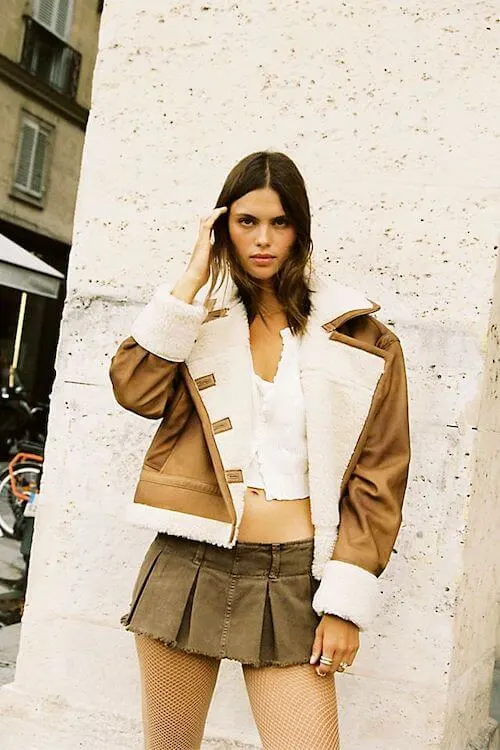 Wide Leg Pants + Chunky Shoes For A Cute Tomboy Look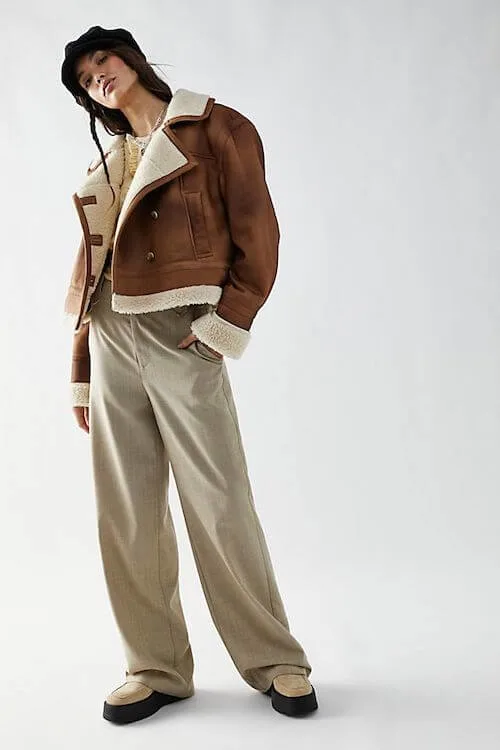 Oxford Shirt + Black Shorts + Belt + Stockings + Black Knee Boots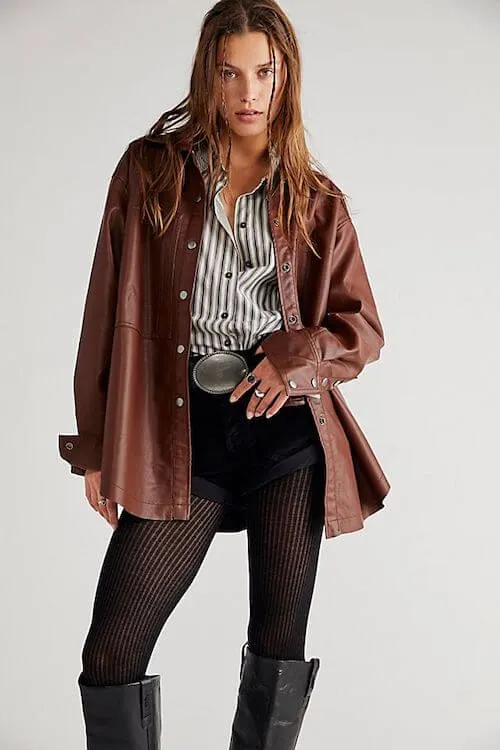 Blue Top + Cream Pants + Chunky Shoes For A Comfortable Edgy Style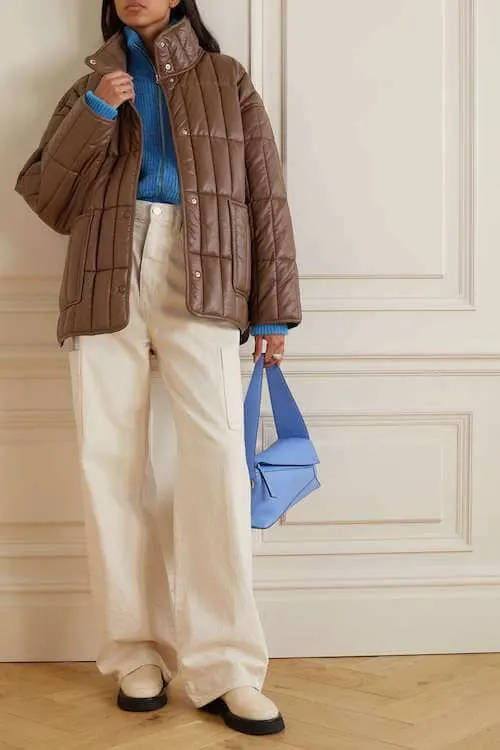 Easy Way To Style An Oversized Brown Leather Blazer: Print Dress of Softer Colors + Ankle Boots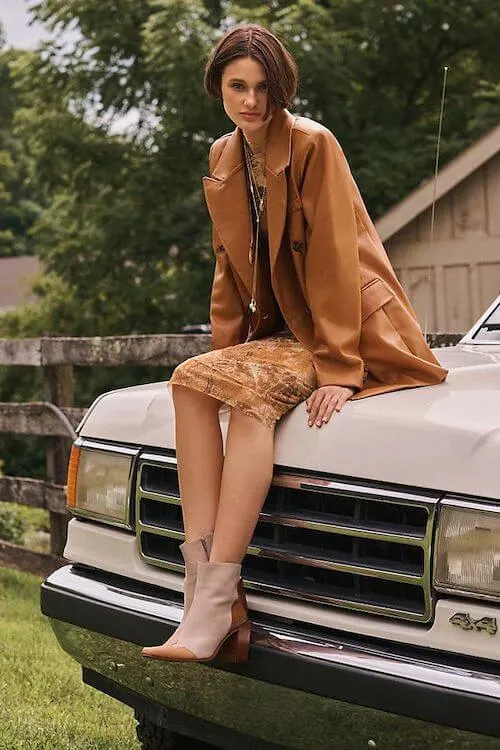 Knit Maxi Dress + Beige Boots For A Unique Style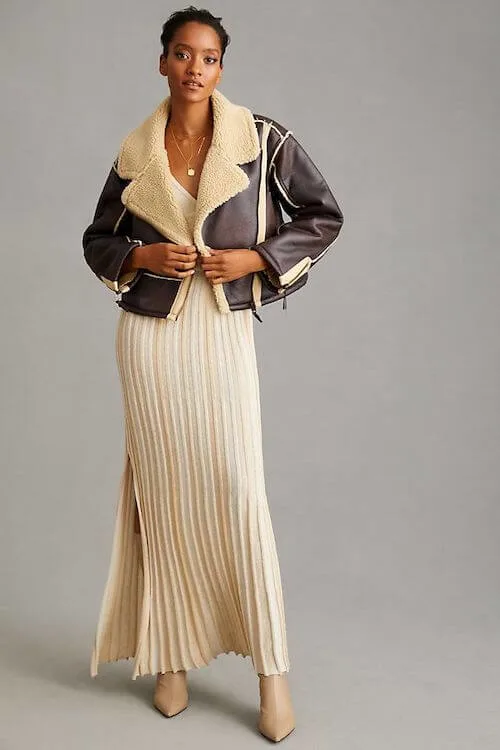 White Maxi Dress + Tall Boots + Brown Belt For A Boho Style
White Top + Black Jeans + Black Boots For A Chic Everyday Look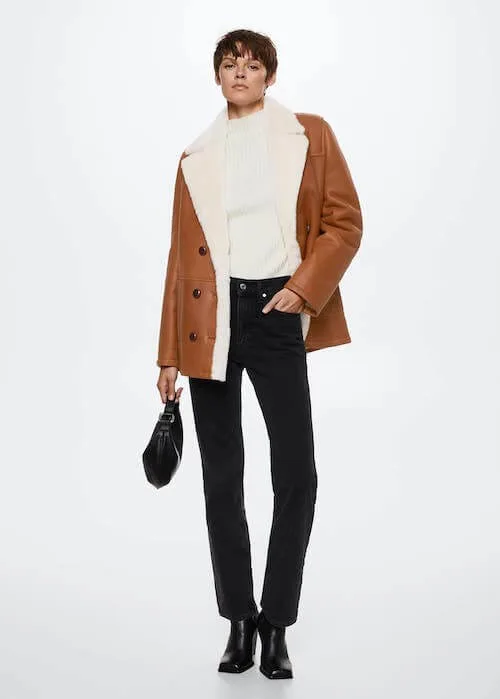 White Top + Denim Skirt + Black Cowboy Boots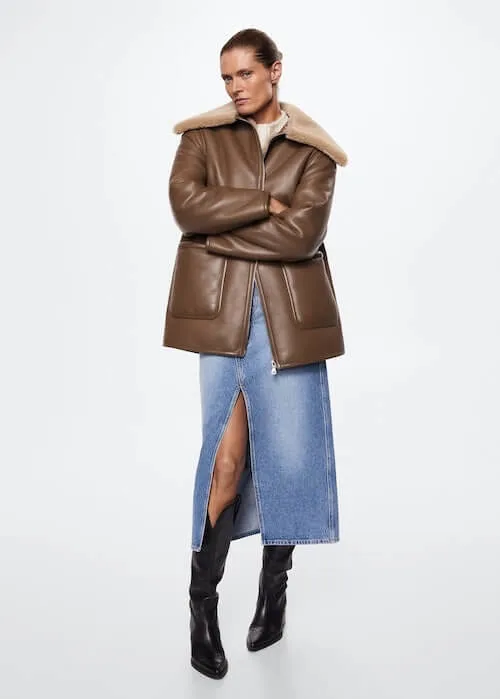 Graphic Tee + Brown Leather Pants To Embrace Street Styles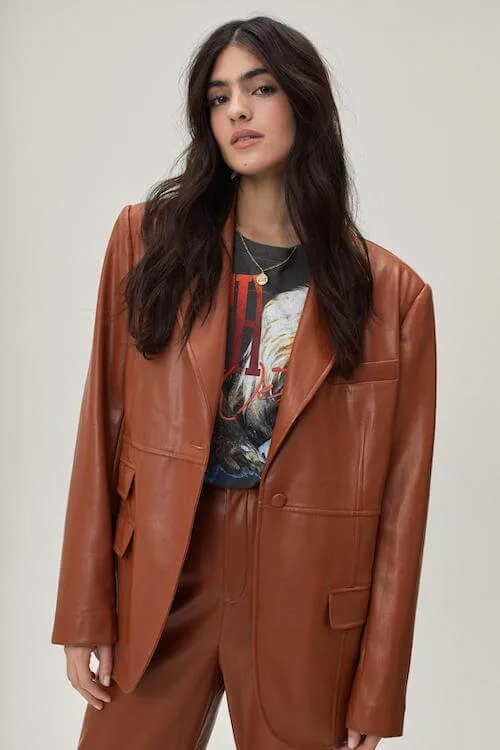 White Sweater + White Pants + Sneakers
Different Shades of Brown Color: Brown Dress + A Pair of Brown Suede Boots
White Crochet Dress + Cowboy Boots
Cream Hoodie + Brown Leather Shorts + Lug Boots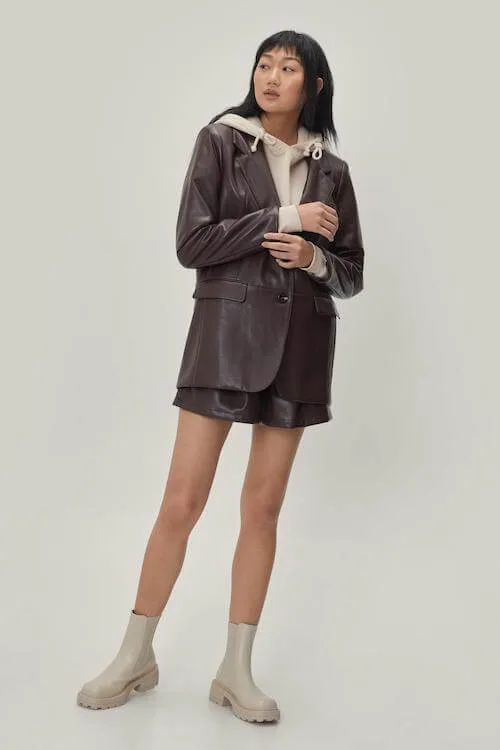 Graphic Tee + Denim Shorts + Cowboy Boots
White Crochet Dress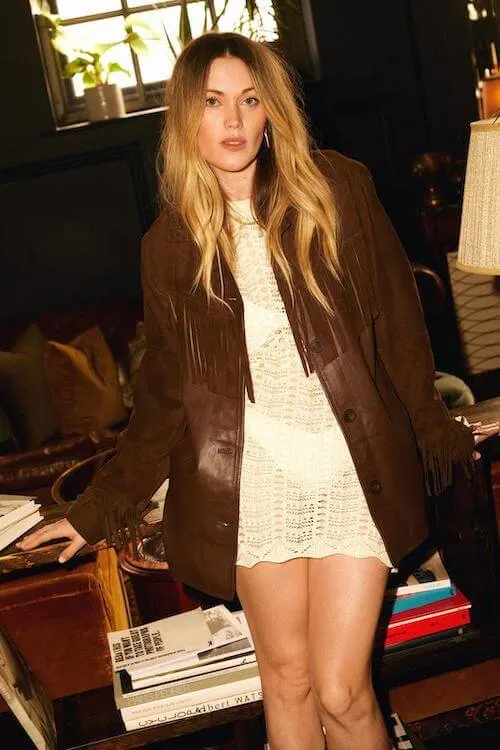 Floral Maxi Dress + Boots
Brown Top + White Mini Skirt + White Knee High Boots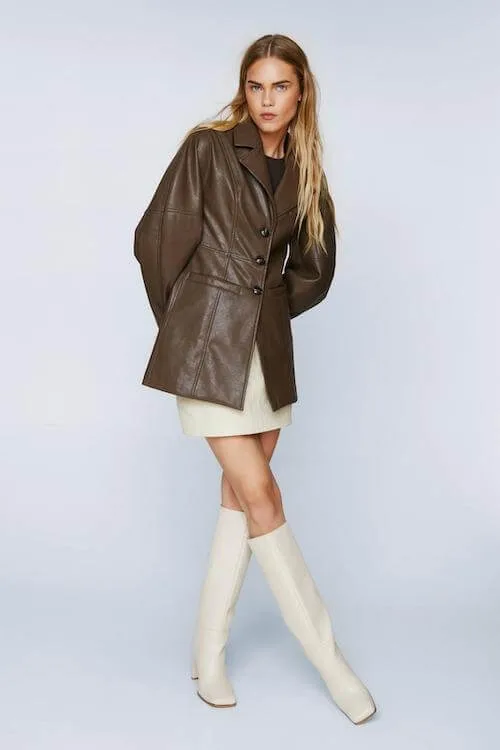 White Tight Top + White Flare Pants + White Boots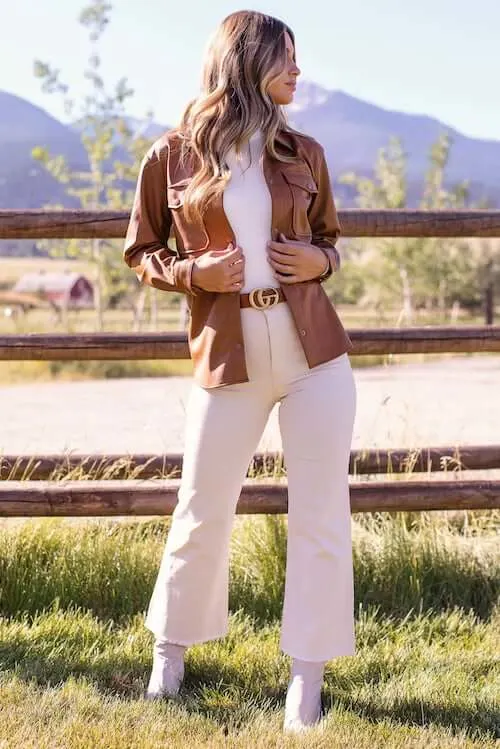 White Top + Plaid Mini Skirt + White Sneakers
Black Shirt + Blue Jeans + Black Ankle Boots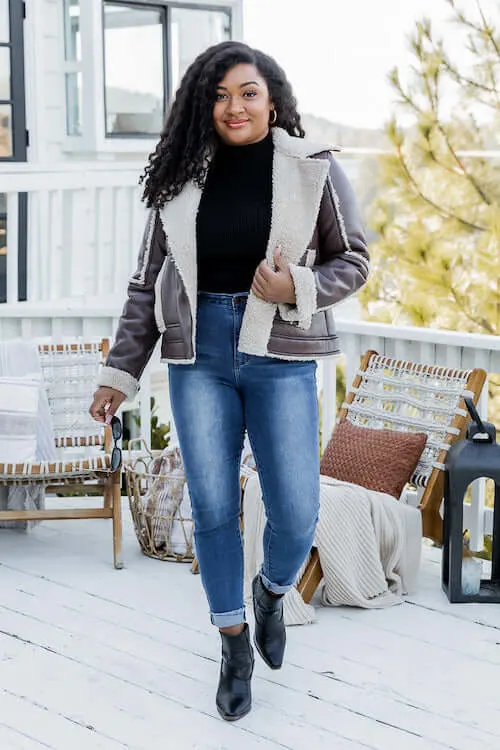 White Top + Flare Jeans + White Boots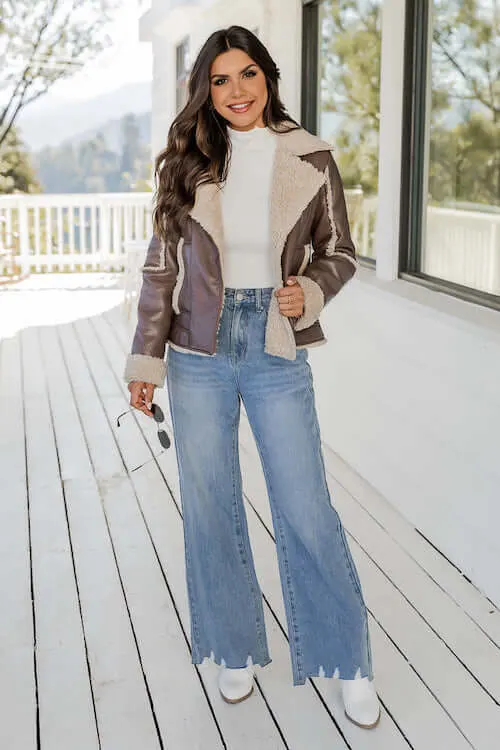 Black Top + Brown Skirt + Black Shoes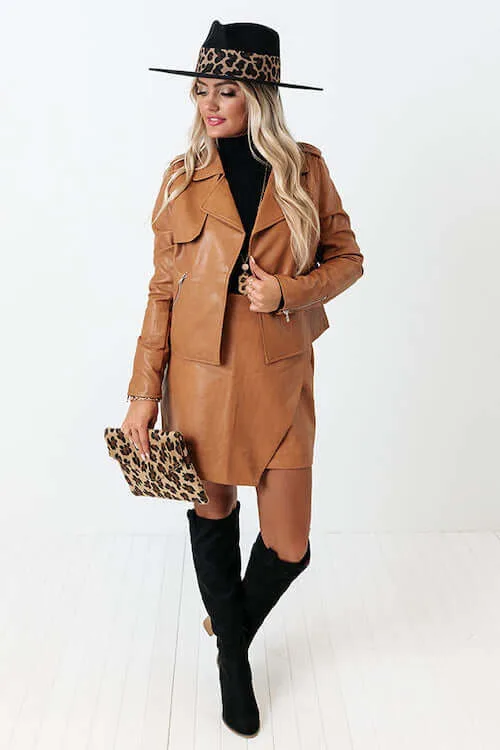 Cream Top + Cream Pants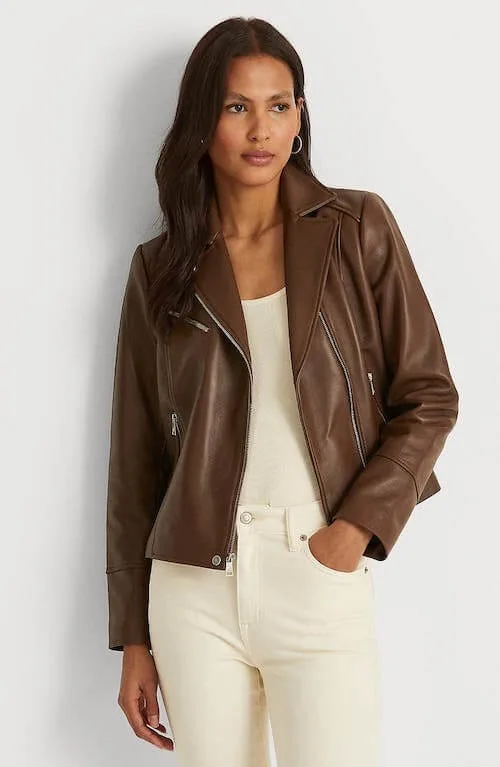 What To Wear With A Brown Leather Jacket For Female For Warm Weather
In warm weather, opt for a breathable, sexy crop top or a light dress with your brown leather jacket.
It is a good idea to change your dark brown leather jacket to a lighter brown or tan leather jacket, or choose white or light blue tops and bottoms to make the best outfit for warm weather.
The gentle and lovely printed dress is a good choice to pair with a brown leather jacket on warm days. The stylish leather jacket adds a perfect personal touch to the sweet good look.
You can also opt for white shoes like a pair of very stylish white cowboy boots to instantly bring your style to the next level and show a strong fashion sense.
Brown Leather Vest: White Shirt + Wide Leg Jeans + Chunky Shoes For A Fresh Casual Look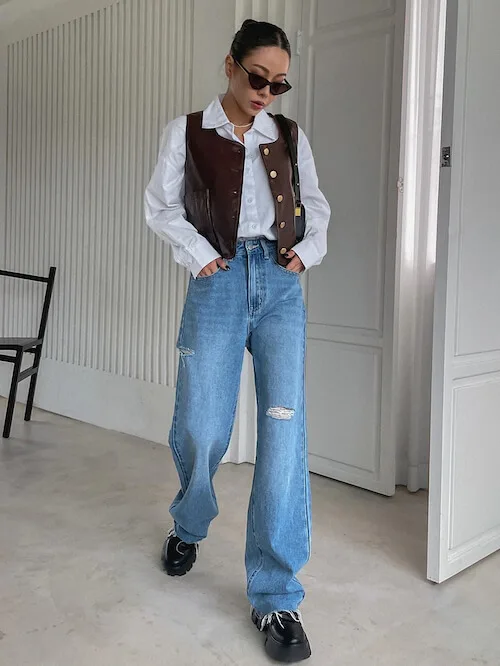 Tee + Jean Shorts + White Cowboy Boots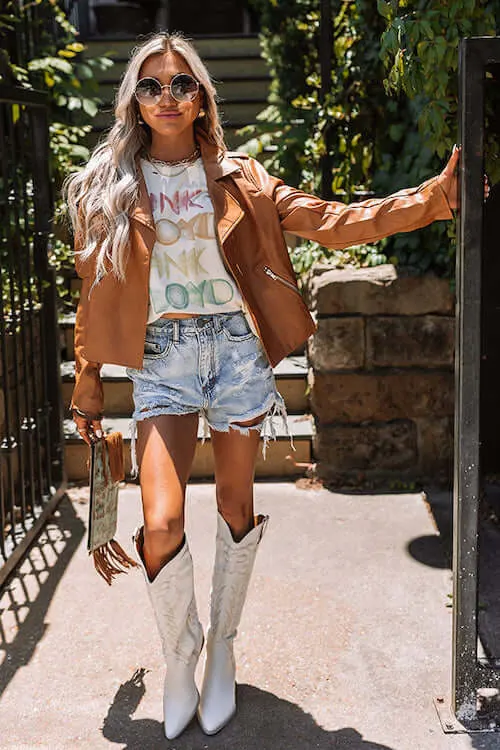 This post was all about how to wear a brown leather jacket female.
About The Author
Tracy is an experienced personal stylist, shopping expert, and fashion & lifestyle blogger. She has been featured on Time Magazine, Bustle, Best Life, Glam, The Zoe Report, Mic, and GOBankingRates, for her insights on fashion, beauty, home decor, and lifestyle. Read More
Related Posts: