Looking for trendy blazer outfits for women this year? Check this post for 20+ best outfits and styling tips to copy directly.
When the temperature is neither hot nor cold, the first fashion item that comes to mind is always a blazer.
The blazers are in style, good-looking and practical, and help us perfectly transition to the next season.
Today, we are going to review the latest best blazer outfits for women. We also share how to style a blazer, what to wear with a blazer, and the best blazers we love this year.
So scroll down to check the outfit ideas, and don't forget to pin the images you like.
This post may contain affiliate links, which means I'll receive a commission if you purchase through my link, at no extra cost to you. Please read the full disclosure here.
This post is all about blazer outfits for women.
Best Blazer Outfits For Women
Kendall Jenner controlled the oversized black blazer's silhouette very well, without any sense of oppression. The combination of leather trousers and boots adds a high-level sense of layering, with a neat hairstyle, which is stylish.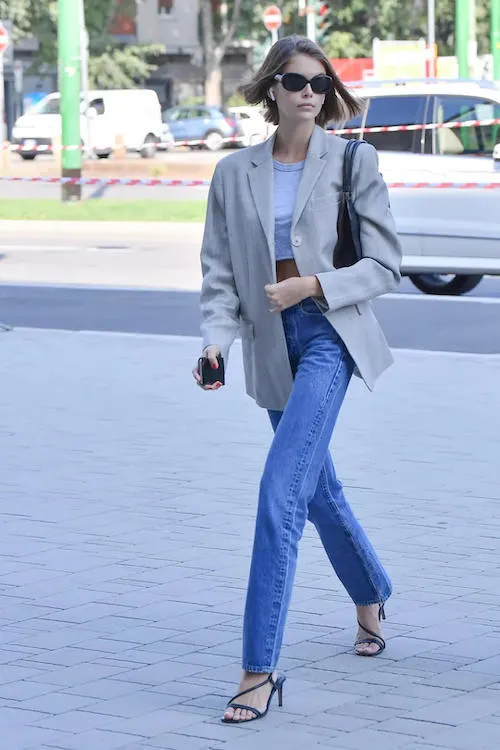 A short vest with jeans, and a pair of exquisite sandals, is a proper summer outfit. But with the addition of a blazer, the feeling of autumn comes out.
If you want to take a more casual and handsome style, we can replace the sandals with boots and then change them to match some attractive accessories, such as bucket hats, baseball caps, and other items, with more details.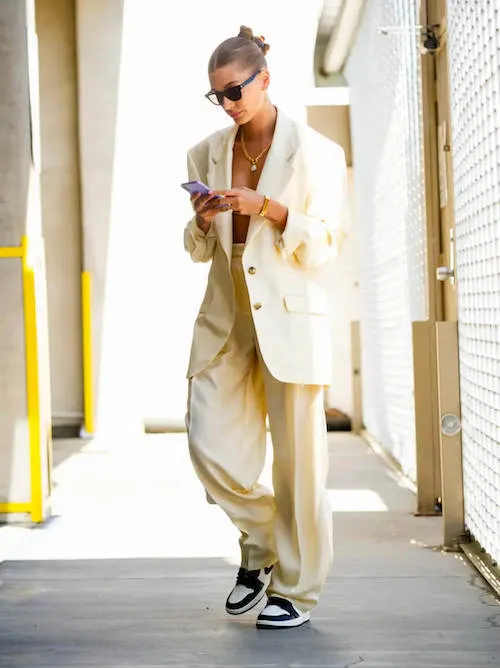 Or the solid color oversized blazer was matched with casual sneakers, and the overall style is lazy and chic.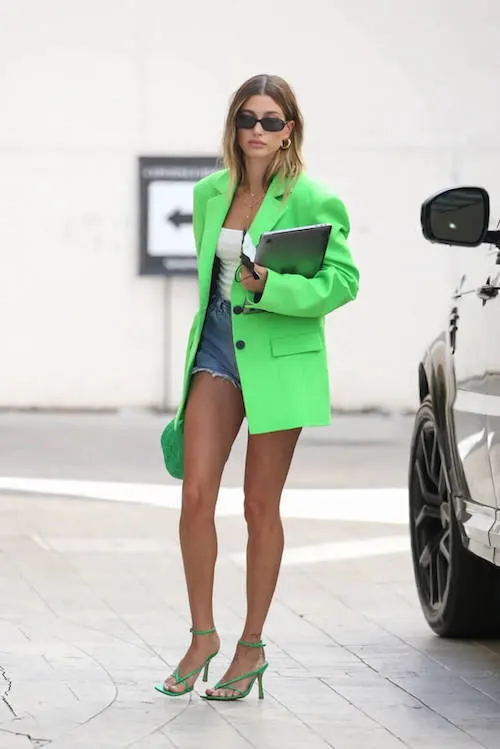 Or wear a very short bottom and a dazzling necklace. How stunning the look is!
With the plaid design and the slim tailoring, this blazer is more suitable for creating casual work outfits.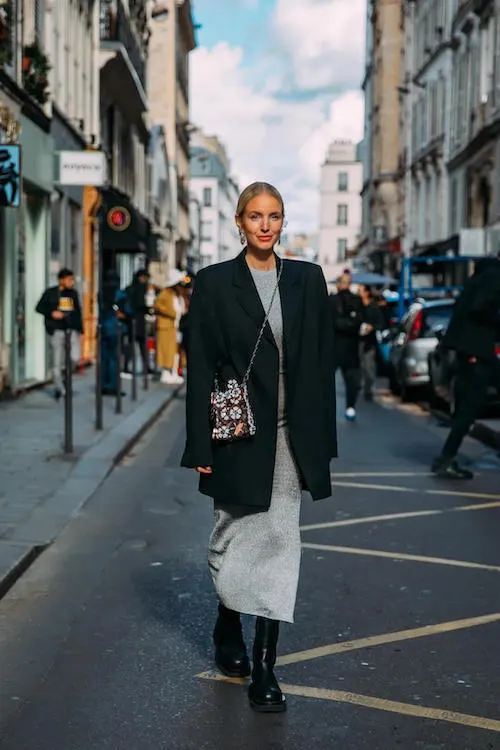 The gray dress becomes casual and playful under the embellishment of the oversized blazer, and the leather boots also add an excellent taste.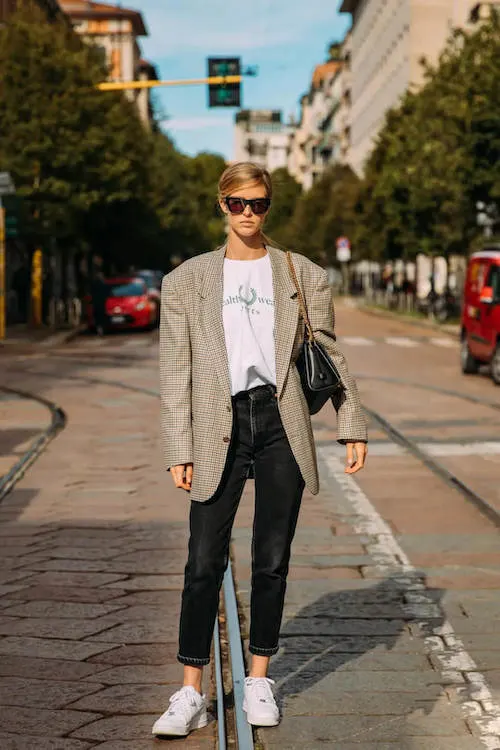 The padded shoulder blazer has a more retro style; even paired with a simple T-shirt and jeans, it will not reduce its fashion sense.
If you want to create a more intense retro style, you can choose flared jeans or cat-eye sunglasses to make your outfit very interesting.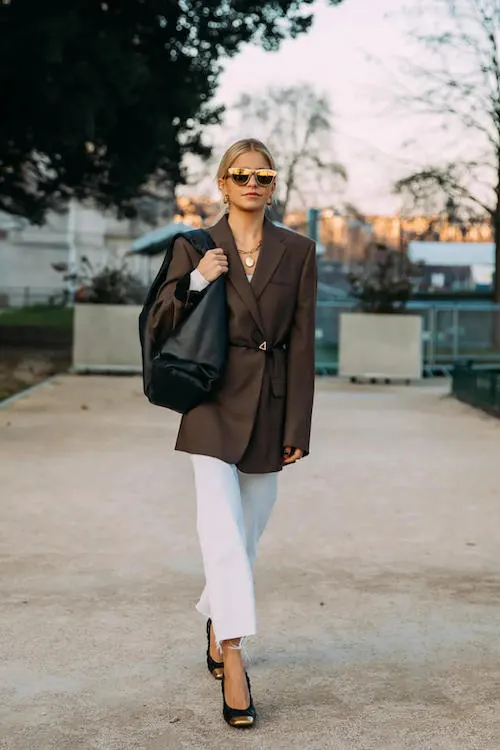 If you want to play with an oversize blazer a little differently, you can also use a belt to increase the sense of hierarchy. And the belt can help optimize your body proportion.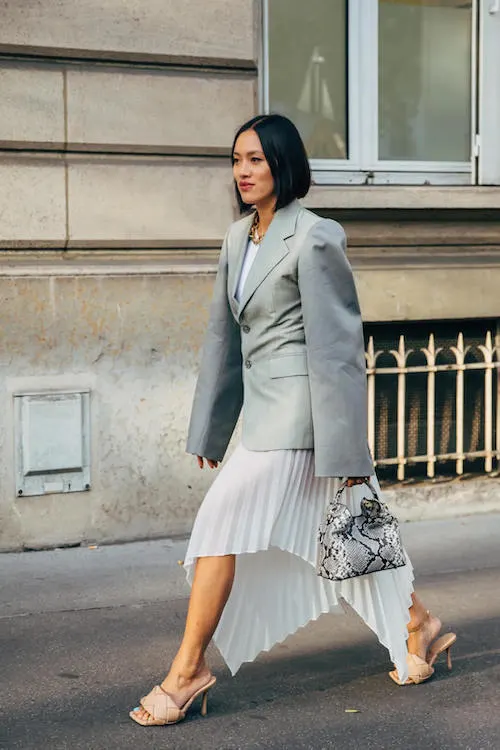 If you want to match a skirt with a more design sense, then in choosing a blazer, I recommend a shorter style to give the skirt a little more space for display.
One reminder, try not to wear too many colors in an outfit and pay attention to the echo from top to bottom.
Best Casual Blazer Outfits For Women From Fashion Bloggers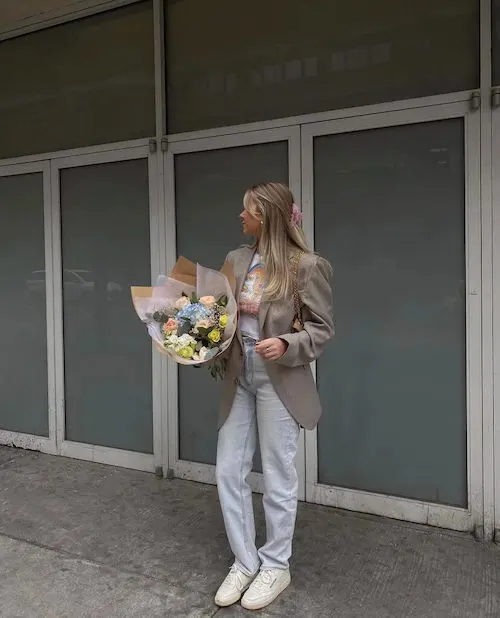 Gray and khaki are so popular recently, and you can also find many bloggers wear blazers in gray or khaki.
Paired with light-colored T-shirts and jeans, the blazer looks gentle and cute.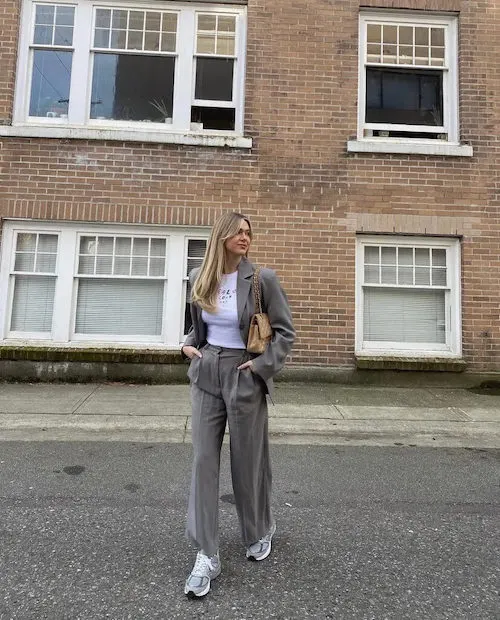 You can all of a sudden change from exquisite workplace style to casual style by pairing your blazer outfit with sneakers.
This is also the charm of blazers, versatile and flexible.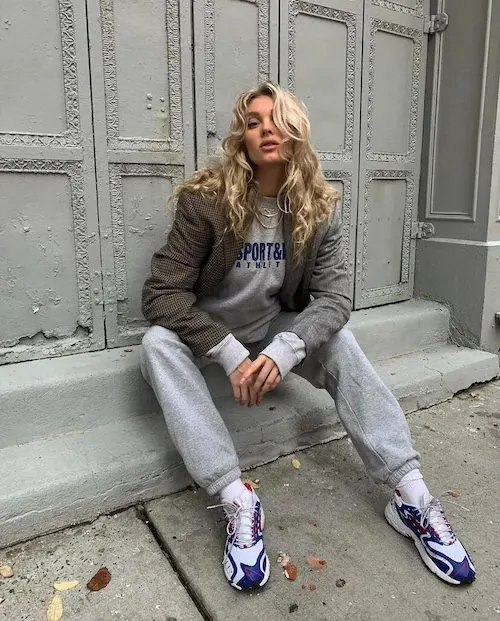 If you wear a sporty outfit, it is not a problem to put on a blazer outside.
This blogger chose a black blazer to pair with her gray sweatpants, making the overall look a little more calm and mature.
If you want to wear some sexy style, you don't need to choose a highly complex blazer. A simple one is good enough. You can select a pair of sneakers in bright colors to make the outfit fun and stylish immediately.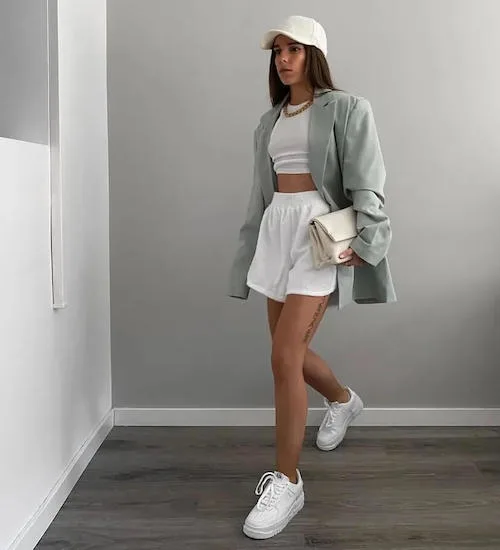 If you wear sports shorts, you can wear your cap.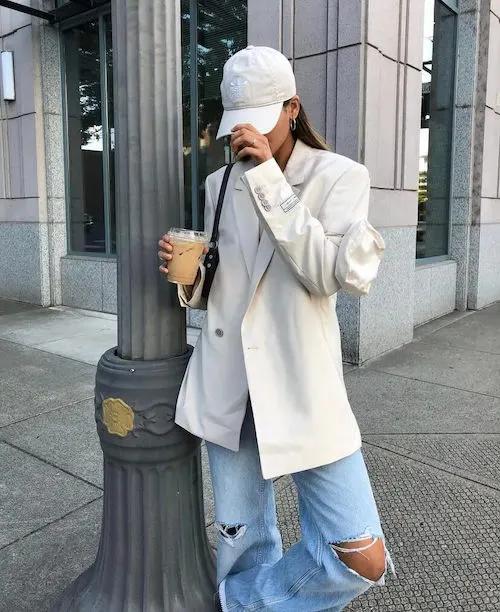 The baseball cap was originally a more unisex item. When combined with a suit, it creates a fashionable girl's style in a minute!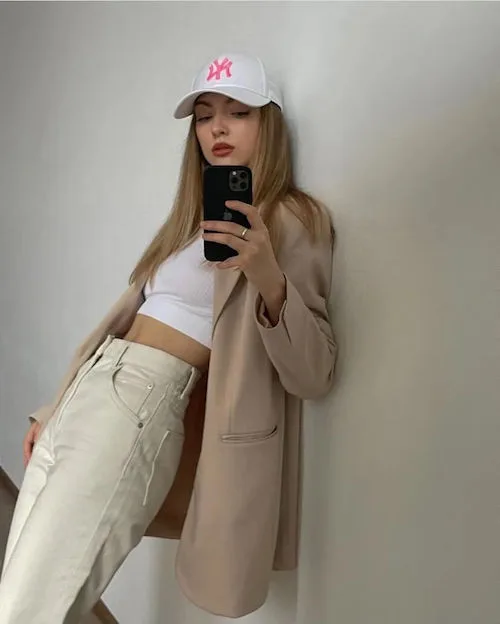 If you still want to be sexy and charming, you can still play with it carefully. When the weather is not particularly cold, it will look nice to wear a cropped top.
What To Wear Inside Of A Blazer For Women
This white top has delicate strap designs. With a retro plaid jacket, it is elegant and a little bit sexy.
Or you can wear a delicate and feminine dress and pair it with a simple light color blazer. It is a romantic and cute date night outfit.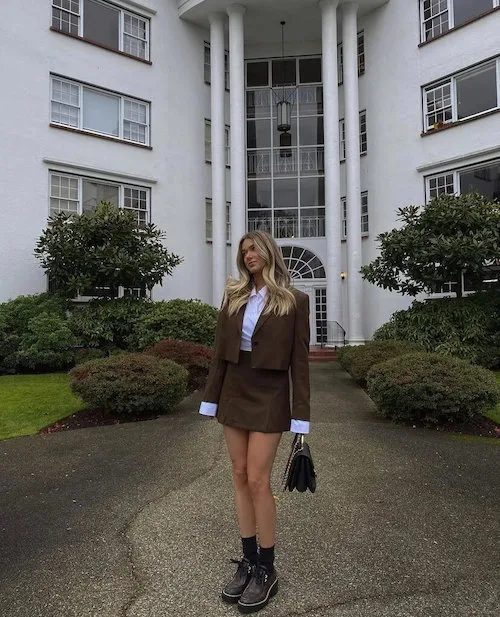 The combo of a short blazer + mini skirt can show off beautiful legs and has perfect style. And this time you can wear a white shirt to add a touch of bright color. By the way, if you like dark academia style, you can then wear a pair of black boots, and you will look so cute and energetic.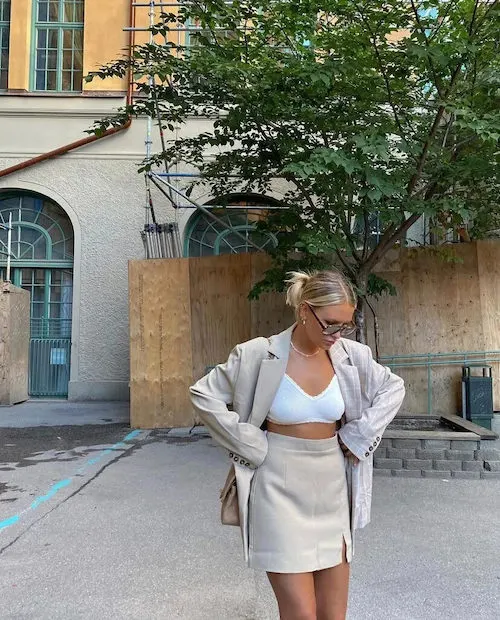 Compared to wearing a shirt in a blazer, it is more charming to wear a sexy Bra directly. Generally, it is quite suitable to wear on vacation.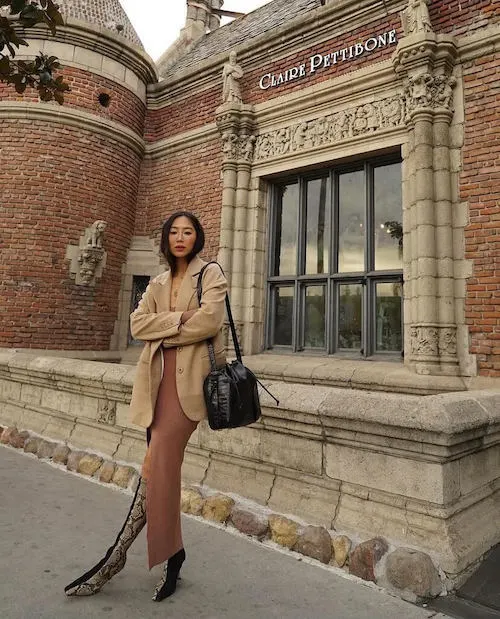 If you mix and match on the same color scheme, the overall effect will be unique. The outfit is an excellent example.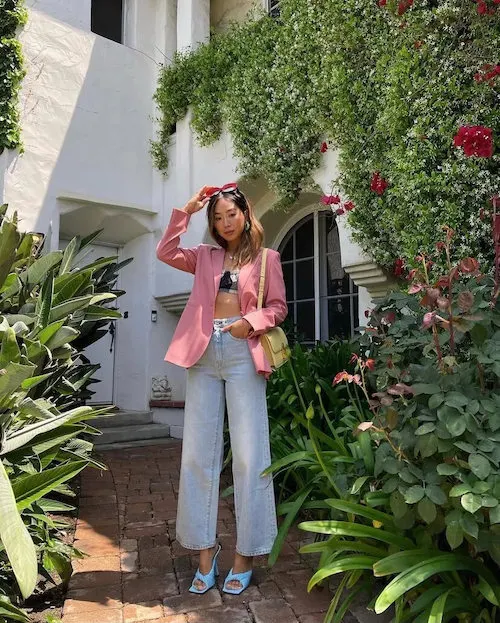 The pink blazer and wide-leg jeans look exquisite. The yellow purse and blue high heels add a sense of color to the overall shape, successfully creating a romantic style.
The light yellow shirt is matched with the brown blazer, the color scheme is very coordinated, and this outfit looks expensive.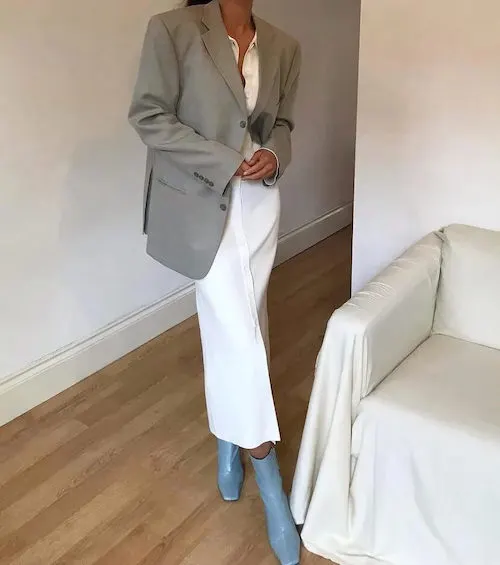 The combo of a gray blazer and a white shirt dress is perfect for minimalist style.
Meanwhile, don't forget to add some statement jewelry to your outfit.
When it gets colder, a leather blazer is your best choice. You can, of course, pair it with jeans, but look at the outfit above: try to wear some pants with exciting and fashionable patterns.
13 Best Blazers For Women To Buy
Below are the 13 best blazers for any budget we love this year. So scroll down and click the links below to shop.
Solid Lapel Neck Ticket Pocket Blazer
Plaid Shawl Collar Flap Detail Blazer
Lapel Neck Dual Pocket Blazer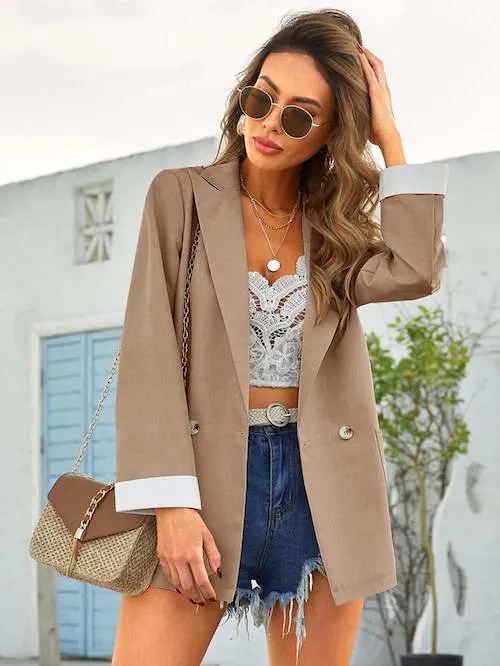 Notch Collar Pocket Side PU Leather Blazer
Plaid Single Button Blazer
Solid Single Button Blazer
perfect blazer in camel
Reclaimed Vintage Inspired leather dad blazer
Miss Selfridge Ponte blazer in gray
Wool-mix Plaid Double Breasted Blazer
Faux Leather Longline Blazer
Light Grey Blazer
Stone Oversized Longline Blazer
This post is all about blazer outfits for women.
Related Posts: