Looking for SHEIN summer dresses this year? Check this post for our honest SHEIN reviews, shopping tips, and the best list of SHEIN summer dresses!
Dresses are the tickets to summer. Every woman's wardrobe has quite a few beautiful summer dresses.
If you're tired of Tshirt and skinny jeans combinations and wondering which dresses to buy for this summer, especially if you're looking to get most of the best summer dresses on a budget, you should definitely check out SHEIN, our favourite website for tons of pretty designs and affordable clothes.
If you are also a SHEIN clothing fan or you haven't tried shopping on this online retailer before, SHEIN's summer dress collection will not disappoint you. We fall in love again with their bright colors, floral patterns, sexy off shoulder dresses, and of course affordable prices!
So in this post, we are sharing our honest reviews on SHEIN summer dresses, which products or which brands to buy on SHEIN, how to shop for the flattering dress of good quality on SHEIN for summer, and our picks of SHEIN summer dresses that are worth buying this year.
So scroll down to check the tips and the best list of SHEIN summer dresses, and don't hesitate to pin the designs you like.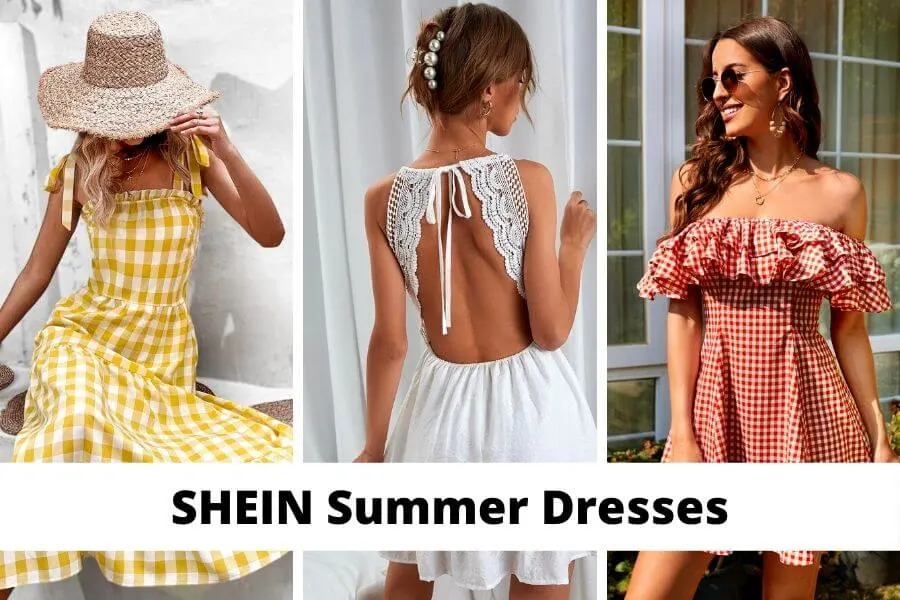 This post may contain affiliate links, which means I'll receive a commission if you purchase through my link, at no extra cost to you. Please read the full disclosure here.
This post is all about SHEIN summer dresses.
Are SHEIN Summer Dresses Worth Buying?: My Honest SHEIN Reviews
Since I've been shopping on SHEIN website again in mid-2021, I've been pleasantly surprised by what I can get on SHEIN! Although I am still cautious about buying winter clothes on SHEIN, it is really cheap and good for summer clothes, as well as jewelry, mobile phone cases, wigs, storage tools, etc.!
Last year I bought a lot of beautiful little dresses on SHEIN to go on vacation. There was a lemon print dress that's an excellent dupe for Reformation! It was a great deal! When I wore it out, many people thought it was from Reformation. It's a pity that the color I bought last year is no longer available this year. A different color one is listed below.
Allover Lemon Print Split Thigh Cami Dress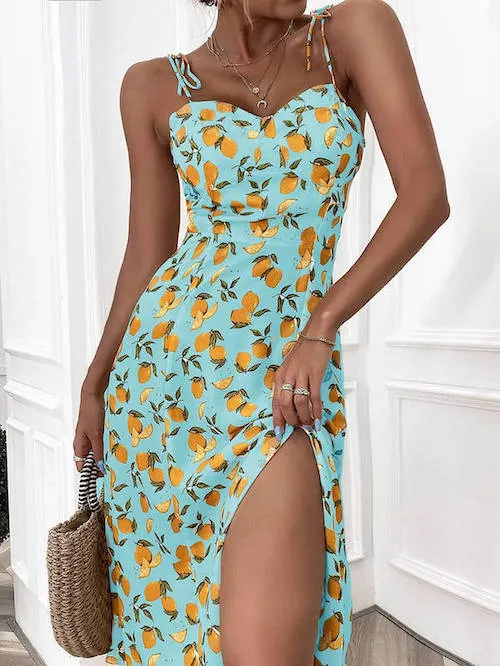 Many people say that the quality of SHEIN is not good, I also thought so before 2021. I bought SHEIN clothes a long time ago, but the size was really weird at the time, so I decided to return them, and then I didn't buy anything from SHEIN for several months. It wasn't until a friend of mine told me that I could try SHEIN's summer clothes, that I went to SHEIN again in May 2021 to have a look. I got out of control and bought a lot of dresses!
Of course, if you're comparing it to very expensive dresses, SHEIN's dresses are not so good. Except for the products under MOFT, there are many affordable but premium products under this series. However, other SHEIN's dresses, I think, can be compared with the those from many online boutique stores.
In particular, if you need to go on a vacation, or go to a beach, a party, etc. in the summer, and you hope that you don't repeat the outputs every time, then I really recommend you to go to this great place.
I buy a lot of dresses every summer for vacations, photos, parties. But I really have no way to buy very expensive ones, SHEIN is really suitable for my sometimes not-so-fat wallet!
And one best thing I love SHEIN is, on SHEIN, you can really buy a lot of dupes of very distinctive designer brands. For example, if you like House of CB or Oh Polly, SHEIN is the best place to find very low price dupes, and I will explain how to find them later.

PARTHEA Off Shoulder Hook and Eye Front Drawstring Ruched Mesh Dress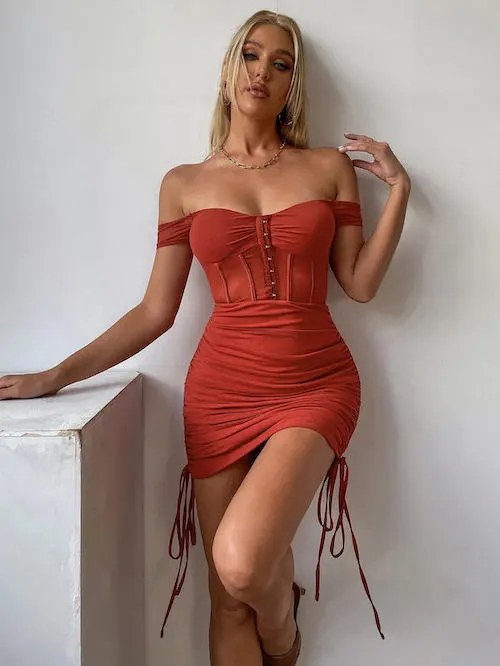 If you like Selkie, whose babydoll dresses are very popular right now, you can find many similar designs available on SHEIN. The price is 10% of Selkie.
If you like the Y2K style, the retro style of the 80s, 90s, or the preppy style which is trending on social media right now, there are also many designs to choose from on SHEIN.
Last year my friends and I even bought our retro dresses from this fast fashion brand as Halloween costumes! You can try this idea this year too! Much cheaper than buying a whole set of special Halloween costumes.
I would also like to highlight SHEIN's slip dresses, whether they are worn alone, or in transition seasons with a cardigan or suit, they look classy and expensive!
Finally, don't forget to check their free shipping and free returns rules and discount code every time you are checking out. They change a lot frequently.
So how to buy really good dresses on SHEIN? Below I share a few more tips:
How To Find Your Perfect Summer Dress From SHEIN: My Shopping Tips
1. Start from SHEIN's own brands
If you are worried about the poor quality, you can start from SHEIN's own brands, such as SHEIN, MOFT, DAZY. Although their prices may be slightly more expensive, the quality is more guaranteed. And in summer, I highly recommend MOFT's linen and silk products, which are amazing!
2. Before buying, measure your own size.
Be sure to check the product measurement in the sizing guide to choose the size of the product. If you like a looser fit in summer, you can make it slightly larger than your own circumference.
3. Check the material details of the clothes.
Generally, cotton or chiffon clothes are more comfortable better materials for a hot day.
4. Read the comment section carefully.
Check the comments including words like see-through, high quality, fit well, size up, etc. Look carefully at such comments. In particular, you can see if someone with a similar body shape to yourself will look good when they wear it.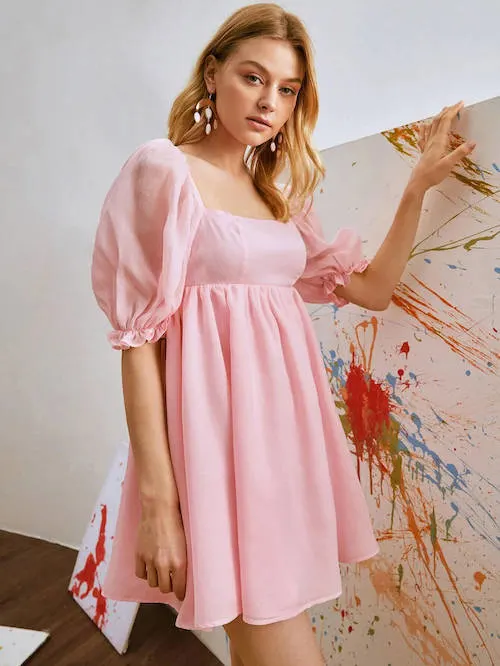 5. Consider your body shapes or body types.
For example, a pear-shaped woman with a bigger lower body can choose an A-line skirt, with split ends and a loose hem that can well modify the lower body. Women with an apple-shaped body can opt for a short-to-medium length that will shift the vision to their slender legs. And we love SHEIN's plus size collections.
6. Be familiar with your own dressing style.
And quickly locate the brand according to the dressing style.
There are many styles on SHEIN, and many of them have representative brands. For example, if you like the styles of House of CB and Oh Polly, you can focus on the PARTHEA series on SHEIN.
If you like French retro style, you can check Simple Retro's products on SHEIN.
If you like Korean fashion or Preppy Style, you can check out the brand DAZY.
If you're looking for more formal work outfits or formal dresses for summer, look no further than MOTF!
5. Want a more convenient way? Then just take a look at the list we prepared for you below.
We've included some of the most popular designs on SHEIN, as well as affordable dupes from this year's trendiest designs. These cute designs are perfect for every occasion you need for summer!
So which style you are looking for to add to your collection? A classy high neck design, a cute white dress, a stunning flowy dress, an expensive-looking slip dress, a sexy mini dress, or trendy dresses to pair with your new-bought statement earrings for your next date night?
Now scroll down to check the below list!
SHEIN Floral Print Summer Dresses
Floral Print Flare Hem Cami Dress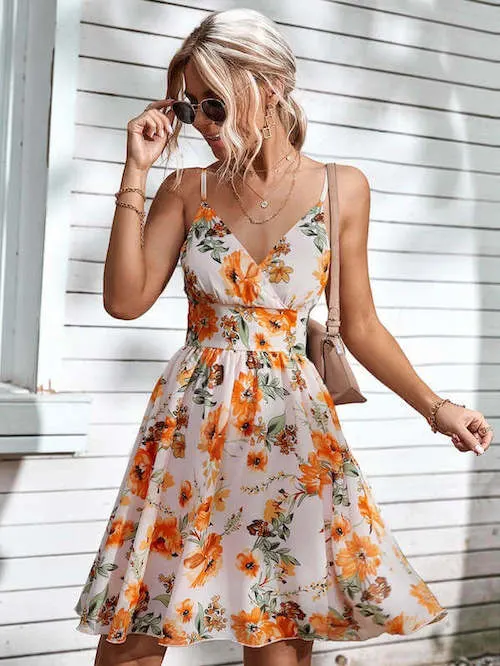 Ditsy Floral Print Tie Front Slit Hem Fitted Dress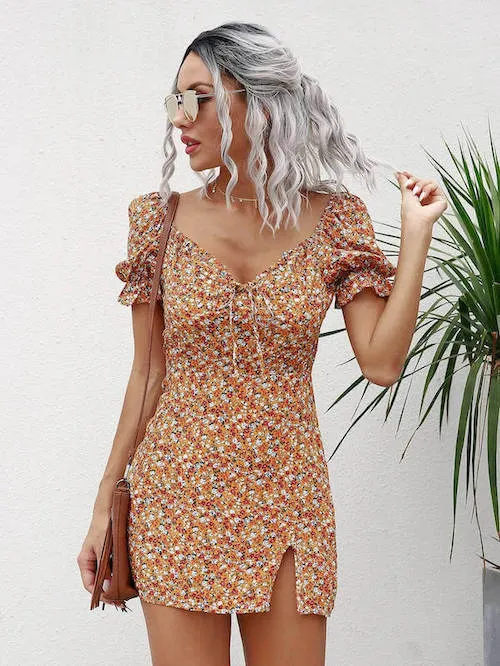 Floral Print Surplice Front Dress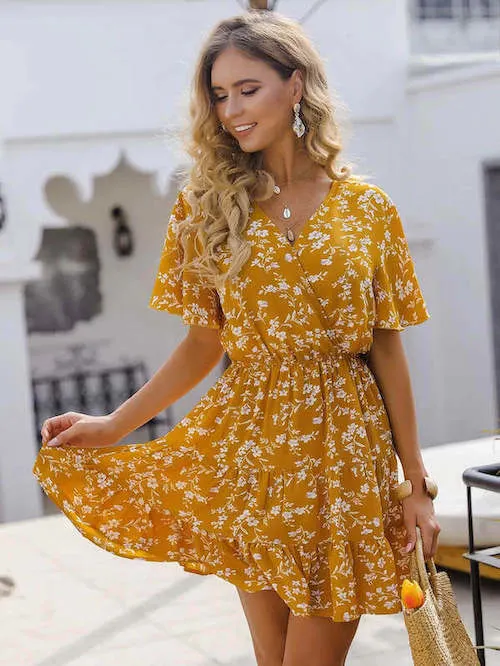 Floral Print Lace Up Backless Cami Dress
Allover Floral Print Split Thigh Bardot Dress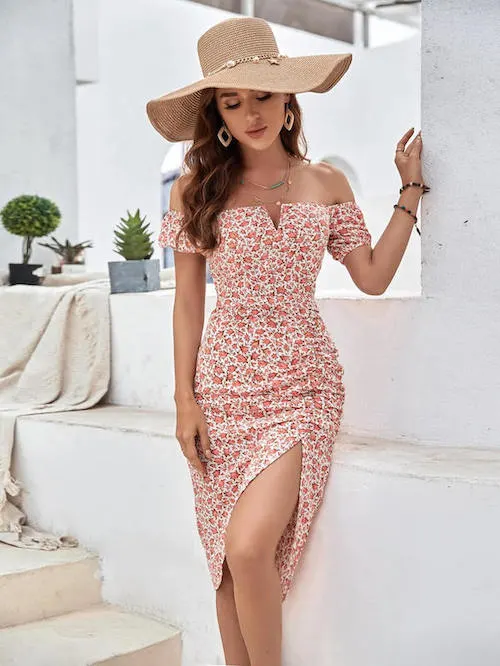 SHEIN Floral Print Tie Back Cut-out Dress
Ditsy Floral Print Tie Shoulder Ruched Split Thigh Dress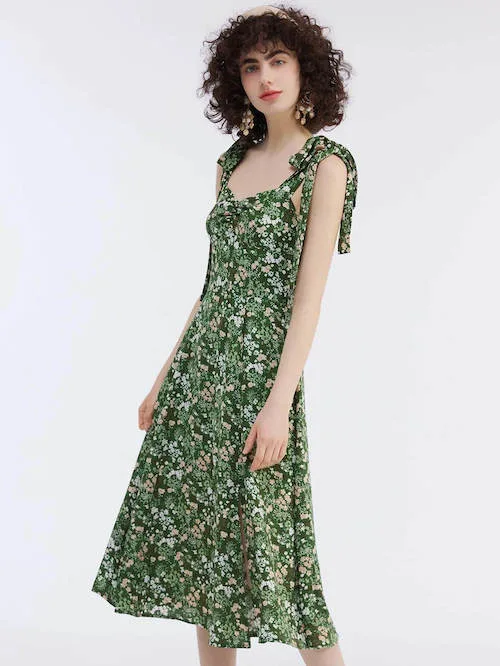 Simple Retro Floral Print Puff Sleeve Ruffle Hem Dress
SHEIN Cute Summer Dresses
SHEIN Puff Sleeve Lace Up Front Schiffy Dress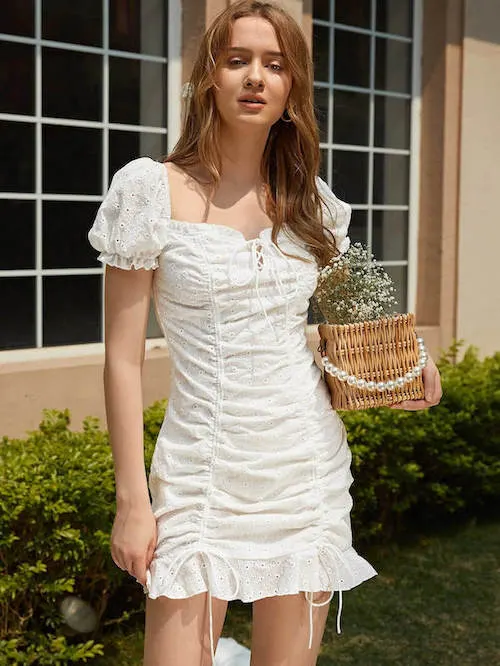 Solid Backless Guipure Lace Panel Dress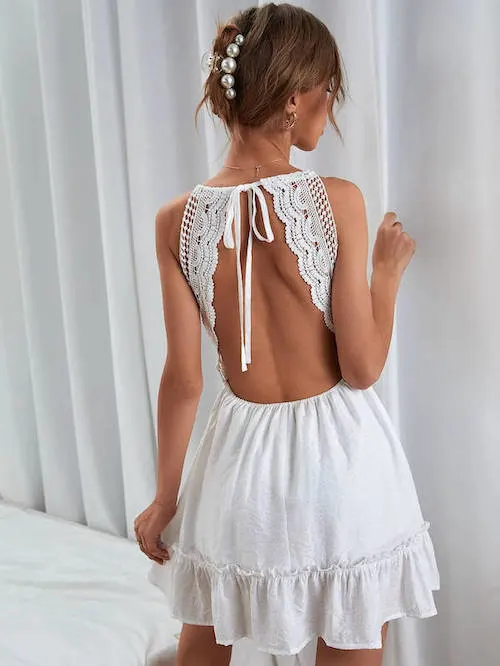 Lemon Print Slit Hem Cami Dress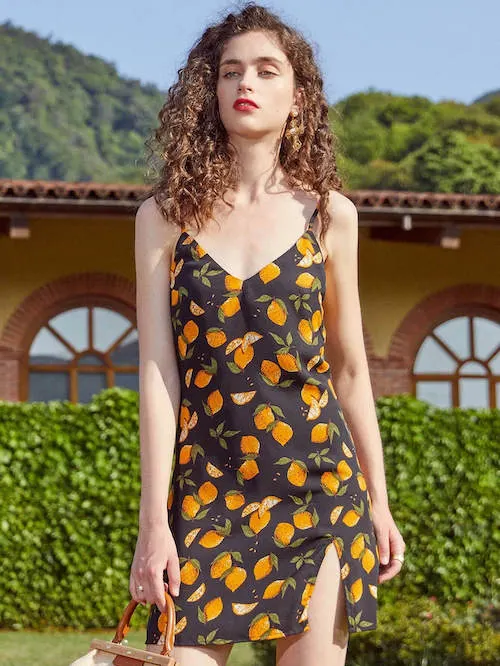 Sweetheart Neck Gingham Print Dress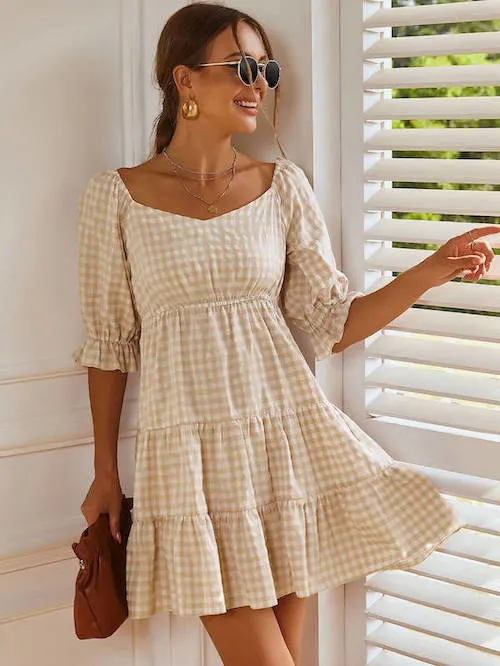 Allover Print Draped Cami Dress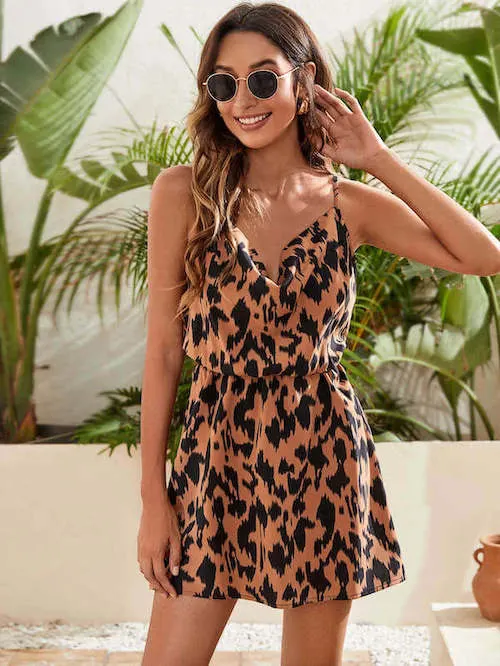 Ruffle Hem Knot Detail Frill Trim Dress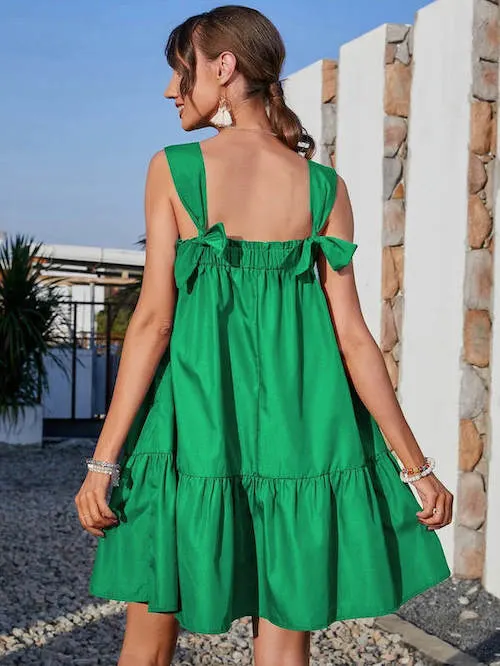 SHEIN Lace Up Ditsy Floral Dress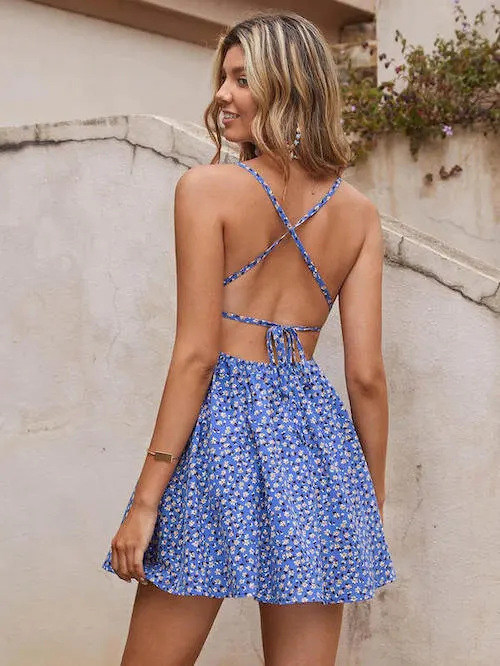 Flare Hem Sleeveless Smock Dress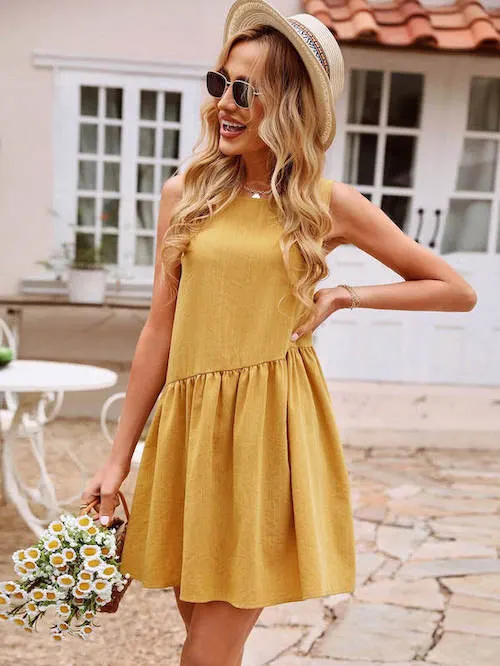 SHEIN X Hannah G Gingham Flounce Sleeve Zipper Back Dress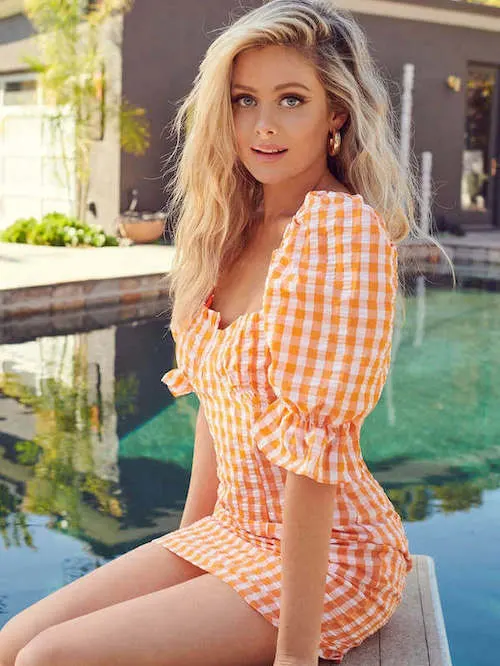 Ruffle Strap Swiss Dot Dress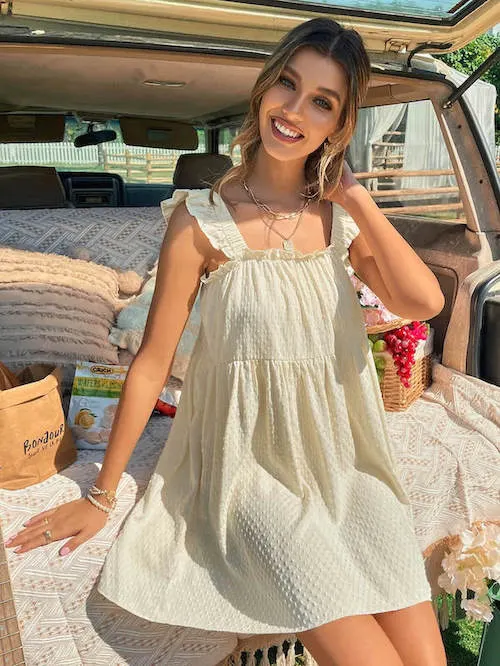 Textured Tie Shoulder Ruffle Hem Cami Dress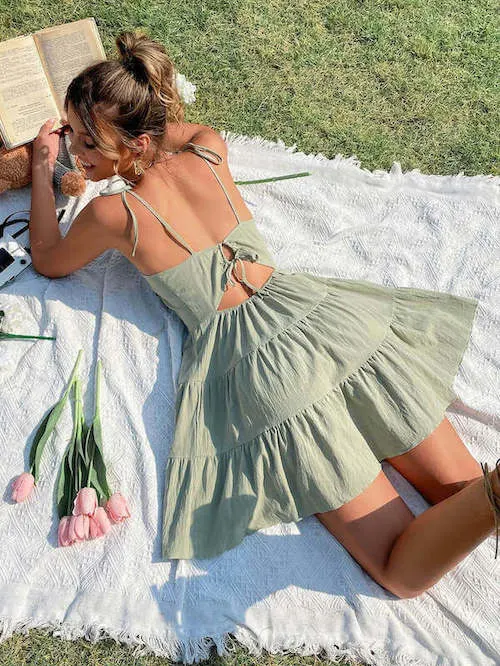 Sweetheart Neck Layered Hem Dress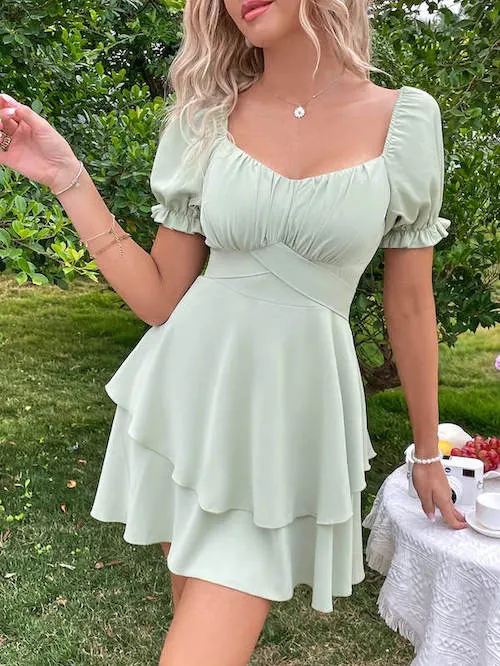 SHEIN Maxi Dresses
Simple Retro Floral Print Draped Collar Cami Dress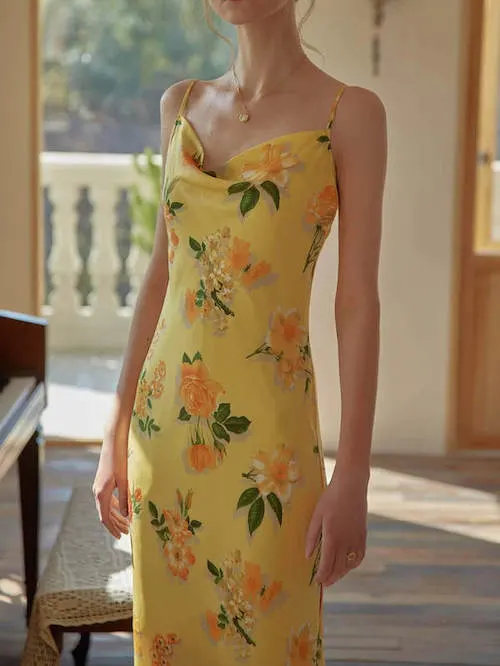 Floral Print Ruffle Hem Belted Dress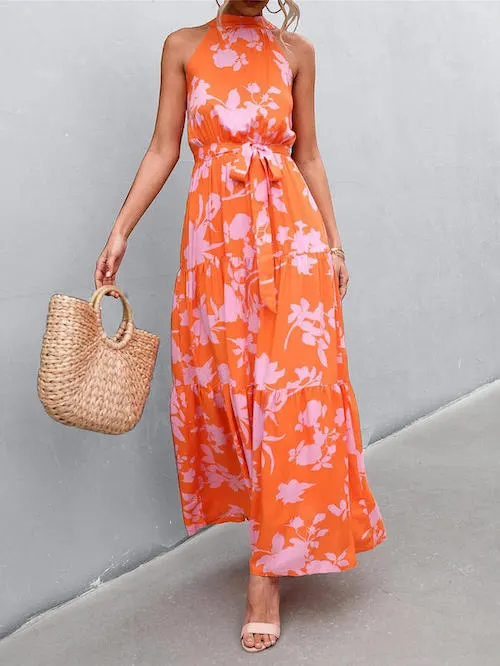 MOTF PREMIUM ASYMMETRICAL ONE SHOULDER DRESS
Floral Print Ruched Bust Puff Sleeve Split Ruffle Hem Dress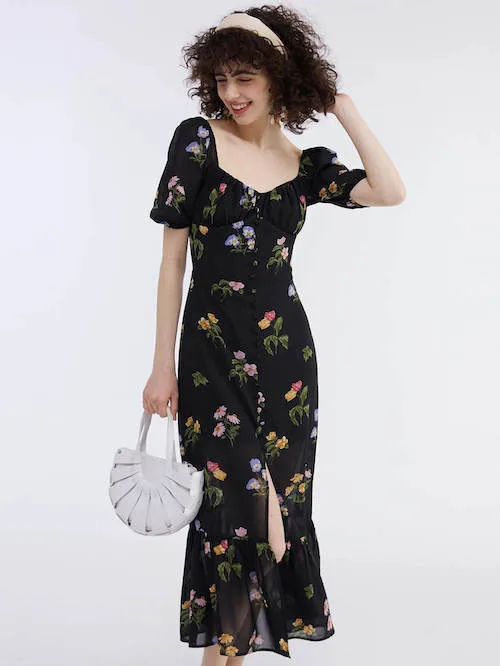 Simplee Eyelet Lace Insert Button Front Scallop Edge Schiffy Cami Dress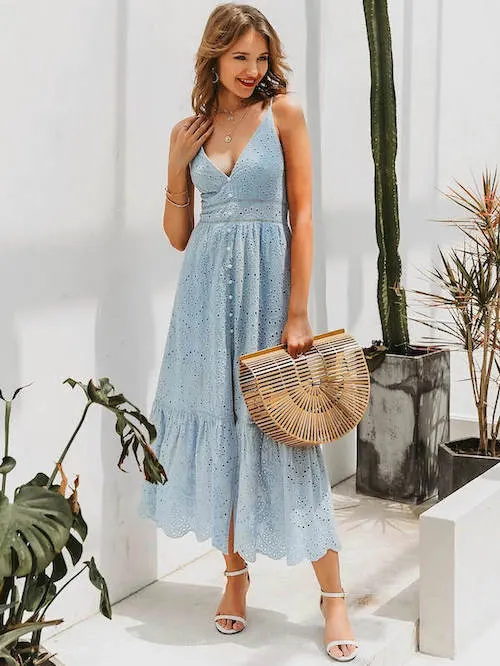 Gingham Print Knot Shoulder Ruffle Hem Cami Dress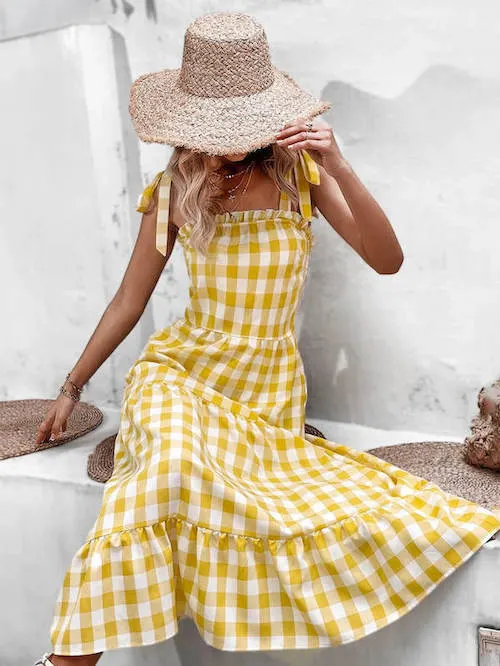 Twist Front Tie Back Floral Cami Dress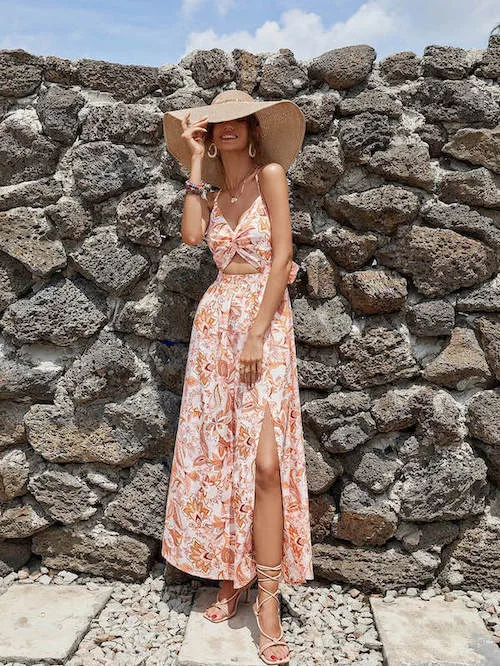 Allover Print Self Tie Split Thigh Cami Dress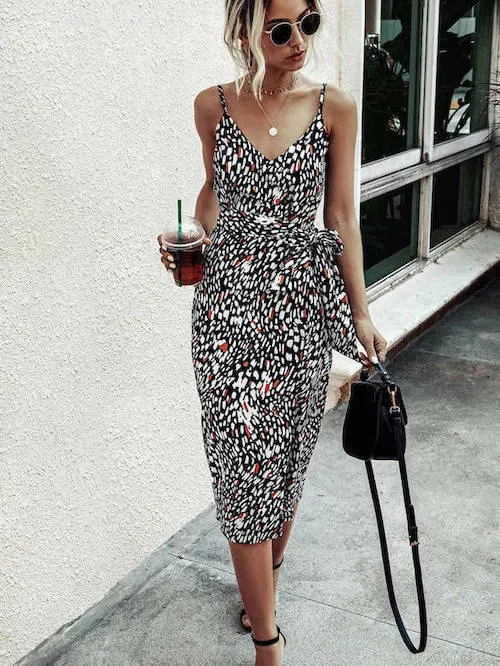 SHEIN Summer Dresses For Special Occasions
Ditsy Floral Split Thigh Cami Dress
PARTHEA Asymmetrical Neck Mesh Insert Wrap Hem Satin Dress
Brush Print Ruched Split Thigh Satin Cami Dress
SHEIN SXY Ruffle Ham Cami Bodycon Dress
Polka Dot Print Off Shoulder Dress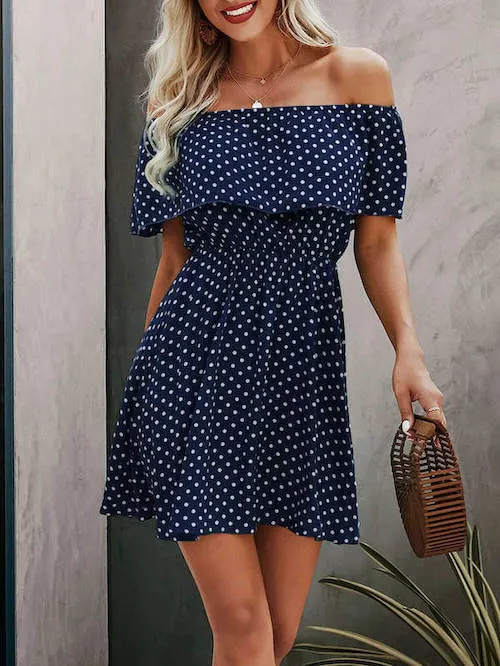 Shirred Back Knot-bust Tube Dress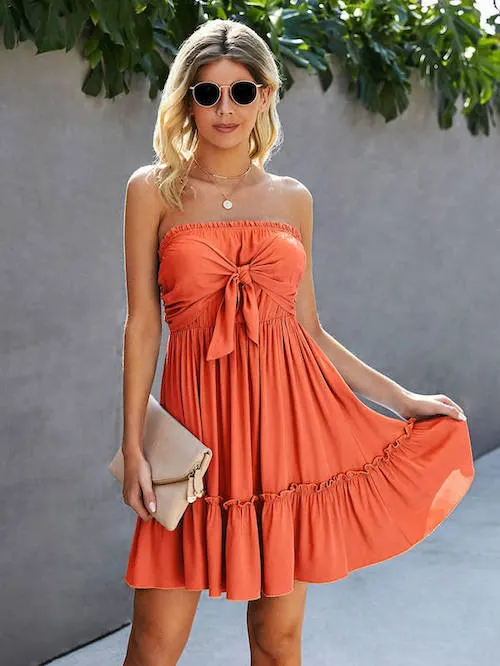 Guipure Lace Insert Swiss Dot Halter Dress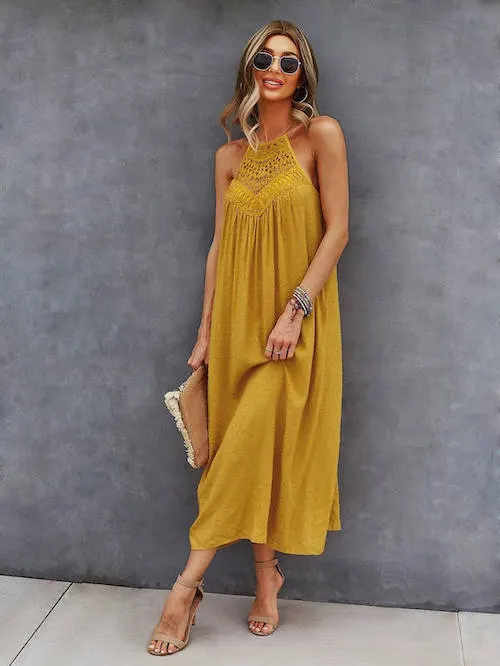 Ditsy Floral Knot Side Cami Dress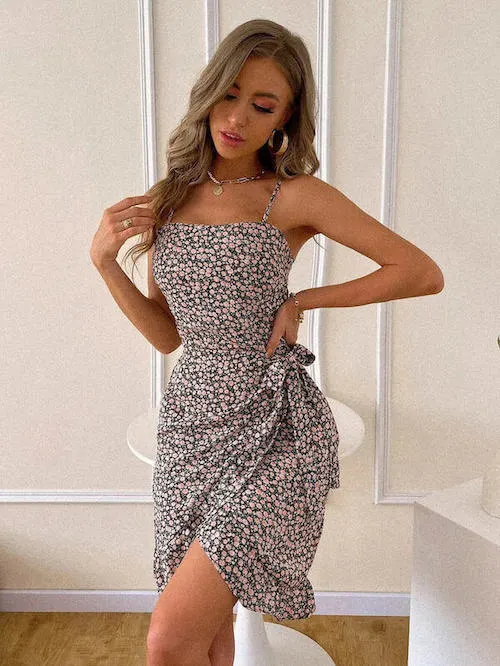 SHEIN Gingham Print Ruffle Trim Off Shoulder Dress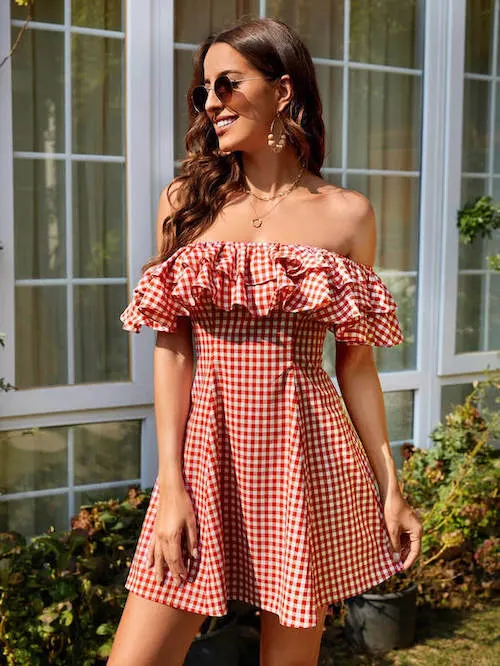 White Summer Dresses From SHEIN
Swiss Dot Ruched Bust Dress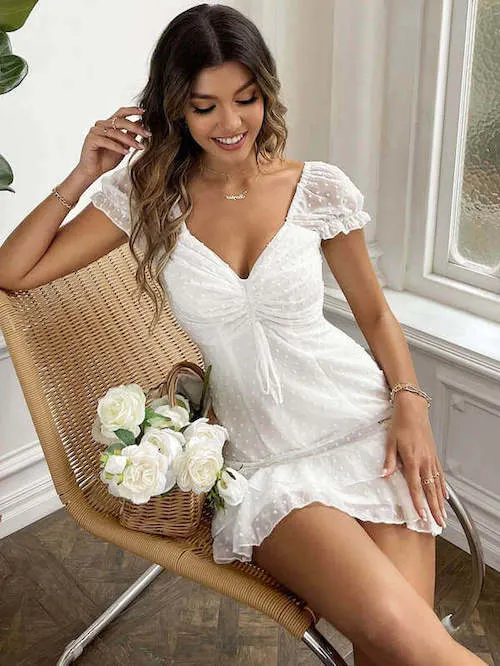 SHEIN Floral Embroidery Tie Backless Guipure Lace Trim Ruffle Hem Halter Dress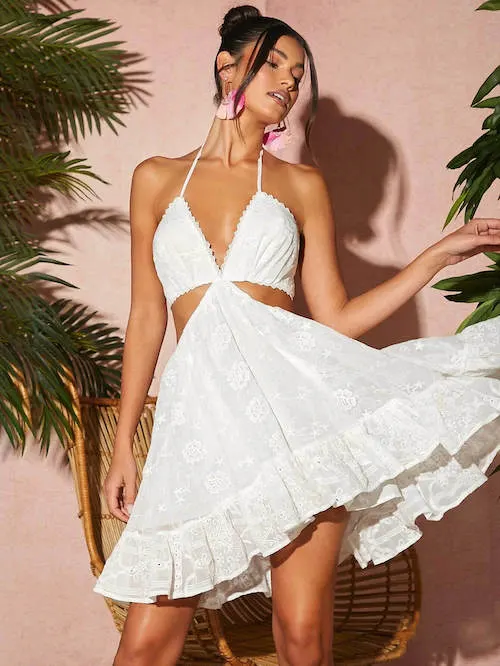 SHEIN Tied Backless Ruffle Trim Schiffy Dress
Lace Insert Layered Hem Cami Dress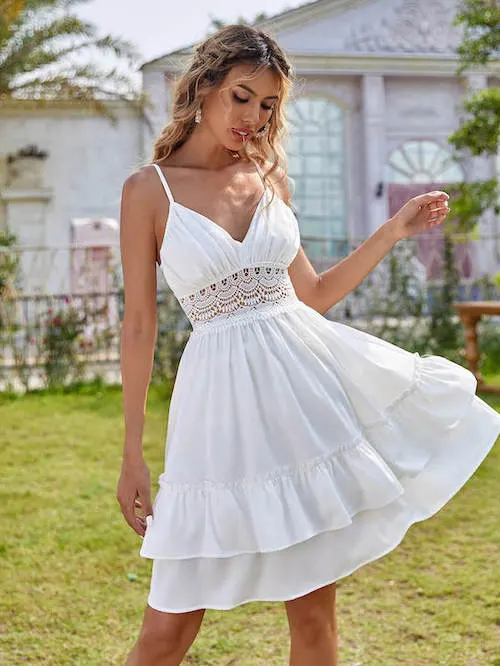 Solid Tie Back Flounce Hem Dress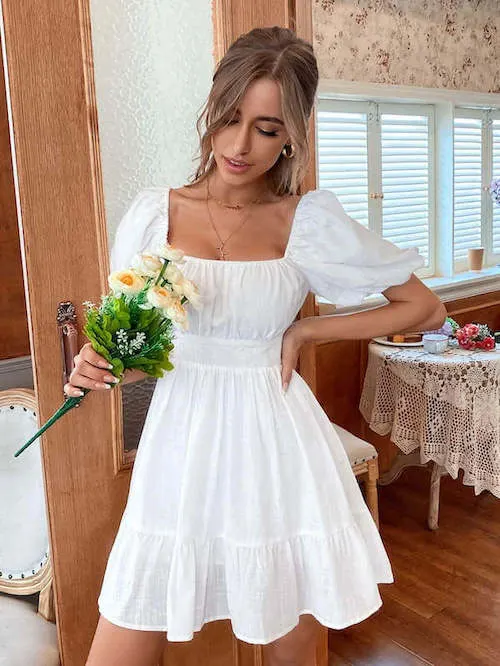 Square Neck A-Line Shirred Ruffle Hem Dress
Twist Front Cut Out Ruffle Hem Schiffy Cami Dress
Tie Shoulder Bustier Cami Dress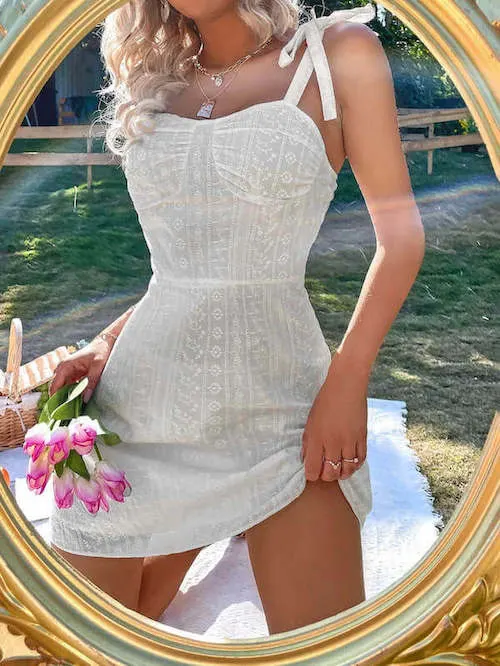 MOTF PREMIUM LINEN GATHERED FLOWY CAMI DRESS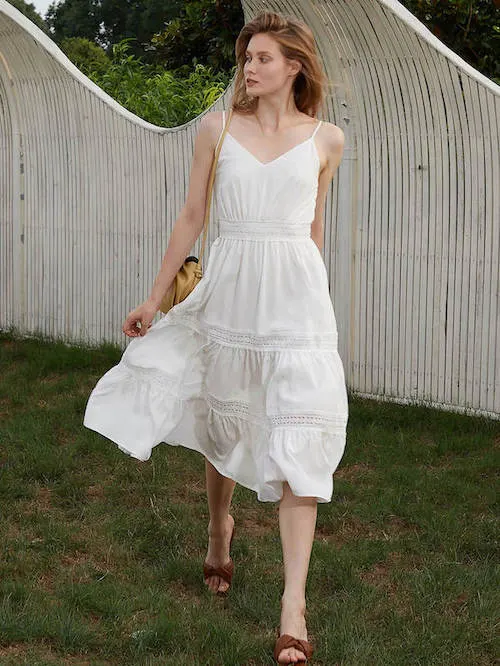 SHEIN Casual Dresses For Hot Weather
SHEIN Frill Detail Crisscross Backless Cami Dress
Solid Frill Trim Cami Dress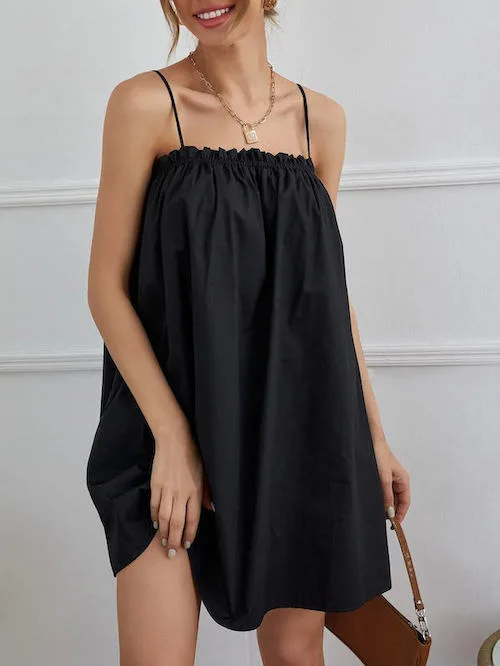 Allover Print Butterfly Sleeve Belted Dress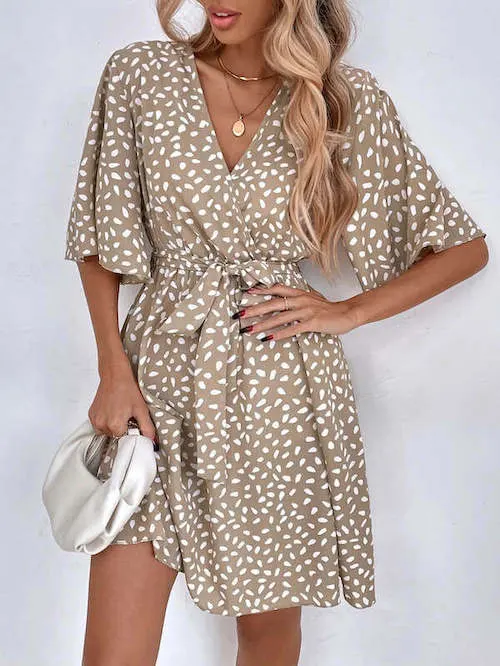 Layered Ruffle Trim Cami Dress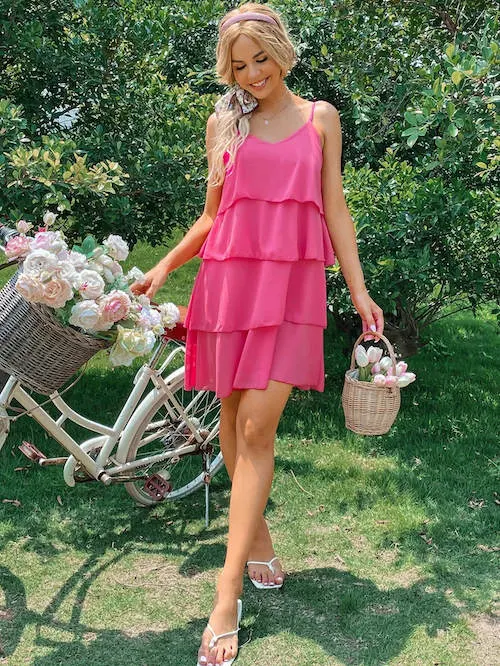 All Over Print Ruffle Trim Tie Side Wrap Dress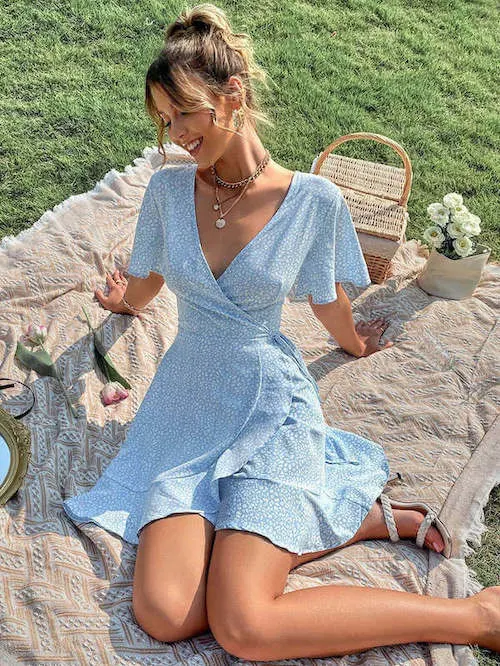 Solid Off Shoulder Split Thigh Dress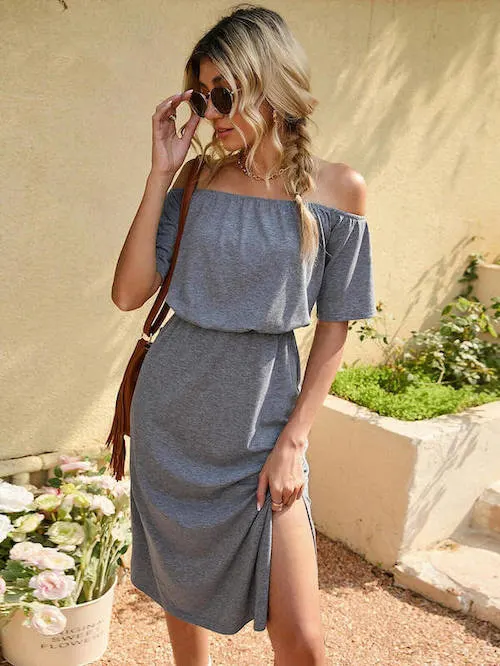 Ditsy Floral Flutter Sleeve Tie Front Ruffle Hem Dress
Shirred Waist Halter Neck Backless Ruffle Hem Dress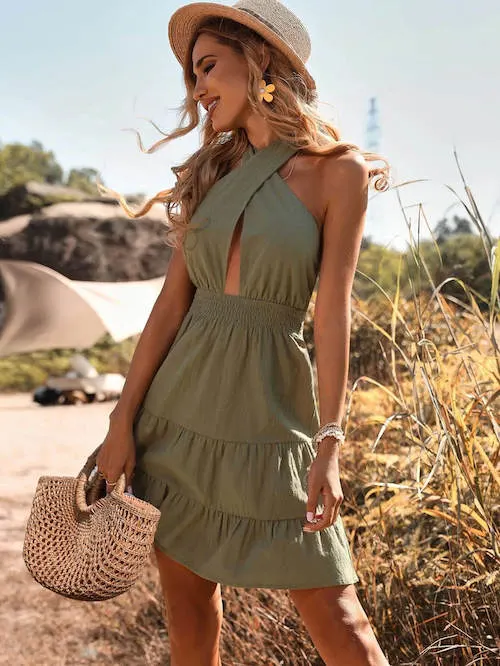 Ditsy Floral Puff Sleeve Overlap Collar Fake Button Ruffle Hem Dress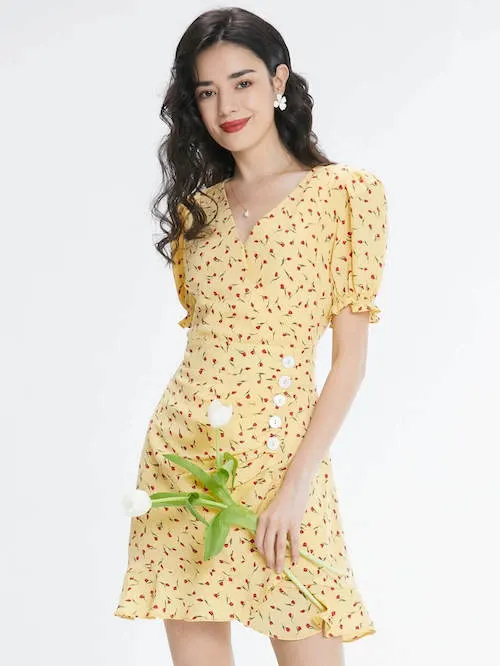 SHEIN Twist Front Tie Back Ditsy Floral Peekaboo Cami Dress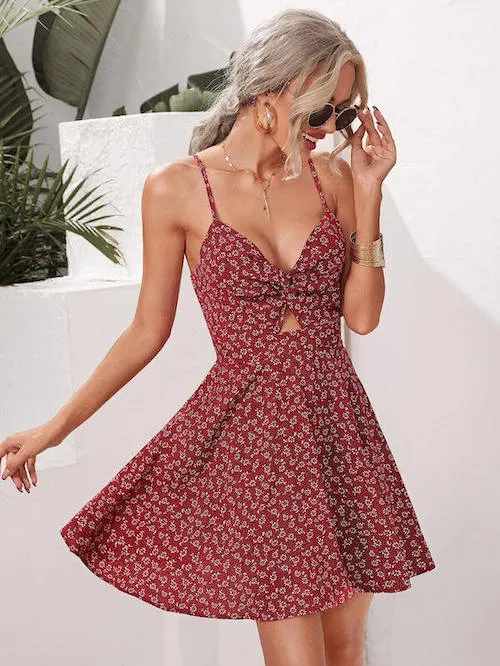 SHEIN Floral Print Ruched Bust Puff Sleeve Dress
SHEIN Vacation Dress Ideas
Allover Print Split Hem Cami Dress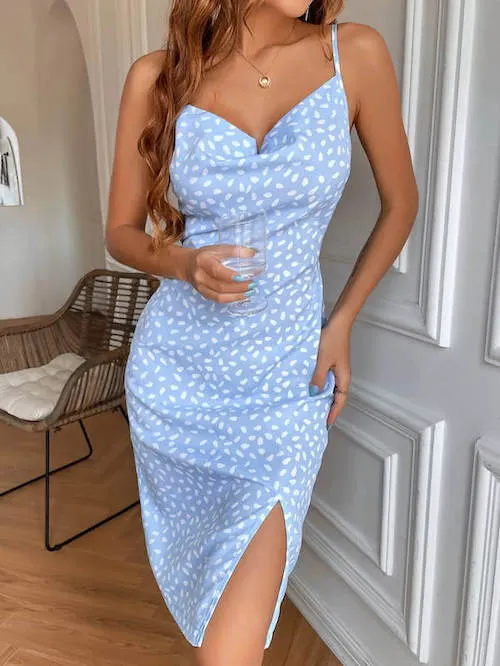 Swiss Dot Frill Trim Cami Dress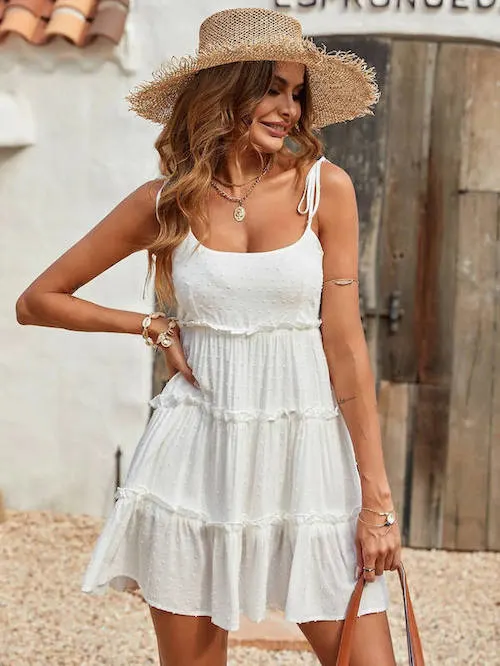 SHEIN Surplice Neck Tie Shoulder Dress
Vertical Striped Ruffle Hem Crisscross Tie Back Cami Dress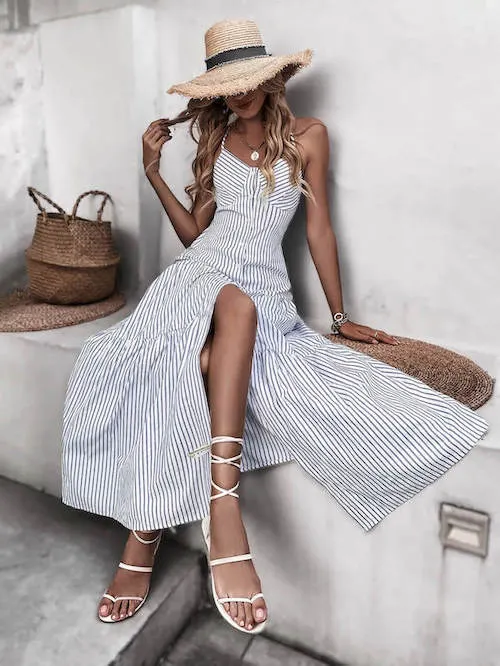 SHEIN Allover Floral Print Tie Backless Halter Dress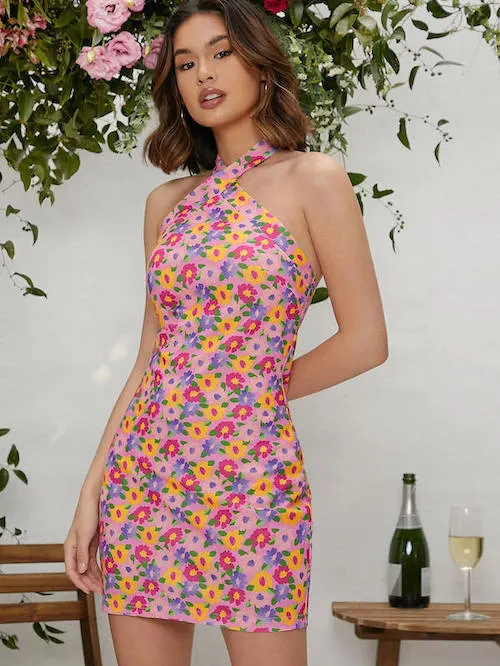 SHEIN Allover Floral Tie Back Dress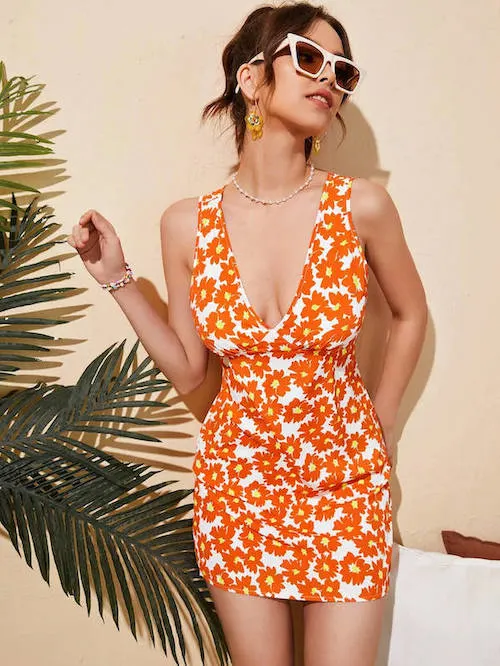 Button Through Drawstring Waist Polka Dot Cami Dress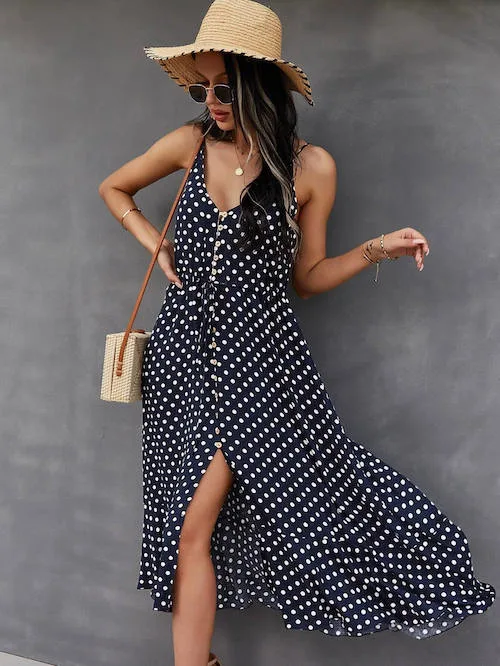 Rusttydustty Floral Print Flowy Maxi Dress Without Belt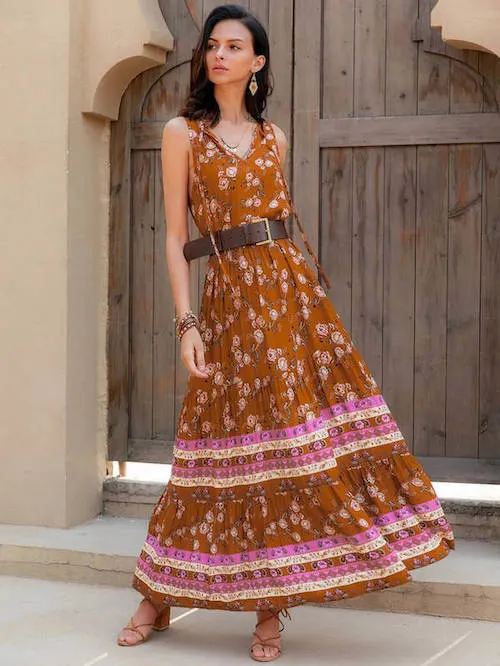 Guipure Lace Insert Tie Backless Ruffle Hem Cami Dress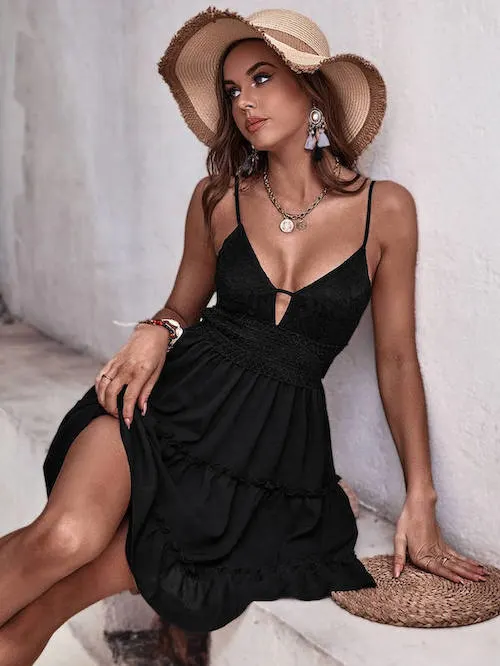 Dalmatian Print Bardot Ruffle Trim Split Thigh Dress Without Belt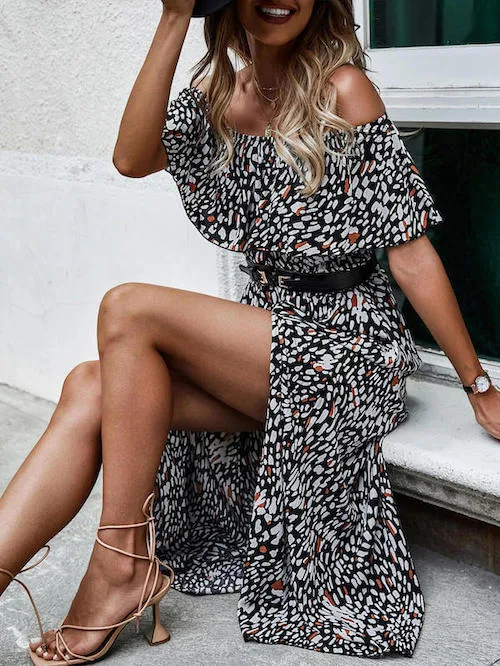 This post is all about SHEIN summer dresses
Related Posts: