Looking for the best tops to wear with pencil skirt? Check this post for the best style tips on how to choose tops to wear with a pencil skirt and the 30+ chic pencil skirt outfit ideas to copy directly.
A pencil skirt is an iconic piece in fashion history and is a must-have bottom garment for women of all ages.
Although in traditional fashion wear, pencil skirts are considered to be a classic item in work wear. But with the continuous development of fashion styles in recent years, the pencil skirt has become a truly versatile piece of clothing.
When they are paired with different tops and shoes, pencil skirts can help us successfully create different looks, allowing us to confidently attend any occasion.
If you are looking for the best tops to wear with a pencil skirt, and the different ways of styling a pencil skirt with different tops for different seasons, you've come to the right place.
In today's article, I am sharing with you the style tips on how to choose the right tops to pair with a pencil skirt, and our favorite 30+ top ideas to wear with a pencil skirt for different styles.
So scroll down to check these different outfits with a pencil skirt, and don't hesitate to pin them to your Pinterest board, and share them on social media sites.
This post may contain affiliate links, which means I'll receive a commission if you purchase through my link, at no extra cost to you. Please read the full disclosure here.
This post is all about tops to wear with pencil skirt.
How To Choose Tops To Pair With Pencil Skirt
From smart office outfits to romantic and sexy date looks, from hot summer vacations to cozy fall and winter skirt outfits, how do you choose the best tops for your versatile pencil skirt?
Consider The Occasion
First, you need to consider the occasion you will be attending.
If it is a professional occasion, especially if you need to attend a formal business meeting, then a dress shirt with good texture, crisp fabric, or silk texture is the best choice.
For less formal office wear, you can wear a sleeveless collared top in summer for a great look, and a more fitted knit top or cardigan in fall and winter.
For parties or date nights, you can also wear sexy tops, off-the-shoulder tops, lace tops, or crop tops are all great choices.
For relaxed and casual occasions, you can choose from even more tops. You can opt for a simple T-shirt, and a pencil skirt can bring it to life.
You can also choose tops with beautiful colors or unique patterns to add a pop of color to your outfit and show your unique personality and strong fashion sense.
Consider The Weather
When the weather is hot, wearing a simple basic T-shirt, tank top, or sexy crop top is my favorite way to style a pencil skirt.
Just use a pair of casual shoes, such as strappy sandals or white sneakers, to instantly make your pencil skirt look stylish and casual.
If the weather is colder, then you can add a cardigan, blazer, long coat, or a fashionable denim jacket or leather jacket to your summer outfits to make a perfect transition to cooler months.
This year, it is also very trendy to use an oversized top with a pencil skirt to create a comfortable elegance. So you can match your pencil skirt with an oversized knit top or an oversized sweatshirt for a stylish casual look.
Consider The Length Of The Skirt
Pencil skirts are most suitable for people with an H body type because pencil skirts can fully show their body lines without highlighting their body shortcomings.
But in fact, just choosing a top that fits the skirt length and using the right accessories will allow you to perfectly style different body shapes with a pencil skirt.
Shorter pencil skirts are suitable for more tops, and basically, all tops can be matched with them.
For longer pencil skirts, especially knee-length pencil skirts, you should avoid choosing tops whose lengths are similar to that of the skirts, which will make you look shorter.
I recommend choosing short tops or oversized tops to pair with a long pencil skirt. It is a great way to make you look taller.
Alternatively, you can make use of belts to show off your waistline and make your bottom half look longer and slimmer.
The Best Tops To Wear With Pencil Skirt For Different Styles: 30+ Chic Pencil Skirt Outfit Ideas
Looking for more inspiration? Ahead scroll on to check our favorite top ideas and pencil skirt outfits from our favorite online fashion stores to shop for and copy directly.
Sexy Date Night Look: Leopard Print Top + Black Classic Pencil Skirt + Black Pointy Toe Shoes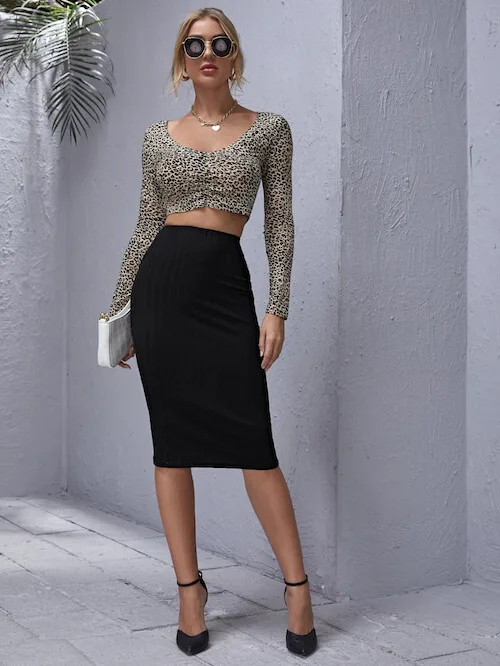 Zebra Print Top + Mini Pencil Skirt For A Sexy Night Out Style
Perfect Look For Summer Vacation: Simple T-shirt + Denim Skirt + Flat Shoes
Dress Shirt + Black Leather Pencil Skirt + Heels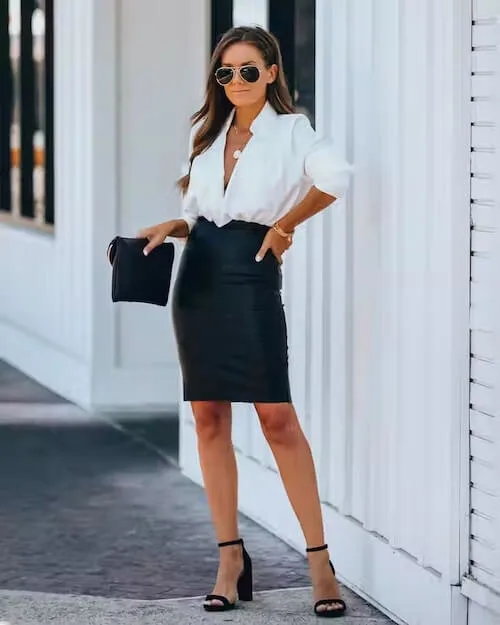 Knit Fitted Top + High Waisted Pencil Skirts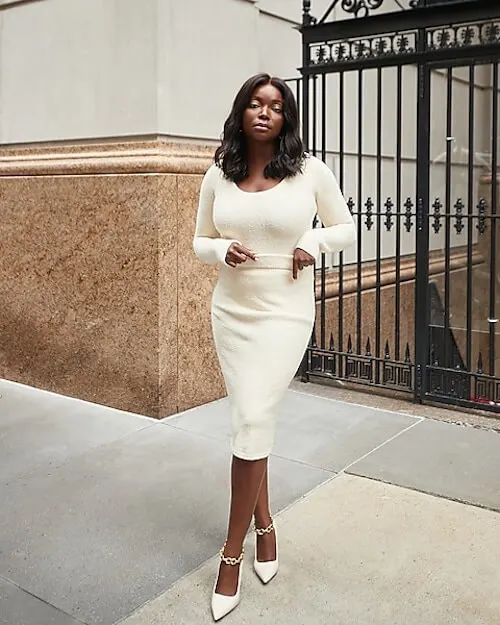 Sexy Casual Look: Crop Cardigan + Leopard-Print Midi Pencil Straight Skirt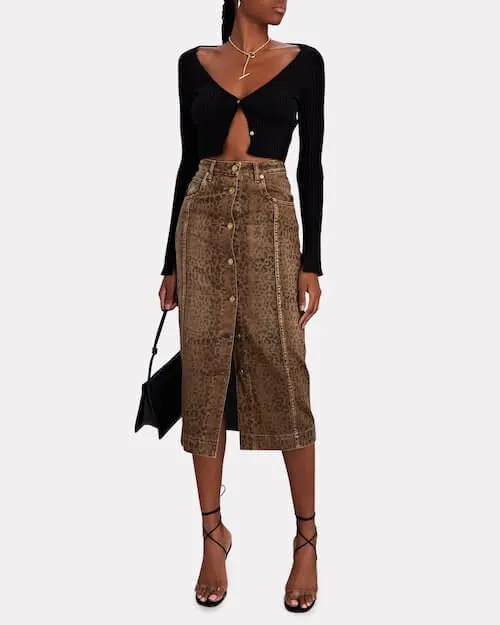 Corset Top + Brown Pencil Skirt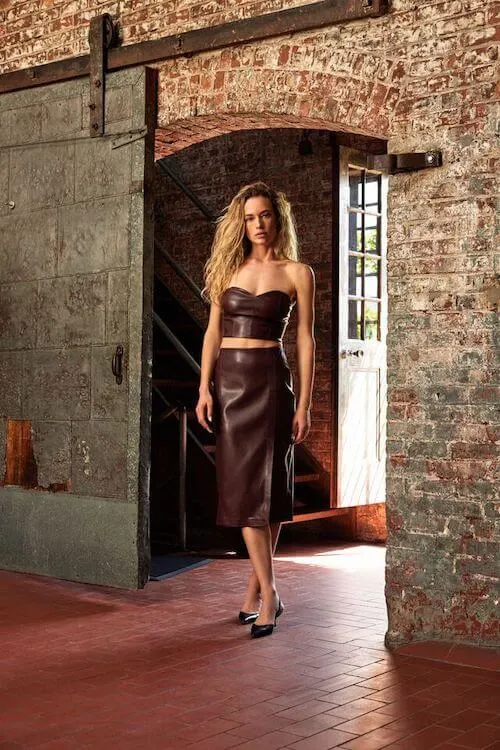 Stunning Cocktail Party Look: Metallic Wrap Top + Black Formal Pencil Skirt + Metallic Shoes
Chic Office Wear: Pussy Bow Blouse + Long Black Skirt + Pointed Toe Flats / Ballet Flats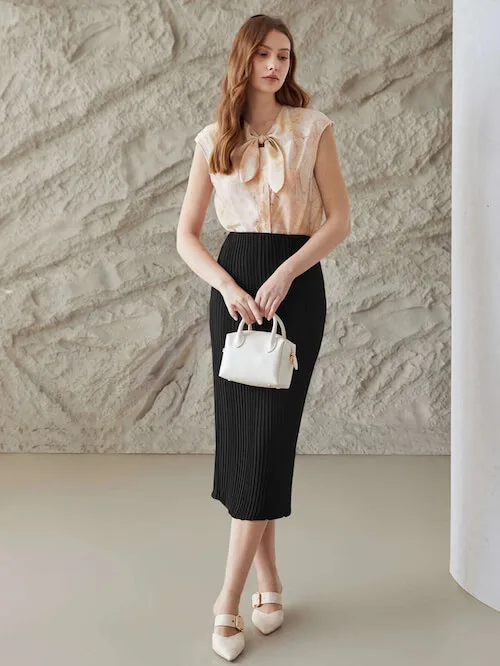 Casual Pencil Skirt Outfit: Letter Tee / Graphic Tee + Pencil Skirt + White Sneakers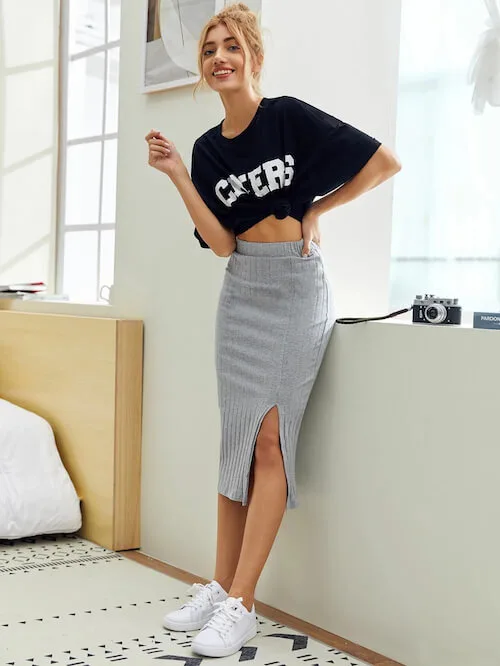 Matching Crop Top + Pencil Skirt + Boots
White Tank Top / Bodysuit + Leather Knee Pencil Skirts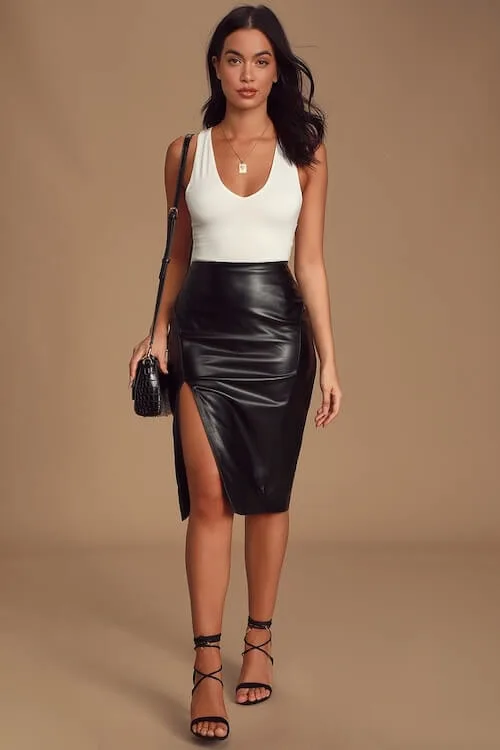 Lace Top + Leather Classic Black Skirt + High Heels
Fall Chic Look: Cardigan + Velvet Midi Pencil Skirt + Knee High Boots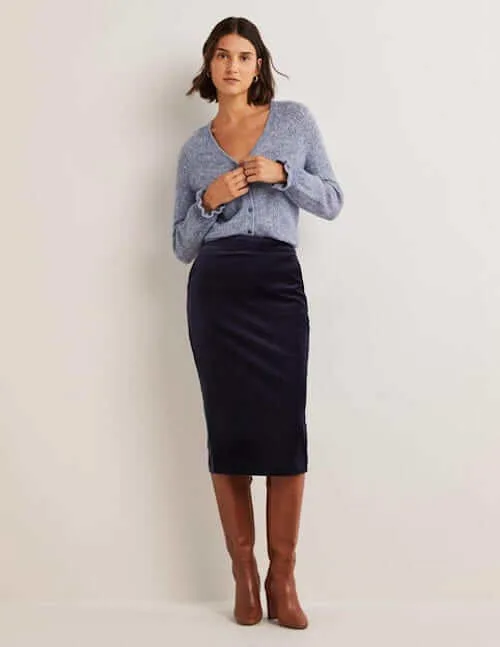 Black Cami Top + Leopard Print Tie Front Wrap Skirt
Tweed Jacket + Fringe Hem Plaid Tweed Skirt + Chunky Sandals
Stylish Everyday Wear: Denim Jacket + White Top + Black Pencil Skirt + White Pumps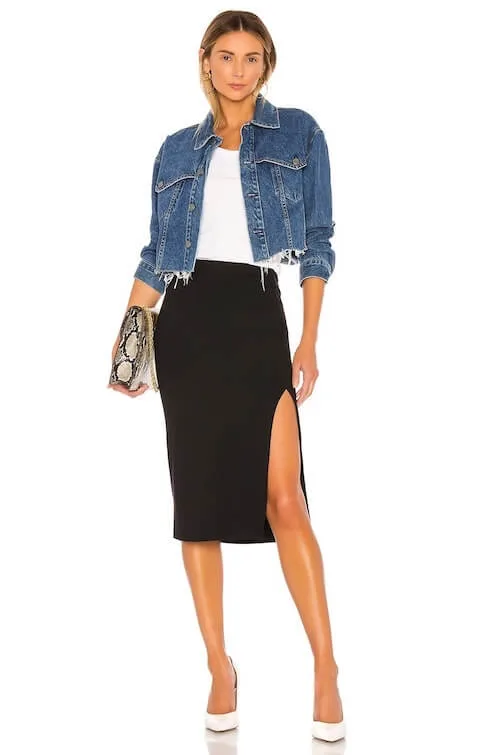 Black Pencil Skirt Outfits: White Blouse + Trench Coat + Black Pencil Skirt
Crop Turtleneck Sweater + Double-Waist Denim Midi Skirt + Knee-High Boots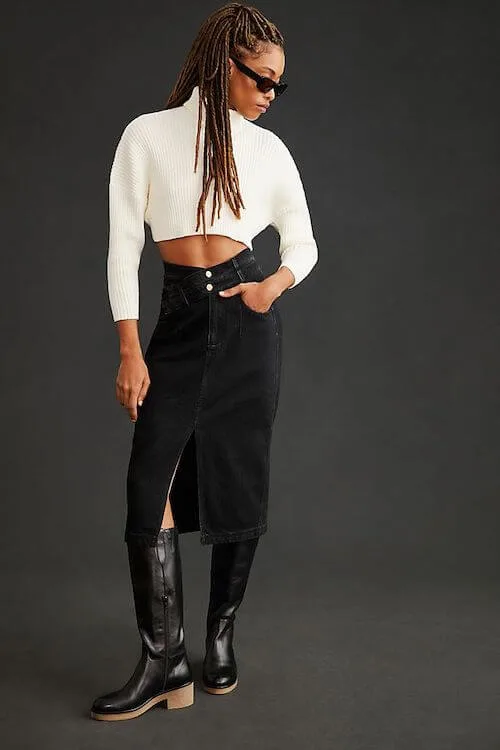 Neutral Colors Sleeveless High Neck Fitted Top + Pencil Skirt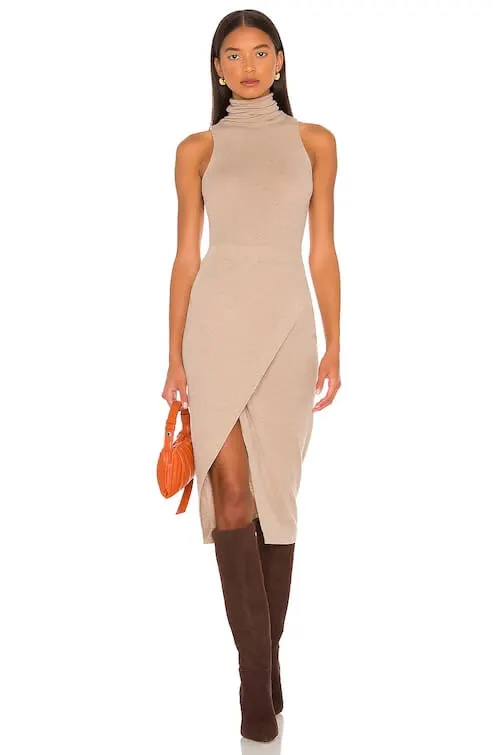 Summer Professional Look: Sleeveless Lightblue Shirt / Denim Shirt / Chambray Shirt + Pencil Skirt
Belted Formal Shirt / Peplum Tops + Pencil Skirt + Pointed Toe Kitten Heels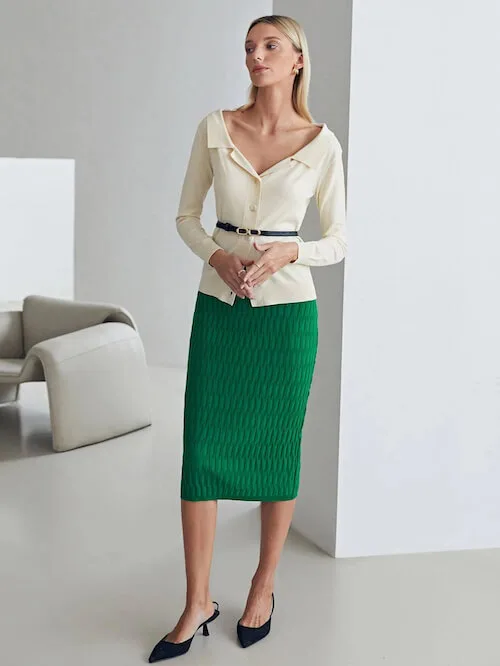 One Shoulder Top + Leather Pencil Skirt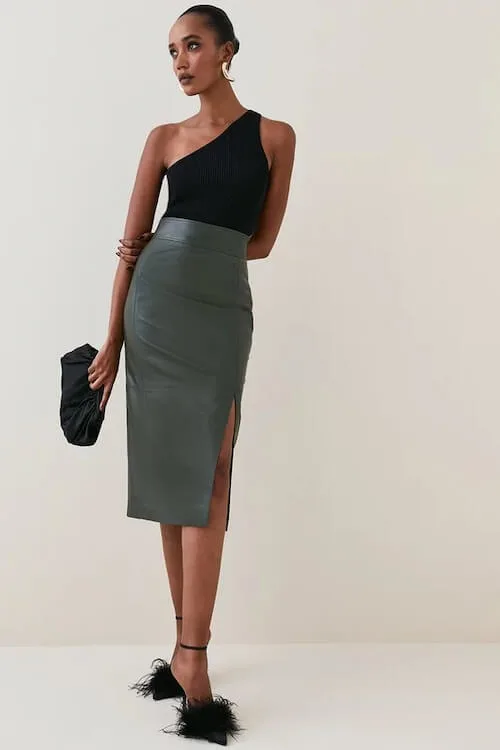 Cute Happy Hour Style: Black Leather Jacket + Leopard Print Pencil Skirt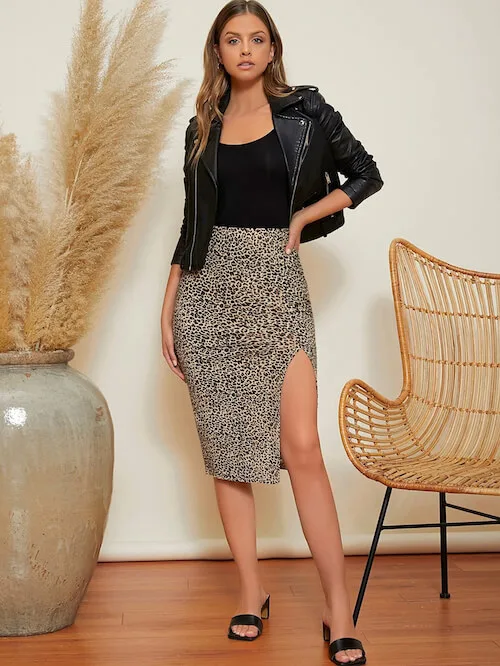 White Blouse + Black Pencil Skirt + Nude Heels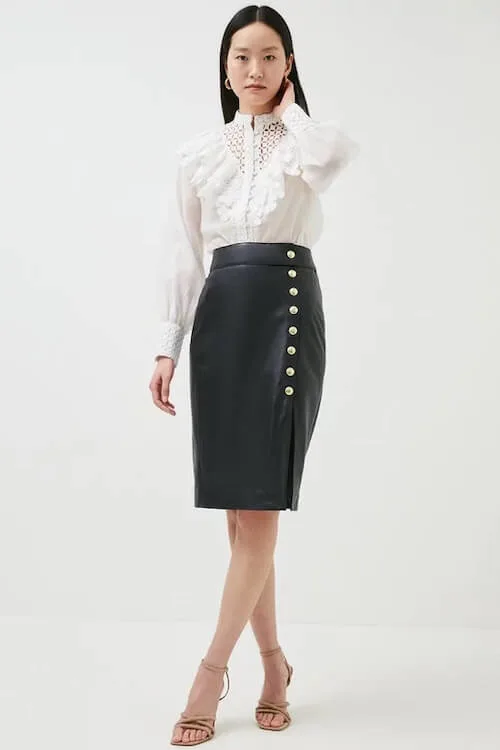 Mesh Top + Denim Pencil Skirt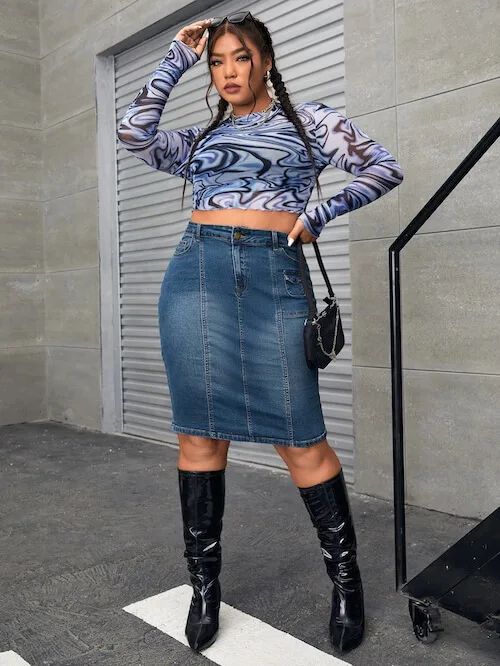 Oversized Blazer + Black Top + Burst Orange Long Pencil Skirt + Black Boots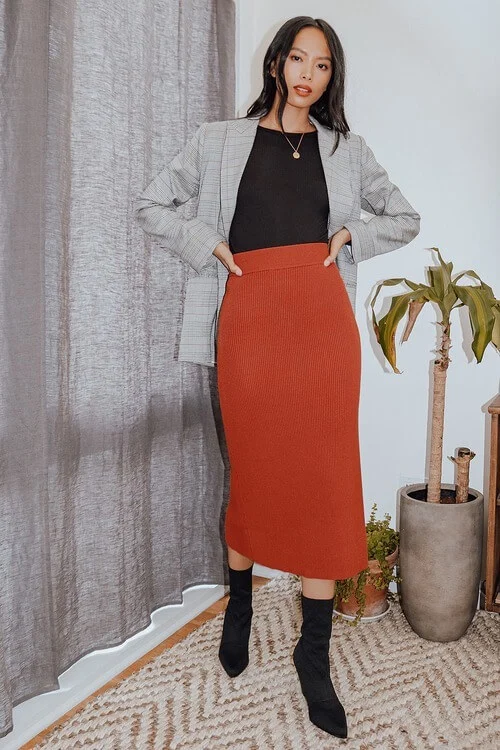 Kitted Top + Tight Pencil Skirt + Platform Sandals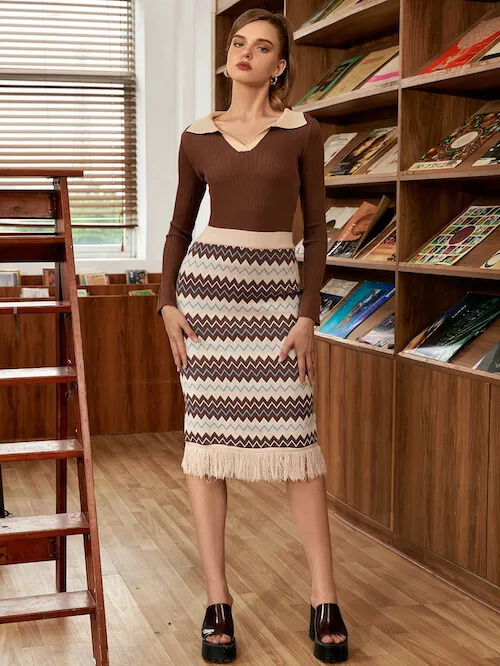 Off The Shoulder Top + Pencil Skirt
Crisp White Shirt + Tweed Pencil Skirt + White Strappy Shoes
Solid Color Simple Shirt + Polka Dots Pencil Skirt + Ankle Boots
Fall Winter Weather Skirt Style: Oversized Sweaters + Button Detail Knit Pencil Skirt
Black Mesh Crop Top + Sequin Pencil Skirt + Black Pointy Toe Shoes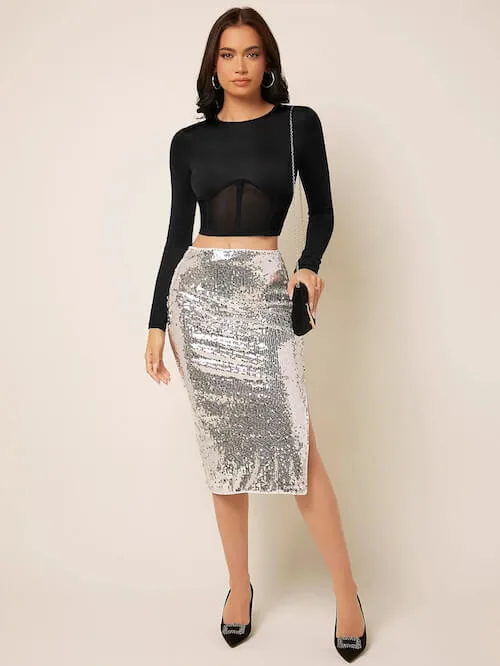 Common Questions
What are the best tops to wear with black pencil skirt?
A black pencil skirt is perfect for office wear. Therefore, if you need to create a work outfit, a fitted dress shirt is a very good choice.
You can also opt for a sleeveless top to add a little bit of sexy touch of elegance.
In fall and winter, you only need a slim knit top with a black pencil skirt, you can match this combination with any fall and winter coat to create a casual or professional style.
Black pencil skirts are also perfect for a sexy date or nightclub look. You can go bold with a sexy lace top or mesh top, or opt for bright colors that will make you look stunning.
What are the best tops to wear with a leather pencil skirt?
The leather pencil skirt is warm and sexy. If you need a sexy look, a good leather pencil skirt is a great option.
All you need is a very simple cami top or tank top for a great date night or nightclub-style without being tacky at all.
When the weather is cold, a warm leather pencil skirt will also keep you classy on colder days. A knit top is a perfect match for a leather pencil skirt. You can pair your leather skirt with a slim or oversized knit top.
At a holiday party, a leather pencil skirt can bring your style to the next level. You can choose from a bright satin top, silk top, or sequin top for a sexy festive pencil skirt style.
What are the best tops to wear with long pencil skirt?
For long pencil skirts, if you need to look smart, especially professional and formal, then you should choose a top that accentuates your waistline and elongates your legs. Peplum tops, belted tops, and cropped tops are all great options.
If you need a casual look, then you can opt for an oversized top and pair it with a pair of casual shoes for slouchy pencil skirt outfits.
This post was all about tops to wear with pencil skirt.
About The Author
Tracy is an experienced personal stylist, shopping expert, and fashion & lifestyle blogger. She has been featured on Time Magazine, Bustle, Best Life, Glam, The Zoe Report, Mic, and GOBankingRates, for her insights on fashion, beauty, home decor, and lifestyle. Read More
Related Posts: