Want to know what to wear in Miami? Check this post for the best style tips and the trendiest Miami outfits to copy and shop directly for your next vacation!
When you describe the vibrant city of Miami in a few words, gorgeous beaches, sunshine, bikini and party are definitely the first things that come to mind.
This city, located in the United States' Sunshine State Florida, has a large number of Latino immigrants, and because of this it is also one best place to enjoy the enthusiasm of its Latin culture.
The sea, the quality of the beach, the fresh air and the colorful entertainment programs on the beach have attracted a large number of tourists to come here to relax in the year-round sunshine. Everyone who comes here slows their emotions down and lazily lies on the beach in the sun.
If you are planning what to bring to Miami, you've come to the right place.
In today's article, we are sharing with you the travel outfits tips in Miami for different seasons for you to bring the right clothes, and the cutest Miami outfits for any occasion from our favorite retailers, for you to copy and and shop directly,
At the end of the article, I am also sharing our favorite Miami packing list to help you have a good time.
So scroll down to check these Miami outfit ideas and packing list, and don't hesitate to pin them to your Pinterest board and share them on your social media sites.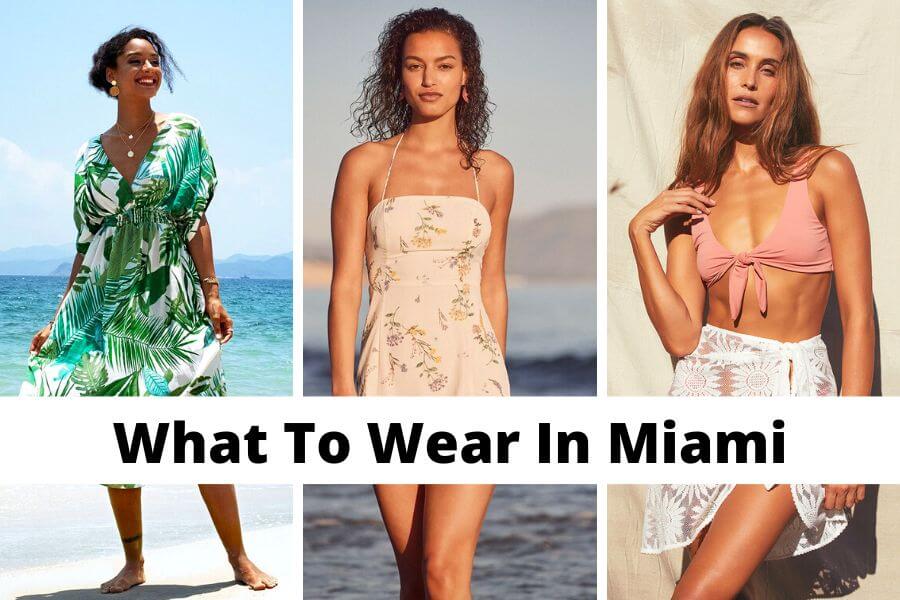 This post was all about what to wear in Miami.
What To Wear In Miami For Different Seasons
What To Wear In Miami In The Spring
Spring is the best time to visit Miami. If you are traveling to Miami in this ideal time, it is recommended to wear cool and breathable clothes such as shirts made of cotton and linen, thin long sleeves skirts and thin T-shirts.
However, it will be cooler at night, so you can also bring long-sleeved shirts, thin jackets and light pants.
What To Wear In Miami In The Summer
From June to November is the local hurricane season. Rainfall will be very heavy in the Miami area during this time of year, but the cost of attractions or hotels will be relatively low.
There is also plenty of sunshine even in the rainy season, so be sure to protect yourself from the summer heat and drink plenty of water.
The average temperature in Miami in the summer is very high. During the day, you should wear comfortable and breathable clothing, such as skirts, shorts, t-shirts, etc. It is also recommended to wear a lightweight shirt to protect you from the sun.
The temperature at night will be a little cooler, but when you go out, you still need to wear cool and comfortable summer clothes.
In addition, it is recommended to choose clothes that are easy to dry.
What To Wear In Miami In The Fall
When visiting Miami, even in the fall, everyone can still wear fresh summer clothes.
For women, skirts or dresses are the first choice. And for men, shorts and short sleeves tops are the best matches, as they are comfortable and easy to move around in.
If you have more outdoor sports, in order to protect yourself from the sun, you can also bring a thin long jacket.
What To Wear In Miami In The Winter
Since Miami is a place with warm temperatures all year round, visitors to Miami in winter, even in the coldest month, should just bring cool, breathable clothes and a warm jacket.
During the day, it is recommended to wear cool and breathable clothes such as cotton and linen shirts, dresses, and thin T-shirts.
At night, it is recommended to wear lightweight jackets, trench coats, cardigans, and thin sweaters.
Now scroll down to check stylish Miami outfit ideas for your next vacation!
What To Wear To Miami Beach: Cutest Beach Clothes Ideas
Swimwear is of course the best dress on the beach in Miami! For a chic look, you can layer a lightweight button down shirts, or cover ups, over your swimsuit.
Bold colors in tropical and Latin patterns answer the call of the Miami sun!
Put on a beautiful light and airy dress. Whether it's a romantic maxi dress or a lively, sexy skirt, it's perfect for Miami's beautiful beaches.
In cooler weather, a cute top with a thin pair of long pants is also an ideal outfit. It will make you the center of attention whether you wear them with a bra top, crop top, or oversized loose top.
Open Front Loose Waisted Cover Up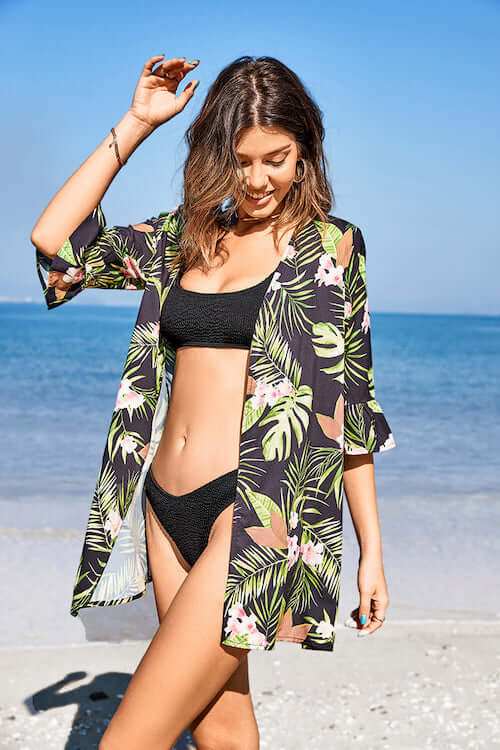 Thin Strap Floral A-Shape Dress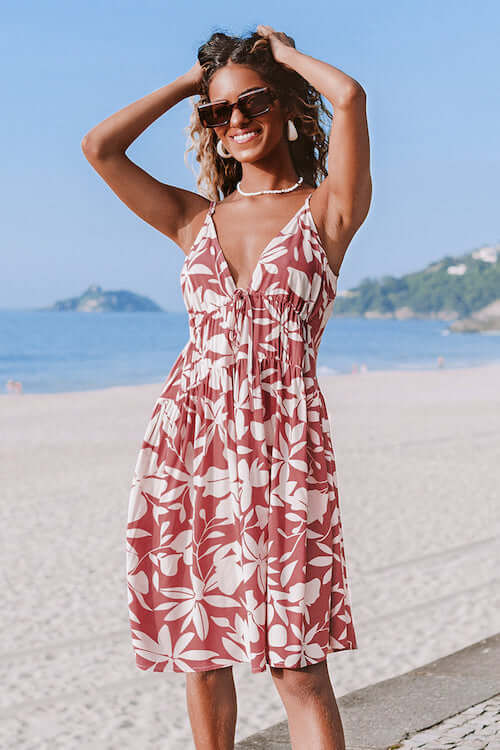 Blue Floral Print Tiered Mini Skirt + Bra Top + White Sandals
Bralette + Mini Skirt Set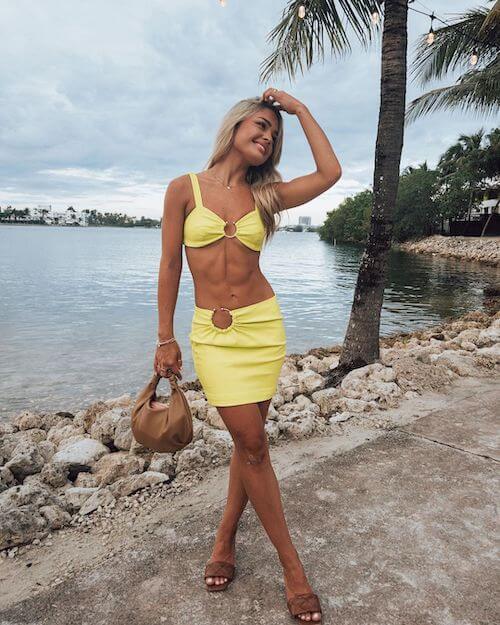 Wide Pleated High Waist Trousers + Halter Top + Strappy Sandals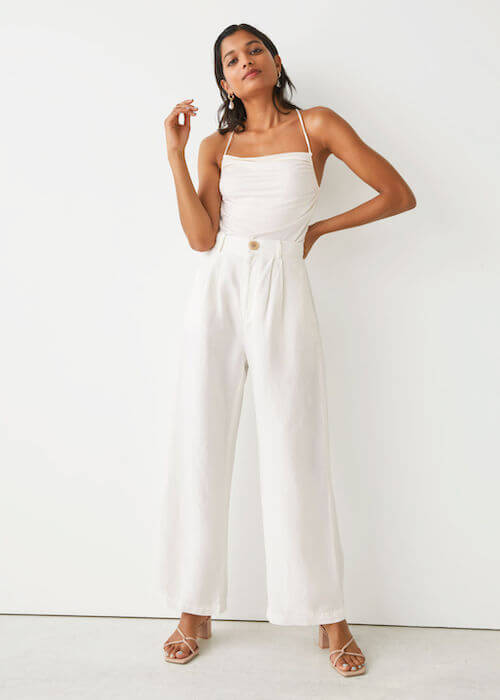 Tropical Wrap Tie Waist Dress + Flat Sandals + Straw Hat + Sunnies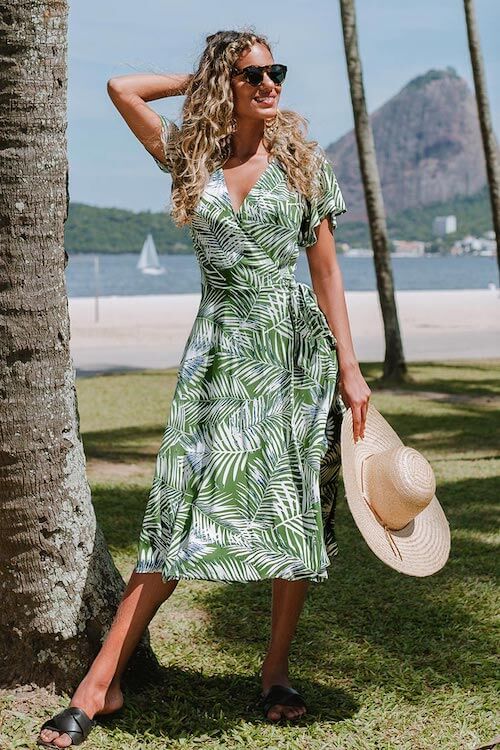 Tropical V Neck Dress + Statement Jewelry
Cream Floral Print Halter Lace-Up Mini Dress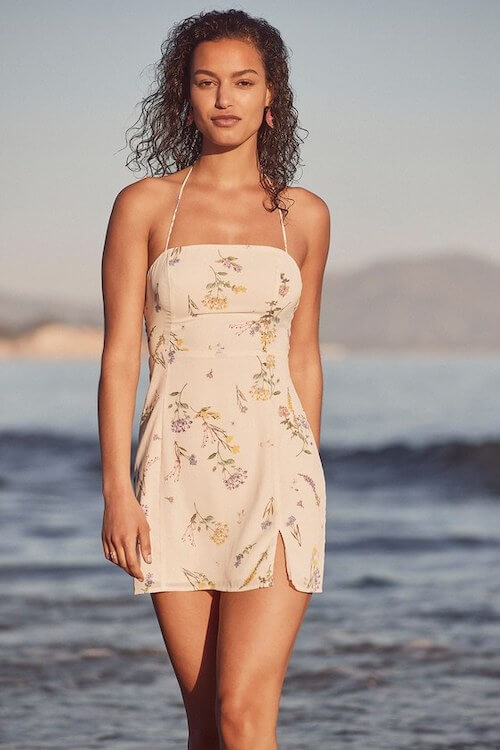 Yellow Tropical Plants Dress
Slightly Oversized Linen Button Down + Linen Shorts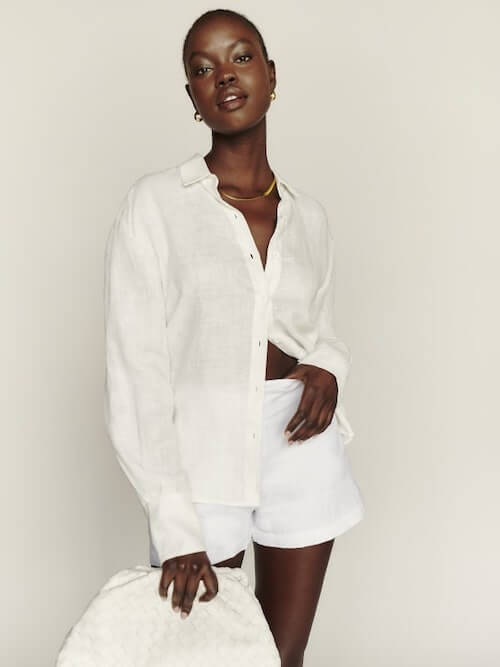 Mustard Yellow Floral Print Tie-Front Crop Top + Denim Shorts
Wide Leg Pants + Bra Top + Sunnies
White Two Piece Set
Bright Colors Allover Print Cami Dress
Orange Crisscross Backless Layered Hem Romper
White Cami Dress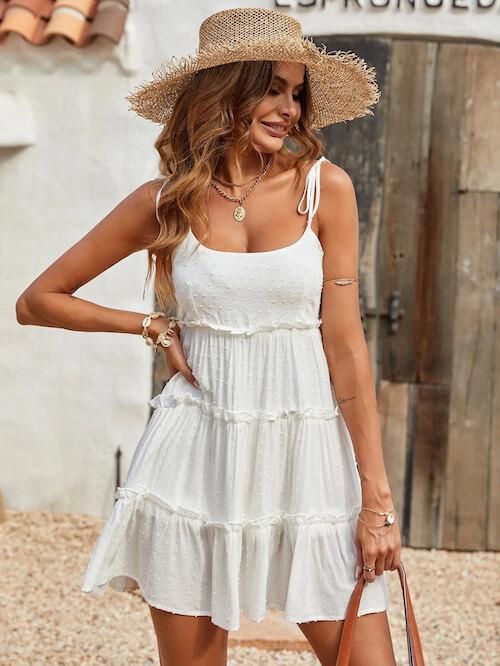 Polka Dot Spaghetti Strap Dress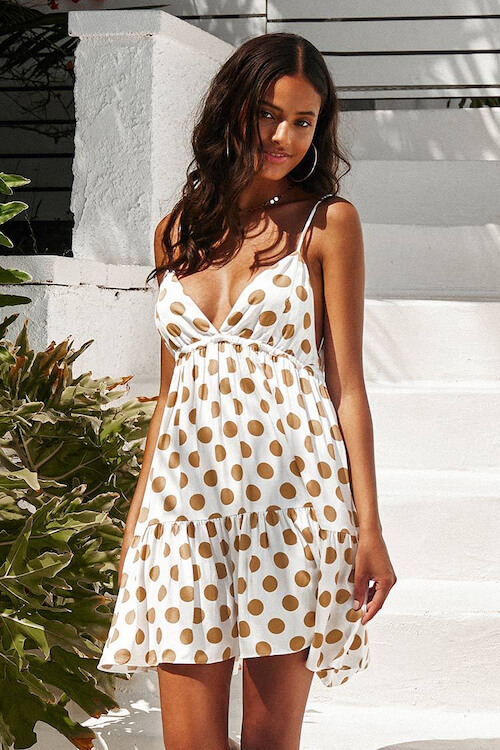 Cute Beach Long Pants + Loose Top + A Pair Of Sunnies
What To Wear In Downtown Miami
When you're wandering around Downtown Miami, visiting art museums, or enjoying a meal at a restaurant, a cool and airy outfit is a good idea to style like Miami locals in the hot weather.
In order to get perfect looks, in addition to the lively summer dresses, you can also choose the very popular crop top and skirt set, or loose top and shorts such sets, and then bring a straw bag and comfortable shoes to complete the whole look.
A stylish jumpsuit is also a great option for almost any body shape. These are very casual and lightweight and have a high level of fashion.
When the weather is not so hot, you can also choose flowy maxi dresses, and then layer a thin jacket or cardigan.
Wrap Midi Skirt + Crop Tops + Open Toe Shoes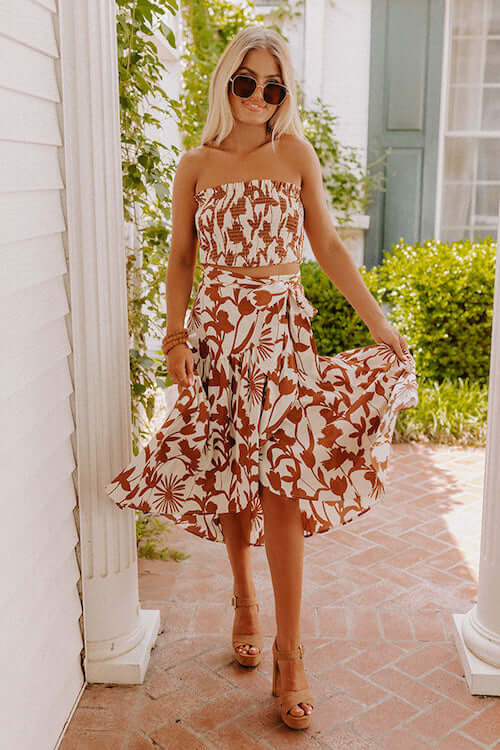 Red Ditsy Puff Sleeve Dress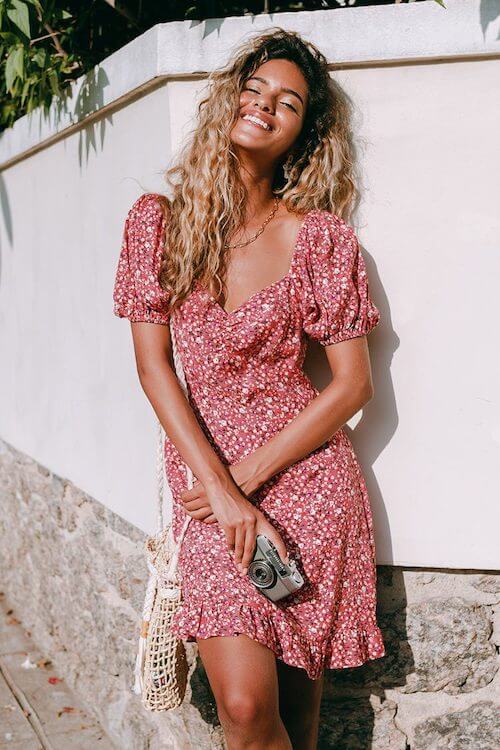 Pink Multi Abstract Print Keyhole Maxi Skirt + White Crop Top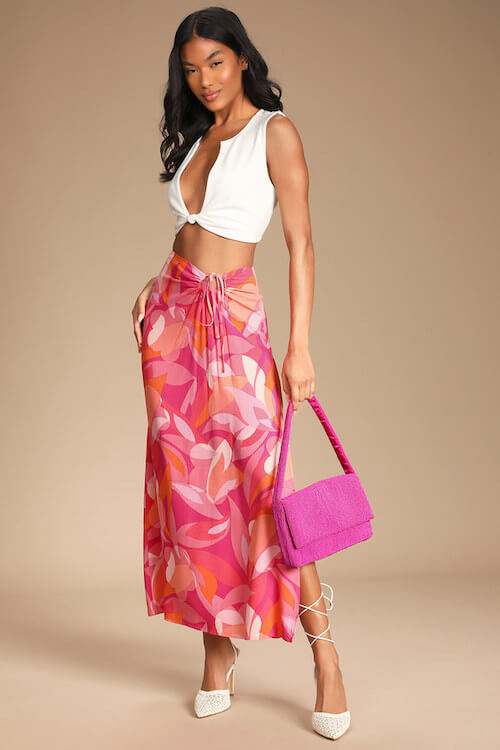 Lemon Oversized Shirt + Lemon Shorts
Skort + White Tank Top + Flat Shoes
White Striped Button-Up Top + Jean Shorts
Midi Skirt + Tube Top
Blush Pink Tie-Front Crop Top + Denim Shorts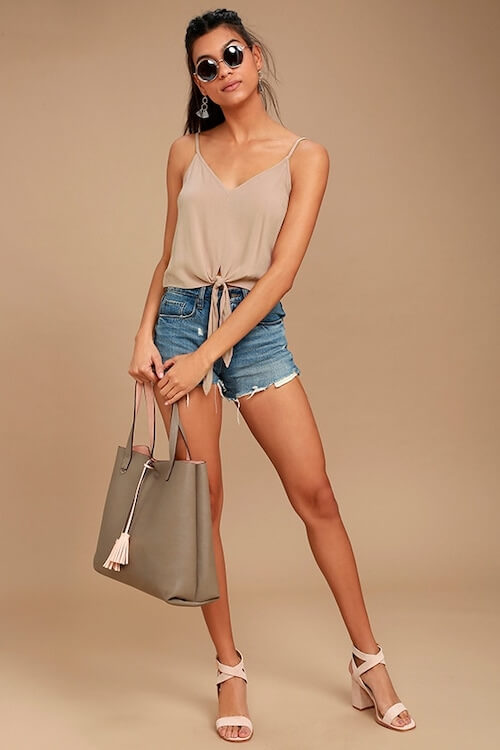 Beige Lightweight Cardigan + T-shirt + Denim Shorts + Flat Sandals
Yellow Tropical Shorts + Off-Shoulder Top + Straw Bag
Camel Cami Maxi Dress + Light Jacket
Blue and White Floral Print Wrap Midi Dress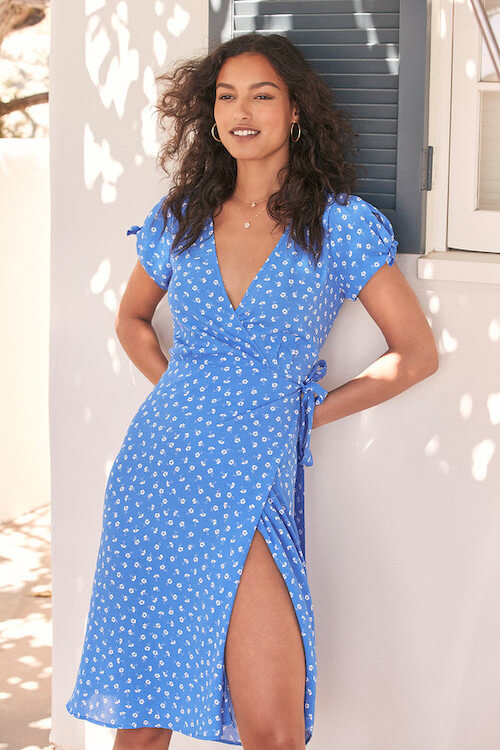 Green Crop Top + Green Maxi Skirt
Linen Shirty Dress + Belt + Sandals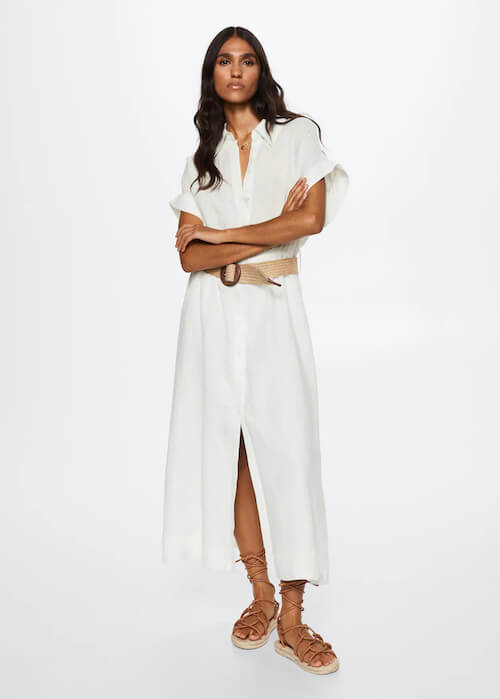 Red Print Strapless Jumpsuit + Espadrille Wedge Sandals + Sunnies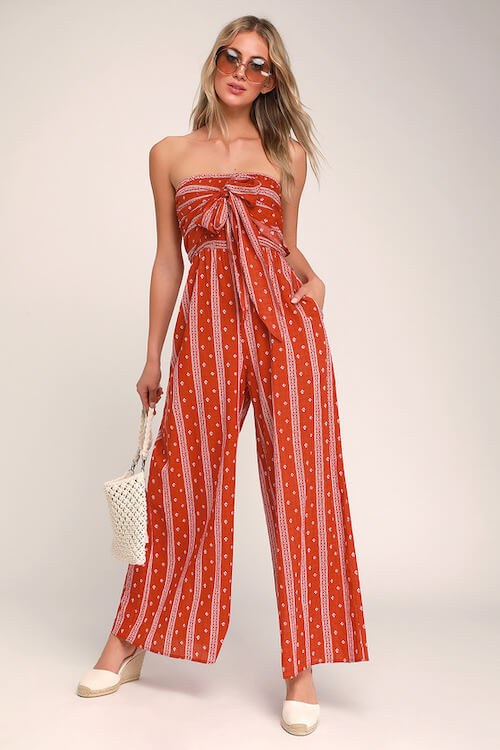 A Pair Of White Jeans / Light Blue Slim Jeans + Black Crop Top
What To Wear At Dinner Time At A Luxury Hotel In Miami
If you're going to be dining at luxury hotels and upscale restaurants in Miami, remember to check out the dress code ahead of time.
A formal cocktail dress is usually a good choice. Remember to wear fine jewelry, and your favorite high heels, and carry a delicate clutch to the restaurant.
In some restaurants, you can also choose a sexy bodycon dress for a romantic and memorable evening.
Vibrant Color Print Silk Dress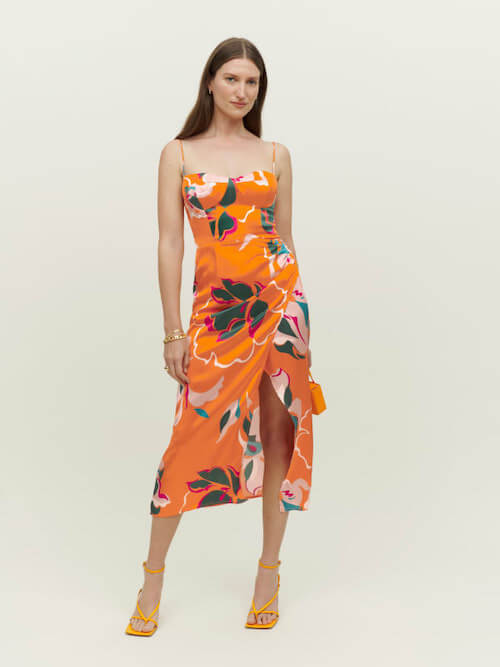 Hot Pink Bodycon Dress
Cute Miami Resort Wear Ideas
Although sometimes different resort venues have special dress code requirements, you can never go wrong with a resort-inspired and stylishly designed outfit.
The easiest choice is a lightweight and comfortable printed dress with a striking pattern or you can choose a bolder color.
The most popular outfit idea is a tube top and wide leg pants set with the same print, and this time all you need is a pair of trendy platform sandals and a pair of retro style sunnies to show your taste of the fashion trends and to look like a star on Miami vacation.
I also recommend the oversized button down shirt and shorts set which is very fashionable these days. Many fashion bloggers are opting for this kind of outfit, so why not try it?
Tropical Print Button Front Cami Dress
Strappy Wrap Mini Dress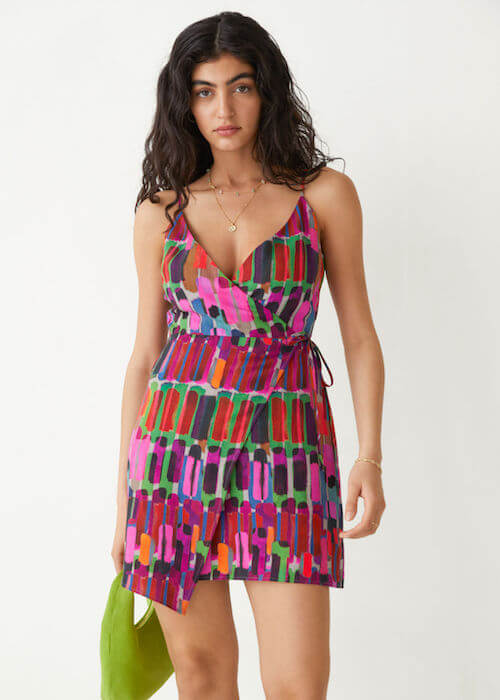 Green Striped Shirt + Shorts Set
Striped Back Tie Maxi Dress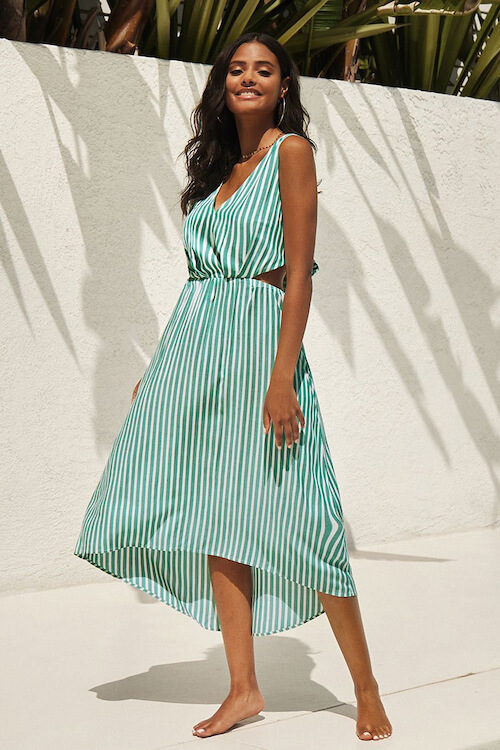 Red Floral Print Chiffon Maxi Dress
Ivory Cut Out Maxi Dress
White One-Shoulder Crop Top + White Wide Leg Pants
Floral Print Smocked Tube Top + Print Wide Leg Pants + Platform Sandals
Stripe Print Grey Top + Wide Leg Pants + Sunnies
Green Tropical Print Maxi Dress
What To Wear In Miami Nightlife
At night, bars and nightclubs become its features. It is under the stimulation of hormones and adrenaline that the city officially wakes up and shows its true charm. The nightclubs here are always the super favorite of the stars and celebrities.
If you are planning to go clubbing to explore the best part of the city, put on your super chic clothes, stay super refreshed and elevate your Miami style to the next level, and get ready to be stimulated by the world-class DJs and let your stress out completely.
Some of Miami clubs like LIV in South Beach Miami have a strict dress code, so it's recommended that you check it out before you go to avoid any mistakes.
In general, the combo of a sexy short dress and a pair of high heels is always a perfect outfit for Miami nightlife.
It is not recommended to wear overly casual clothing, such as overly baggy clothes, flip-flops, and sneakers. Some clubs also do not allow sandals, jeans, and shorts.
Golden Sexy Dresses
Bodycon Dresses + Your Favorite Heels
What To Wear To A Miami Pool Party
Whether you go into the swimming pool or not, a sexy and stylish swimsuit is a must, in addition to that, you can also choose some matching items to make yourself look more stylish!
The pool party dress code is based on light and casual style, so wearing some sexy bright swimsuit is a good choice, and then bring a metal clutch bag, fashionable and practical.
Of course, you can not forget a pair of modern flip flops, so you can go more casual to have fun.
In addition to the essential swimsuit, a beautiful swimsuit cover-up is also one of the absolute practical items to attend the pool party.
A chic cover-up is a better idea not only makes you stand out by adding layers, but also shows your hidden beauty.
Floral Print Pareo
White Sheer Lace Cover-Up Wrap Skirt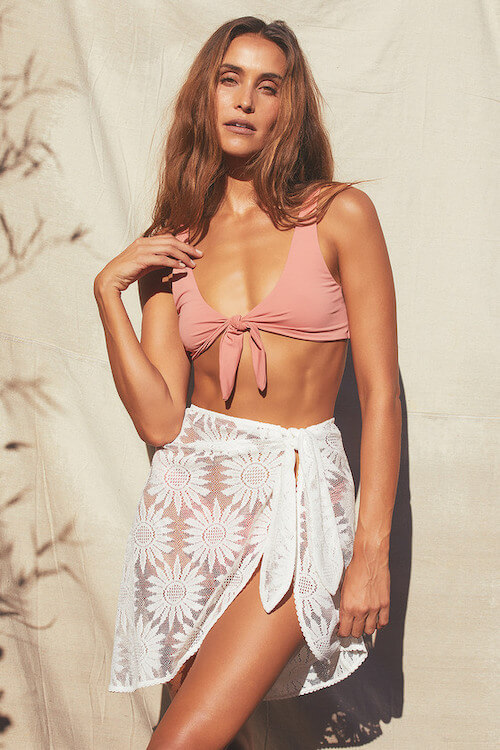 Beige Cardigan
Bra Top + Floral Print Skorts / Short Skirts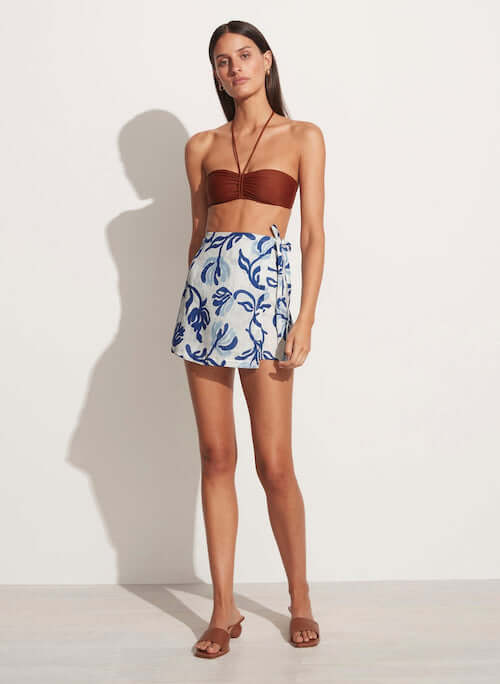 Shirt Dress + Bikini Set
Floral Buttoned Shirt Dress
What To Wear To Water Sports In Miami
How can you not experience diving and surfing in Miami? Put on your comfortable bathing suit or a tight bikini and go on an unforgettable water trip!
Floral Print Bucket Hat
Ultimate Miami Packing List
Below I am sharing our favorite packing list for a Miami trip.
Basics:
Travel Documents
Water Bottle
Travel Pillow
Ear Plugs
Credit Cards & Debit Cards
Currencies
Phone & Tablet & Headphones
Chargers
Clothes & Accessories
Underwear & Bras
Bathing Suit / Bikinis
Cover-up
Long Sleeves Shirts
Cute Tops
Shorts/ Skirts/ Pants
Sexy Dresses
Lightweight Jacket
Rain Jacket
Pajamas/ Bathrobe
Straw Hat/ Bucket Hat
Straw Tote
Clutch
Flip Flops/ Sandals/ Slippers
High Heels
Belt
Statement Jewelry
Fine Jewelry
Small Umbrella
Sunnies
Sweater ( for cold days)
Toiletries
Shampoo & Conditioner
Other Hair Products
Soap
Toothbrush & Toothpaste
Mouthwash
Dental Floss
Deodorant
Moisturizer
Makeup & Makeup Remover
Comb
Hand Sanitizer
Hair Dryer
Razor
Tweezer
Mirror
Nail File
Nail Polish & Remover
Feminine Hygiene Products
Eyeglasses/ Contact Lenses
Contact Lenses Cleaning Products
Sunscreen
Suntan Lotion
Pin It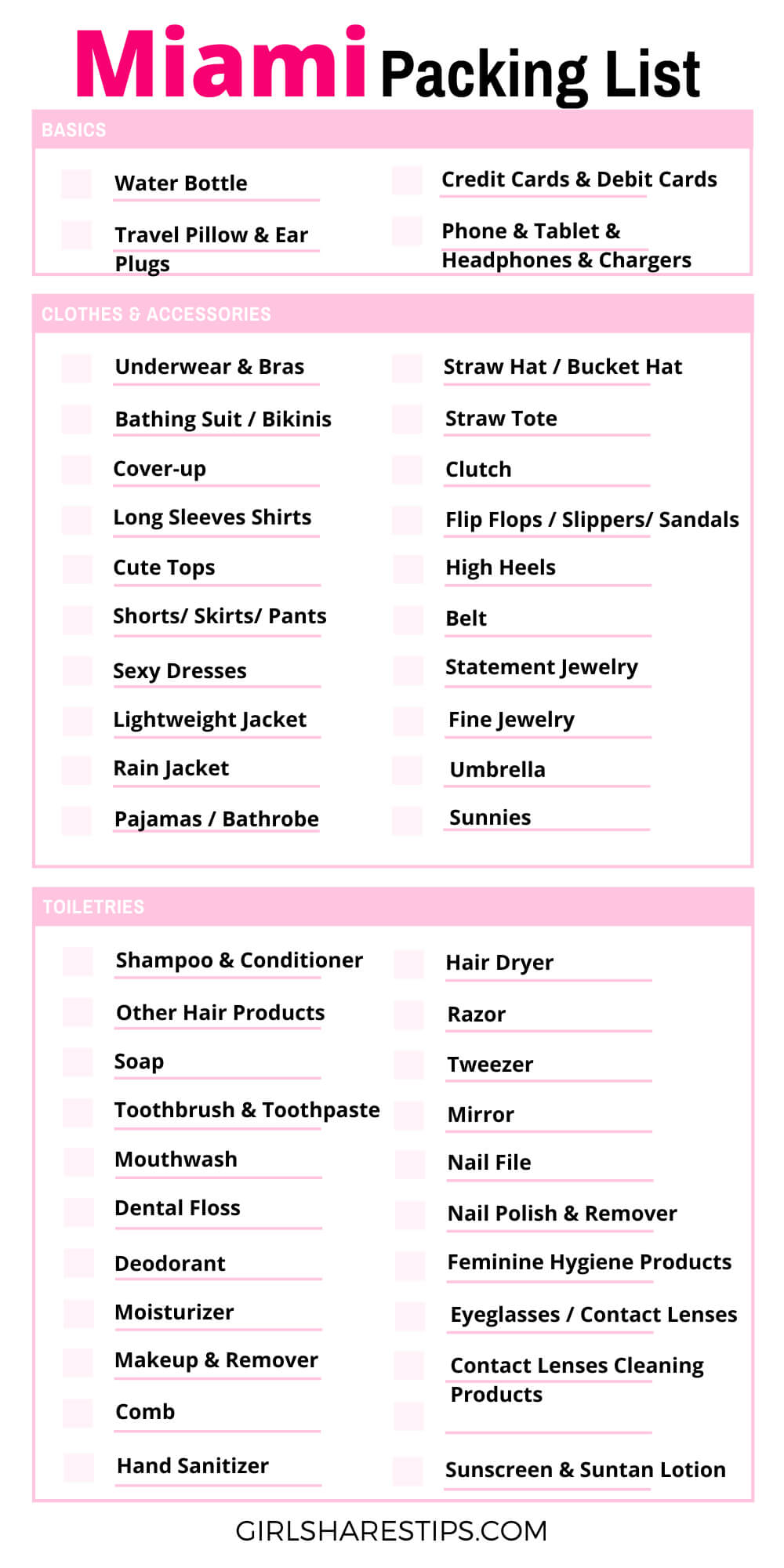 This post was all about what to wear in Miami.
Other Travel Outfit Ideas: