Wondering what to wear in Miami? Check this post for the best style tips, Miami packing list, and the trendiest Miami outfits to copy and shop directly for your next vacation!
Welcome to Miami! Known for its vibrant culture and beautiful beaches, Miami is the perfect destination for a weekend getaway.
With so much to see and do in the city, it can be difficult to know what to wear when you visit.
From stylish swimwear for a day at the beach area to chic evening looks for a night out on the town, this article will guide you through the best fashion choices for your next trip to Miami.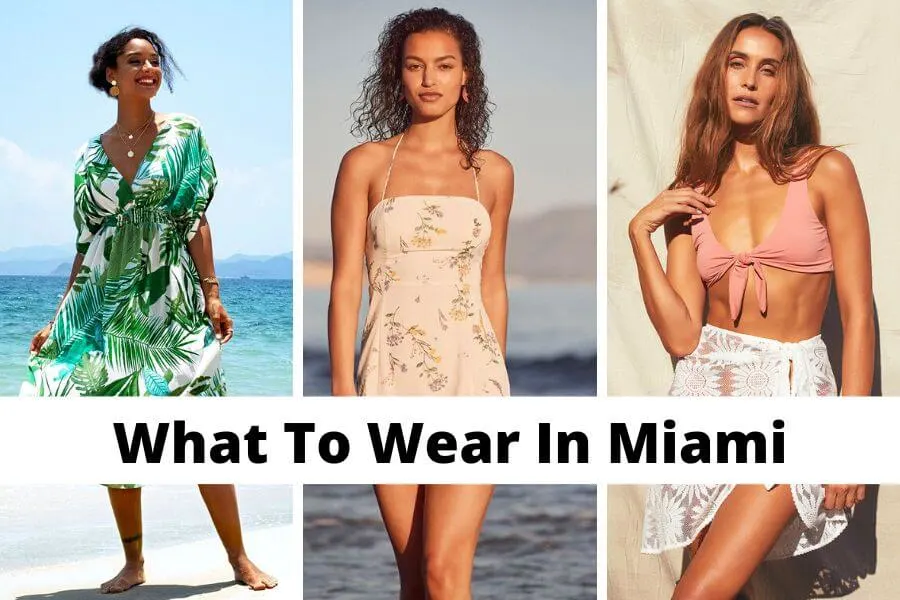 This post was all about what to wear in Miami.
What's The Weather Like In Miami
Miami is renowned for its tropical climate, attracting tourists from all around the world.
The city's weather is hot and humid throughout the year, with an average temperature of 75°F (24°C).
However, the summer months are particularly warm and wet, with temperatures often exceeding 90°F (32°C) in June through August.
Be sure to pack light clothing such as shorts, tank tops, and dresses if you're visiting during this time.
The fall season in Miami is a transitional period where temperatures cool down slightly but remain relatively warm.
Average temperatures range from 76°F (24°C) to 83°F (28°C), making it a great time to explore the outdoors without feeling too hot or cold.
It's recommended to pack breathable fabrics like cotton and linen in neutral colors during this season.
Winter is also considered a popular tourist season in Miami due to its mild weather conditions.
While other parts of the country experience snowstorms and freezing temperatures, Miami offers travelers pleasant weather with an average temperature of 70°F (21°C).
This season calls for lightweight jackets or sweaters that can be layered over your outfit for added warmth during cooler evenings.
What to Wear in Miami: Spring
Miami is a city that boasts warm weather throughout the year, and springtime is no exception.
The average temperature during this time of year ranges from the mid-70s to low 80s, making it perfect for beach activities or outdoor adventures.
When packing for Miami in spring, it's important to remember that the weather can be unpredictable at times.
You'll want to pack a mix of lightweight clothing and layers that you can easily add or remove depending on the weather.
For daytime activities such as lounging by the pool or exploring local neighborhoods, opt for light-colored linen shorts paired with a colorful crop top or breezy blouse.
A maxi dress with sandals is also a great option for those who prefer dresses over shorts.
Don't forget to bring a wide-brimmed hat and a pair of sunnies to protect your face from the sun.
When it comes to evening attire, Miami is known for its vibrant nightlife scene; thus, you'll want to bring some chic outfits that will make you stand out.
For dinner at upscale restaurants or rooftop bars, consider wearing a flowy maxi dress or jumpsuit with wedges or stylish flats.
Pair your outfit with statement accessories such as oversized earrings and bracelets to complete your look.
Remember always: wear comfortable shoes because walking in heels on cobblestone streets might be quite challenging!
What to Wear in Miami: Summer
When it comes to dressing for Miami summers, comfort and breathability are key.
The humidity and heat can be intense, so opt for lightweight materials such as cotton, linen or rayon.
Maxi dresses in flowy fabrics are perfect for keeping cool and looking stylish at the same time.
Rompers and jumpsuits are also great options that offer both style and functionality.
Don't forget to pack a swimsuit or two!
Miami is known for its beaches, so make sure to bring your favorite swimwear.
Mix and match bikini tops and bottoms or try out a one-piece suit for a chic beach look.
Pair your swimsuit with a cover-up such as a sarong or kaftan when heading off the beach.
When it comes to footwear, ditch the heels and opt for comfortable sandals or sneakers instead.
You'll be doing plenty of walking around in Miami's vibrant neighborhoods like South Beach, Wynwood or Little Havana – you don't want sore feet slowing you down!
And finally, don't forget to accessorize with sunglasses, hats and jewelry – they not only complete your outfit but also protect you from the sun's rays while enjoying all that Miami has to offer in summer.
What to Wear in Miami: Fall
Fall is the perfect time to visit Miami, with temperatures dropping slightly and humidity levels becoming more manageable.
When it comes to dressing for this season, you'll want to keep your outfits lightweight and breathable, while also incorporating some transitional pieces that can take you from day to night.
Opt for comfortable yet stylish looks like a denim jacket paired with a flowy sundress or cropped jeans with a light sweater.
While Miami may not experience the typical fall foliage associated with autumn weather, you can still incorporate some seasonal colors into your wardrobe.
Think warm hues like burnt orange, mustard yellow, and deep burgundy.
Additionally, don't forget about accessories like sunglasses and hats – not only will they protect you from the sun but they are also great statement pieces that can elevate any outfit.
When packing for Miami in the fall, be sure to include versatile pieces that can easily be mixed and matched.
Don't forget about comfortable shoes either – sneakers or sandals are perfect for exploring during the day while wedges or booties can dress up any evening look.
With these tips in mind, you'll be sure to stay stylish and comfortable during your fall getaway to Miami!
What to Wear in Miami: Winter
When traveling to Miami during winter, it's important to remember that this is still a tropical location.
Temperatures rarely drop below 70 degrees Fahrenheit, so pack accordingly.
Opt for lightweight layers that you can easily add or remove as the temperature changes throughout the day.
A light cardigan or a denim jacket is a great option for layering.
For daytime activities such as exploring South Beach or taking a stroll down Ocean Drive, choose comfortable and airy pieces like sundresses, shorts, and tanks paired with sandals or sneakers.
Don't forget to bring a pair of sunglasses and a hat to protect yourself from the sun.
For nighttime outings like heading out to dinner or hitting up one of Miami's famous clubs, dress up your outfit with chic accessories and statement pieces.
Think jumpsuits, maxi dresses paired with heels, and bold jewelry.
Miami is all about showing off your personal style while feeling confident in what you're wearing.
What To Wear To Miami Beach: Cutest Beach Clothes Ideas
Miami Beach is a popular destination for many tourists and locals who are seeking sun, sand, and sea.
When it comes to what to wear in Miami Beach, lightweight and breathable fabrics are a must due to the hot and humid climate.
Opt for airy dresses, shorts, skirts or light-weight pants paired with flowy tops or loose shirts.
Swimwear is also essential when packing for Miami Beach style.
Bikinis and one-piece swimsuits are the go-to options here.
You can opt for bold patterns or bright colors that reflect the vibrant atmosphere of Miami Beach.
Don't forget to pack sunscreen, sunglasses, and a hat as they add an extra layer of protection from the sun while completing your beach look.
Finally, dressing up in Miami Beach is all about showing off your style in playful ways.
Incorporating bright colors into your wardrobe or wearing statement pieces like bold earrings can add some fun flair to your outfits while exploring this trendy city at night.
Remember that comfort is key when dressing up for Miami's nightlife scene where dancing under the stars may be on the agenda!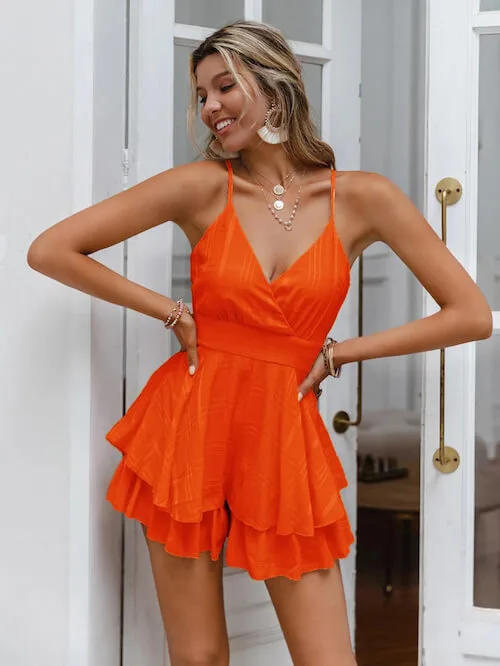 What To Wear In Downtown Miami
When it comes to fashion in Downtown Miami, the key is to dress for the hot and humid weather while staying stylish.
Keep it light and breezy with flowy dresses or skirts paired with sandals or sneakers.
For men, opt for lightweight shirts and shorts with comfortable shoes.
If you plan on visiting some of Miami's trendy nightclubs or restaurants, dress to impress with a chic cocktail dress or stylish blazer and trousers ensemble.
Accessories such as statement jewelry, sunglasses, and a clutch can elevate any outfit.
And lastly, always keep sunscreen handy to protect your skin from the strong Florida sun!