Are you traveling to Cancun and wondering what to wear in Cancun Mexico? Check this post for the expert fashion guide for Cancun, the best packing list for what to pack for Cancun, and the best outfit ideas for your next Mexico beach vacation!
Welcome to Cancun Mexico, the exciting and vibrant vacation destination of the Caribbean!
Whether you're planning a beach getaway, a sightseeing tour, or an unforgettable night out in the town, one thing is for certain: you will want to dress for the occasion.
Packing for Cancun can be tricky, given its tropical climate and laid-back atmosphere.
Thankfully, this article will provide helpful advice on what to wear in Cancun and the best Cancun vacation packing list, so that you can feel confident and stylish while also staying comfortable during your trip.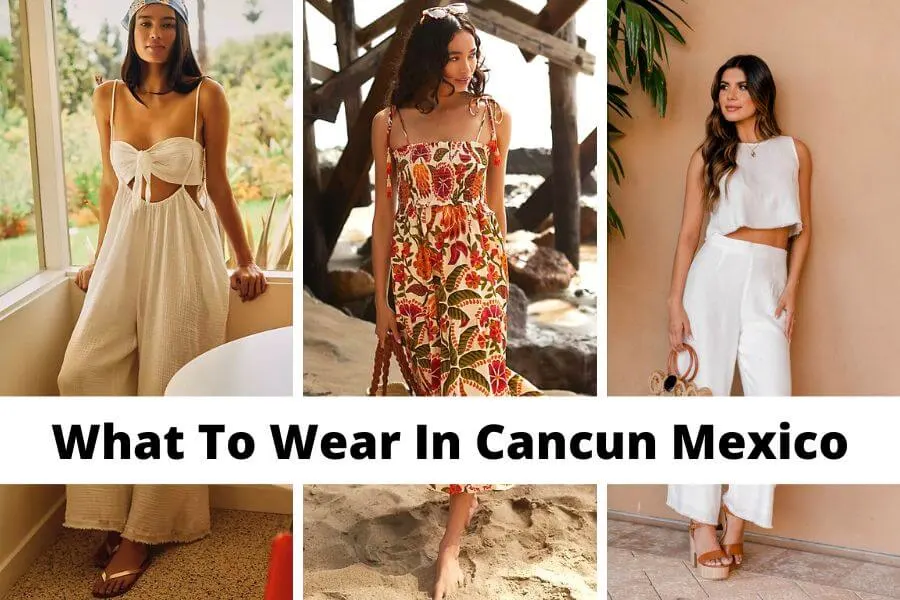 This post is all about what to wear in Cancun Mexico.
What's the Weather Like in Cancun?
Cancun, located in the Yucatan Peninsula of Mexico, is known for its tropical climate and warm weather year-round.
The average temperature in Cancun ranges from the mid-70s to the high 80s Fahrenheit.
Visitors can expect hot and humid days with occasional rainfall during their stay.
The rainy season typically occurs between May and October.
When it comes to packing for your Cancun vacation, it's important to keep the weather in mind.
Lightweight and breathable clothing made of natural fabrics like cotton or linen are recommended to help keep you cool in the heat.
Don't forget to bring a swimsuit as well, as there are plenty of beautiful beaches to enjoy in Cancun.
While sunscreen is a must-have item for any trip to Cancun, it's also advisable to pack a light jacket or sweater for cooler evenings or air-conditioned indoor spaces such as restaurants or malls.
Overall, with its warm temperatures and sunny skies, Cancun is an ideal destination for those looking for a tropical getaway.
What Is Cancun Outfits' Style?
Personally, I think Cancun's outfit is still on the conservative side.
Although more and more people from other countries are visiting Cancun nowadays and you can see all kinds of the latest fashionable dresses, it still seems to be more cautious compared to places like Hawaii or Miami.
If you want to travel with confidence, it's wise to avoid tops that are too revealing and edgy in design and pants or skirts that are too short.
In addition, in Mexico, boldly wear bright prints and tropical patterns.
And slightly exotic designs will make your travel photos extraordinarily good.
What to Wear in Cancun Mexico Vacation: Best Cancun Outfits
When it comes to dressing up for a vacation in Cancun, the key is to keep it chic and comfortable.
With its tropical climate and stunning beaches, Cancun calls for breezy outfits that are easy to wear and look effortlessly stylish.
One of the best ways to nail your outfits is by choosing light fabrics such as cotton, linen or rayon that will keep you cool throughout the day trip.
For daytime looks, consider packing flowy sundresses that can be dressed up or down depending on the occasion.
Pair them with strappy sandals or espadrilles for a laid-back vibe.
Another great option is shorts paired with a sleeveless top or lightweight blouse – perfect for exploring the city or lounging by the pool.
For evening wear, think about packing a few statement pieces like maxi dresses or jumpsuits in bold prints or vibrant colors.
Accessorize with chunky jewelry and wedges to complete your glam look.
Remember to pack a few cover-ups like sarongs and kaftans that can double as beachwear during the day and nightwear when dining out at one of Cancun's many restaurants.
Now scroll on to check our favorite outfit ideas.
What To Wear to the Beach Vacation in Cancun: Essentials & Mexico Beach Packing List
Stylish Cover-Up / Beach Dresses
One thing you'll definitely need is a stylish cover-up.
Whether you're lounging by the pool or hitting the beach, a cover-up can keep you cool and protected from the sun while still looking chic.
One option is a flowy maxi dress, which can double as both a cover-up and an evening outfit.
Look for lightweight materials such as cotton or linen that won't weigh you down in the heat.
Another trendy option is a kimono-style cover-up, which adds some bohemian flair to your look.
Pair it with denim shorts and sandals for an effortless daytime outfit.
When it comes to colors and patterns, go bold! Cancun is known for its vibrant atmosphere, so don't be afraid to embrace bright hues or tropical prints.
A colorful sarong or printed tunic will add some fun and personality to your beach look. Overall, just remember to choose something comfortable and breathable that makes you feel confident and stylish all vacation long!
Flip Flops
Flip flops are a must-have item when packing for Cancun, Mexico.
These versatile footwears are perfect for the beach, poolside lounging and exploring the city.
Not only are they practical but also stylish as there is a wide range of colors and patterns available to choose from.
When selecting flip flops for your trip to Cancun, it's important to prioritize comfort and durability over fashion statement.
Look out for flip flops made of rubber or foam that offer arch support and cushioning.
This way, you can walk around without worrying about getting blisters or sore feet.
Apart from being comfortable and practical, flip flops also offer breathability which is essential in Cancun's hot weather conditions.
They allow air to circulate around your feet preventing them from sweating excessively which makes them an ideal choice whether you're strolling through the streets or relaxing on sandy beaches.
Straw Hat / Cute Beach Hat
A straw hat is a must-have accessory for anyone visiting Cancun, Mexico.
This stylish and practical hat will not only protect your head and face from the strong sun but also add a touch of glamour to your vacation outfit.
Whether you're lounging on the beach or exploring the city, a straw hat is versatile enough to complement any outfit.
When choosing a straw hat for your Cancun trip, look for one that has a wide brim to provide maximum coverage from the sun.
You can opt for different styles such as fedora, floppy or Panama hats depending on your preference.
Additionally, consider getting one with colorful bands or embellishments that match your swimwear or dress.
With its breezy vibe and laid-back atmosphere, Cancun is an ideal destination to rock a straw hat in style.
Pair it with sunglasses, flowy beach dresses or shorts and tank tops for an effortless yet chic look that's perfect for soaking up some tropical sun rays.
So don't forget to pack this essential item in your suitcase before heading out to Mexico!
Swimsuit / Bathing Suits / Cute Bikinis
When planning your trip to Cancun, choosing the perfect swimsuit is a must.
With its pristine beaches and crystal-clear waters, it's no wonder why Cancun is one of the most popular tourist destinations in Mexico.
For those looking to flaunt their beach bodies, cute bikinis are a great option.
From high-waisted bottoms with a matching crop top to cheeky Brazilian cuts, there's no shortage of styles when it comes to cute bikinis.
Bright colors and bold prints are also popular choices for those who want to stand out on the beach.
Pair your bikini with some oversized sunglasses and a wide-brimmed hat for the ultimate poolside glam look.
When shopping for swimwear, don't forget about comfort and functionality.
Opt for bikinis made from quality materials that won't irritate your skin or fade easily from exposure to saltwater and chlorine.
Additionally, choose a style that allows you to move freely without any wardrobe malfunctions while swimming or playing beach volleyball.
Straw Totes/ Beach Bags
A straw tote beach bag is an absolute must-have accessory. Not only are they stylish and Instagram-worthy, but they're also incredibly practical for carrying all of your beach essentials.
These bags are made from natural materials like straw or rattan and come in a variety of shapes and sizes.
From oversized totes that can fit towels, sunscreen, and even a change of clothes to small clutches perfect for carrying just your phone and credit card.
Straw tote beach bags come in endless styles with varying details such as pom-poms, fringe or tassels.
When deciding on which one to add to your collection for your trip to Cancun, consider the activities you have planned.
If you plan on spending most of the day lounging on the beach or by the pool, opt for an oversized option that can hold everything from drinks to books!
But if you're planning on heading out for dinner after a day at the beach, choose a smaller option with unique details that will elevate any outfit.
More Cute Mexico Cancun Outfit Ideas For The Beach
What To Wear To An All-Inclusive Resort In Cancun Mexico: Chic Cancun Resort Wear Ideas
When packing for an all-inclusive resort in Mexico, it's important to keep the climate and activities in mind.
The weather in Mexico can be hot and humid, so packing light materials such as cotton or breathable synthetics is key.
A few essential items include swimwear, cover-ups, sundresses or shorts paired with tank tops or t-shirts.
For daytime activities at the resort, comfortable footwear such as sandals or flip flops are a must.
Don't forget to bring a hat to protect your face from the sun and sunglasses to shield your eyes from its glare.
In the evenings, many resorts have dress codes which may require formal attire for dinners at certain restaurants.
It's always good to pack one or two dressier outfits just in case you want to attend any special events while you're there.
Additionally, if you plan on exploring outside of the hotel zone during your stay, make sure to pack a pair of comfortable walking shoes and appropriate clothing for cultural outings.
What To Wear Exploring Cancun
When visiting Cancun, it's essential to dress for the warm and tropical climate.
Pack light and breathable clothing such as cotton tops, shorts, and sundresses to stay comfortable during your explorations.
Remember to bring a hat or sunglasses to protect yourself from the sun.
For beach days, consider packing swimsuits or board shorts with rash guards for added protection.
Additionally, make sure to bring along a cover-up or sarong for when you need to venture away from the water.
Don't forget flip flops or sandals as well.
If planning on venturing out at night, you'll want to pack something slightly dressier but still comfortable such as a maxi dress or linen pants paired with a flowy blouse.
Cancun has many dining options that range in formality level so be prepared for anything!
Overall, remember comfort is key when exploring all that Cancun has to offer!
What To Wear To Water Activities In Cancun
How can you not do water activities in Cancun? So what do you wear to water activities?
Bathing Suit, Life Jacket, Snorkel Gear
If it is a general snorkeling project, put on a one-piece swimsuit, bring a life jacket and snorkel gear are tools will be enough.
For life jackets and snorkeling gear you can certainly use the local ones, but I suggest you buy them yourself before your trip if you are worried about hygiene issues and the high rent fee.
Long-Sleeve Shirts
For water activities, I also suggest you bring a long-sleeve sunscreen shirt.
The texture should be swimsuit material to protect you from the sun for water activities.
This one from Amazon is great.
Rash Guard
If you need to snorkel for a longer period of time or if you need to do more professional deep dives, then a set of rash guard is necessary.
Water Shoes
With so many water activities, be sure to bring a pair of water shoes if you want to be able to have fun without having an accident and always feel comfortable.
Sunglasses
Take a pair of sunglasses with UV protection to Cancun.
It will protect your eyes.
Sun Hats / Baseball Caps
When doing water activities, the sun is still very sunny.
So you need to bring a sun hat so that you can protect yourself from the sun after you get out of the water.
Travel Backpack or Crossbody Bag
It can be used to hold your extra clothes, shoes, snacks, water, etc.
What To Wear For Cancun Mexico Nightlife
When it comes to nightlife in Cancun, there are a few things to keep in mind when choosing what to wear.
First and foremost, the weather can be quite hot and humid at night, so lightweight and breathable fabrics are key.
It's also important to note that many clubs have dress codes, so be sure to check ahead of time.
For women, a cute sundress, pants set, or romper paired with comfortable sandals is always a safe bet.
If you're looking for something more glamorous, a chic jumpsuit or maxi dress will do the trick.
Don't forget some statement jewelry and a clutch bag for added flair.
Men should opt for light-colored linen pants or shorts paired with a button-down shirt or polo.
A blazer or sport coat can add sophistication if desired.
Comfortable loafers or boat shoes will complete the look while keeping your feet cool on the dancefloor.
What To Wear To Cancun Clubs
When it comes to clubbing in Cancun, the dress code is typically dressy casual.
This means that while you don't have to wear a full suit or cocktail dress, you should still put some effort into your outfit.
For men, a collared shirt and nice pants or jeans are appropriate, along with closed-toe shoes.
Women can opt for a cute sundress or blouse with shorts or a skirt, paired with sandals or heels (just make sure they're comfortable enough for dancing!).
It's also important to keep in mind the weather when choosing what to wear to Cancun clubs.
Since temperatures can be hot and humid at night, lightweight fabrics like cotton and linen are ideal choices.
And if you plan on hitting up multiple clubs in one night, consider bringing a light jacket or shawl to throw on over your outfit – many clubs blast their air conditioning so you'll appreciate having an extra layer.
Finally, don't forget about accessories!
A statement necklace or earrings can add some flair to even the simplest outfit.
Men can elevate their look with a sleek watch or belt.
And of course, bring a small bag or clutch for essentials like ID and cash – but leave bulky purses back at the hotel as they'll only weigh you down on the dance floor!
What do you wear to a wedding in Cancun?
When it comes to attending a wedding in Cancun, you want to make sure that your outfit is both stylish and comfortable.
As a guest, it's important to dress appropriately for the occasion while still keeping in mind the hot and humid climate of Mexico.
Opt for lightweight fabrics such as cotton or linen that will keep you cool throughout the day.
For women attending a wedding in Cancun, consider wearing a breezy sundress or flowy maxi dress with flats or wedges.
Accessorize with statement jewelry and a clutch purse to complete your look.
You may also want to bring along a shawl or light jacket for any indoor venues where the air conditioning may be blasting.
Men can opt for a lightweight suit jacket paired with trousers in either khaki or navy blue.
A simple button-down shirt underneath and loafers or dress shoes will complete the look without being too formal.
It's also important to remember that sunscreen is essential when attending an outdoor wedding in Cancun, so don't forget to pack some along with your attire!
Should I take pants to Cancun Vacation?
While it may be tempting to leave those pants at home and opt for shorts and skirts instead, it's important to think about the activities you have planned.
If you plan on exploring the Mayan ruins or visiting any religious sites during your trip, long pants or a skirt that covers your knees are mandatory.
Similarly, if you plan on dining at any high-end restaurants or attending formal events while in Cancun, packing a pair of dress pants is essential.
Of course, if lounging on the beach is all you have in mind for your vacation, then leaving the pants behind might be a good idea.
But if you want to be prepared for any occasion while in Cancun, packing at least one pair of lightweight pants is definitely recommended.
Shop Our Picks
What To Wear In Cancun Mexico In Winter?
When planning a trip to Cancun, Mexico during the winter months, like January and February, it's important to understand that although temperatures are still warm and tropical, there may be some cooler days and evenings.
It is recommended to pack light layers that can easily be added or removed depending on the weather.
A lightweight jacket or sweater is always a good idea for those cooler nights.
When it comes to footwear, comfortable sandals or flip flops will be your go-to option in Cancun during the winter season.
However, if you plan on exploring some of the natural parks or ruins nearby, comfortable sneakers are also recommended.
Lastly, don't forget about swimwear!
Even though it may not be quite hot enough for sunbathing all day long in December and January, it's always good to pack a swimsuit just in case you want to take a dip in one of Cancun's beautiful beaches or hotel pools.
Overall, packing for Cancun in winter requires preparation for both warm and cool temperatures with versatile options that allow you to adapt easily throughout your vacation.
What to wear in Cancun Mexico In Summer?
When it comes to packing for Cancun in summer, comfort and practicality should be your top priorities.
The tropical climate of Cancun during the summer months can be very hot and humid, so you need to bring something that are lightweight and breathable.
Cotton or linen materials are ideal as they allow air to circulate around your body, keeping you cool.
For women, a sundress is a must-have item.
Sundresses are perfect for the beach or poolside as they're easy to wear over a swimsuit and look great with sandals or flip-flops.
Shorts and tank tops are also essential items for those warm summer days in Cancun.
For men, shorts and t-shirts are the go-to option when it comes to dressing casually during the day.
However, if you plan on dining at any fancy restaurants in Cancun at night, lightweight pants and collared shirts will be required attire.
Overall, packing for Cancun in summer requires minimalism with comfortability being key.
Remember to pack sunscreen too!
What To Wear In Cancun Mexico When It Rains?
When it rains in Cancun, you need to be prepared for sudden downpours.
First and foremost, make sure you bring a waterproof jacket or poncho.
This will keep you dry and comfortable when exploring the city or visiting attractions like Chichen Itza or Tulum.
Lightweight jackets are also ideal as they won't add too much bulk to your packing.
In terms of footwear, it's best to avoid sandals or flip-flops during rainy weather as they can become slippery and uncomfortable.
Instead, choose closed-toe shoes that are made of waterproof materials such as rubber or leather.
Sneakers are also a great option as they offer comfort and support while keeping your feet dry.
Lastly, always bring an umbrella just in case.
A compact travel umbrella is perfect for those unexpected showers and can easily fit into your bag or backpack without taking up too much space.
With these tips in mind, you'll be ready for anything the weather throws your way during your trip to Cancun!
Should I bring a jacket to Mexico?
When you think of Mexico, you might picture warm, sunny weather all year round.
However, the reality is that temperatures can vary depending on the time of year and location.
If you're planning a trip to Cancun or another coastal city during the winter months, it's important to bring a jacket.
Although daytime temperatures may still be warm enough for shorts and t-shirts, evenings can get chilly.
Another factor to consider is air conditioning.
Many indoor spaces in Mexico are heavily air-conditioned, so even if it's hot outside, you might feel more comfortable with an extra layer inside.
Plus, a lightweight jacket can come in handy for unexpected rain showers or windy days at the beach.
Of course, if your trip is during the summer months and you plan on spending most of your time outdoors, a jacket may not be necessary.
But it's always better to be prepared for any weather conditions than to find yourself shivering and uncomfortable during your vacation.
What NOT To Wear In Mexico
When it comes to dressing up in Mexico vacation, there are a few things that tourists should avoid wearing.
Firstly, steer clear of overly revealing outfits such as bikinis, crop tops, and short shorts when you're not at the beach or pool.
It's important to respect cultural norms and dress modestly especially when visiting places like churches and temples.
Secondly, avoid wearing clothing or accessories that may appear disrespectful or offensive to locals.
This includes items with political statements or religious symbols.
Additionally, avoid wearing sombreros as they are often seen as a caricature of Mexican culture.
Overall, it's best to pack clothing that is comfortable and breathable for the hot climate while being respectful of local customs and traditions.
When in doubt, opt for classic pieces like sundresses or linen pants paired with comfortable sandals or sneakers.
Can I Buy Clothes In Cancun?
The good news is that you can buy nice clothes in Cancun!
I especially love the swimsuits in Cancun.
Please don't think you'll get knocked out for buying clothes at local malls in Cancun.
At least my friends and I had a pretty good shopping experience.
Of course, if you are going to Cancun for the first time, I suggest you bring enough clothes because there is a good chance that you won't be satisfied with the clothes you buy locally.
Also, if you have a favorite design, you should pack it up and take it to Cancun.
What To Pack For Cancun? Ultimate Cancun Packing List
Wondering what to pack for a trip to Cancun? Check our favorite Cancun packing checklist below.
Travel Essentials
Travel Documents
Water Bottle
Travel Pillow
Ear Plugs
Credit Cards & Debit Cards
Currencies
Phone & Tablet & Headphones
Chargers
Waterproof Phone Case
Waterproof Dry Bag
Band-Aids: Outdoor activities will inevitably cause small bumps and bruises. Bring a box of band-aids will definitely be useful.
Essential Clothes To Wear
Underwear & Bras
Bathing Suit / Bikinis
Beach Cover-ups
Long Sleeves Shirts
Cute Tops / Tank Tops / Tees
Shorts/ Skirts/ Pants
Dresses
Lightweight Jacket
Pajamas/ Bathrobe
Light Sweater
Accessories & Shoes To Pack
Straw Hat/ Bucket Hat
Straw Tote / Beach Bag
Crossbody Bag / Backpack
A Pair of Sandals / Flip Flops / Slippers
Comfortable Walking Shoes / Sneakers
Water Shoes
Belt
Jewelry
Travel Umbrella
Sunnies
Hair accessories (hair ties, hair pins, etc)
List of things To Bring To Cancun Besides Clothes
Shampoo & Conditioner
Other Hair Products
Soap
Toothbrush & Toothpaste
Mouthwash
Dental Floss
Deodorant
Moisturizer & Lip Balm
Makeup & Makeup Remover
Comb
Hand Sanitizer
Hair Dryer
Razor
Tweezer
Mirror
Nail File
Nail Polish & Remover
Feminine Hygiene Products
Eyeglasses/ Contact Lenses
Contact Lenses Cleaning Products
Coral Reef-Safe Sunscreen & After Sun Lotion
Suntan Lotion
Optional
Medications
Vitamins
Contraception
Long-Sleeve Sunscreen Shirt for water activities.
Snorkeling gear
Life jacket for snorkeling
Long-Sleeve Rash Guard for deep diving or frequent snorkeling.
Waterproof digital camera / Underwater camera
Packing Cubes
This post was all about what to wear in Cancun Mexico.
Related Posts: