Want to know what to wear in Cancun Mexico? Check this post for the best fashion guide and outfit ideas for different occasions, and the ultimate packing list for your Cancun trip.
There are certain places on earth that seem to be able to take advantage of all the scenery, and Cancun is one of them.
In this great place, there is an endless blue sea, perfect white sandy beaches, colorful bikinis, modern luxury hotels, and exciting theme parks. And of course, there are the mysterious Mayan ruins!
If you are going to Cancun for a vacation or a wedding, and if you are looking for the best fashion guide and a list of travel essentials for your coming trip, you've come to the right place.
In today's article, I am sharing with you style tips and the cutest outfit ideas for Cancun Mexico, and I also include an ultimate Cancun packing list of things you need to bring to Cancun, to help your better prepare for your wonderful trip.
So scroll down to check these Cancun travel tips and outfit ideas, and don't hesitate to pin what you like to your Pinterest board, and share them on social media sites.
This post may contain affiliate links, which means I'll receive a commission if you purchase through my link, at no extra cost to you. Please read the full disclosure here.
This post is all about what to wear in Cancun Mexico.
What To Wear In Cancun Mexico: General Rule
What's The Weather Like In Cancun?
Cancun is located in the tropics, with an average temperature of 74 °F throughout the year, and there are only two seasons each year: the rainy season and the dry season.
When the wet season comes between May and October, there are almost daily showers. But these showers do not last long, usually between 10 and 20 minutes. After the showers, the skies are clear and the sun is shining.
Cancun's winter season is the best time to visit because the temperature is just right and not as hot as in summer.
What To Wear In Cancun In Summer?
If you choose to travel to Cancun in the summer months, in terms of clothing options, it is recommended that you wear cotton or linen shirts, shorts, and thin skirts or dresses during the day.
At night, you should wear cotton and linen shirts, thin long skirts, thin T-shirts and maxi dresses.
What To Wear In Cancun In Winter?
In fact, it is a good idea to travel to Cancun in the winter months, because at this time of the year, it is warmer in Cancun, and there is a feeling of heat during the day, while the temperature at night is a little lower.
During the day, you can wear cotton and linen skirts, shirts, long pants, T-shirts, etc., which are more breathable and comfortable.
At night, you need to wear a lightweight jacket, lightweight sweater, to keep warm.
What Is Cancun Outfits' Style?
Personally, I think Cancun's outfit is still on the conservative side. Although more and more people from other countries are visiting Cancun nowadays and you can see all kinds of latest fashionable dresses, it still seems to be more cautious compared to places like Hawaii or Miami.
If you want to travel with confidence, it's wise to avoid tops that are too revealing and edgy in design, and pants or skirts that are too short.
In addition, in Mexico, boldly wear bright prints and tropical patterns. And slightly exotic designs will make your travel photos extraordinarily good.
Can I Buy Clothes In Cancun?
The good news is that you can buy nice clothes in Cancun!
I especially love the swimsuits in Cancun. Please don't think you'll get knocked out for buying clothes at a local store in Cancun. At least my companion and I had a pretty good shopping experience.
Of course, if you are going to Cancun for the first time, I suggest you bring enough clothes because there is a good chance that you won't be satisfied with the clothes you buy locally.
Also, if you have a favorite design, you should pack it up and take it to Cancun.
Is It Safe In Cancun Mexico?
I have been to Cancun four times and there have been no dangers or security issues. You may have kinda heard rumors about security issues in Mexico. But Cancun is certainly much safer compared to other Mexican cities.
The local government has put a lot of effort into improving the level of security in the area in order to develop tourism. Therefore, you can feel completely safe when you are traveling there.
Of course, if you are really worried about security, you can avoid hanging out outside your hotel late at night.
What To Wear To Cancun Mexico Beach Vacation: Beach Packing List
Be sure to choose the clothing pieces are cute enough and can make you stay at the beach even for a long time without being uncomfortable.
The most ideal outfits for the beach days in Cancun are pretty swimsuits, comfortable shorts, cute skirts or cover-ups, chic tops, and long flowing dresses.
Complete the look with comfortable flip-flops or sandals, a straw hat or a cute bucket hat, and a beach bag.
I suggest you choose a simple cut but with a beautiful print or neutral colors. These designs will fit perfectly with most of Cancun's beautiful beaches and maximize the relaxation of your Cancun Mexico vacation. They will make you look chic among all the tourists and look great for photos.
Please make sure to choose light and breathable fabrics. They are not only the best partner for a beach vacation, but they can flow in elegance with a relaxed and casual atmosphere and can allow you to wear them comfortably and show your personality at the same time.
Tropical Print Fake Button Shirred Back Cami Dress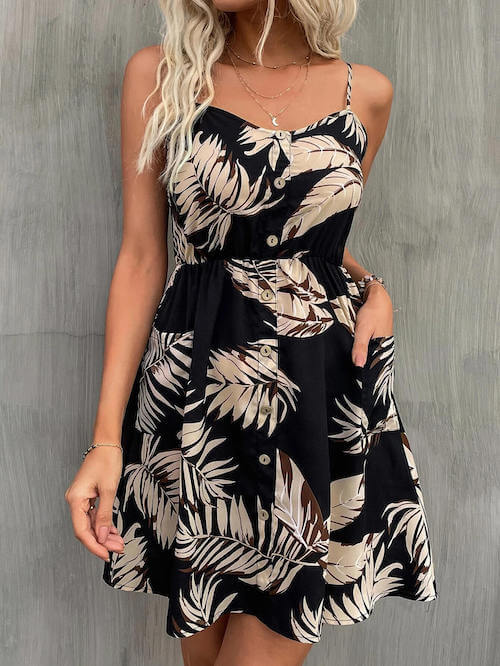 Suspender Pant Set
Cover-Up Midi Dress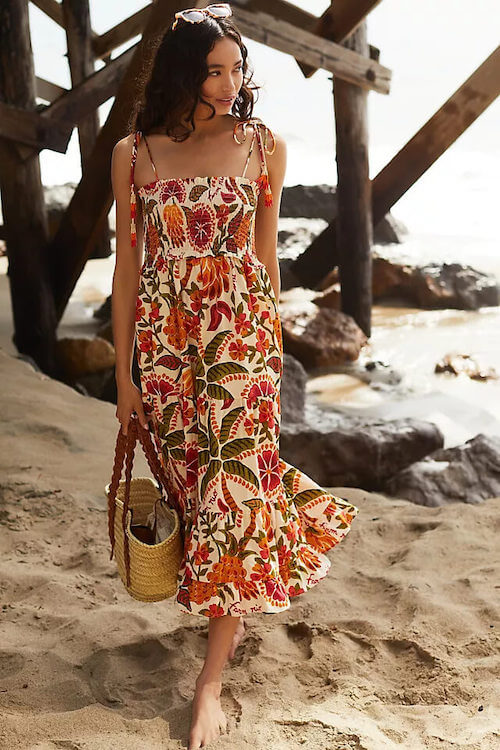 Navy Blue and White Striped Tank Tops + White Denim Shorts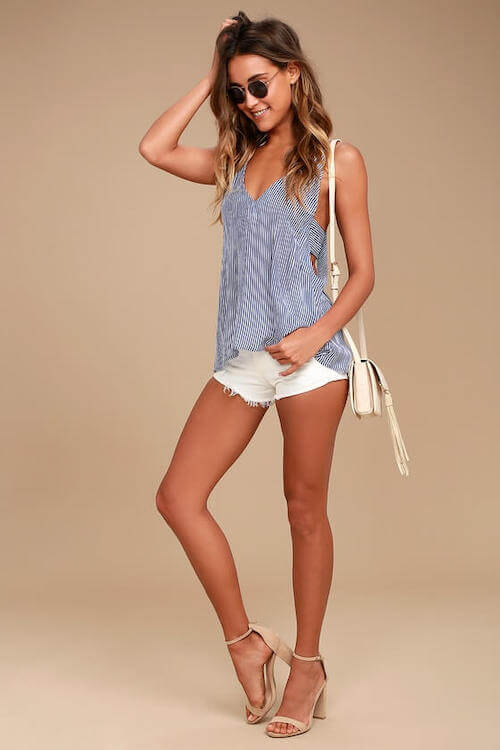 White High Neck Dress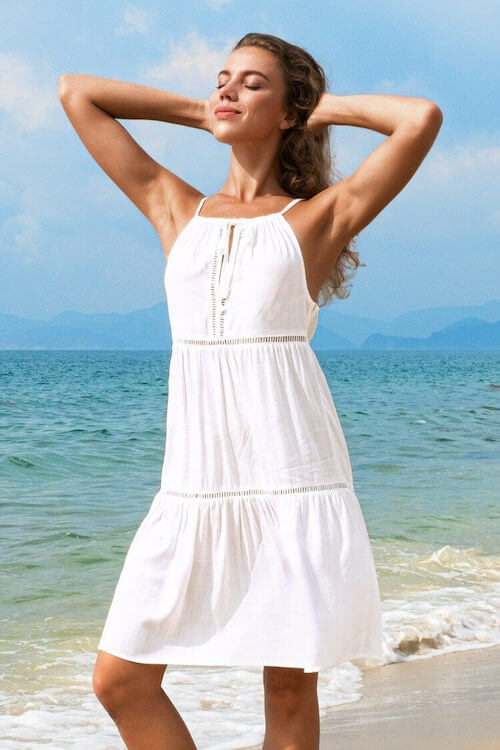 Yellow Two Piece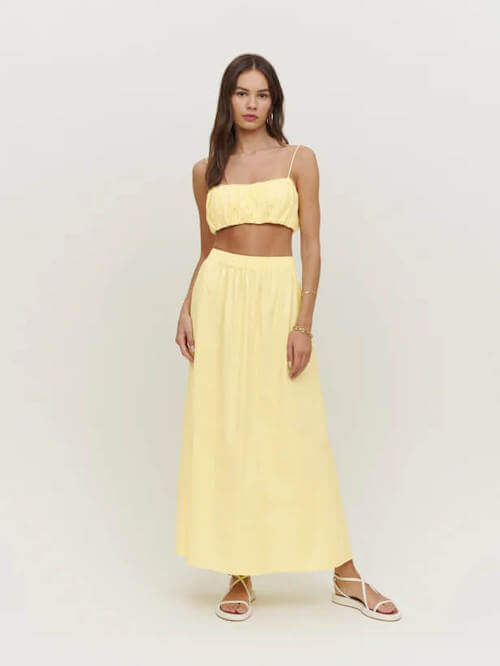 Cover-Up Shorts in Painted Seashells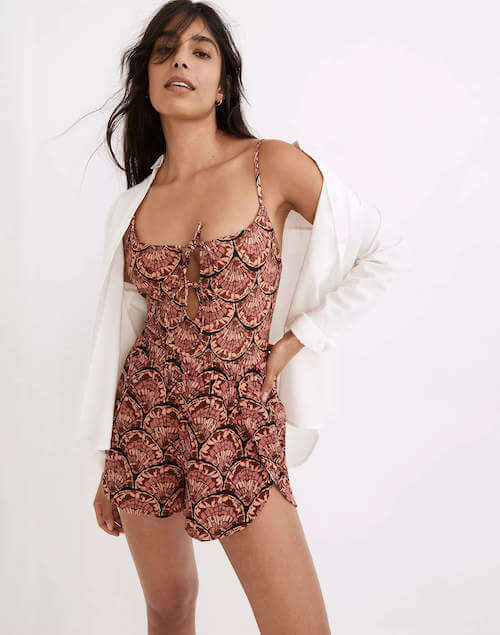 Coral Skirt Set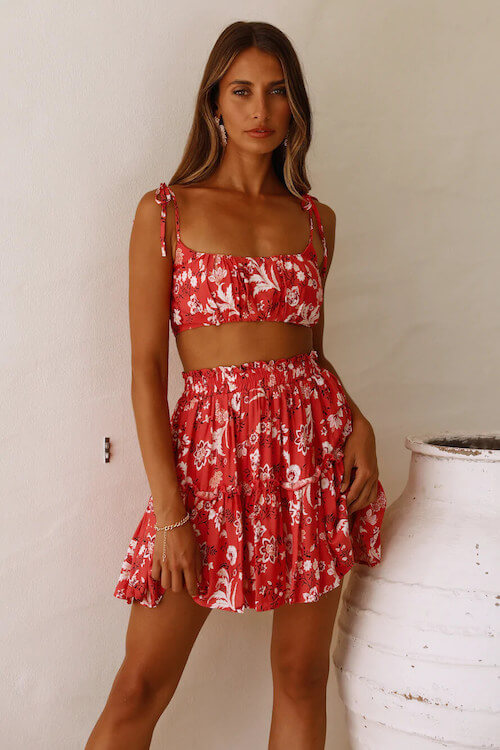 Ivory Tie-Dye Scarf Beach Cover-Ups
Sarong Teal Green Tropical Print Swim Cover-Up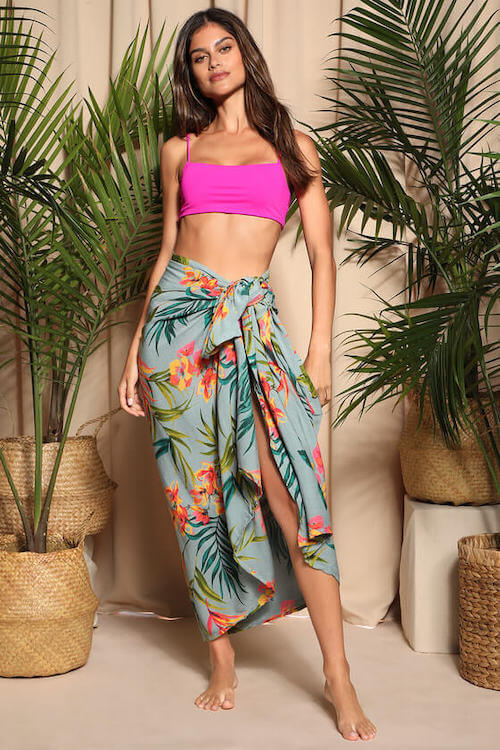 Mauve Swim Cover-Up Pants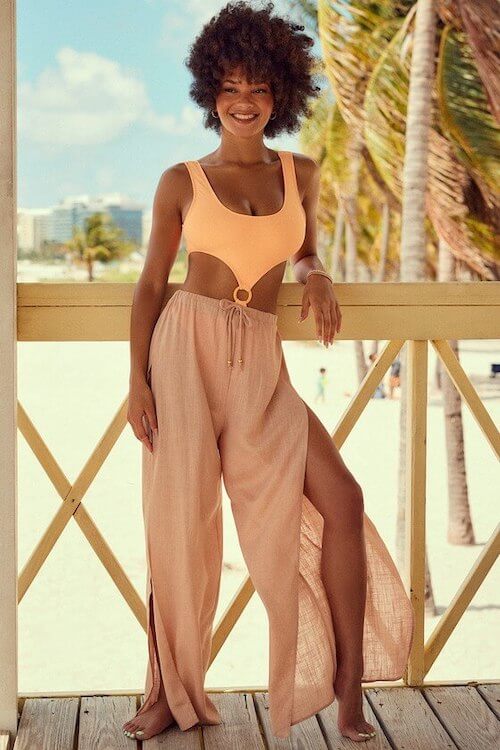 Sheer Black Tropical Print Shirt Dress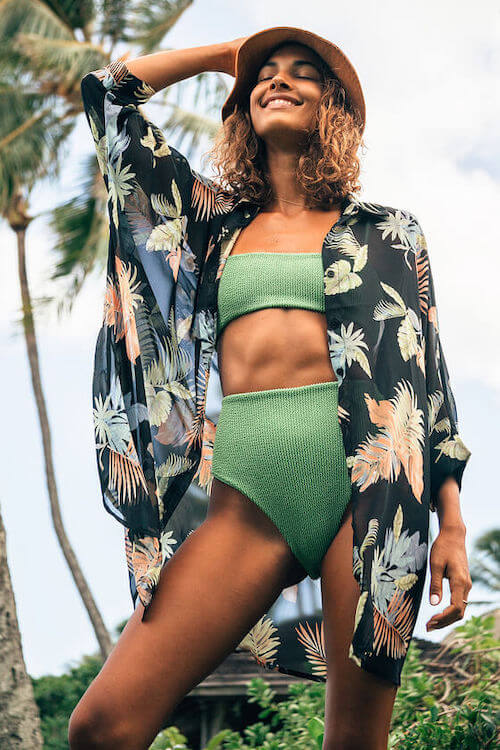 Fitted O-Ring Mini Dress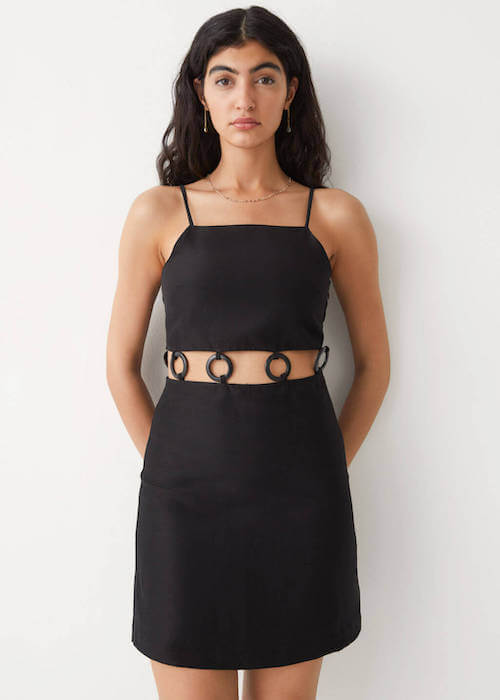 Halter Neck Thin Straps A-Shape Dress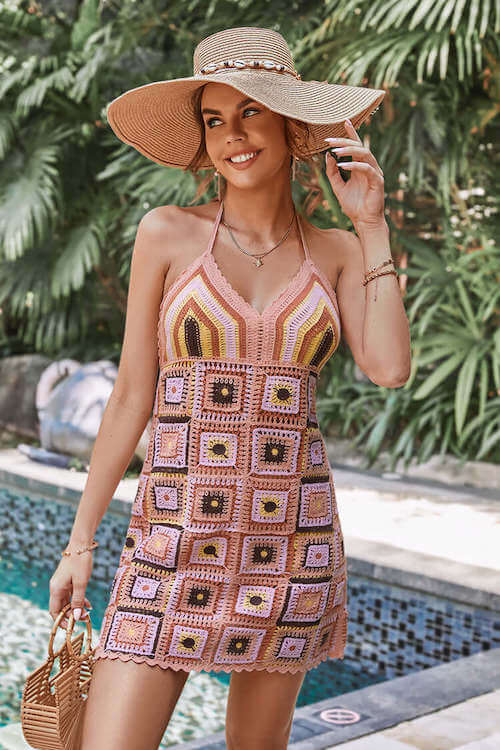 Smocking Thin Straps A-Shape Dress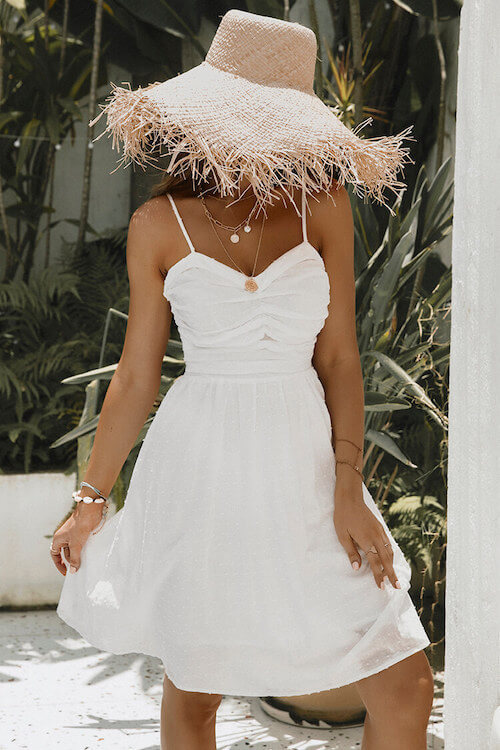 Loose Waisted Adjustable Straps Slip Dress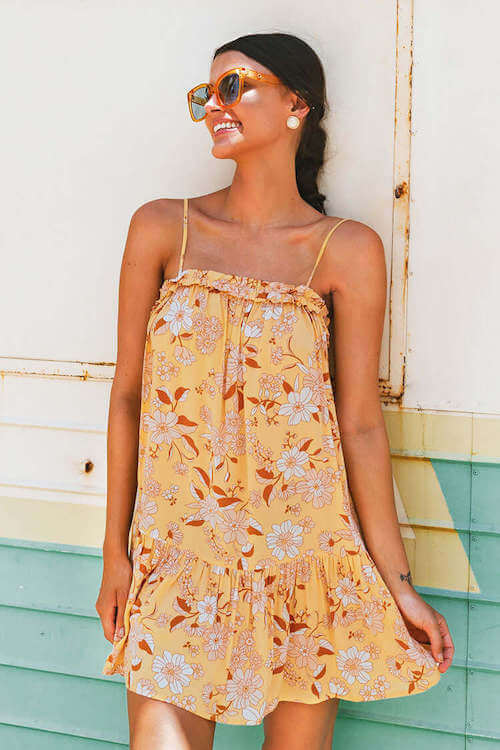 Linen Oversize Long Sleeve Shirts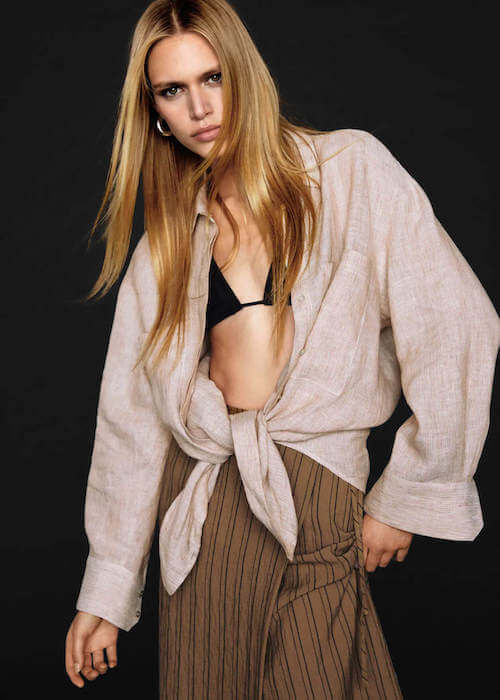 Random Tropical Print Cut Out Split Thigh Cami Dress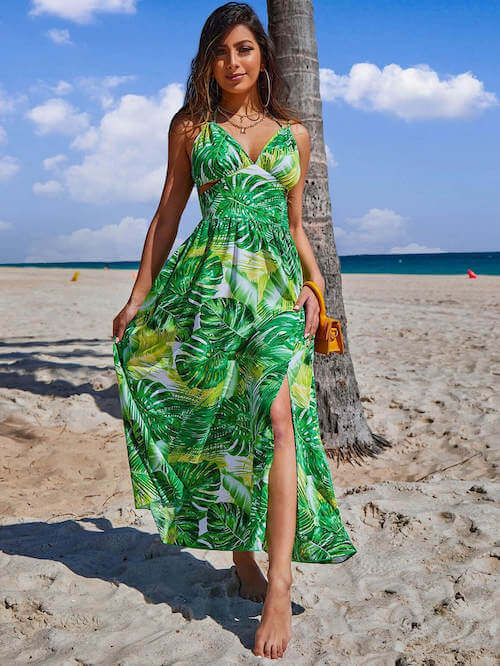 Black Dress Romper
Cream Ribbed Keyhole Halter Blouse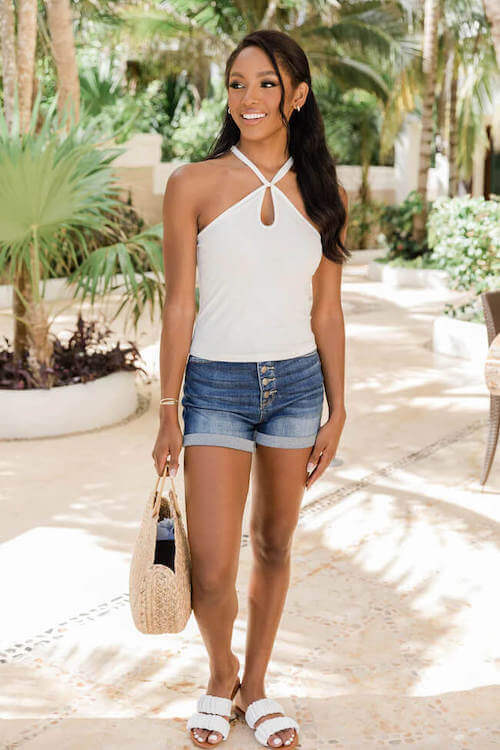 Beige Belted Open Leg Knit Pants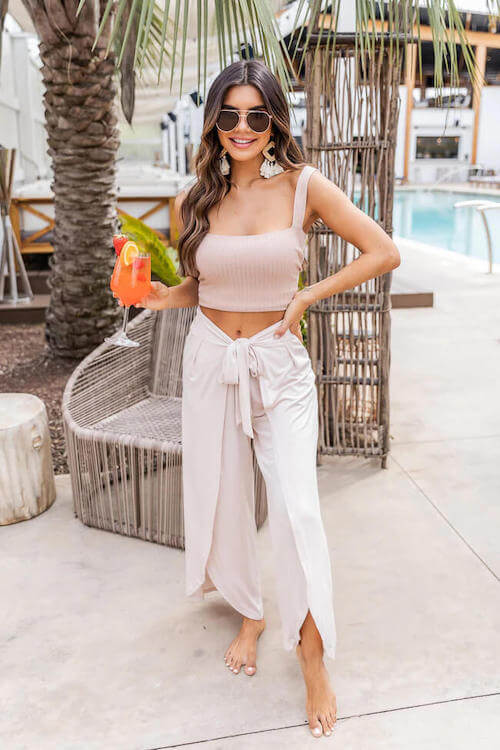 Berry Blouse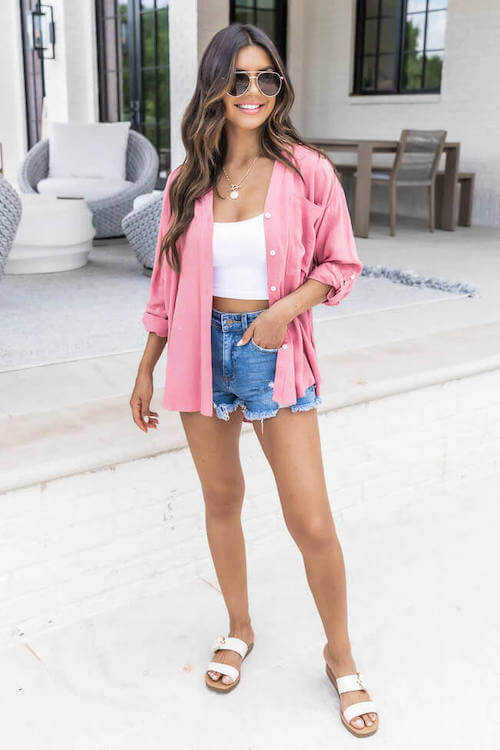 Ivory Lightweight Sweater
Bathing Suits / Cute Bikinis
Of course, no Cancun vacation is complete without a cute swimsuit (or at least one)! Enjoy a great vacation in beautiful Cancun in a swimsuit that shows off your advantages to the fullest.
Below are our favorites this year:

Straw Totes/ Beach Bags
You need a nice beach tote to carry all your need on the beach, like sunnies, books, snacks, sunscreen, etc.
Below are our current favorites:

What To Wear To An All-Inclusive Resort In Cancun Mexico: Chic Cancun Resort Wear Ideas
One best part I like about Cancun is that Cancun resorts don't have a very strict dress code.
Therefore, as long as the clothing piece is not too casual or looks bad quality, you can feel comfortable wearing it in a Cancun luxury resort.
I especially recommend long dresses or rompers, or resort-style shirts that are unique in design.
You may spend a lot of time in the hotel zone, and there are often a lot of great activities to choose from in resorts, and these outfits will make your resort styles look great.
Strappy Cut-Out Midi Dress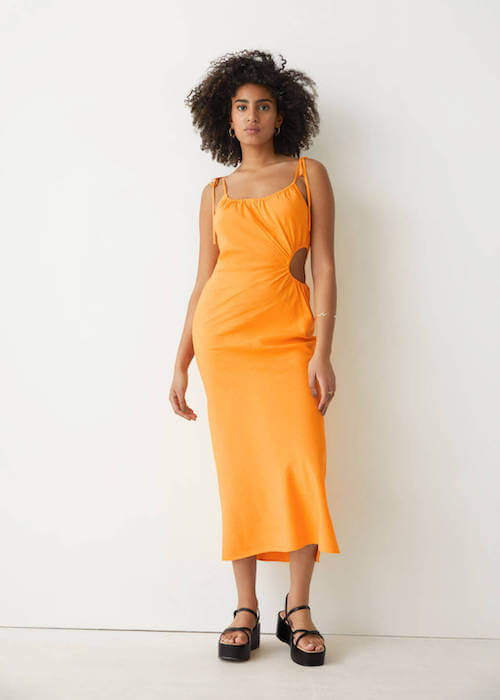 Floral-Print Linen Shirt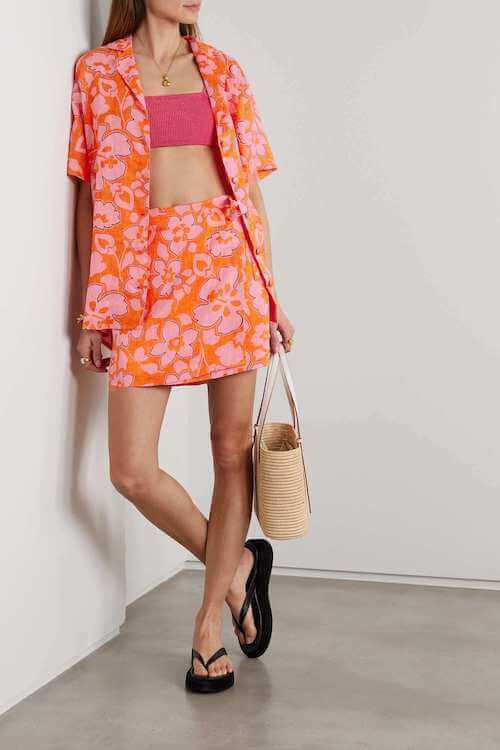 Blush Pink Floral Print Off-the-Shoulder Dress
Daisies Blue Floral Print Midi Dress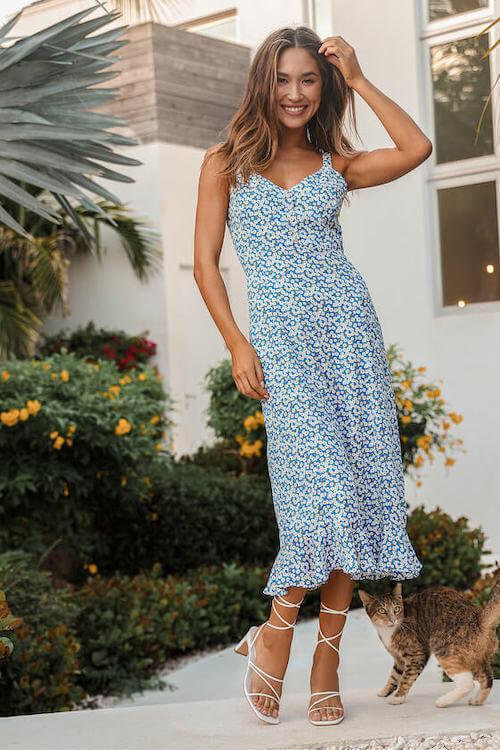 Printed Cut-Out Detail Dress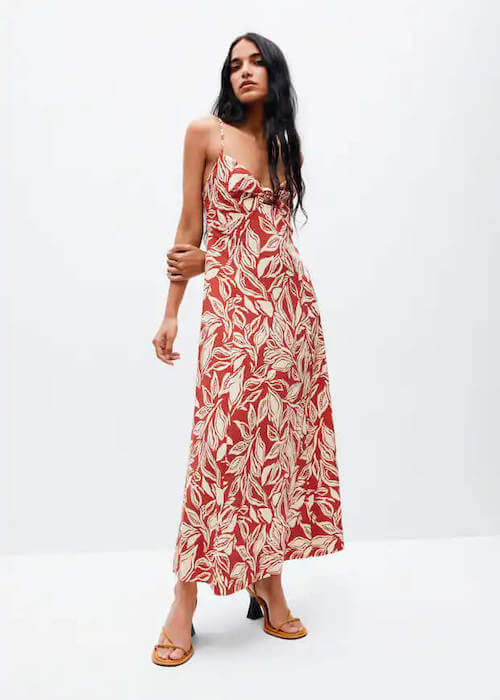 Flower Print Dress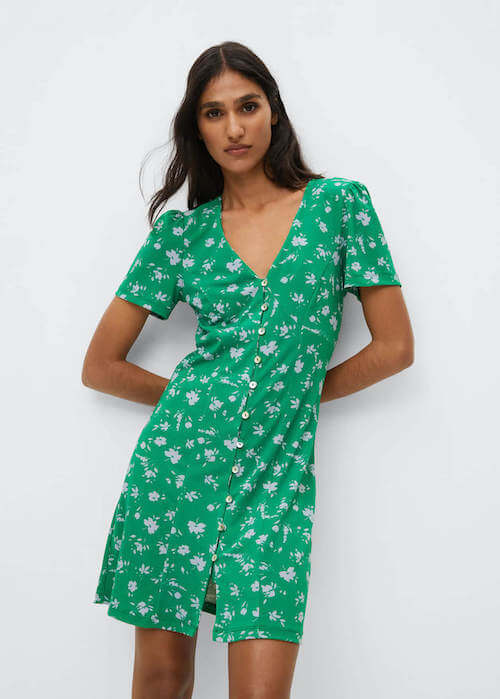 Silk Dress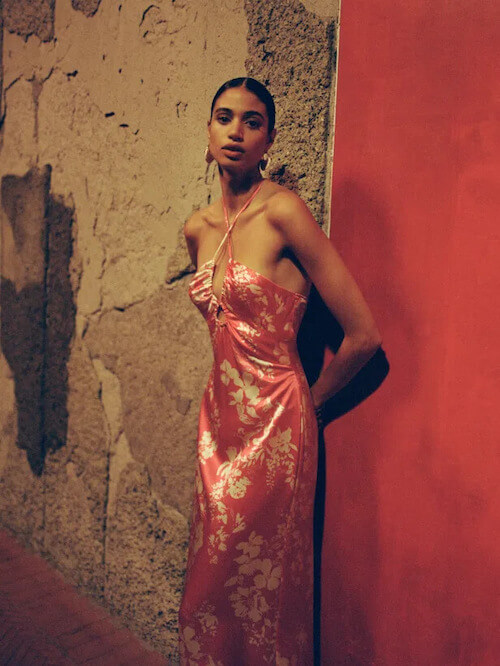 Taupe Dotted Dress Romper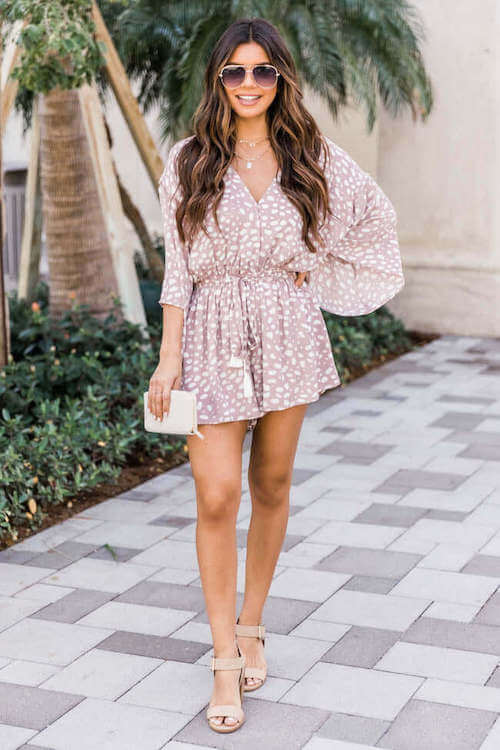 Pink White Off The Shoulder Printed Blouse + Skirt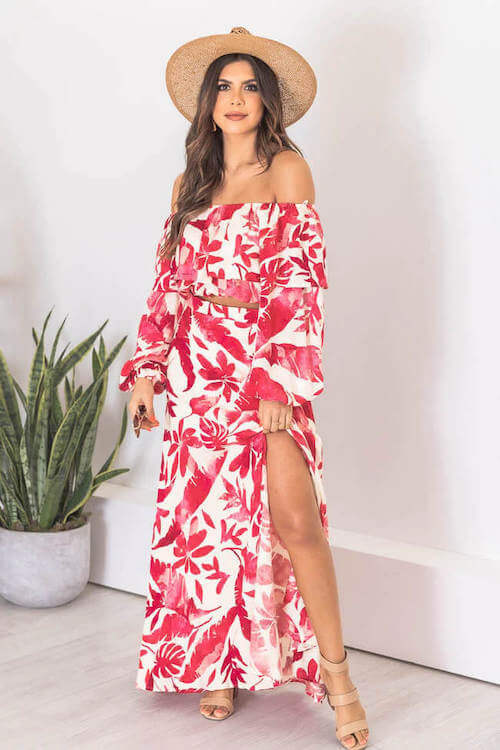 What To Wear Exploring Cancun?
Go out of your hotel room to explore more! Cancun has a very large number of theme parks, spots, and ancient ruins that will definitely make for a great vacation.
It's important to have comfortable, cool, and easy-to-move-around outfits. My favorite outfit is a cami top or tank top with shorts or wide-leg pants.
And I also recommend bringing a button-down shirt to protect you from the sun during the day and to add warmth when it gets cold.
For shoes, if it is not water sports, please make sure to bring a pair of sneakers in addition to a pair of sandals or flip-flops. Because you usually need to walk more and flip-flops will make you uncomfortable.
Solid Drop Shoulder Collared Shirt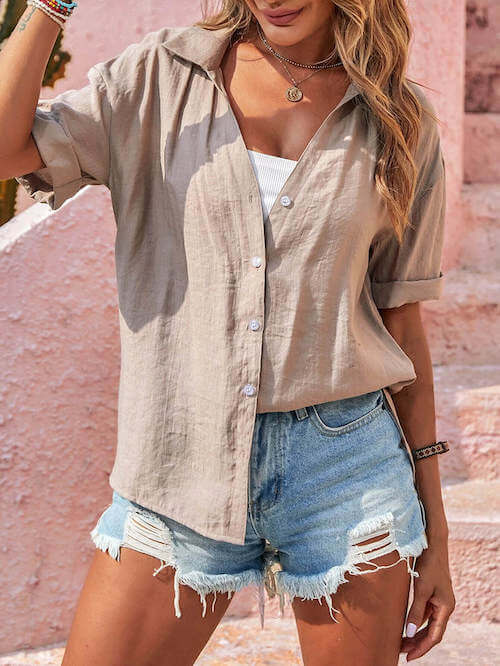 Linen Shorts + Linen Top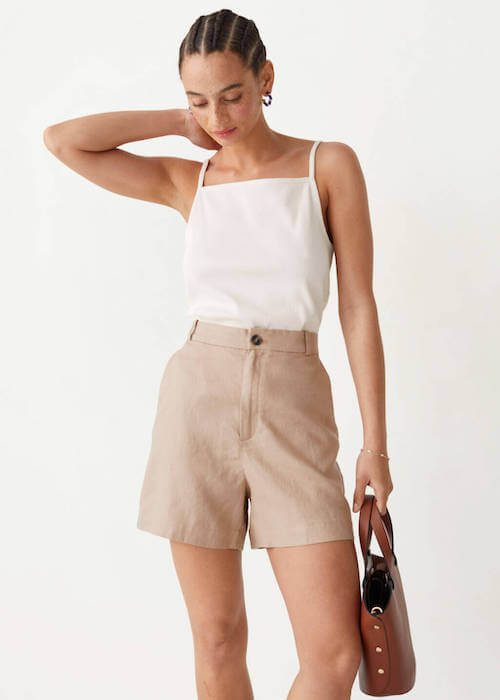 Black Smocked Knit Pants
What To Wear To Water Activities In Cancun
How can you not do water activities in Cancun? So what do you wear to water activities?
Bathing Suit, Life Jacket, Snorkel Gear
If it is a general snorkeling project, put on a one-piece swimsuit, bring a life jacket and snorkel gear are tools will be enough.
For life jackets and snorkeling gear you can certainly use the local ones, but I suggest you buy them yourself before your trip if you are worried about hygiene issues and the high rent fee.
Long-Sleeve Shirts
For water activities, I also suggest you bring a long-sleeve sunscreen shirt. The texture should be swimsuit material to protect you from the sun for water activities.
This one from Amazon is great.
Rash Guard
If you need to snorkel for a longer period of time or if you need to do more professional deep dives, then a set of rash guard is necessary.
Water Shoes
With so many water activities, be sure to bring a pair of water shoes if you want to be able to have fun without having an accident and always feel comfortable.
Sunglasses
Take a pair of sunglasses with UV protection to Cancun. It will protect your eyes.
Sun Hats / Baseball Caps
When doing water activities, the sun is still very sunny. So you need to bring a sun hat so that you can protect yourself from the sun after you get out of the water.
Travel Backpack or Crossbody Bag
It can be used to hold your extra clothes, shoes, snacks, water, etc.
What To Wear To Outdoor Activities At Night In Cancun
It's still cooler at night on the Cancun beach, so I recommend a thin jacket or a lightweight sweater if you need to stay outdoors for a longer period of time at night.
For nightlife activities, unless you are going to clubs, a comfortable and convenient pair of shorts or a pair of pants with a light top would be a great option.
Cotton Perfect Vintage Tee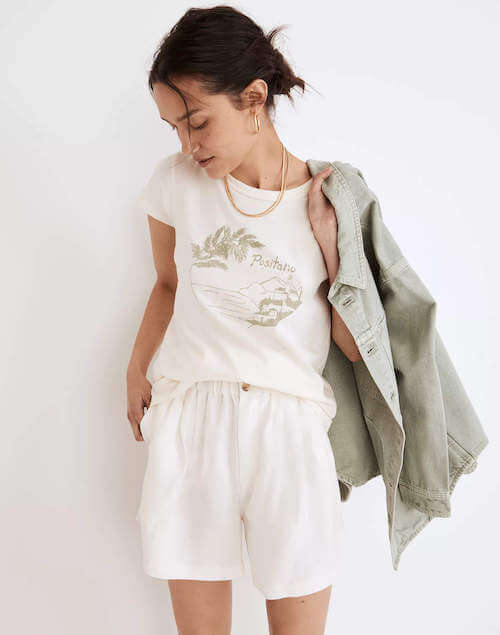 White Fringe Flare Pants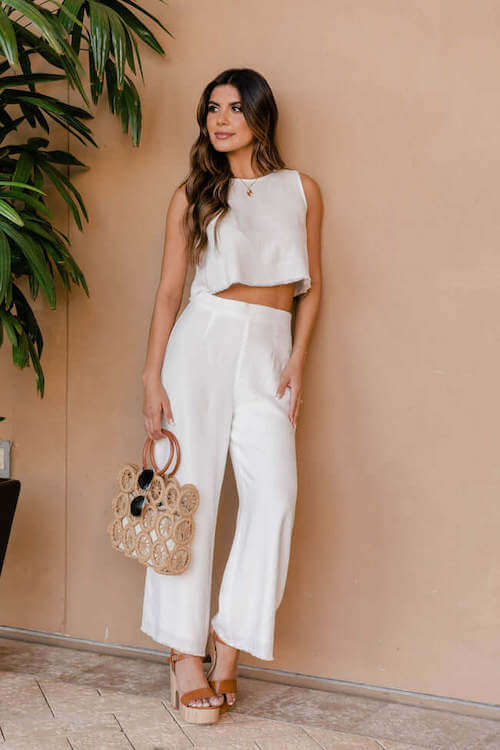 Ivory Palm Print Light Sweater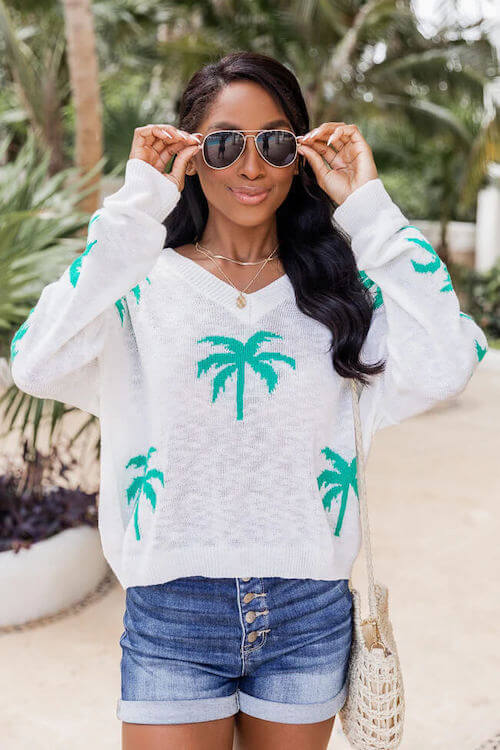 What To Wear For Cancun Nightlife: Cute Cancun Club Outfits
The dress code in Cancun's clubs is quite casual, and as long as you're not wearing flip flops or sportswear, you can even wear everything from shorts to designer dresses.
Of course, after all, you are on vacation, I suggest you choose a chic and airy party dress, because clubs can sometimes be very humid and hot inside.
Then put on some fun jewelry to dress up and a pair of comfortable wedge sandals, low heels sandals, or even sexy high heels to enjoy a charming Cancun evening.
Blue Short Dress
Linen Dress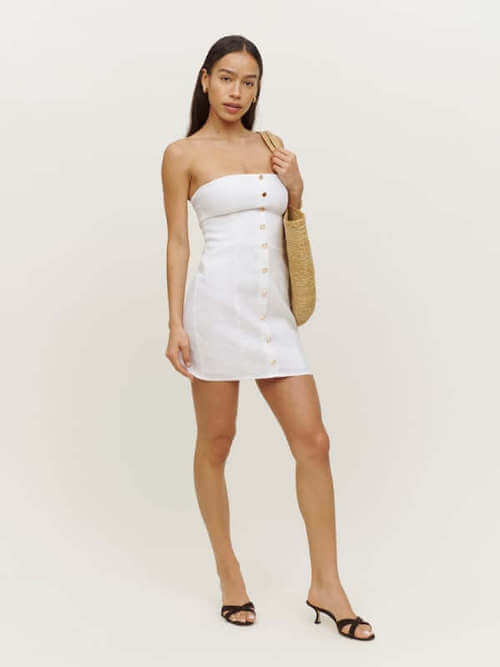 What To Wear To A Wedding In Cancun?
More and more people are choosing Cancun as a place to hold their weddings.
If you are going to attend a beach destination wedding in Cancun as a guest, I would suggest a long, flowing printed dress, which is the least wrong choice. And they are light enough to save so much room for your luggage.
Whether you are indoors or at a glamorous beach, a printed long dress will make you look fabulous. And complete your look with strappy sandals and simple chic accessories.
Because you may not be sure of the style of the venue, after all, there are so many different wedding venues in Cancun to choose from, so you need to avoid choosing an outfit that is too distinctive so that your dress can fit any style of the venue.
Floral Maxi Dresses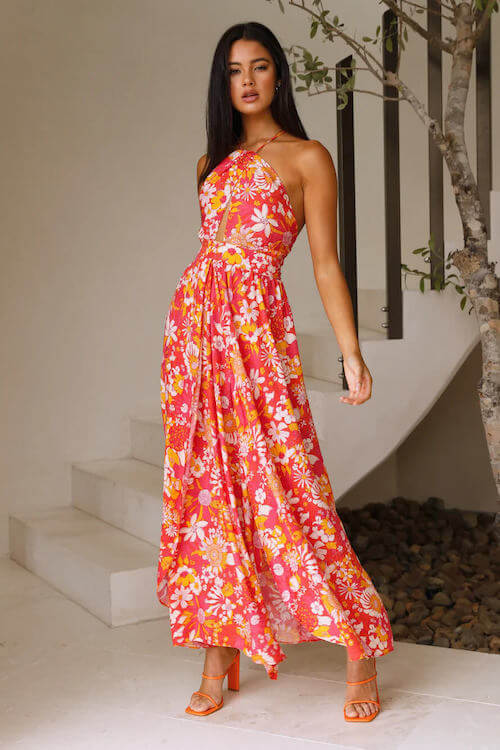 Floral High-Low Faux Wrap Dress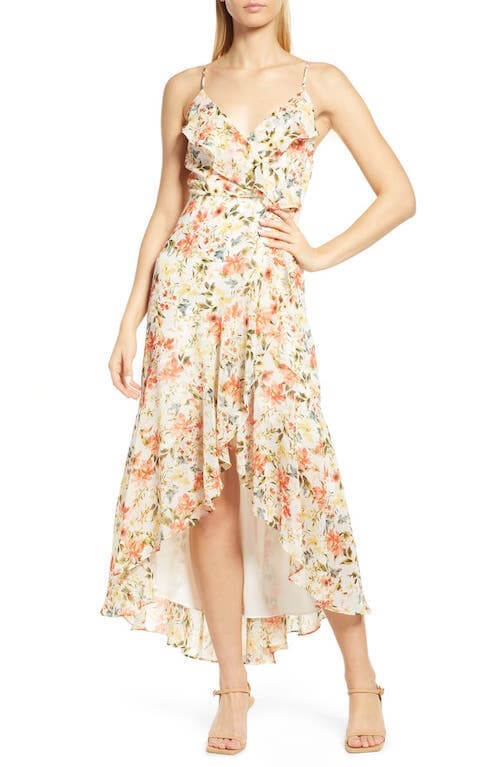 Blue Midi Dress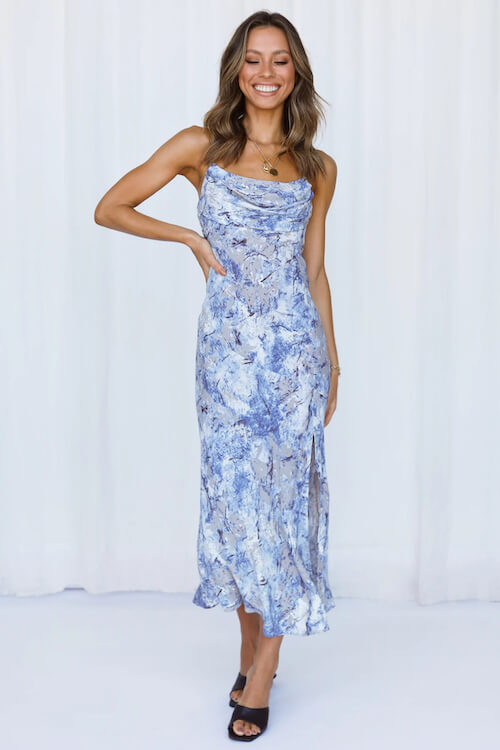 Mustard Yellow Floral Print High-Low Maxi Dress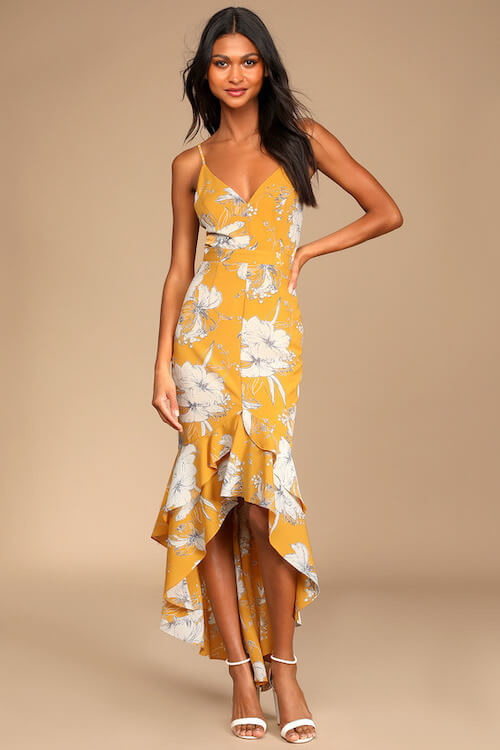 Floral Gown
Should I Take Long Pants To Cancun Mexico?
Every time I travel to Cancun, I bring one or two pairs of lightweight pants with me.
It's definitely the last thing you want to do to wear a pair of jeans on a trip to Cancun because that makes you sweat a lot in the warm weather. So a pair of light pants will be a good choice for your trip in Cancun.
On the one hand, they can be used to protect you from bugs, especially if you are not too accustomed to the local bugs at night, and they will keep you very comfortable for the whole night's activities.
On the other hand, a pair of well-fitted pants can make it easy for you to dress up or down. The combo of a simple top and a pair of draped pants can instantly make you tall, attractive and have a great figure.
When at the beach, these pants can also be used as chic cover ups, especially at night when the beach becomes cooler, it is a great choice for you.
Shop Our Picks

Ultimate Cancun Packing List
Below is my favorite Cancun Mexico packing list:
Basics
Travel Documents
Water Bottle
Travel Pillow
Ear Plugs
Credit Cards & Debit Cards
Currencies
Phone & Tablet & Headphones
Chargers
Waterproof Phone Case
Band-Aids: Outdoor activities will inevitably cause small bumps and bruises. Bring a box of band-aids will definitely be useful.
Clothes & Accessories
Underwear & Bras
Bathing Suit / Bikinis
Beach Cover-ups
Long Sleeves Shirts
Cute Tops / Tank Tops / Tees
Shorts/ Skirts/ Pants
Dresses
Lightweight Jacket
Pajamas/ Bathrobe
Straw Hat/ Bucket Hat
Straw Tote / Beach Bag
Crossbody Bag / Backpack
A Pair of Sandals / Flip Flops / Slippers
Comfortable Walking Shoes / Sneakers
Water Shoes
Belt
Jewelry
Travel Umbrella
Sunnies
Light Sweater
Hair accessories (hair ties, hair pins, etc)
Toiletries
Shampoo & Conditioner
Other Hair Products
Soap
Toothbrush & Toothpaste
Mouthwash
Dental Floss
Deodorant
Moisturizer & Lip Balm
Makeup & Makeup Remover
Comb
Hand Sanitizer
Hair Dryer
Razor
Tweezer
Mirror
Nail File
Nail Polish & Remover
Feminine Hygiene Products
Eyeglasses/ Contact Lenses
Contact Lenses Cleaning Products
Coral Reef-Safe Sunscreen & After Sun Lotion
Optional:
Medications
Vitamins
Contraception
Long-Sleeve Sunscreen Shirt for water activities.
Snorkeling gear
Life jacket for snorkeling
Long-Sleeve Rash Guard for deep diving or frequent snorkeling.
Waterproof digital camera / Underwater camera
This post was all about what to wear in Cancun Mexico.
Related Posts: