Looking for classy Las Vegas outfits? Check this post for the best style tips on how to dress classy in Vegas and the best outfit ideas for your Vegas trip next time.
Among the big cities in the States, Las Vegas has always fascinated me.
Every time I go to the sin city of Las Vegas, its gorgeousness, its imaginativeness, and its indulgence of all make me linger.
Although you can have a lot of fun in Las Vegas, if you dress a little fancier, it will definitely make you play more confidently and add a lot of good memories to your Las Vegas trip.
If you are looking for classy Las Vegas outfit ideas and clothing pieces to add to your packing list, or if you are visiting Vegas for the first time, you've come to the right place.
In today's article, I am sharing with your our favorite fashion tips on how to dress classy in Las Vegas, and the classy outfit ideas for you to copy directly for different occasions in Vegas.
So scroll down to check these chic Vegas outfits, and don't hesitate to pin them to your Pinterest board, and share them on social media sites.
This post may contain affiliate links, which means I'll receive a commission if you purchase through my link, at no extra cost to you. Please read the full disclosure here.
This post is all about classy Las Vegas outfits.
Las Vegas Dress Code: What Do Ladies Wear In Las Vegas
In Las Vegas, you can wear whatever you want and no one will blame you. There is no strict dress code in Vegas.
What's most popular with locals in this glamorous city are clothes that balance sensuality, elegance, and your own personal touch.
For example, during the day, you can wear comfortable jeans or pants with a cute top. At night, you can wear tight pants and a sequin top or cocktail dress to enjoy the colorful nightlife in Las Vegas.
How Do You Dress Fancy In Vegas
If you want to dress fancy and classy in Las Vegas, here are my favorite tips:
Choose solid colors or classic prints
You don't have to just wear neutrals, you can choose bright colors or other unique colors. However, you should choose a solid color piece or a printed piece in a classic style.
Choose high-waisted bottoms
High-waisted bottoms can make your legs look longer and help you create a more perfect body proportion.
Avoid baggy items
While baggy pieces and sporty clothes are very trendy and comfortable, if you're after classy style, you should avoid baggy jeans, baggy pants, cargo pants, low waist pants in your Las Vegas during the trip.
Wear clothes that make you feel comfortable
You should wear clothes that make you feel comfortable and confident. This way you can look more attractive.
Bring comfortable shoes
Whether it's heels or flats, you should choose shoes that make you feel comfortable.
It's best not to wear new shoes to Las Vegas. Because in Las Vegas, you may have a lot of walking and dancing, day or night. New shoes tend to be less comfortable.
Don't forget a sun hat and sunglasses
Las Vegas can often be very hot.
So it is a good idea to bring a sun hat and sunglasses to help protect you from the Vegas heat. Also, they look stylish.
Dress for the weather
Although Las Vegas is generally warm throughout the year, it can be a bit colder in winter. So if you're going to Las Vegas in winter, I suggest you bring some long-sleeved tops, long pants, and a light jacket
Leave expensive jewelry and accessories at home
Las Vegas is usually crowded with tourists. You can see crowds of tourists in a nightclub, a famous show, or on Las Vegas Boulevard.
Therefore, in order not to lose your favorite items, I recommend that you do not bring too expensive jewelry and other accessories to Las Vegas.
Classy Las Vegas Outfits In The Winter Months
Las Vegas doesn't get very cold in the winter, so you can bring long-sleeved tops and thinner sweaters.
Add a short teddy coat or light jacket if the weather is cold.
For bottoms, you can wear jeans, leather pants or a leather skirt. Complete your look with a nice pair of boots.
Long Sleeved Shirt + Mini Skirt + Booties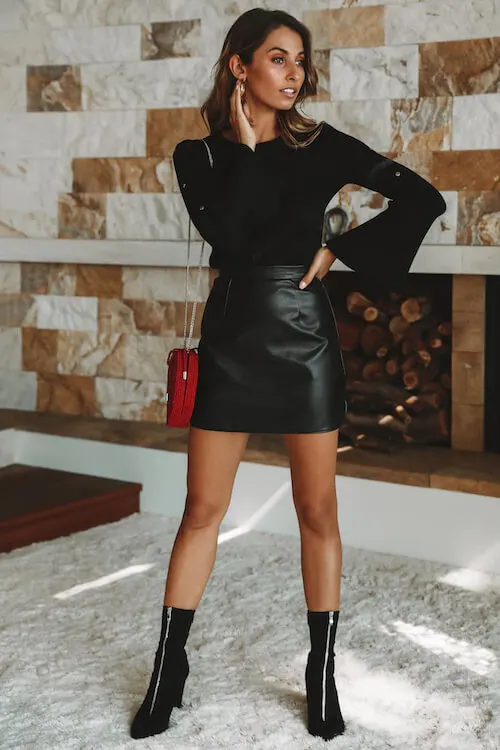 Light Jacket + Lace Top + Black Leather Pants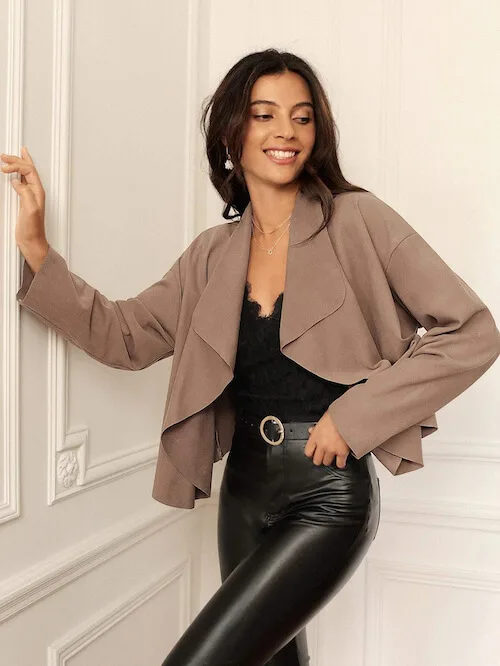 Teddy Jacket + Bodycon Dress + Lug Boots
What Should You Wear To Vegas In The Summer Months
During the summer months, there are plenty of outfits to choose from for your Vegas trip.
You can wear casual dresses. Or you can choose a cute tank top or breathable white linen top with jeans for a more casual look.
I also really like trendy pieces like a blazer dresses, shirt dresses, and bodycon skirts. They're comfortable to wear and have the retro elegance that's trending right now, making you look great in style.
So even if you're wearing the simplest flip-flops or other casual shoes, you'll still be the center of attention in the crowd.
Button-Down Shirt Dress + Shorts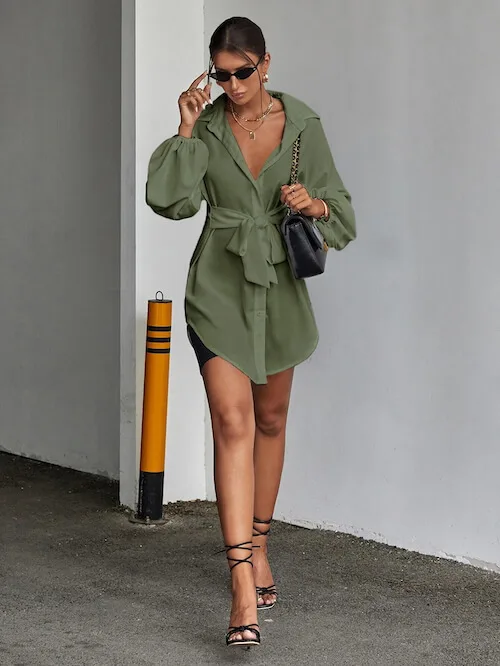 Satin Cami Top + Tight Skirt + Flip Flops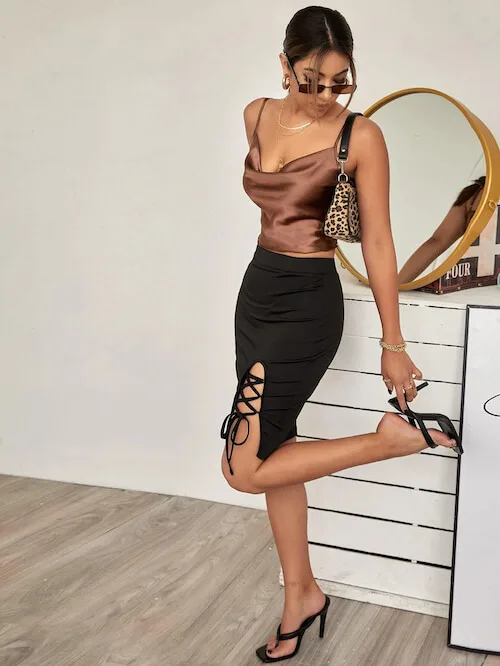 What To Wear To Fine Dining Restaurants In Vegas
High-end restaurants in Las Vegas, like most high-end restaurants, will require you to dress fancier.
To make your Las Vegas trip even more glamorous, I suggest you add one or two sequin or glitter pieces for your fancy dinner. It is an easy way to make you look gorgeous.
Don't forget to wear chic statement jewelry along with a dainty clutch for a nice dinner.
If you are going to a fancy restaurant during the day, you can dress less formally.
A dress that is not too casual, or a fitted top and a pair of pants will make you perfect.
You'd better not wear jeans or shorts to high-end restaurants in Las Vegas.
Satin Bodycon Dress + High Heels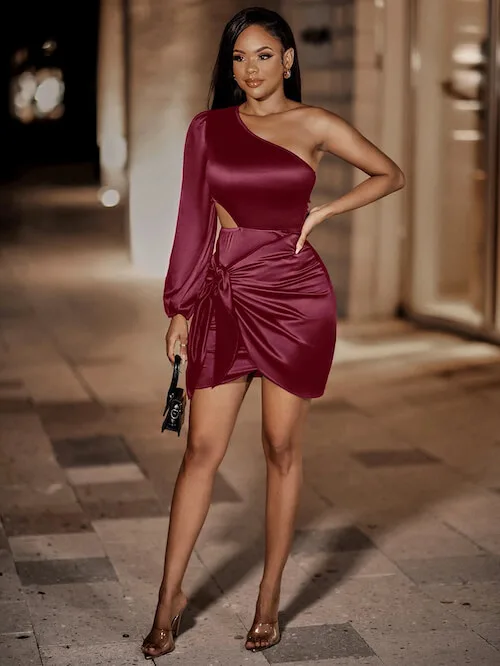 Glitter Little Black Dress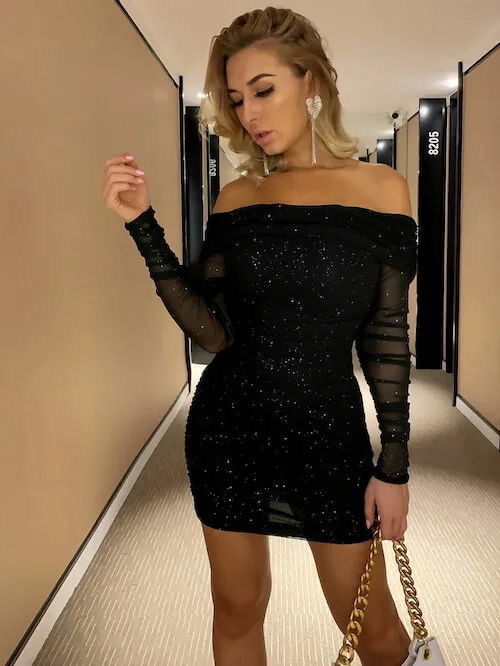 Long Sleeves Top + Satin Midi Skirt + A Pair of Heels
Black White Cocktail Dress
Classy Las Vegas Outfit Ideas For A Vegas Club
The best attire to go to nightclubs in Las Vegas is a mini dress or mini skirt, and they can never go wrong.
Please avoid athletic wear pieces, including sweatshirts, sweatpants, sneakers, baseball caps, etc.
You should also avoid wearing pieces with ripped details or baggy designs, which are not suitable for Las Vegas nightclubs.
If you want to dress classy, you should avoid clothing pieces that are too revealing.
Also, pay attention to the quality of your clothes and don't wear fabrics that are too thin or ill-fitting pieces.
For shoes, a pair of pointed-toe heels can make your Las Vegas nightclub trip perfect.
Sequin Bodycon Dress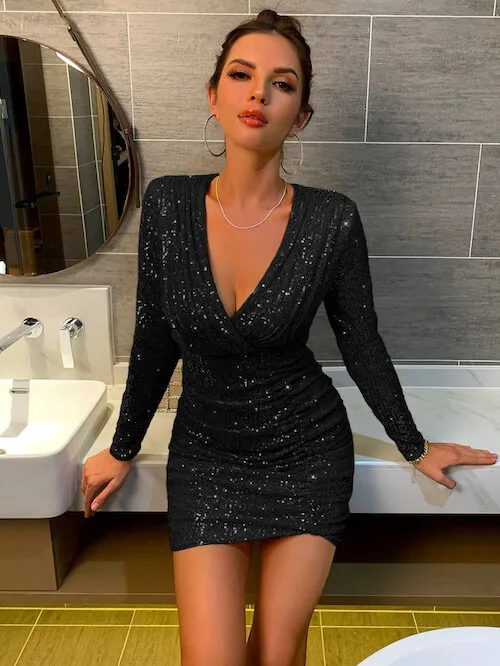 Cutout Waist Sequin Dress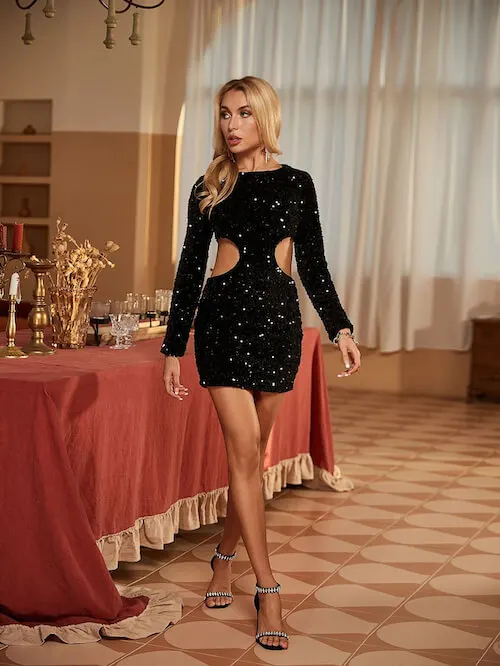 What Clothes To Wear In Las Vegas For Evening Shows
Throughout the year, Las Vegas shows are deeply attracted tourists from all over the world.
There are many grades of shows in Las Vegas, and different types of shows have different dress codes.
If it is a more casual show, you can wear a cute top and a pair of jeans or black pants.
But for fancy shows, you should be wearing finer details.
My suggestion is to swap your top or bottom for a sequin or velvet piece that will give your look just the right amount of formality without looking tacky.
Sequin Skirt + Oversized Knit Top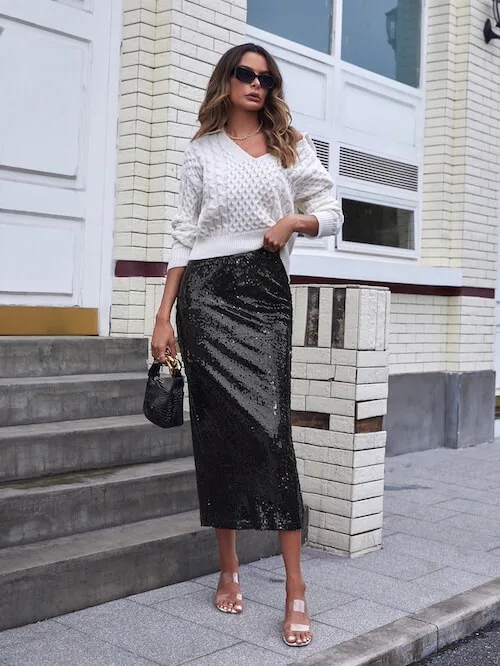 Sequin Pants + White Top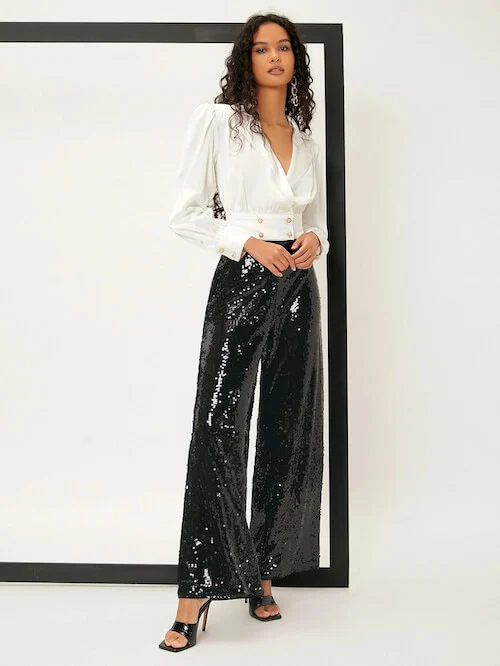 Sequin Blazer + A Pair of Jeans + Ankle Boots
Velvet Top + Nice Pants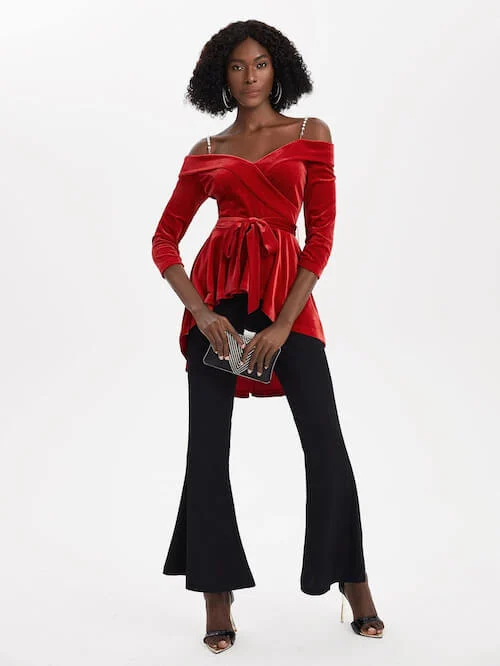 What Do You Wear To A Fancy Casino In Vegas
Las Vegas casinos do not have official dress codes. However, you'd better not choose overly casual wear.
Usually, women can wear a cocktail party dress, or nice pants and a nice top.
More and more women also choose a jumpsuit or a blazer suit set.
When the weather is cold, leather pants are also a good choice.
I suggest you wear statement jewelry, it will make you look better.
Sleeveless Wrap Dress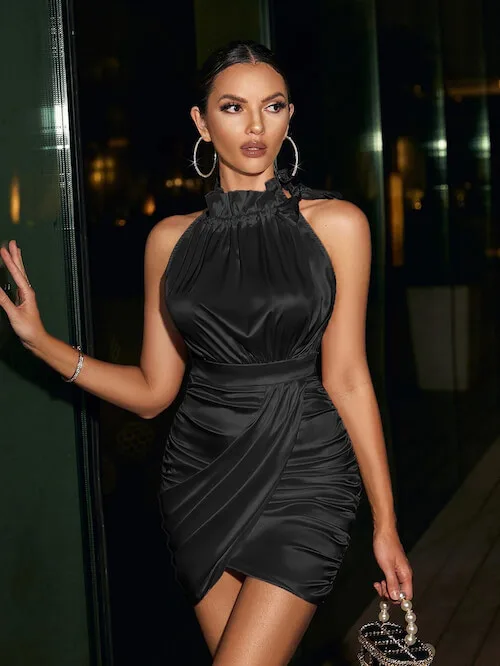 Halter Bodycon Maxi Dress
Glitter Jumpsuit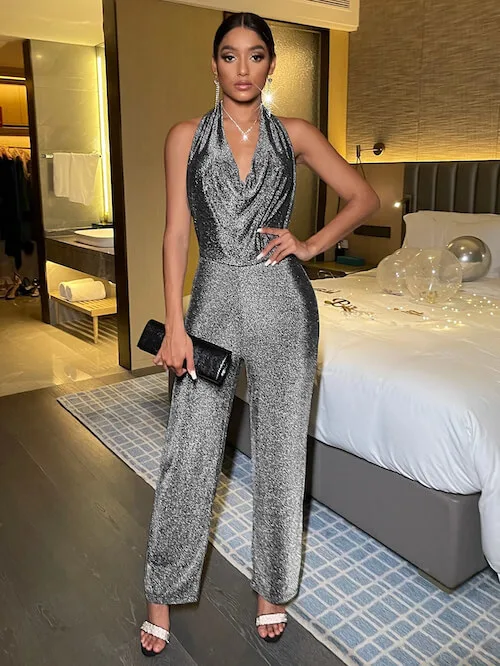 Fitted Blazer + Black Jeans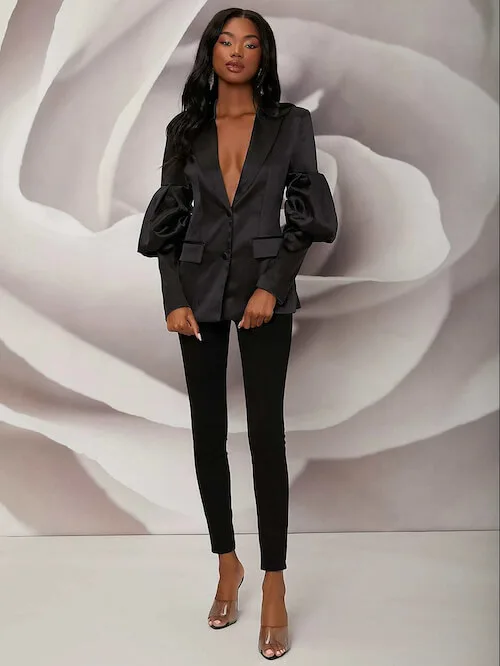 Velvet Top + Black Leather Leggings + Booties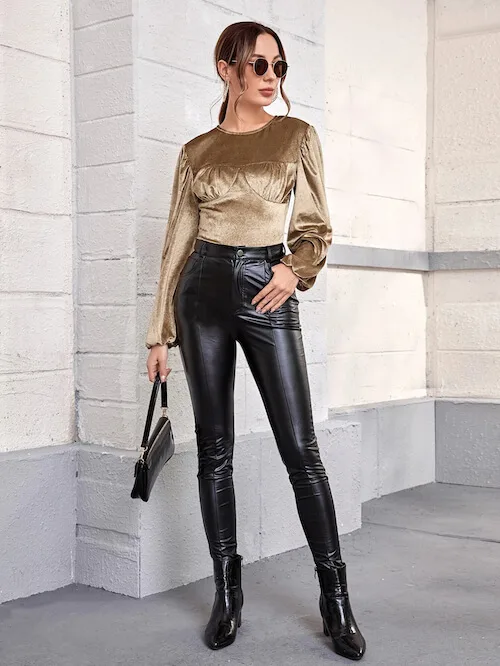 How To Style For Vegas Daytime Outdoor Activities
In addition to the colorful nightlife, Las Vegas is also worth visiting during the day.
All kinds of amusement parks, exhibitions, shows, and the famous Las Vegas Strip are all worth visiting for a long time.
Therefore, it is very important to wear a pair of comfortable shoes for your daytime outdoor activities in Vegas.
You can choose from comfortable flip-flops, sneakers, sandals, boots, and casual flats for your casual stroll.
If you need to go to a nice restaurant during the day, then I would recommend that you still choose a pair of closed-toe shoes.
For daytime wear clothing, I recommend you wear an elevated casual outfit.
You can pair basic items with the latest fashion items, such as an oversized blazer, leather skirt, wide-leg pants, crop tops, a pair of shorts, etc., to look stylish with your own personal style.
Leather Jacket + Biker Shorts + Sneakers
Mock Neck Tank Top + Faux Leather Skirt + Comfortable Shoes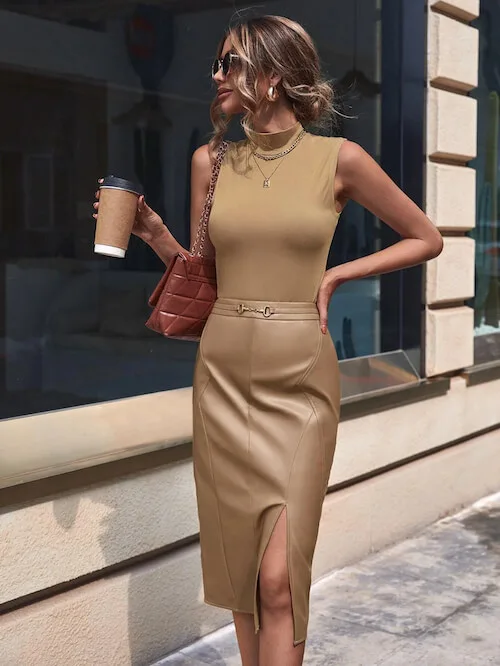 Lace Blazer + Leather Shorts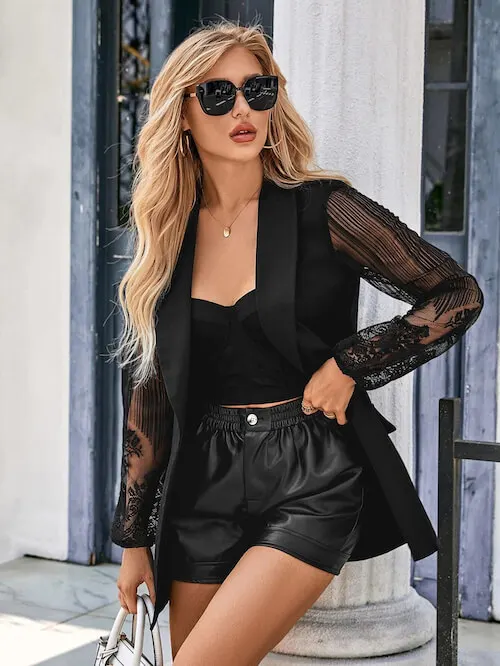 Slim Top + Leather Midi Skirt + Comfortable Sandals
Blazer + Crop Top + High Waist Skinny Jeans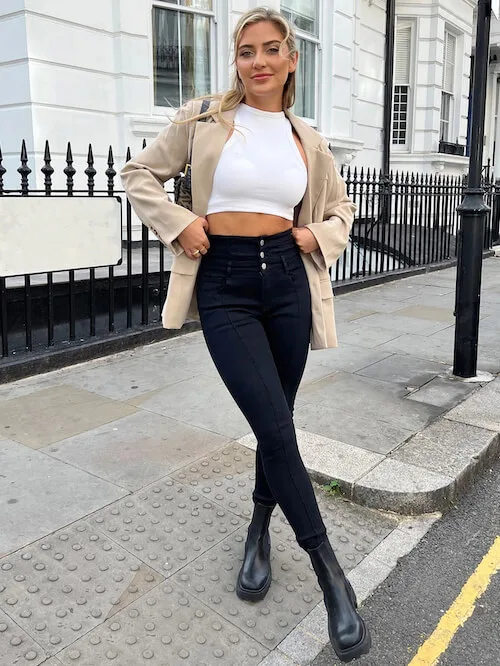 What To Wear To Pool Parties In Vegas
Pool parties in Las Vegas are very famous. In the summer, this is pretty much the most desirable place in all of Las Vegas.
Come to the hottest Las Vegas pools and enjoy the freest parties in beautiful swimsuits and coverups.
Some hotels have strict dress codes for pool parties, so you might want to bring a long dress. This way you can wear this dress over your swimsuit as you walk through the rest of the hotel.
White summer is a perfect time to enjoy a Vegas pool party, in winter, the good news is, in Las Vegas, there are hardly any freezing times. So in winter, some hotels in Vegas still offer great pool parties.
The water temperature at a pool party in winter is usually warm, so you don't have to worry about catching a cold.
Backless Split Thigh Cover Up + Bikinis / Bathing Suit / Cute Swimsuit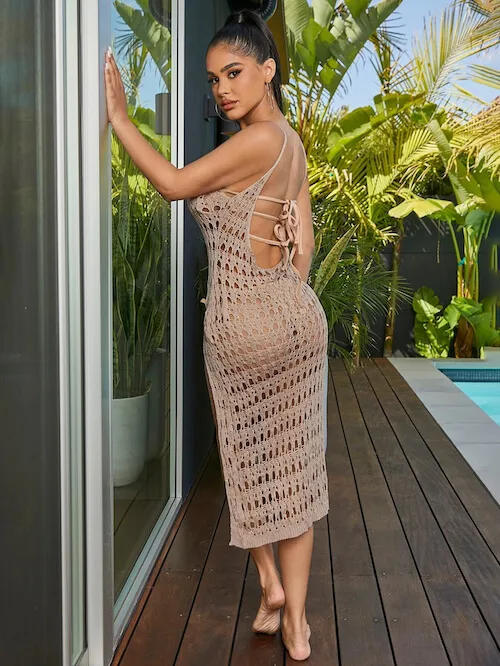 Classy Outfit Ideas For A Bachelorette Party In Las Vegas
Las Vegas is a great place to host a bachelorette party.
Heading to Las Vegas for your bestie's bachelorette party soon? Bring your little black dress or other cute cocktail dresses.
Don't forget to pack stilettos, a fancy clutch, and chic jewelry for a great night out.
If you don't want to wear a dress, you can also choose a cute cami top and a pair of nice pants.
Choose a unique color to add a little bit of personal touch. Dark green, burgundy, and hot pink are all great choices.
But you must never choose white.
Also, I suggest that you can bring a pair of flat shoes. If you're particularly tired, swap your heels for flats for extra comfort.
Sequin Cami Top + Green Velvet Wide Leg Pants
What To Wear To A Formal Event In Vegas
Wear formal attire to a formal event in Vegas. For women, you can choose a cocktail dress, gown, or evening dress, and complete your look with a pair of high heels.
If it is cold, add a blazer or a fur coat to keep your body heat.
Chic Outfit Ideas For New Year's Eve In Vegas
If you are going to Las Vegas at the end of the year, don't miss the New Year's Eve event in Las Vegas. It is the best time to visit Vegas.
From gorgeous fireworks to splendid performances, to New Year's Eve parties in nightclubs, to delicious New Year's dinners in restaurants, New Year's Eve in Las Vegas will bring you the best experience.
If you are going to New Year's Eve in Las Vegas, wear sequin, mesh, feather,s and other gorgeous designs.
You can also add more metallic tones, such as gold or silver details, to make your look more stunning.
Off Shoulder Crop Top + Sequin Wide Leg Pants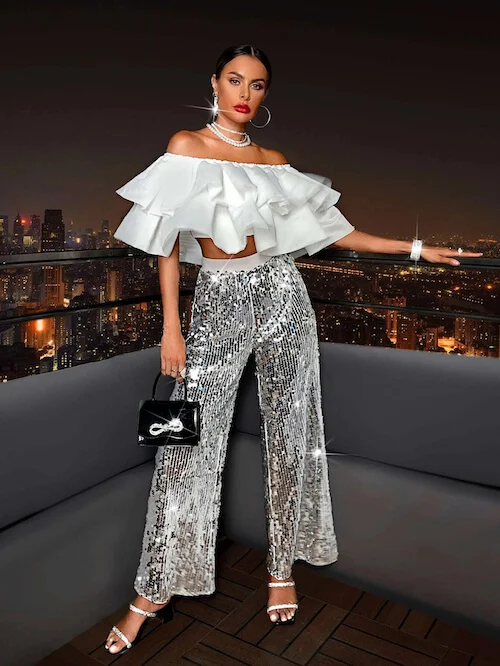 Off Shoulder Crop Velvet Top + Leather Leggings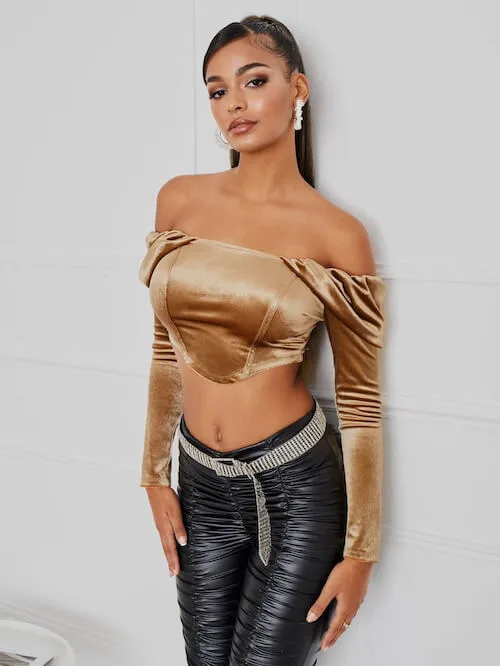 One Shoulder Glitter Bodycon Dress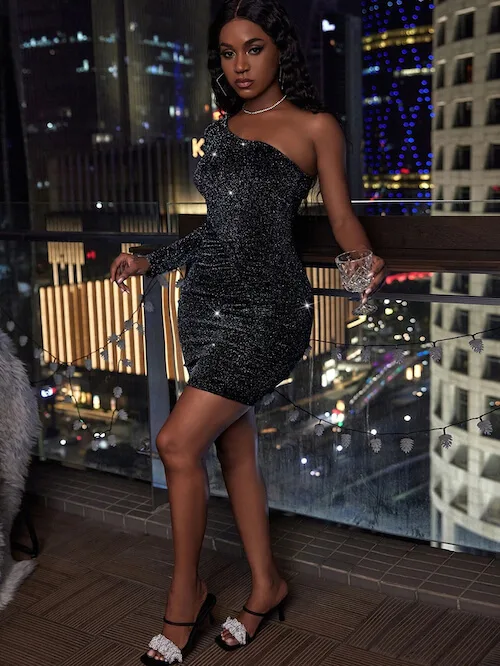 Mock Neck Sequin Tank Top + Black Pants + Statement Jewelry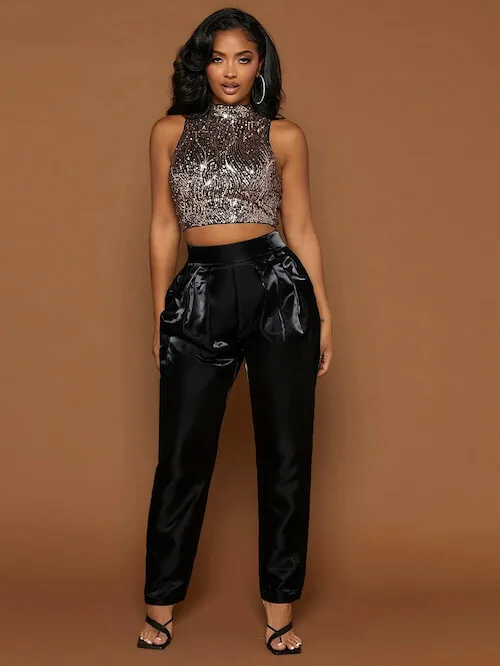 Black Mesh Blouse + Black Pants
What Classy Outfits To Wear To A Las Vegas Work Trip
A work trip to Las Vegas? You can never go wrong with business casual attire or a smart casual outfit. They are perfect for business meetings, business dinners, or even formal events.
If you want to elevate your business casual outfits, you can wear a uniquely designed top inside the blazer, or statement necklaces, or chic hoops.
Or you can change your white or black heels to a pair of hot red heels or hot pink heels, which is a great way to add a pop of color to your office style.
Tank Top + Blazer + Dress Pants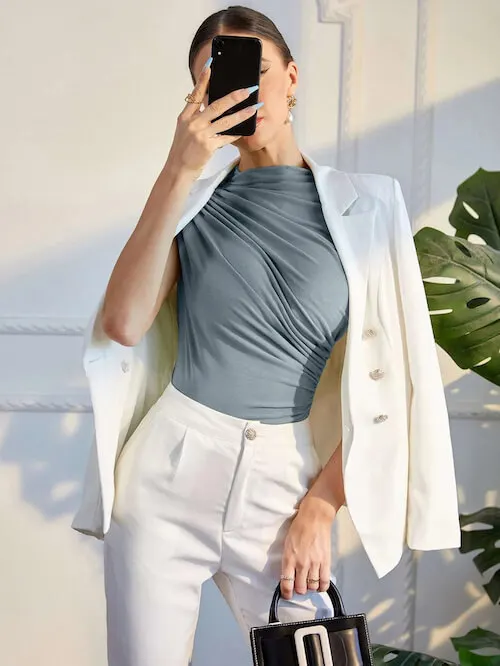 Chic Plane Home Outfits From Vegas
Finishing your Las Vegas trip and getting ready to board? I recommend wearing casual and cute outfits to make your trip more comfortable.
A tank top and leggings or comfortable jeans are a great combo.
For shoes, a pair of comfortable sneakers or flats is a great choice.
Add a baseball cap or sunnies to bring your style to the next level.
What Should I Wear In Vegas Over 40?
Wearing a little black dress or other cocktail dress that fits you confidently will allow you to enter and leave Las Vegas with confidence for most occasions, including nightclubs, shows, and fancy dinners.
During the day, you can wear a simple top and a pair of jeans and a pair of flats.
For footwear, a pair of flats like a pair of minimalist loafers or pointy-toe flats is a very elegant and comfortable option.
In winter, don't forget to bring a leather jacket or a light jacket.
I especially recommend bringing a sharp blazer. It can make you look very elegant and stylish for your Vegas trip.
This post was all about classy Las Vegas outfits.
About The Author
Tracy is an experienced personal stylist, shopping expert, and fashion & lifestyle blogger. She has been featured on Time Magazine, Bustle, Best Life, Glam, The Zoe Report, Mic, and GOBankingRates, for her insights on fashion, beauty, home decor, and lifestyle. Read More
Related Posts: