Looking for chic travel outfits? Check this post for the best travel fashion guide, style tips, travel outfit ideas, and airport outfit ideas for different seasons to help you keep comfy and stylish all travel long!
Traveling can be a hassle, with long days spent on planes and in airports.
But that doesn't mean you have to sacrifice your style while en route!
With the right wardrobe choices, you can look amazing while still being comfortable.
Looking for the perfect travel outfit for your next trip?
In this article, we'll discuss chic travel outfits for women that are both stylish and practical.
From cozy sweaters to light jackets and versatile accessories, these looks will help make sure you're feeling your best self!
So scroll down to check these comfy and elegant travel outfit ideas, and don't hesitate to pin them to your Pinterest board, and share them on social media sites.
This post may contain affiliate links, which means I'll receive a commission if you purchase through my link, at no extra cost to you. Please read the full disclosure here.
This post is all about chic travel outfits.
How can I look stylish while traveling?
Looking fashionable and stylish while traveling can be tricky.
But, with a few simple tips, you can look your best wherever you go!
First, it's important to consider comfort when selecting pieces for your travel wardrobe.
Choose items that are lightweight and breathable and that can be layered so you're ready for all types of weather conditions.
Accessories like sunglasses, hats or scarves can add an extra layer of style to any outfit.
Utilize accessories to switch up the same basics from day-to-day throughout the trip.
Try to avoid bringing too many items, and focus on building a versatile selection of clothes that pair well together in different combinations.
This way you can mix and match as needed without overpacking on bulky clothing items.
How do you put together outfits for travel?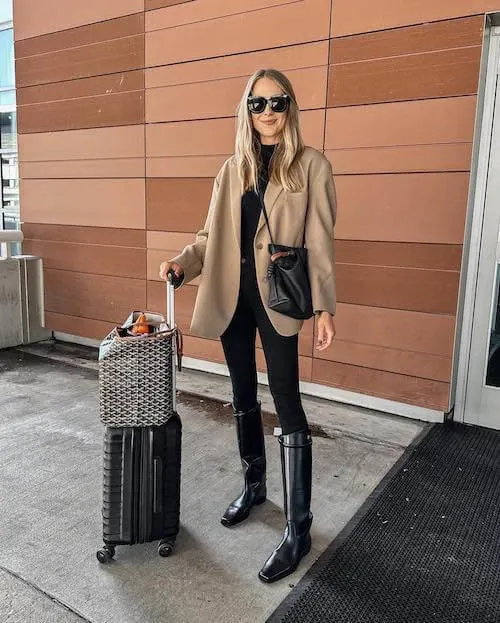 [email protected]_jackson
Traveling usually means packing light and making the most of limited wardrobe options.
Picking out travel outfits is a great way to save time, space and money when you're on the road.
Below are my favorite tips to put together stylish, comfortable and functional looks for any destination.
Start by choosing versatile items that can be mixed and matched in multiple ways.
Stick to pieces that are easy to layer in case it gets cold or hot at your destination.
Pack neutral colors like black, gray, navy blue or khaki so they match with various accessories or statement pieces like bright shoes or a patterned scarf.
Make sure all fabrics are lightweight and moisture-wicking since they're better suited for long days of sightseeing.
How to Look Chic When You're Flying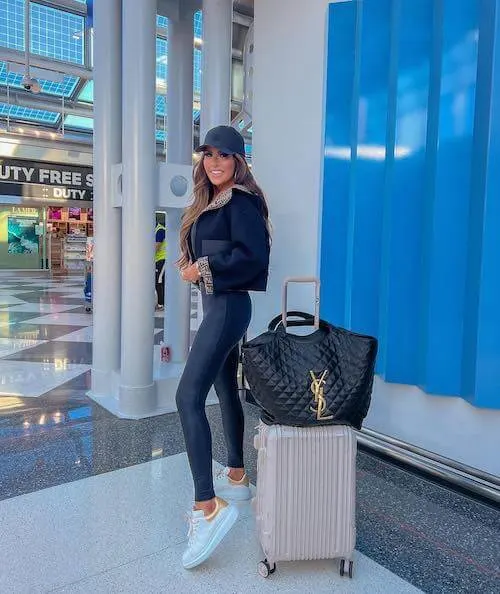 Flying can be a stressful and uncomfortable experience, but it doesn't have to look that way!
With just a few easy tips, you can look chic when you fly and make the most out of your time in the air.
The best part is, you don't have to break the bank or sacrifice comfort for style.
Here are some tips on how to look chic while flying:
First and foremost, dress comfortably in loose-fitting clothing. Opt for fabrics that will keep you cool and help avoid wrinkles during your flight.
Neutral colors such as black, white, beige, tan, and gray are perfect for creating a chic ensemble on a flight. These versatile hues are timeless and work well with any season or occasion; plus they won't compete or clash in photos like other more vibrant shades might.
For footwear, choose something lightweight like ballet flats or slip-on sneakers over bulky boots so feet can breathe easily onboard.
Try layering with a light jacket or cardigan overtop other pieces like tanks or tees – this way you can easily adjust if the temperature changes within the cabin. Utilize a carry-on bag that will help you stay organized during your flight and beyond.
Accessorize lightly with delicate gold jewelry.
Add a chic hat or keep your hair pulled back in a low bun to complete the stylish yet comfortable airport look.
How do I look classy on a plane?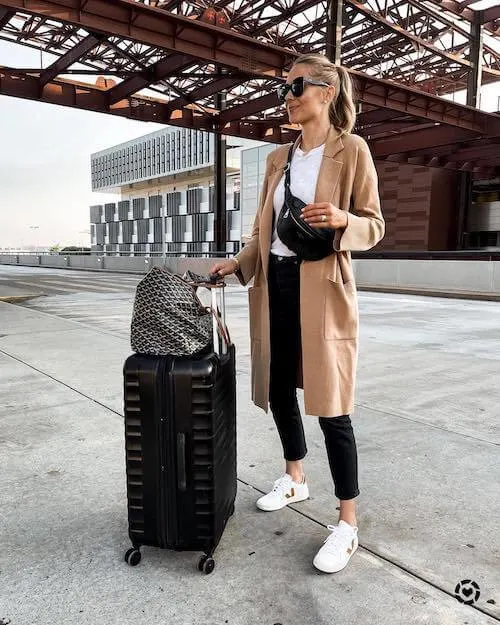 [email protected]_jackson
Whether you're going on a long international flight or a short domestic trip, dressing with class can make the journey more enjoyable.
It's important to remember that comfort should be your priority while traveling, but there are some simple tips and tricks you can use to look sophisticated when taking off in the skies.
Before boarding your flight, plan an outfit that will help keep you feeling relaxed and put-together during the journey.
Choose lightweight fabrics like cotton, linen, or silk as they feel comfortable against the skin and won't wrinkle easily.
To stay looking stylish throughout the flight, opt for neutral tones such as white, cream, navy blue, or black which will have you looking elegant without too much effort.
Is it ok to wear leggings on a plane?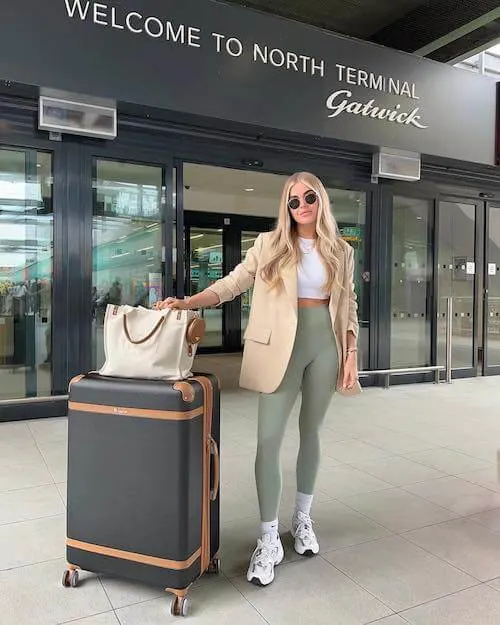 When it comes to packing the perfect outfit, there's always one question on everyone's mind: are leggings appropriate for a flight, especially a luxury flight?
The short answer is yes – leggings are perfectly fine to wear on any type of flight.
Leggings provide comfort during long flights and allow you to move around freely without feeling constricted or uncomfortable.
Many airlines have also become more relaxed with their dress codes, allowing passengers to wear items such as jeans and athletic gear while still keeping with their standards of modesty.
Of course, you should always dress appropriately for the occasion; but if you feel comfortable wearing them then go ahead!
What should you not wear on a plane?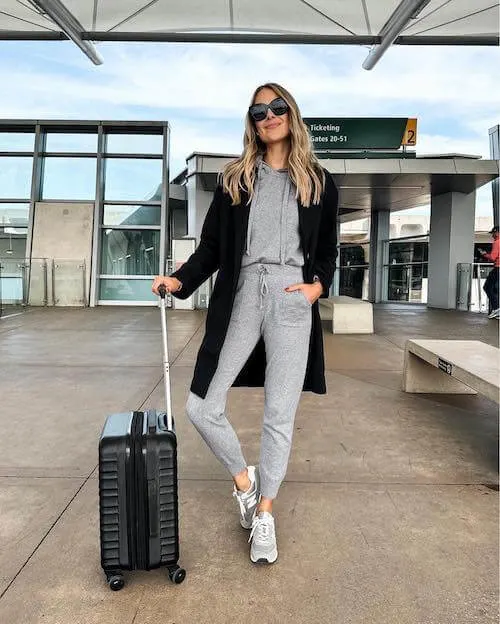 [email protected]_jackson
Clothing that exposes too much skin should be avoided when taking a flight, as this can lead to feeling cold on board or attracting unwanted attention from other passengers.
Footwear that is difficult to remove such as boots with laces should also be left out of your suitcase – shoes that slip off quickly are ideal for going through airport security more efficiently.
What are the best shoes to wear on a plane?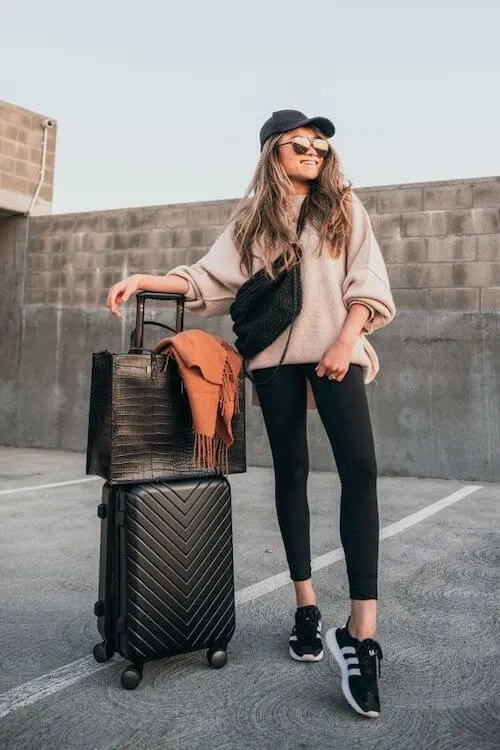 via Pinterest
When selecting an airplane shoe, comfort should always come first.
Look for lightweight materials and flexible soles that won't rub or pinch while you walk.
Avoid wearing heels or heavy boot-style shoes as these will feel bulky and restrictive during long periods of sitting down.
Instead, opt for supportive slip-on like loafers or sneakers that have plenty of cushioning and room for your feet to move around.
What to Wear on a Plane in Summer?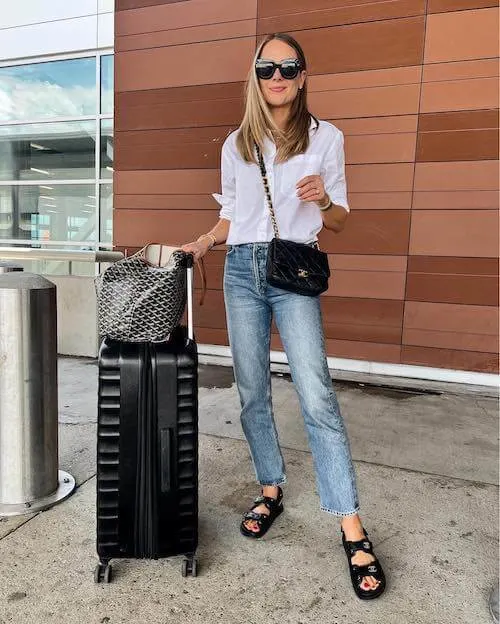 [email protected]_jackson
Summer is an ideal time to travel, but it can also be a challenge in terms of deciding what to wear on the plane.
As temperatures soar and airplanes become stuffy, comfort is key when it comes to picking out your look for your next flight.
For women, here are some go-to options for staying comfortable and stylish as you take off this summer.
To keep cool, lightweight materials are key when it comes to choosing an outfit for flying.
Natural fibers like linen and cotton will allow air circulation and absorb sweat when the cabin temperature rises.
For bottoms, consider jeans or casual shorts that won't restrict movement while sitting in confined spaces.
When it comes to tops, look for options with some stretch or breathable fabrics such as jersey material which won't cling uncomfortably in hot temperatures.
A loose maxi dress has all the comfort of wearing pajamas and still helps you look put together.
Look for one with breathable fabric like cotton or linen that will keep you cool during your journey.
If dresses aren't really your thing, a relaxed pair of wide-leg trousers with a tunic top is effortlessly chic while still being comfortable enough to nap in.
Choose lightweight fabrics such as rayon or viscose that won't add extra heat or weight to your body when flying.
What to wear on a 15-hour flight / long-Haul flight for a woman?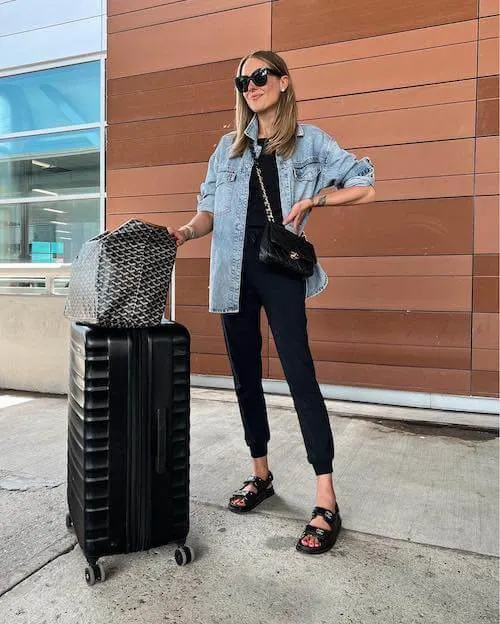 [email protected]_jackson
For many women, long-haul flights can be a daunting experience due to the length of time spent in the air.
However, it doesn't have to be uncomfortable and inconvenient when you know what kind of clothing to wear on your 15-hour international flight.
Opt for lightweight materials like breathable cotton and linen as these fabrics keep you cooler throughout the journey.
Avoid restrictive clothing with tight waistbands or buttons as these can become uncomfortable after sitting for a prolonged period of time.
Instead, choose items that offer plenty of movement such as stretchy leggings and loose-fitting tops or blouses.
Make sure that your shoes are comfortable and supportive so that they don't rub against your feet during the journey.
Try slip-on sneakers or loafers or slides which may also double up as casual footwear at your destination!
Chic Travel Outfits For Ladies
Below, I curated my favorite travel outfit ideas for you to copy.
Stylish Travel Clothes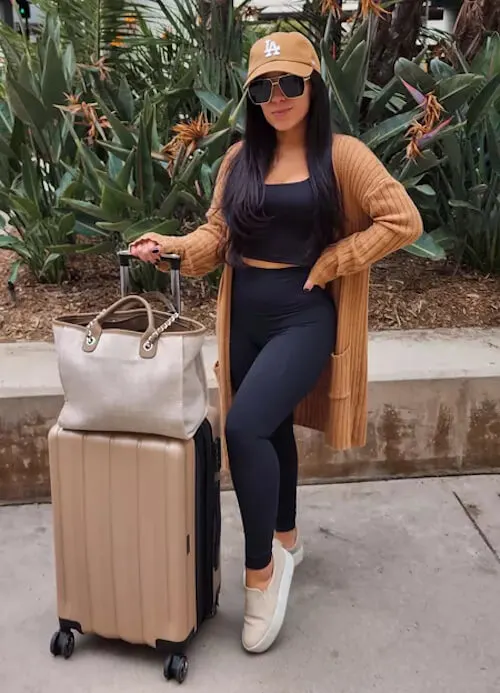 Cute Travel Outfits for Long Flight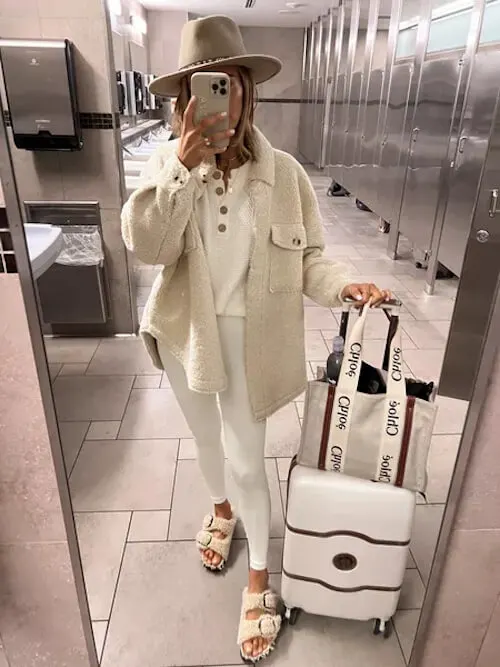 Chic Travel Outfits For Warm Climates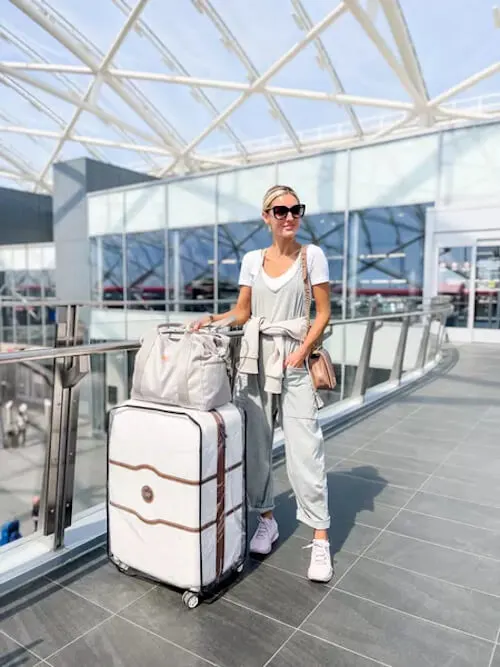 Travel Outfit Ideas Fall And Winter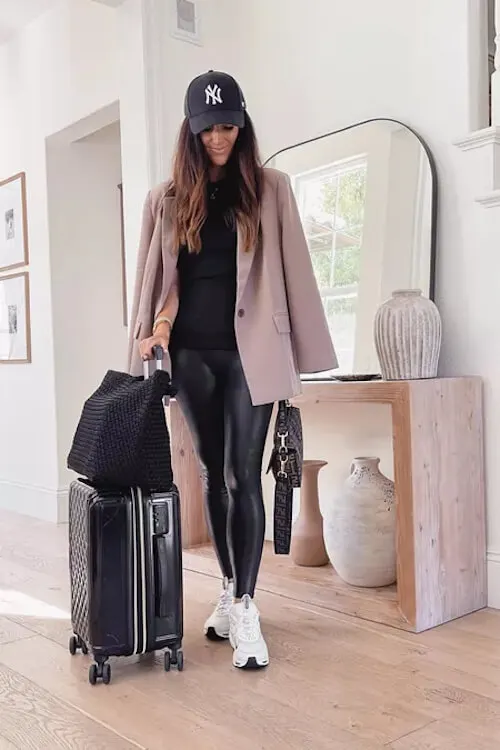 Mix and Match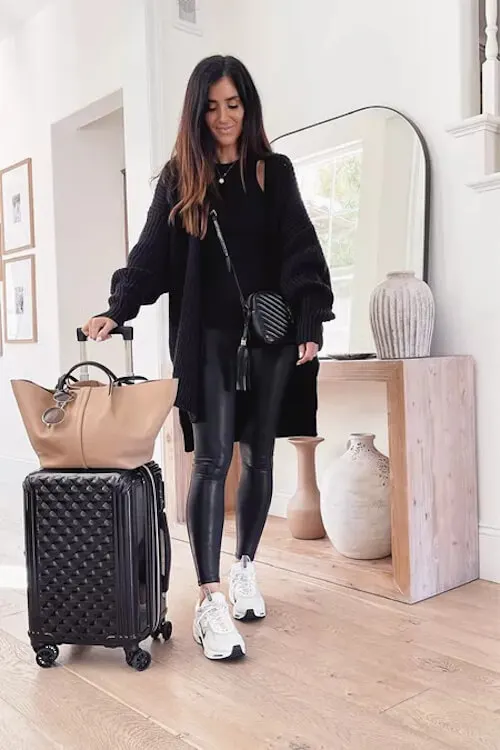 Comfortable Travel Outfits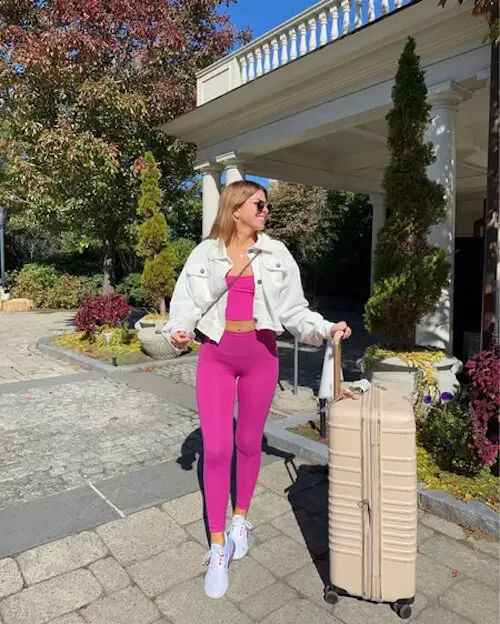 Travel clothes for business trips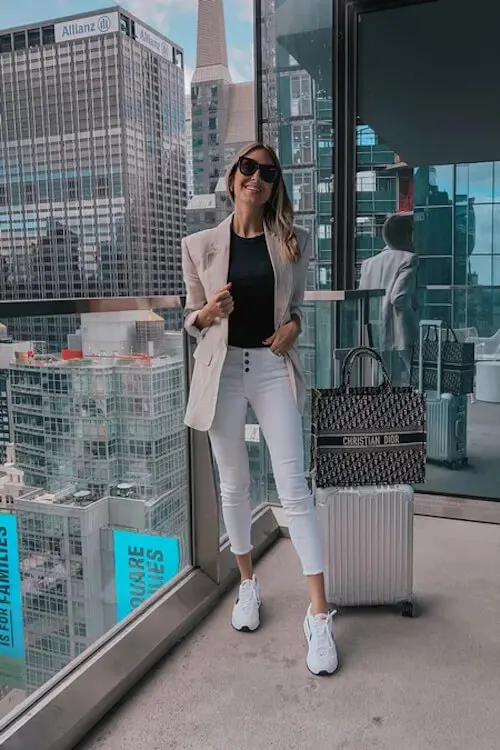 Chic travel outfits for cold climates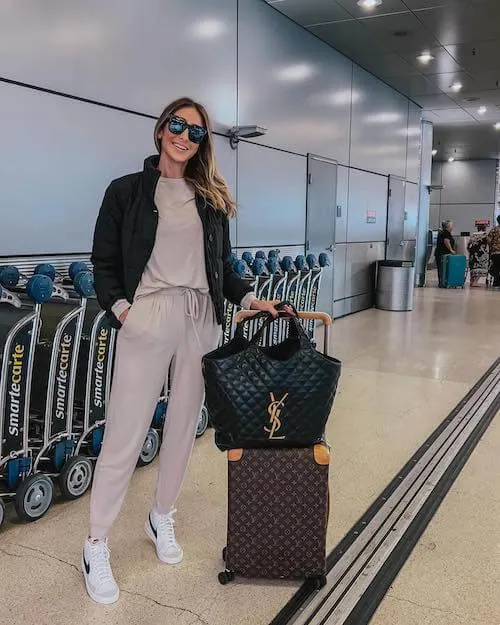 Cute Travel Outfit Ideas For The Holidays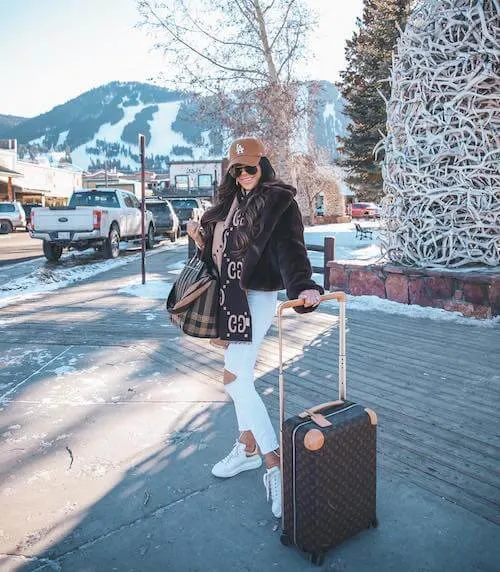 Comfy Travel Outfits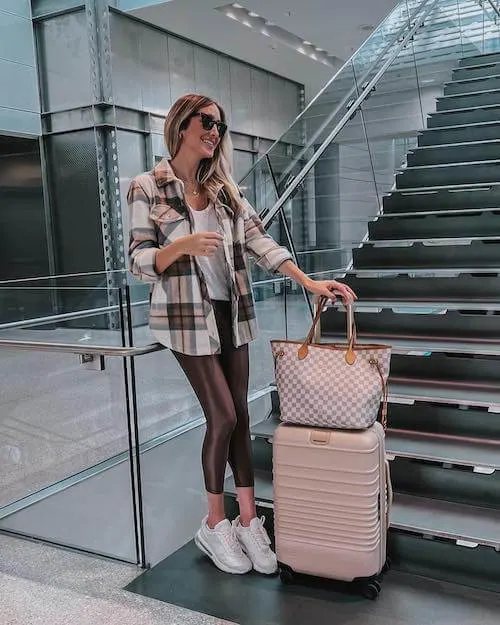 Easy Travel Outfits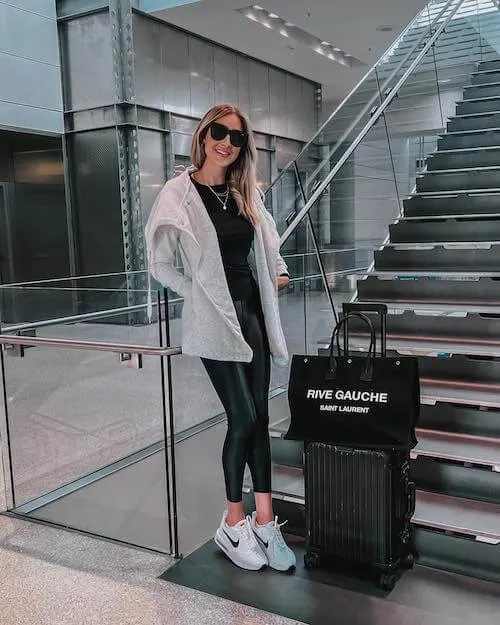 Fresh All White Travel Outfit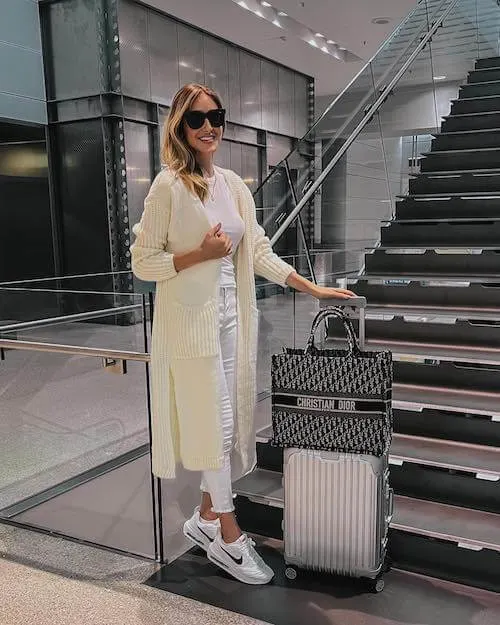 Summer Travel Outfits for Ladies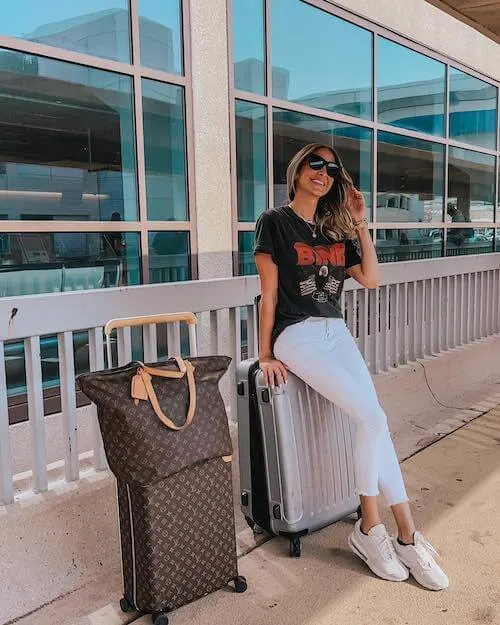 Spring Travel Outfit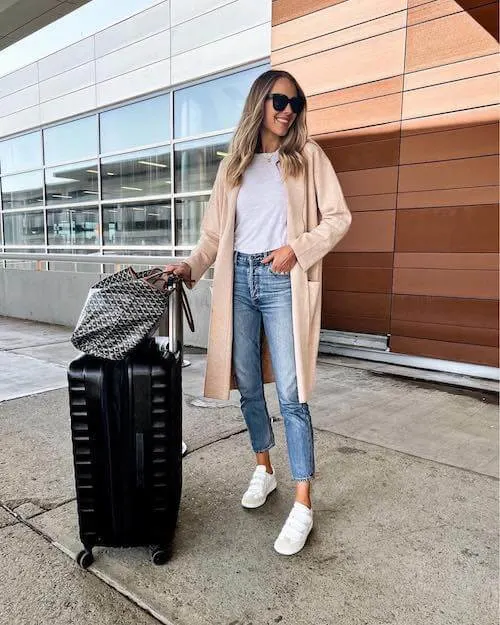 [email protected]_jackson
Travel Outfit Ideas for Tropical Weather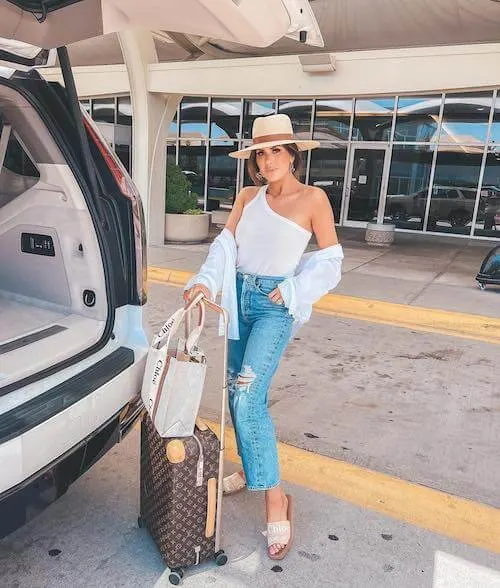 Best Airplane Outfit Ideas With Kids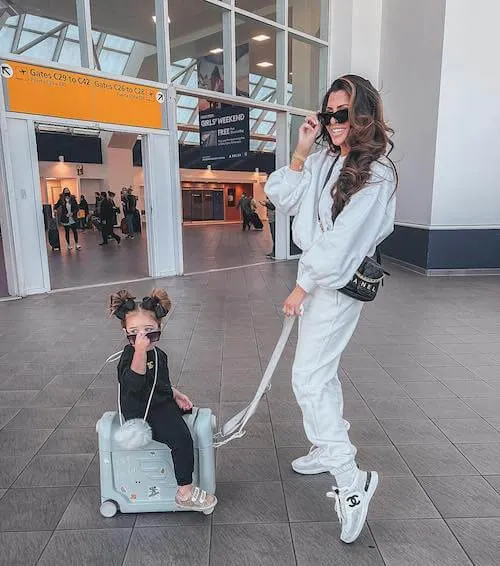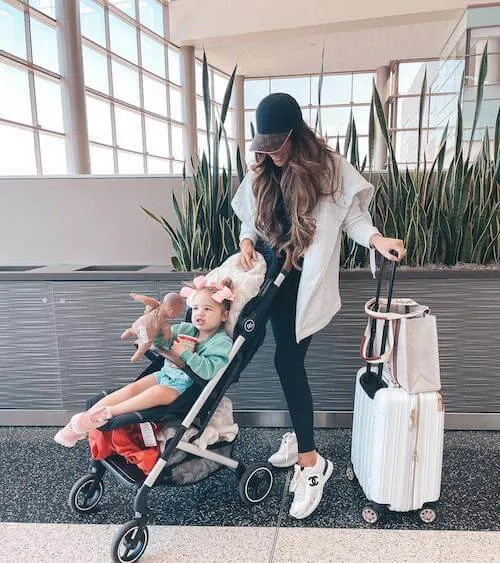 Neutral Outfits To Wear On A Plane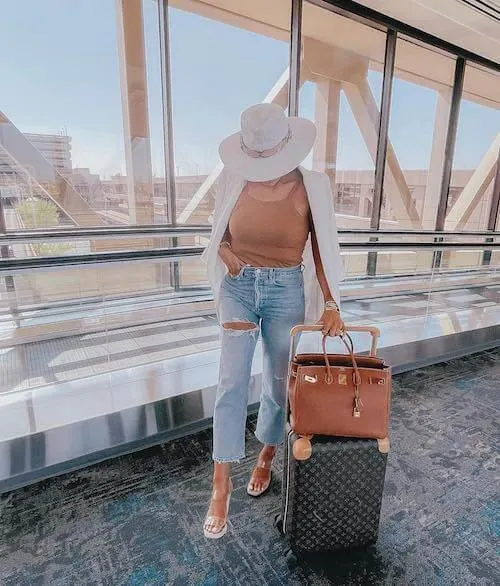 Chic Travel Outfits for Europe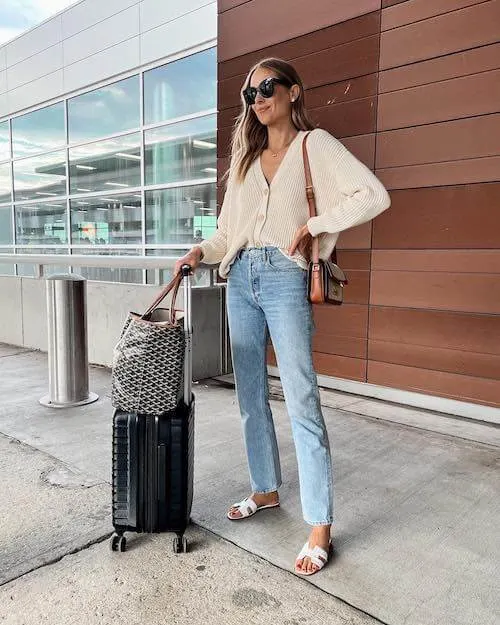 [email protected]_jackson
When choosing a wardrobe for your European travels, begin by selecting items in neutral colors such as black, white or gray.
These colors will help you create multiple fashionable looks with one basic outfit.
For example, start with a solid tank top and pair it with different colored scarves or jewelry throughout your trip to switch up your look without taking extra clothes with you on the go.
Additionally, choose lightweight fabrics like chiffon or linen which are easy to pack and won't take up too much room in your suitcase.
More Stylish And Comfortable Travel Style Ideas
Want more inspiration? Scroll on to check more travel outfit ideas for ladies.
Trench Coat + Baggy Pants + Canvas Shoes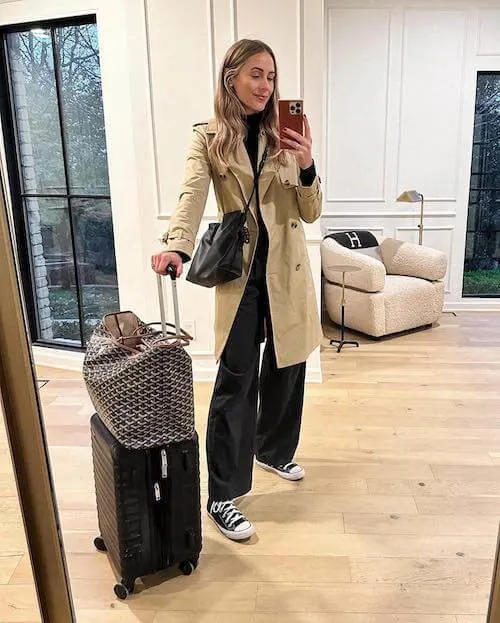 [email protected]_jackson
Poloshirt + Joggers + Sneakers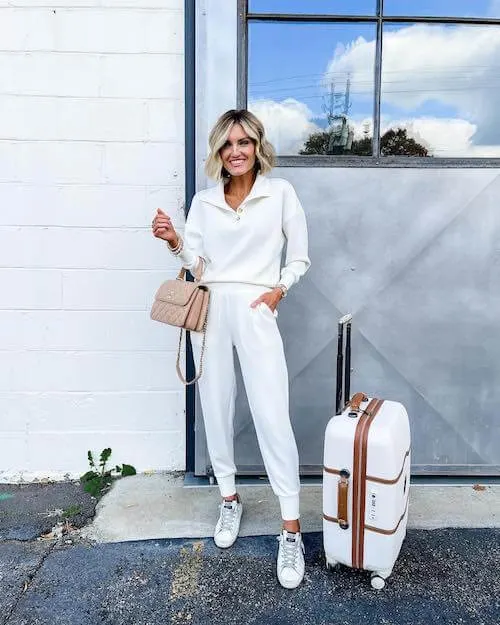 Oversized Blazer + Long Pants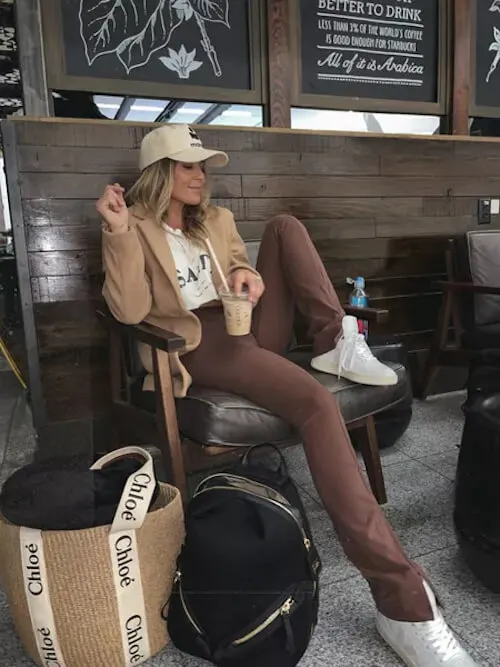 Light Sweater + Jeans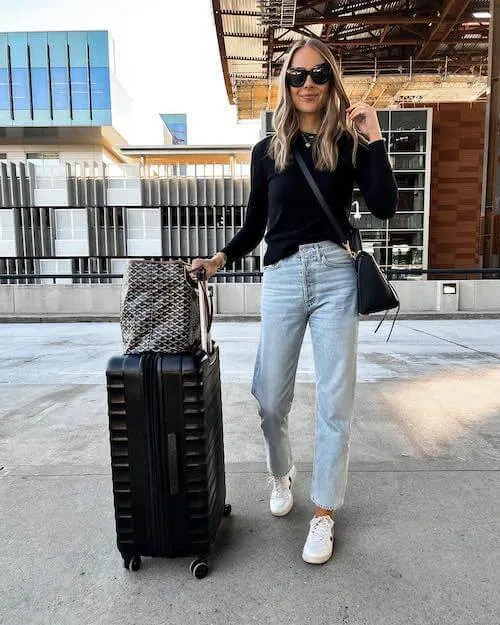 [email protected]_jackson
Trench Coat + Fanny Pack + Baseball Cap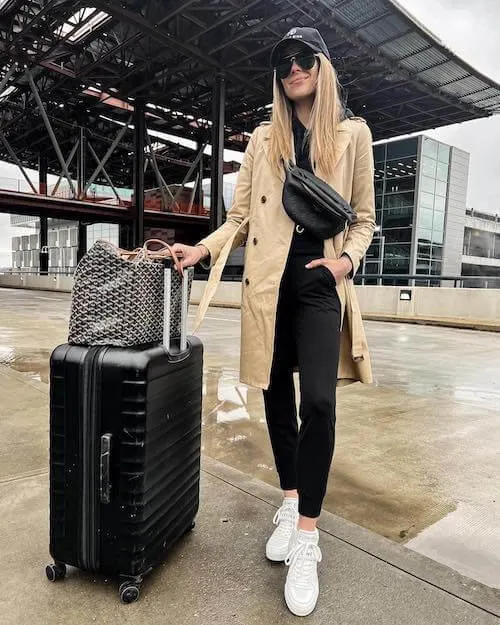 [email protected]_jackson
Simple Tee + Denim Jacket + Black Leggings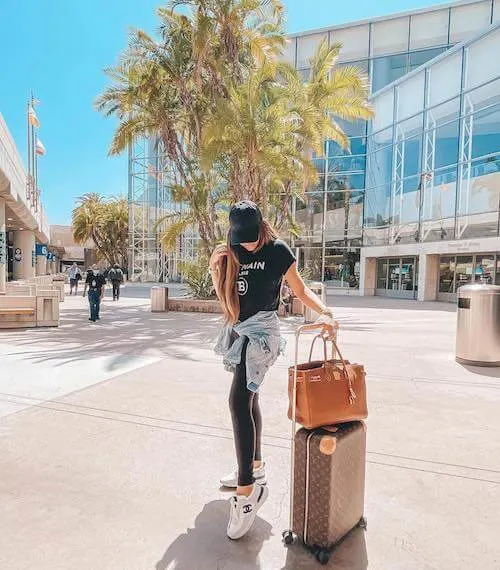 Sweatshirt + Jeans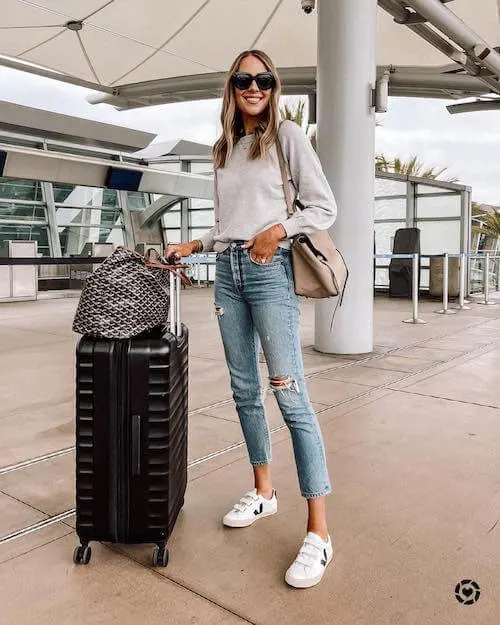 [email protected]_jackson
Slip-on Closed Toe Shoes + Stretchy Cropped Pants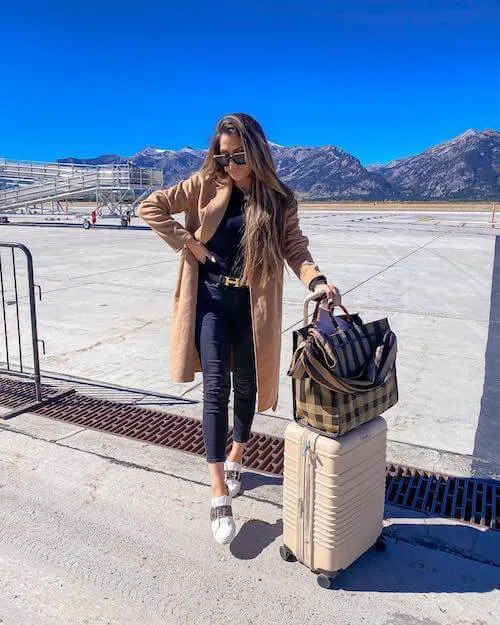 Button-Down Shirt + Matching Pants + Slides
Bucket Hat + Hoodie + Sweatpants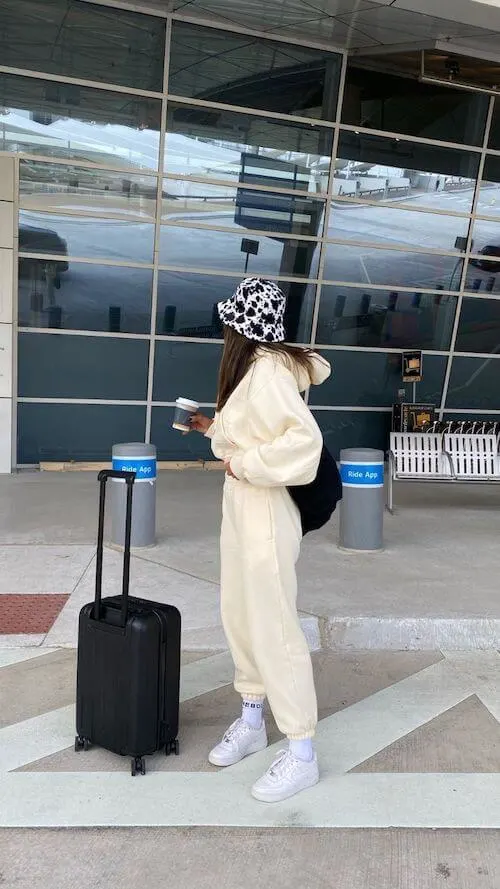 via Pinterest
Scarves + Black Jeans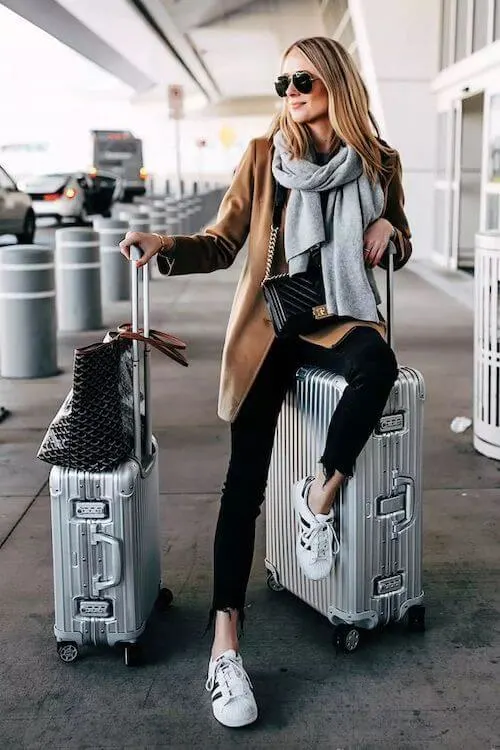 [email protected]_jackson
Maxi Lightweight Cardigan + Crop Tank Top + Joggers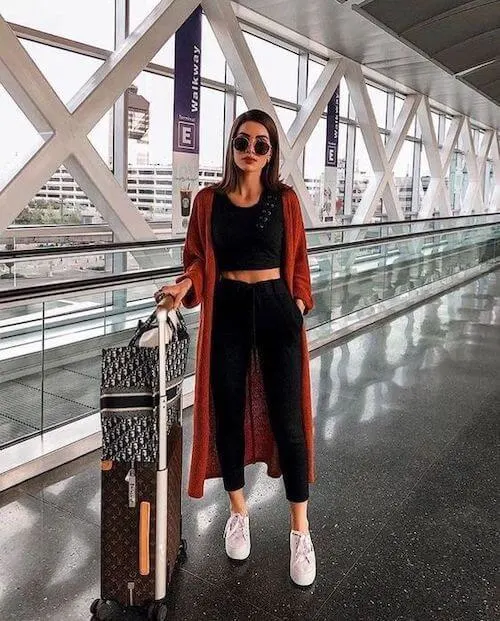 via Pinterest
Short Coat + White Jeans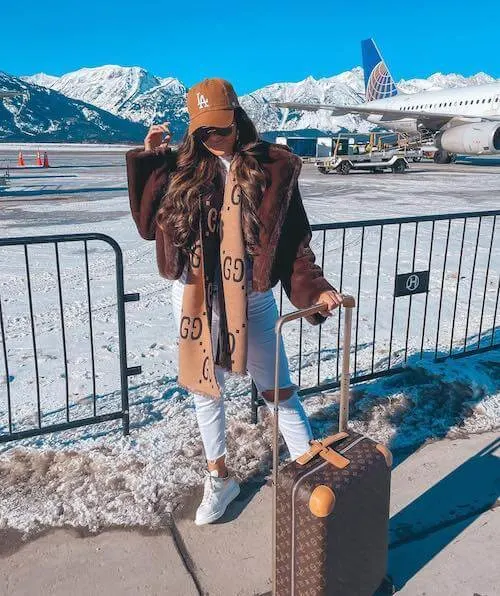 Travel Wardrobe: Travel Outfit Essentials
Want to build up a chic and practical travel wardrobe?
Below, check my favorite pieces and tips on what you should include in your travel wardrobe.
We also include cute picks from our favorite online fashion stores for you to shop for directly.
Light Jackets:
Oversized Blazer
Denim Jacket
Lightweight Cardigan
Long Sleeve Button-down Shirt
Zip-up Hoodie
Light jackets are essential for any woman's travel outfit.
They can be used to add a layer of warmth and style to any look.
An oversized blazer is a perfect piece for a polished yet comfortable look when traveling. The loose fit will keep you warm without being overly bulky.
Denim jackets are an effortless addition to any travel outfit and can be dressed up or down depending on the occasion.
For extra coverage, try a lightweight cardigan or long sleeve button-down shirt in neutral colors like black or white for added versatility.
If you're looking for something more casual, try a zip-up hoodie that's comfortable enough to wear through security but stylish enough for post-flight exploring.
Tops:
Simple Tee
Light Sweater
Hoodie
Sweatshirt
Tank Top
Bralette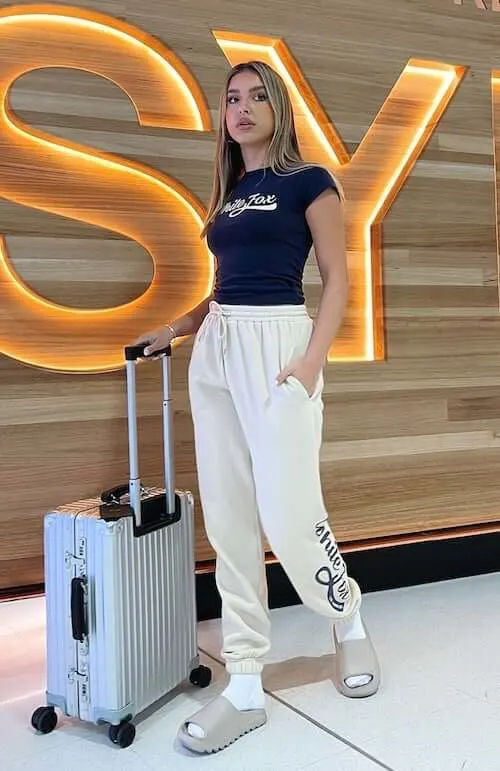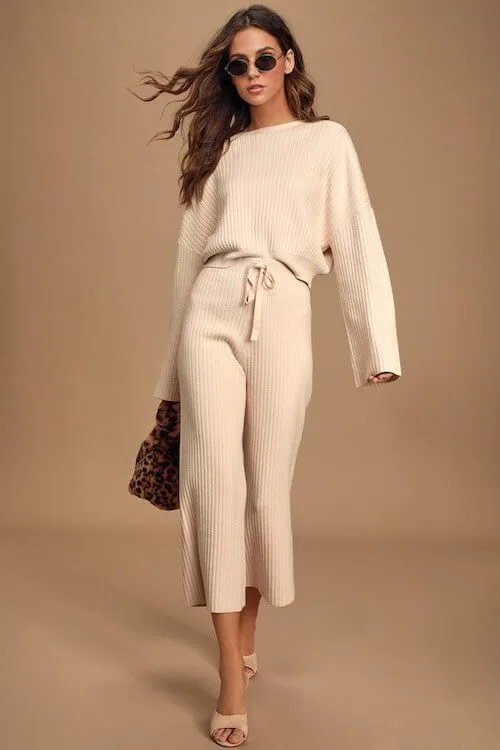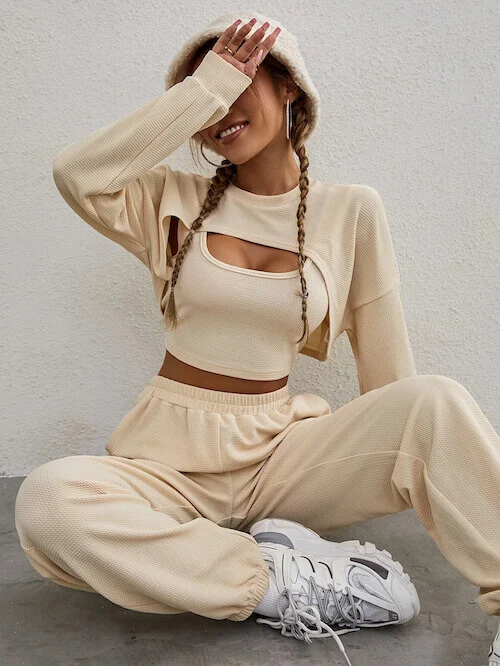 A bralette, a simple tee or a tank top paired with a light sweater or hoodie is an effortless combination that will keep you looking and feeling great throughout your travels.
On cooler days, layers such as sweatshirts are essential additions to any wardrobe—not only will they help keep you warm but their versatility makes them easy to mix and match with other items too.
With these timeless staples at hand, you'll always be ready for whatever adventures come your way!
Bottoms:
Jeans
Joggers / Sweatpants
Black Leggings
Baggy Pants
Stretchy Cropped Pants
Jersey Shorts
Denim Shorts
Biker Shorts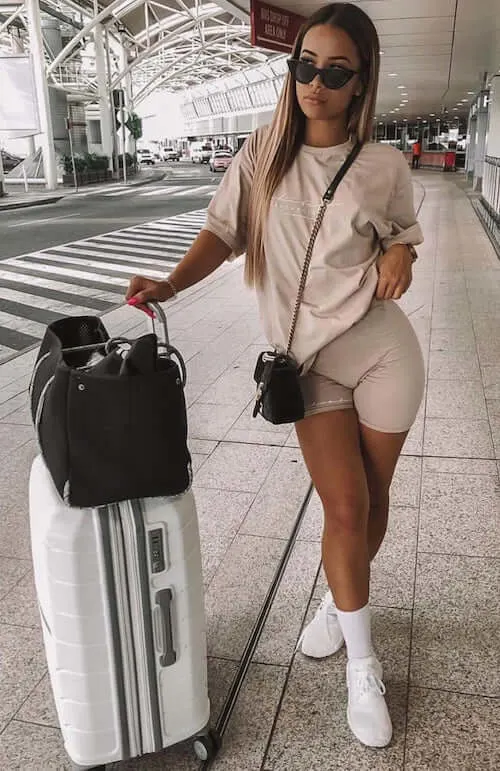 No matter where you're going, the right bottoms for your travel outfit for women can make all the difference!
Jeans are perfect for a casual look, and joggers are great for a more relaxed feel.
Black leggings are excellent if you're hoping to pack light and be comfortable while on the move.
For something different, try baggy pants or stretchy cropped pants; both will keep you cool in warmer climates while still looking fashionable.
Jersey shorts are ideal if you want a sporty yet stylish aesthetic; they pair well with t-shirts or tank tops.
Finally, denim shorts are an absolute must-have when it comes to traveling; their versatility makes them suitable for any occasion.
Shoes:
Slip-on Closed Toe Shoes
Comfortable Slides / Sandals
Sneakers
Loafers
To stay comfortable while exploring new destinations, slip-on closed toe shoes like loafers and sneakers are great options.
They can be easily paired with any outfit and make for an effortless look when sightseeing.
For warmer climates, comfortable slides or flat sandals are great choices as they provide plenty of ventilation for the feet.
You can even find some with straps that offer extra support when out and about all day.
Others:
Maxi Dress
Hat
Sunglasses
Fanny Pack
Scarves
Large Bag
For modern women on the go, having chic and stylish clothing pieces and accessories for a travel outfit is essential.
The perfect combination of comfort and style will help you stay comfortable during long haul flights or long car trips, while also ensuring that you look fashionable wherever your travels take you.
Conclusion: Travel Outfit Style Guide For Women
In conclusion, chic outfits for women don't have to be complicated or full of statement pieces.
Instead, opt for a few key items that you can mix and match to create multiple looks.
Comfort and versatility are the main goals.
With the right staples in your wardrobe, you'll do more than just look stylish when you travel – you'll feel confident, too.
Experiment with different colors, cuts and textures to find out what works best for you and enjoy the journey!
This post was all about chic travel outfits.
About The Author
Tracy is an experienced personal stylist, shopping expert, and fashion & lifestyle blogger. She has been featured on Bustle, Best Life, Glam, The Zoe Report, Mic, and GoBankingRates, for her insights on fashion, beauty, home decor, and lifestyle. Read More
Related Posts: