Looking for the best heels to wear with black dress? Check this post for the best style tips for a black dress and the best heels to shop for directly.
A perfect little black dress is a staple for any woman's wardrobe.
It's very versatile. A high-quality black dress can make a woman confident and beautiful to enter and exit various occasions, from vacation leisure, to work wear, from romantic dates to high-end dinner parties, from a red carpet event to a black suit evening event.
Of all the shoes that go with a black dress, heels are one of the best shoe styles. Sexy and elegant heels can form a perfect combination with a black dress, highlighting the femininity more vividly.
If you're looking for your next pair of heels to pair with your black dress, you've come to the right place.
In today's article, I am sharing with you the best heels from our favorite retailers for different budget for you to shop for the perfect shoes. At the end of the article, we also curated different ways to style a black dress for different occasions for you to copy.
So scroll down to check these heels and black dress outfit ideas, and don't hesitate to pin them to your Pinterest board, and share them on social media sites.
This post may contain affiliate links, which means I'll receive a commission if you purchase through my link, at no extra cost to you. Please read the full disclosure here.
This post is all about heels to wear with black dress.
How To Choose The Best High Heels To Wear With Black Dress
Consider Your Skin Tone
Choose the shoe color based on your skin tone.
The general rule of thumb is that skin with cool undertones look best with greys, browns, blues, greens and purples.
If your skin is with warm undertones, choose either light or bright colors. For neutral skin tones, you can look great with bold colors and bright colors.
Consider The Occasion
If it is a more professional occasion, you should choose relatively simple high heels in neutral colors. For a more casual look, boldly add a pop of color.
You can choose a variety of bright or edgy colors that have a perfect contrast with the black dress to create a chic look.
For romantic dates or cocktail parties or any other formal event, you can also choose more gorgeous colors and decorations, such as pearls, metal chains, rivets, sequins, feathers, etc., and even make your heels the highlight of your overall look.
Consider The Black Dress' Style
If the black dress itself is more gorgeous, or has more design details, including special cuts, more decorations, or luxurious fabrics, then I suggest you choose neutral colors, or at least heels with simple designs to fully accentuate the black dress, which should be the focal point of your look.
Otherwise, it will make you look too tacky.
Consider The Weather
In hot weather, choose the right shoes made of more breathable materials to bring lightness and coolness to your overall look.
In cold weather, you can choose darker or animal print heels, or even high-heeled boots, to bring more cozy vibe to your look.
The Best High Heels To Wear With Black Dress
Ahead, check our favorite heels to shop for directly. From affordable picks to gorgeous fashion designers' heels, we cover every budget.
Blane Heels Color Black
Elara Heels Black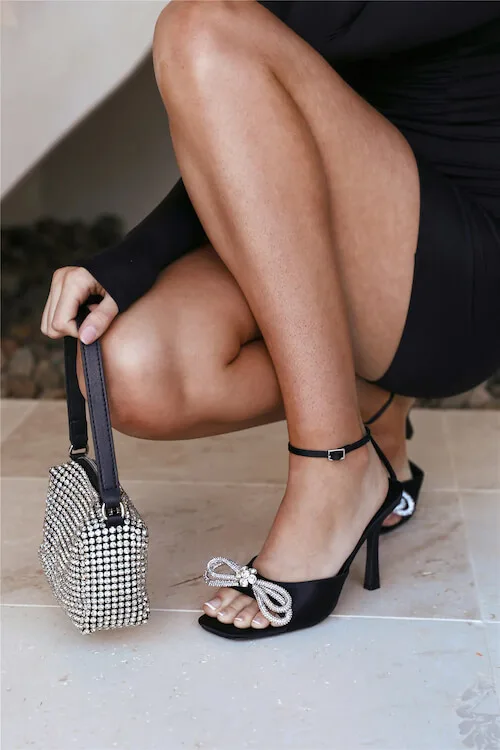 Black Shoes: Stretch-satin knee black boots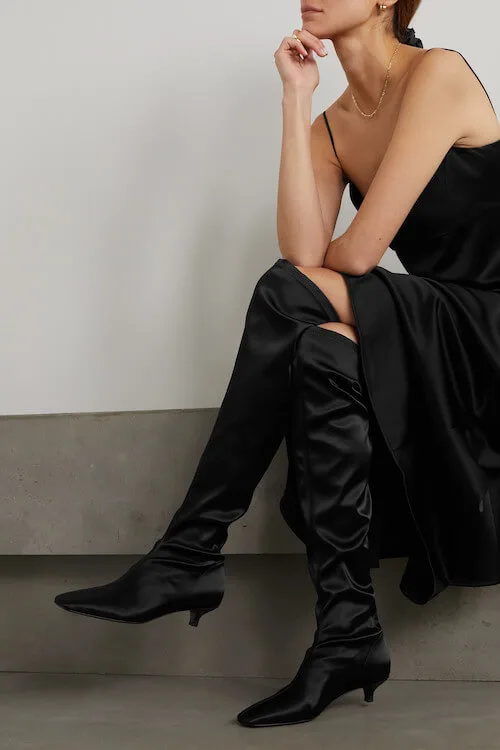 Nude Shoes: Pamfilo 90 stretch-suede knee boots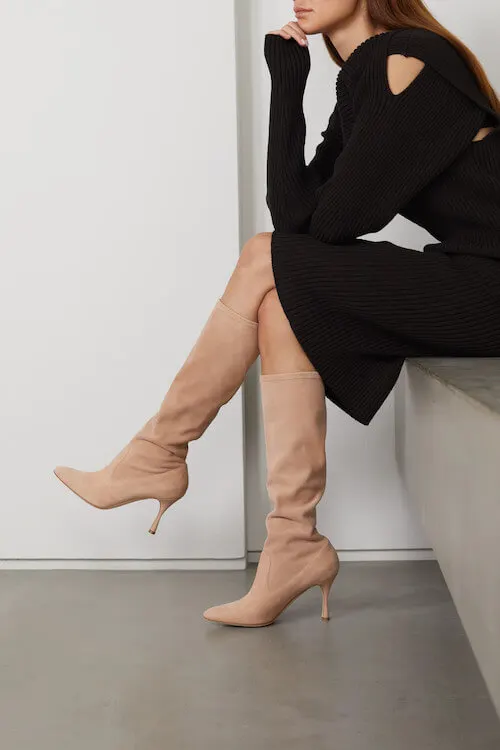 Metallic Leather Wrap Heels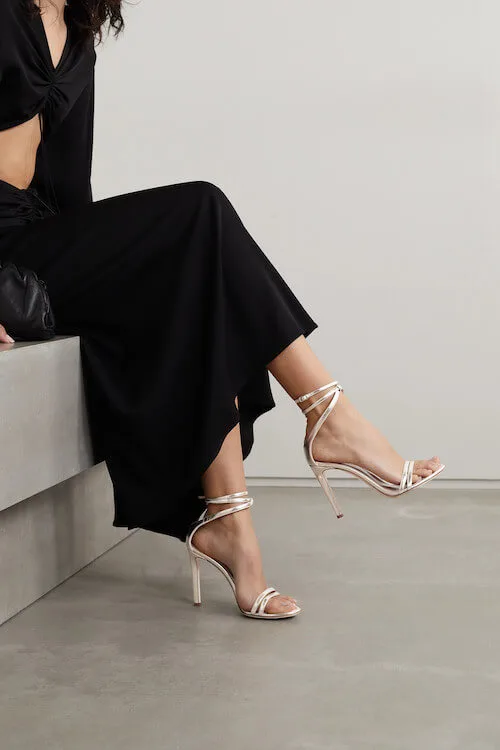 Neutral Color: Callasli 90 leather slingback sandals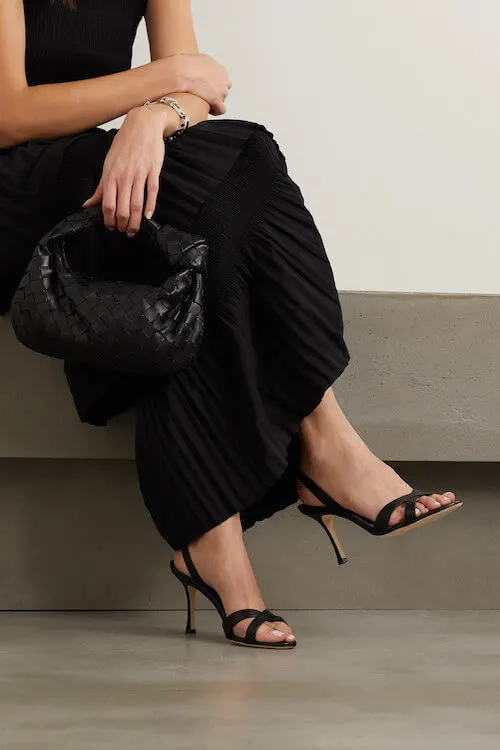 Gold Shoes: Dellena 100 metallic leather espadrille wedge sandals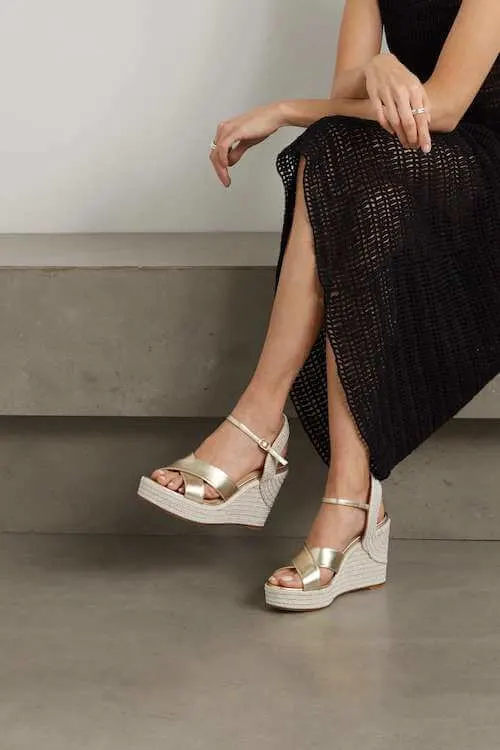 Colibri grosgrain and woven raffia slingback pumps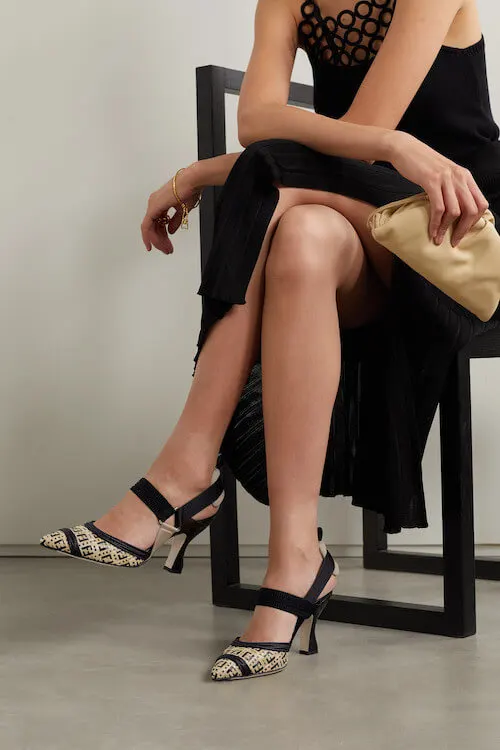 Embellished leather-trimmed mesh pumps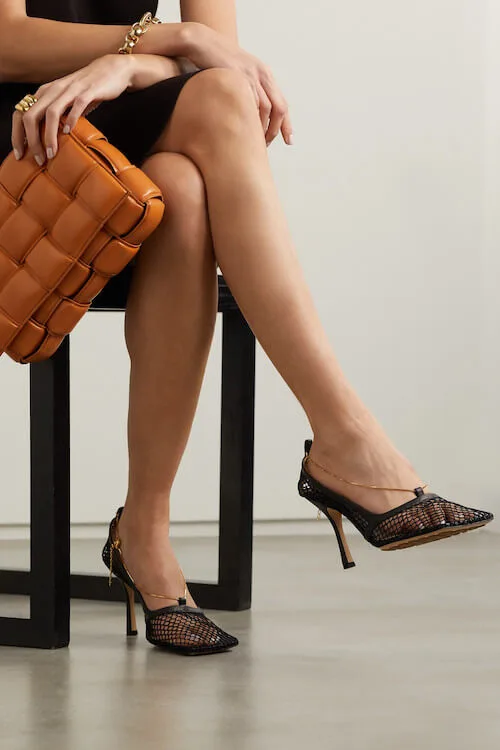 Animal prints pony hair pumps
Metallic Shoes: Bing 100 crystal-embellished PVC and metallic leather mules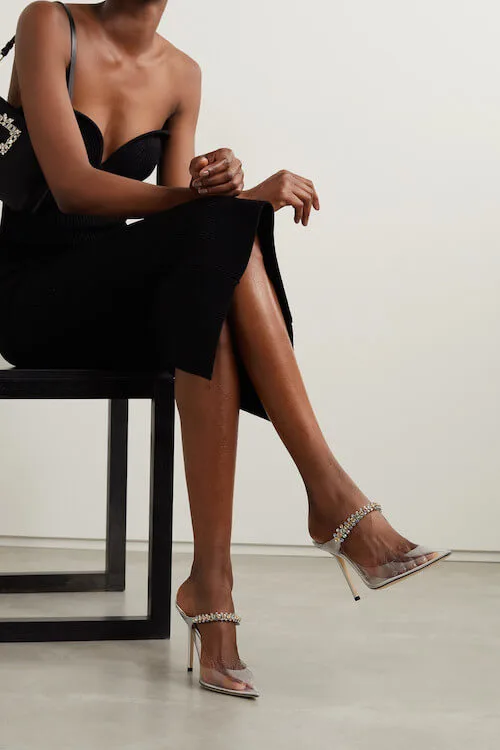 Iriza 100 suede point-toe pumps
Valentino Garavani Roman Stud leather pumps
Strappy Sandals: Light Brown Shoes: Giuseppe 85 leather pointy toe pumps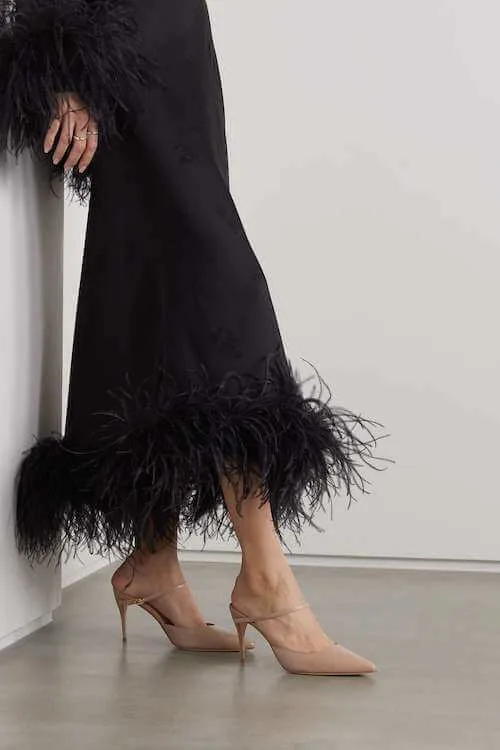 <h3″>Bright Color Shoes: Begum Swarovski crystal-embellished satin slingback pumps
Silver Shoes: Flower Strass embellished leather-trimmed glittered canvas pumps
Medusa Aevitas embellished satin platform pumps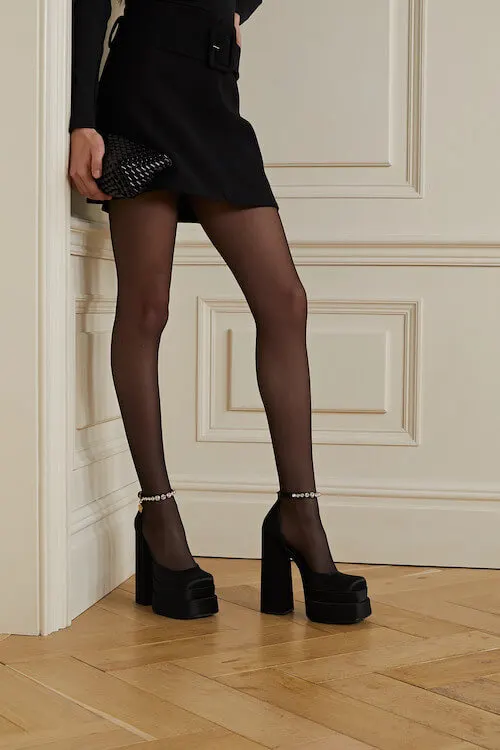 Classic Style Black Heels: Romy 85 patent-leather pumps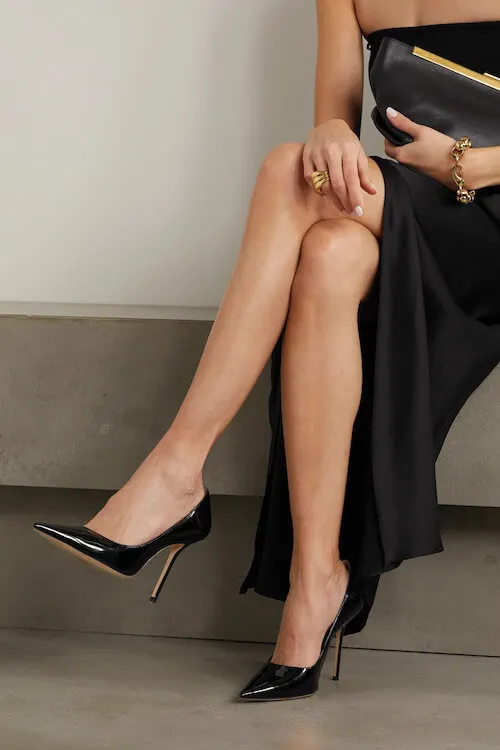 White Shoes: Bing 100 crystal-embellished glittered canvas mules
Valentino Garavani Tan-Go 100 crystal-embellished suede pumps
Strappy Heels: Vittorio 105 lizard-effect leather slingback pumps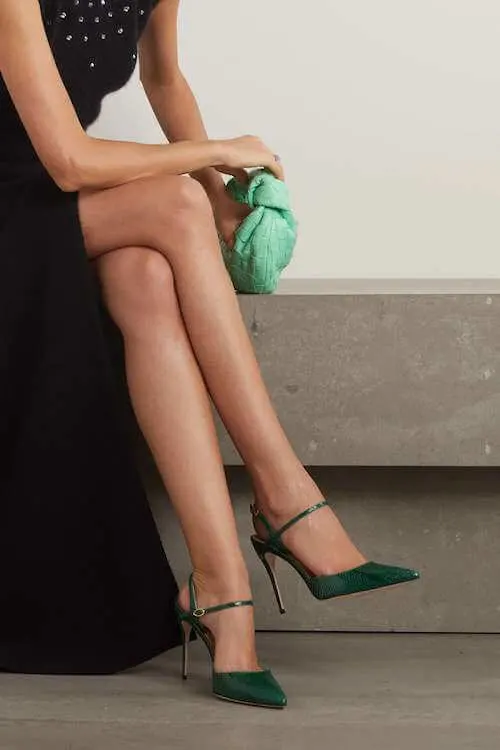 Pink Heels: Iriza 100 suede point-toe pumps
Stiletto Heel Shoes: Sophie embellished satin pumps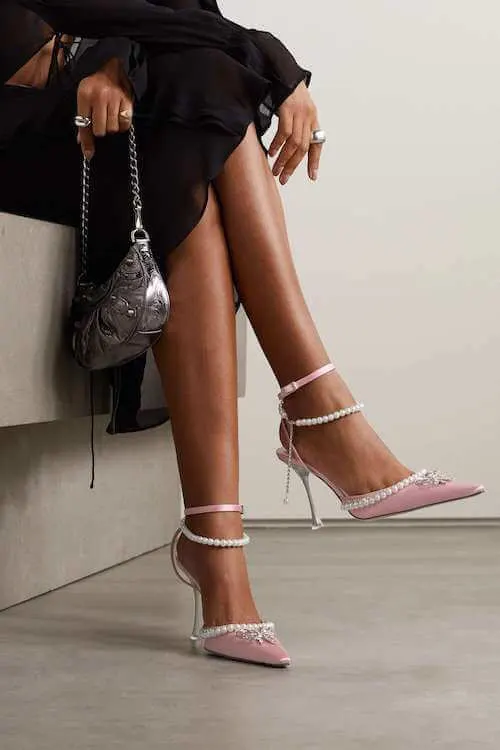 Yes Darling 75 crystal-embellished satin slingback pumps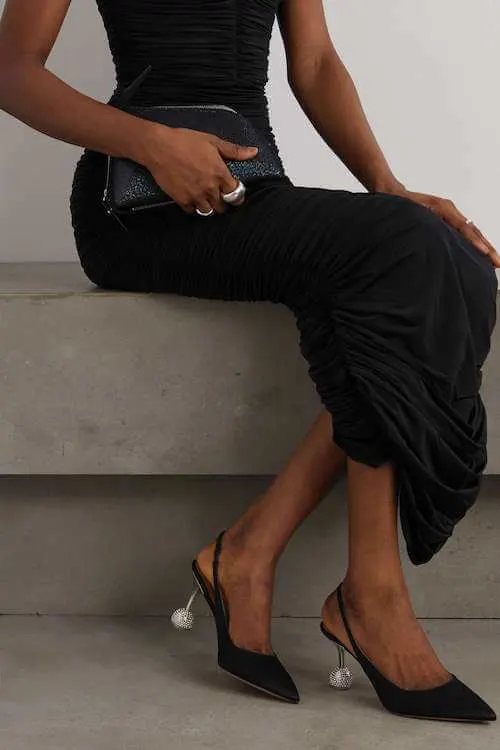 Red Shoes: BB 90 suede pumps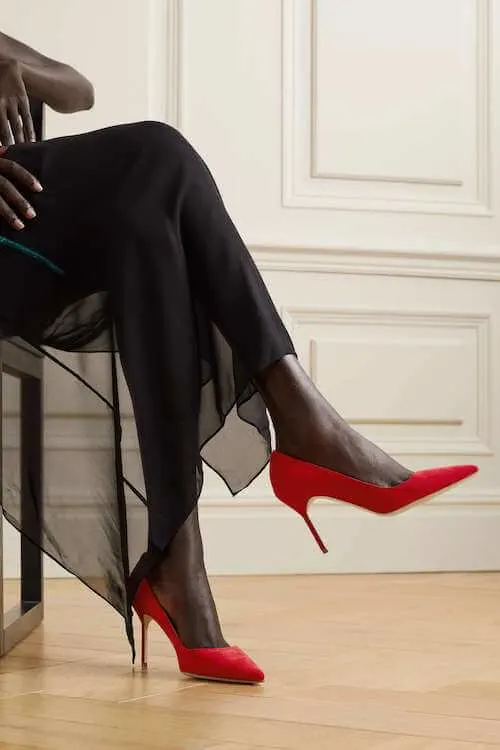 Beige Shoes: Vernice 70 patent-leather platform pumps
Other Best Shoes To Wear With Black Dress
In addition to high heels, below are other best types of shoes to match with a black dress.
Fisherman Sandals
Fisherman shoes are one of the most popular shoes in the fashion world right now. You can see them in almost every fashion blogger's Instagram posts.
They are very comfortable to wear. And their retro and strong style can create a fun visual appeal with any little black dress and make you look very fashionable.
If you're looking for a pair of casual shoes to pair with a little black dress for your next vacation, then a pair of fisherman shoes is a great option. You will not be disappointed.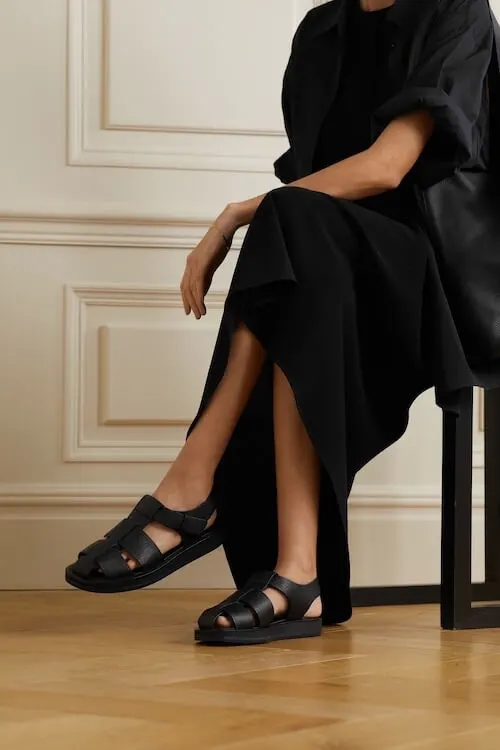 Ballet Flats
Ballet shoes are comfortable to wear, but they are a little more feminine and elegant than ordinary flat shoes.
If you are tired of wearing high heels and want to choose a pair of elegant flat shoes, then a great way is to choose a pair of ballet shoes.
The pair below has a unique design on the toe than ordinary ballet flats, which can make your all black outfit look more stylish.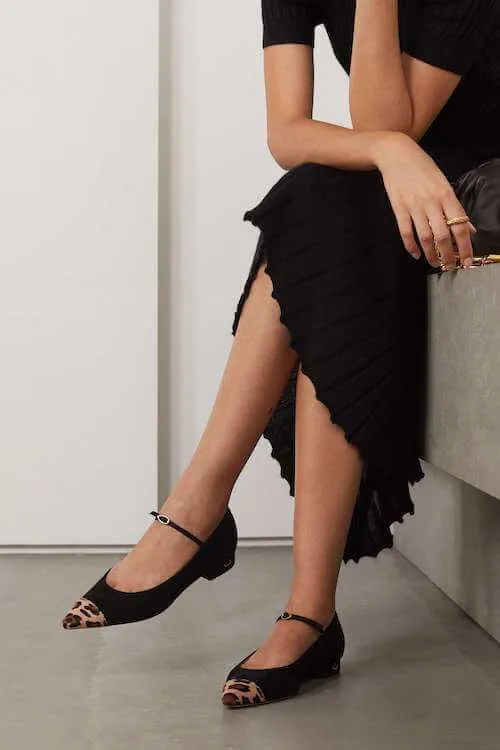 Flat Sandals
Flat sandals are also my very favorite shoes for casual style black dresses. They never go out of style. And I recommend opting for simpler styles that will make them look more expensive.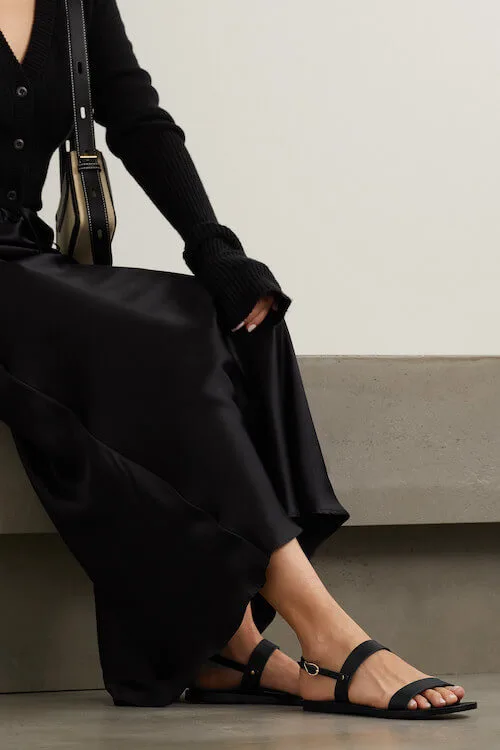 How To Style Little Black Dresses
A simple black dress accompanies us from spring to winter on every occasion.
So, how to look more stylish in a black dress? Ahead are our favorite different looks.
Black Dress + Black Knee High Boots + Animal Print Purse
In autumn and winter, a warm and simple black skirt can be worn alone or with a long coat, which is very practical.
Their cold-weather best friend is a pair of knee-high boots, and whether it's black knee-high boots, tan or brown knee high boots, or sexy snakeskin knee-high boots, a black dress will blend in perfectly.
If it's a romantic date, a pair of sexy snakeskin boots is definitely the best choice for a perfect outfit.
If you don't have boots like that, you can also choose unique patterns on your other accessories like bags to add more interesting visual and stylish details.
For example, choosing an animal print bag can break the boredom of black and bring your style to the next level immediately.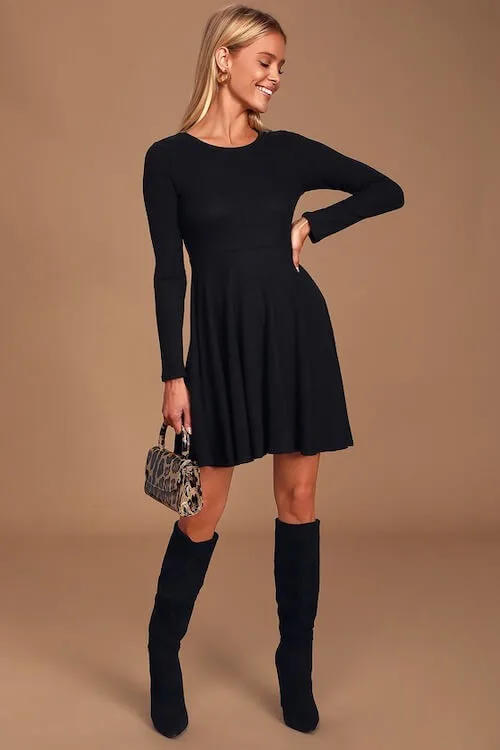 Edgy Black Dress + Platform Sandals
Now, some little black dresses also have more daring and edgy designs to bring more fun to our wardrobes.
If it is a more sexy skirt design, I suggest that you can choose casual retro shoes to match the black dress.
For example, platform casual shoes can well dilute the sexy of the skirt, and let the strong style conflict enhance the fashion of your overall look.
Casual Black Dress + Wedges
When on vacation, an elegantly fitted little black dress is a right choice to make your casual wear more beautifully.
At this time, a pair of comfortable and cute wedge shoes is a very good choice. A pair of straw wedge soles is a great style statement to make the resort style of your outfit more fresh and charming.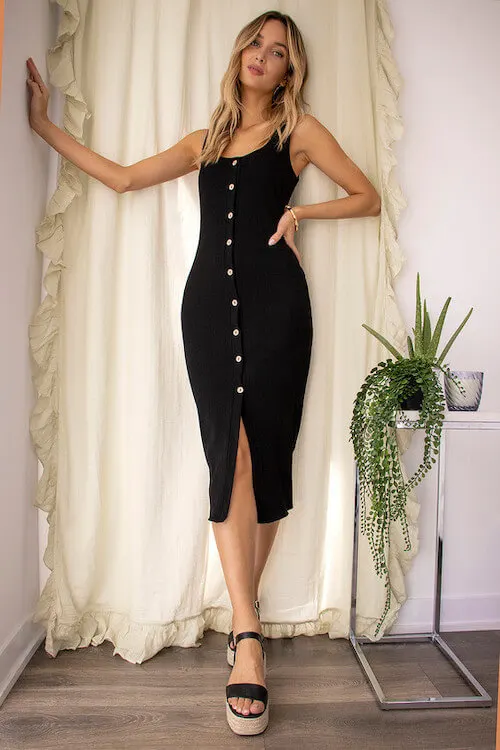 Mini Black Dress + Red Ankle Boots
On colder days, you can opt for ankle boots in addition to the knee boots we mentioned above. Ankle boots are more versatile and can be matched with many occasions.
Want to be unique for a special occasion? Choose ankle boots in a more eye-catching color to complete your black dress look.
For example, a pair of red shoes make you look very stunning with a perfect personal style. Add a black leather jacket to complete the entire look.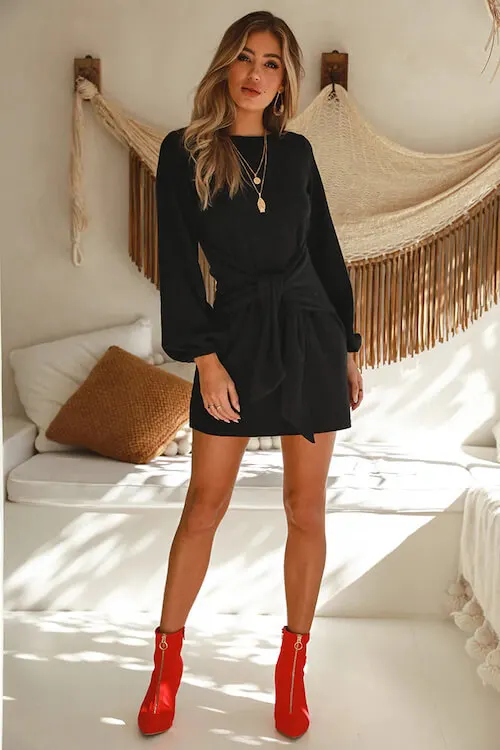 Simple Black Dress + Minimalist Sandals + Statement Earrings
In the workplace, a high-quality little black dress can also make us look more professional for formal wear.
I suggest you choose a little black dress with a fitted waist to make us look more professional and in shape.
A little black dress like this makes it easy to go on a date after get off work. You just need to replace the simpler jewelry at work with statement pieces, and you can confidently walk out of the office for a romantic date night.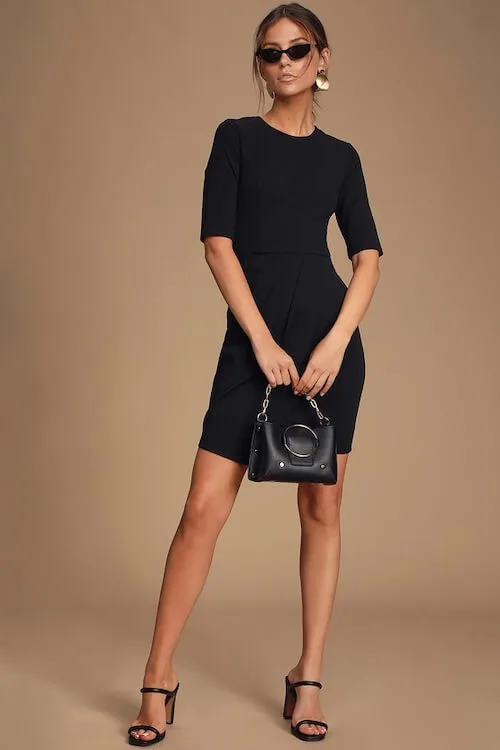 Sexy Short Black Dress + Golden Shoes + Gold Accessories
For almost all cocktail party and night clubs dress codes, a little black dress is a perfect choice.
Therefore, I recommend that you invest in your wardrobe a little black dress like the one below. It is suitable for any body type, and can be worn anytime and confidently to face any occasion.
Want to make yourself look more elegant? A pair of delicate golden color shoes is a chic pairing.
You can also opt for delicate jewelry that will greatly enhance the elegance of a black dress and make you look your best in style.
This post was all about heels to wear with black dress.
About The Author
Tracy is an experienced personal stylist, shopping expert, and fashion & lifestyle blogger. She has been featured on Time Magazine, Bustle, Best Life, Glam, The Zoe Report, Mic, and GOBankingRates, for her insights on fashion, beauty, home decor, and lifestyle. Read More
Related Posts: