Looking for the best ideas for fall outfits? Check this post for 70+ chic fall outfits based on 7 smart formulas to copy directly.
Although the summer has not come to an end, it does not prevent us from predicting the fall fashion trends this year and preparing our fall wardrobe as early as possible.
In your mind, what do you think of when you think of fall?
>Is it a classic and easy-to-wear trenchcoat?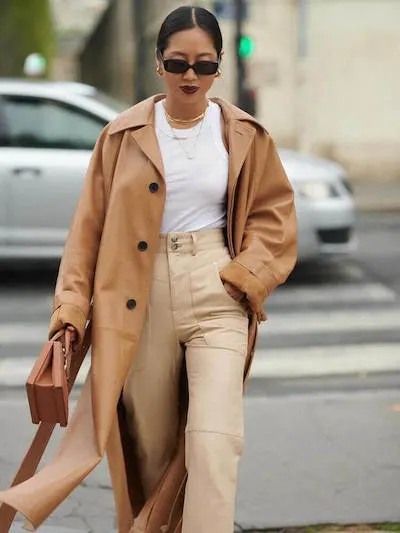 Or a high-quality turtleneck?
Or is it one of the classic combos of autumn, wide-leg pants with boots?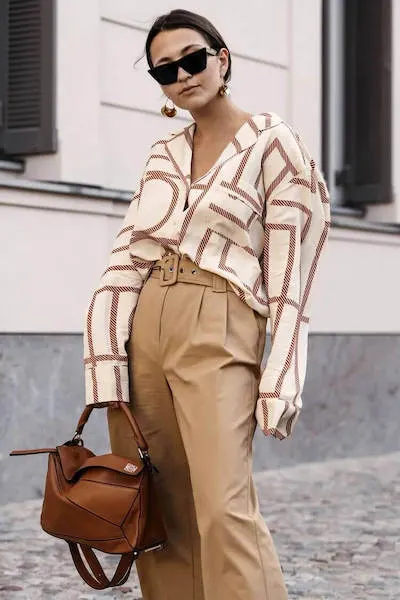 If the beauty of spring and summer is that you can wear a variety of beautiful skirts, then the most attractive part of fall is that you can make a variety of combinations.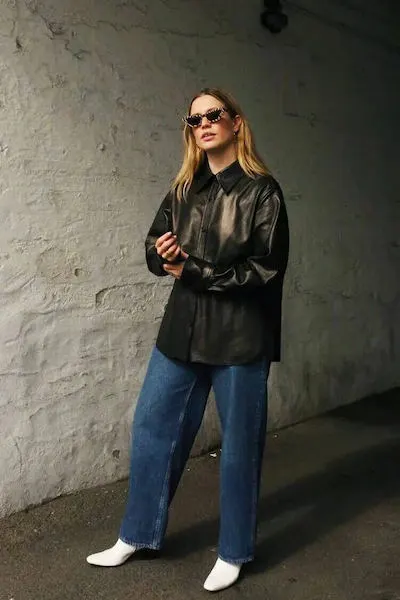 Today, we recommend fashionable items and style formulas suitable for each item and share beautiful fall outfits with you.
This post may contain affiliate links, which means I'll receive a commission if you purchase through my link, at no extra cost to you. Please read the full disclosure here.
This post is all about ideas for fall outfits.
Chic Ideas For Fall Outfits
1. Cocoon Coat + khaki pants
Whether it's a dress or a coat, or in the style of a short coat, we can all find the fashionable trend of cocoon-shaped silhouettes.
A cocoon coat with khaki pants is a fashionable combo, and it will continue to be popular in the fall.
The shoulder line of the clothes drops, linked with the wide sleeves into an obvious arc.
Such a silhouette does not only appear on the jacket. This "chubby" round coat has become a variety of popular models that you can wear.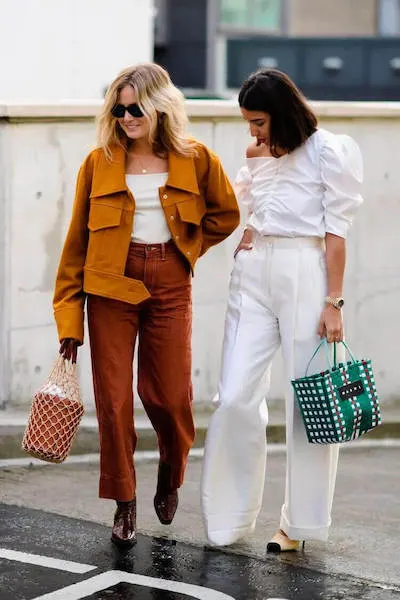 If you want to be chicer overall or emphasize the sense of style, you can choose a leather jacket.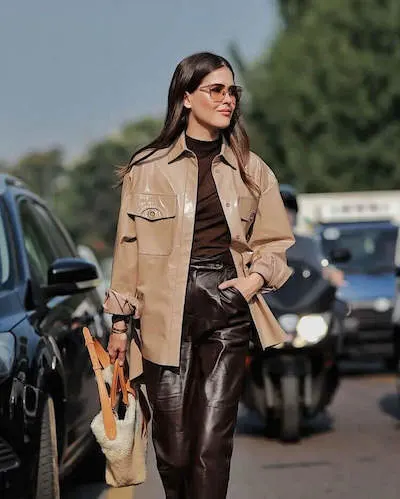 Whether it's paired with leather pants or jeans, there will be a casual and fashionable sense of luxury.
The so-called casual fashion requires a good-quality single product to match simple styles to create a non-cheap mix and match style, conveying a comfortable and relaxed fashion sense.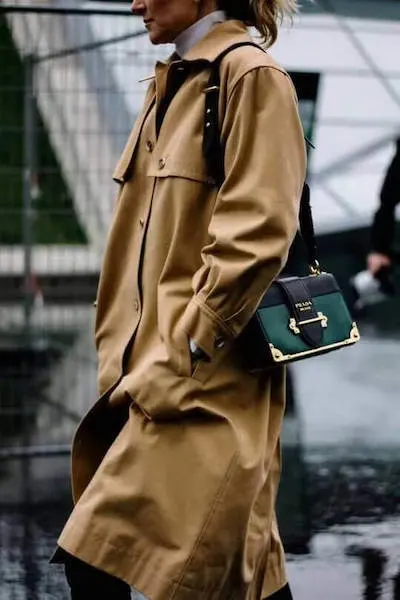 2. Classic Ideas For Fall Outfits: An Oversize Trench Coat
To create a casual and comfortable sense, you can increase the richness of the overall look.
In addition to the classic collocation of leather with jeans, an oversize trenchcoat with various accessories and bags is also easy to match the fashion sense of early fall.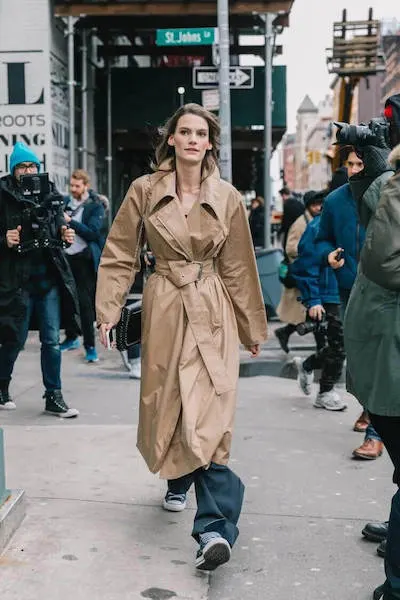 The tolerance of the windbreaker to the individual is very high.
If you choose a long windbreaker and are not very tall, you can increase your vision by adding bright colors on your neck or exposing your neck to make you look taller.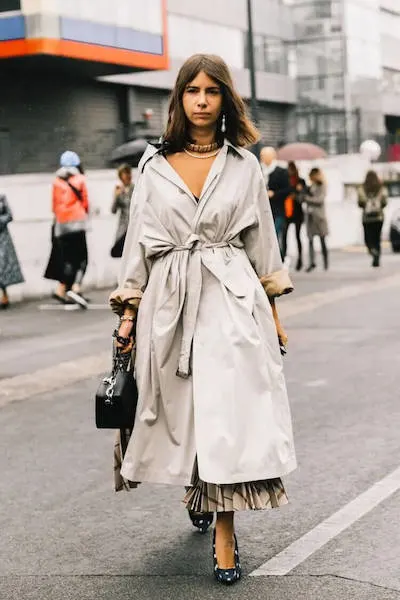 3. Smart Ideas For Fall Outfits: Shirt + Turtleneck
Shirt + turtleneck sweater, this kind of combo, only need to pay attention to the color coordination of the two; it is enough.
Generally, this kind of matching has several classic color matching.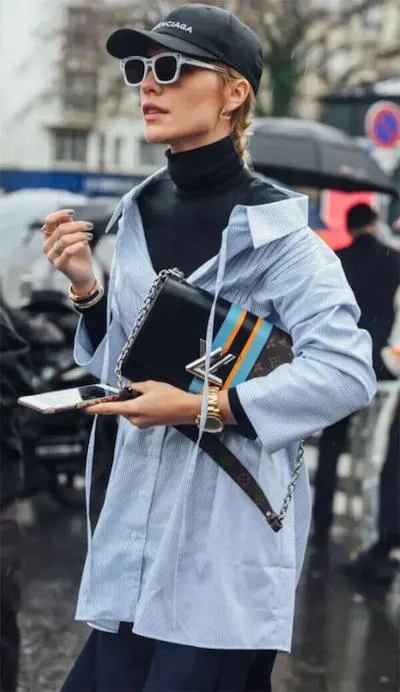 A dark blue high-necked sweater is placed inside the blue striped shirt, which is cool tones. As long as there is a contrast between the shades of the color, you can wear it beautifully.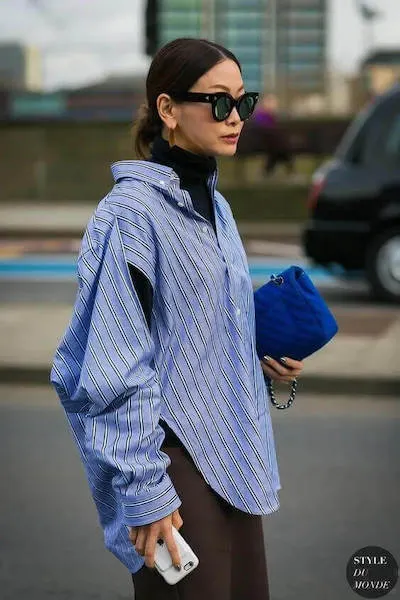 The blue pinstripe shirt is equipped with a beige turtleneck. The overall look is fantastic. The style of the shirt is a little looser, plus a pair of textured wide-leg pants. At the same time, wearing popular transparent lens sunglasses, a set of current the most popular gentle fashion style comes out.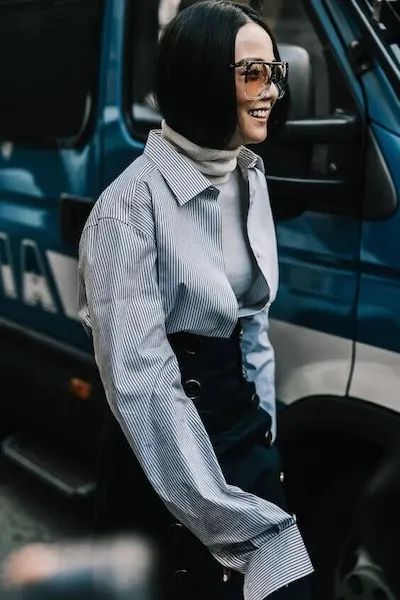 A blue shirt paired with a black or navy blue turtleneck shirt has a strong sense of cleanliness and ability and is very suitable for work outfits.
The way to wear camel sweaters with white shirts is a fashionable collocation that can highlight the sense of luxury and texture.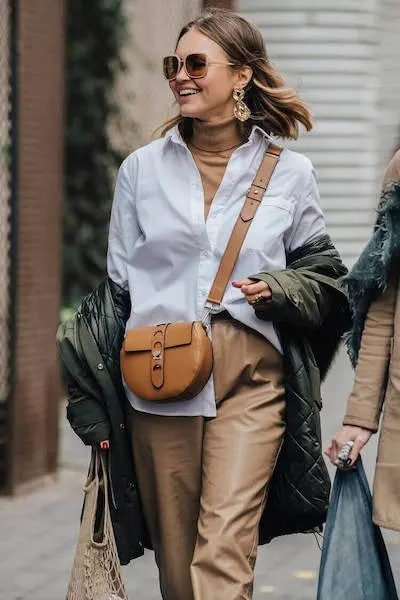 The way to wear a shirt with a turtleneck will have specific requirements for the upper body.
Thinner girls are easier to control.
And another combo of wearing a sweater over the shirt while keeping moderate warmth, will also have a relaxed fashion sense.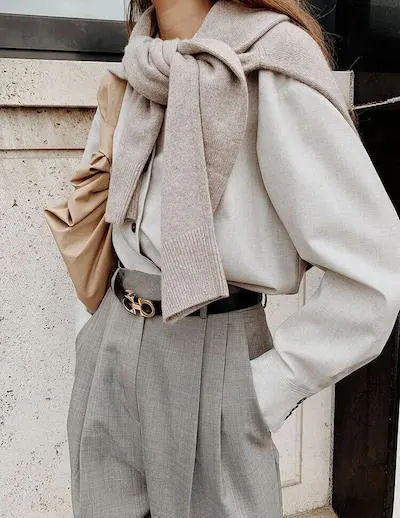 In the choice of sweaters and shirts, you can choose the same colors.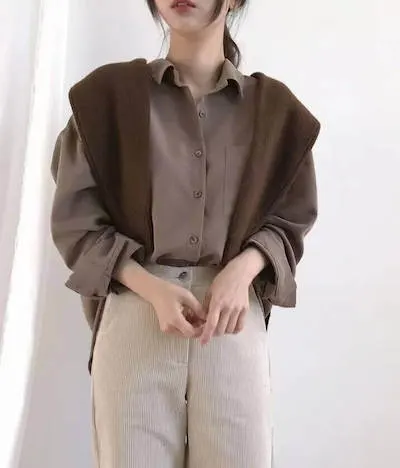 In addition, the black knitted vest, with a blue shirt, will have a clean and fashionable feeling.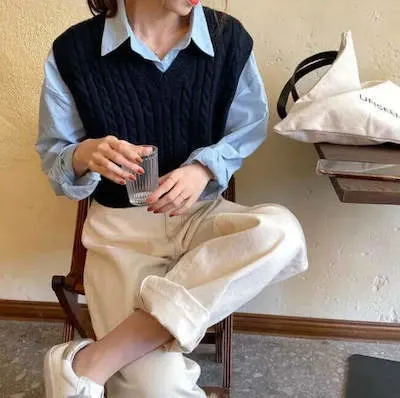 4. Leather Jacket+ White Jeans
A windproof leather jacket of moderate thickness, matched with white jeans, is one of the favorite collocations of fashion bloggers.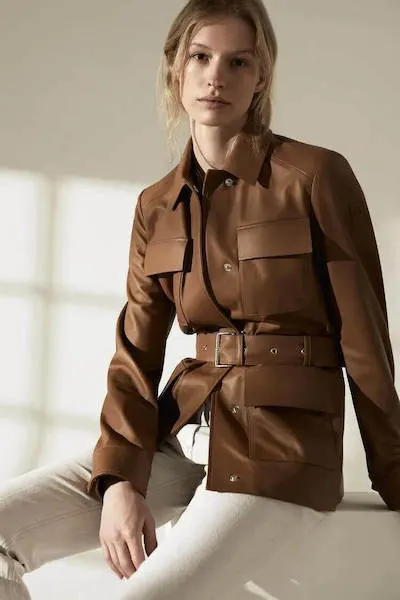 The style of leather clothing must be as simple as possible.
The brown leather coat is more stylish and more suitable for the autumn atmosphere. It is more tolerant in matching and personal temperament.
The black leather jacket is more powerful.
If the budget is sufficient, both black and brown leather jackets can be equipped.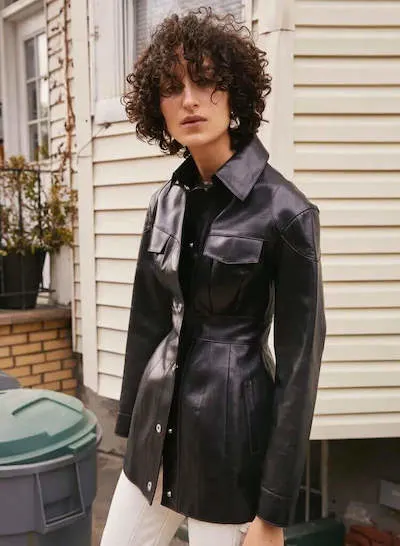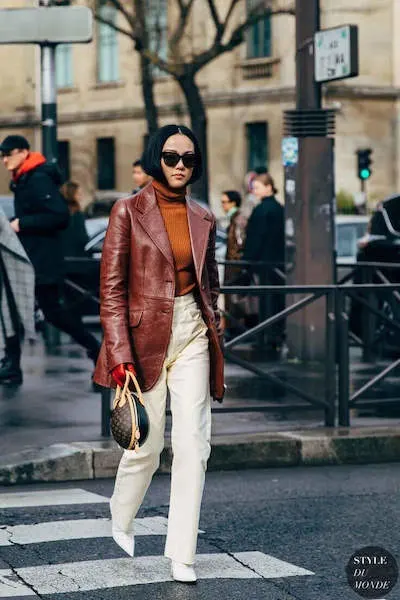 There are also many options for matching leather.
Among them, white jeans will have a sense of luxury.
In addition, khaki pants and leather jackets are also very fashionable combos.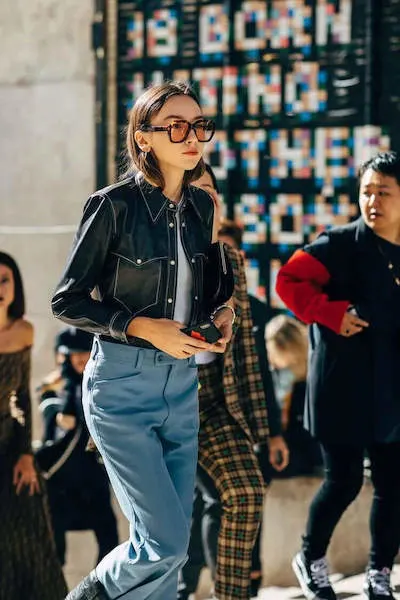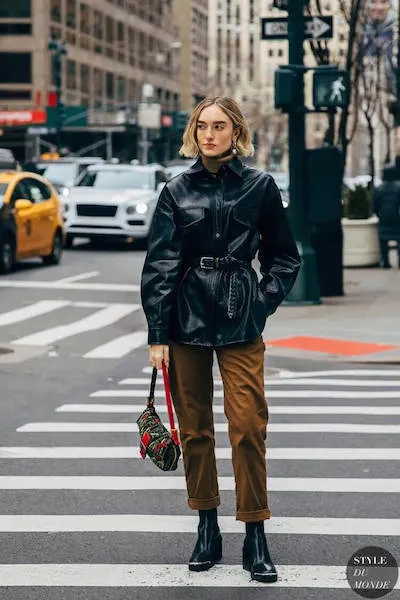 5. Boots + Blazer
Whenever possible, looking for boots with a structured silhouette will ensure that they remain elegant over time.
Boots and Blazers are one of the most famous street styles in the past two years.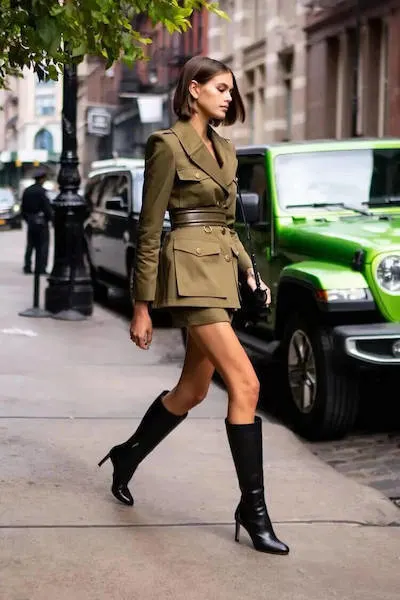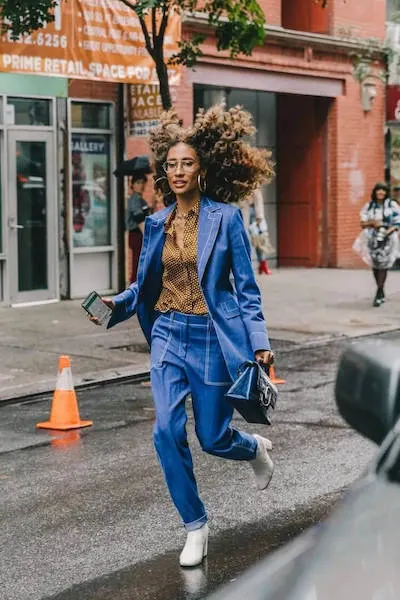 Long boots have a strong sense of fashion and occupy an important place in fall and winter items.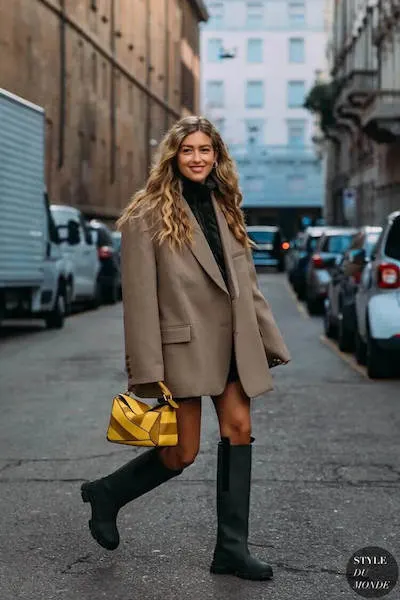 The combo of suit + boots has a handsome and slim fashion sense.
The waisted version of the blazer creates a sense of contradiction through contrast, which can highlight the slender figure of the lower body.
There is a little rebelliousness in the whole look, which gives us a different surprise.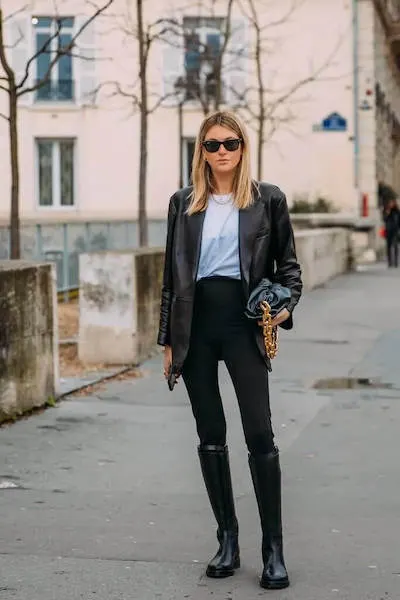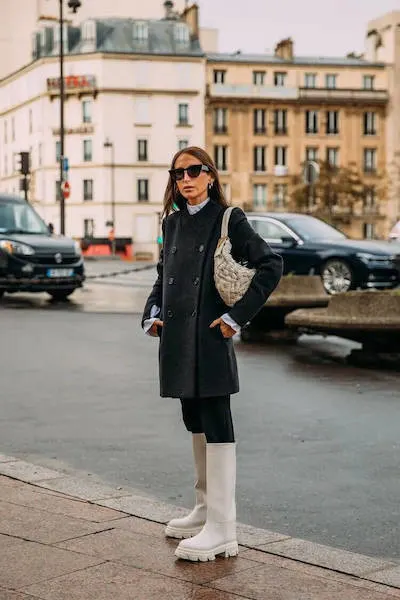 The top is wide, and the bottom is narrow. It is easy to create a fashionable sense of street style.
Comfortable, durable, and concise boots can quickly prop up the whole person's aura and make people grow long legs in seconds.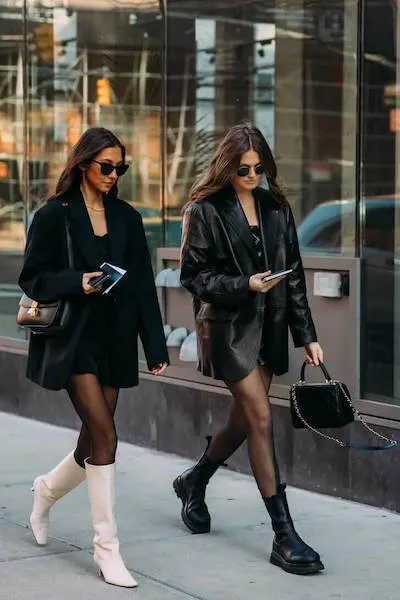 6. Knitwear + Wide Leg Pants
To say that the most exciting single product in early autumn must include a knitted sweater that can take into account both comfort and fashion.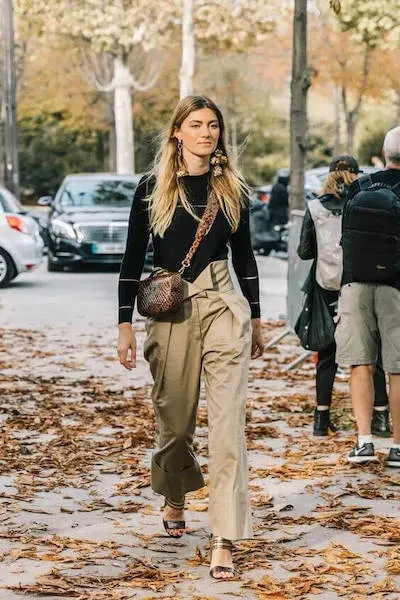 The soft yarn touches the heartstrings, and it also has its affinity.
Retro vibes and effortless fashion are hidden in every simple sweater.
Knitwear with wide-leg pants is one of the ideas for fall outfits that can be adapted to many occasions.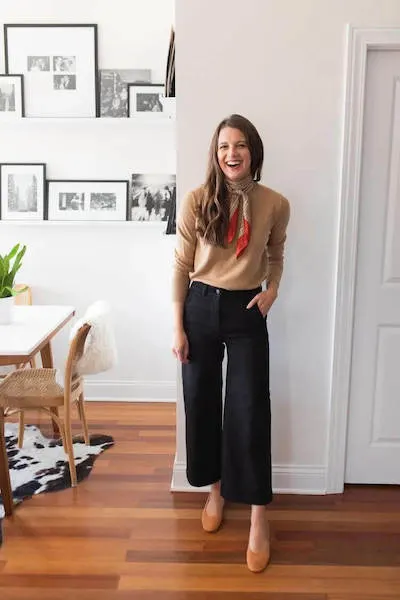 7. Ideas For Fall Outfits: Sweater + Skirt
Finally, it is our favorite combo!
At first glance, the combination of sweater + skirt is common, but it is fashionable if you are using the right styling tips, and it is far more practical than you think.
Make good use of this combo; whether you are in the cool early autumn or the bitter winter, it can always allow you to have more new inspirations when you don't know what to wear.
In early autumn, a little exposed skin breaks the dullness.
The summer is over, and when autumn enters, it is pretty good to wear clothes. Summer skirts can still be worn, and the exposed skin will not be too cold, creating a cozy little sexy.
Don't rush to put the skirts away. Put a long-sleeved sweater on the upper body, and it is a perfect outfit in the early fall.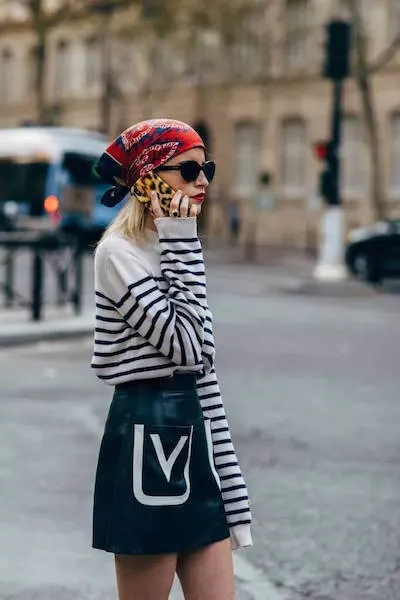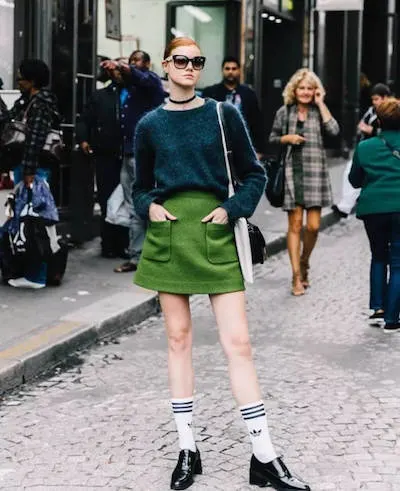 Those light skirts in summer are used to match oversize sweaters, which are lazy and fashionable.
The silky skirt is matched with a sweater, showing the curve of the figure, and it is also exquisite.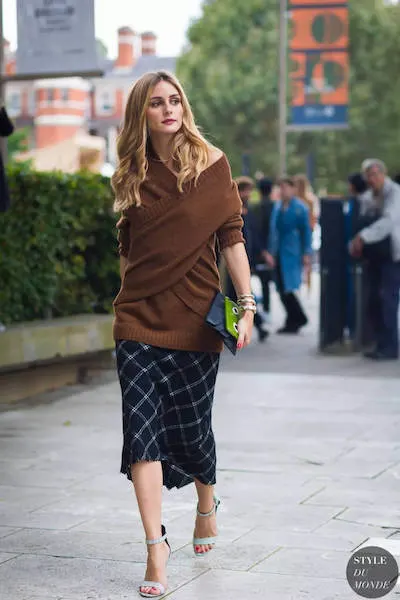 For dates or essential occasions, consider the combo of sweater + silk skirt + high heels, warm and stylish.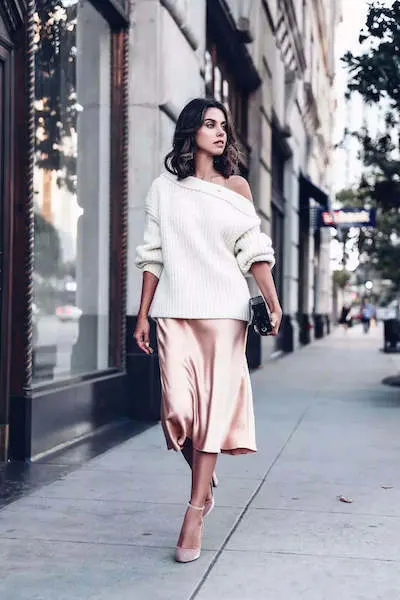 Change the high heels to small flat shoes or short boots, and switch to the daily relaxed mode.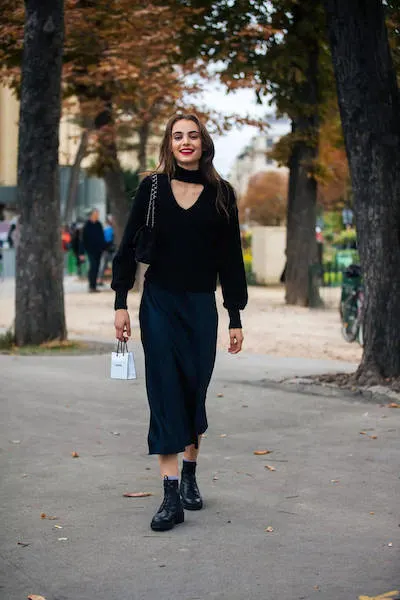 The upper body can also be exposed a bit more.
Try a thin knitted cardigan as a fitted top. The oversized V-neck is refreshing and fashionable. With a midi skirt, you can go to work or dates.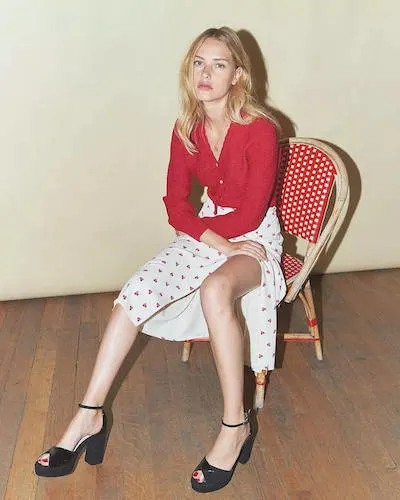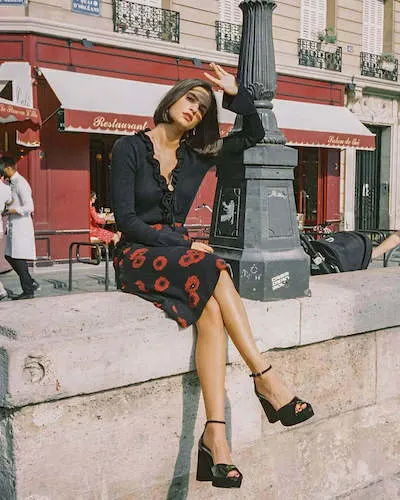 People often ask what weather is suitable for off-shoulder and open-belly sweaters. It's perfect in early autumn.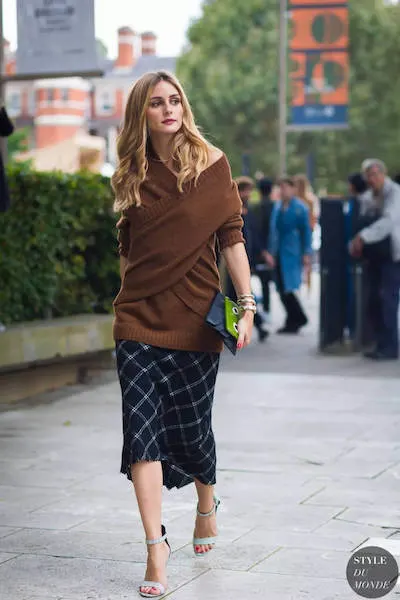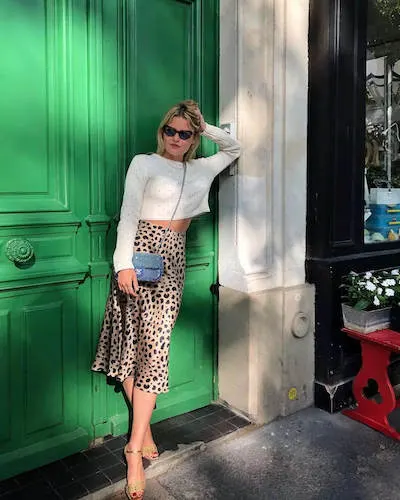 The thicker oversize sweaters are still a bit hot to wear in early autumn. Pull down the collar to show off the shoulders. This is also very suitable for taking pictures.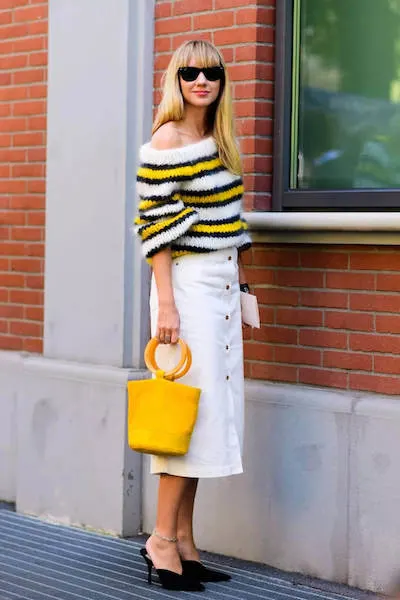 When the temperature is lowered, choose thicker sweater fabrics, higher collars, longer skirts.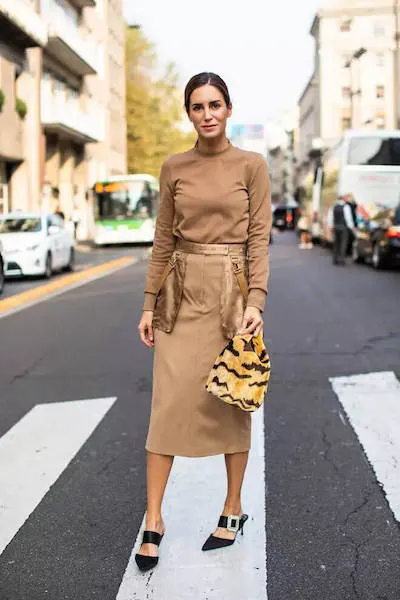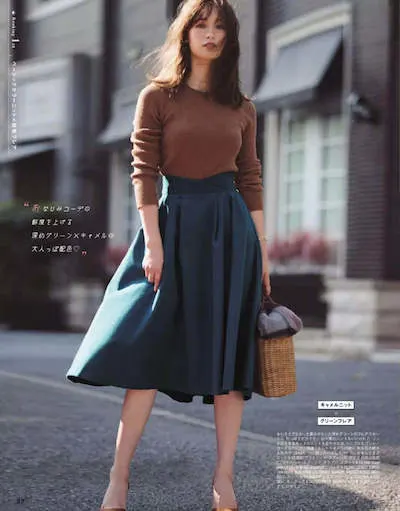 The following two outfits are pretty suitable as fall work outfits. The seemingly simple black, white and gray, but the cutting and texture are done well, showing the taste and style.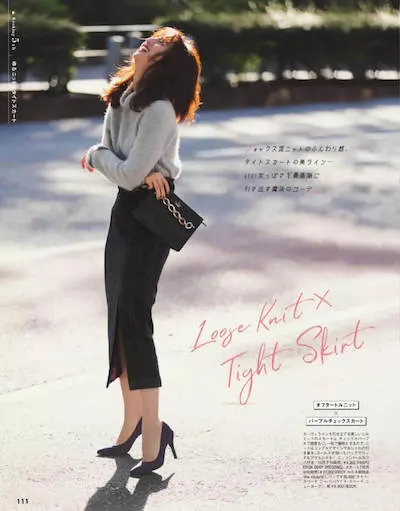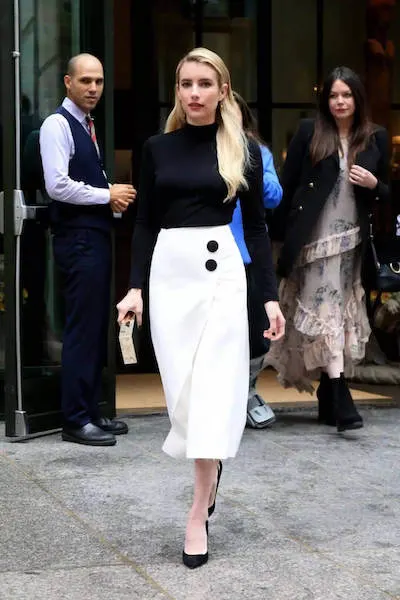 Summer skirts can be worn for a while; change the sandals to short boots, the soles of the feet will be warmer, and the whole body will be warmer, too.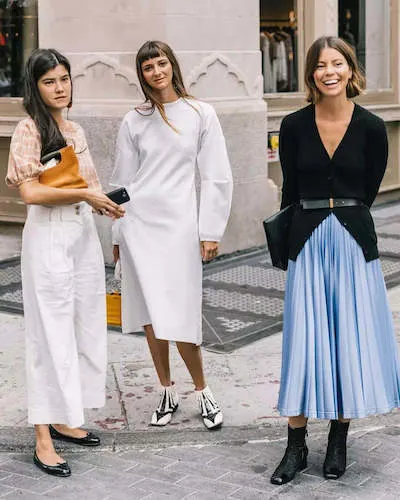 Like this kind of sweater with a large neckline, you can wear a letter T inside, which is more lively.
Finally, choosing a sweater, it is recommended to select a more oversized sweater for the oversize sweater, which is slightly looser to wear and is also very thin for warmth.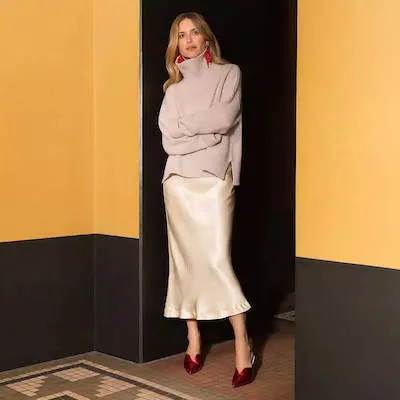 In late autumn, layering brings warmth.
In late autumn, choose thicker sweaters and longer skirts.
You can buy more skirts with windproof and warm materials, such as leather skirts, knitted skirts, woolen skirts and so on.
The leather element is trendy this year, and the knee-length leather skirt is also a classic item.
It is handsome and stylish when paired with a sweater.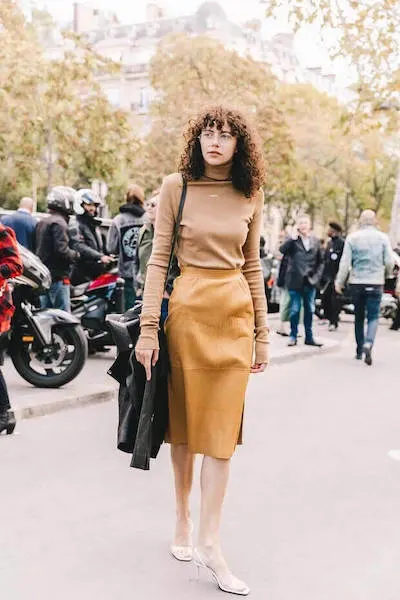 Knitted skirts and woolen skirts have thicker fabrics.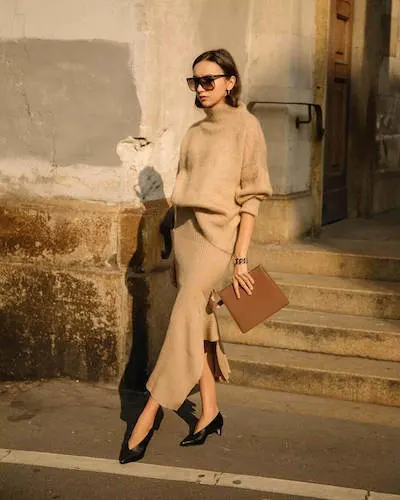 Women with the slightly bigger lower body are recommended to choose A-line skirts.
A-line long skirts are easier to appear shorter than A-line short skirts. So women who want to appear taller should choose a high-waisted one, and the proportion will be optimized a lot.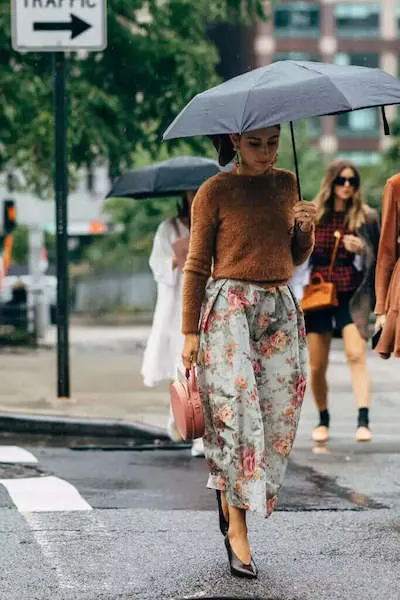 For maxi skirts, only a minor ankle is exposed.
Choose smoking shoes, Oxford shoes, etc., and walk in the gentle autumn breeze, comfortable, casual, and chic.
Not far from winter, a sweater is no longer enough to keep out the cold, so use the layering tips.
One common method is the combo of sweaters and shirts.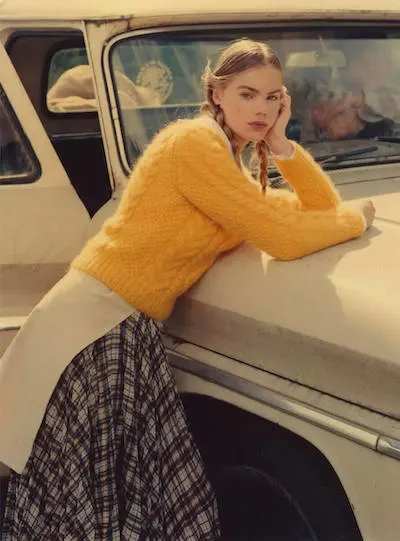 Oversize shirts can also be stacked, worn in the same oversize sweater, revealing a loose hem, which looks lighter.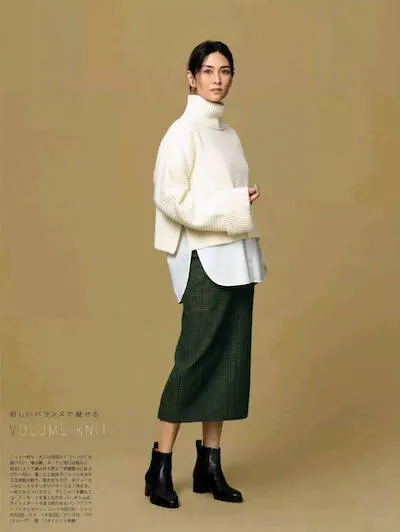 Slim turtleneck sweaters are also very good with oversized sweaters.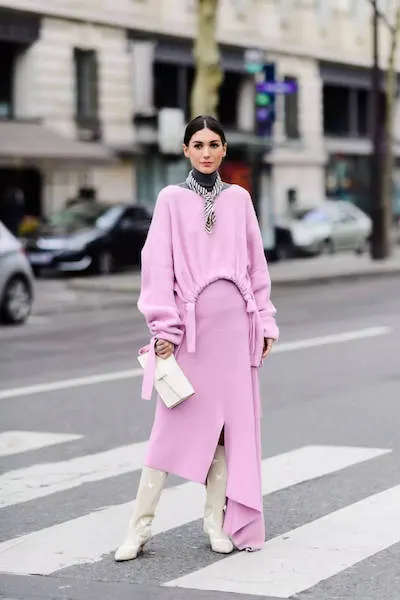 The exposed legs are too cold, so stockings, socks, and silk stockings can be worn, keeping warm and style.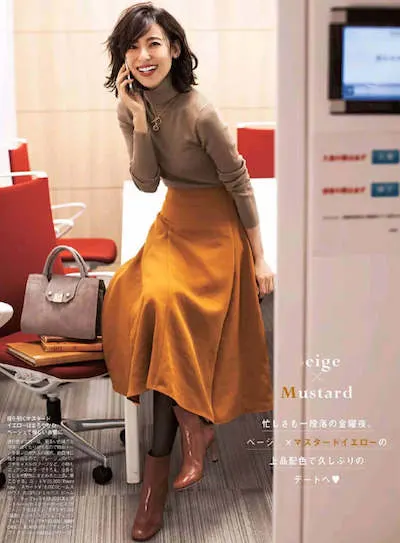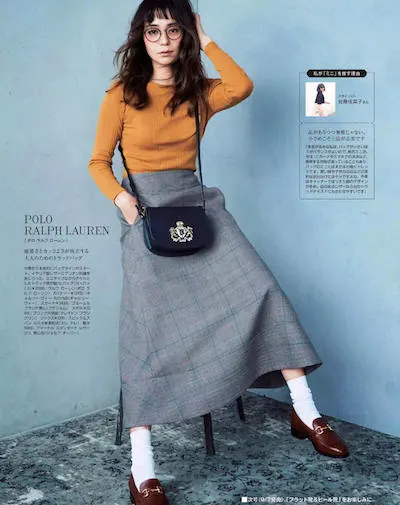 For women who don't want to show their socks, there is another trick.
Choose a longer skirt and taller boots to keep your feet out; you can wear any thick socks inside.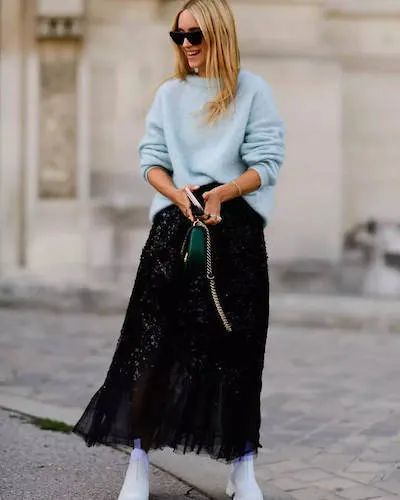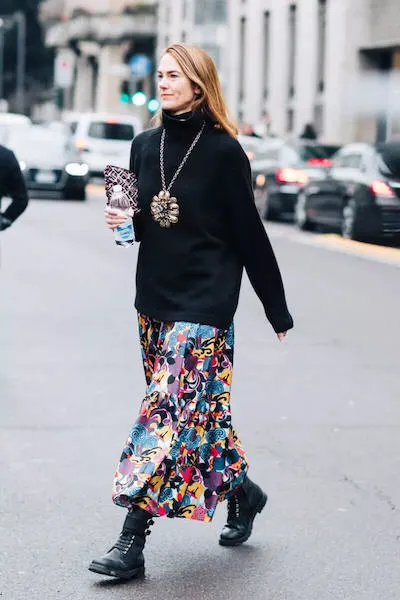 There is another idea. If the skirt is thin, you can wear black leggings directly inside and pair them with black boots.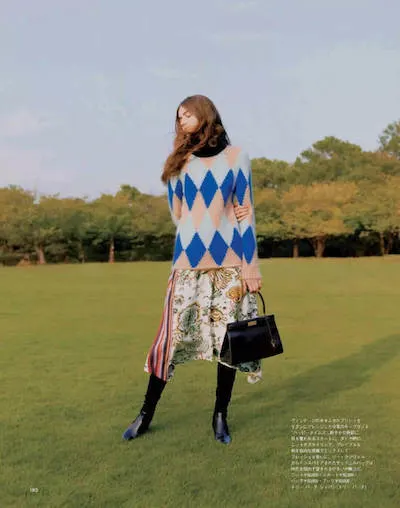 In the past two years, midi skirts and boots have been trendy, and they don't show their legs at all.
It can be called the warmest combo in late autumn. Fashion bloggers especially like to wear it like this.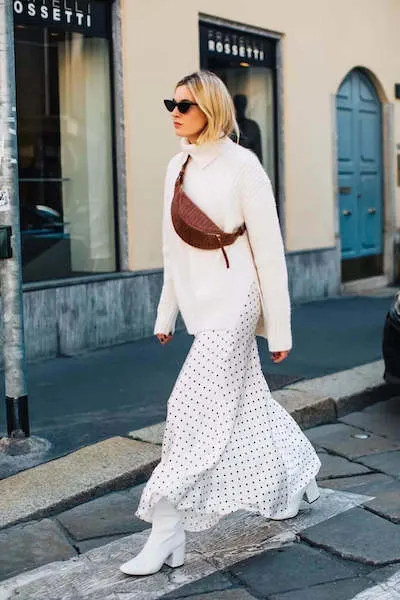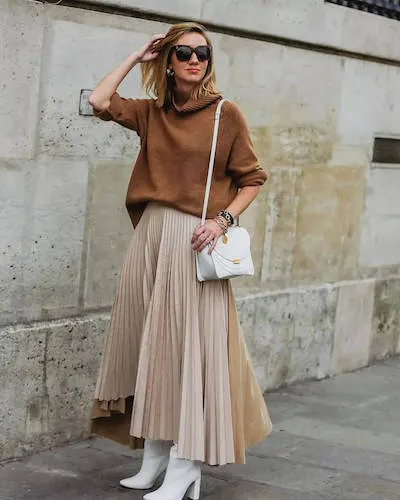 This post was all about ideas for fall outfits.
About The Author
Tracy is an experienced personal stylist, shopping expert, and fashion & lifestyle blogger. She has been featured on Time Magazine, Bustle, Best Life, Glam, The Zoe Report, Mic, and GOBankingRates, for her insights on fashion, beauty, home decor, and lifestyle. Read More
Related Posts: