Wondering what to wear in Las Vegas in January? Check this post for the best packing list for Vegas in the winter, and Vegas winter outfits for different occasions to copy for your next trip to the sin city.
When most people think of Las Vegas, they think of the scorching hot desert climate.
However, what many don't realize is that the winter temperatures in Las Vegas can dip down into the 40s at night.
So, if you're planning a trip to Vegas in January, you'll need to pack accordingly.
If you are going to Las Vegas and looking for the best ideas on what to wear in Vegas in January, you've come to the right place.
In today's article, I am sharing with you what's the weather in Las Vegas in winter and the best Vegas outfits for your January Las Vegas trip to copy directly.
So scroll down to check these fashion tips on what to wear to Las Vegas in January, cute outfit ideas, and Las Vegas winter packing list, and don't hesitate to pin them to your Pinterest board, and share them on social media sites.
This post may contain affiliate links, which means I'll receive a commission if you purchase through my link, at no extra cost to you. Please read the full disclosure here.
This post is all about what to wear in Las Vegas in January.
Is it worth going to Vegas in January?
Is January a good time to visit Vegas?
For many people, the answer is a resounding yes!
The weather is cooler than in the summer, making it more pleasant to walk around.
And since Las Vegas is a desert city, the cooler weather also means that there are fewer bugs.
Plus, hotel prices are typically lower in January than they are during peak season.
Las Vegas Weather In January
Is it cold in Las Vegas in January?
The short answer is yes, Las Vegas does get cold during the winter months.
Even though temperatures are mild compared to other parts of the country, it can still get chilly in Las Vegas during the month of January.
On average, temperatures range from about 40 degrees to 60 degrees Fahrenheit throughout this month.
Though you won't need a heavy coat and gloves as you would elsewhere in the US at this time of year, bringing warm and layered clothing with chic style options is recommended while visiting Las Vegas in January.
Does it snow in Las Vegas in January?
Yes, it does snow in January in Las Vegas.
In fact, Las Vegas experiences an average of 1.2 inches of snowfall each year, with most of that falling within the first month of the year.
The climate in Las Vegas is arid and semi-arid due to its desert location.
However, temperatures can drop low enough for snow to occur during winter months—especially January—as cold air from the north descends upon Sin City.
Do you need a coat in Vegas in January?
The answer is yes and no.
While the daytime temperatures hover around a comfortable 50-70 degrees Fahrenheit, the evenings can get quite chilly, dipping down into the 40s.
So, if you're planning on spending any time outdoors at night, you'll definitely need a jacket or sweater.
However, if you're only going to be indoors at Las Vegas casinos and hotels, then you can probably leave your coat at home.
What should I pack for Las Vegas in the winter?
First, remember that although it may be cold outside, the casinos and hotels will be heated.
So, you won't need to pack as many heavy layers as you would for a trip to a colder climate.
A light jacket or sweater should suffice.
Second, don't forget about comfortable walking shoes.
You'll want to be able to walk around the strip and do some sightseeing without being in pain.
Comfortable shoes will also come in handy if you plan on doing any hiking or outdoor activities while you're in town.
Finally, make sure you bring some sunscreen!
The winter sun can damage the skin too.
Are the pools open in Las Vegas in January?
For January, many visitors wonder if the city's iconic pools are open for a swim.
The answer to that question depends on which hotel pool you plan to visit.
Most of the larger resorts in Las Vegas keep their outdoor pools open year-round due to their warm climate and heated pool waters.
However, some smaller hotels may close their swimming areas during the cooler months or even all winter long due to budgetary concerns or extra maintenance requirements like covering them with tarps during chilly nights.
If you're looking to take a dip while visiting Las Vegas in January, it's best to call ahead and confirm if the hotel's pool is open and whether there are any special restrictions or reduced hours in place before booking your stay.
How do people dress in Vegas in January?
For daytime activities, it is important to keep warm and layer your clothing.
Depending on the exact location in Vegas, temperatures can range from 50-60 degrees Fahrenheit (10-15 Celsius).
Therefore a light jacket or cardigan should be packed along with jeans and comfortable shoes.
For nighttime entertainment or dining out, people typically tend to dress up more than they would during the day.
A nice blouse matched with stylish pants or a skirt for women and perhaps a collared shirt and pants for men should do the trick.
What To Wear To Vegas Clubs In January
When it comes to Vegas clubs, the right outfit can make or break your night.
For women looking to go out in Vegas during January, there are certain looks that will make sure you're ready for whatever the night has in store.
For starters, a dress with some extra attitude is always a great option.
Look for styles with bold prints and statement-making details like ruffles or sequins to really stand out from the crowd.
If you want something more subtle, try pairing a sparkly top with sleek trousers or jeans to keep your look sleek yet eye-catching.
Don't forget about outerwear!
Since temperatures can dip at night in Vegas during January, be sure to bring along a chic coat or jacket that will keep you warm while still looking fashionable on the dancefloor.
What to wear to Vegas casinos In January
The good news is, there is generally no strict dress code in Vegas casinos.
So what should women wear when they're looking to make a statement in Vegas casinos? Here are our favorite tips
Start by picking out casual pieces like jeans, a long sleeve top, and light cardigan or jacket.
A chic dress is also a great option.
For shoes, choose something that won't hurt your feet after standing all night but still looks trendy—think modern heels or sneakers with metallic accents.
Add some sparkle with jewelry like beads and layered necklaces, then top it off with an eye-catching clutch bag.
What to Wear to Vegas Shows In January
Are you thinking of going to see a show in Las Vegas this January?
You're not alone – Sin City is one of the most popular tourist destinations in the United States.
Here are a few tips on what to wear to a Vegas show:
First, there is no strict dress code. So you have plenty of options when it comes to styling your look for a Vegas show.
Second, remember that it's still winter in Vegas. While the daytime temperatures may be mild, the evenings can get chilly.
So, you can wear less in Las Vegas during the day, but it is a good idea to bring a jacket or sweater for an evening show.
Third, dress for comfort. You'll want to be able to enjoy the show without being too hot or too cold.
That means avoiding anything too heavy or constricting.
Third, consider the type of show you're seeing.
If it's a musical performance or comedy act, stick with something that allows you to move freely and comfortably throughout the evening such as jeans and a nice blouse paired with heels or boots.
For theater performances, opt for something more formal like slacks and heels, or even an elegant dress if desired.
What To Wear In Las Vegas In January: Trendy Vegas Outfits To Copy
Want more inspiration? Scroll down to check the trendiest Las Vegas outfits to copy and shop for directly from our favorite online fashion stores.
Velvet Blazer + Flare Pants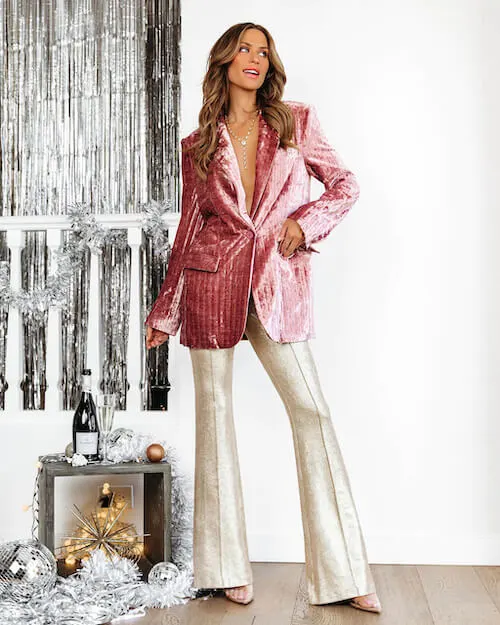 Fuzzy Coat + Mini Skirt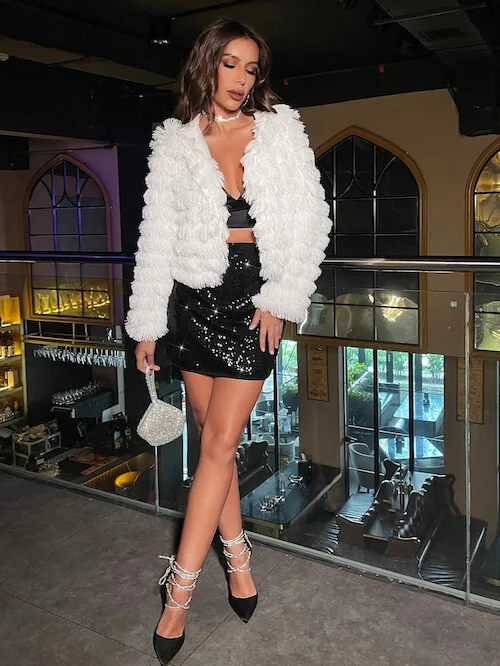 Sequin Top + Black Pants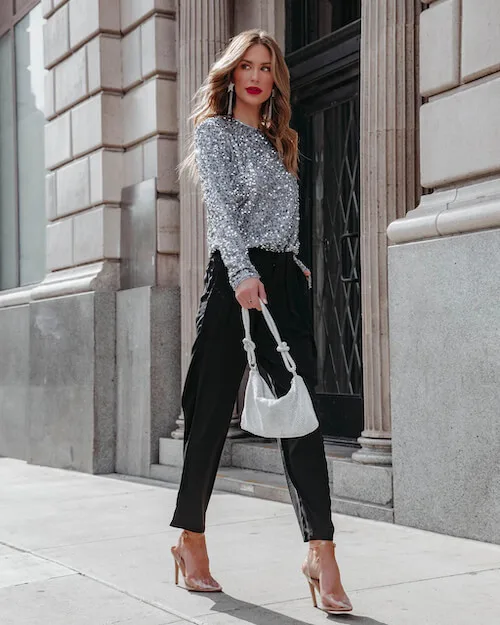 Crop Jacket + Black Bodycon Dress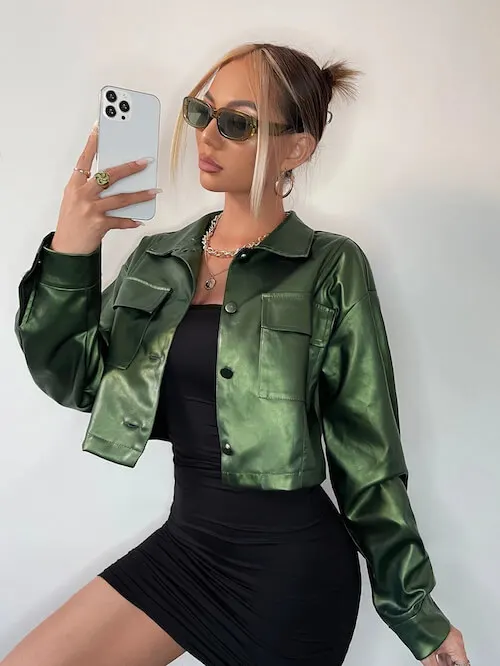 Teddy Coat + Mini Dress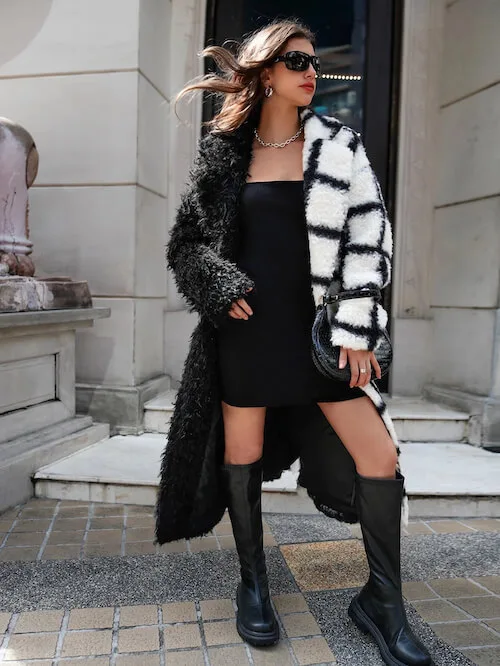 Hot Pink Coat + Black Sweater Dress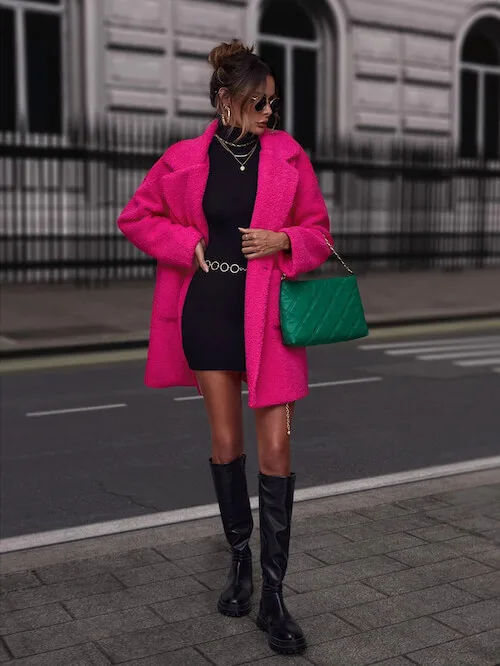 Tube Dress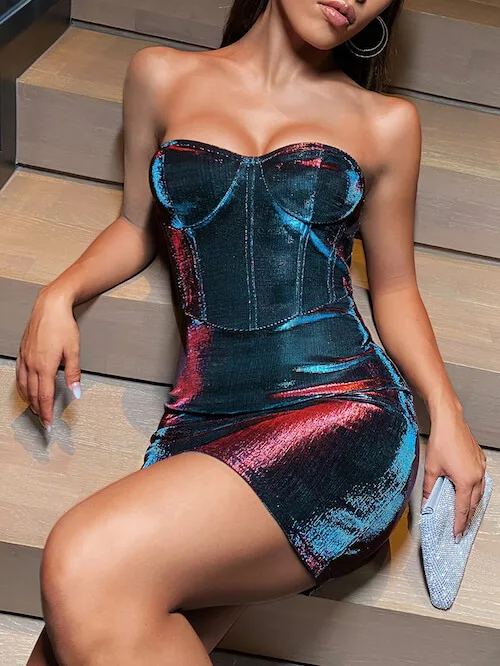 Sequin Gold Dress + Sock Boots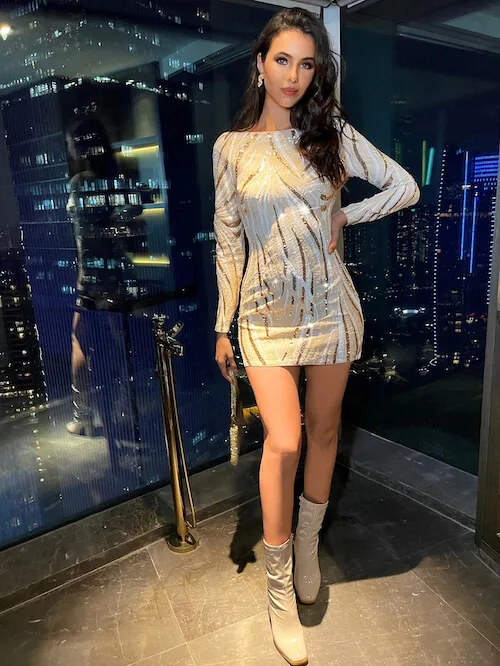 One Shoulder Dress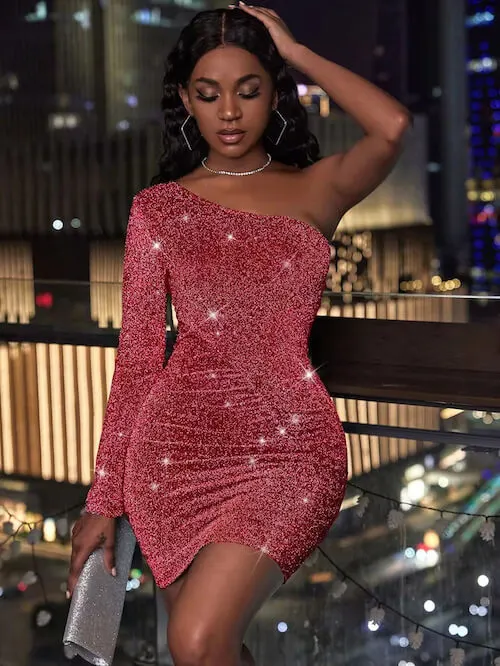 Glitter Bodycon Dress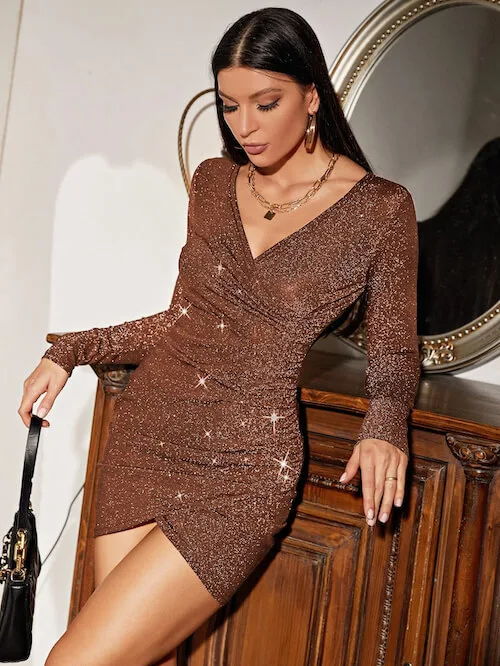 Black Cut Out Dress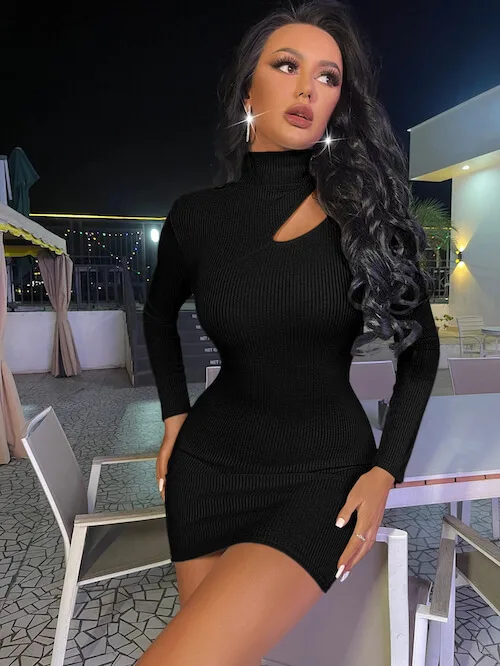 Casual Vegas Daytime Outfits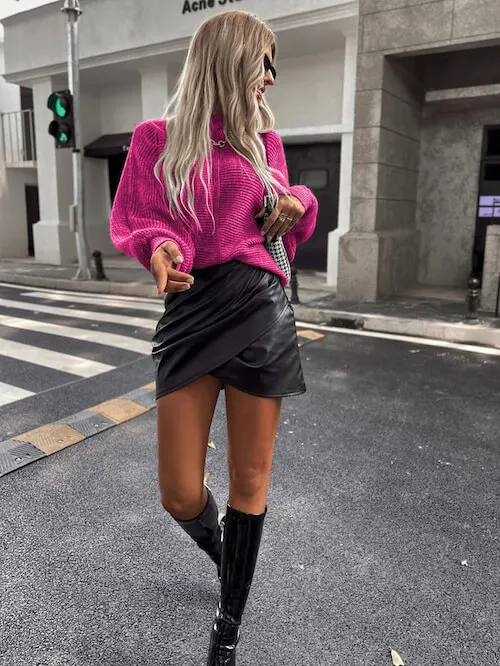 Leather Shorts + A Crop Top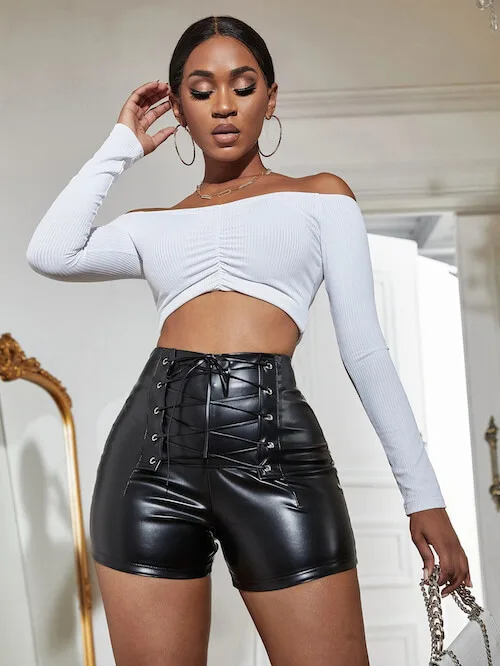 Gold Sequin Jumpsuit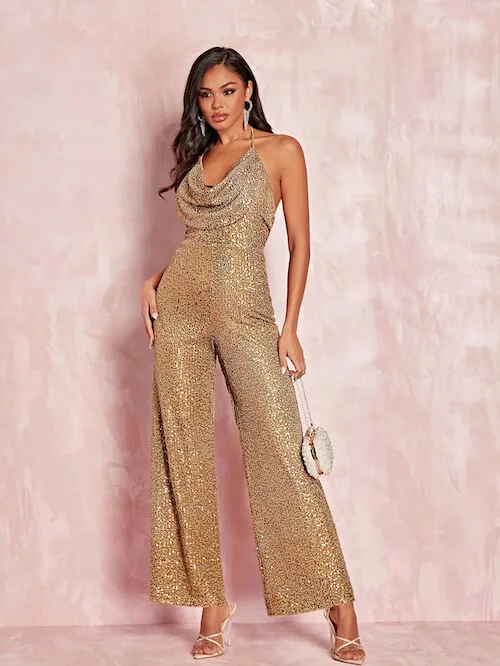 Black Blazer + Black Pants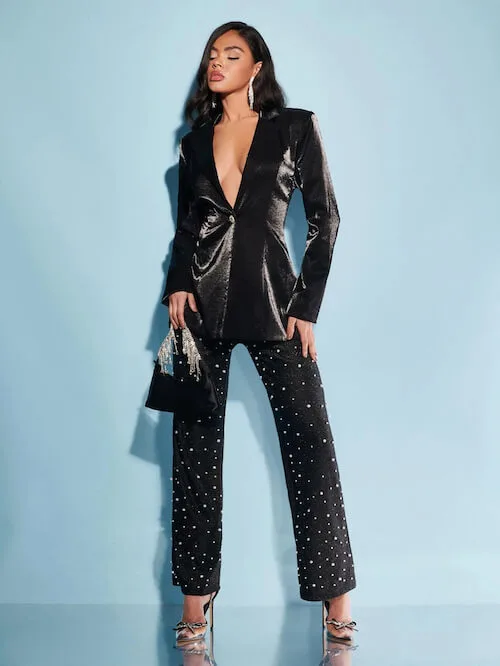 Sequin Tube Top + Black Pants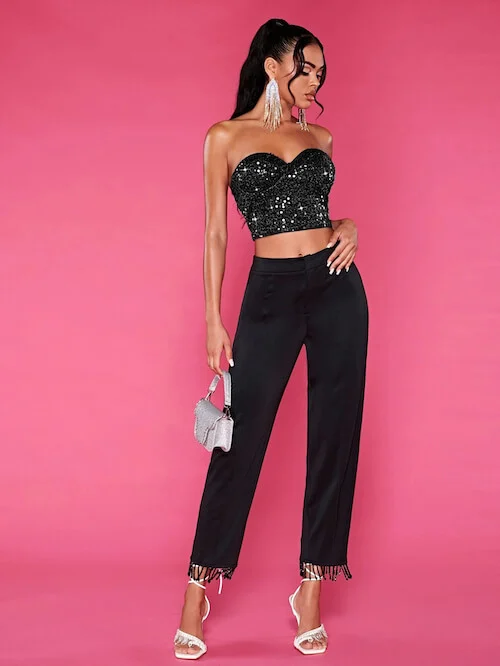 Cami Jumpsuit + Faux Fur Coat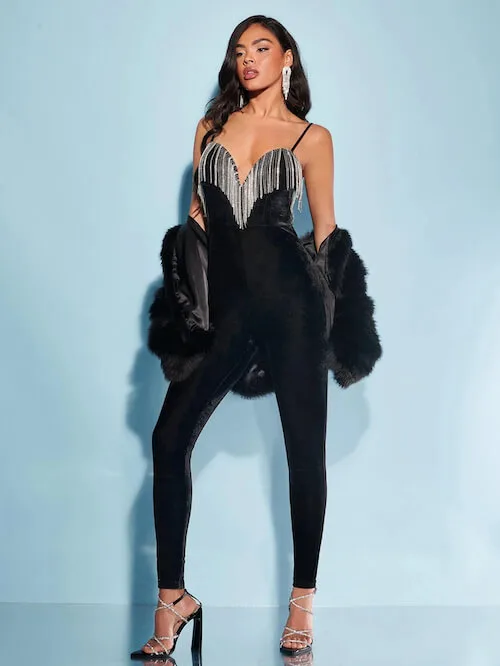 Pink Blazer + Black Leather Pants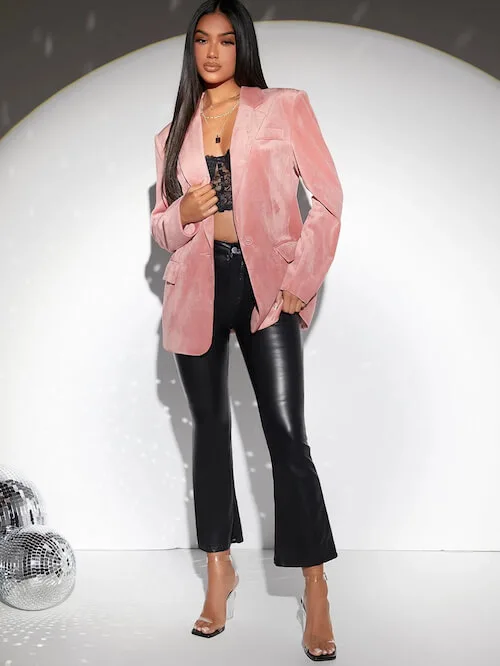 White Coat + Silver Sequin Dress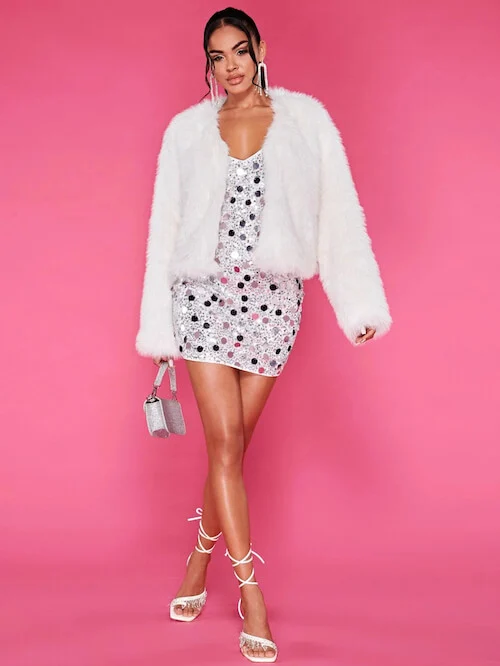 Gold Sequin Mini Dress + High Boots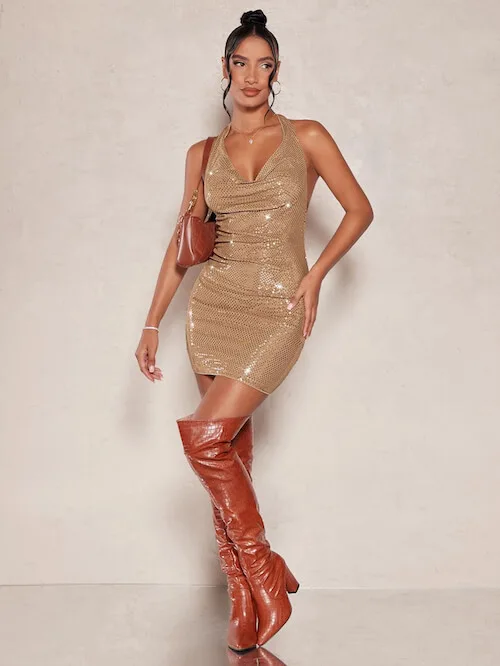 Leather Jacket + Mini Skirt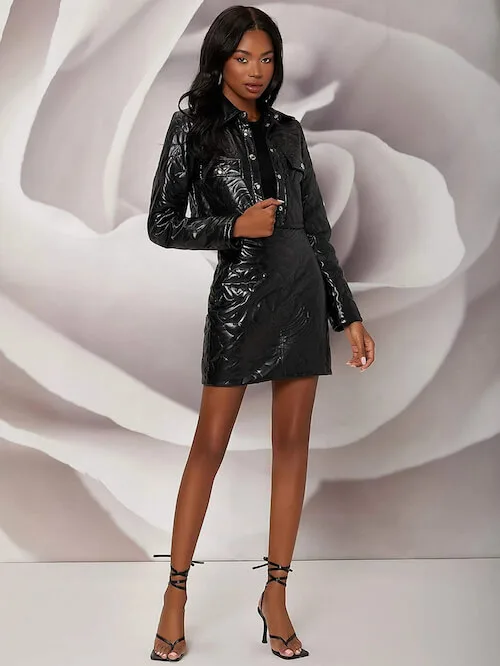 Long Coat + Sweater Mini Dress + Cowboy Boots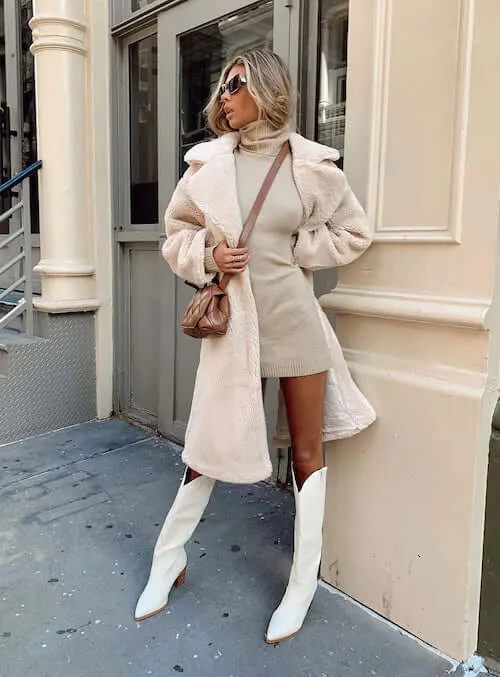 Leather Blazer + Mini Skirt + Tights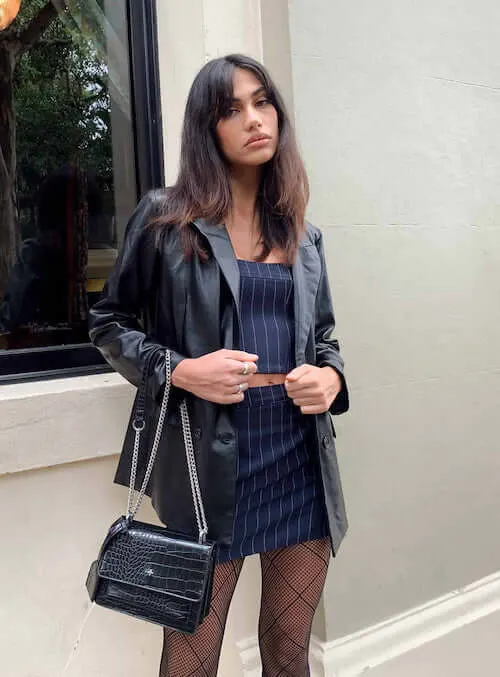 Little Black Dress + Oversized Blazer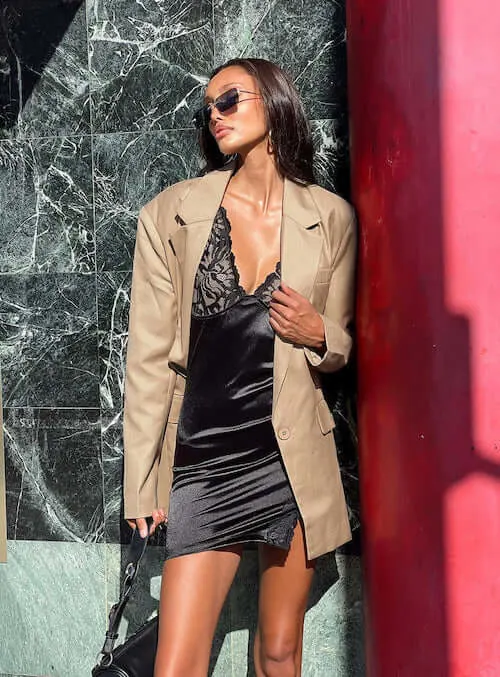 Black Shirt Dress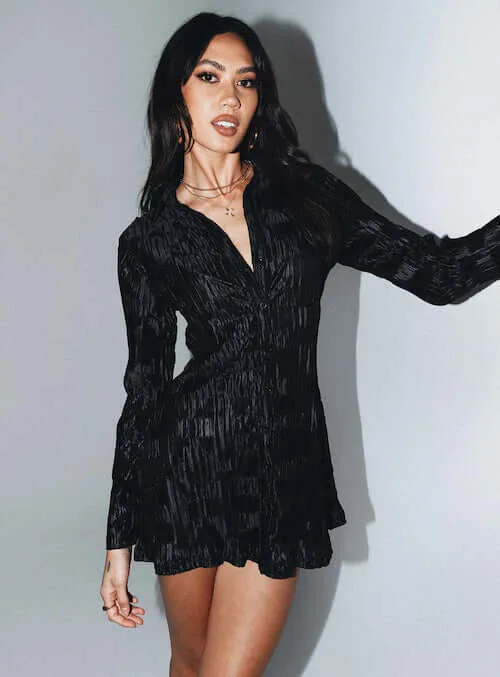 Black Long Sleeves Dress + Ankle Boots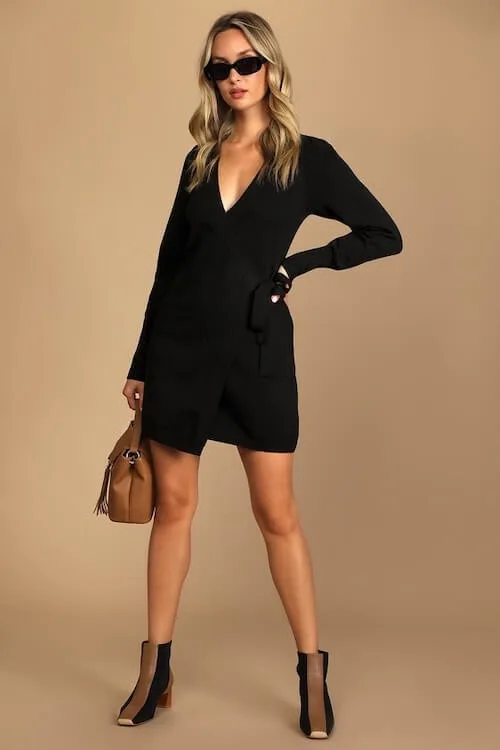 Sequin Bodysuit + Leather Shorts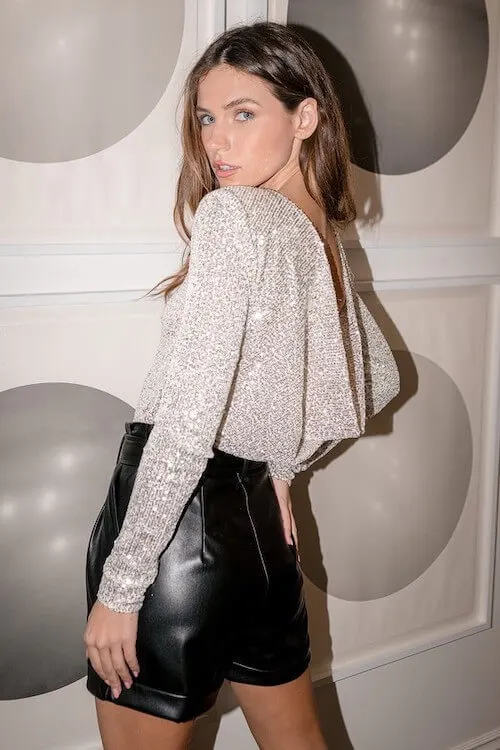 Black Feather Cropped Blazer & Skirt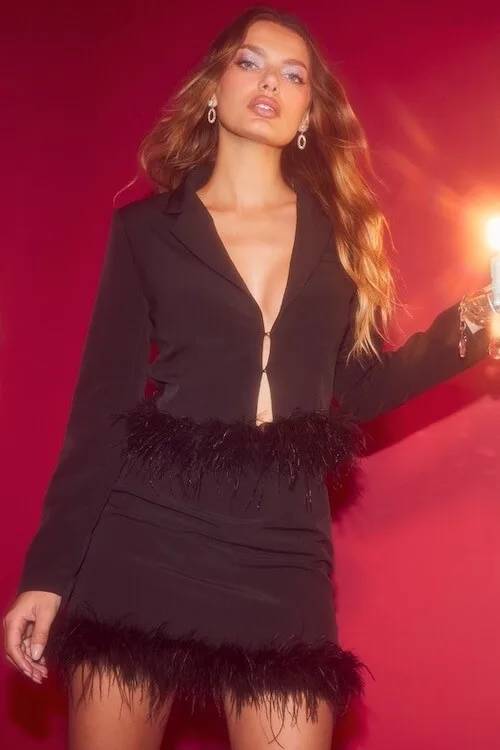 Black Sequin Jacket + Black Dress + Black Boots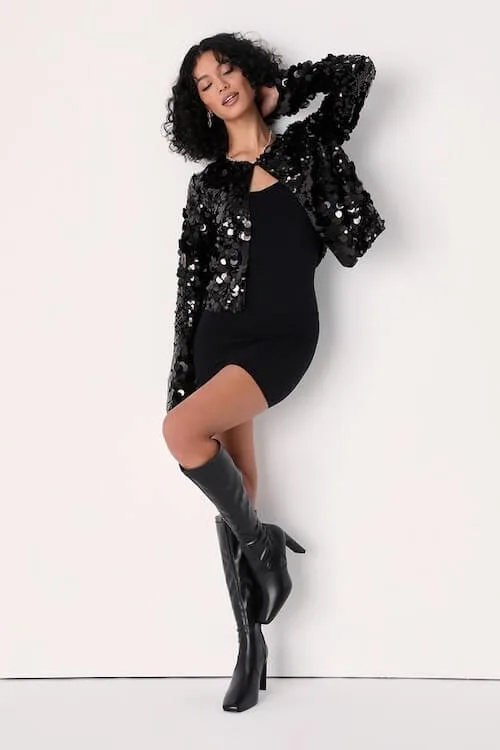 Black Blazer + Black Tights + Knee High Boots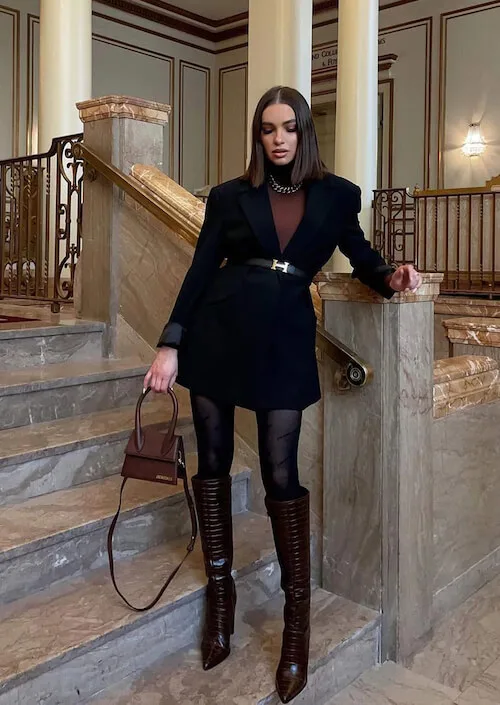 Conclusion: Las Vegas Packing List For January
In conclusion, if you're wondering what to wear in Las Vegas during January, besides stylish dresses and jumpsuits, consider packing layers.
A light jacket or sweater will come in handy during the cooler evenings.
And although it's not likely that you'll need them, don't forget to pack a pair of comfortable walking shoes and an umbrella just in case.
Pack your swimsuit and plan to spend some time in the Las Vegas sun at the city's many pools, but remember that the water can get chilly, so bring along a cover-up.
This post was all about what to wear in Las Vegas in January.
About The Author
Tracy is an experienced personal stylist, shopping expert, and fashion & lifestyle blogger. She has been featured on Time Magazine, Bustle, Best Life, Glam, The Zoe Report, Mic, and GOBankingRates, for her insights on fashion, beauty, home decor, and lifestyle. Read More
Related Posts: