Looking for beautiful dresses for fall? Check this list of 47 stunning and affordable fall dresses that you can shop for right now.
Fall is a season full of gorgeous colors, holidays, and parties. And the beautiful dresses are our favorite fall outfit ideas to embrace the fall vibe.
If you like dresses, please don't hesitate to check these 47 fall dresses we selected for you from the brands we love.
Those dresses are presenting romantic fall colors and patterns, with delicate details and pretty designs. We have included the dresses you can wear to a casual date, a fall wedding, or a party in this list.
And they are so affordable! All of the dresses are under $100, and most of them are even under $30!
So scroll down to check the dresses and add the ones you love to your fall wardrobe!
This post may contain affiliate links, which means I'll receive a commission if you purchase through my link, at no extra cost to you. Please read the full disclosure here.
This post is all about dresses for fall.
Best Dresses For Fall
1. Allover Floral Print Shirred A-line Dress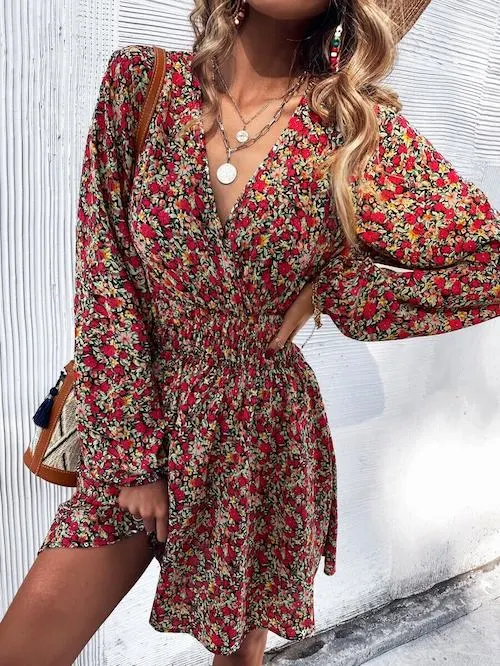 The rich colors seem to have overturned the autumn palette.
2. Dalmatian Print Ruffle Hem Bishop Sleeve Belted Wrap Dress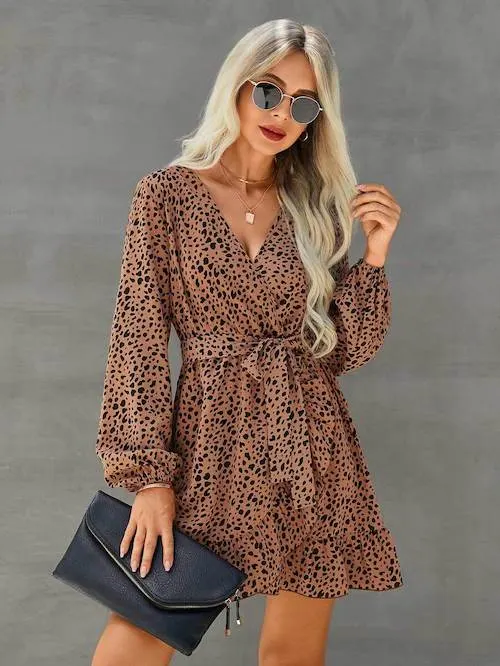 Animal print is a must-have in fall. This skirt is designed to fit most figures and can easily create a slim figure.
3. All Over Floral Print Surplice Neck Layered Hem Dress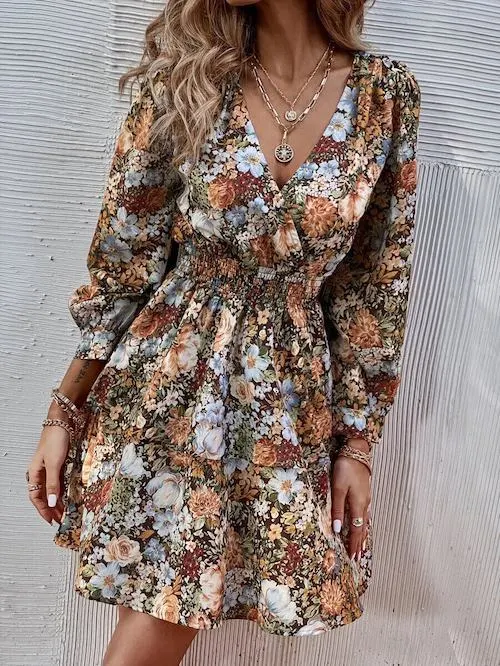 The bold and unique patterns are in full bloom.
4. Ditsy Floral Sweetheart Neck Bishop Sleeve Ruffle Hem Dress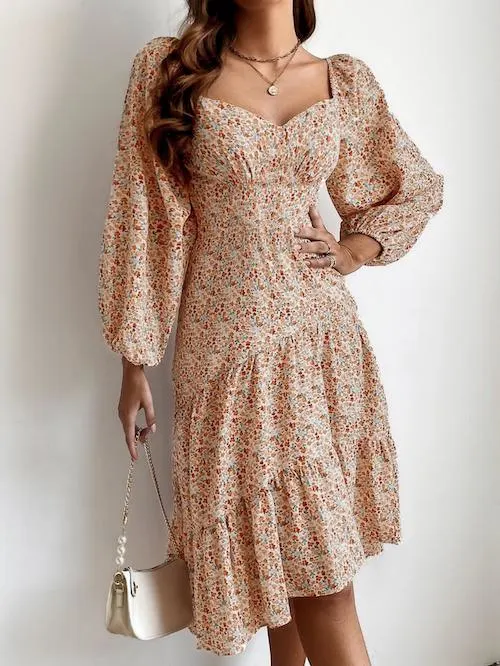 This skirt is so gentle, and it looks pretty with white accessories.
5. Lantern Sleeve Knot Front Dress
This is the color of fall. The unique design makes you stand out from the crowd.
6. Flounce Sleeve Shirred Plants Print Dress
This dress has an elegant design. You can even wear it to work, choose a pair of neat shoes.
7. Guipure Lace Button Up Smock Dress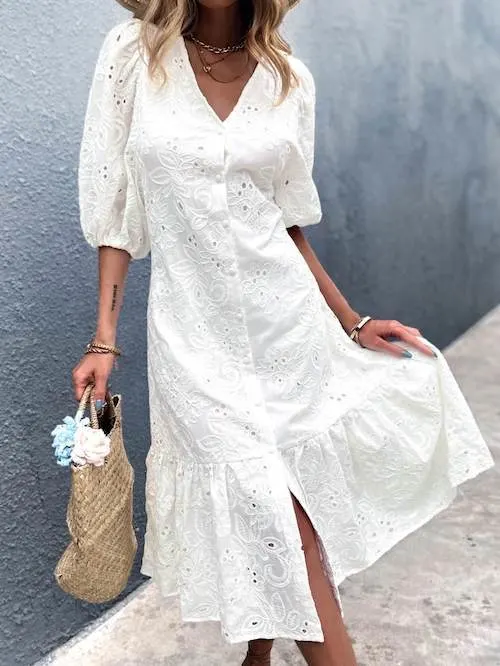 The lace pattern of this skirt attracted me deeply.
8. Floral Tie Side Wrap Dress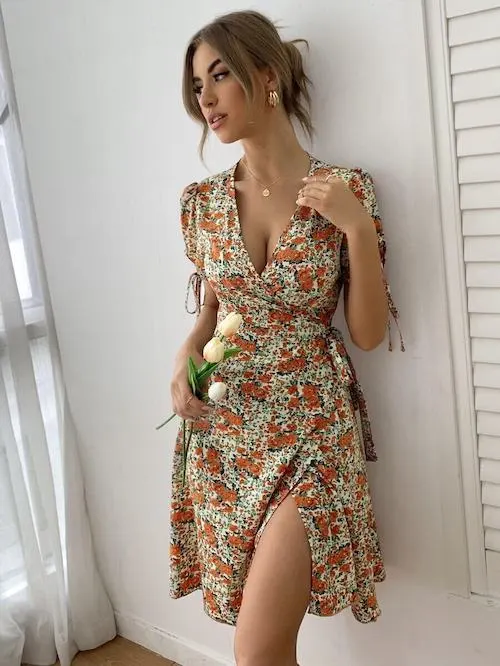 Sexy and charming, this is the dress. When it gets colder, you can put on an oversized blazer, which is popular this year, to make it more stylish.
9. Floral Print Ruched Bodycon Dress
This print.
10. Swiss Dot Wrap A-line Dress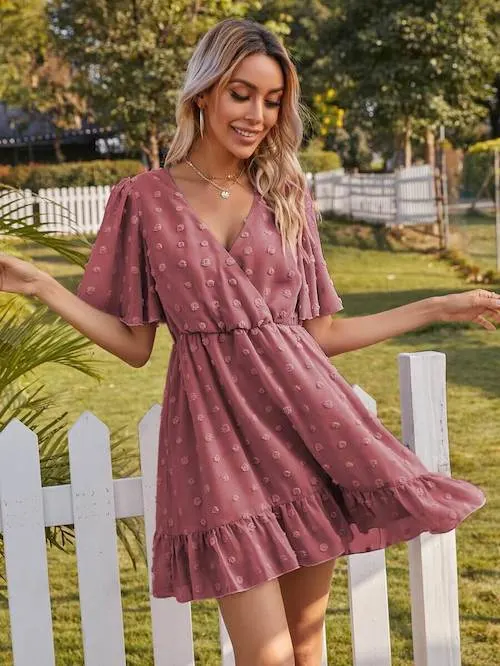 An adorable dress, very suitable for a fall date.
11. Always Celebrating Sage Green Satin Off-the-Shoulder Mini Dress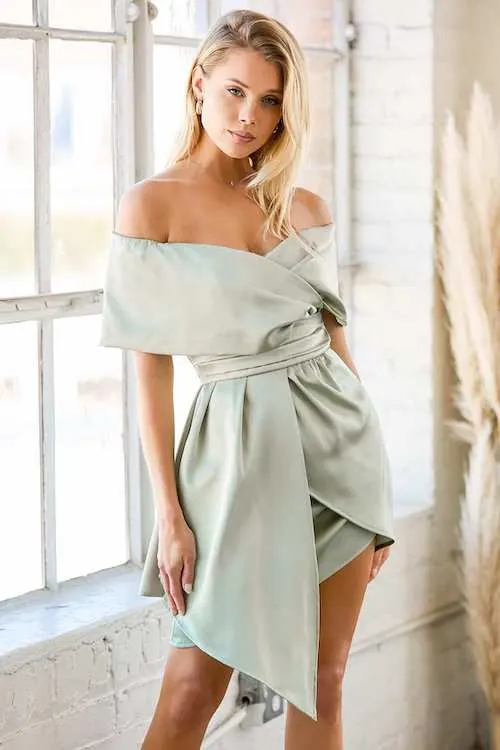 This dress is unique and cute! You will surely win a lot of compliments when you wear it.
12. Little Bit In Love White Surplice Puff Sleeve Mini Dress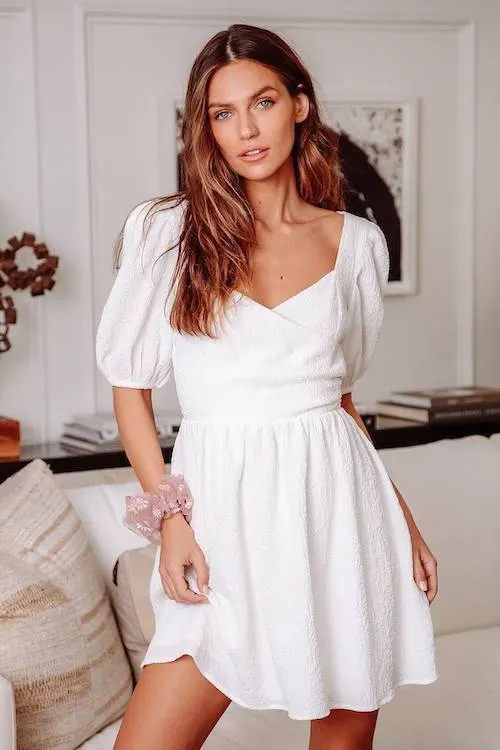 Autumn is also very suitable for wearing white dresses. If you haven't bought a popular white dress this year in spring and summer, take a look at this one? Its design is simple but elegant and can show your good taste.
13. Floral Print Shirred Lantern Sleeve Square Neck Ruffle Hem Dress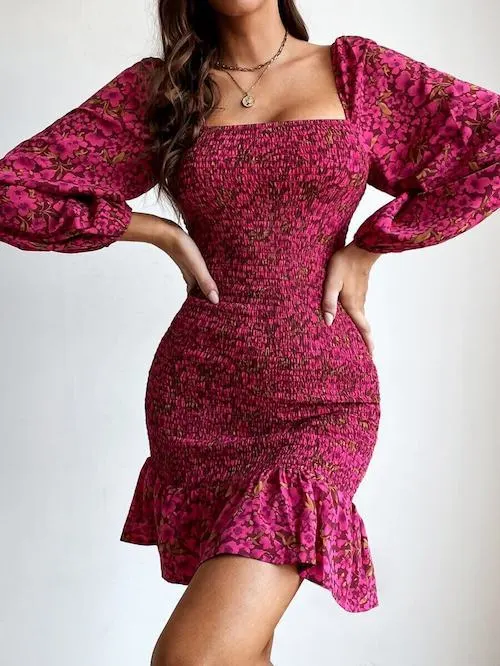 Your enthusiasm is shown in this dress.
14. Knot Front Button Up Satin Shirt Dress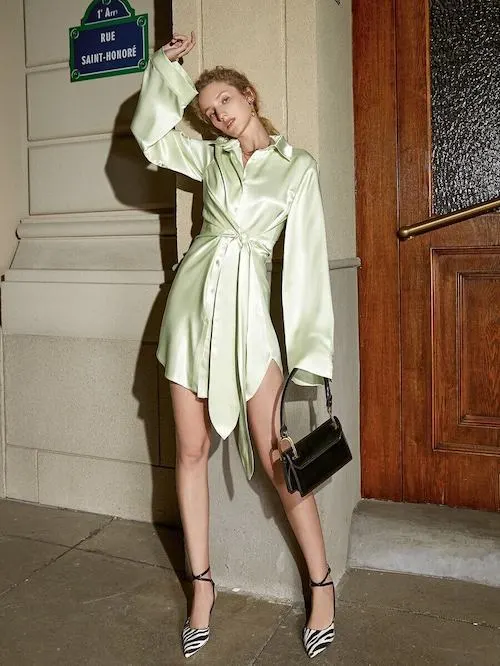 Very edgy and elegant design, both for daily wear and night out.
15. Allover Print Surplice Front Shirred Waist A-line Dress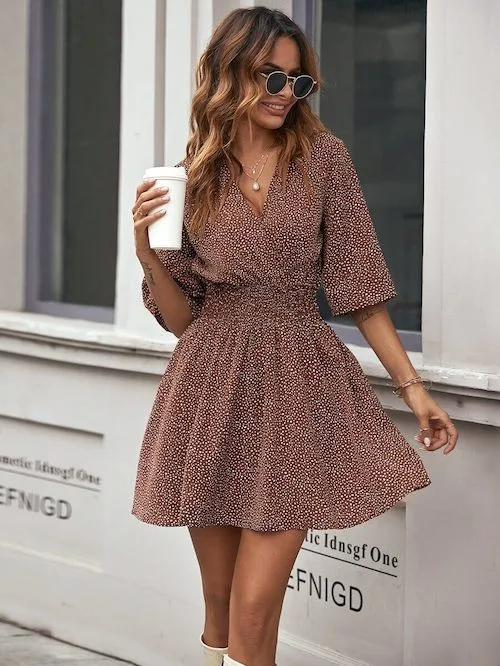 You can't go wrong with this dress, and it can match all your shoes or boots.
16. Glamaker Twist Front Ruched Satin Dress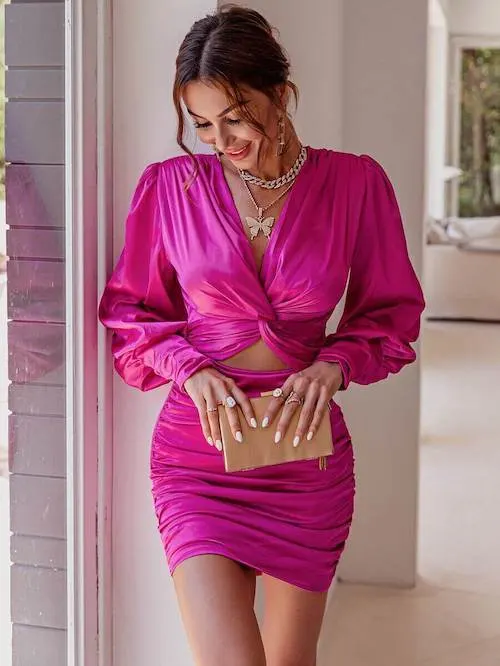 Isn't this stunning? Very affordable. You will have so many parties in autumn, so let this dress accompany you.
17.
Double Crazy Surplice Neck Ruched Wrap Ruffle Hem Dress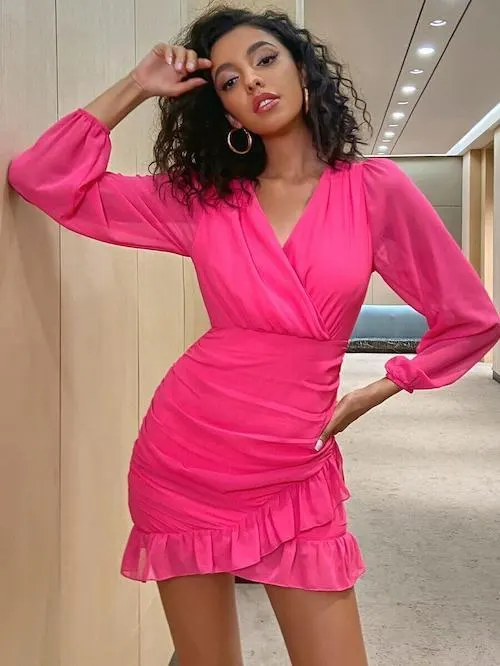 It's another cute and sexy dress.
18. Floral Print Shirred Back Off Shoulder Dress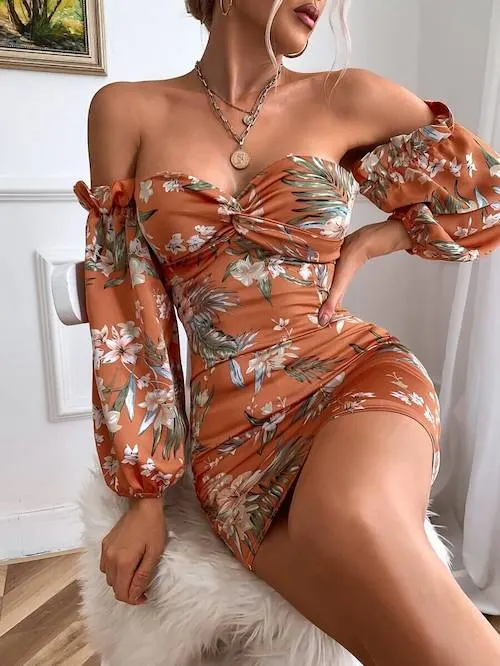 This dress is like a painting. And you are the most charming girl in the painting.
19. Tie Back Puff Sleeve A-line Dress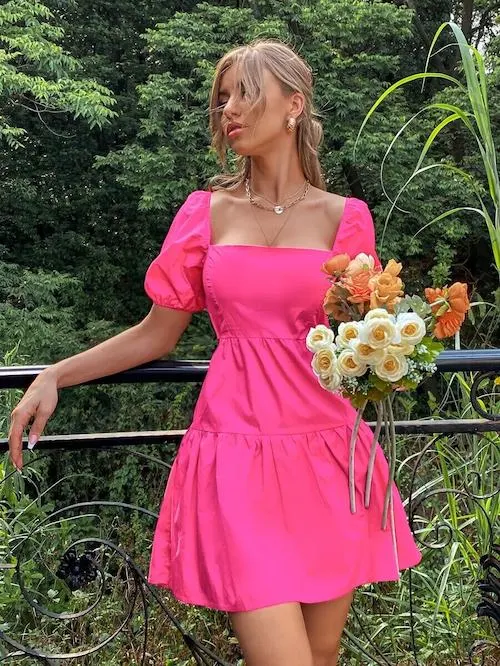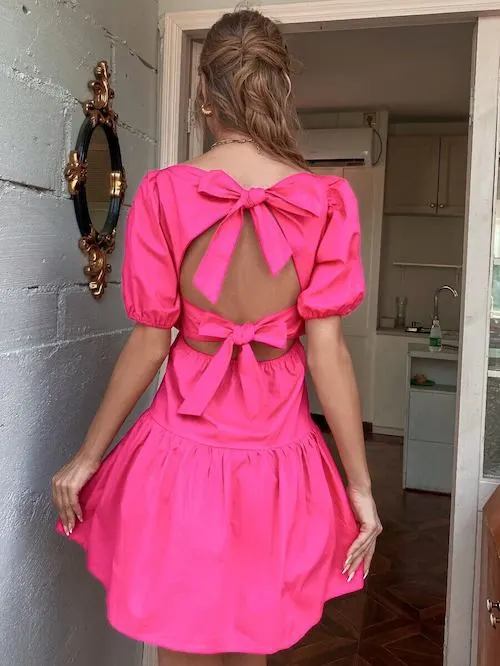 We love this dress so much! We introduced this dress before, and our readers like it very much! The back design of this skirt is charming, so we specially put photos of the back design. Do check it out!
20. Allover Print Square Neck Dress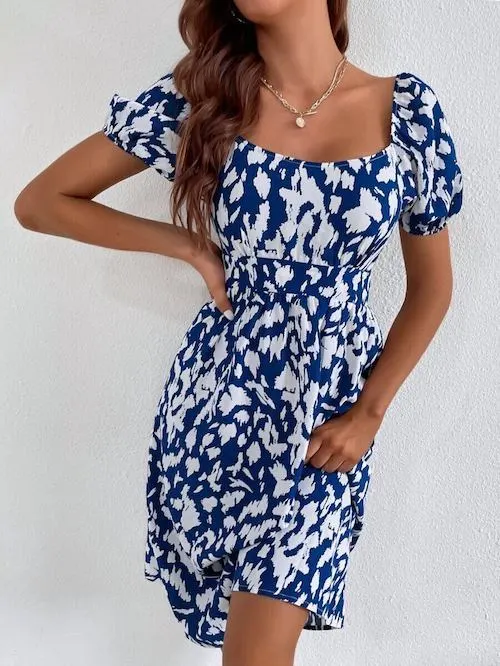 If you like the calm side of autumn, you might as well choose a modest blue dress like this to show your gentle style.
21. Ditsy Floral Print Ruffle Hem Dress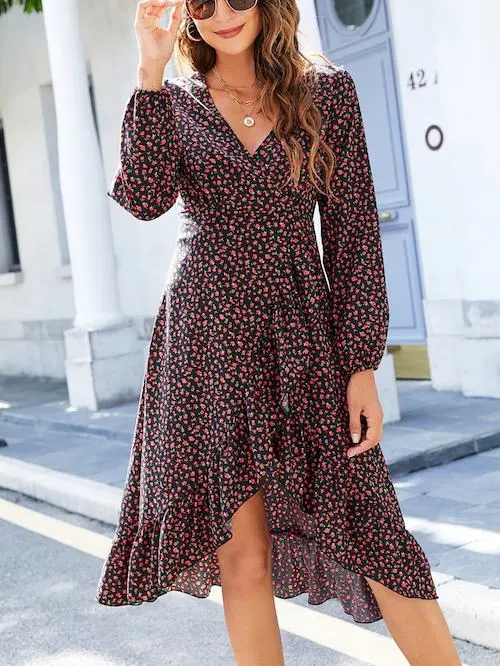 This dress design will make your legs look more slender.
22. Solid Rib-knit Sweater Dress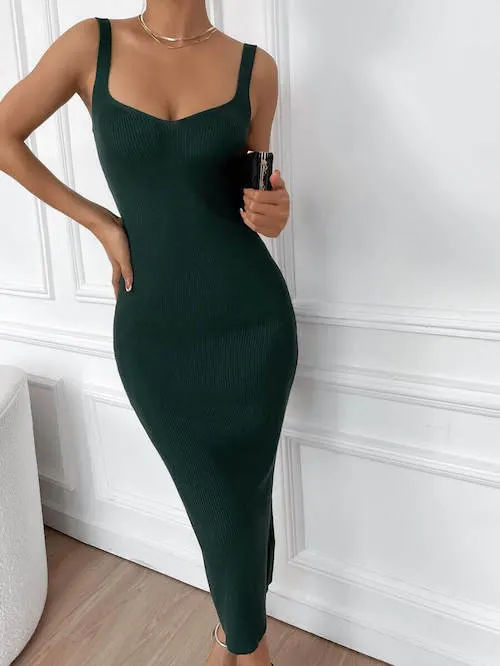 If you like knit dresses, take a look at this one. Dark green is one of the popular colors this fall. This outfit looks very expensive. Both minimalist accessories and statement jewelry can match it well.
23. Ditsy Floral Print Ruffle Trim Flounce Sleeve Dress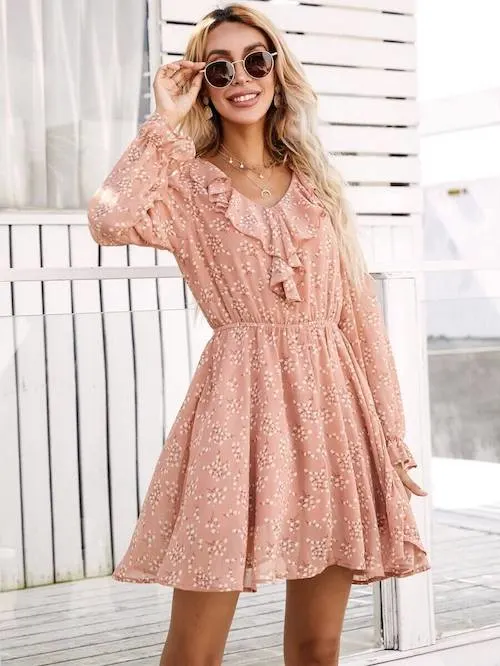 The exquisite design shows your cuteness.
24.
V-neck Drop Shoulder Colorblock Sweater Dress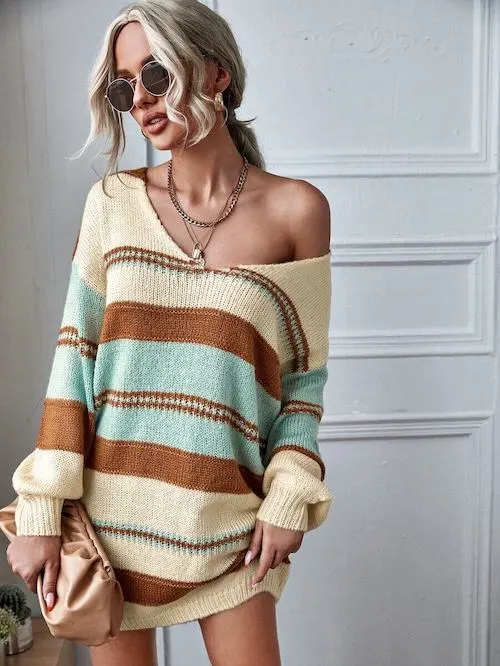 A very casual and cute dress, full of a fall atmosphere.
25. Off Shoulder Floral Print Lantern Sleeve Ruched Front Bodycon Dress
The exquisite design and the moving print are what make us fascinated by this dress.
26. V Neck Button Front Sweater Dress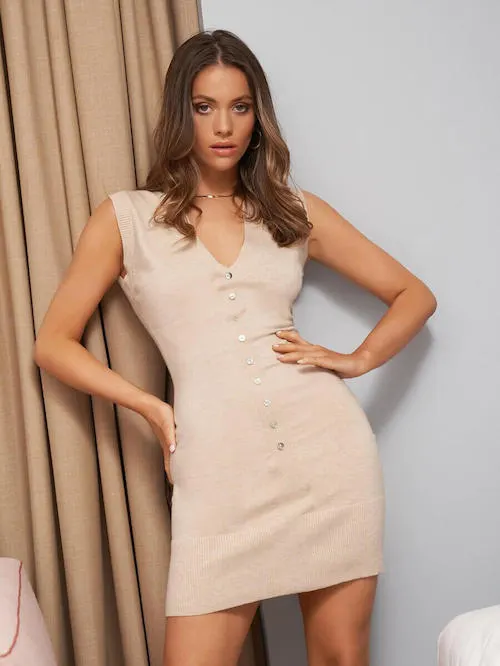 If you want to choose a dress with a simple design for work or more formal occasions, this dress can meet your needs. This dress looks simple but very full of design, and it can make your figure slim and charming.
27.
Floral Print Shirred Bodice Dress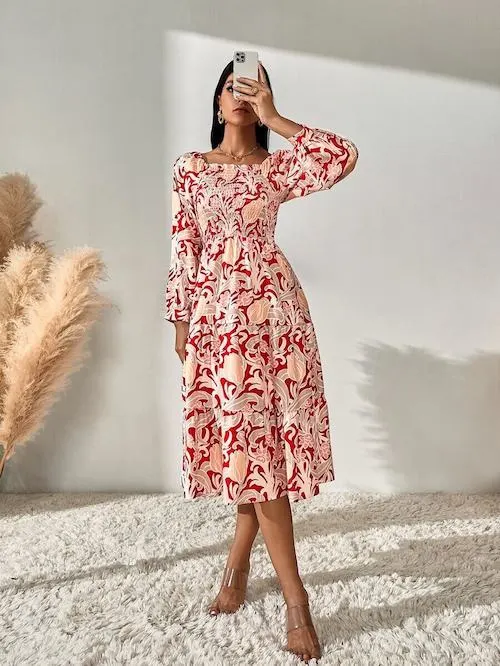 Exotic prints.
28. Solid Shirred Waist A-line Dress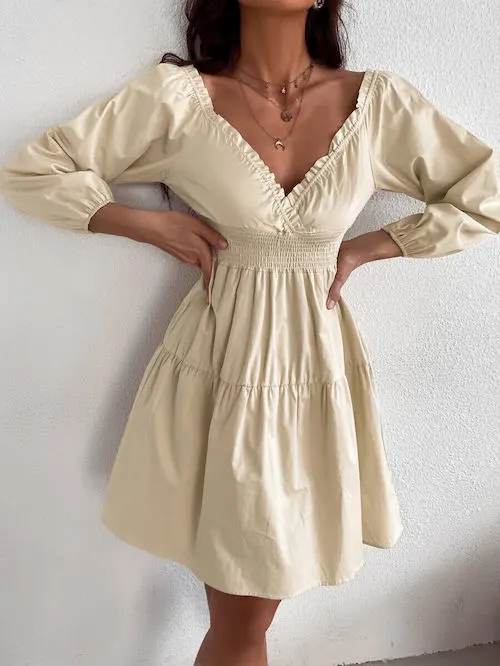 Soft colors and careful design are full of romantic fantasy in the fall.
29. Puffed Sleeves Dress
The outstanding fabric and drape design of this dress can make you wear comfortable and fashionable.
30. Lyocell-blend Dress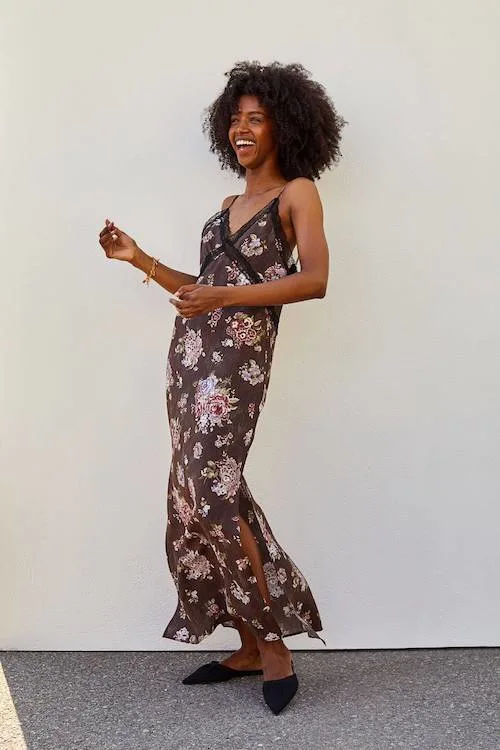 Whether worn alone or in a jacket, the unique and beautiful design can make your outfit very beautiful.
31. V-neck Satin Dress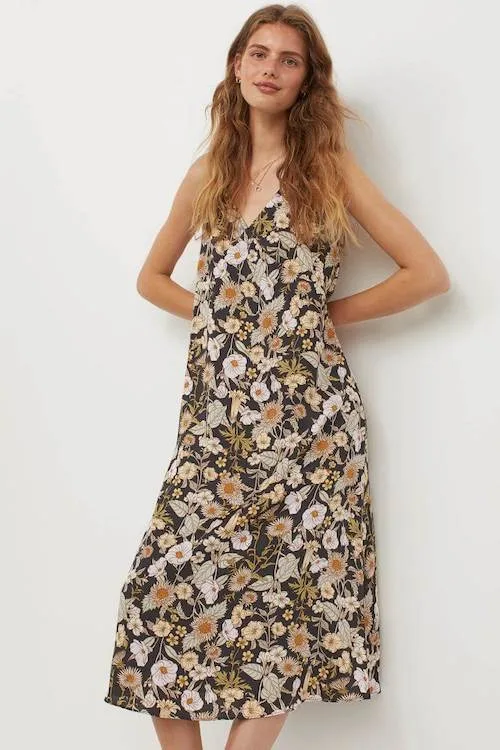 Beautiful flowers are all over the body, setting off your face so beautifully.
32.
Ancora Tie Front Longsleeve Mini Dress in Black Floral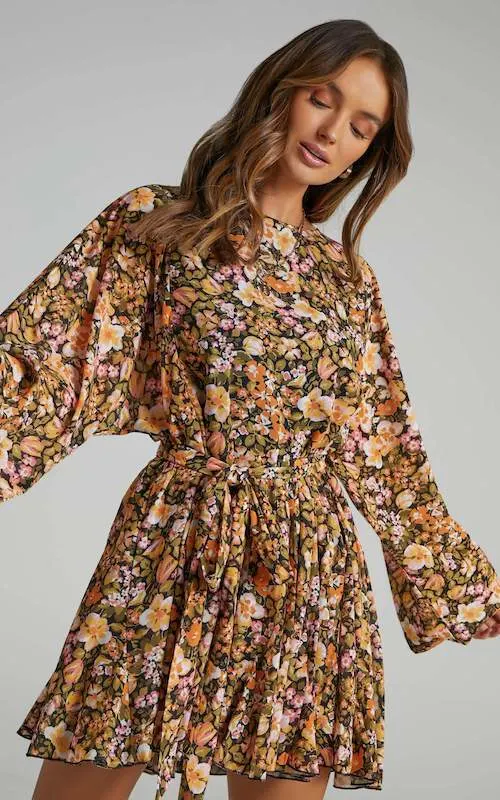 Stunning print.
33. WYNTER WAIST TIE SHIRT DRESS IN OFF WHITE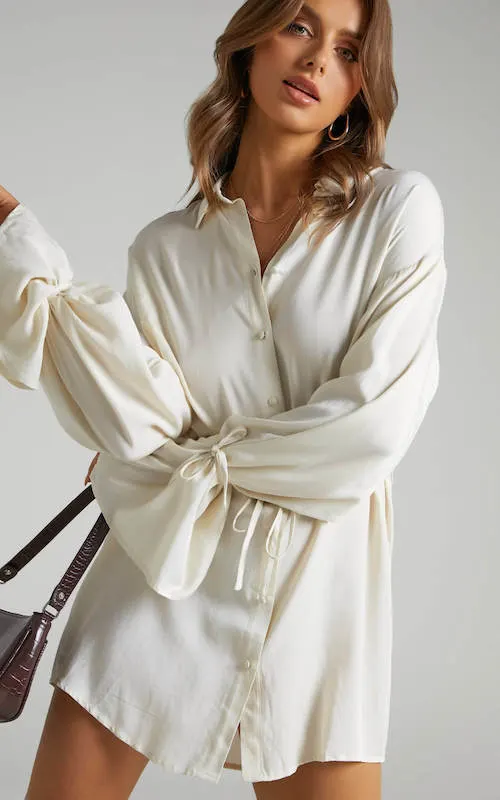 The concise dress skirt and the exquisite feminine tie designs are gentle and chic.
34.

SIAN DRESS IN RUSTIC FLORAL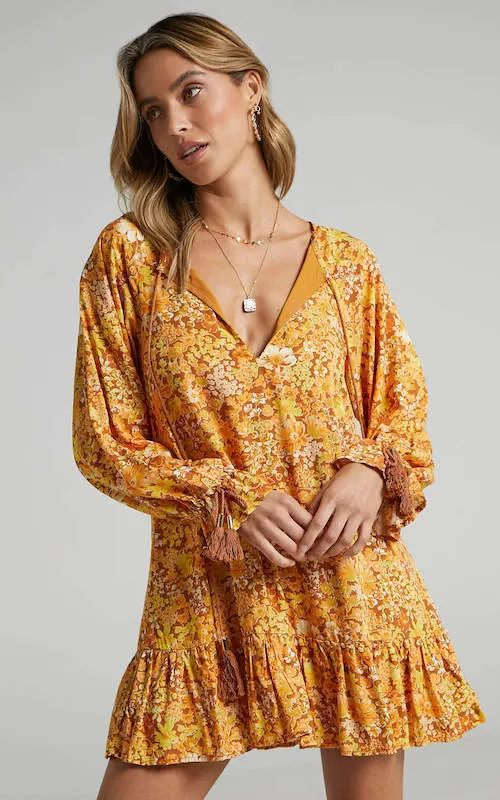 A little boho style design is added to the autumn vibe, which looks playful and charming.
35. Allover Print Surplice Neck Zip Back Ruffle Trim Dress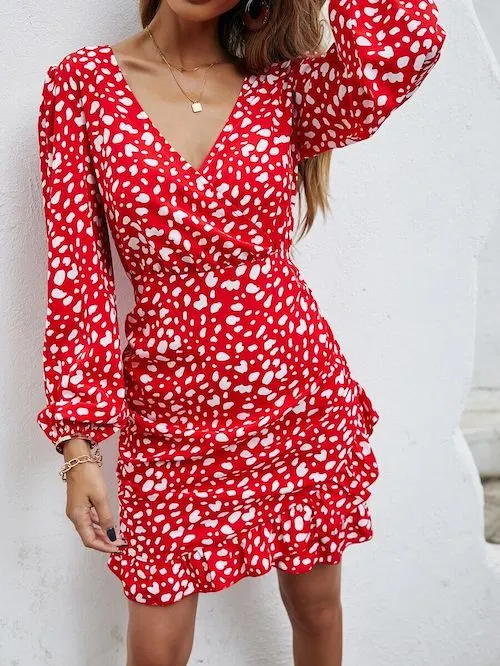 How can there be no red skirt in autumn? Not to mention that in cold weather, it can make you look very cozy and pretty.
36. Dalmatian Print Cut Out Drawstring Front Bishop Sleeve Slit Hem Dress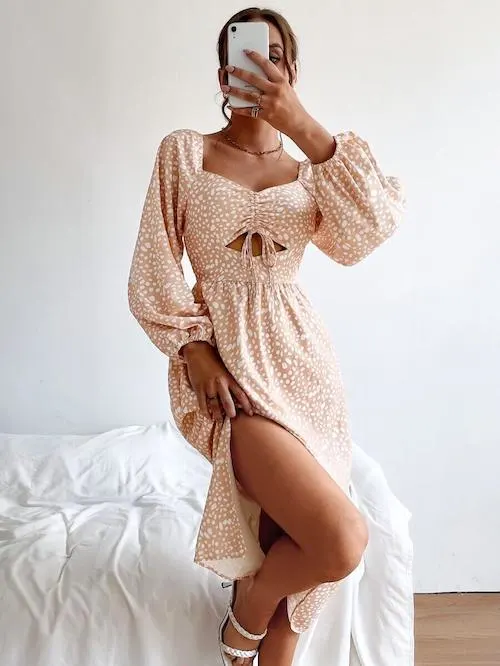 It's like the gentle sunshine of autumn.
37. Floral Print Shirred Square Neck Flounce Sleeve Dress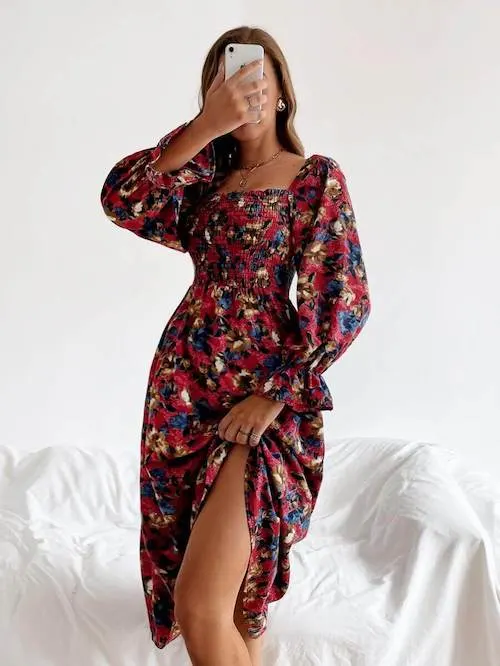 It makes us think of those dazzling colors in autumn.
38. Button Front Gold Dot Belted Cami Dress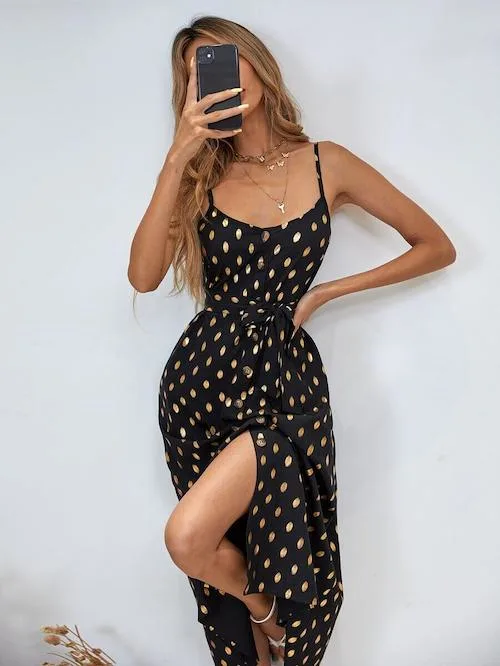 The golden dots are embellished on the black background, which looks elegant and moving. Simple golden jewelry is its best accessory.
39.

Allover Floral Print Ruched Bust Slit Hem Cami Dress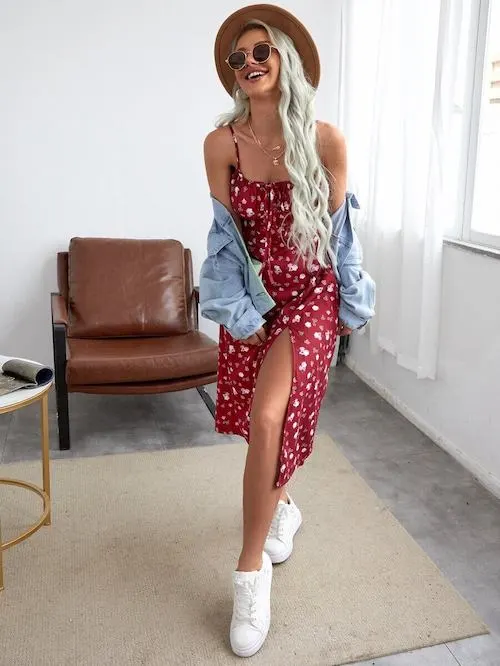 The unique pattern makes this fall red dress look so different. The red skirt and denim jacket, which are popular this year, are the best combos.
40. View and I Chartreuse Tie-Back Faux-Wrap Midi Dress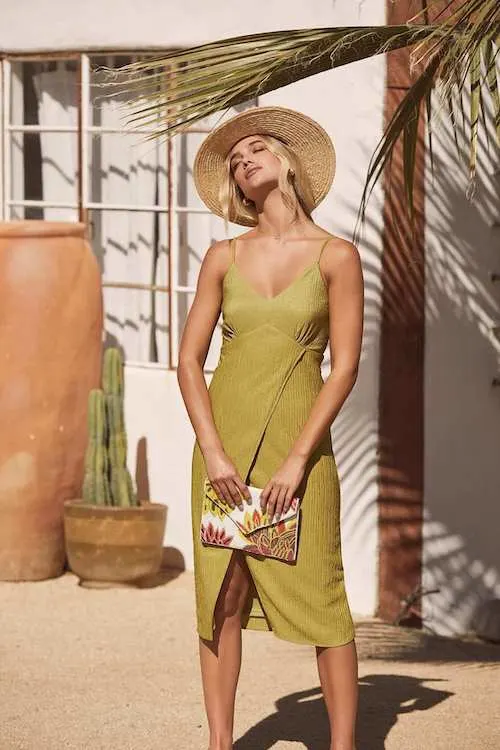 This color is so suitable for fall.
41. Chance For Us Blush Pink Off-the-Shoulder Ruffled Maxi Dress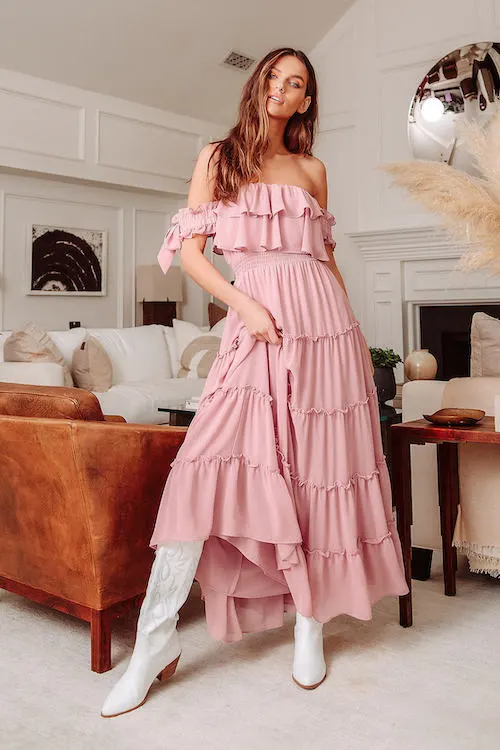 It seemed to bring the breeze of fall.
42.

SWEET MACARON DRESS ORANGE
Bold prints. Say hello to this fall.
43.

KISS ME AT SUNSET MIDI DRESS ORANGE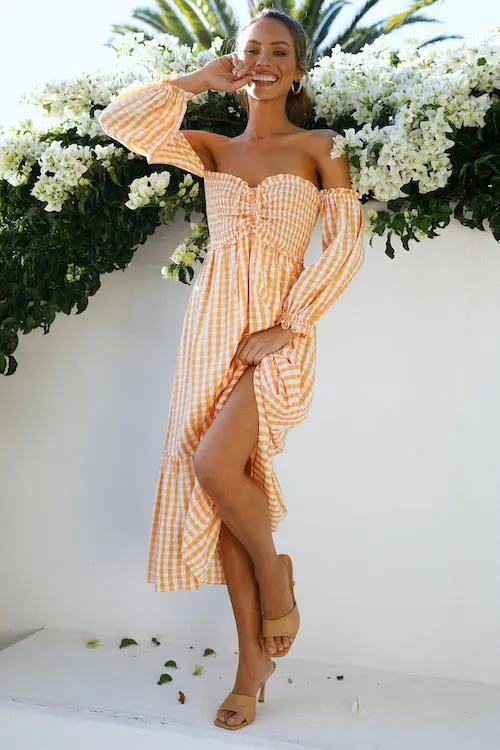 If you like to have a picnic in the fall, don't forget to wear this cute dress.
44.

TOO LOVELY DRESS ORANGE
Orange and lace are all elements that we love deeply.
45. OLD TALE DRESS ROSE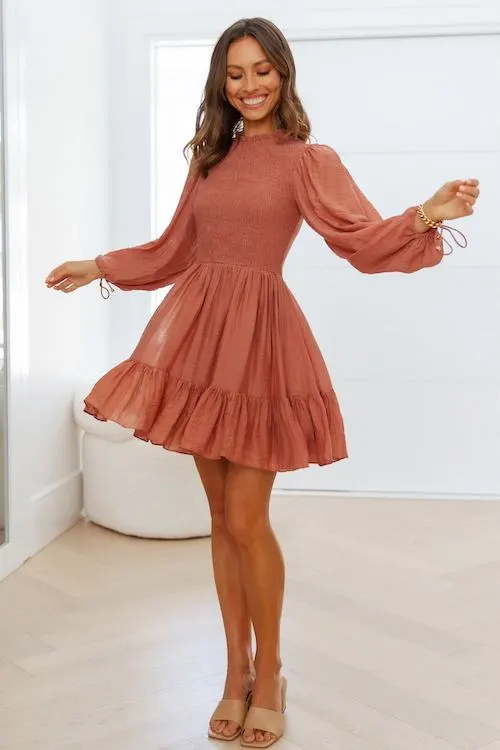 This dress has both fairy-tale cuteness and fall's elegance.
46. ELEVATED ANGELS DRESS NUDE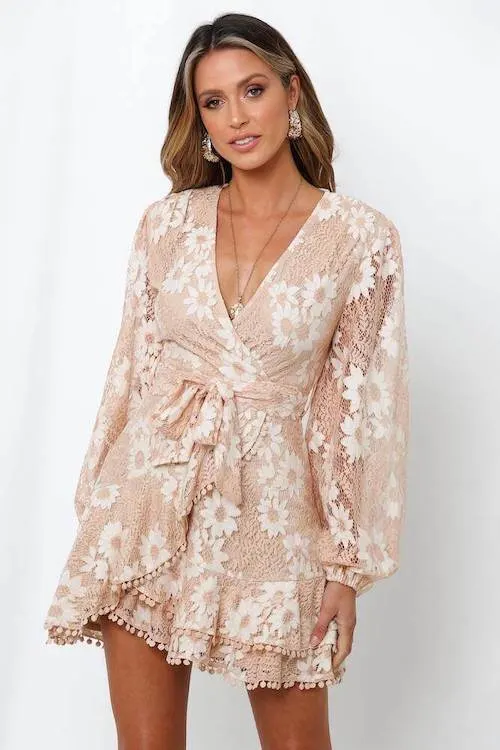 You will be amazed by the design of this dress! It is so exquisite, and it is a work of art!
47. LADYBUG LOVE DRESS BROWN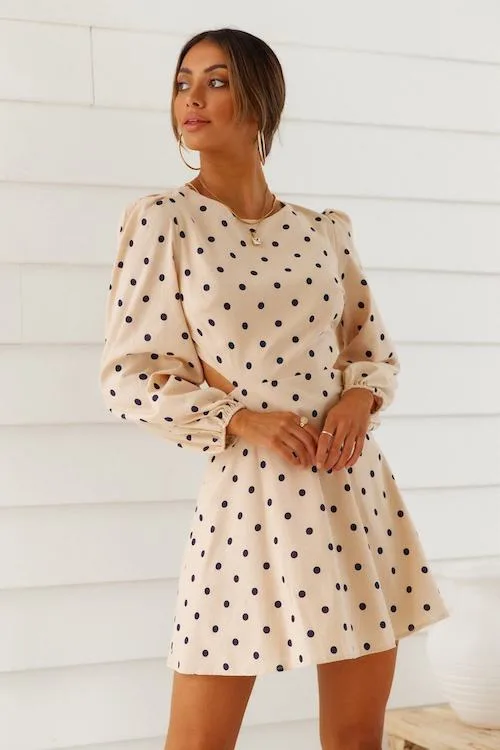 The combination of a little retro-style print and sexy cut-out design reveals your charm inadvertently.
Related Posts:
This post was all about dresses for fall.
About The Author
Tracy is an experienced personal stylist, shopping expert, and fashion & lifestyle blogger. She has been featured on Time Magazine, Bustle, Best Life, Glam, The Zoe Report, Mic, and GOBankingRates, for her insights on fashion, beauty, home decor, and lifestyle. Read More