Looking for the best shoes to wear with gold sequin dress? Check this post for expert style tips and the 30+ best shoe color and style ideas to copy directly.
If you are thinking about what to wear to a birthday party, a holiday party, or a very popular nightclub, then I would recommend a gold sequin dress to you.
A gold sequin dress is gorgeous with trendy metallic accents. When paired with shoes of different colors and styles, this statement piece will show you different charming styles.
If you are looking for the best shoes to wear with your favorite gold dresses next time, you've come to the right place.
In today's article, I am sharing with you the best shoe colors and styles to pair with a gold sequin dress for different occasions, including a formal event, wedding, birthday party, date night, nightclub, or Christmas party in the holiday season, or any other special event.
I also included our favorite gold sequin dress outfits and cute shoes from our favorite online fashion stores for you to shop for directly.
So scroll down to check these different types of shoes and gold sequin dress outfit ideas, and don't hesitate to pin what you like to your Pinterest board, and share them on social media sites.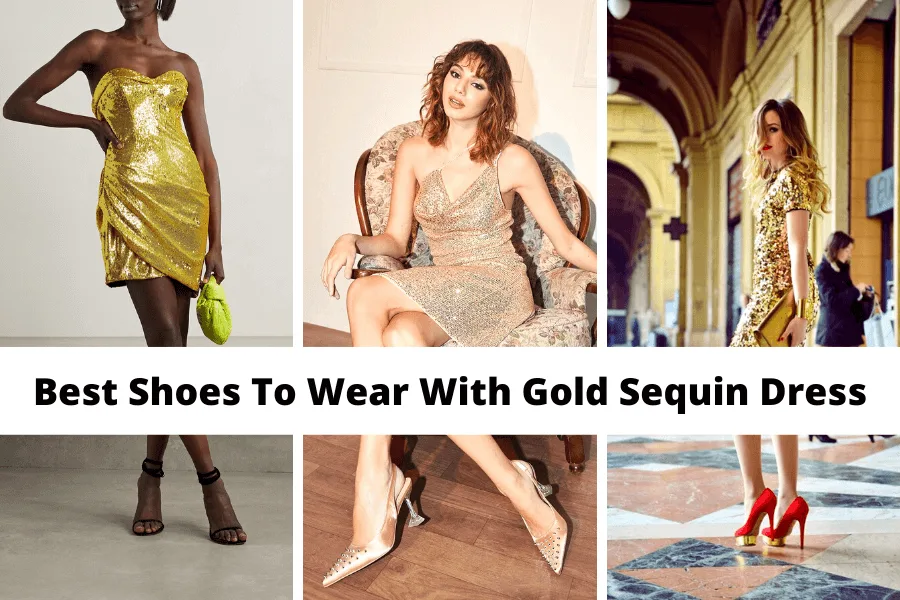 This post may contain affiliate links, which means I'll receive a commission if you purchase through my link, at no extra cost to you. Please read the full disclosure here.
This post is all about shoes to wear with gold sequin dress.
The Best Shoes To Wear With Gold Sequin Dress
What are the best color shoes to wear with gold sequin dress? Below are our favorite picks.
Black Shoes
The versatile style of black color shoes will never be the wrong shoes to be paired with almost any type and color of dress.
So if your gold sequin dress is darker, the simpler the black shoes, the better.
If your gold sequin dress is lighter in color, then you can choose a pair of black pumps or a pair of black heels with cute embellishments to add more visual interest to your chic look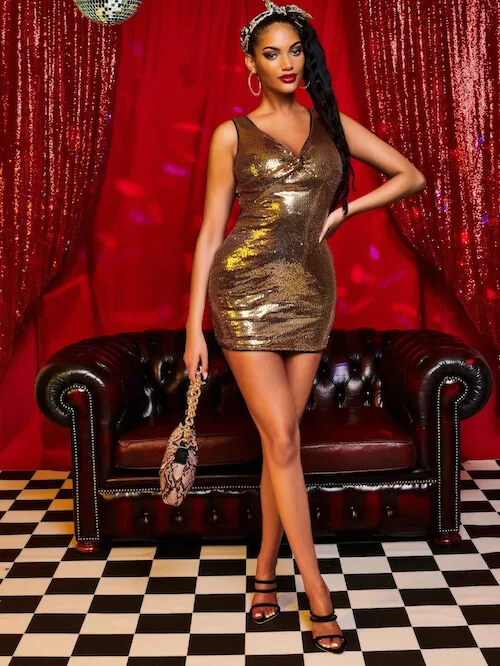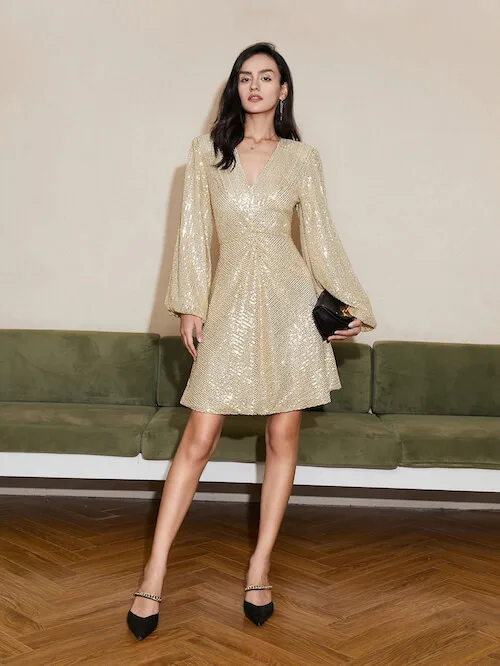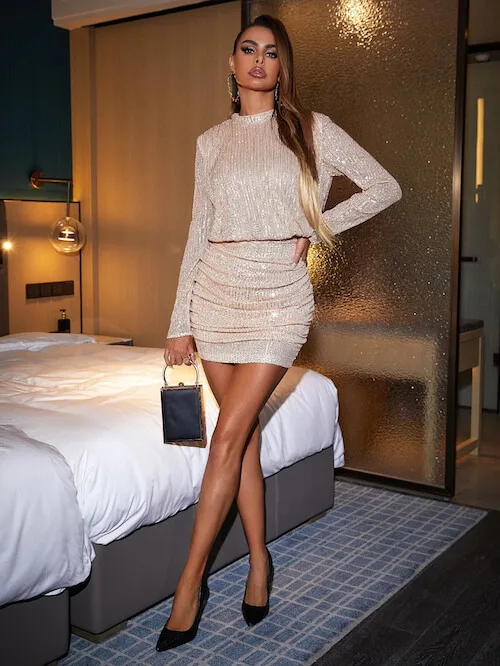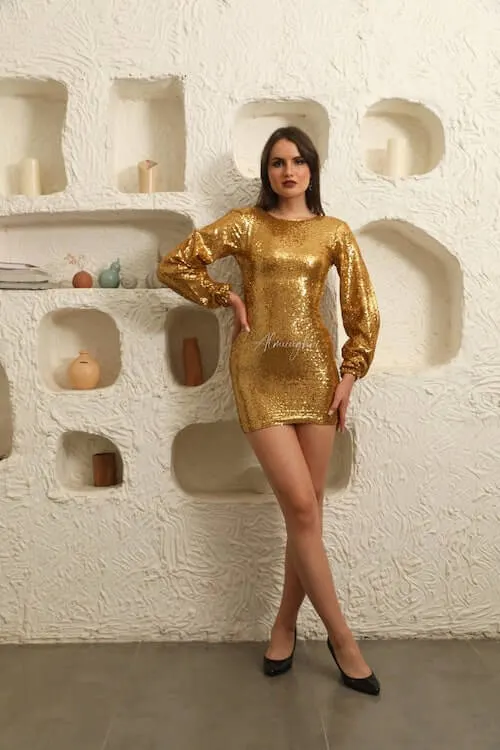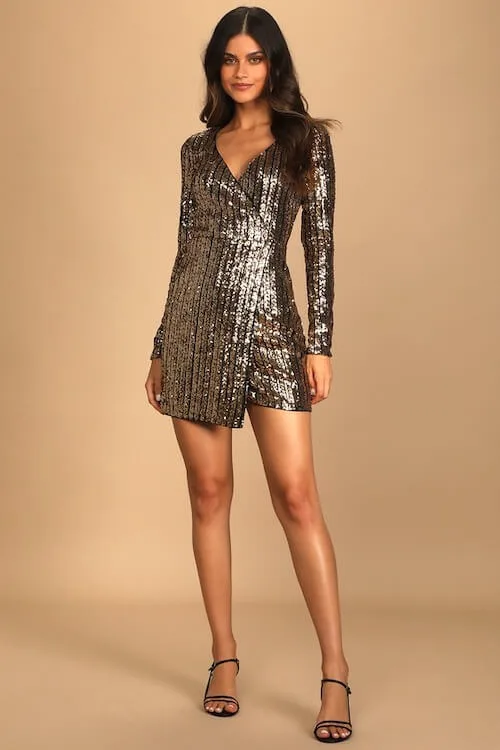 Shop Black Shoes
Brown Shoes / Tan Shoes
The brown and gold combo looks chic and cozy, and it is also a great way to create cute festive outfits.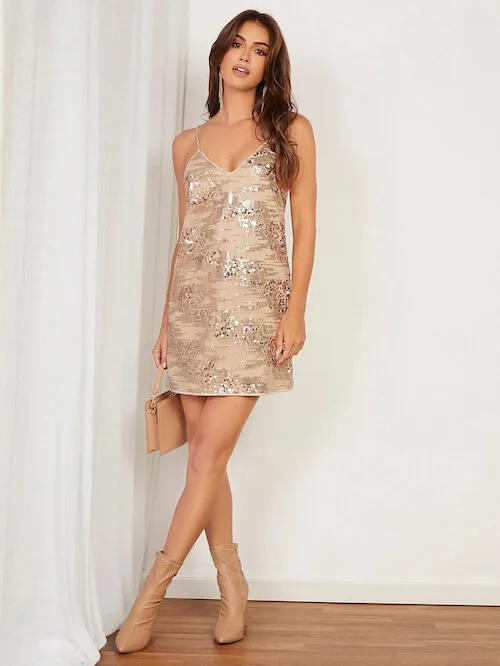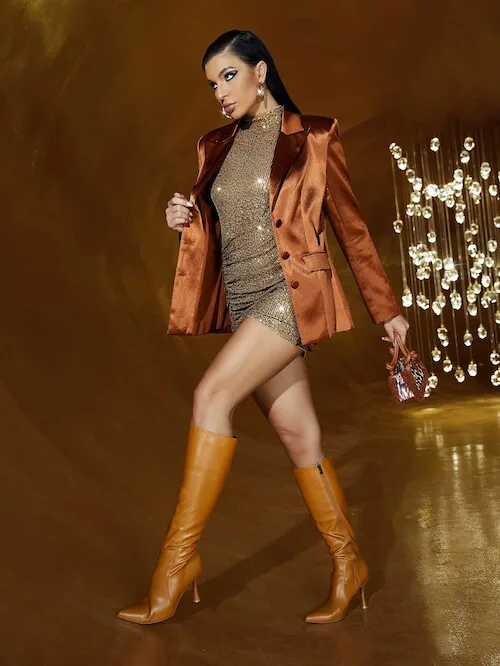 Shop Brown Shoes
Clear Shoes
A pair of clear shoes are a popular choice these days, especially in the summer months, and they are also perfect for gold color dresses.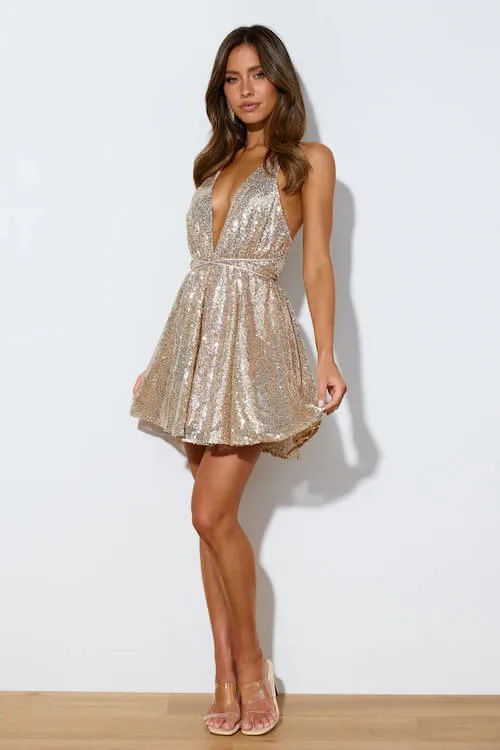 Shop Clear Shoes
Dark Red Shoes
A pair of red shoes is an excellent choice for gold sequin dress footwear. A pair of dark red shoes and a gold sequined dress combine for the most eye-catching holiday outfit.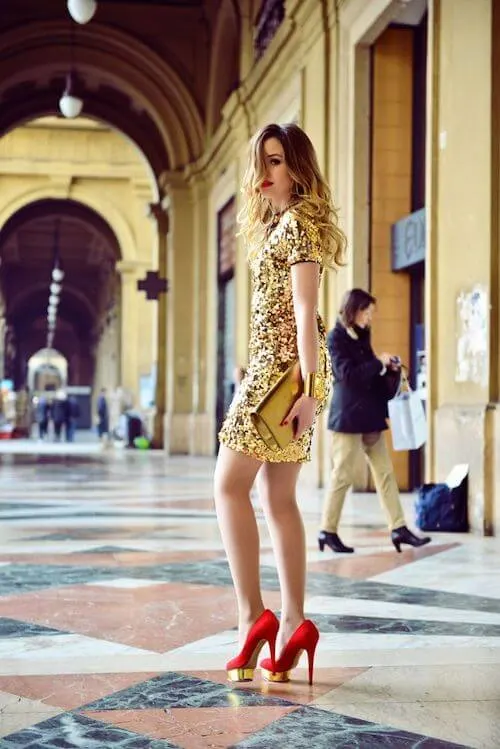 source: Pinterest
Shop Red Shoes
Gold Shoes
An all-gold outfit is very luxurious and trendy. A pair of gold heels are the perfect shoes to make you the center of attention in the crowd.
Complete your look with simple chic gold accessories.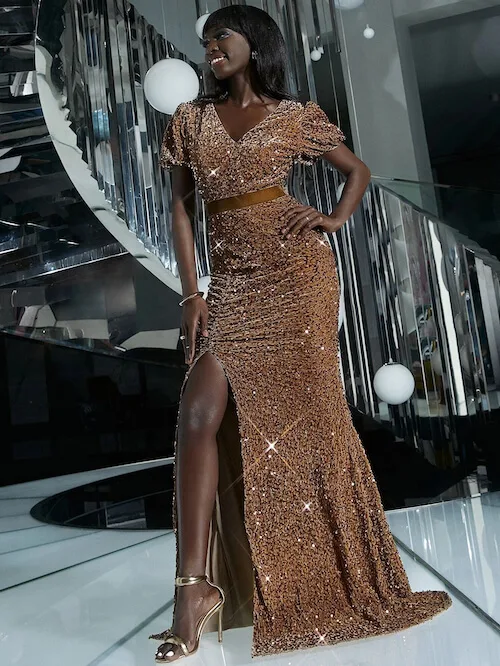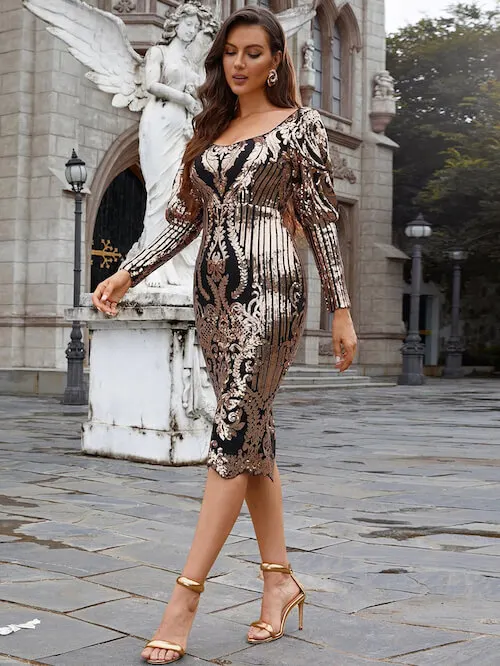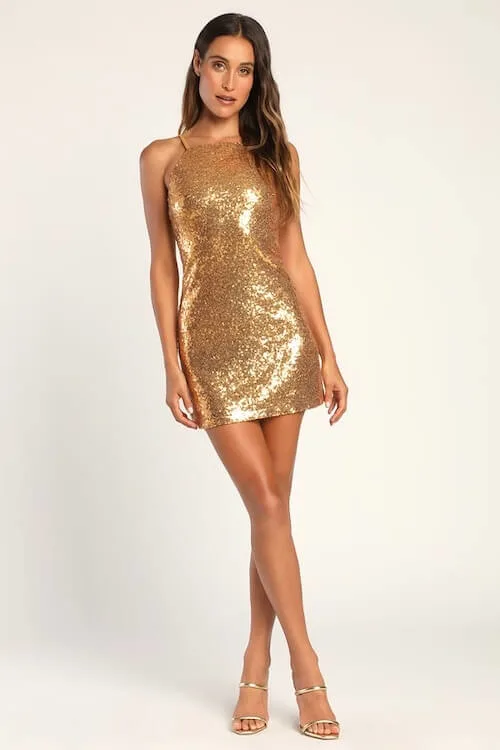 Shop Gold Shoes
Nude Shoes
Low-key and versatile, nude shoes like nude sandals, nude heels, or nude pumps will make your golden dress look statement-making and elegant.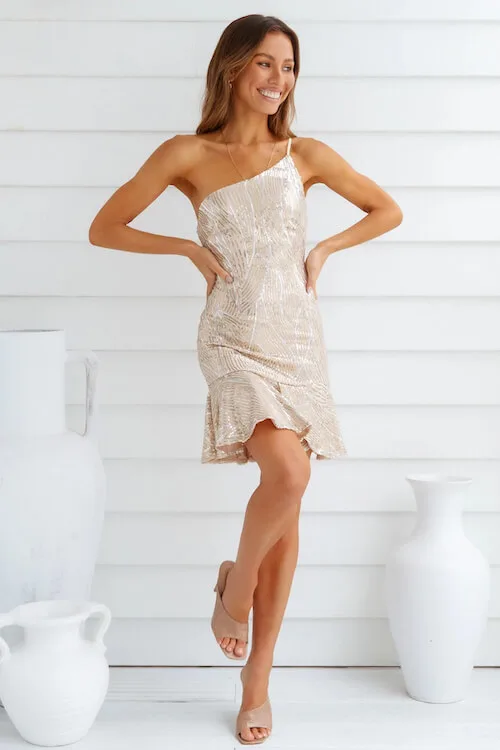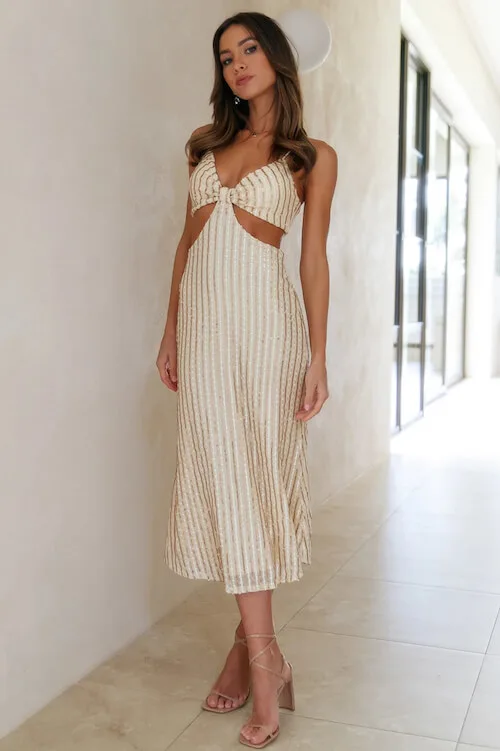 Shop Nude Shoes
Rose Gold Shoes
A pair of rose gold shoes adds an even more sweet feminine touch to your dress with gold sequins.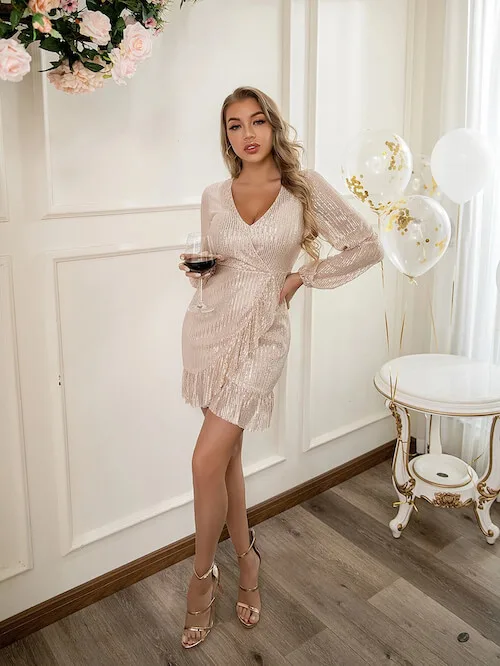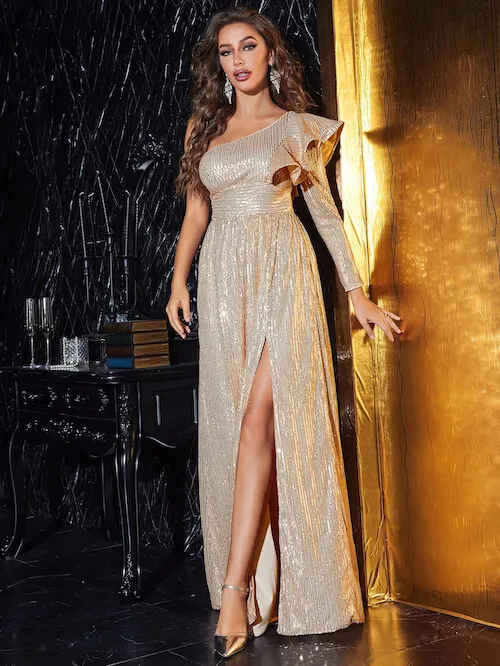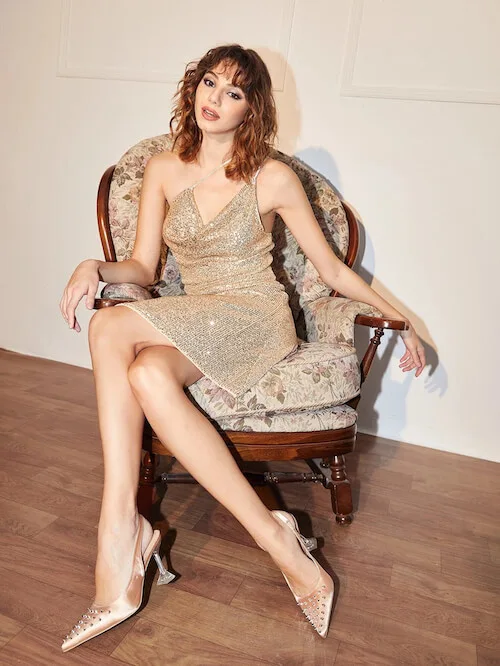 Shop Rose Gold Shoes
Silver Shoes
Silver shoes are elegant and have a glamorous sheen, perfect for paler golds, champagne, and bronze sequin dresses.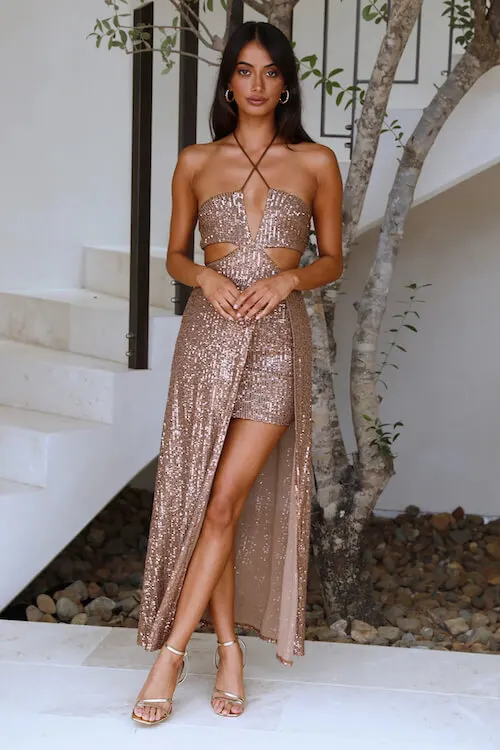 Shop Silver Shoes
White Shoes
White shoes are gentle with a perfect personal style. Different styles of white shoes can instantly give your gold sequin dress a different style.
For example, a pair of white ankle boots can make your look cool without being tacky. A pair of white heels or strappy sandals will make your outfit look classy and sexy. A pair of white chunky high heels give you a stylish retro feel.
Complete your whole look with shiny jewelry and a gold purse, and add a white blazer on the cold days.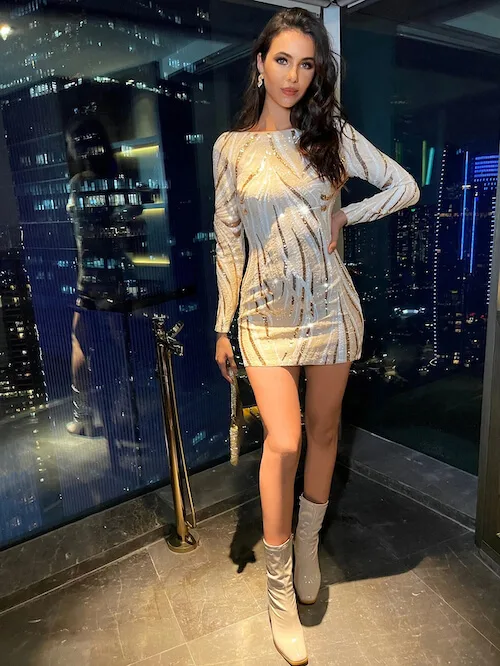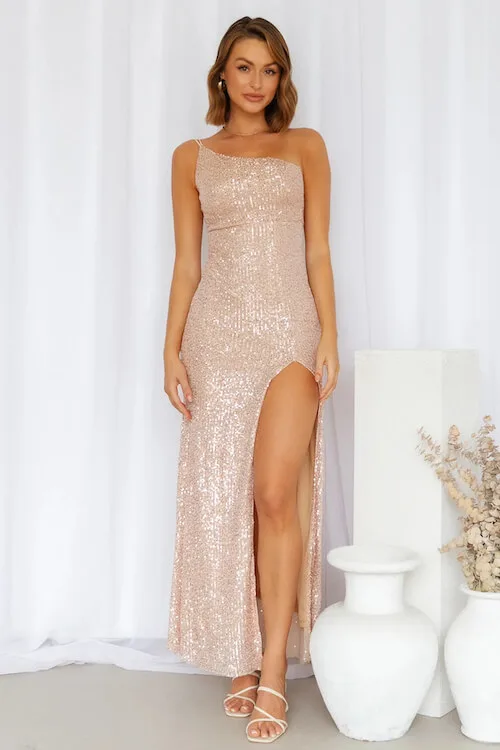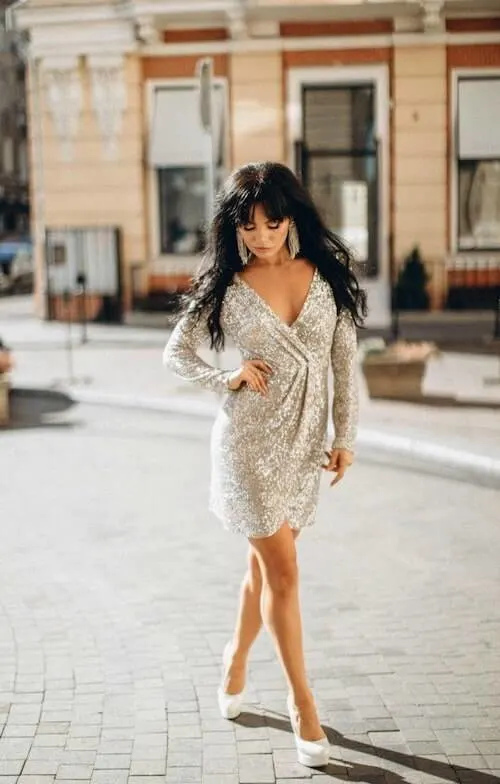 Shop White Shoes
Yellow Shoes
A pair of bright yellow shoes are a great option to give your golden dress a lovely sunny vibe.
Shop Yellow Shoes
Shiny Shoes
A pair of shiny shoes and a dazzling gold sequin dress are a perfect match.
You should definitely try the gorgeous shoes decorated with rhinestones or sequins to add an extra sparkle to your entire look.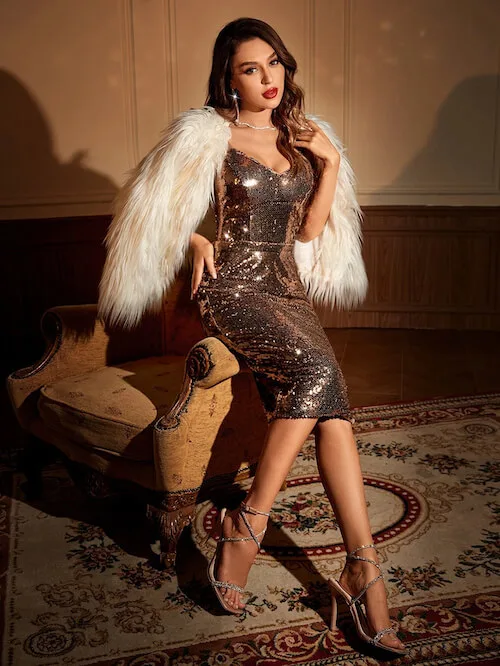 Shop Shiny Shoes
Matte Shoes
If you prefer the gentle sparkle of a pale gold dress, then a pair of matte shoes are the right pair of shoes.
This combination is gentle and charming, as if the gentle morning light, making people feel relaxed and happy.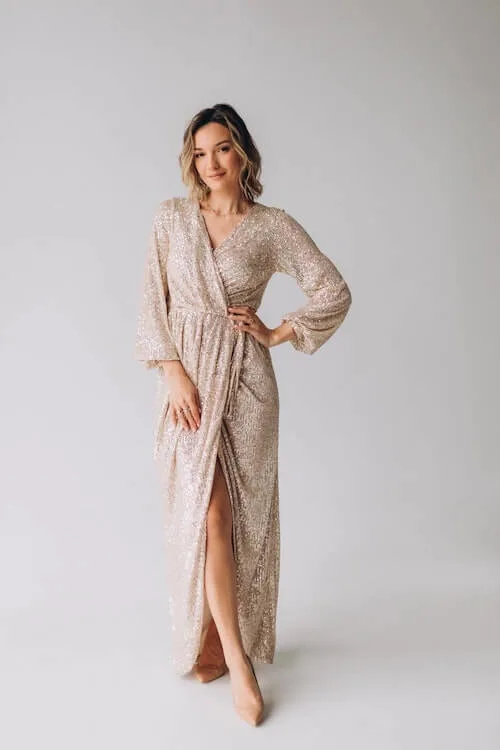 Shop Matte Shoes
Ahead, check our favorite shoe styles to pair with a gold sequin dress.
Ankle Boots
Complementing a gorgeous gold sequin dress with a pair of ankle boots is a very popular outfit idea.
Whether paired with a gold sequined formal gown or a gold short dress, a pair of black or white ankle boots are a good option that is cool and chic enough to bring your style to the next level.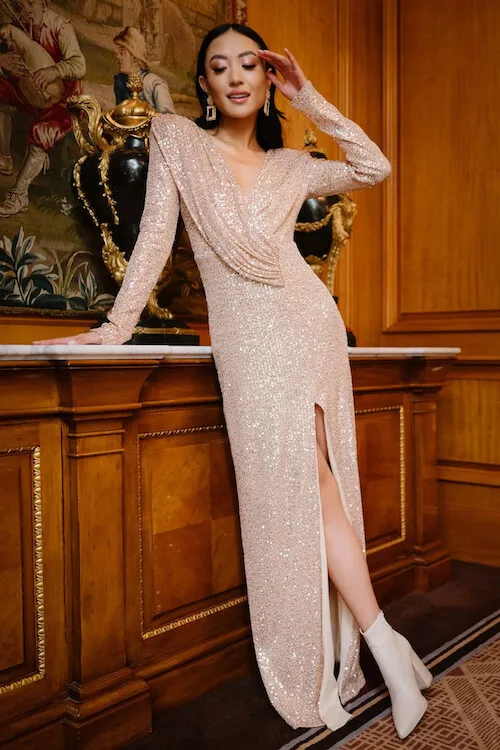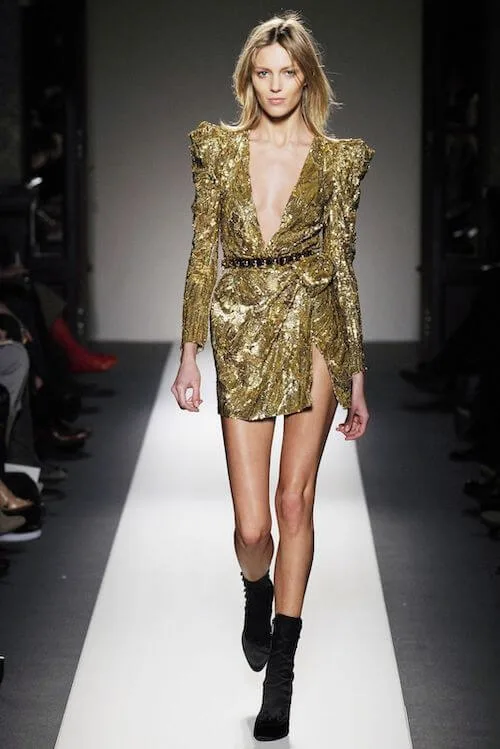 Source: Pinterest
Ballet Flats
Want to look attractive while remaining relaxed and comfortable? Start by choosing a stunning gold sequin dress, then keep the rest of your outfit easy and casual.
Ballet flats are appropriate shoes for a more casual look. Wear your most comfortable ballet flats, and you can go to any party with a comfortable and stylish look.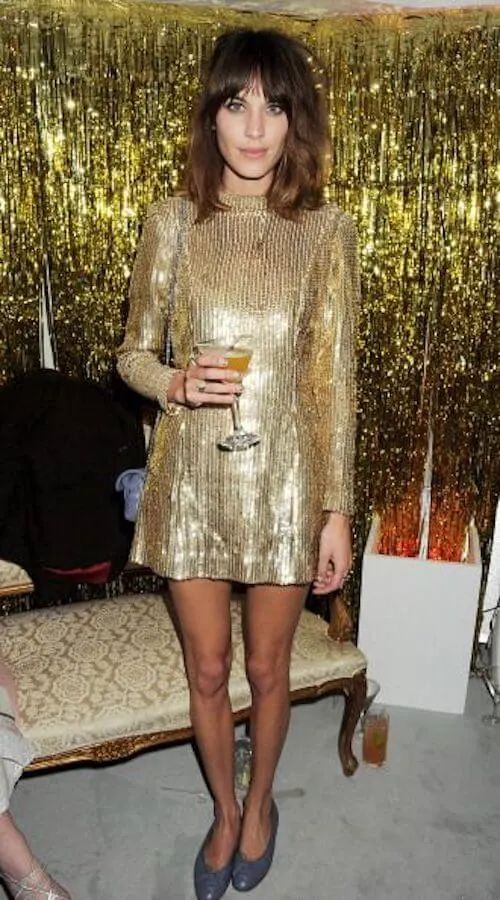 Source: Pinterest
Combat Boots
Sleek combat boots and a glamorous gold sequin dress form a perfect conflict that will earn you tons of compliments.
On cold days, add a black leather jacket to complete this awesome look.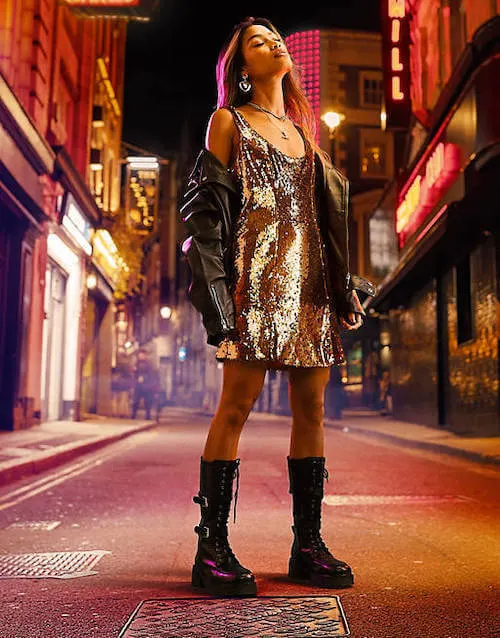 Cowboy Boots
Cowgirl style is the most popular fashion element this year. Why not try a pair of trendy cowboy boots to complete your party outfit?
You can choose a neutral color such as black, white, beige, or brown cowboy boots to complement your favorite gold sequin dress with a chic neutral hue. You will look fantastic.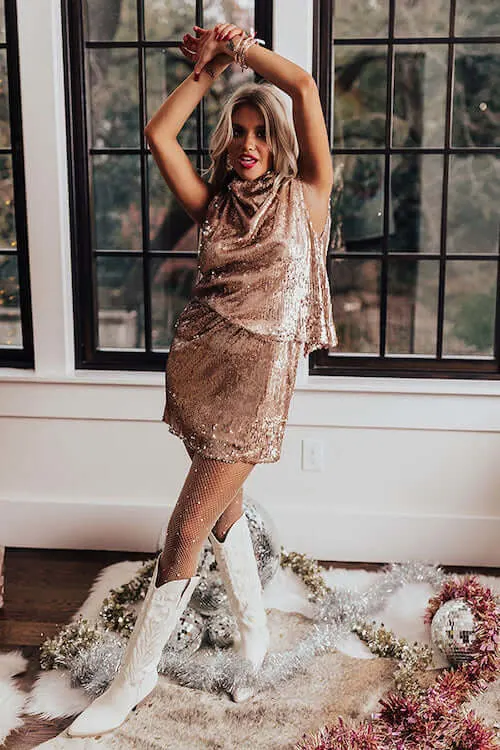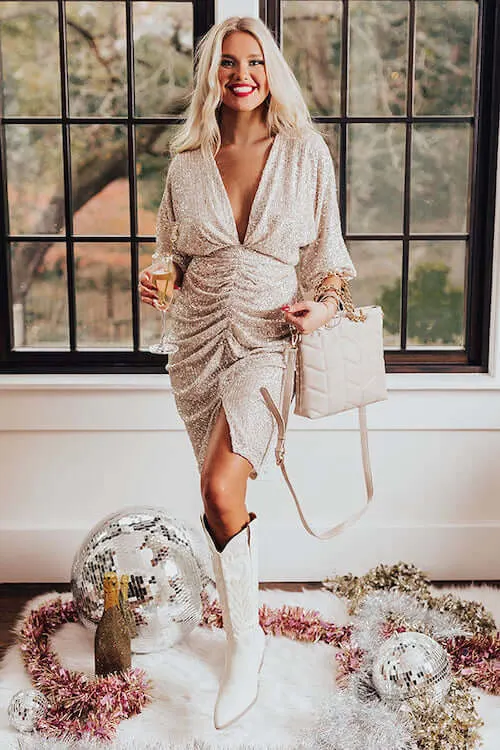 High Heels
For formal occasions or special occasions, a pair of high heels can make you look great.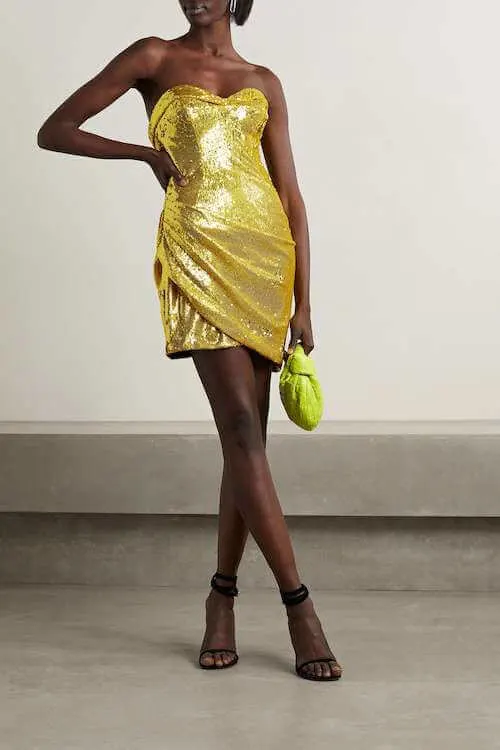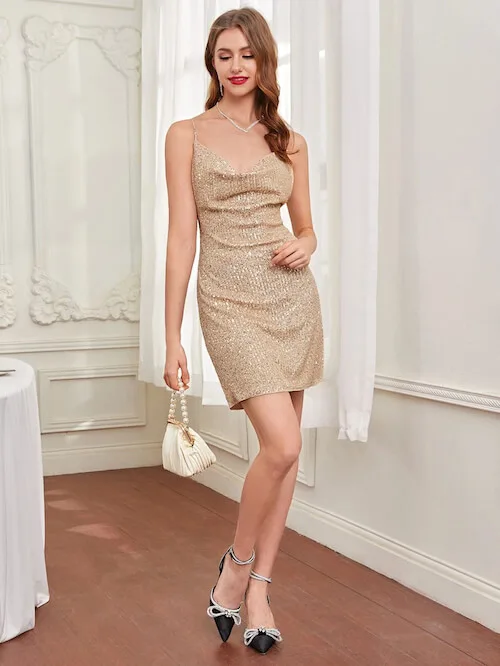 Stiletto Heels
Especially, when you need to go to a festive party or a nightclub, stiletto heels will add a lot to the sexy look of your gold sequin dress.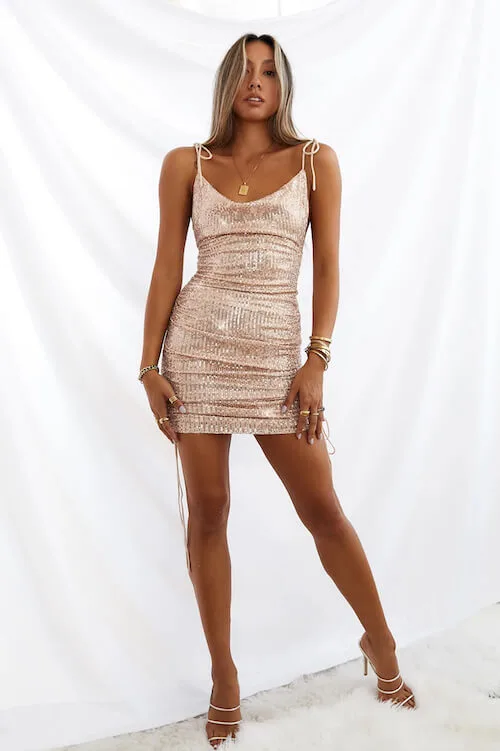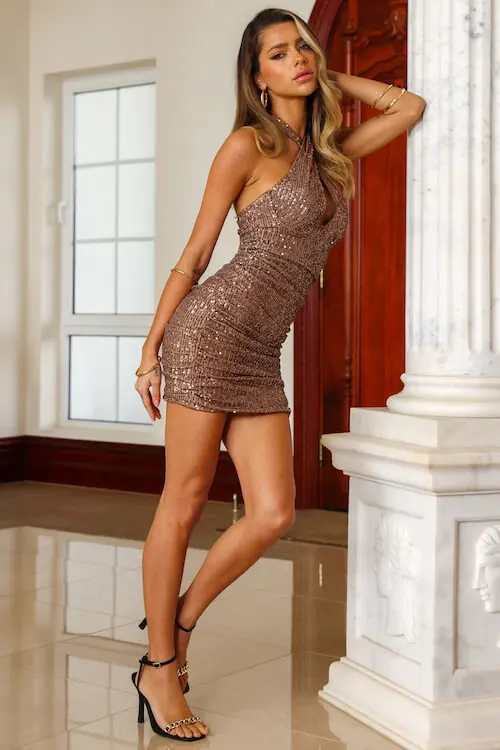 Tall Boots
I also especially recommend a pair of knee high boots or thigh high boots to complement your gold sequin dress in the cold fall and winter.
If the weather is particularly cold, you can also opt for a long sleeve gold sequined dress. It's dazzling and makes you feel like a princess.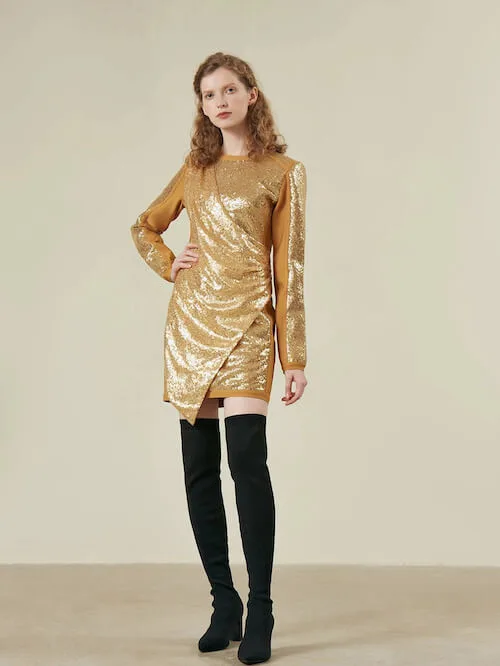 Sneakers
Want a casual look with a festive vibe? Try an oversized top and sneakers to pair with your gold sequin dress.
You can choose a pair of white sneakers or a dark pair, they are easy and comfortable and very stylish.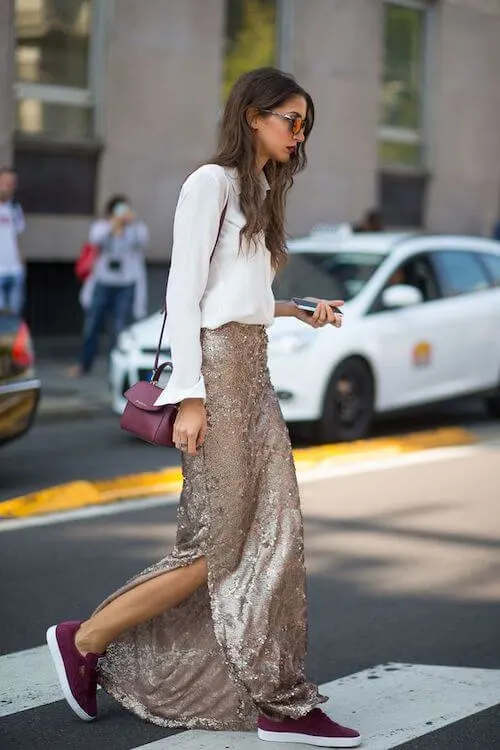 Source: Pinterest
This post was all about shoes to wear with gold sequin dress.
About The Author
Tracy is an experienced personal stylist, shopping expert, and fashion & lifestyle blogger. She has been featured on Time Magazine, Bustle, Best Life, Glam, The Zoe Report, Mic, and GOBankingRates, for her insights on fashion, beauty, home decor, and lifestyle. Read More
Related Posts: