What color shoes to wear with a royal blue dress? Check this post for the best 50+ shoe color and style ideas for different types of royal blue dresses, and the 50+ best royal blue dress outfits for different occasions to copy directly.
Of all the colorful dresses, royal blue dresses and cobalt blue dresses are very fashionable types of dresses. They can be noble and quiet, or they can be edgy and sexy.
When they are paired with shoes of different colors and styles, their own unique personality can be inspired and instantly enhance your fashion.
If you are looking for the best shoe options to wear with your favorite royal blue dress, you've come to the right place.
In today's article, I am sharing with you the best style tips on how to choose the perfect pair of shoes for a royal blue dress for different occasions, and I also included the best royal blue dress outfits and shoe picks from our favorite online fashion stores for you to copy and shop for directly.
So scroll down to check the below plenty of shoe ideas and the cutest royal blue dress outfit ideas, and don't hesitate to pin your favorite style ideas to your Pinterest board and share them on social media sites.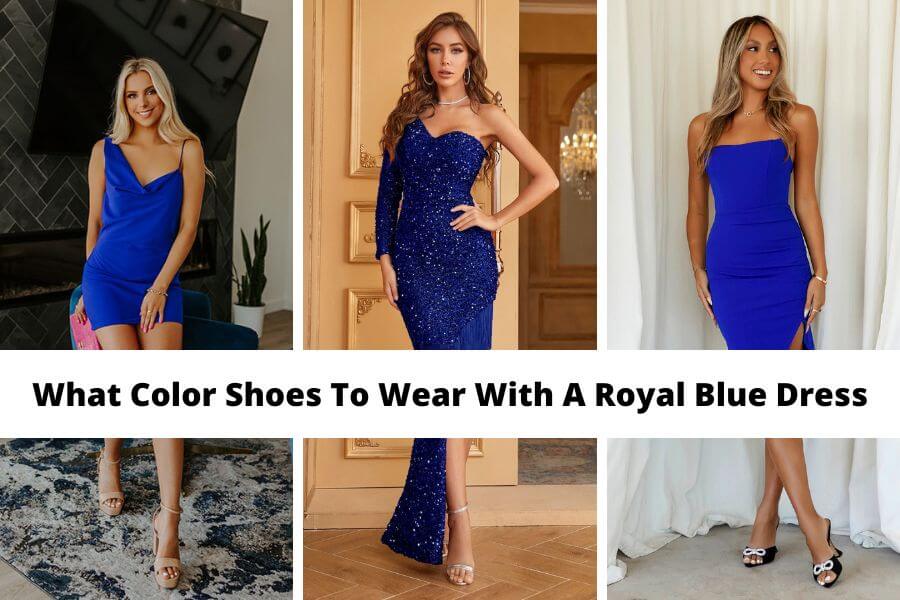 This post may contain affiliate links, which means I'll receive a commission if you purchase through my link, at no extra cost to you. Please read the full disclosure here.
This post is all about what color shoes to wear with a royal blue dress.
What Color Shoes To Wear With A Royal Blue Dress
Ahead, check our favorite color options for the royal blue dress footwear.
Black Shoes
The combination of versatile black shoes and a royal blue color dress will never go out of style.
If you want to look dignified and noble, then you can choose a pair of simple pointed high heels in this classic color.
If you need the right pair of shoes to pair with a sexy, bold royal blue dress, then a pair of classic black heels will do the trick too.
If the design of your royal blue dress is relatively simple, then you can choose black shoes with some decoration to add some visual interest to your perfect fit.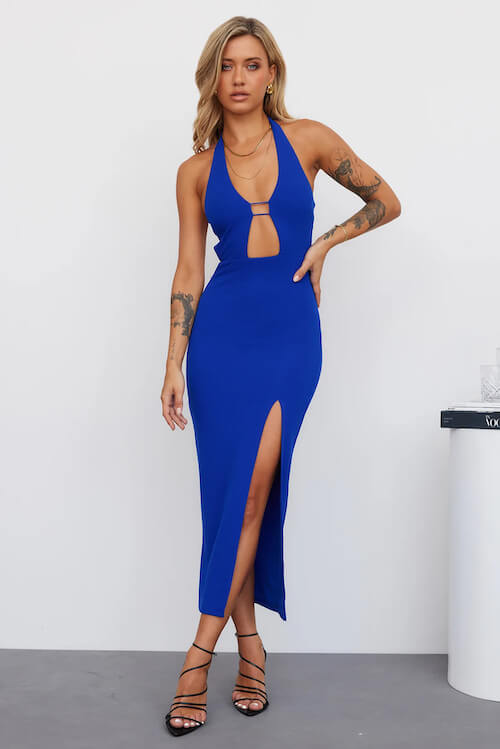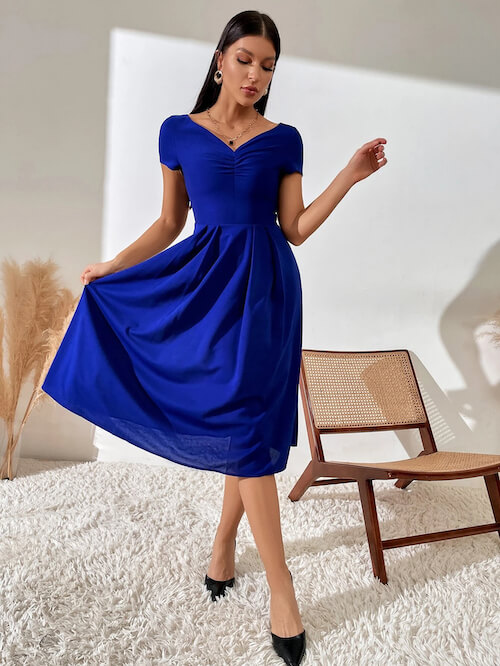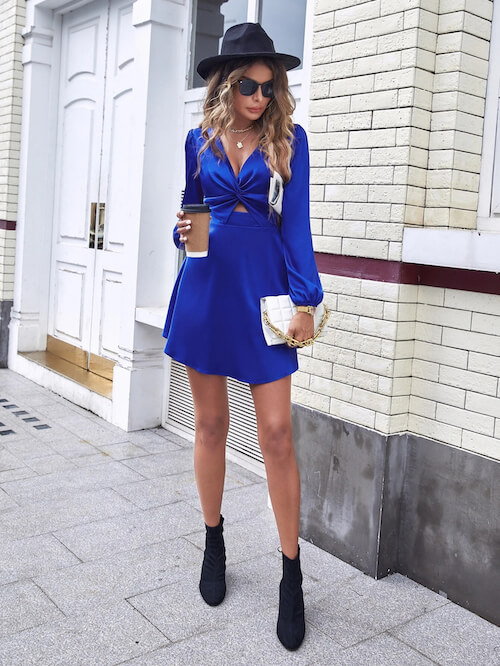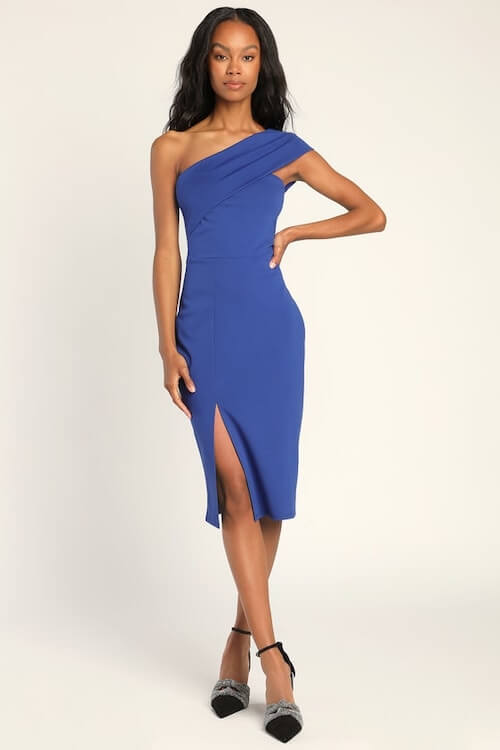 Shop Black Shoes

White Shoes
White is a great color to match with a blue shade. A pair of elegant and fresh white shoes is a good partner to a beautiful royal blue dress.
Feminine white strappy sandals are suitable for all occasions, formal or casual. And a pair of white sneakers make your casual wear look very fashionable.
White boots, which are particularly popular this year, are also perfect for pairing with a stylish royal blue dress to make you the center of attention in the crowd.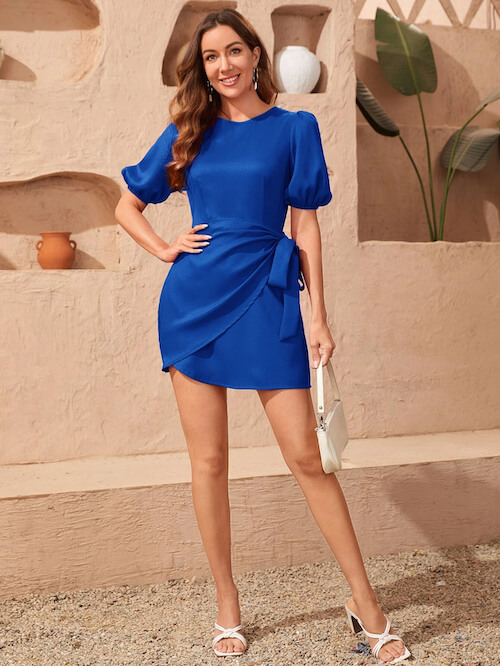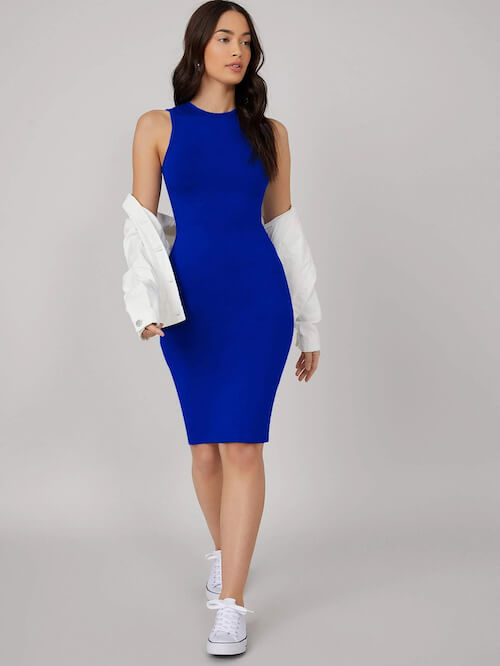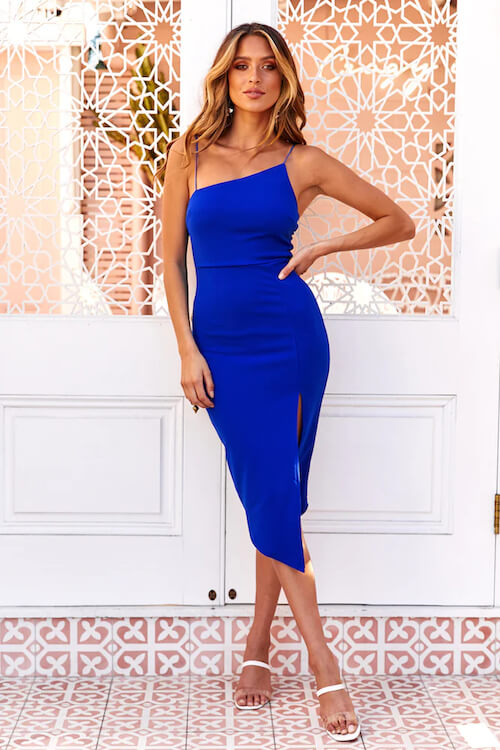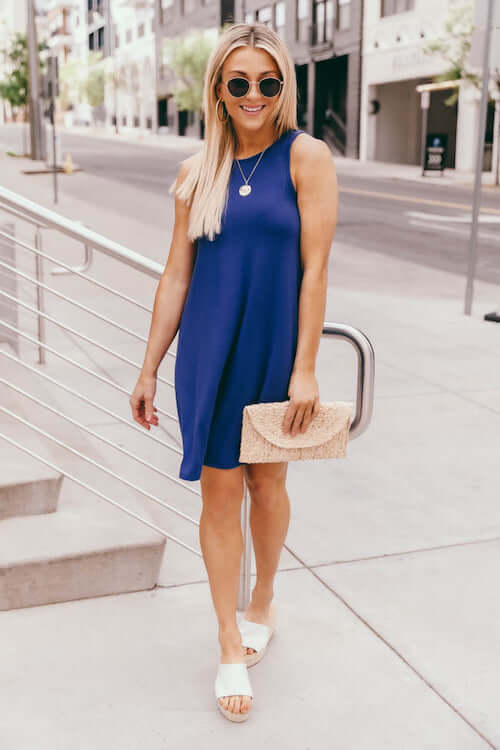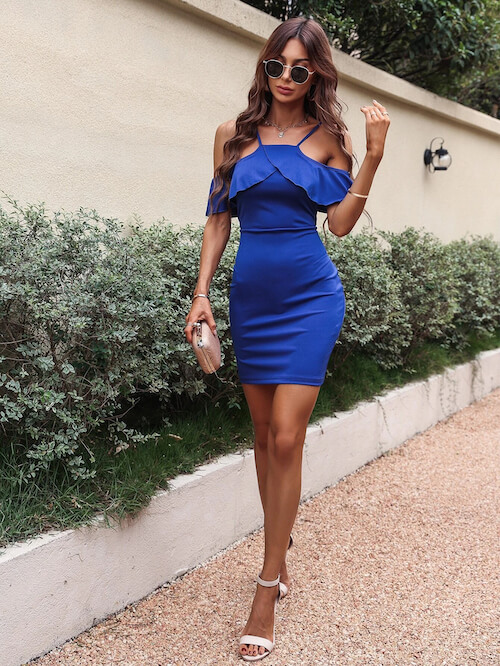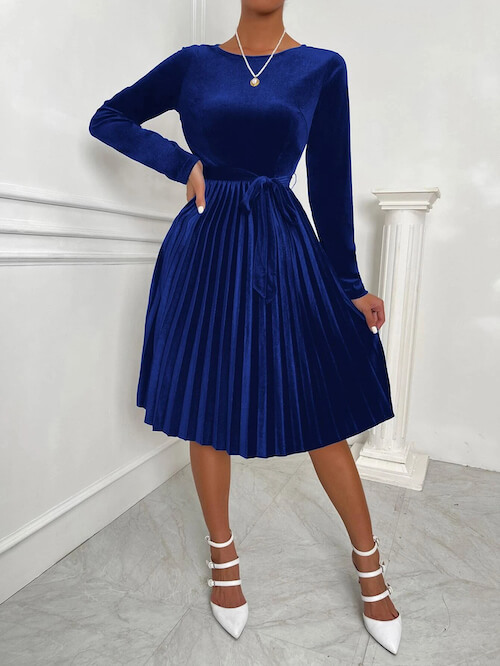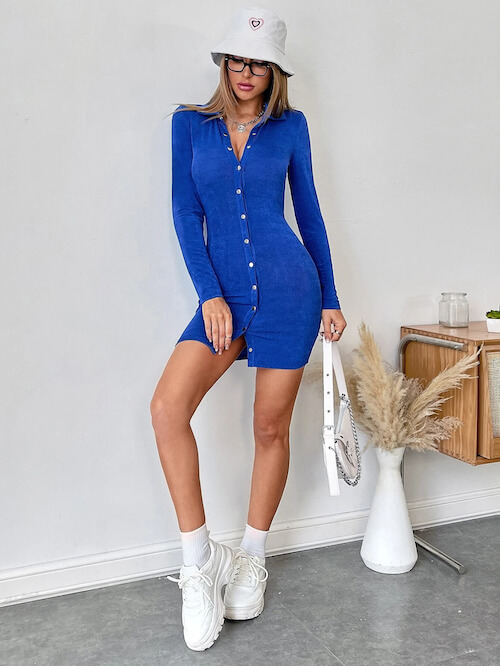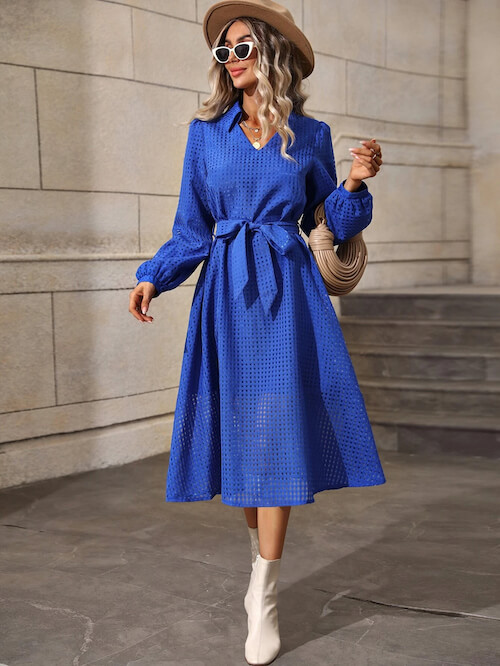 Shop White Shoes

Blue Shoes
Wearing the same color is always very fashionable.
You can choose shoes with the same blue shade as your royal blue dress, or darker or lighter color of blue. These all-blue outfit ideas are all very charming.
Especially, when you need a pair of shoes to go with your royal blue floral print dress, the easiest and best way is to choose a pair of blue shoes that will make you look stylish without being tacky.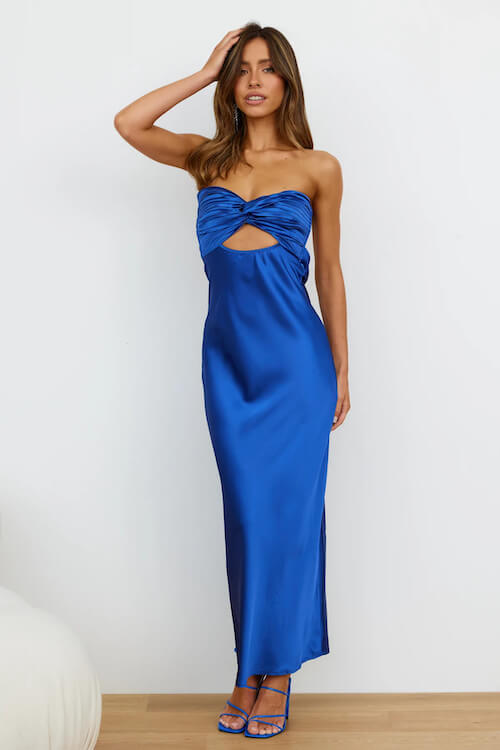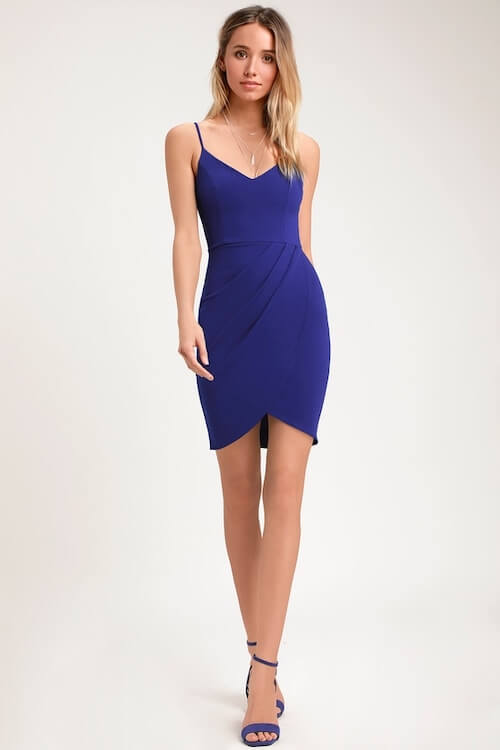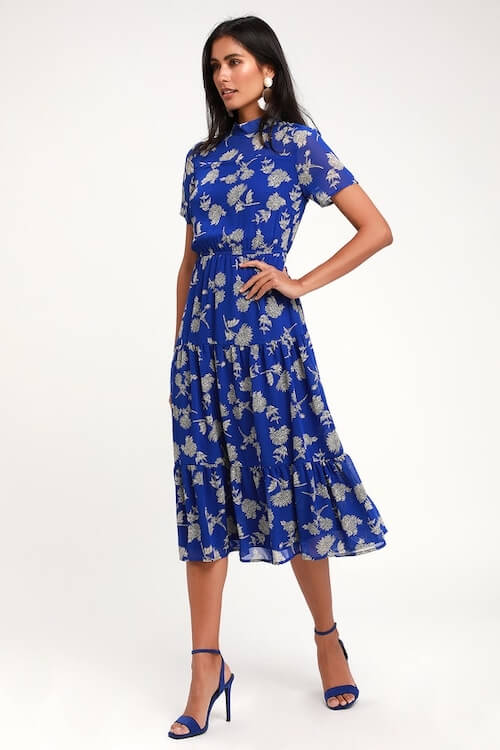 Shop Blue Shoes

Nude Shoes
Nude is also a versatile shade for almost any outfit style and any occasion.
Choose nude color shoes that match your skin tone or skin color to visually lengthen your legs and make you look tall and stylish.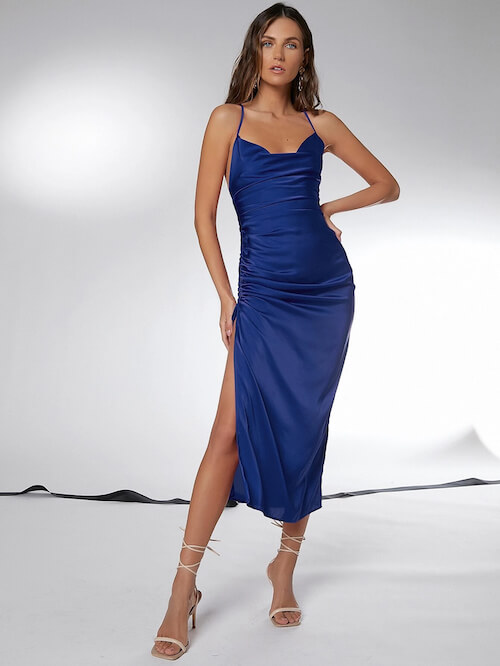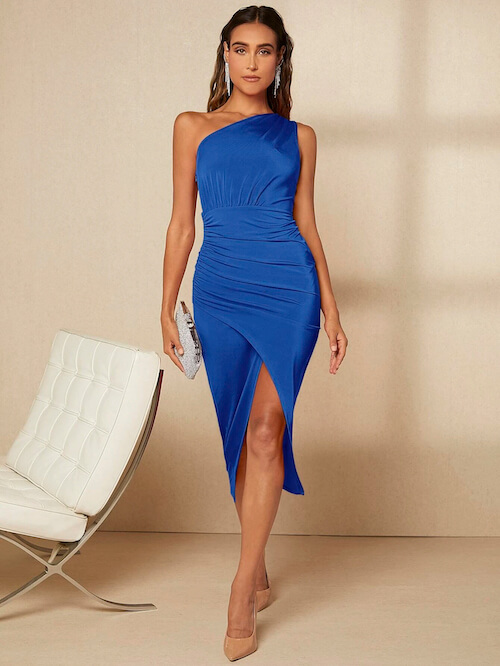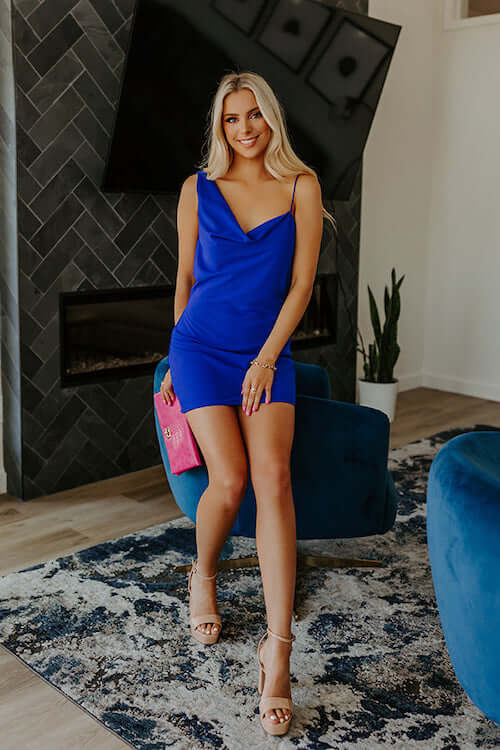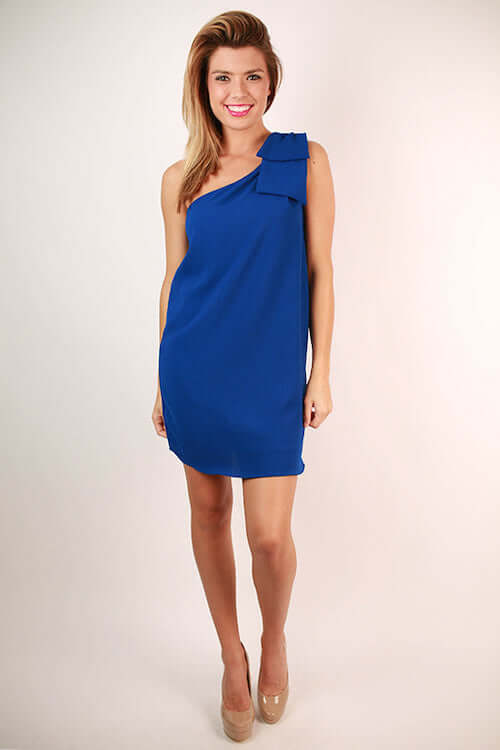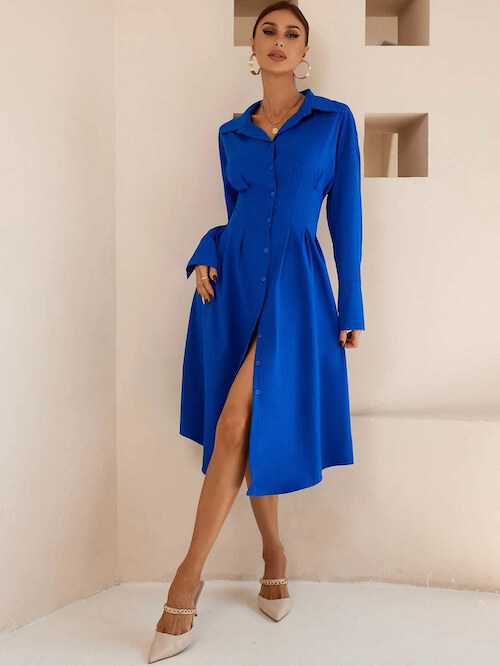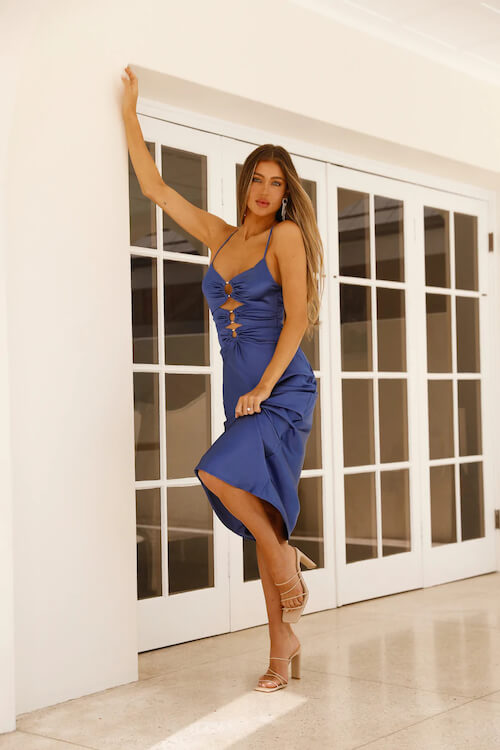 Shop Nude Shoes

Orange Shoes
Orange shoes are ideal choices for an edgy look.
Beautiful royal blue and fiery orange make up a sexy color combination, perfect for hot vacations.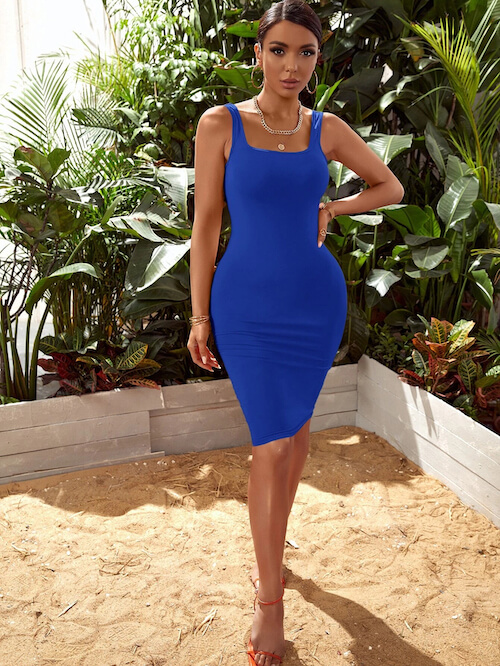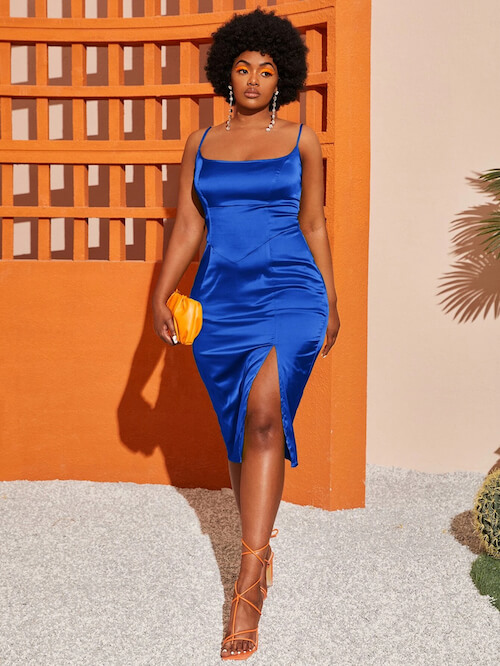 Shop Orange Shoes

Yellow Shoes
A fresh bright yellow and royal blue dress will look refreshing.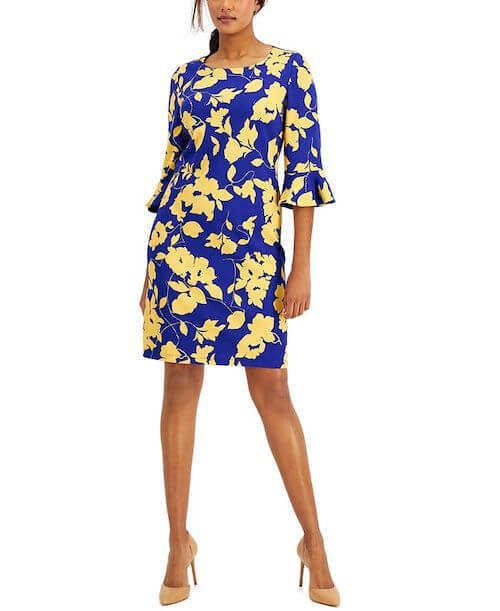 Shop Yellow Shoes

Pink Shoes
The pink color has fascinated the entire fashion world.
Why not try this sexy and sweet combination of the vivid color pink and royal blue, adding a pop of color to your outfit?
From hot pink shoes to baby pink hue shoes, they are all perfect to make you the trendiest girl of the year.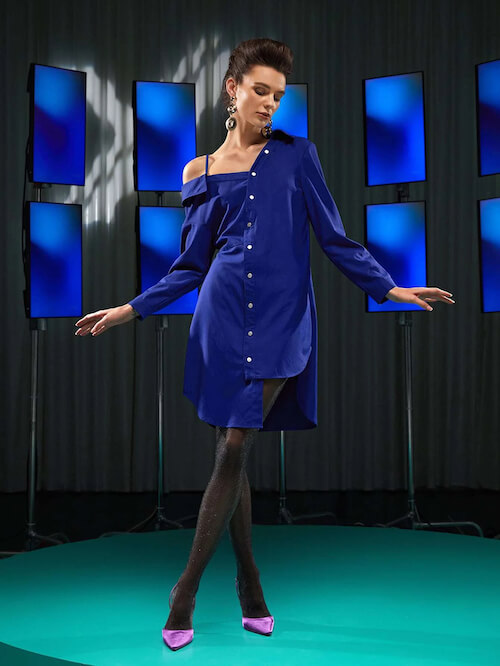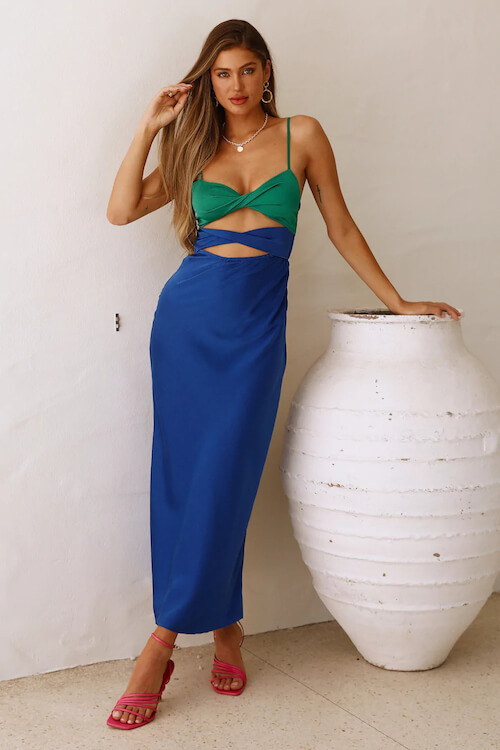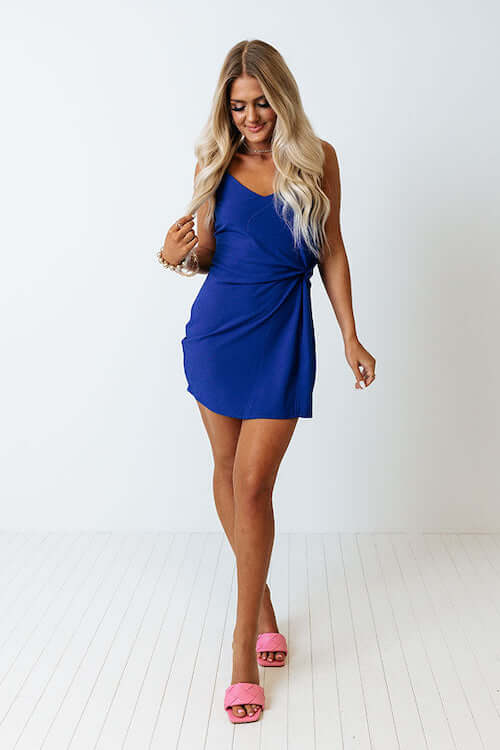 Shop Pink Shoes

Red Shoes
Passionate red shoes including red heels or red boots make royal blue full of personality burst out with fashionable charm.
Shop Red Shoes

Animal Print Shoes: Leopard Print Shoes, Zebra Print Shoes
Create a new look for your favorite blue dress with stylish animal print shoes.
The edgy royal blue dress is paired with sexy animal print shoes for the perfect fashion visual impact to show off your style.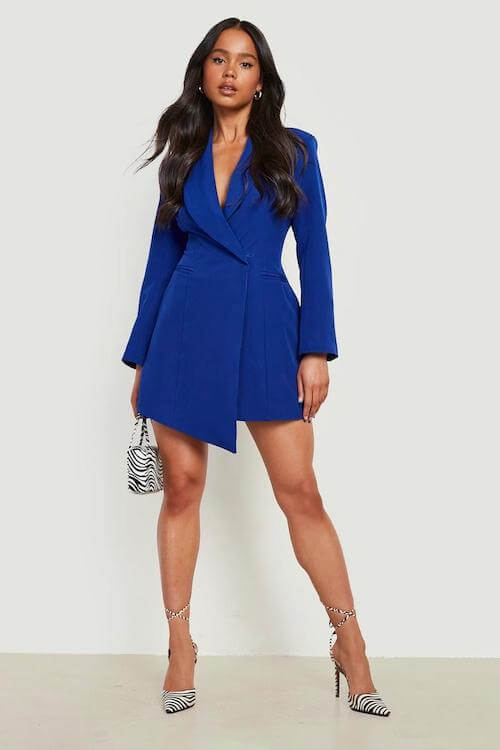 Shop Animal Print Shoes

Brown Shoes
Brown shoes naturally have a natural feel, bringing a comfortable and casual feel to your royal blue dress outfit.
Especially if you are looking for shoes for your royal blue dress for a vacation, a pair of brown shoes is a perfect choice.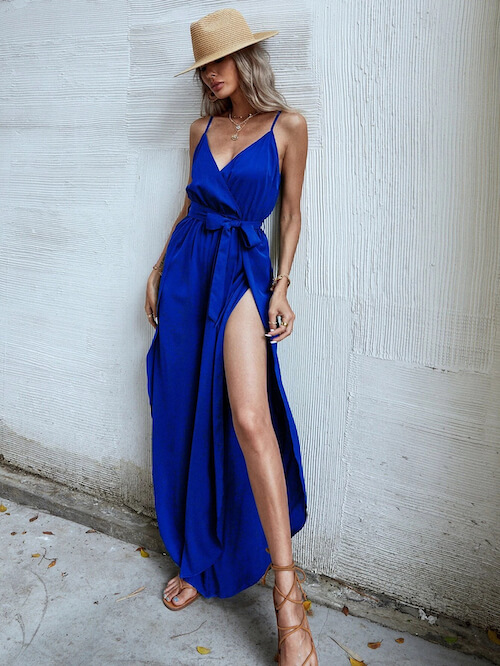 Shop Brown Shoes

Green Shoes
Want a retro feel with a vibrant color? Try a pair of green shade shoes like green flats or green heels to get a perfect match for your royal blue dress.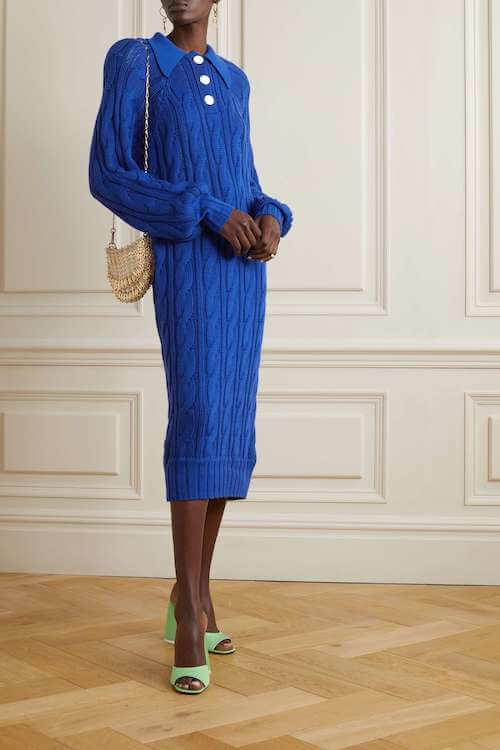 Shop Green Shoes

Multi Color Shoes
Personalized multi color shoes are an excellent choice to complement a personalized royal blue dress.
You can choose multi color shoes with blue elements, which will make your overall look more perfect.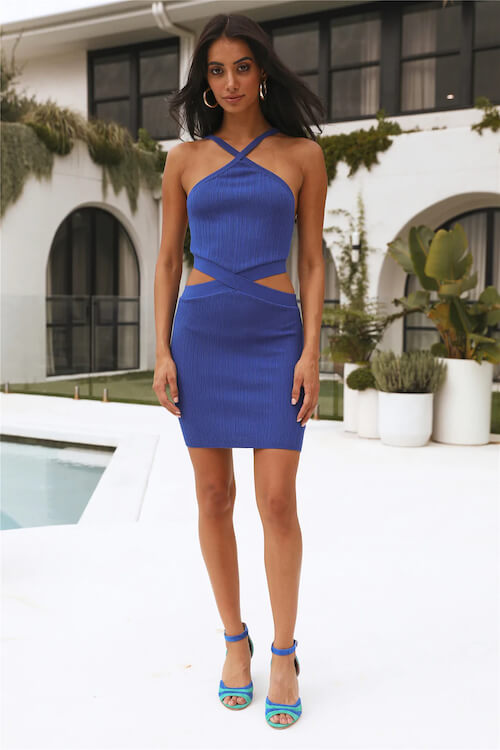 Clear Shoes
Clear shoes have recently received more and more fashionistas' popularity, and are perfect shoes for almost all types of dresses.
They can visually lengthen your legs very naturally and make your figure look more perfect. Be confident to show off your best assets!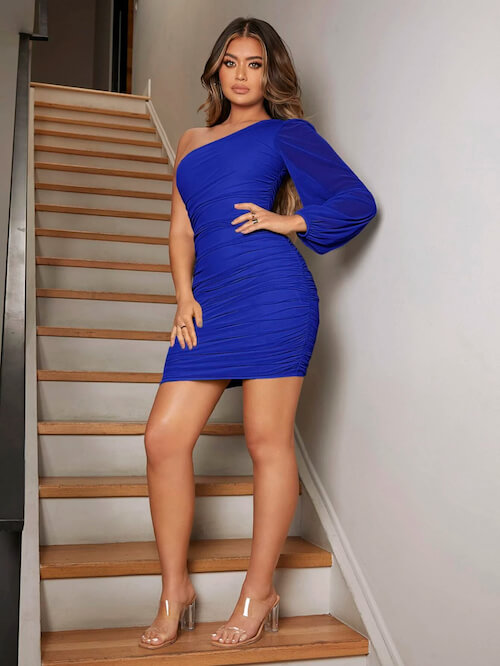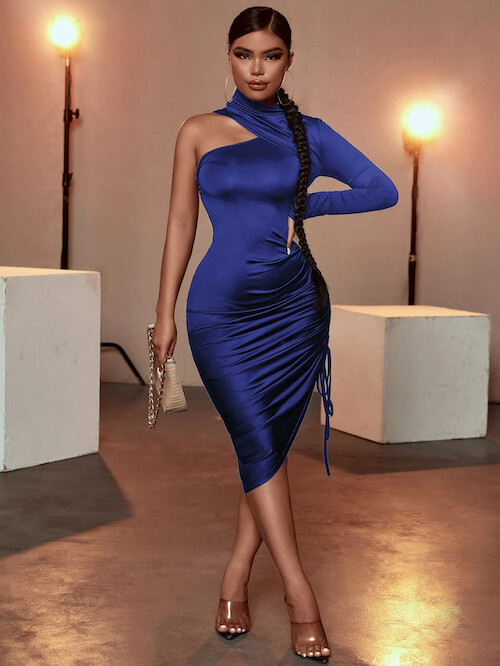 Shop Clear Shoes

Golden Shoes
The gold color and the royal blue color are a great match.
A pair of elegant and luxurious shoes brings a beautiful and gorgeous color to your royal blue dress, making you look like a beautiful princess walking out of the palace.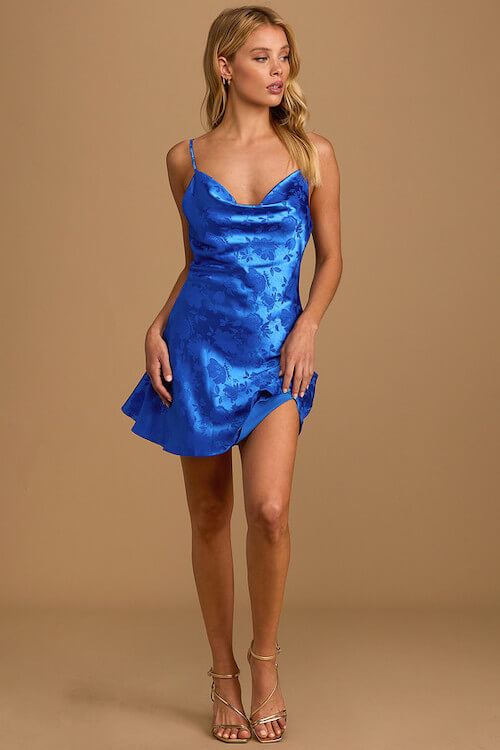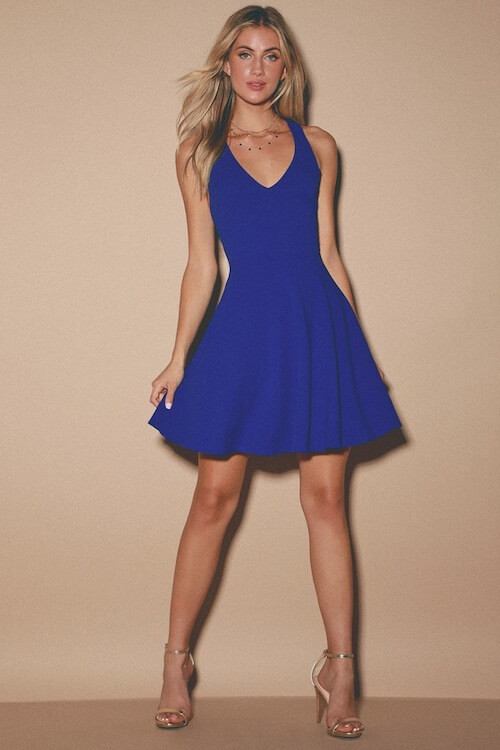 Shop Gold Shoes

Silver Shoes
The cool tones of royal blue and cool tones of silver perfectly complement each other, making you look very elegant and beautiful.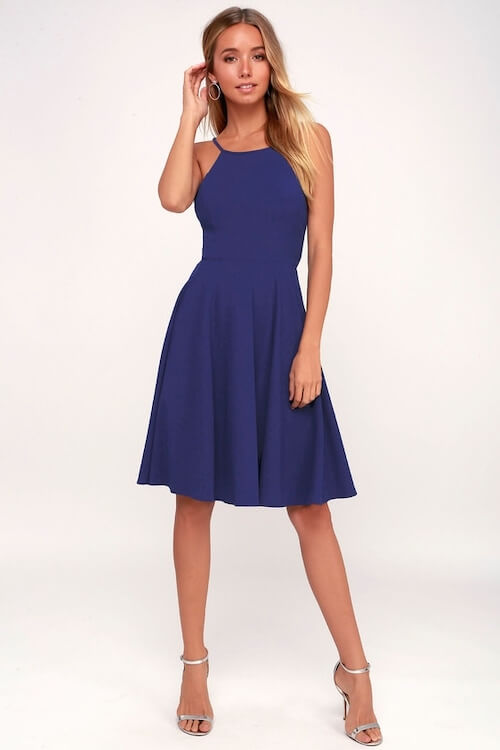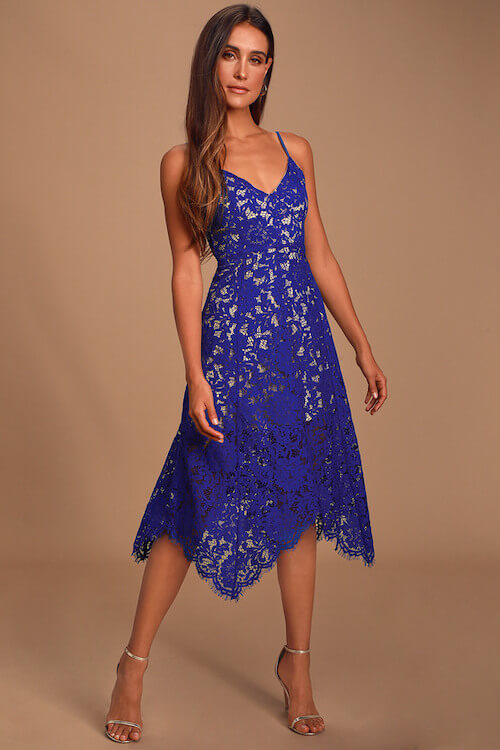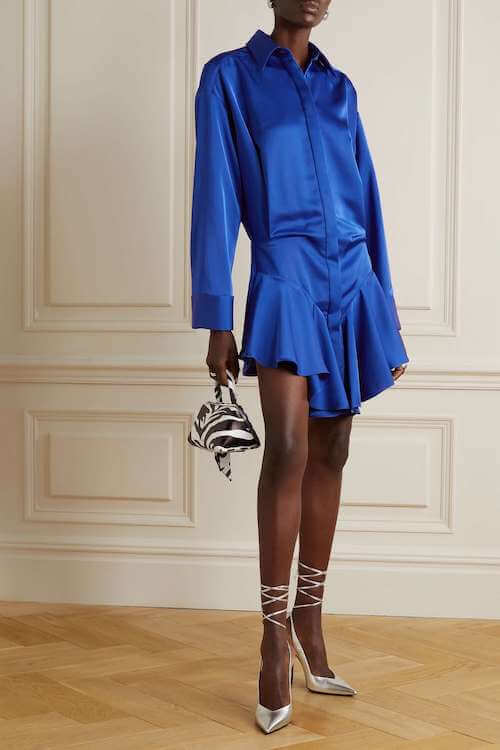 Shop Silver Shoes

Rose Gold Shoes
The cute rose gold shoes help create an elegant and fun look.
Shop Rose Gold Shoes

Shiny Shoes
A pair of dazzling sparkling shoes paired with a beautiful royal blue dress will make you look very attractive like the stars shining in the night sky.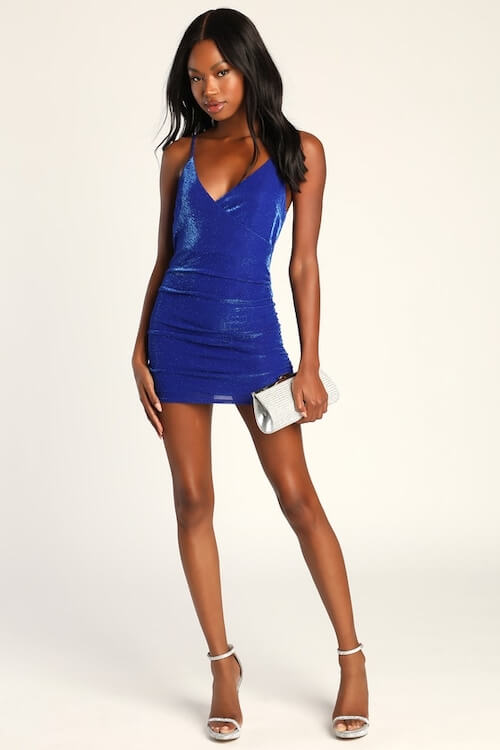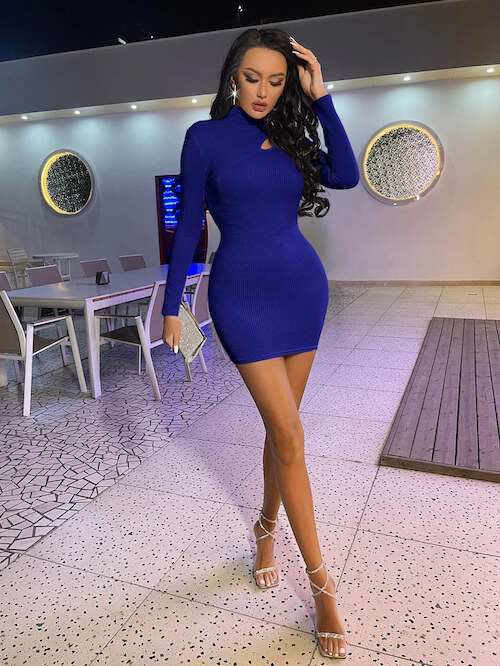 Shop Shiny Shoes
Best Shoes To Wear With A Royal Blue Sequin Dress
A gorgeous royal blue sequin dress is a great choice for a night out or a party.
You can choose to pair it with understated black, white or nude neutral shoes.
You can also opt for metallic gold or silver shoes, or even a pair of shiny shoes to bring the luxury style to the next level.
Black Strappy Heels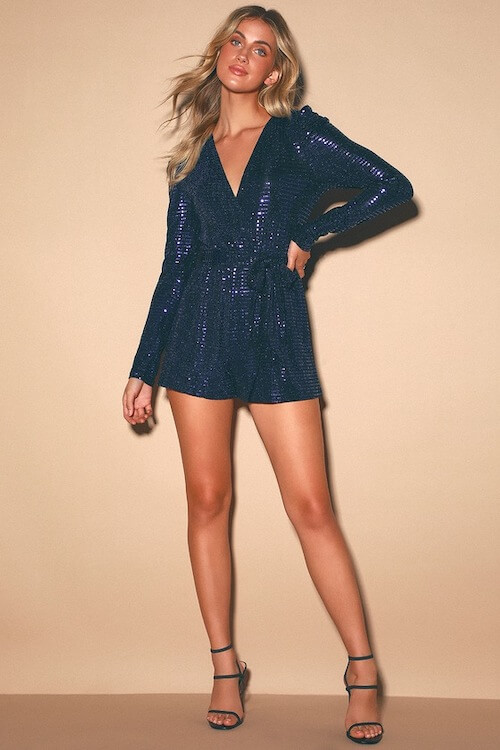 A Pair of White Shoes
Metallic High Heels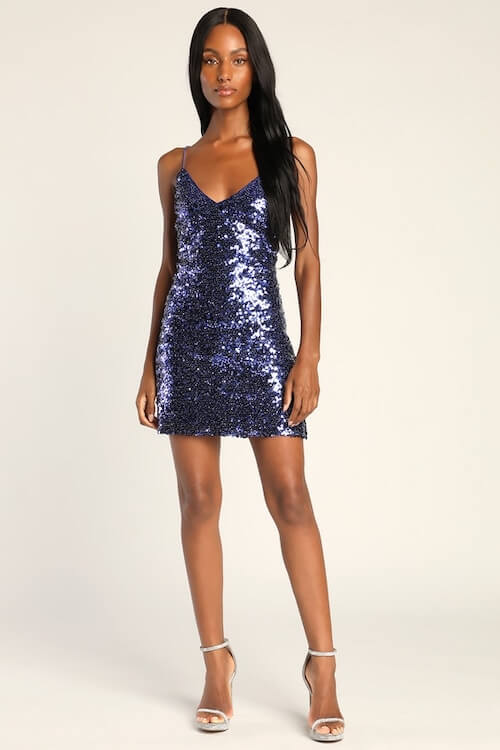 A Pair of Silver Pumps or Silver Heels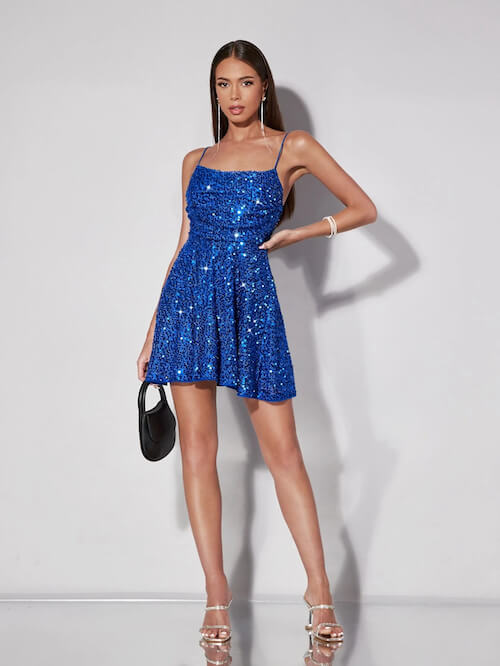 Best Shoes To Wear With A Royal Blue Evening Dress For Formal Occasions
For a formal look, an elegant royal blue evening dress or gown makes you the most stylish woman of the day.
A pair of elegant heels are the best footwear choice for a royal blue formal dress.
You can also choose platform heels or platform pumps, which are very popular this year, to add a little bit of elegant retro touch to your look, and you will look like an old-time star with dazzling beauty.
White Platform Strappy Sandals or White Pumps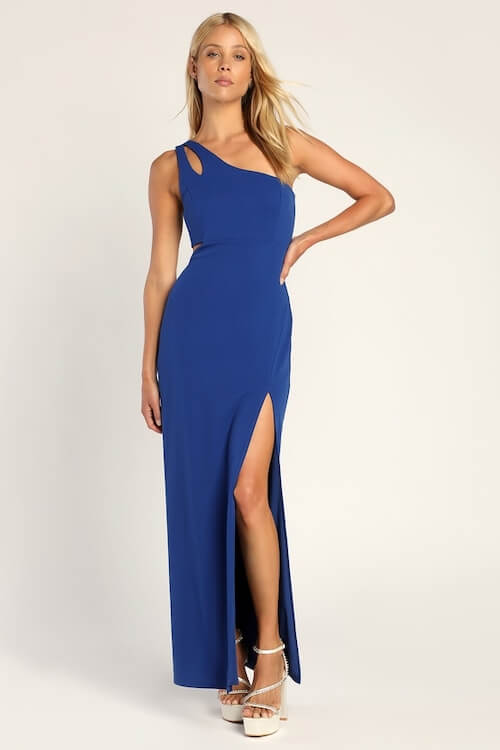 Black Heels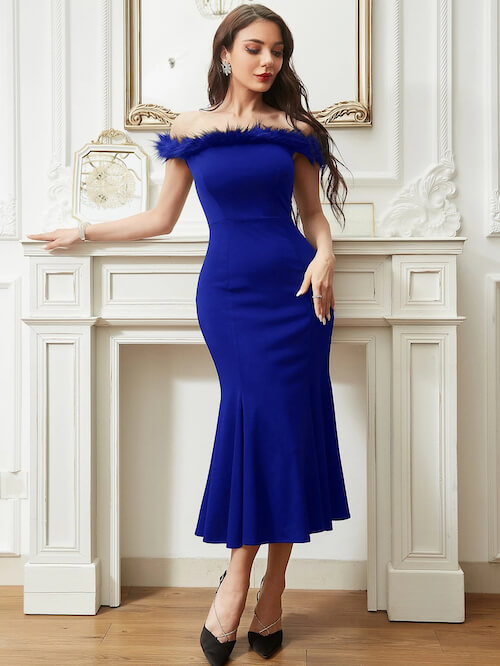 Silver or Gold Heels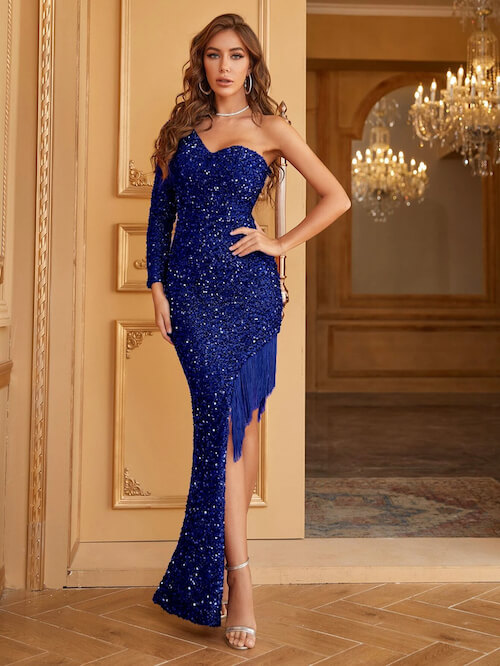 Best Shoes To Wear With A Royal Blue Dress For Cocktail Party
A personalized royal blue dress is also perfect for any cocktail party.
Choose a pair of chic shoes for your look of the day. You can choose shoes with decorated bows or sparkling rhinestones to make you look stunning.
Or you can opt for a pair of elegant pointed-toe heels to show off your style and taste.
Complete your look with fun accessories to enjoy the parties!
Decorated Neutral Shades Heels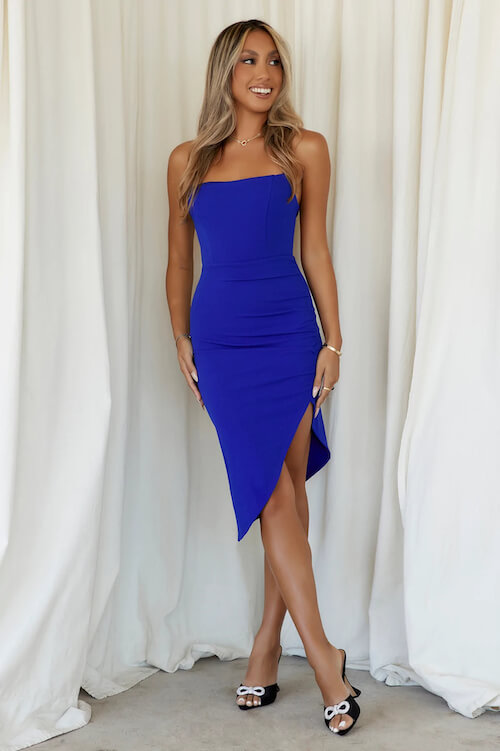 Gold or Silver Pointy Toe Heels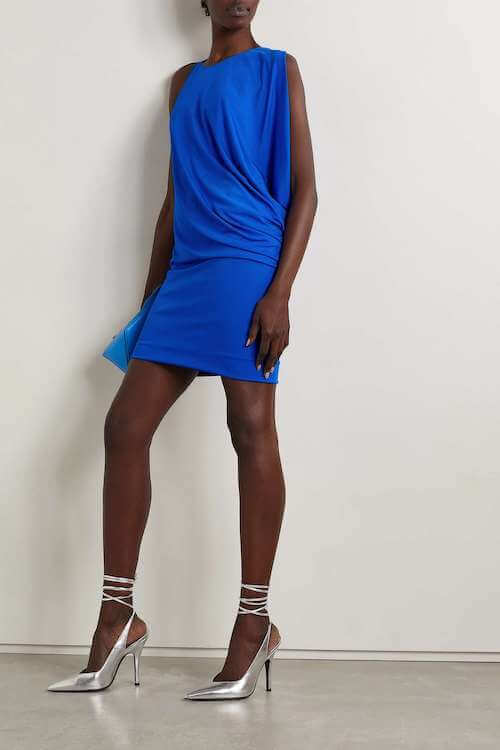 This post was all about what color shoes to wear with a royal blue dress.
Related Posts: