Looking for the best ideas for your maternity photoshoot with toddler? Check this post for the best tips for a maternity photo session with toddlers, chic maternity photoshoot ideas with toddlers, and what to wear to your coming maternity session.
Taking maternity pictures is a great way to record your pregnancy. Whether you want to add a little bit personal touch to your holiday cards to your best friends, leave the most precious record for this special time in your family album, or decorate your home with unique photos, a great pregnancy photo is the best choice for you.
If you're worried about how to take a maternity shoot with your toddlers, you've come to the right place.
In today's article, I am sharing with you tips to take best maternity photos with toddlers, and the 50+ best maternity photoshoot ideas with toddler. At the end of the article, I am also sharing the best outfits for your maternity photo session with toddlers, and our outfit picks from our favorite retailers to shop for directly.
So scroll down to check these maternity photo ideas for your next maternity photo session, and don't hesitate to pin them to your Pinterest board and share them on social media sites.
This post may contain affiliate links, which means I'll receive a commission if you purchase through my link, at no extra cost to you. Please read the full disclosure here.
This post is all about maternity photoshoot with toddler.
Best Tips For Maternity Photo Session With Toddlers
Taking pregnancy photos when you have toddlers may not be an easy task. So, what are some effective and noteworthy tips to help you take good photos with your little children?
Below are our favorite tips.
If You Need A Professional Photographer, Choose An Experienced One
You need to choose a photographer who has experience in pregnancy photography, especially with children, so that they are more experienced in communicating with children and can make the process easier for you.
Make The Appointment With The Maternity Photographer In Advance
Professional photographers are usually busy. You should make an appointment with the photographer in advance so that you can be sure to have your photos taken at the most suitable time to your satisfaction.
Choose Interesting Places
The right location, a beautiful park, a romantic beach, or the comfort of your home are all suitable for taking your pregnancy photos.
Choose Comfortable Clothes
This is the most important thing. You not only need to choose the best clothes for yourself that you are confident in, but also remember to choose comfortable clothes for all your family members. You can even involve your children in the selection process together.
Choosing The Right Time
The best time to take maternity portraits is between Week 26 and Week 36. The curve of the pregnant belly is more obvious at this time, and the pregnant woman is not too tired, so she is more able to adapt to the requirements of the photo shoot.
Also, because you have small children, you need to take into account your child's schedule. The better way is to choose the moment when your child's energy is at its best to shoot for the best results.
Prepare Props
Preparing props in advance is a great idea. The right props can add a lot of interesting visual details to your pregnancy photos. And for children, these props can help them pass the long hours of shooting.
Toddler Photography Tip: Prepare Snacks
Your children are likely to find it boring to take pictures, so the best way is to prepare some snacks for the toddler portraits to help you communicate with them better so that they can cooperate with you to complete the whole shoot.
Best Maternity Photoshoot Ideas With Toddler Or Older Siblings
A Country Style
You can choose your favorite clothing pieces with country vibe patterns to easily create a unique and warm maternity photo.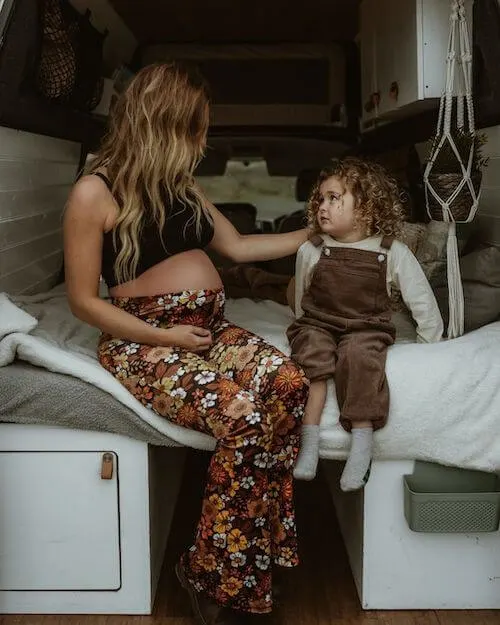 via Pinterest
With Older Children
Take pictures with your other children, interacting and laughing naturally with them so that you can take the most fun family portraits.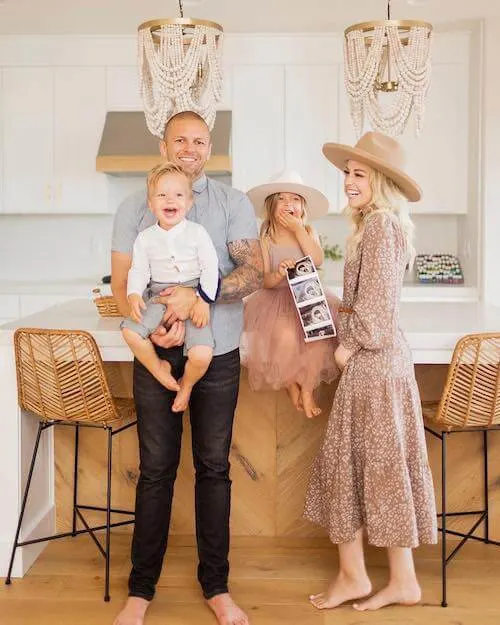 via Pinterest
Special Moment With Older Kids
Bring the kids out into nature and have the most heartwarming family moments together.
Remember to choose beautiful photo outfits that match the background.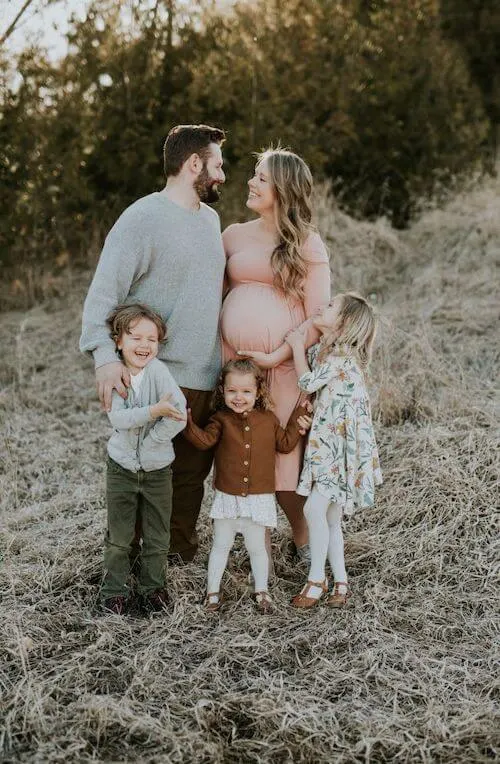 Stick To Neutral Colors For Your Family Portraits
A neutral color scheme is a great option for your maternity photoshoot and never looks out of style. The clean white background accentuates the characters even more.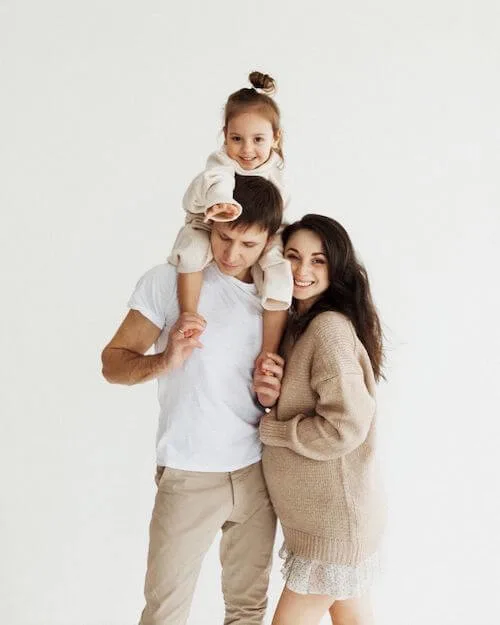 via Pinterest
The Second Child Is Coming
Announce the good news together with your little family member. This is a fun idea!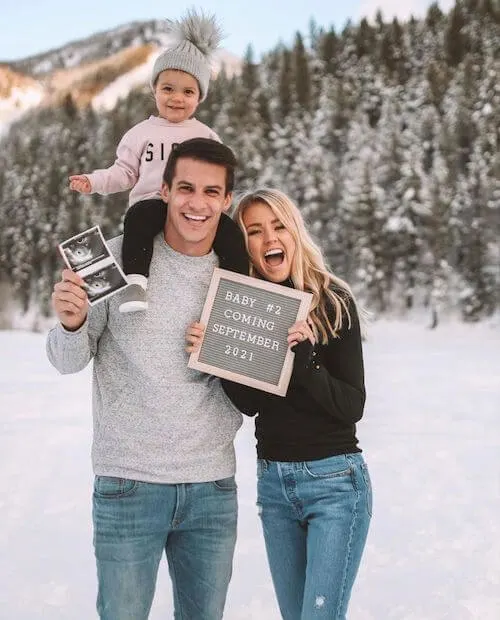 via Pinterest
Cute Pink Matching Outfits
This is a fun way to have a great photo with your kid. The pink scheme is especially suitable for you and mini you.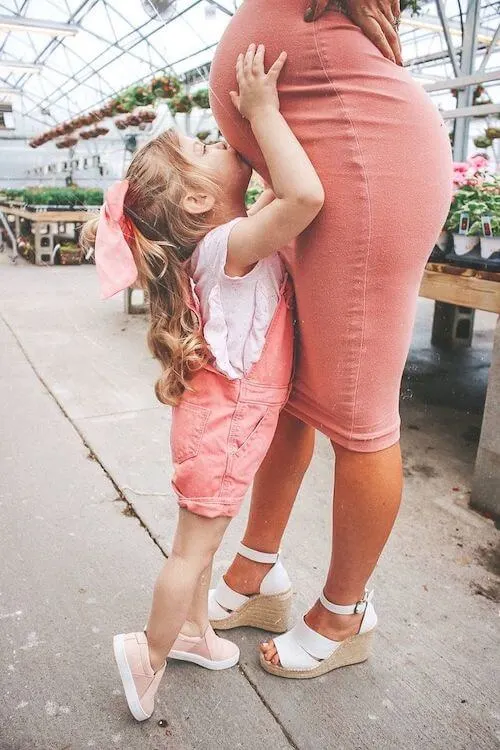 via Pinterest
Cute Moment With The First Child
Interact with your first child naturally and take beautiful photos of the memorable experiences.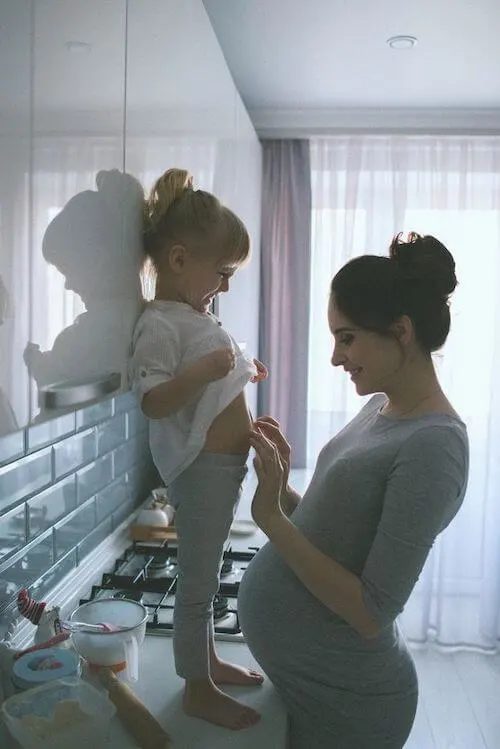 Enjoy The Exciting Time
The bedroom is a perfect location for taking cute maternity photos.
It's easiest to just lie in bed together and laugh.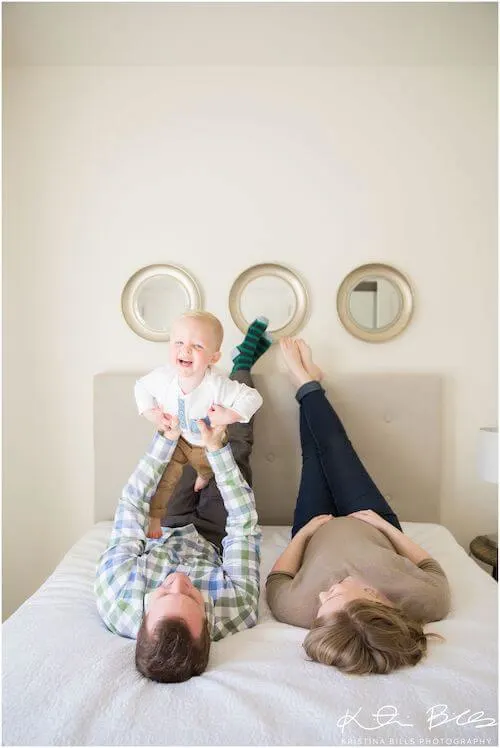 A Chic All Black Look
All black style looks unique and chic.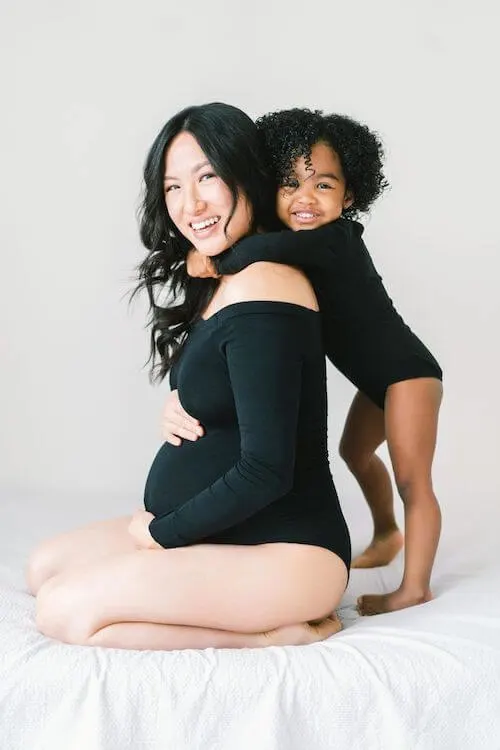 via Pinterest
Red Gown In The Local Park
The nearby park is so beautiful, why not go there to take your beautiful maternity photos?
You can invest in a gorgeous maternity photo gown to bring your photos to the next level.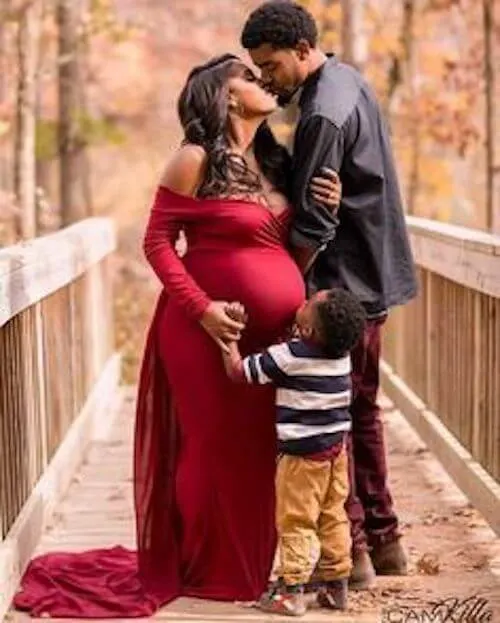 Let The Father Complete Difficult Poses
It may be inconvenient to move around when you are pregnant, then you can let the father complete complex, more difficult movements so that you are not too tired when you are shooting.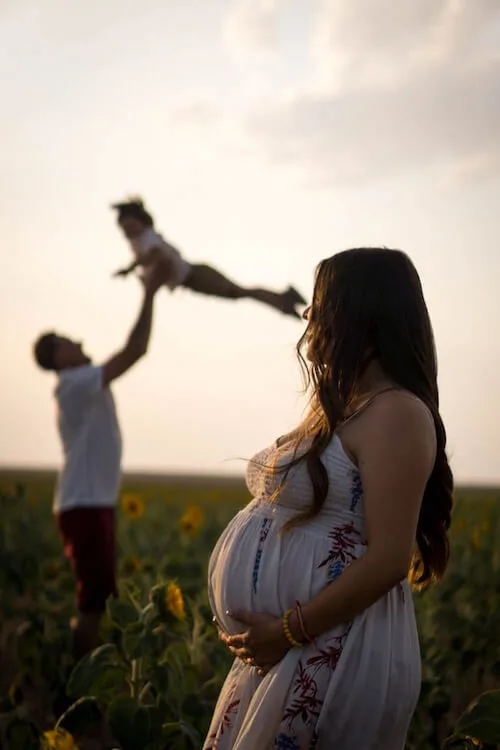 via Pinterest
Big Sister or Big Brother Announcement
Get some cute props for your first child and let him or her announce the arrival of your second child!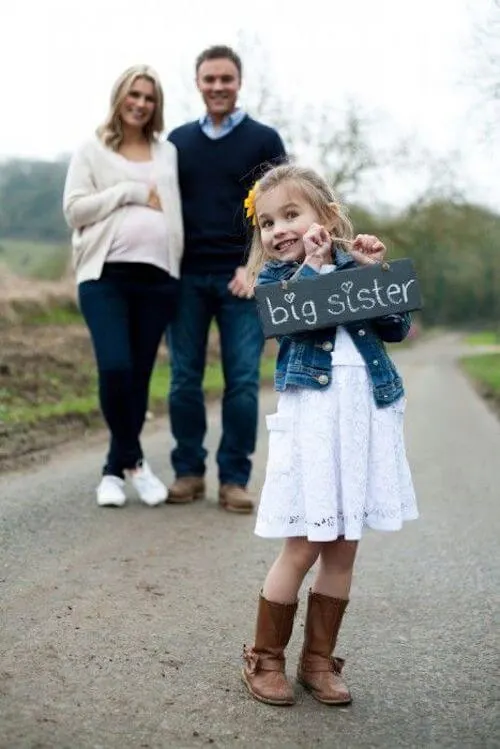 Beautiful Flowy Dress For The Mom
A flowy dress is especially suitable for outdoor pregnancy photo shoots.
You can first choose the woman's photo outfit, and then choose the other family members photoshoot outfits. This tip will help you make the whole process so much easier.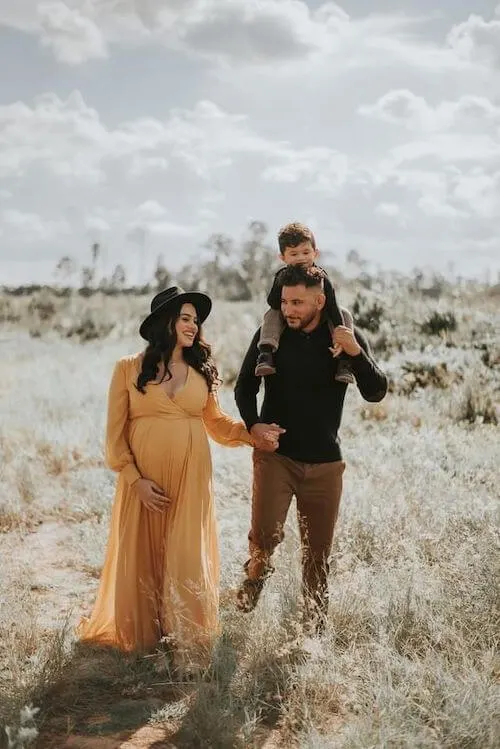 Family Photo In The Golden Hour
The golden hour is a perfect time to capture the most beautiful skin. The pretty sunlight at this time can also give your clothes a great hue.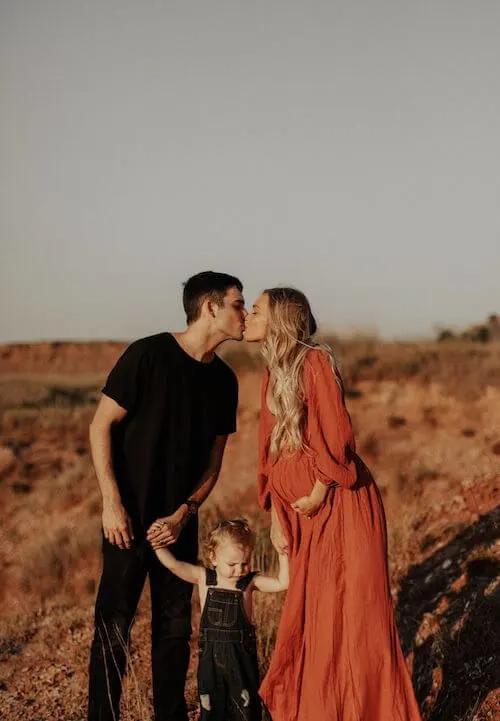 Maternity Photo With Toddler At The Beach
If you choose to shoot at the beach, a simple white maxi dress is one of the best choices.
Please choose a light fabric, which will make it easier for you to show off your pregnant belly, while also allowing you to not miss the great sea breeze.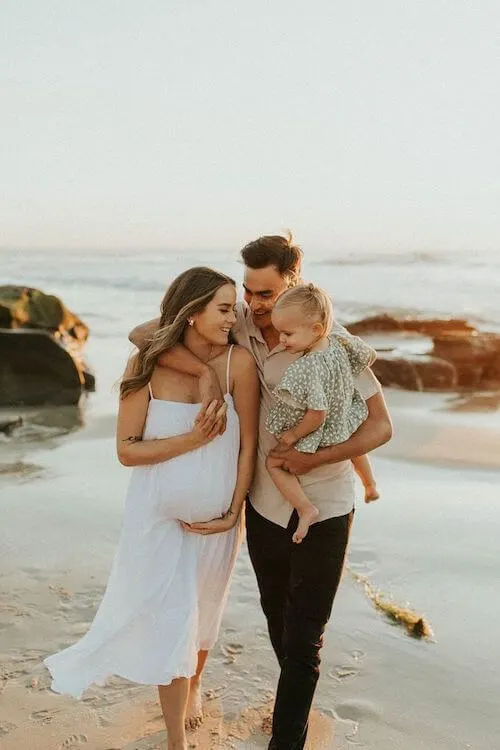 A Chic Beach Maternity Photo Outfit
A black dress is also a great choice for a beach pregnancy photo, and it makes you look very chic.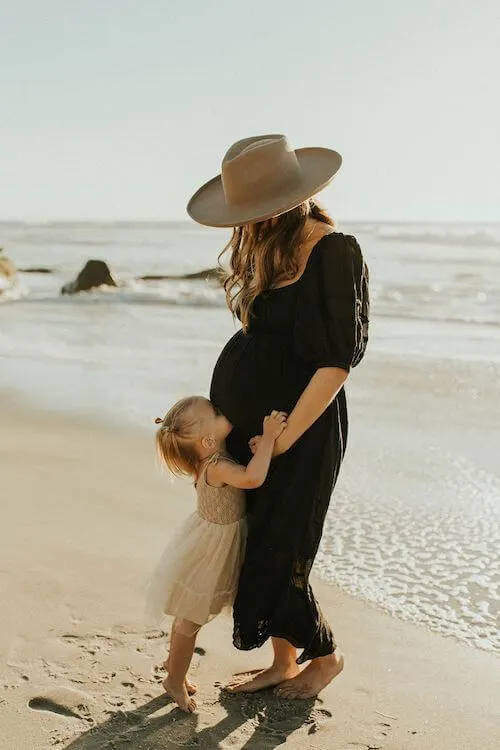 Maternity Photo With Toddler In Cold Weather Outside
When the weather is cold, please wear a warm sweater for shooting. You can choose a pattern that is similar to your family members' outfits but not exactly the same, so it will look more fashionable and more fun.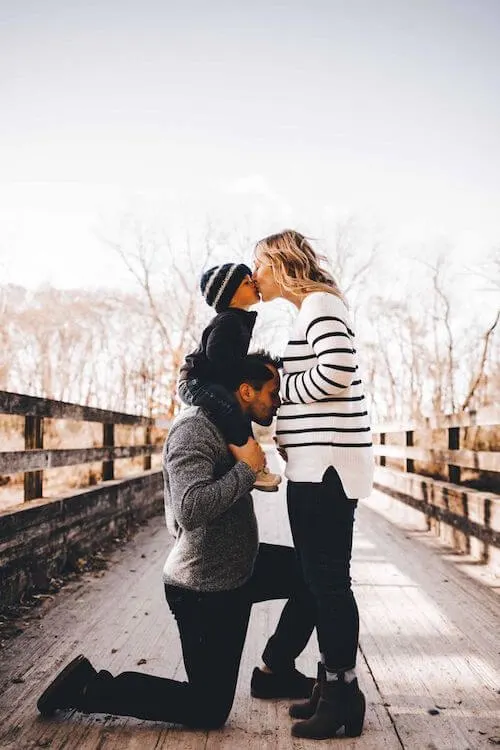 via Pinterest
Try Different Poses Outside
No need to be formal, you can feel free to try your favorite photo poses. Let your family run, jump and play, so that you will often get more vivid and interesting family photos.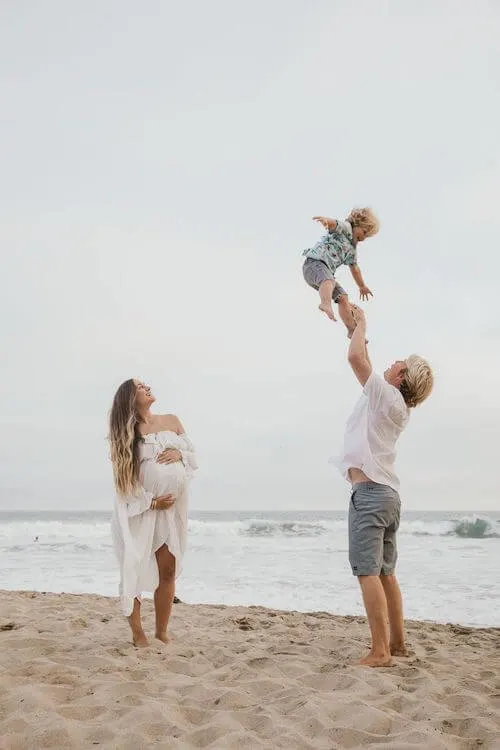 via Pinterest
Touch The Pregnant Body
This is a great pose. Young children are often curious about their mother's pregnant belly. Their expressions will be very cute.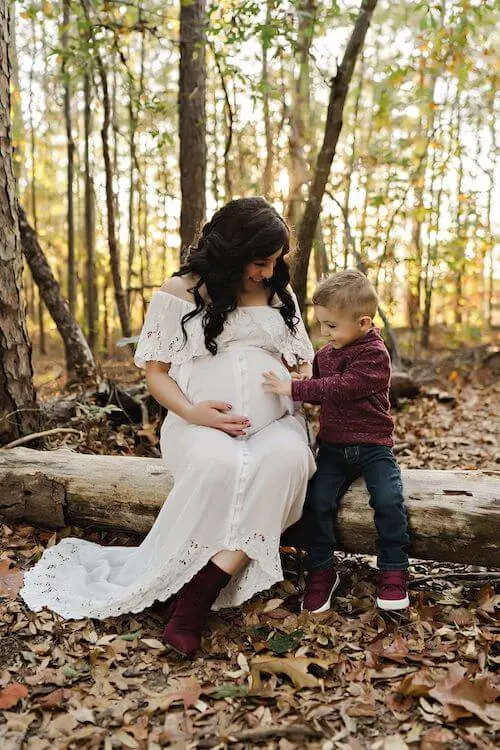 Different Shades of Blue
The blue shirt and the denim outfit look modern.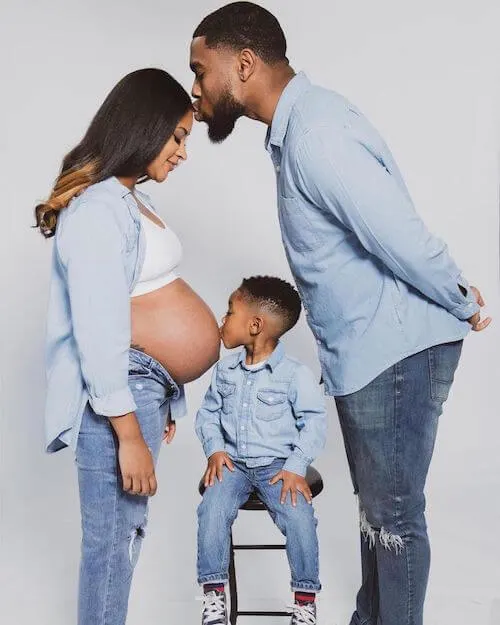 via Pinterest
Add Dramatic Effect
Together you can devise dramatic scenarios that will make your photos stand out.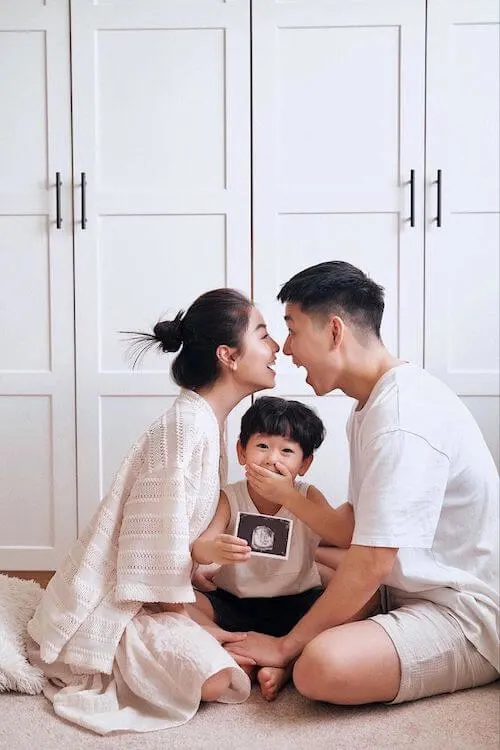 A Modern Maternity Photo
Standing on the ground in all-white clothing and bare feet. This photo is very artistically expressive.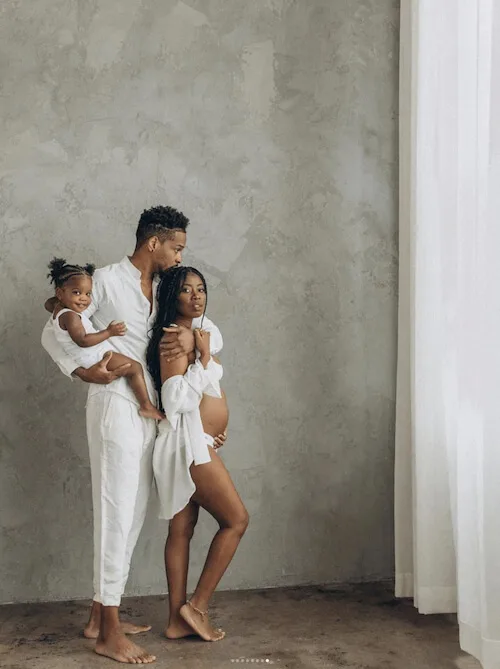 via Pinterest
Add A Pop of Color
Worried that a white shooting background with white clothing will make your photos look boring? You can add a little color pop-up, for example, a simple DIY garland instantly makes your photos very charming.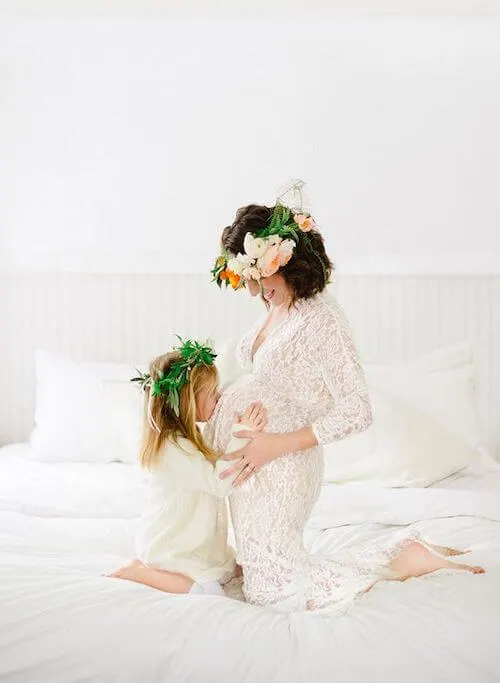 via Pinterest
Goddess of Maternity in Floral Gown
When the prints of your photo shoot outfits are more gorgeous, a simple monochrome background will make the photos look uncluttered.
At the same time, I suggest you give your children also choose a solid-color outfit so that the picture can have a clear focus, and not easy to become tacky.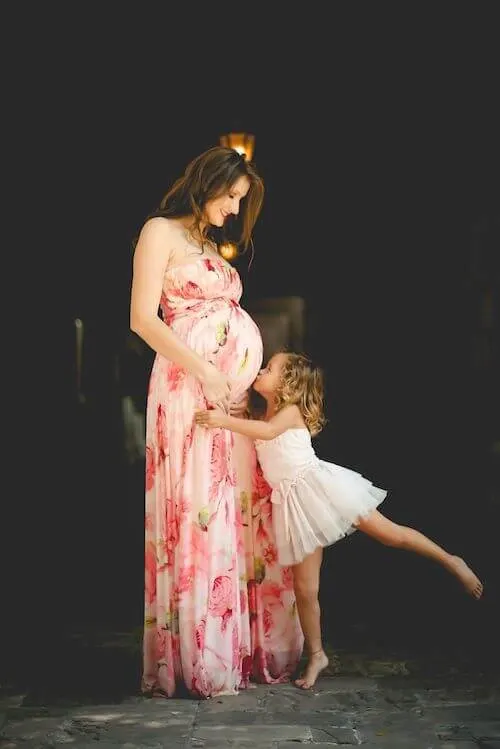 via Pinterest
Matching Mommy & Me Outfits
Wearing matching outfits with your toddler is one of the easiest ways.
But I suggest you choose clothes that are not quite the same cut, it will look more interesting.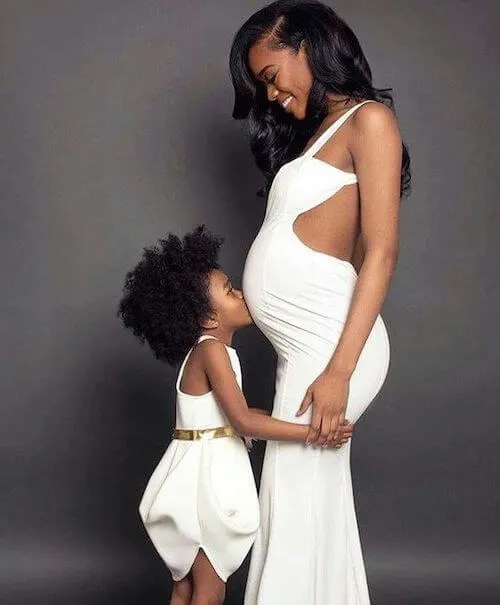 Stand In Front of A Large Window
Your home's large windows are a great natural backdrop for photos, so don't miss out.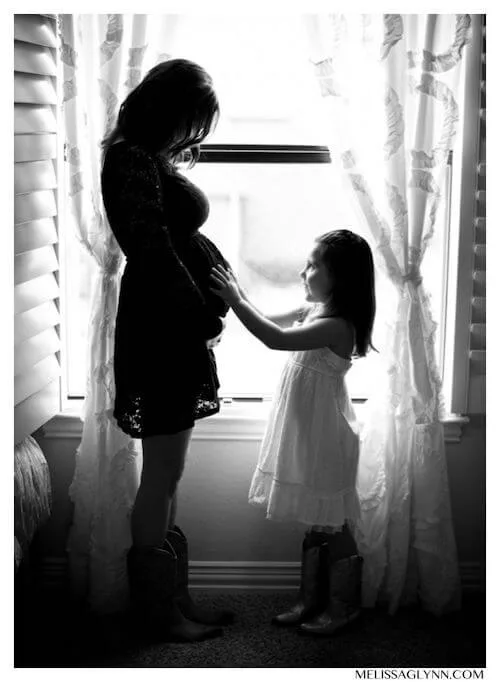 Use The Natural Light
I really like to take maternity photos in natural light. The natural light shining on people's faces will make your expressions look warm and soft.
You can walk around your home more and then choose the most comfortable natural light for your shoot.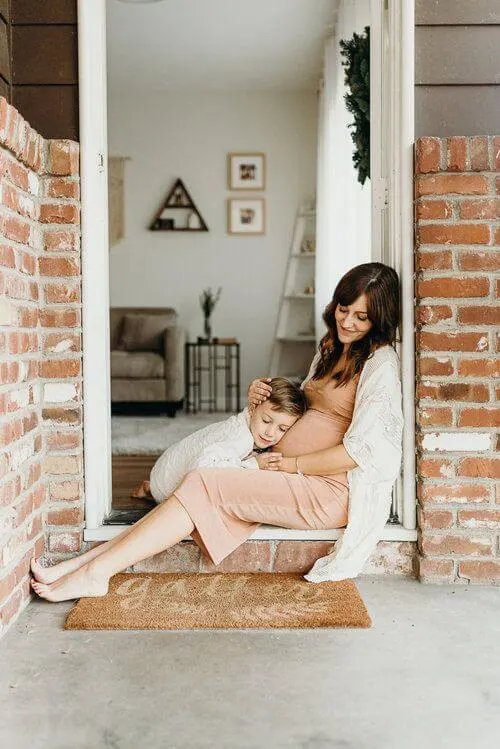 via Pinterest
Romantic Fall Color Scheme
This is an easy-to-learn, yet great maternity photo color scheme, especially for fall.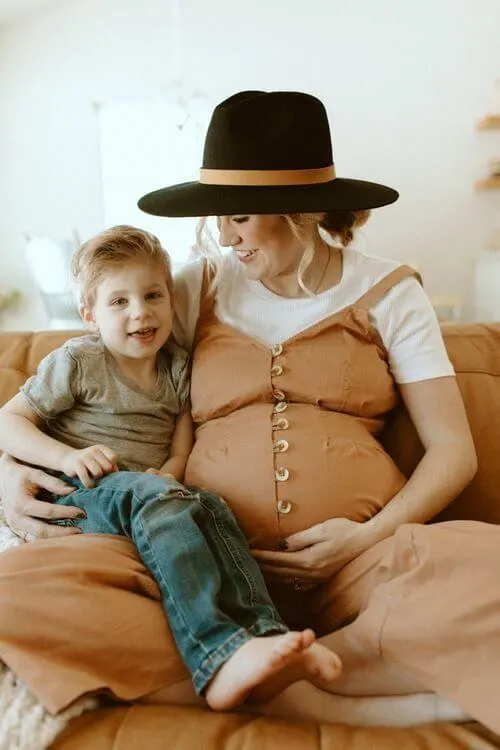 via Pinterest
White And Beige
White and beige is also a classic color scheme that suits almost any color and style of background.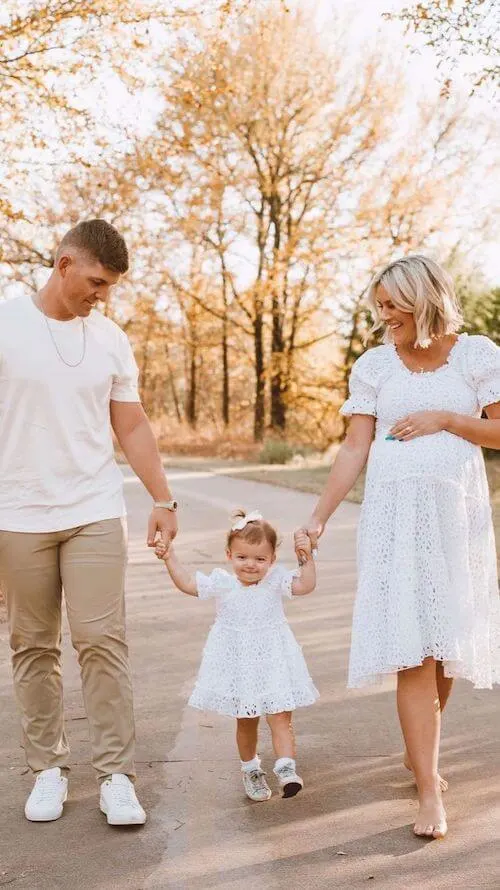 via Pinterest
Memorable Moments With My Little Girl
Get better familiar with your photographer, then relax completely in front of the camera, play naturally with your kids, and then let your photographer capture the cutest moments.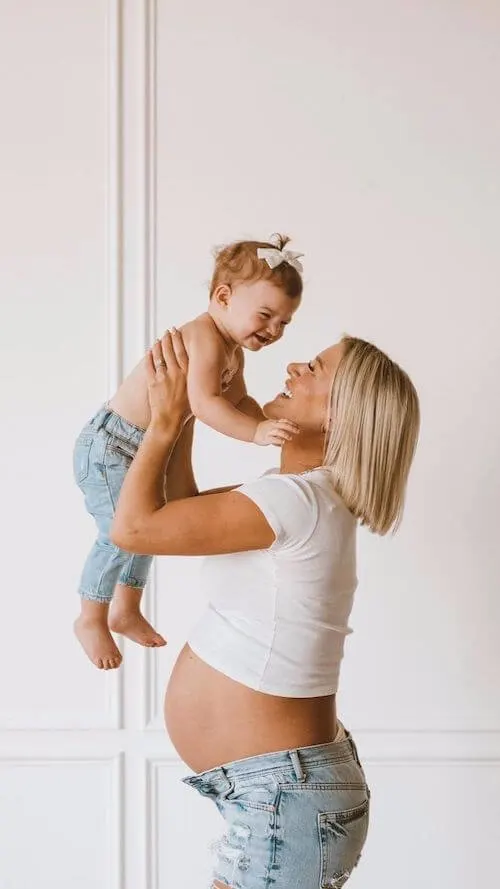 via Pinterest
Kiss Adorable Baby Bump
It is a popular idea to have the toddler kiss the mother's pregnant belly for a pregnancy photo shoot.
This time you may want to sit on the bed, and then add the right props to complete the shot.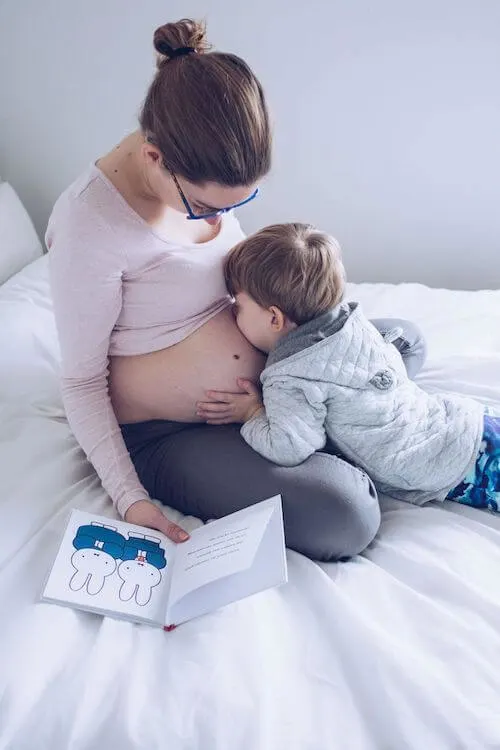 via Pinterest
Gorgeous Maxi Dress
Pick out a great maxi dress for yourself.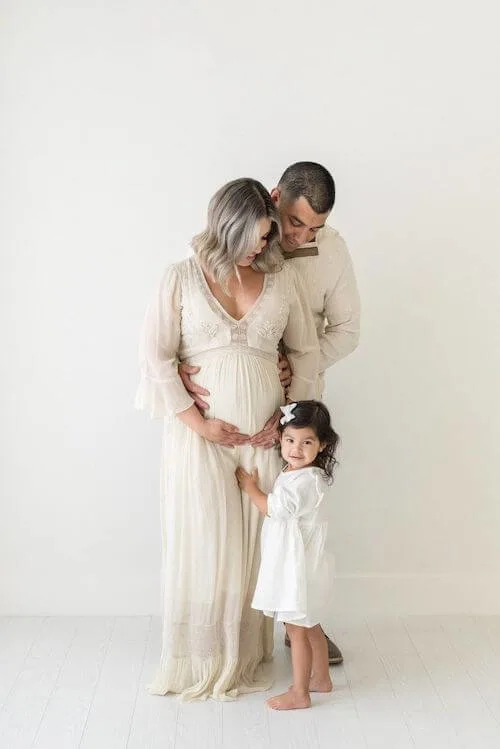 Touch Mom's Belly
This pose is natural and cute.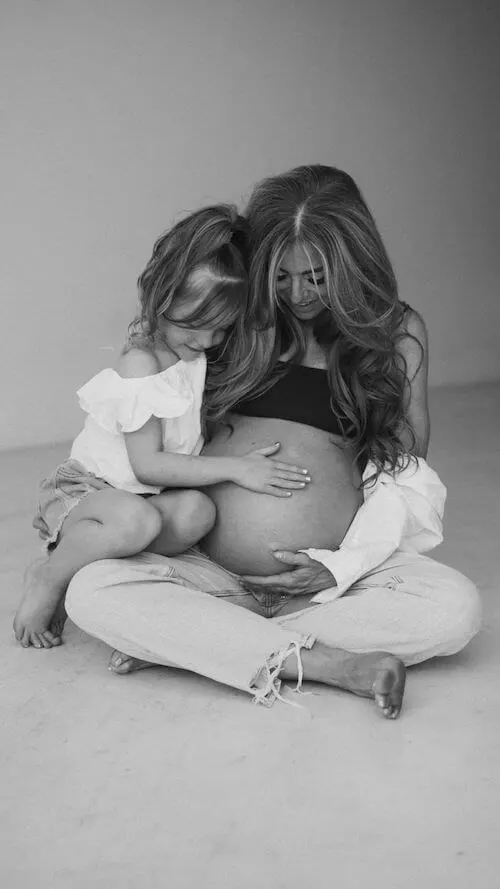 via Pinterest
A Simple Pose
This pose is very easy to learn if you are worried that your child will not easily make a pose that you are happy with.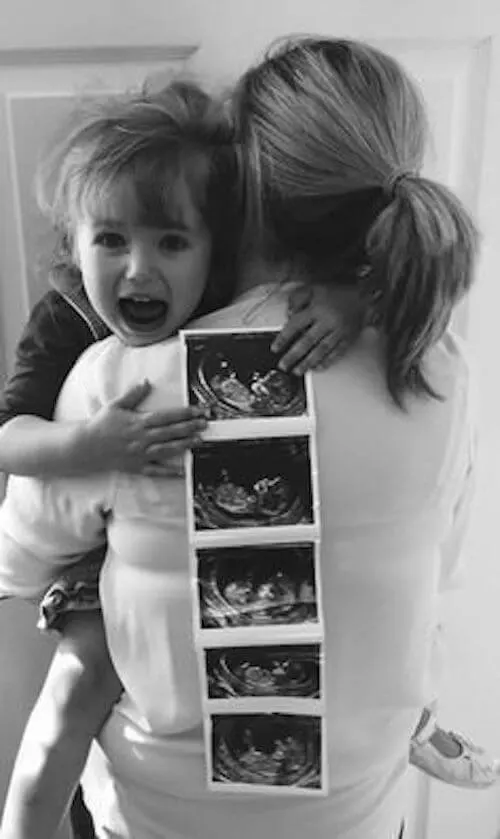 Cute Family Jackets
Dressing the whole family in a set of cute matching family jackets is a cute way for your maternity photos!
You can get these outfits here!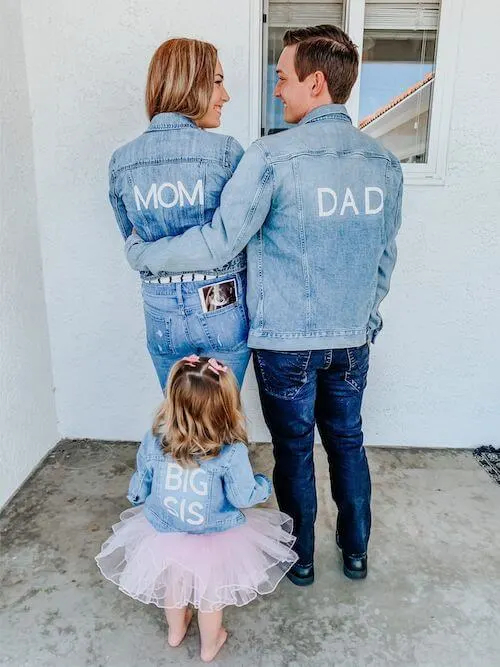 Big Sis Announcing The Due Date
Sometimes mom doesn't have to be in the picture, let your first child and props together to complete a lovely photo.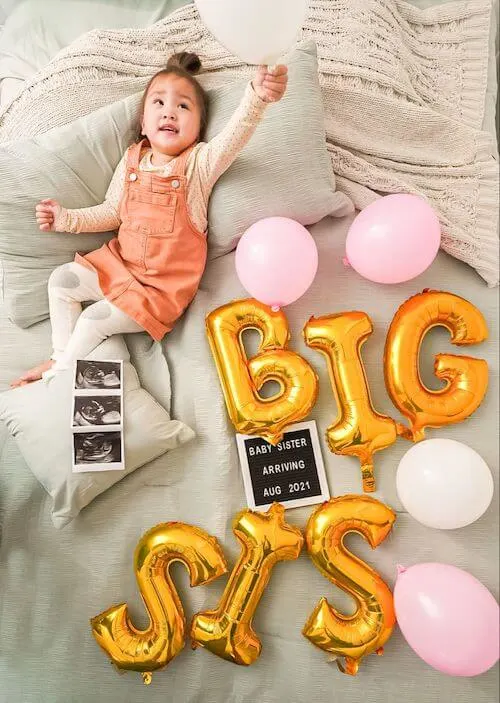 The First Child Welcoming The New Baby
Or mom just needs to show her pregnant belly. This photo looks very sweet.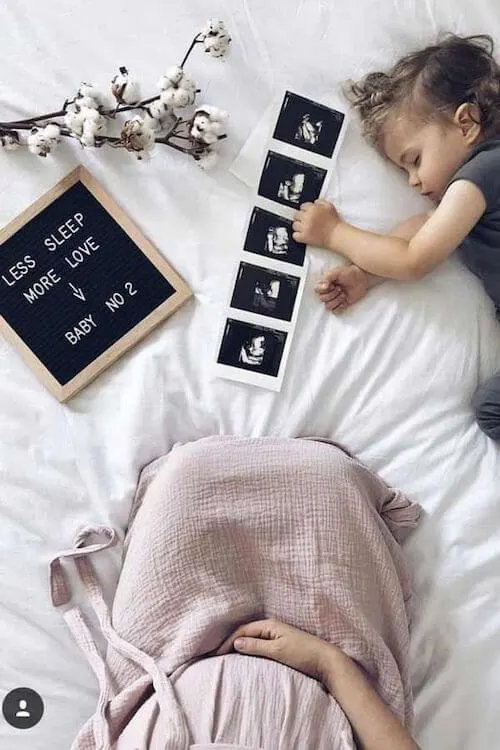 Cute Photo of The Whole Family
Naturally shooting at home allows kids to be more relaxed and at the same time to take very many great photos.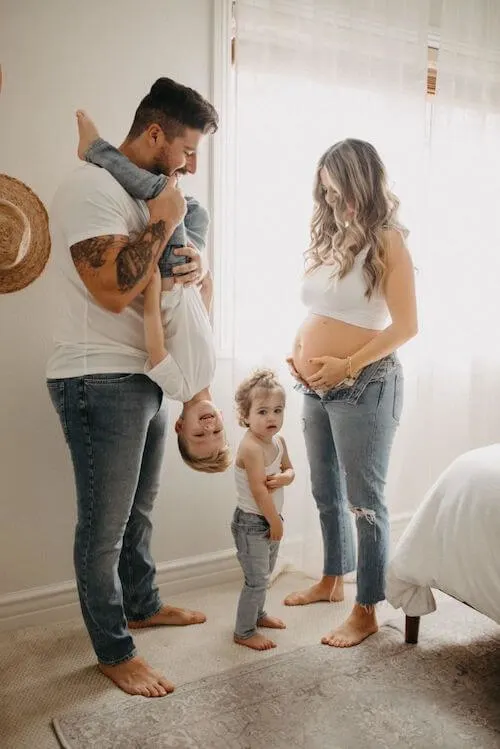 via Pinterest
Enjoy The Comfort of Your Own Home
The bedroom is one of the very best places to shoot. You can change the ordinary home clothes into a beautiful maternity dress to make the home environment look unique.
via Pinterest
A Casual Moment At Home
There are times when you can be a little more creative, for example, by going to your kitchen for a shoot.
These are some of the most precious memories in your family photo album in the future.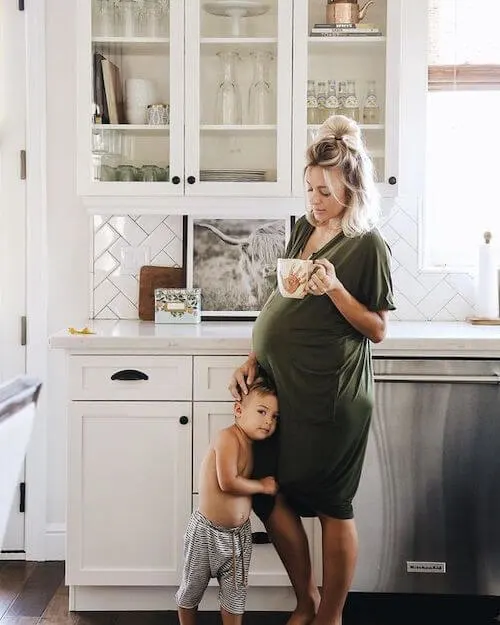 via Pinterest
One of The Kids Kisses Mom's Bump
Your kids don't have to all gather around you for the shoot.
You can interact with one of the kids while leaving your other child free to play. This good idea makes the photos look very special and cute.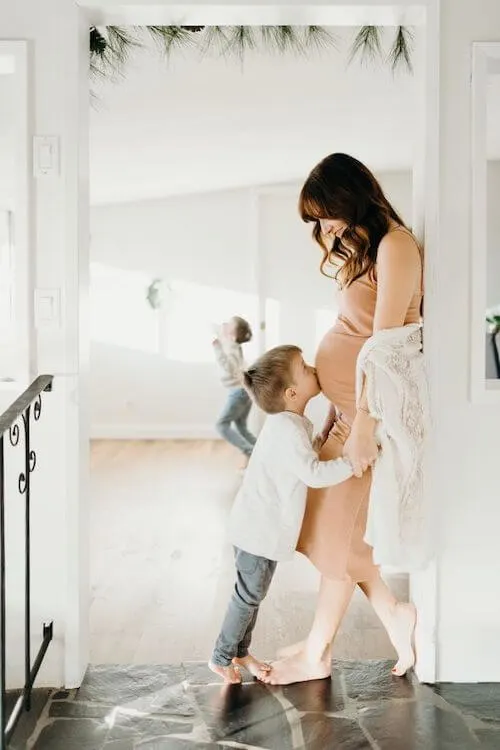 via Pinterest
Lovely Eye Contact
Turn your back to your child, then eye to eye. This pose is very simple but very special.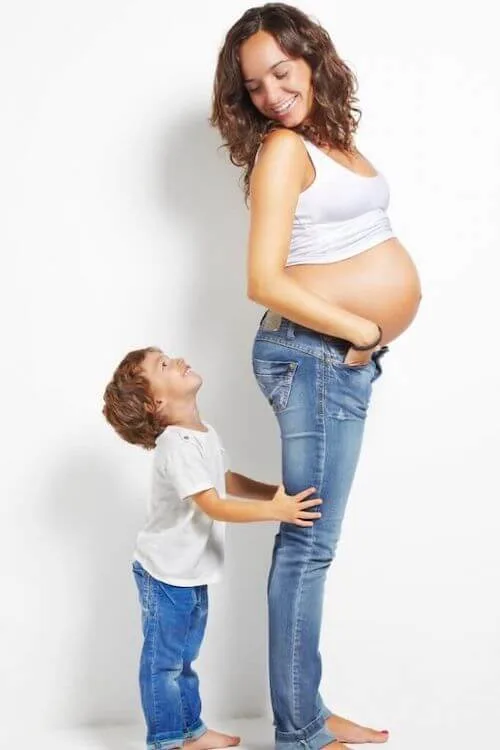 All Denim
Denim outfits never go out of style.
Whether you are shooting at home or in a photography studio, you can choose denim outfits.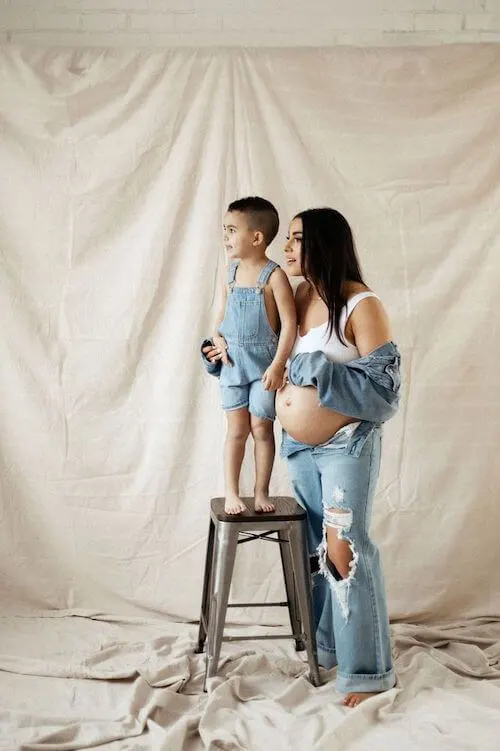 A Belly Kiss With a Sense of Humor
Photos with a little humor are always very popular.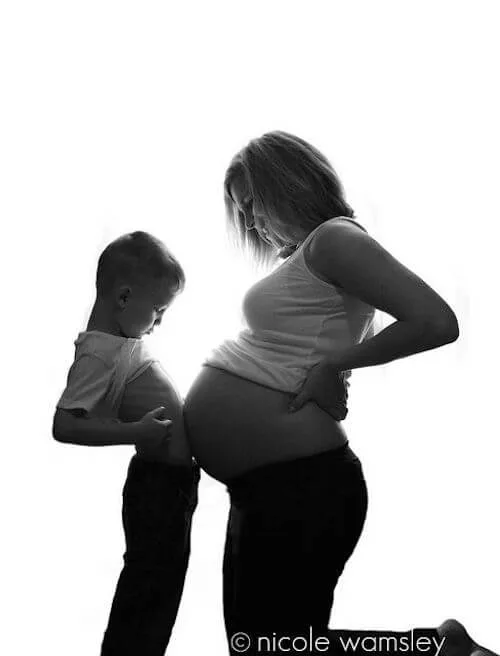 Silhouette of The Growing Belly
Silhouette photos are very popular these days, whether it's a pregnancy photo or a family photo, you can use this creative idea of taking portrait silhouettes to make the photos look more interesting.
When taking silhouette photos, remember to choose lighter and stretchier clothing to better showcase the curves of your pregnant body.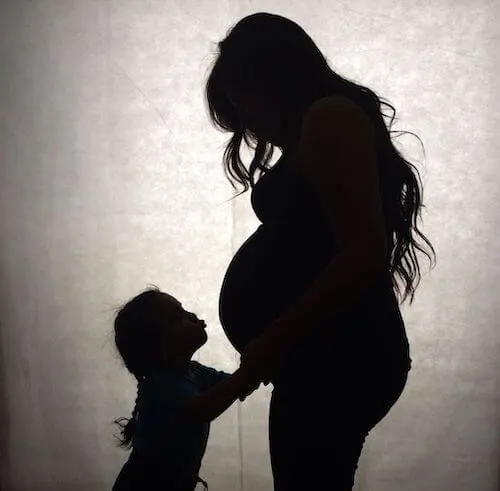 via Pinterest
A Cute Simple Shot
The idea is also very simple, but great, isn't it?
The tip is to wear matching outfits with your child and then wear the same hairstyle. Both you and mini look very cute.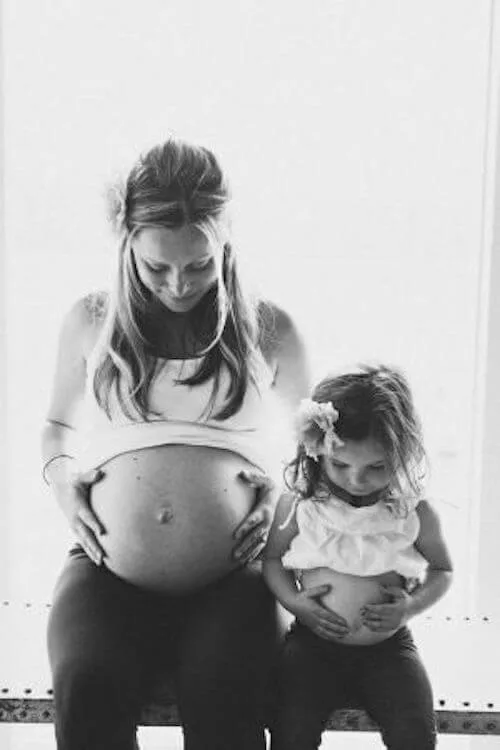 via Pinterest
Chic Beach Maternity Photo With Toddler
Choose a simple outfit and stand in the center of the picture to shoot, which can make the portraits look more elegant and charming.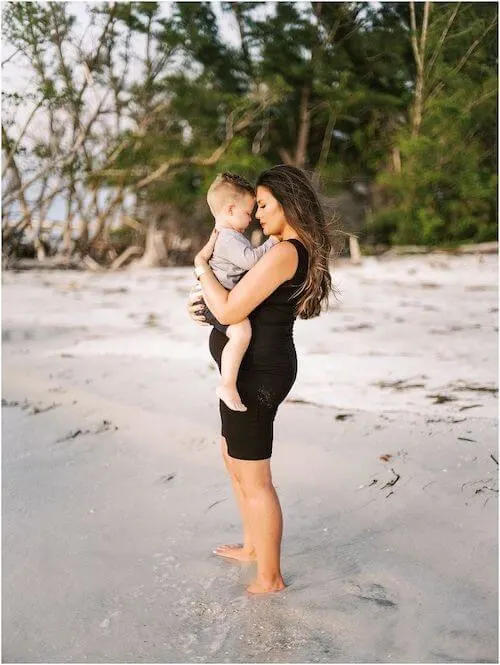 Match The Hat And A Pair of Baby Shoes
You and your children's clothing does not have to be identical from head to toe.
You can choose a similar color for some of your accessories, like the hat, shoes, etc, which is much easier to complete and more fashionable.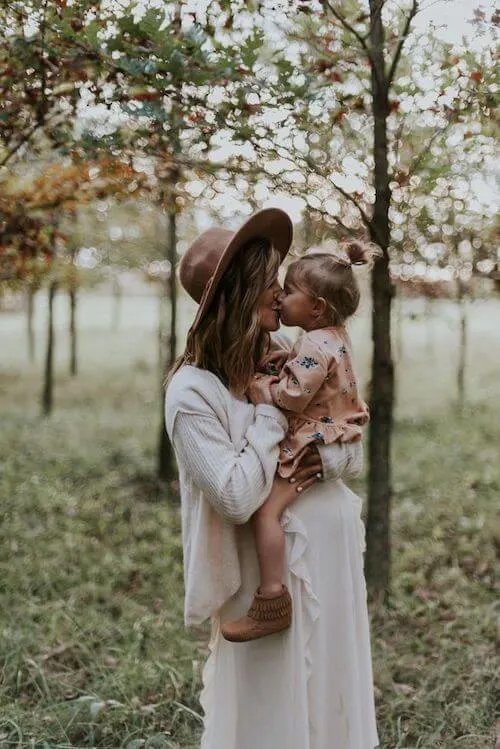 What To Wear To Your Maternity Session With Your Toddlers: Best Outfit Ideas
Choosing the outfits for expectant mothers first is a great way to choose the best maternity photo outfits for the whole family.
If you are looking for the best outfits for your coming pregnancy photoshoots with your toddlers, ahead are our favorite ideas and picks.
Romantic Flowy Dress or Maternity Gown
Romantic flowing dresses and gowns are one of the best clothing choices for taking pregnancy photos.
In addition to white, I recommend you choose warm colors such as beige, orange, and brown. Red and Christmas green are also great choices for the winter holiday season.
If you are shooting in the outdoor open space, you can also choose elegant printed dresses, which will look especially beautiful against the stunning backdrop of nature.
Shop The Outfits
Maternity Friendly Sweater Dress, Knit Dress, Bodysuit
Stretchy fabrics can show off your attractive pregnancy curves and are perfect for pregnancy photos.
But pay attention to the texture of the fabric, as well as choose a simple design, which help show your good fashion taste.
Shop The Outfits
Cute Loungewear
Cute loungewear is also perfect for taking pregnancy photos. Especially when you are taking pregnancy photos with more interaction with your children, loungewear can make you more relaxed.
When taking home photos, you can also wear comfortable jeans, or add a simple button-down shirt or cardigan to add more stylish details.
Matching Mommy & Me Outfits
Wearing mommy and me outfits is also a cute idea I highly recommend. Or you can accessorize creatively so that your family's outfits coordinate better with each other.
This post was all about maternity photoshoot with toddler.
About The Author
Tracy is an experienced personal stylist, shopping expert, and fashion & lifestyle blogger. She has been featured on Time Magazine, Bustle, Best Life, Glam, The Zoe Report, Mic, and GOBankingRates, for her insights on fashion, beauty, home decor, and lifestyle. Read More
Related Posts: